Our Current House
A newly tiled floor in a new room of the house is almost enough to give me jazz hands (a York peppermint patty is enough to give Sherry jazz hands, so clearly we have different thresholds). We're completely enamored with this floor – and there's a budding romance that involves a saw – so let's cover the laundry room tile installation, from floor prep to grouting & sealing.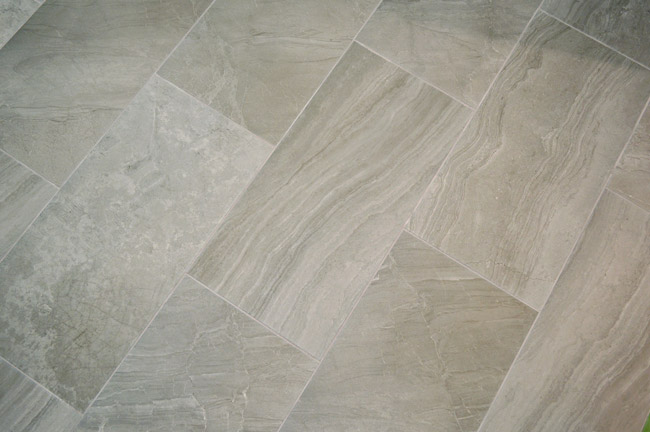 Before any tile could get installed, the subfloor needed to be prepped with some cement board, which is a preferred surface for tile installation. They come in 3ft x 5ft sheets, so I was able to fit two full pieces plus a few strips in the room. I cut them all by just scoring them with my utility knife and then breaking them along that line.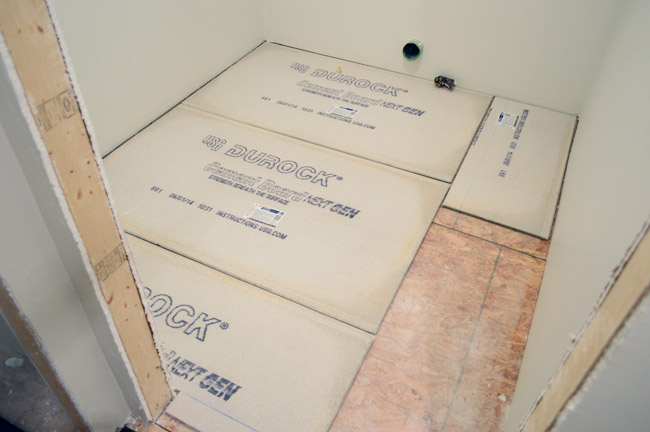 Once I had "dry fit" all of my pieces, it was time to actually adhere them with thinset. The layer of thinset between them and the wood subfloor will help keep them from shifting, grinding or flexing against one another. I used the same thinset I would later use for my tile install, mixed with water (just by following the directions on the bag) and my drill's mixing paddle. I'll get into more details about the whole mixing-of-the-thinset process in a second.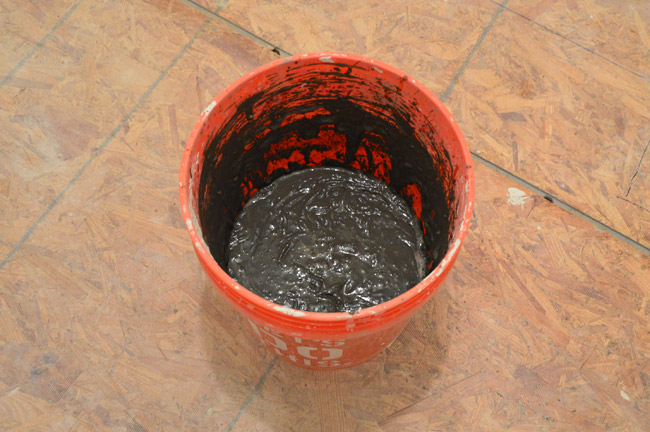 I spread the thinset using a 1/4″ notched trowel – coating the surface with the flat side of the trowel (doing one cement board area at a time) and then scraping grooves into it using the notched side, just like you do when you install tile.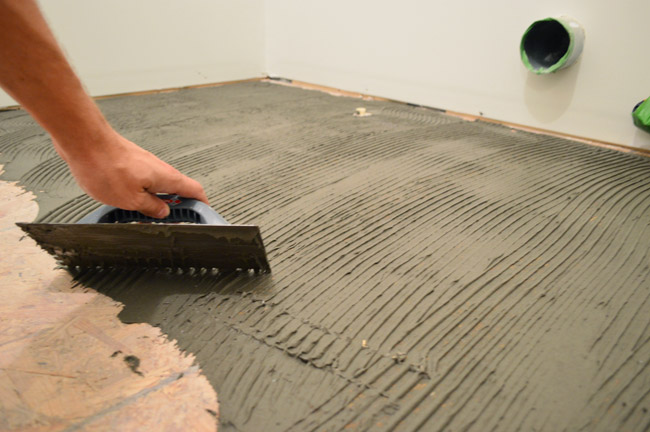 Then I was able to press the cement board pieces in firmly and move right along. Here are all of the sheets down, with about an 1/8″ gap between them and the wall.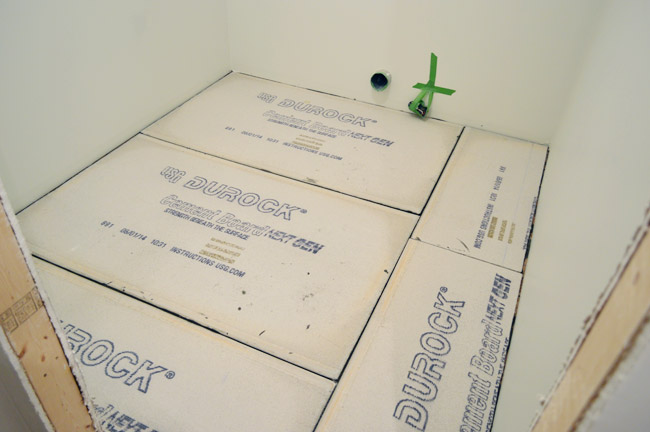 To help pull them securely towards the floor during drying (and to further stabilize them for the long term) I screwed down the edges (about every 6-10″) using special cement board screws. And I threw a few in the middle too – about every 12 to 16 inches.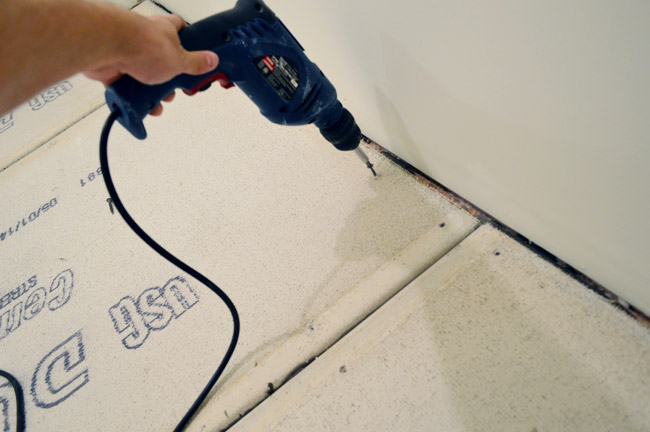 Many tutorials have you tape and mud (with thinset) all of the seams and screw holes next, just like with drywall. I've found it easier to just apply the mesh tape on the seams now and then apply the thinset during the tiling process. For me, it keeps me from accidentally creating any high ridges at the seams or screw hole bumps that the extra layer of thinset might create.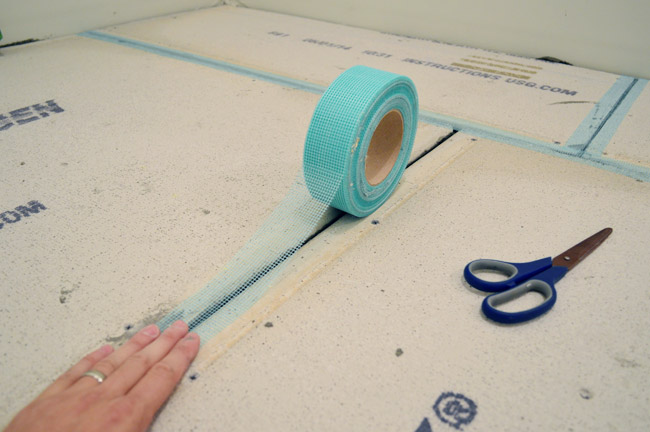 After mesh taping all the seams, we could start dry fitting our tiles, just to figure out the best way to situate the brick-pattern we were going for. We started off by centering the pattern, but we weren't crazy about the thin slivers of tile it would have left on either side of the room. Note: Just look at the back two rows here (the closer tiles are just randomly placed).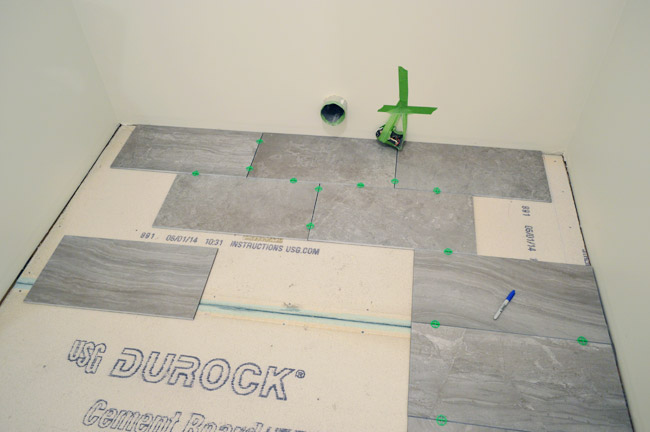 After a decent amount of experimenting, we opted to shift the pattern slightly towards the left wall, which meant we could use a full tile on the left side, and also left room for a bigger piece of tile on the right end (no more tiny slivers). The washer and dryer will be offset to the left side of the room anyway, so we think it'll feel nicer this way (especially since those few smaller cuts of tile on the right side will mostly be hidden by a base cabinet in that back corner and the door to the room, which will swing to rest along that side. Note: Once again, just the two back rows of tile are placed in their intended positions here.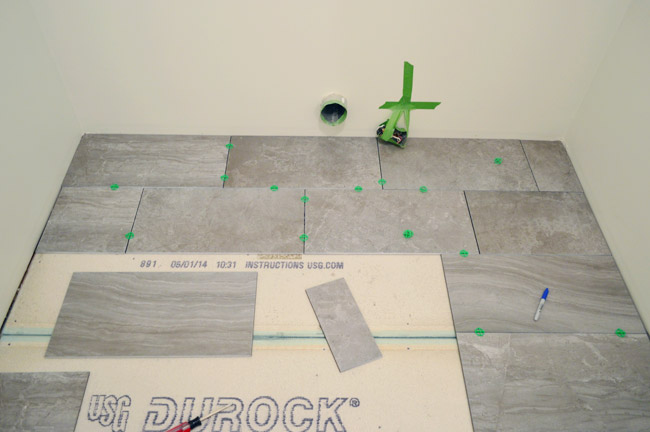 Cutting the tiles was super easy. Why? Because we finally bought a full-size wet saw. After nearly five years of using our old $99 hand-me-down tabletop wet saw to tile our first house's bathroom, our second house's patio, and the sunroom floor in this house, I finally dropped $277 on this one at Home Depot thanks to a $20 off coupon (that's not an affiliate link). The difference was incredible. I love this thing so much, I want to take it out to dinner.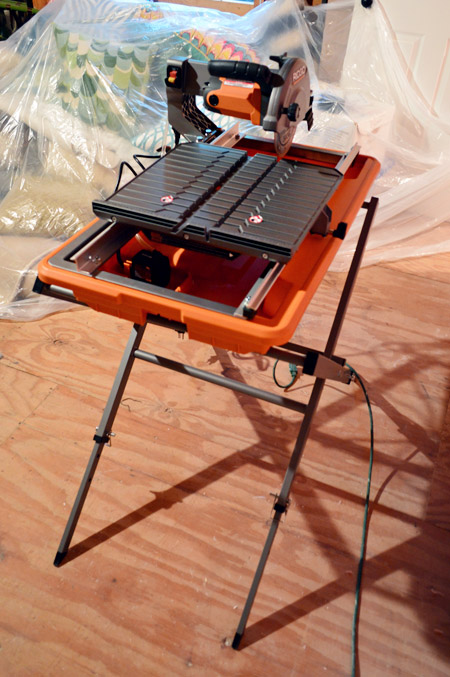 I've yet to decide my favorite part. Could it be the stand that allows you to work at regular height instead of crouching on the floor? The big water tray that means you don't have to stop to replace/de-sludge the water all the time? The laser to help keep cuts nice and straight? All contenders. But probably my favorite feature is the rolling tray that I can just set my tile on and slide through the blade. It's not only a lot faster, it also helped me keep all of my cuts super straight.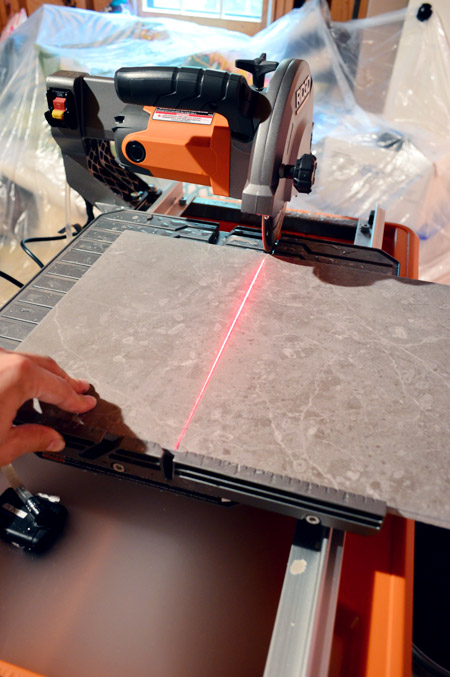 Anyways, let's get back to the tiling process before I sound like someone trying to sell you a Super Shammy ("this will solve all of your problems and change your life!").
After getting some of the first few cuts done for our dry fit, Sherry and I went through all of our tile boxes to take inventory on the ones we liked best. We love the movement and veining in the tiles, so we wanted to be sure the best ones ended up in highly visible spots in the room (no sense hiding our favorites under the washer & dryer). So we sorted through them and pulled out favorites (which we'd be sure to position in the middle of the room), regulars (not amazing, but not bad either – ones we could use near the door or along the wall), and a third pile we affectionately dubbed "the not-as-nicers" (not pictured). They were more spotty than veiny, so we reserved most of them for the where the appliances would go.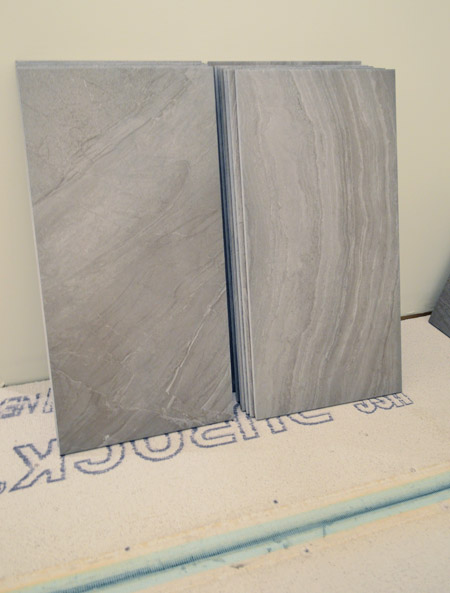 Here's the gist of my supplies for actually laying the tile (wet saw excluded, obviously).
Bucket for mixing thinset (using water & the mixer attachment for my drill)
Margin trowel for scooping thinset out (when I wasn't just dumping it out directly from the bucket)
Notched trowel for spreading thinset
Square and pencil for marking cuts
Spacers for keeping tiles spaced equally (we used 1/16th spacers)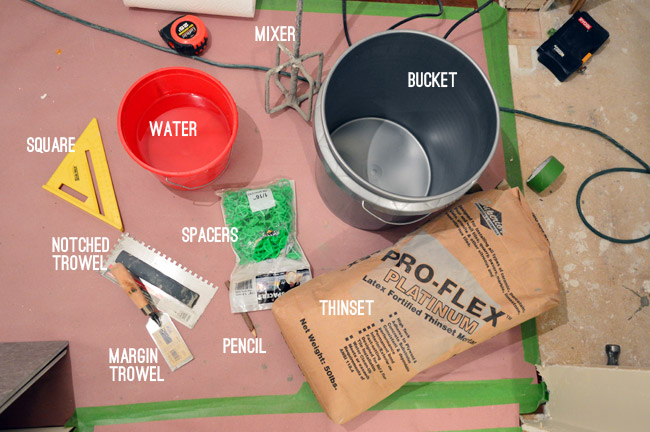 I have a tendency to mix my thinset too thick, so I made a conscious effort to use a bit more water this time. They often say it should be like pancake batter and I like my pancakes thick, so I should've realized this about myself a while ago.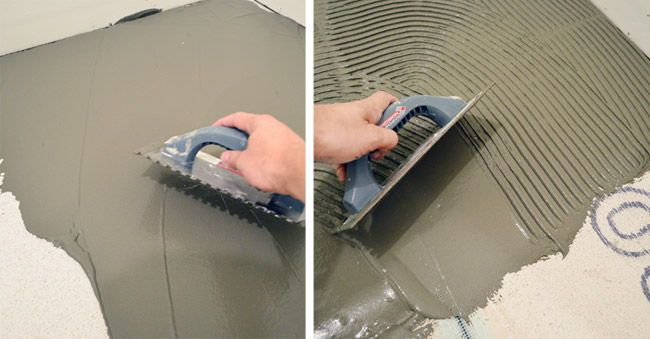 I worked about two rows at a time, doing my cuts as I went. It helps to have a nice long level on hand to check that none of your tiles are sticking up oddly for a smooth, level result.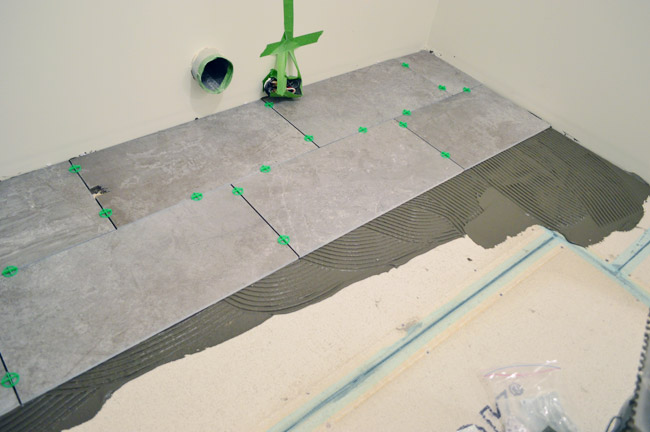 These sorts of cuts were very straightforward. I started at the end with the full tile (or the 12″ half-cut tile) so once I got to the other side I just held up a full tile and marked where it needed to be sliced. Who knows how I ended up with this weird wooden tree pencil.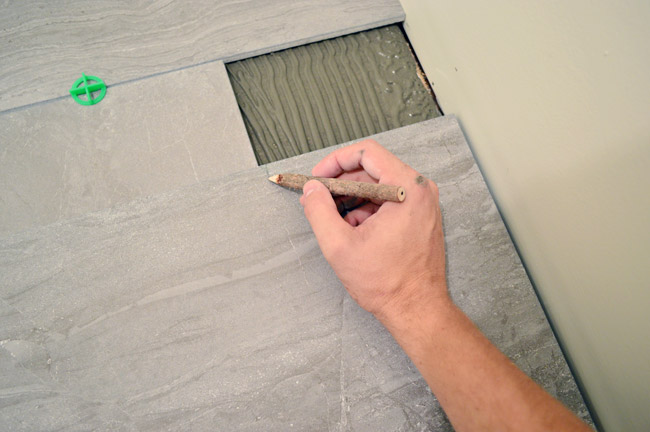 It took me less than two hours to get the whole thing down once I started actually placing tile, so it was definitely one of my faster tile jobs.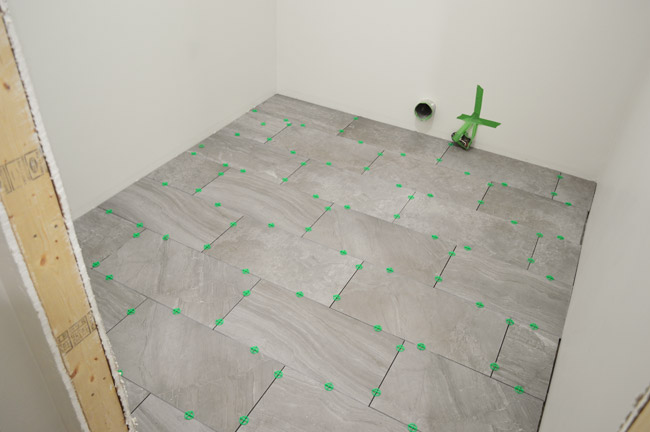 I left everything dry about a day and a half before pulling out my spacers (I opted to keep my painters tape contraption around the dryer plug through grouting).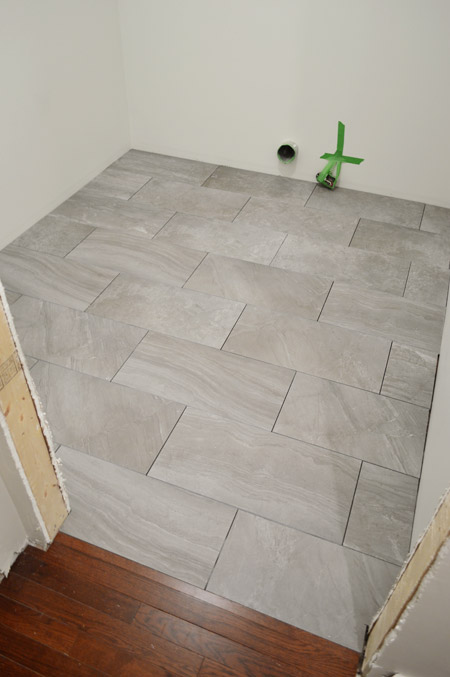 One of the parts I'm most proud of in this project is the transition, which Sherry and I decided we should attempt to make, well, transition-less. I had originally planned that we'd have some sort of transition piece (you know that slopes up a little to connect two different flooring types), but we've always liked the two transition-free tile-to-wood doorways downstairs (it's perfectly flush where the tiled foyer meets the wood-floored office and dining room) so we opted to give it a go here too.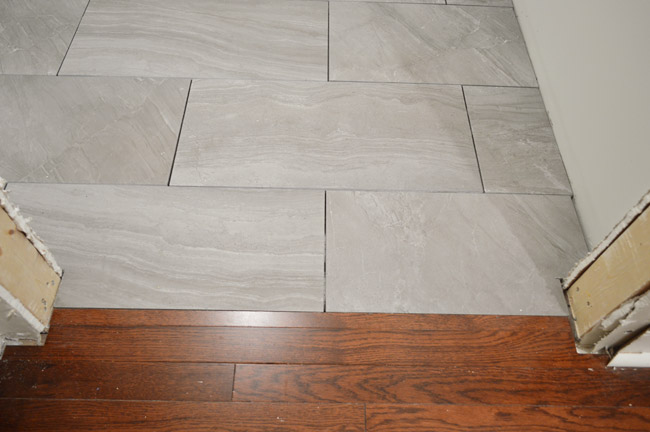 It required adding back two pieces of wood first (to bring the hardwoods about halfway into the middle of the doorway) and thankfully my planning with the subfloor height paid off: the floors are EXACTLY the same height. I still can't believe it. Here they are all grouted and complete just so you can see what I mean: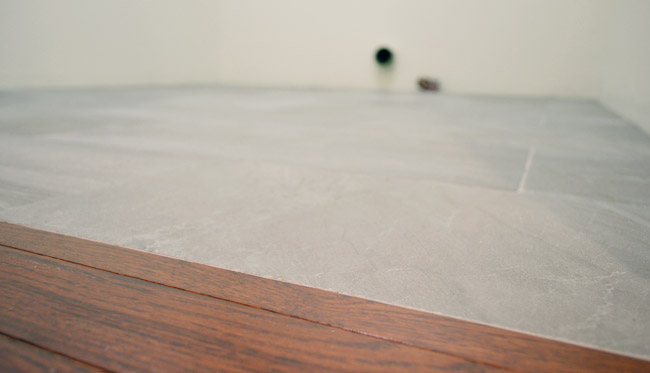 Speaking of grouting, after letting the thinset cure for 48 hours, it was time to grout. The material list was somewhat similar:
Small bucket for mixing grout, using the margin trowel
Non-sanded grout (since our joints are smaller than 1/8″) – we went with a color called Dolorean Gray from Home Depot
Water for mixing with grout powder, and for wiping clean
Float for applying grout
Sponge for wiping it off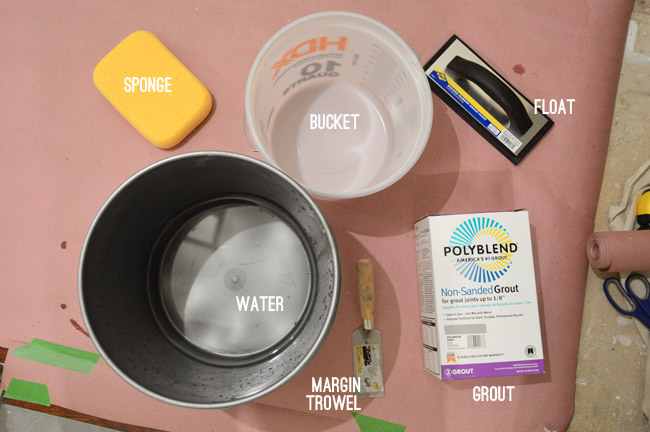 You add the water to the bucket first, then the grout powder. I started with a crazy amount of water for some reason, so I ended up mixing up a ridiculously large batch of grout for such a small room with so few joints.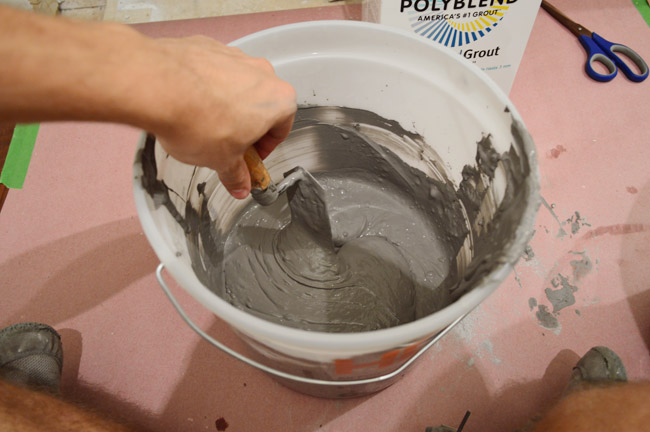 Grouting is pretty easy, especially when you're working with big tiles, since it's quick to cover all of the joints. Using the rubber float you press grout between the tiles, then at an angle you wipe off the excess.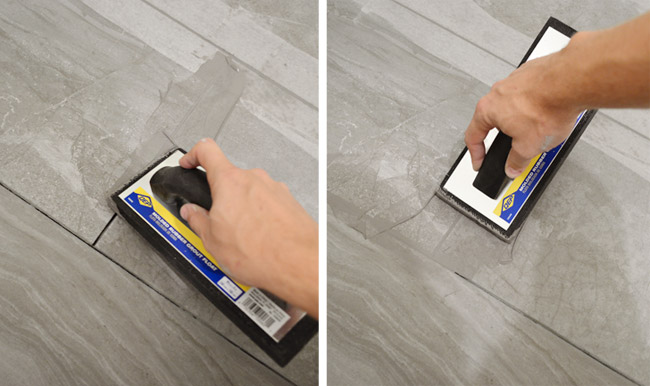 I was able to grout the whole room in about 20 minutes, and you can see how it starts to dry lighter – indicating that it's time to start wiping it off.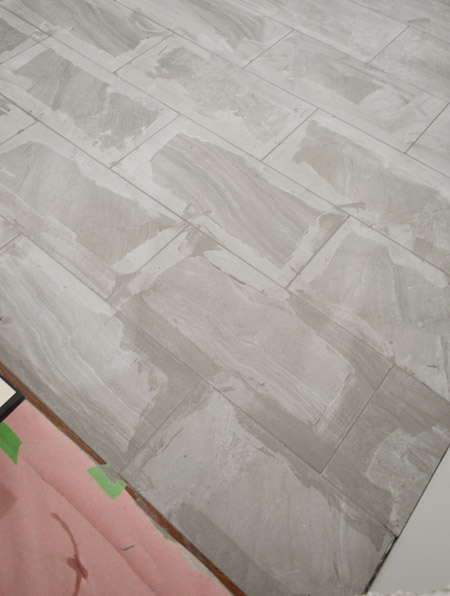 I made the mistake of using too much water when grouting the sunroom (which we think caused the grout to dry lighter than we had intended) so I was really careful to make my sponge only slighty damp when wiping off the excess this time.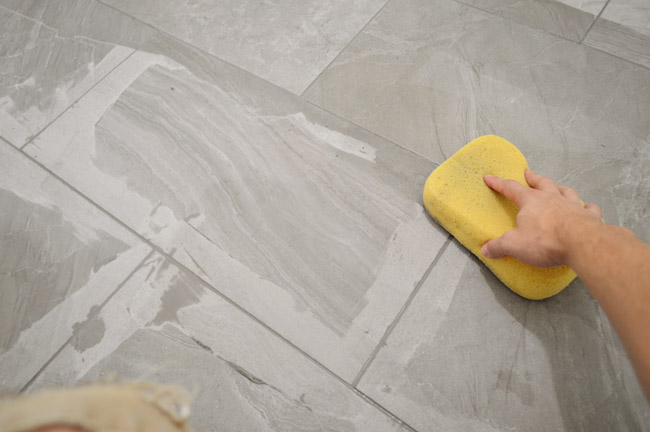 After a couple of passes with my barely-wet sponge, it still looked extremely hazy (this is the point where I think I panicked in the sunroom and got water crazy).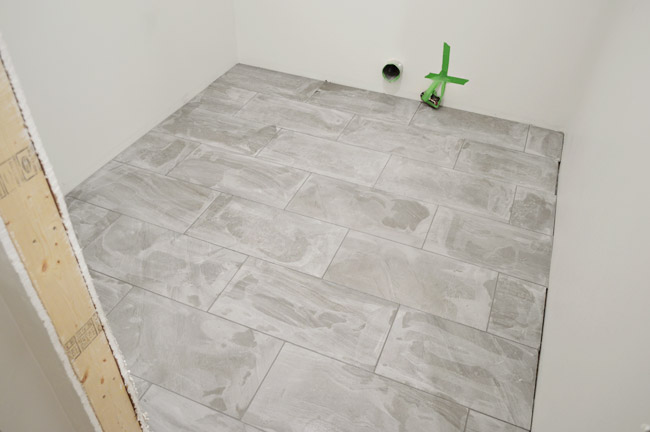 But this time around I let it dry another 90-minutes and then came back with a completely dry microfiber cloth (they recommend cheese-cloth, but I didn't have any handy). The microfiber cloth seemed to do the trick just as well, and some light scrubbing buffed off a lot more of the haze.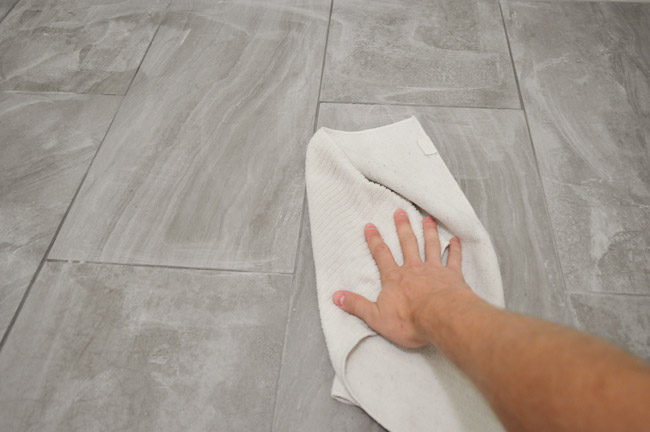 Here's the floor post-buffing. MUCH better. Phew.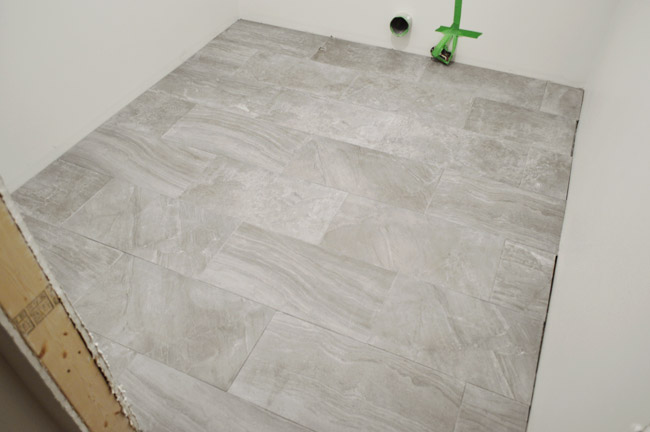 We let the grout dry for 3 day, per the instructions. Things were still looking a little hazy in there, so Sherry busted out some grout hazer remove that we had leftover from the sunroom project. You basically spread it on liberally with a sponge, let it sit for a few minutes, then wipe it off with a scrub pad. Then she wiped the room down with clean water a couple of times to get all of the haze remover off.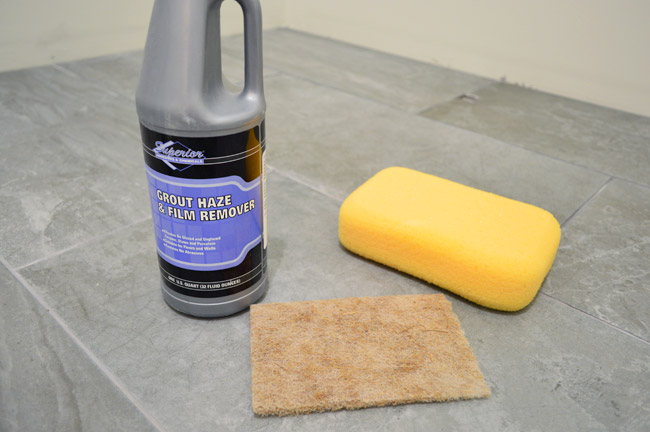 Then we waited for that to dry out for around 12 hours before applying a sealer on both the tile and the grout to help protect it from staining. It too is pretty easy to do – just wipe it on with a sponge, let it soak in for a few moments, and then wipe any excess off with paper towels.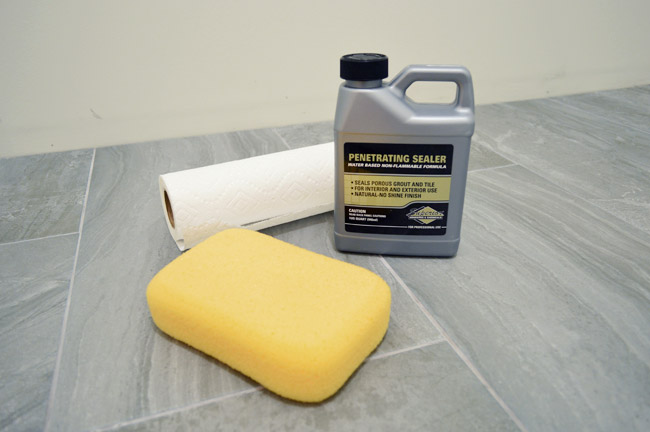 Those two steps definitely brought the tile to life a bit more, which is why we recommend not skipping over the haze remover step.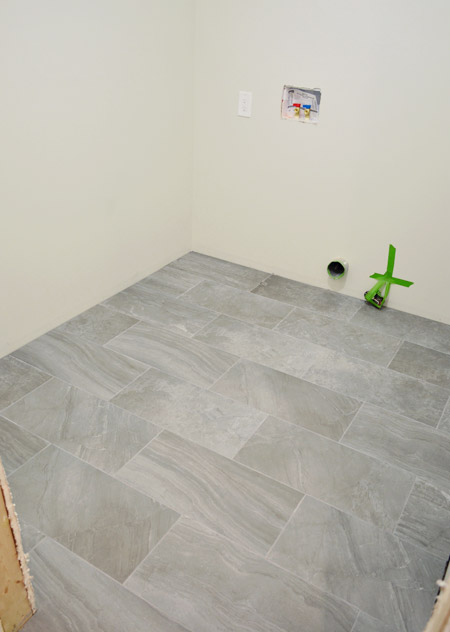 Sometimes you don't realize the film leftover from the grouting process until it's gone.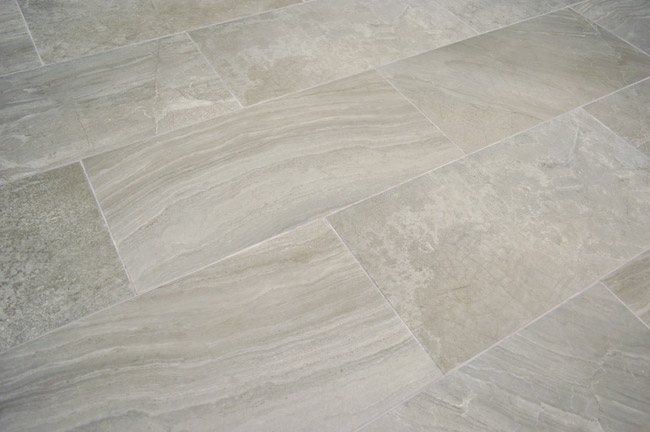 Here's the cost breakdown for the floor tile project:
Cement board & screws from Home Depot:$48
Blast Anthracite 12 x 24″ tiles from The Tile Shop: $353
Thinset from The Tile Shop: $29
Grout in Dolorean Gray from Home Depot: $13
Buckets, sponges, trowels, spacers, float: $8 (since we already owned most of them, but add $25 or so if you don't)
Superior Haze Remover: $0 (we had some leftover, but it's $9 at The Tile Shop)
Superior Penetrating Sealer: $0 (we had some leftover, but it's $13 at The Tile Shop)
TOTAL: $451
So it was pretty much $350 in tile and $100 in supplies. I'm excluding our new wet saw since it's not a cost specific to this one project, and I don't want someone to think that $277 must be incurred on a project like this, but after seeing what a difference it made, if you're working with a cheap old tile saw I highly recommend the upgrade. I'm actually mad that I did our giant sunroom without my new tiling toy.
Wrapping up this tile job means we can actually start putting this room together. Which is especially exciting because we bought our cabinets at Ikea on Friday (ignore the random pillows in that basket, they were for a cousin we met up with on the same trip).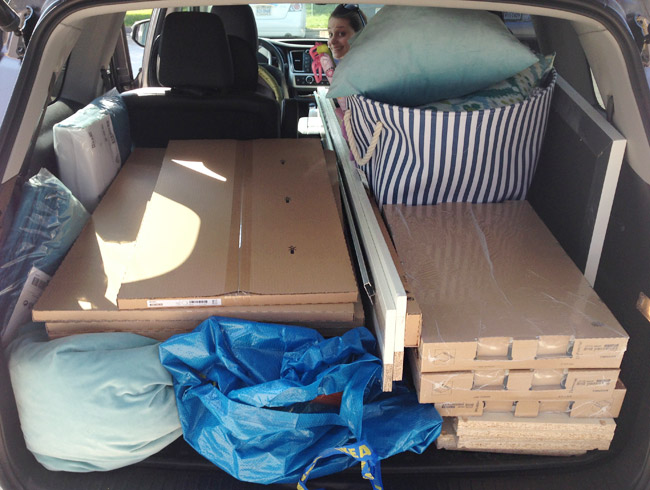 We're thinking we'll get at least the upper cabinets hung before we bring the washer & dryer in, since dropping cabinets on expensive appliances is not a risk we want to take. But once those are in, we may finally be back in business to wash our clothes at home again. High five! Anyone? High five? Are you leaving me hanging because I smell like a guy that just tiled without a washing machine?
&nbsp&nbsp&nbsp
Back to THE ROOM THAT DIDN'T EXIST A FEW WEEKS AGO. Pardon my type-screaming, but it doesn't get much more exciting than that in my world. (Sidenote: I had a dream last night that there was a column in the newspaper called Shellac This! – all about shellacking a different piece of furniture each day – and the world was so enamored with it that normal morning conversation was "did you see what they shellacked this morning in Shellac This?" and it was getting turned into a major motion picture).
We left you with a primed-&-ready picture of our new laundry room in Monday's post, so let's start there (we used VOC-free Kilz Premium from Home Depot). This room is only around 7′ wide by 8′ deep so it went pretty fast. Here she is all ready for paint: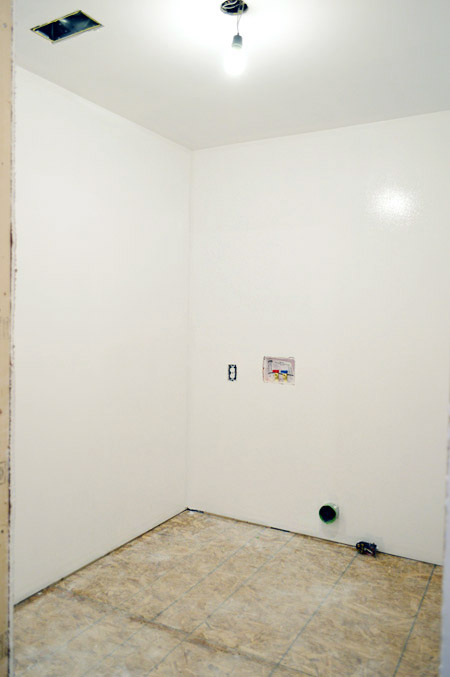 Oh but before picking a paint color we picked floor tile. It's from The Tile Shop & it's called Blast Anthracite. It's $6.59 a square foot so the whole floor will be around $350 (we got 10% off with the YHL10 discount code). We loved how it looked with the accent tile we bought (remember that will go above the washer & dryer but below the wall cabinets).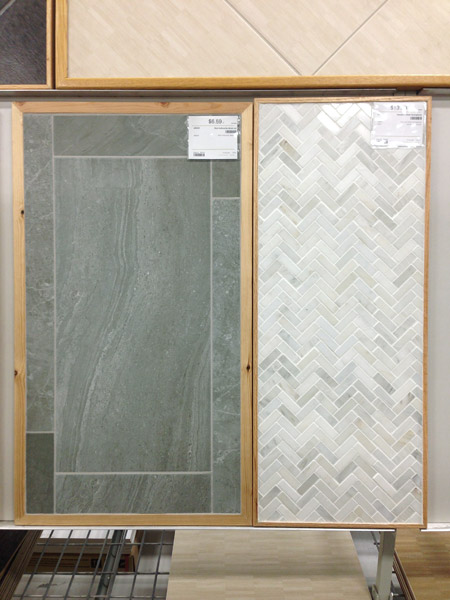 We appreciated that the floor tile wasn't too light (read: it won't show every ball of lint or hair) and that it would look good running up against the hardwoods in the hallway (it always helps to remember what will be next to what). But the main thing that sold us are the striations. You can sort of see the pretty veins and variations in this shot, but in person they're gorgeous.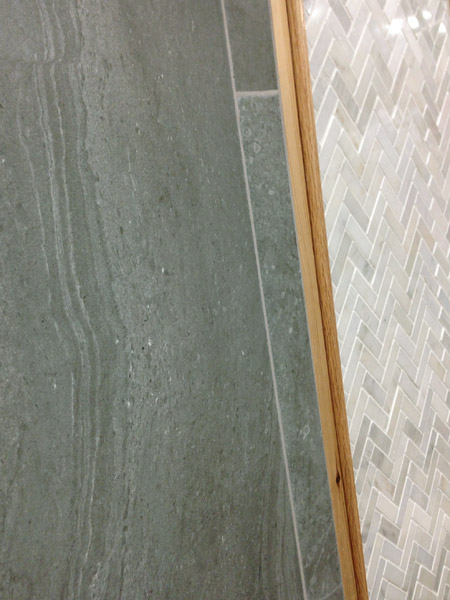 After we picked the tile, I sat down and played around with a little mood board action – just to see what we liked together, and to figure out what wall color we wanted. Of course everything here might change as we go (except for the appliances and tile picks), but it feels like a nice place to start: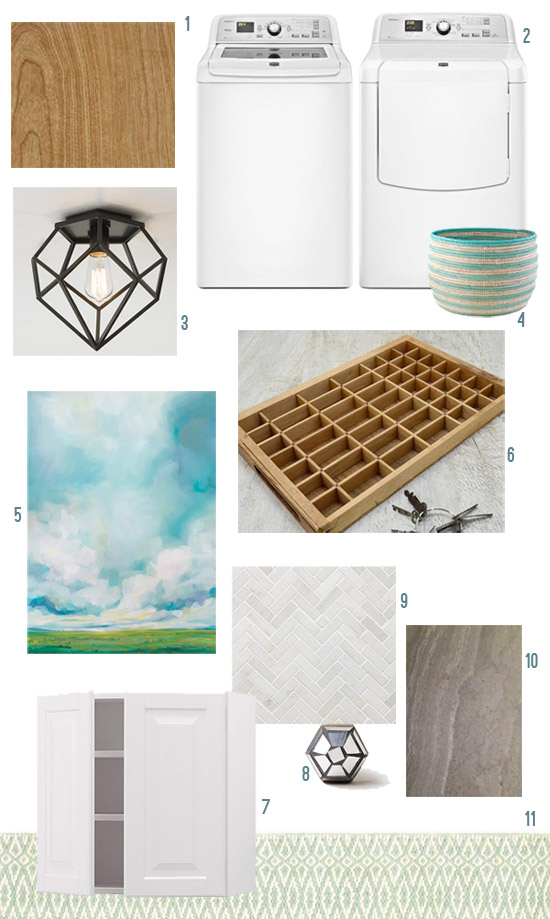 Some warm wood elements will balance out the gray tile & the shiny appliances – like a butcher block counter for the cabinet next to the appliances.
Here's our washer & dryer (more on those here).
We think this cozy room is a nice spot to try out one of the newer designs from our Shades of Light collection.
This colored basket is charming. Colorful yet natural. So… coltural?
I've been pining after these prints for a long time, and the laundry room might be just the place.
A cute wood letterpress drawer on the wall could display something Clara & I have been collecting for a while…
White cabinets to tie into our appliances and make the butcher block pop.
These knobs could be fun on the cabinets – especially since they resemble our lighting choice.
Here's the tile we already got for the wall above the washer & dryer (more on that here).
And here's our floor tile.
Last we have a Dash & Albert rug to add a little more texture and a hint of color.
After playing around and seeing things like the tile and the warm wood tones with some colorful art come together, we were ready to pick our wall color. We knew we wanted something light (it's not very big and doesn't have any windows), but we also didn't want to go with stark white since we want the trim and the cabinets to feel more like architecture by standing out a bit from the wall color. But finding a good light-but-not-white tone for the walls still felt a little arbitrary (hello 167 swatches, I'm sure one of you will be perfect). So we decided to make a more abstract, in-person mood board right in the room: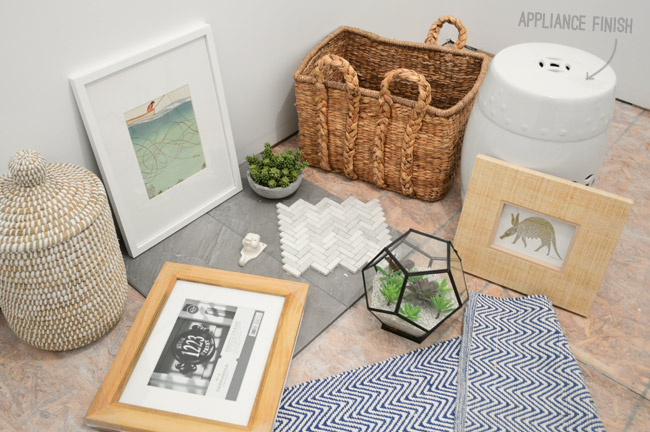 We just sort of grabbed things from around the house that we thought could loosely represent materials/colors/patterns that might end up in there, like the shiny white drum stool (it's really close in color to our appliances), our tile samples, some warm wood tones, etc. Oh and the terrarium actually represents the light fixture, since it has similar coloring and lines.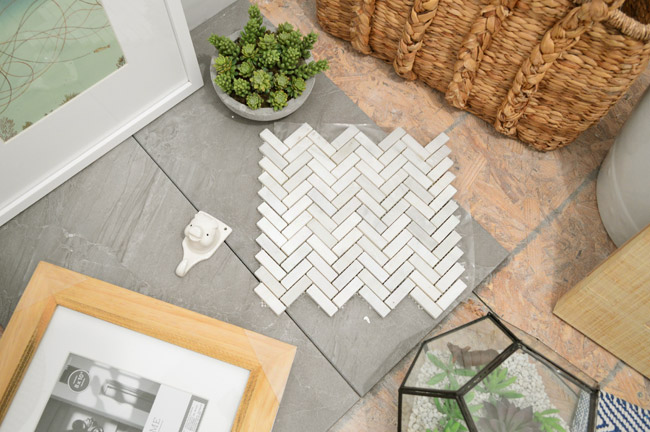 Bringing all of these things together into the room made picking a paint color feel less arbitrary (we could hold swatches up to the tile and the wood tones and the finishes and see what looked best right in the room). And imagine our surprise when our favorite swatch ended up being Going To The Chapel by Benjamin Moore – which we actually used in Teddy's room! We like the idea of repeating that color somewhere else in our house since we're fans of a whole-house palette that ties together, usually with a few colors that reoccur a few times. So into the laundry room it went (we went with an eggshell finish in BM's VOC-free Natura line).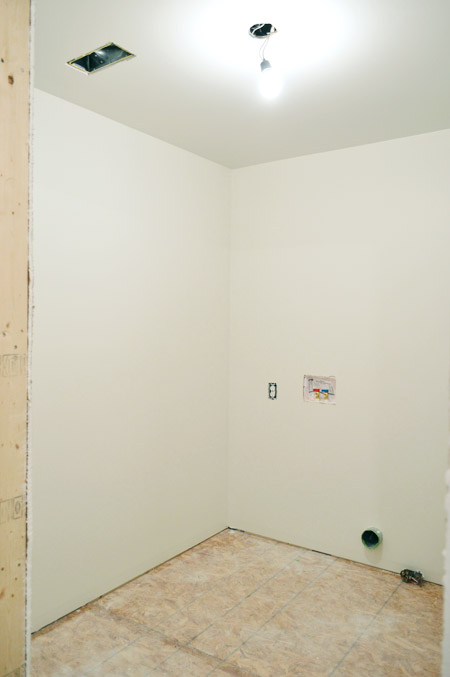 I realize that photo isn't wildly different than the priming one that started this post, but in person the room went from feeling stark and unfinished to feeling a lot more polished and room-like. And it was amazing to give the new end of the hallway a fresh coat of paint to tie it into the original walls. Aside from those raw doorways and floors, it looks like it has always been this way!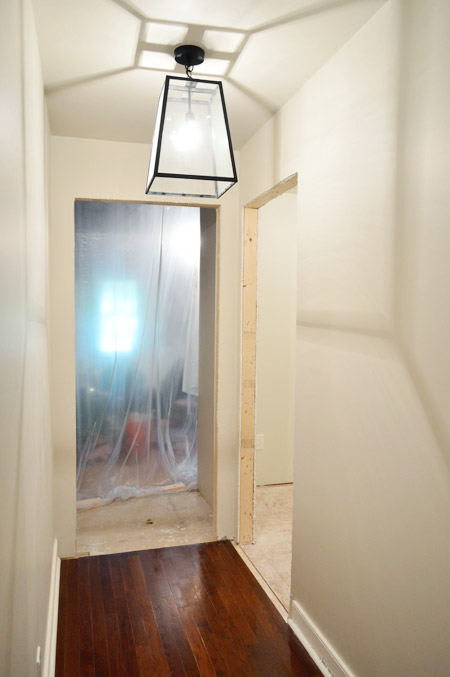 Remember we were just drawing on pictures a month ago and now these rooms and doorways are a reality?!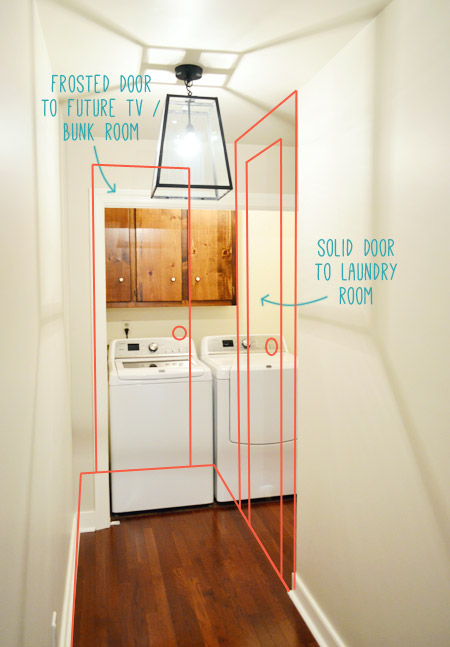 I can't wait to get our special glass door to the future bunk-room in. Speaking of that, we picked one out! After considering a bunch of options (something that came frosted, one big glass pane, etc) we decided it would feel nice and cohesive to go with the same type of 15-paned glass door that we have downstairs leading out to the deck.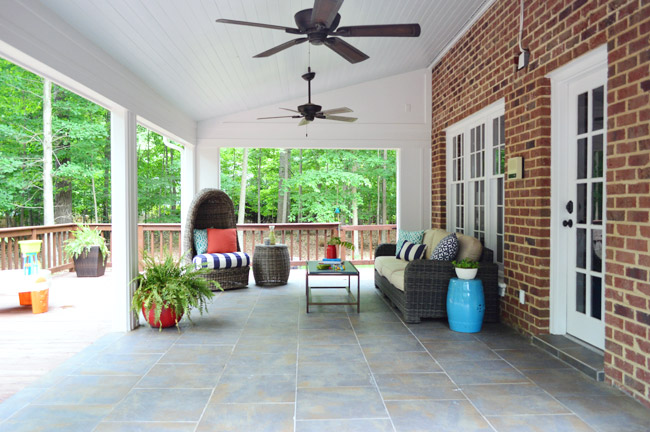 We also would love to add glass paned french doors like that to the office someday (like this), so knowing that those would be the same style felt like it was a good choice for upstairs as well. That way they might all look original, if that makes sense. And we liked the idea of the glass being clear so that we have the option of frosting it or adding a shade from behind the door (like this) instead of committing to a frosted door forever.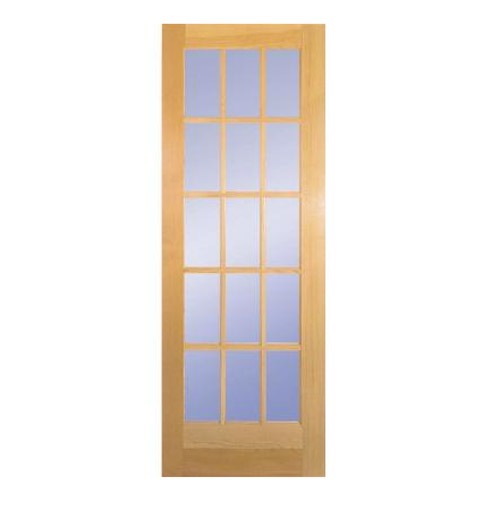 The good news is that it's an in-stock door at Home Depot so it's only $149. We do have to paint it ourselves and of course frame it in, add hinges, add a knob, etc – but it's going to be one of my favorite parts, I just know it. So now our to-do list looks something like this:
Move washer & dryer and remove cabinetry (more on that here)
Demo cased opening, side wall, back wall, part of the floor and the attic step
Frame new walls & doorways

Move laundry plumbing hook-ups & drains

Move laundry electrical (plus other lights, switches, and outlets) (more on those last four bullets here)

Move dryer vent & HVAC duct (more on that here)
Hang drywall (more on that here)
Add insulation (more on that here)
Mud, tape, and sand all the drywall seams in the new room (more on that here)

Prime & paint laundry room and hallway walls
Tile & grout new laundry floor
Add baseboards and door casings
Rehang laundry door
Add new glass door to future bunk-room
Add upper cabinetry and crown molding
Add lower cabinet next to washer & dryer with countertop
Tile & grout laundry room backsplash
Reinstall washer & dryer
Add ceiling light fixture
Hang art, ironing board, and bring in other laundry room items
Finishing touches and repairs (drywall in garage, step in attic, etc)
So before we hang any doors we have to install & grout the laundry room floor tile, which we hope to have done by Monday. I can't even handle how much that's going to make things feel like a room. And we'll be one step closer to bringing the washer & dryer back in. I know doing laundry doesn't excite many people, but the idea of being able to wash things at home again is pretty captivating to this girl right now. I predict a reenactment of Happy Feet while those machines hum.
&nbsp&nbsp&nbsp