Beach house stuff is flying along, and we owe you guys a giant post (in the meantime you can see some pics on Instagram and Facebook) but we have some breaking porch news, which is that it no longer looks neglected and abandoned. Plus I got a little "creative" with the bushes so they'll never die on me again. I don't have a great "before" photo because it wasn't something I ever thought to capture for posterity, but think dirty old doormat, dead plants, discolored brick, and spiderwebs (but not of the Halloween-decoration variety).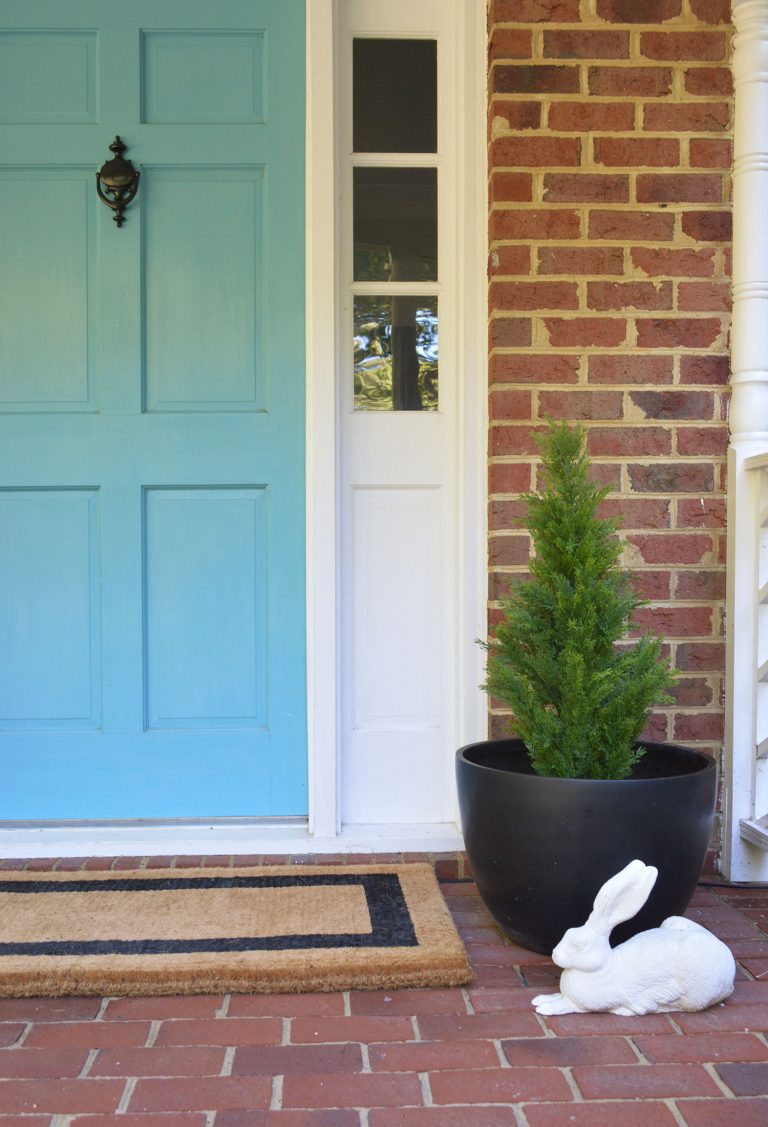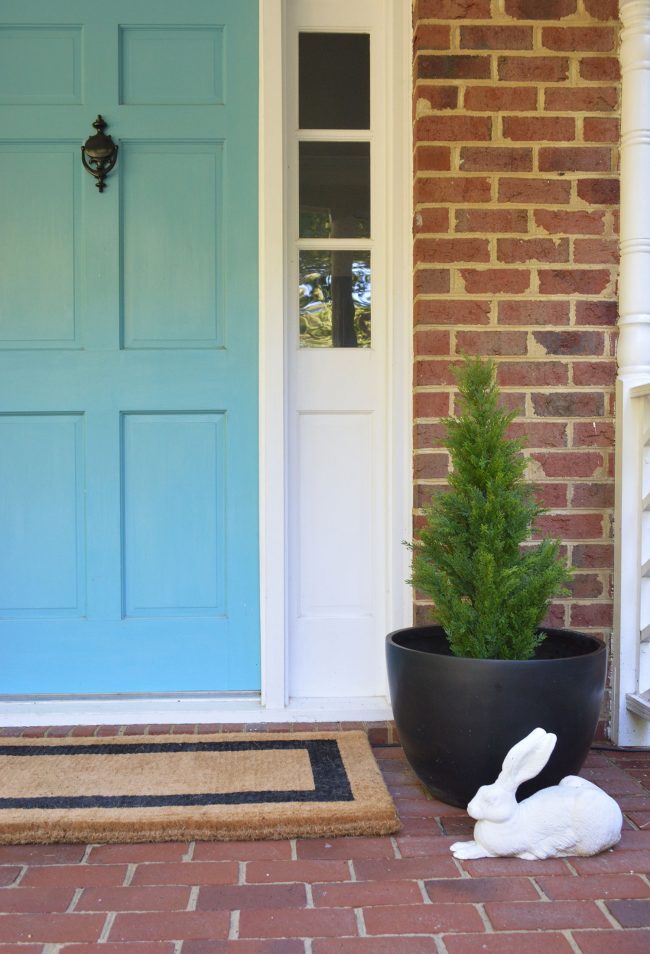 One thing that tipped us off to the problem was taking our annual First Day of School photos out in front of the door. We were looking at this year's photos next to the previous year's photos to see how much the kids grew, but another thing that caught our attention was the tragic progression of our fading front door mat. It's like that thing was just begging to be put out of its misery, but it happened so slowly we didn't really notice until we were reminded how it used to look.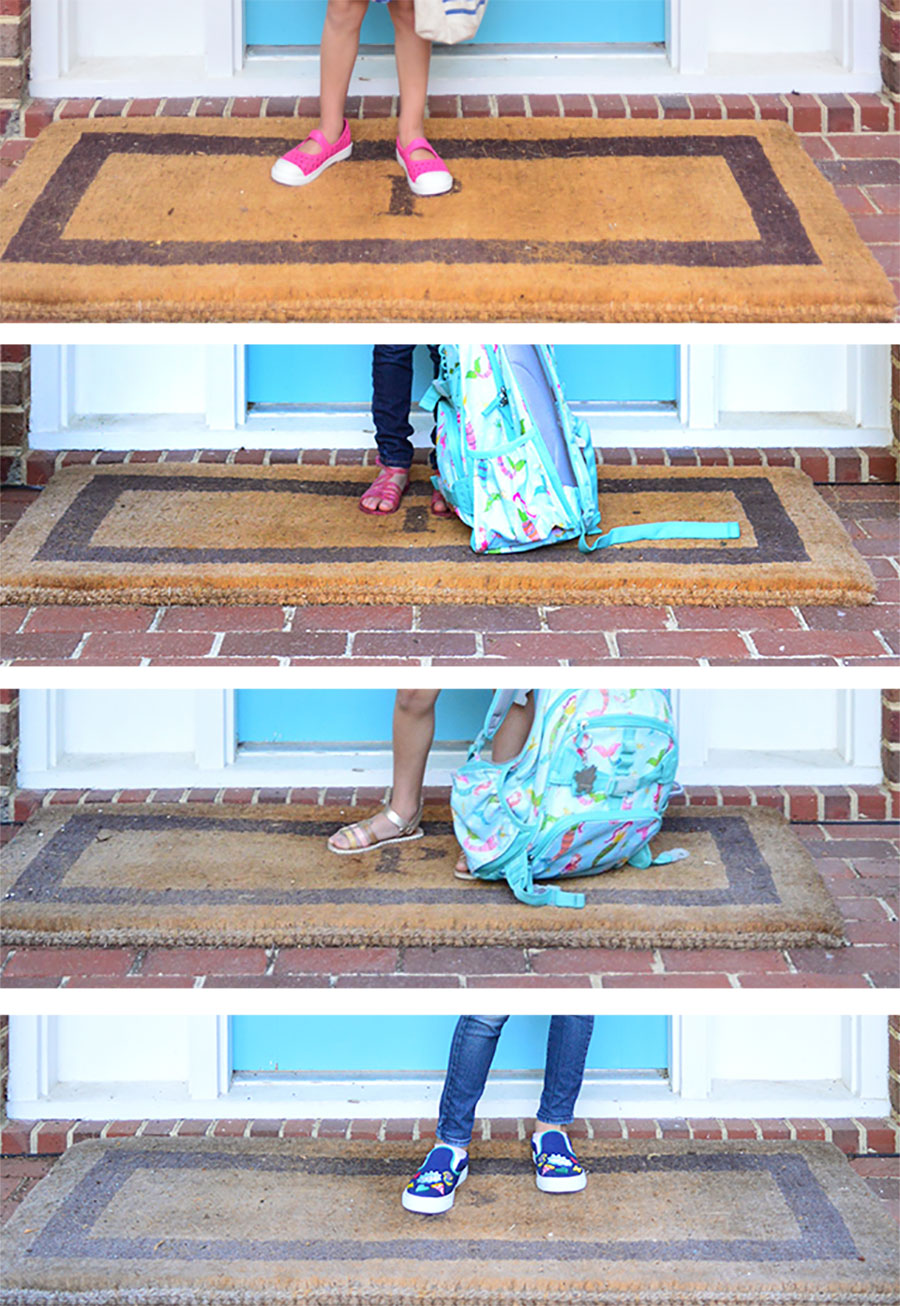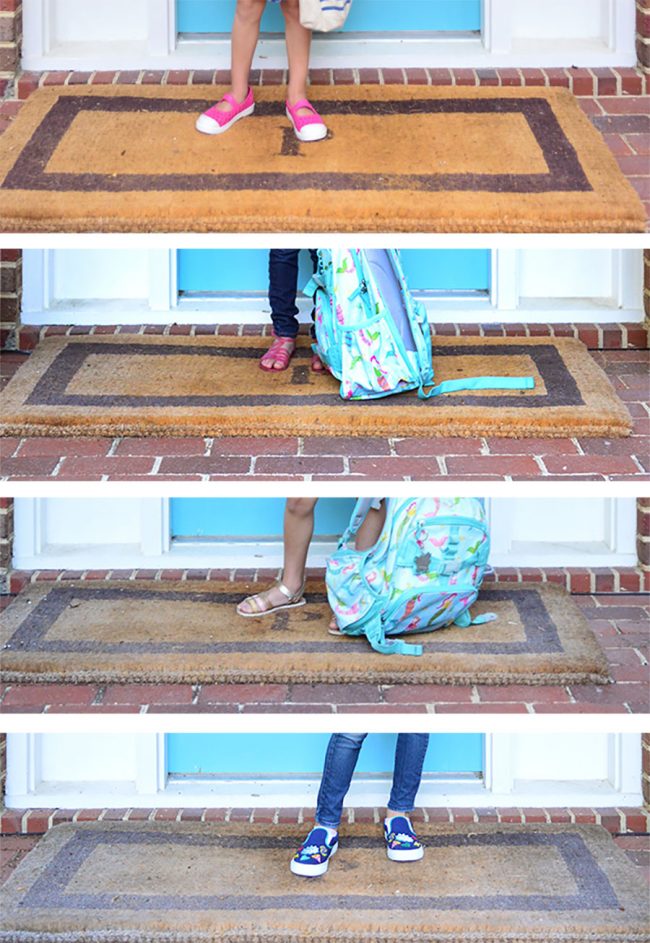 So I ordered another extra-wide mat (this is the one we got). If you have sidelights or a double door, I can't tell you how strongly I recommend a wider doormat. They can be a pain to track down, and aren't super cheap (ours is the 30 x 48″ one for $79) but we found that any normal sized ones looked kind of dinky and unbalanced on our porch.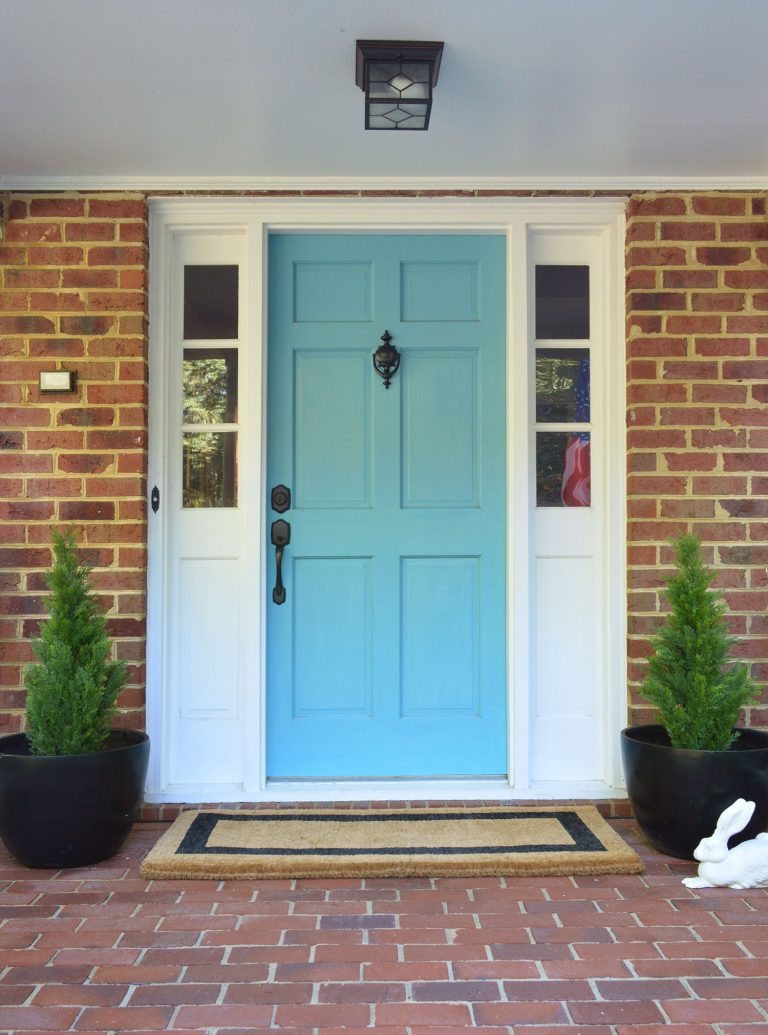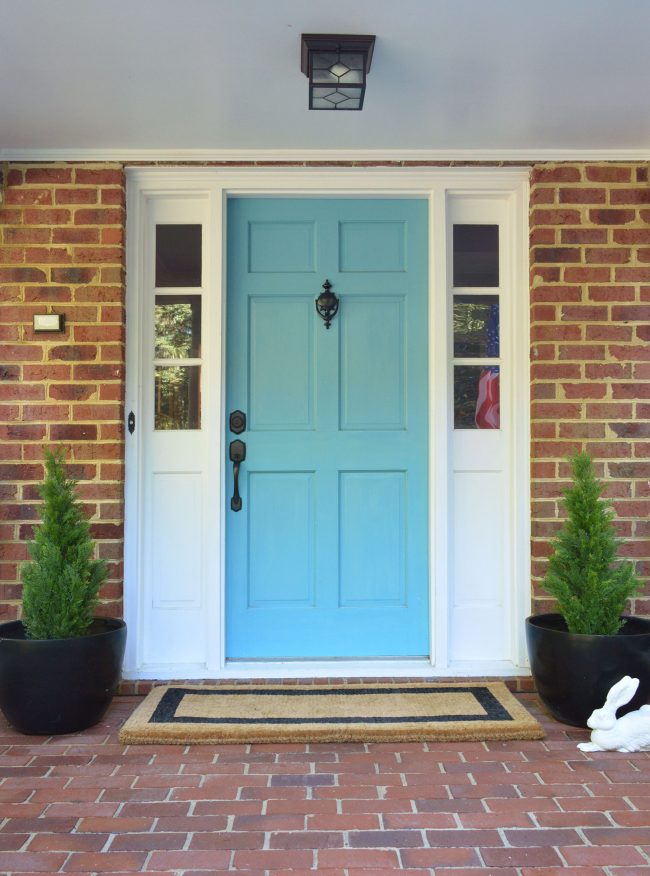 But the real stars of this refresh are the two evergreen trees in the black planters. We've had THE WORST time keeping plants alive here – so dead plants have been flanking the front door for 90% of the last 4.5 years. Every year we would buy something, it would fry from the insane direct sunlight our porch gets, and then the sad remains of the dearly departed plant would sit in the planter for a few months until we'd lather, rinse, and repeat that process. I tried annuals like creeping jenny and petunias (burned and died). Evergreens like boxwoods and dwarf spruces (burned and died even faster). I've tried setting an alarm on my phone to water things every day. I've tried the upside-down wine bottle trick to water things. It was like a curse that refused to be broken… until now.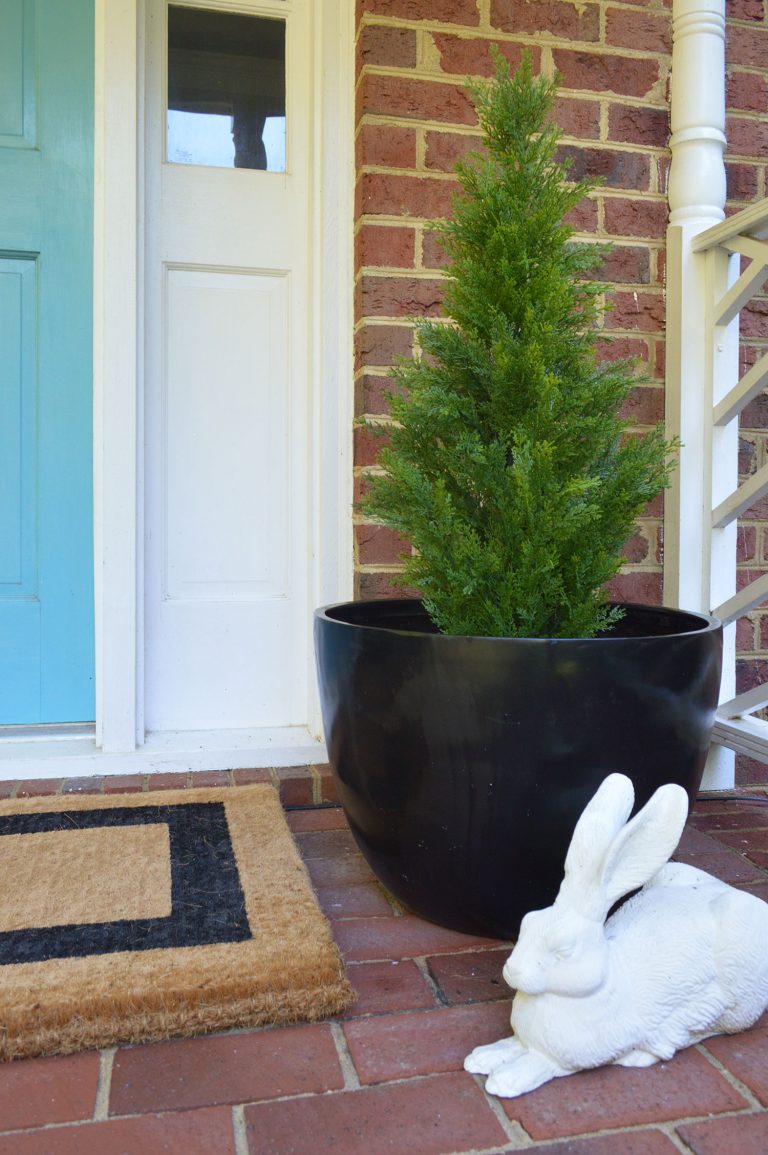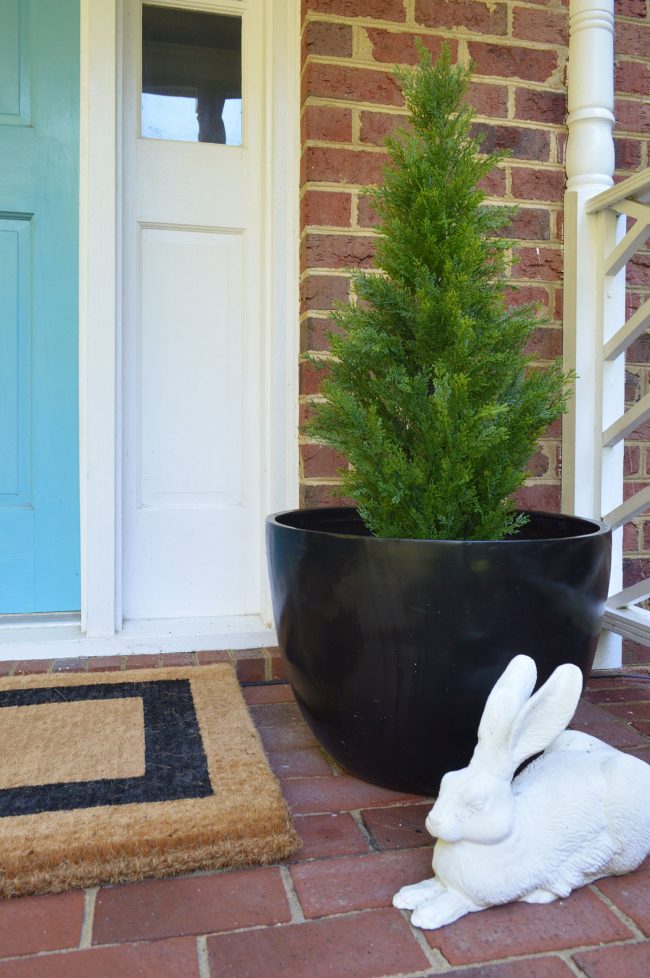 These evergreens can't ever die BECAUSE THEY'RE FAKE!! After years of trying to make something (anything!) live in these planters I feel LIBERATED! These faux 36″ evergreens came into my life at the perfect time. I was at my wits end. And even though I worried they'd look lame and plastic-y, I was willing to roll the dice and try them.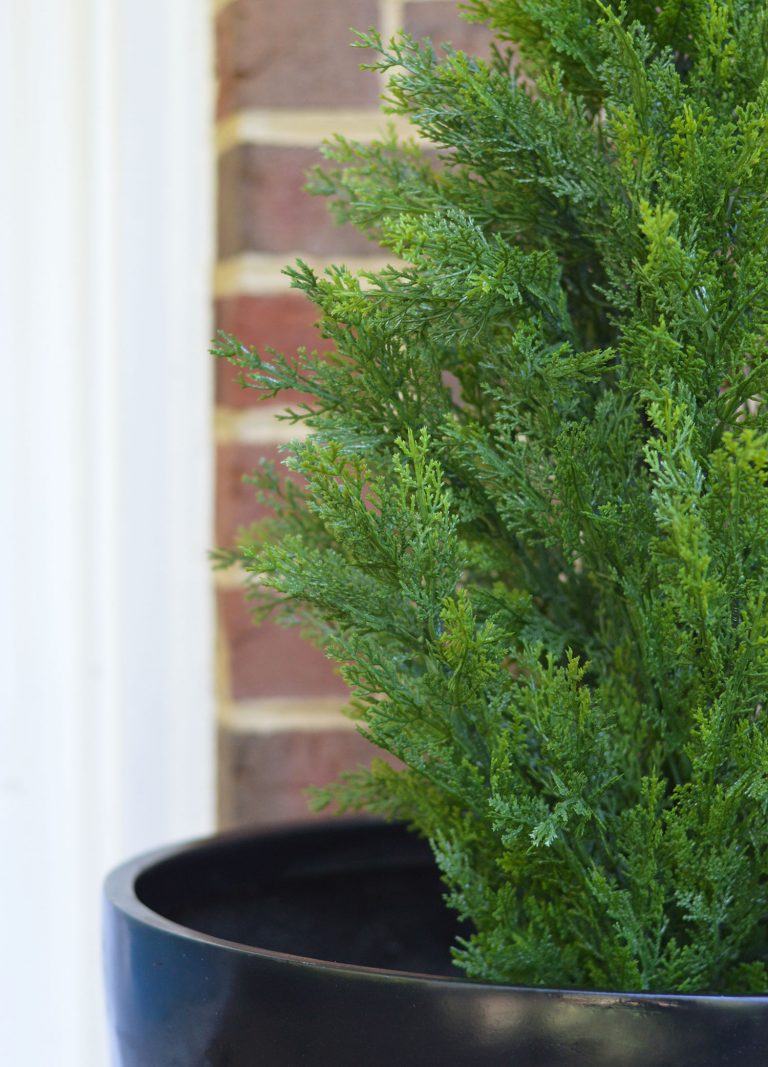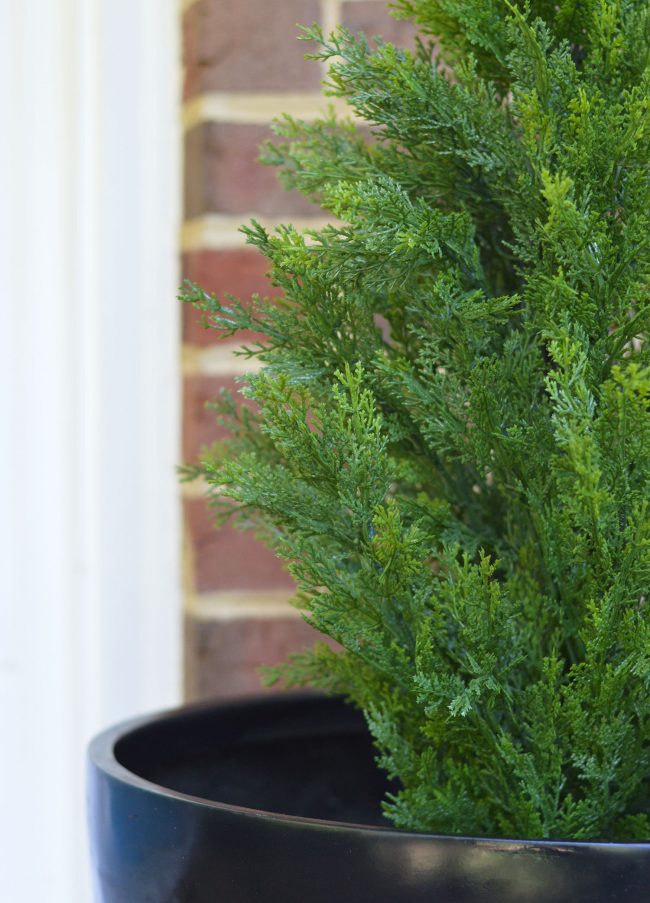 You have to fluff them up when they arrive (they look sort of flat right out of the box) but they're SO CONVINCING! The color is right. The large size is awesome. The price is way less than I've paid for all the things that have died on me in the past. I'm basically in love with these bushes and if loving them is wrong I don't want to be right.
And yes, I plopped the little black pot that each tree comes in right into the dirt of our larger black planters (these are similar black planters if you're looking). The real dirt around them just ads to the realism ;)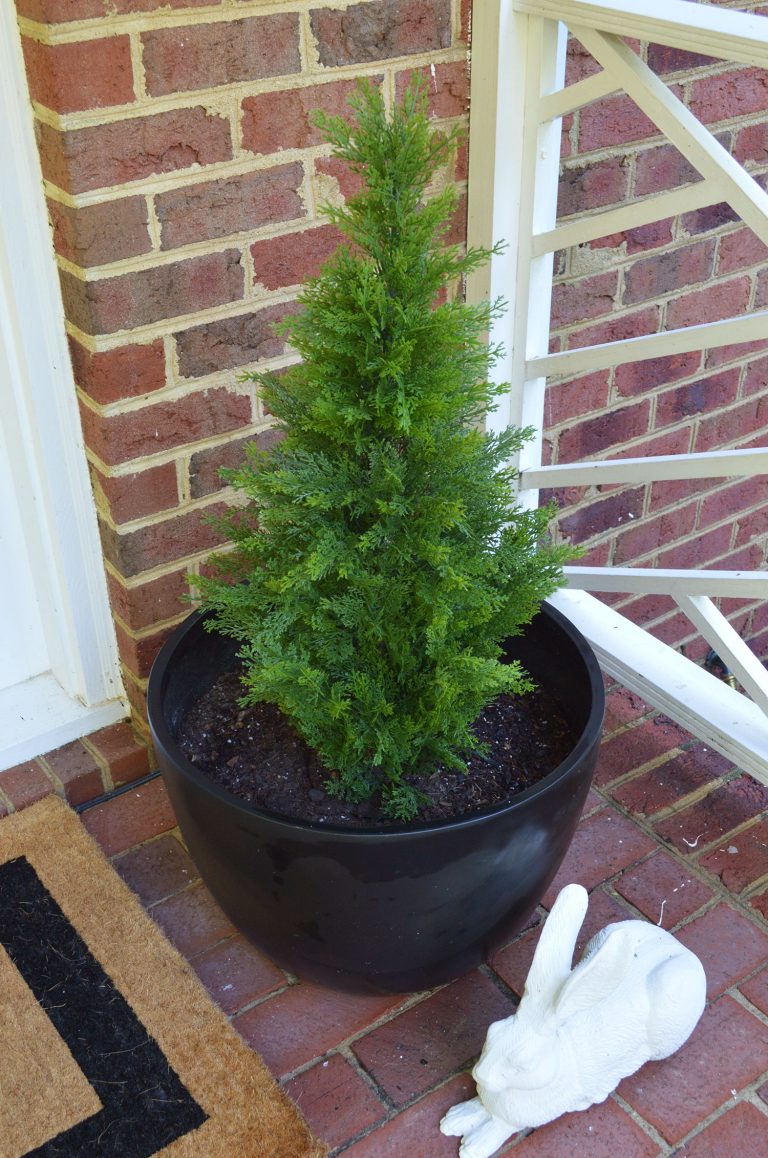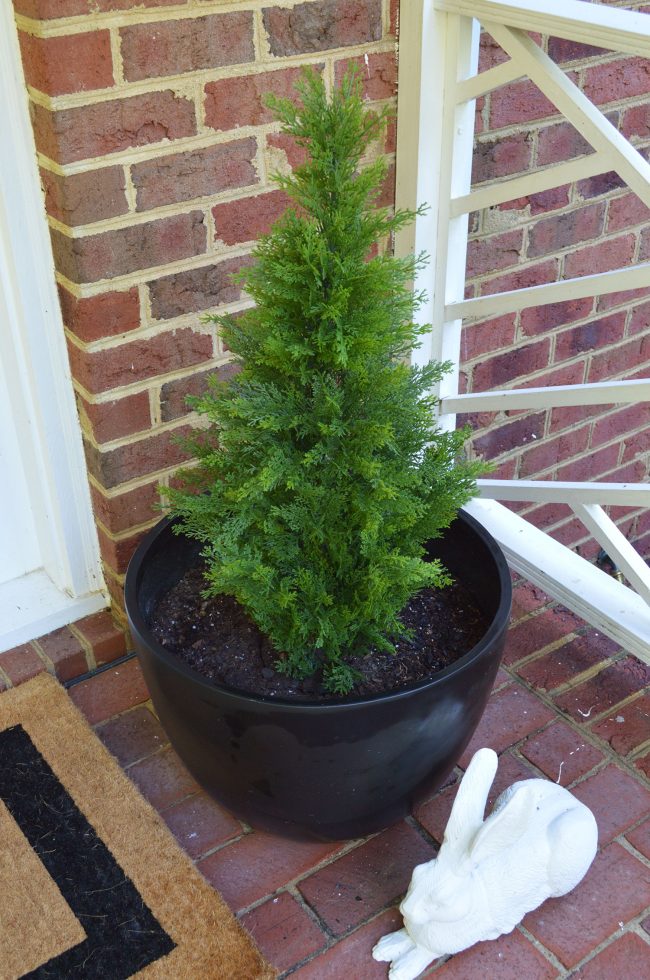 The last of the three things that whipped our porch back into shape was more subtle (which is my way of saying it was just deferred maintenance on our part). Since we had our pressure washer out to clean the brick on the back of the house after ripping off the deck, John sprayed down the front porch while he was at it because he wants to spray everything with the pressure washer. Again, I don't have a great "before" of this, but you can see the grime on the brick steps in this photo I found below.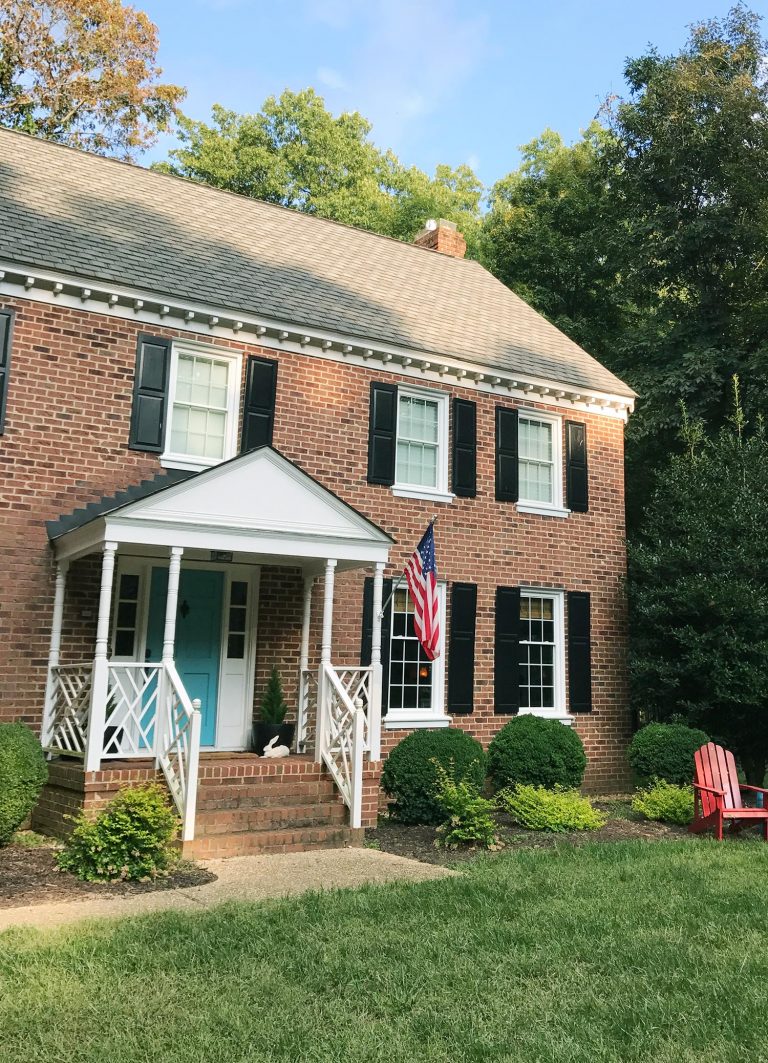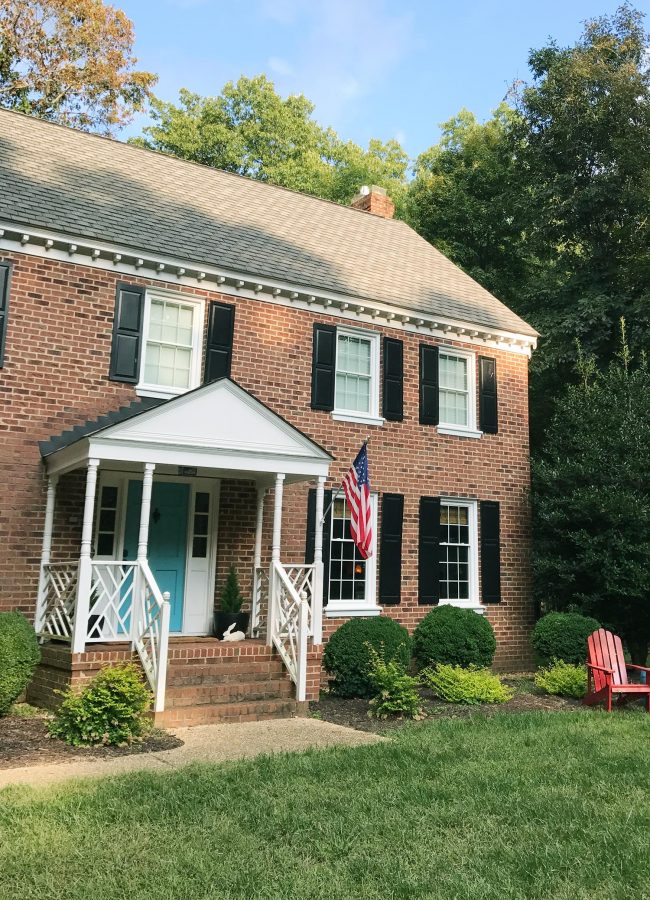 There's also this picture I took to show off my new fake evergreens on InstaStories. Look how green and mildewy the white railing looks. Yeesh.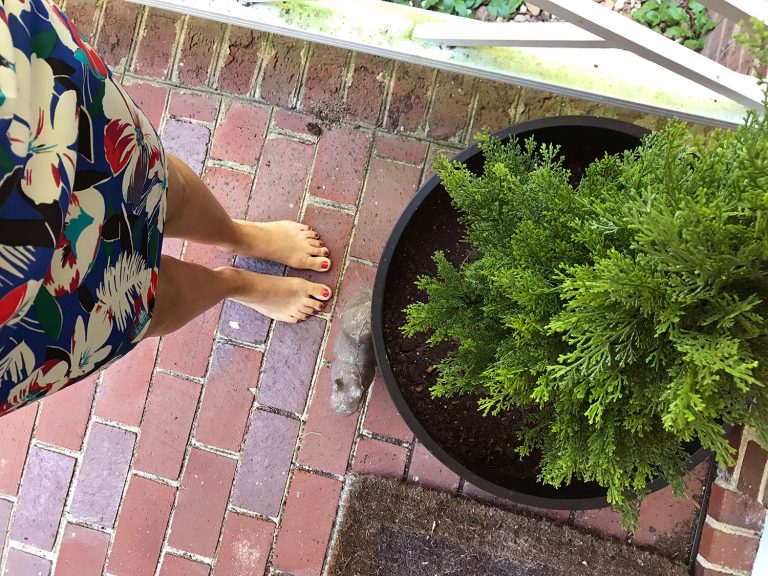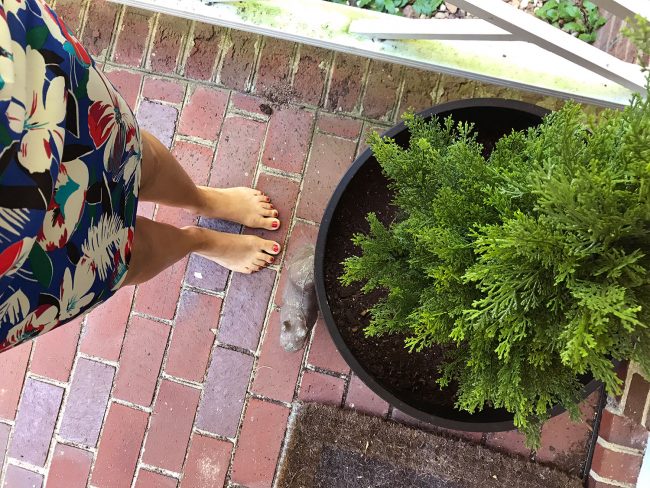 We haven't pressure washed this area since before we moved in over 4 years ago, so it was well overdue. The before and afters were pretty similar to what you saw in this post, but it was actually the first time we ever pressure washed the stone aggregate walkway. It's one of those things you don't realize you need until you see the difference it makes (in the photo below John had just done the outline and the diagonal stripe to show the improvement). How crazy is that difference?!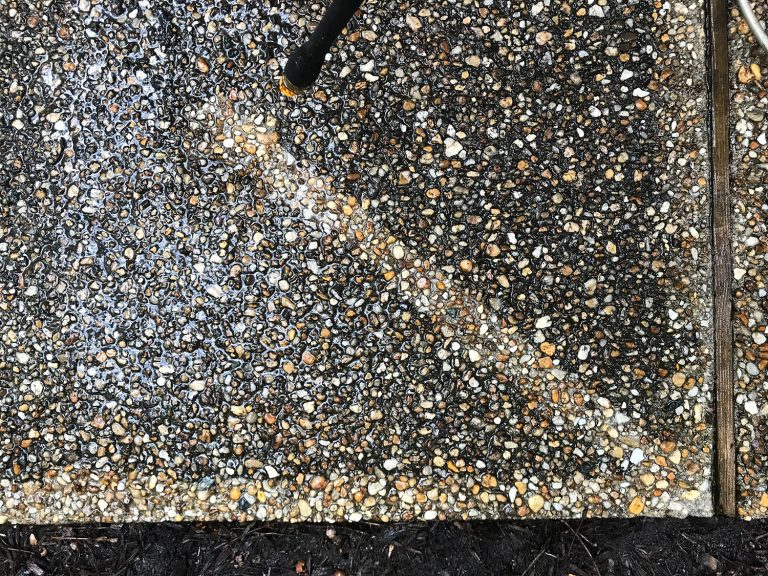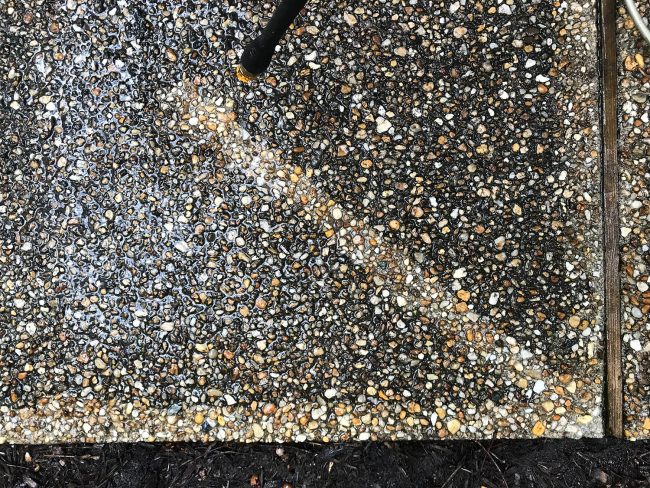 So this is how the porch looks, thanks to our new NEVER GONNA DIE plants, our new not-faded extra wide doormat, and a little stone & brick facial (aka: power washing).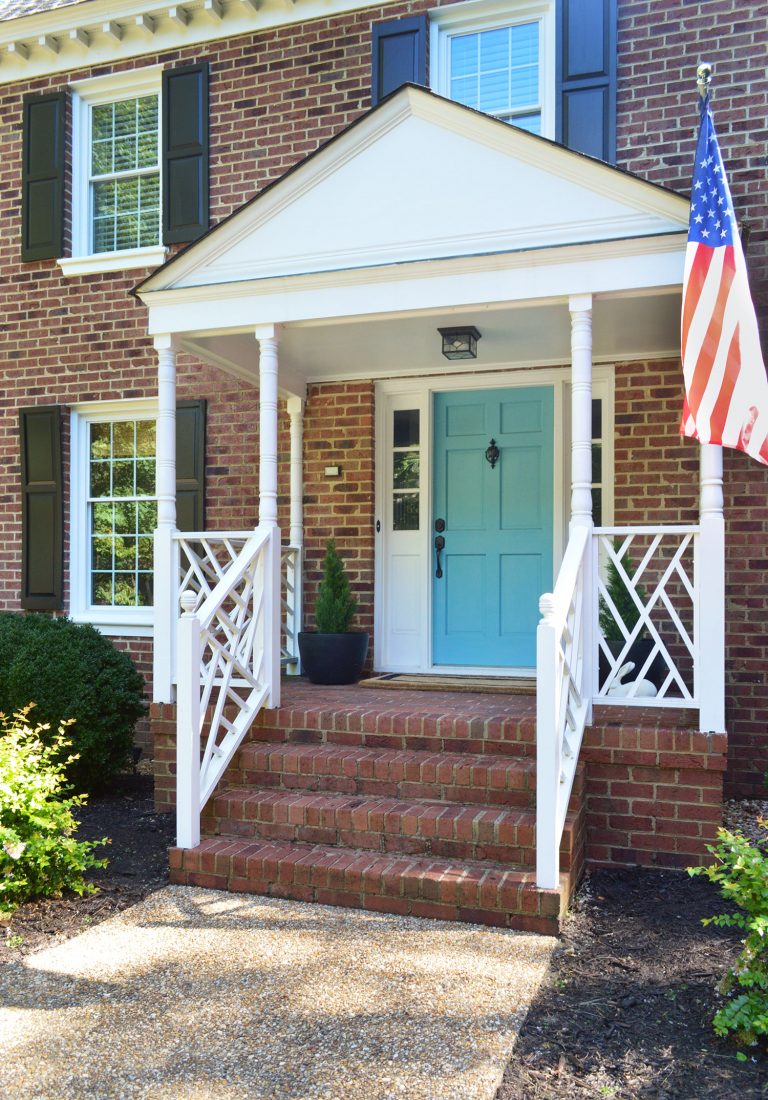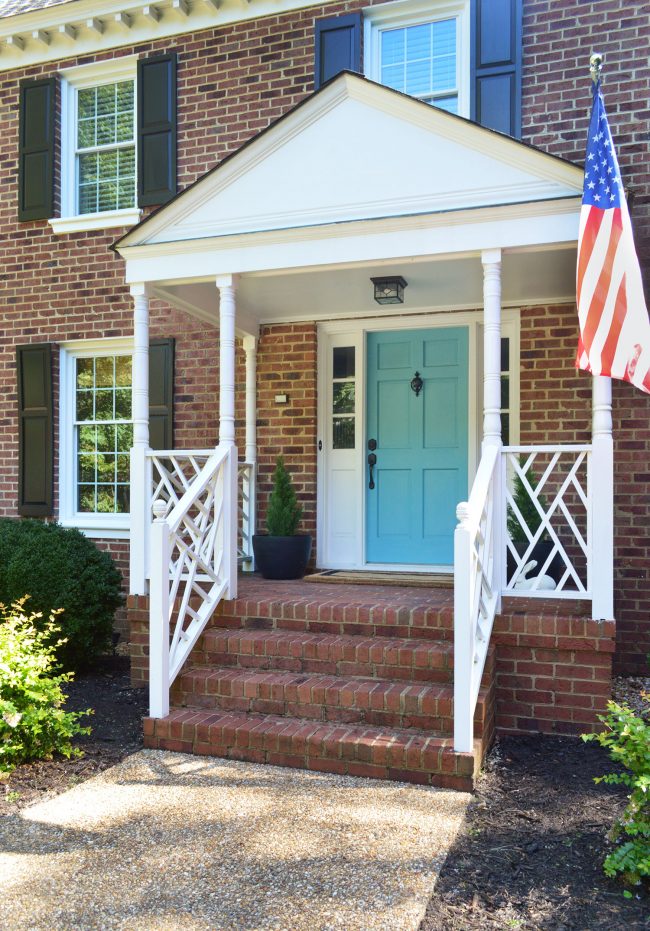 I also have some percolating plans to update the portico a bit more, with chunkier trim around the triangle and squared off columns. In the meantime I'll take the fact that it no longer looks like it's hosting a spider meet & greet for the surrounding five counties. Although we did dress it up for Halloween (because fake spooky things beat ten thousand actual spiders).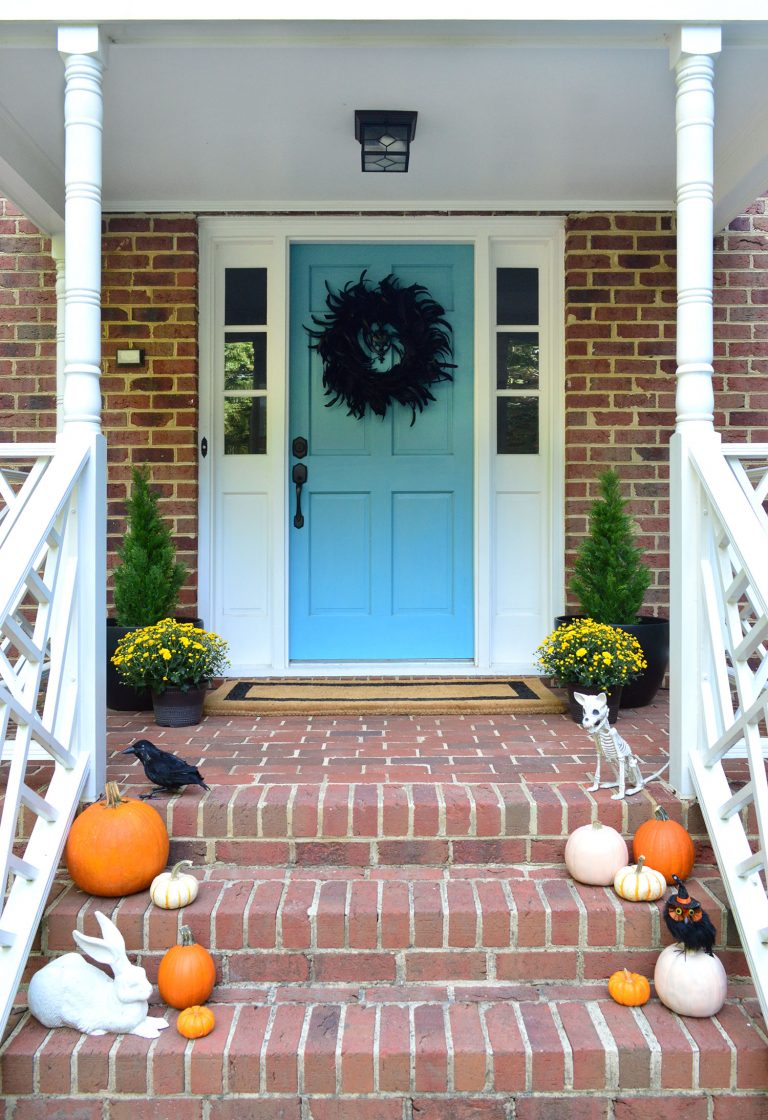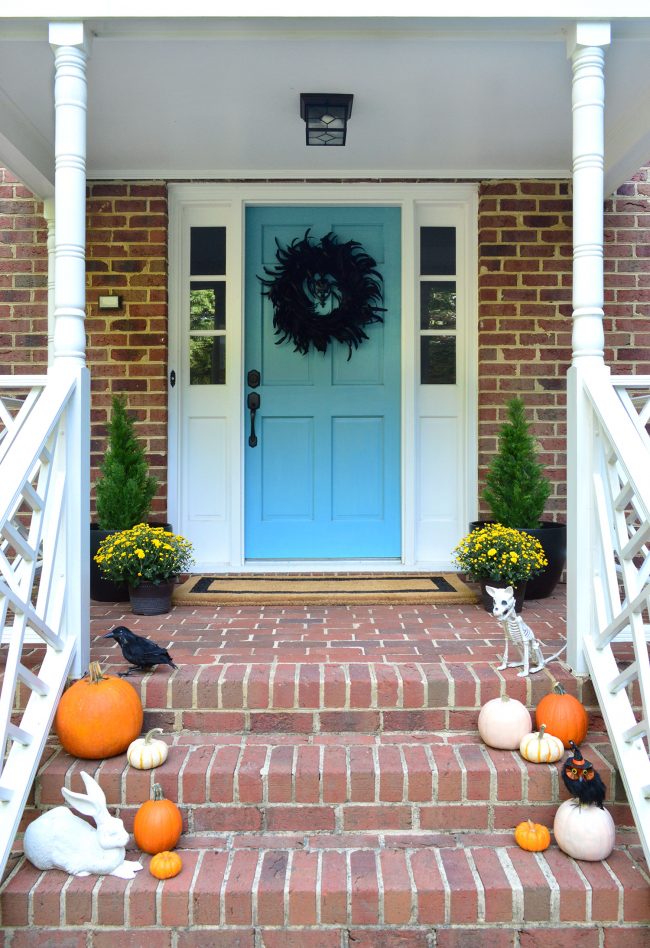 Clearly a lot of this stuff is just seasonal, but if the kids have any say, the chihuahua skeleton (which we've affectionately named Skeleburger) will be there year-round. We also added a few pumpkins that we picked out with the kids and a few quirky "animal friends" (I can't find an identical owl to link to, but this one would be awesome for Halloween too).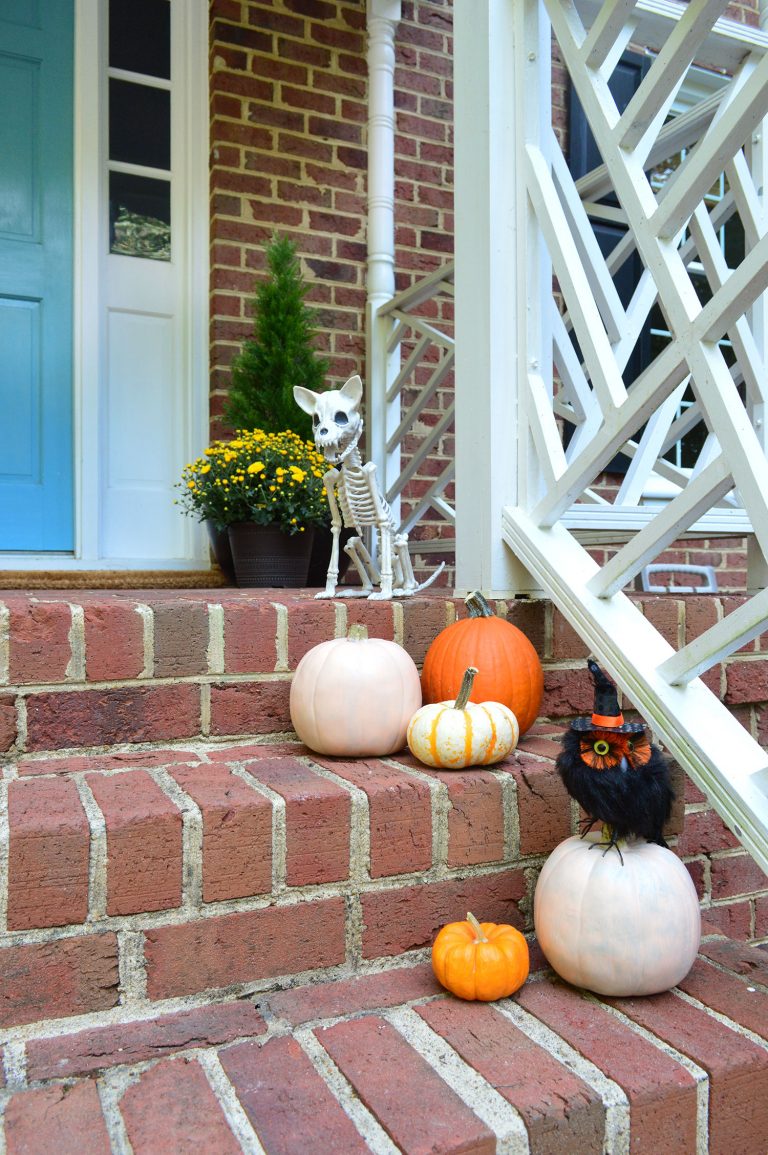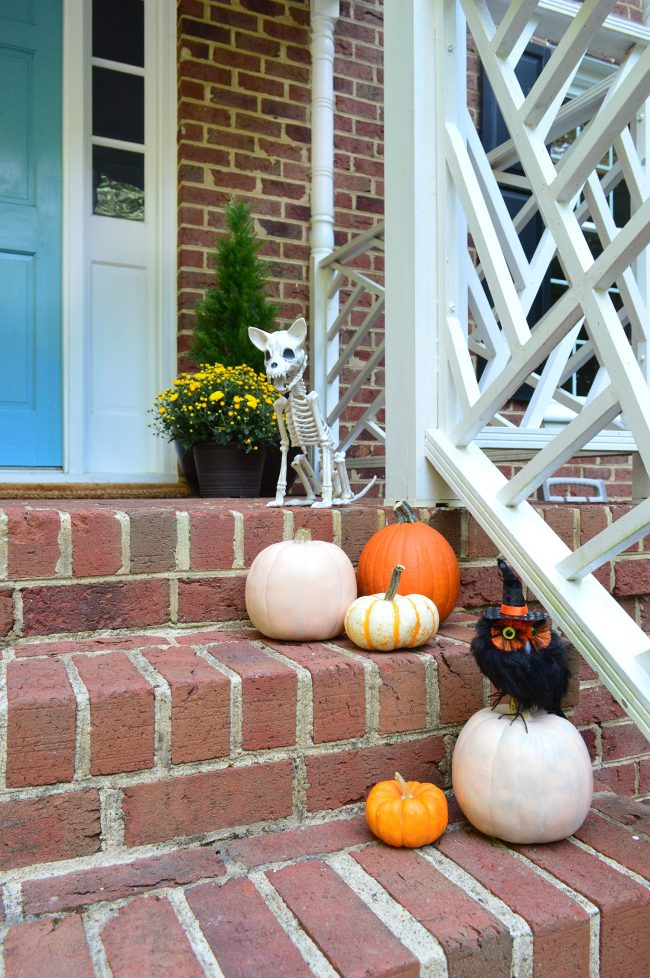 We've had this ceramic white rabbit a while (he's out year round just to send the "ceramic animals are always welcome here" message to the neighbors) but he works for Halloween too. Although he's definitely out-creeped by the black feather crow and our floppy little black feather wreath.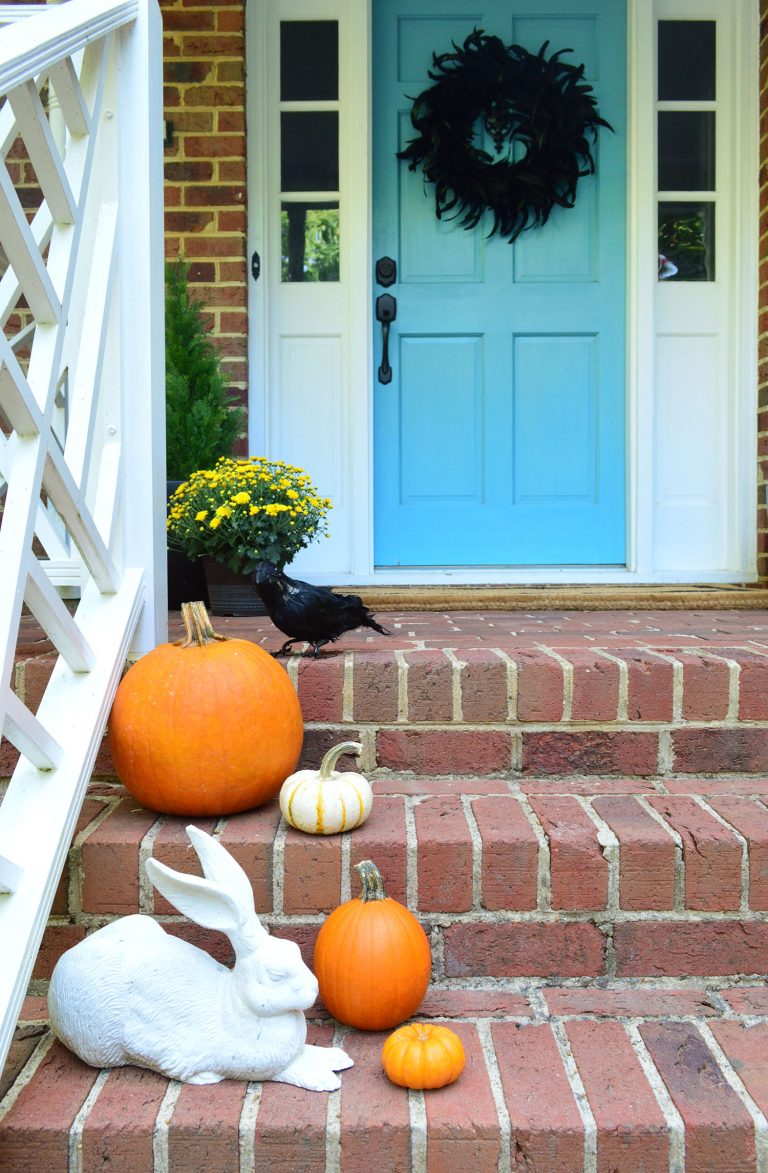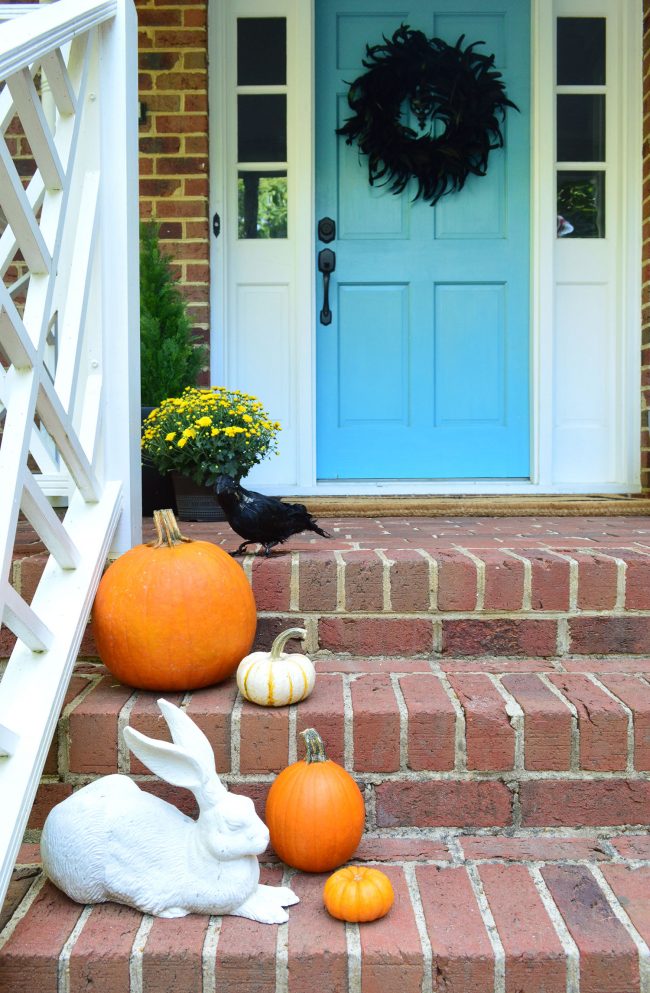 I know what you're going to ask. How does Burger feel about Skeleburger. Does he love him? Does he loathe him? Well, Burger's reaction can best be described as aloof and unimpressed.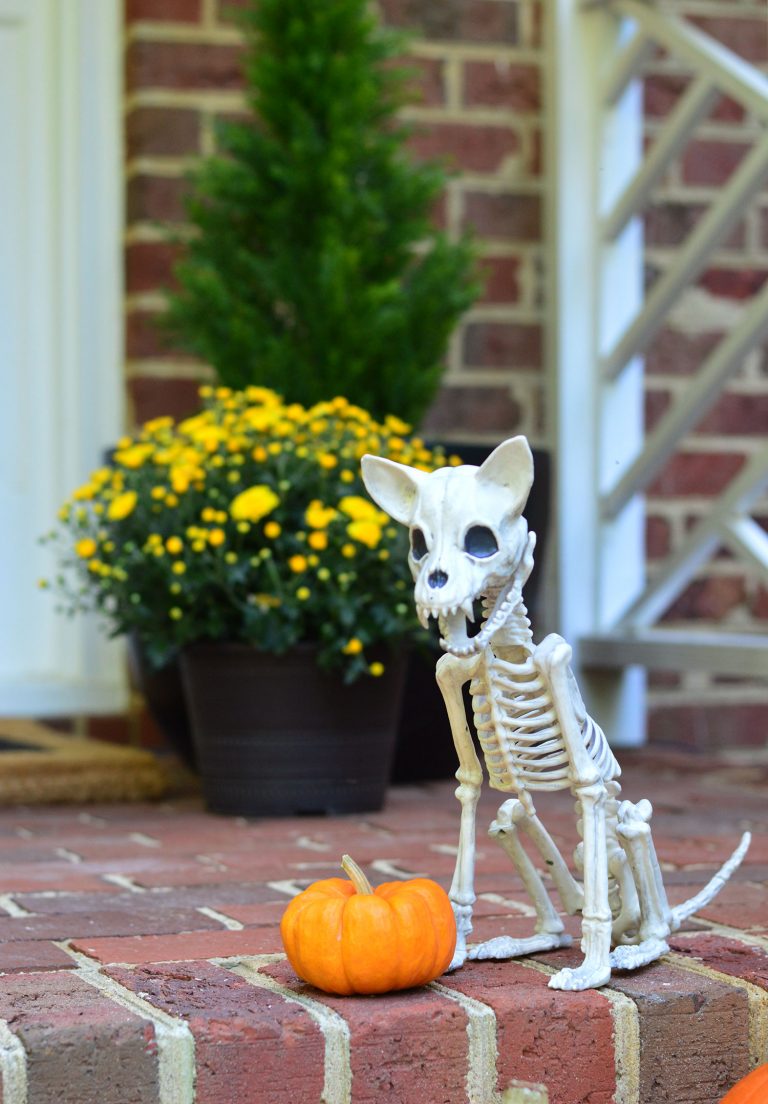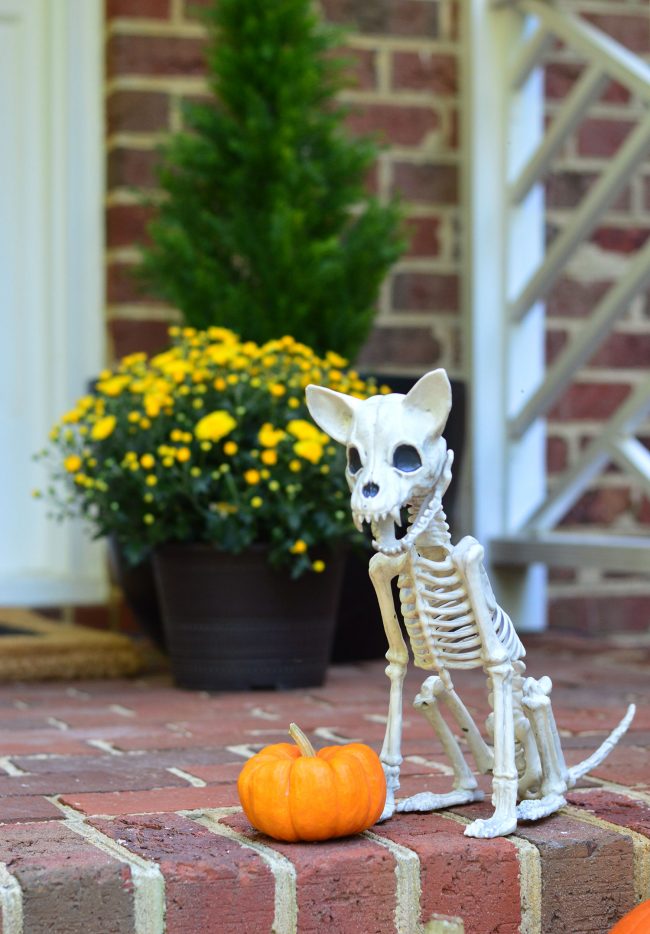 Whenever he sees him he's all, "Oh, it's you. How boring." He doesn't just strut or sashay by. He makes a point of being straight up unimpressed. Sometimes he stops and yawns. This time he freaking stopped and stretched right in front of him. Like, "Look how long and flexible I am. You can't even move. And why do you have ears if you're a skeleton?!" It was a true demonstration of dog dominance.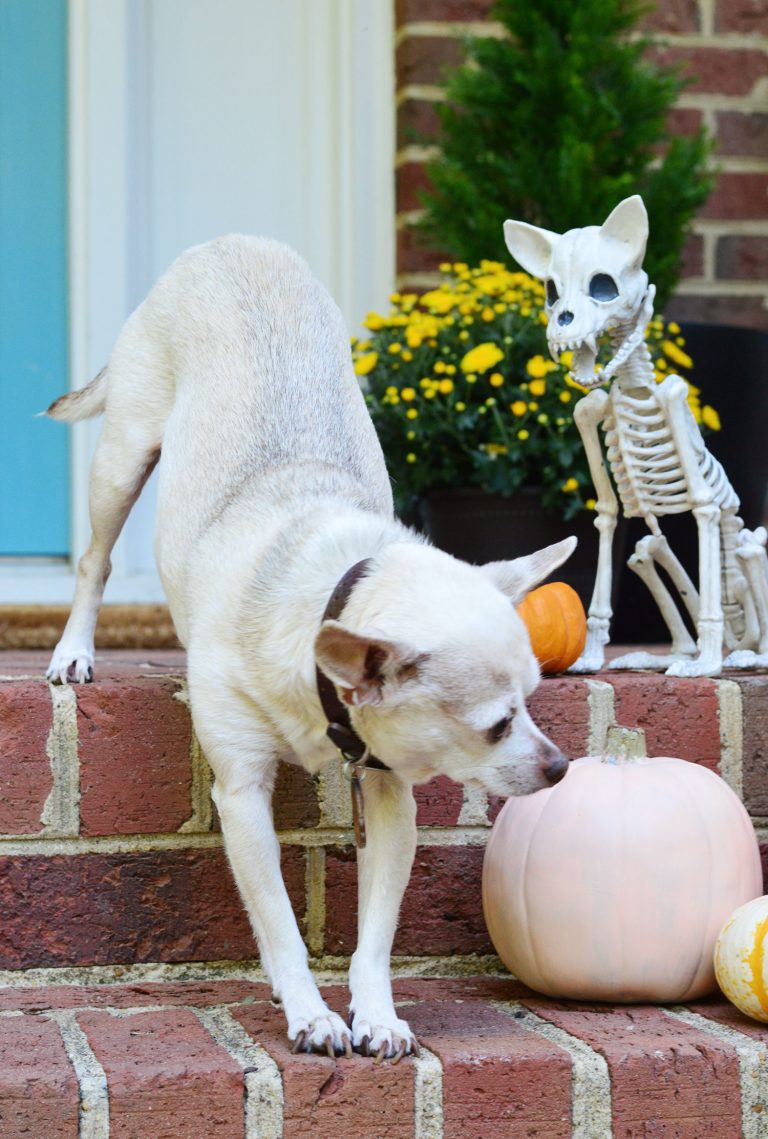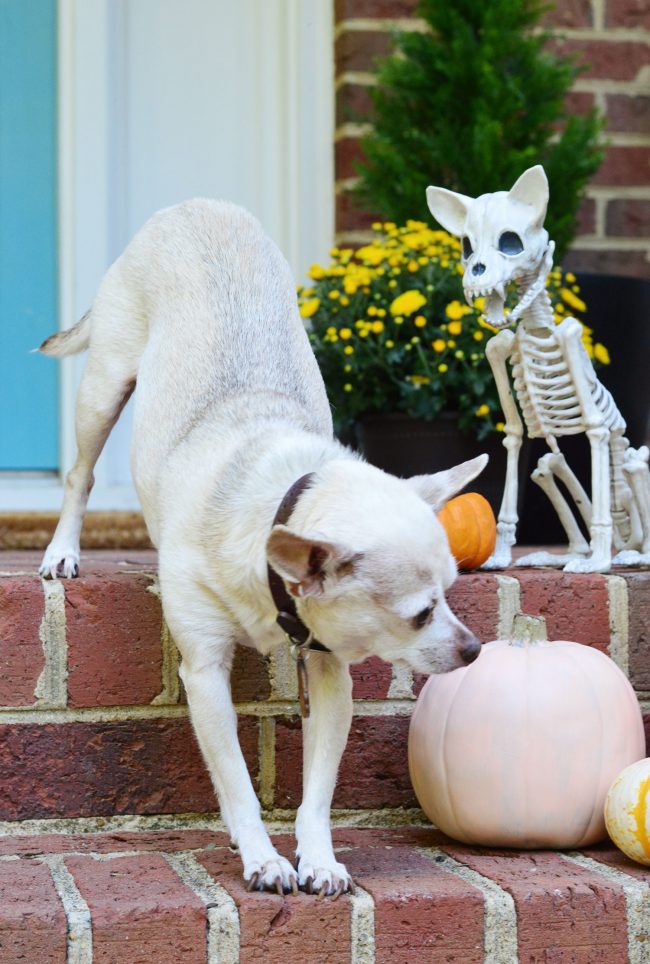 So that's what the porch is looking like these days. The spiderwebs might come back, and the mat might eventually fade, but I'm pretty sure the bushes are going to outlive us all.
Psst- Wanna see more outdoor updates & posts about naaaature? Here are a whole bunch from the archives.
*This post contains affiliate links*