---
Happy Friday, guys! Just wanted to stop in with a public service sale announcement because as usual there are TONS of home items that are discounted for Memorial Day and since I'm now shopping for our house and the beach house (DANGER!) I'm on high alert for deals. I learned the hard way that it's smart to hold out for this weekend when buying home stuff a few years ago (I ordered something like two days before all the sales hit without thinking: "duh, wait for Memorial Day and everything goes way on sale"). This year I actually had my act together not only to 1) remember that tip and buy two things I've been watching for a while 2) put a post together for you guys of some things I'm seriously eyeing thanks to all the GET IN MY BELLY CART feelings that wash over me during a big sale.
First there's this pretty pendant (it's 20% off with the code "AMAZING"). I've seen it in person and it's gorgeous. My friend Carey has it over this cool bar area in her house and it is even more charming in person. So after a many months of yearning and watching, I pounced. I mean, it's capiz, so this shouldn't really be a surprise. Also, 20% off everything doesn't roll around all that often on S&L. You have me right where you want me, Memorial Day sales.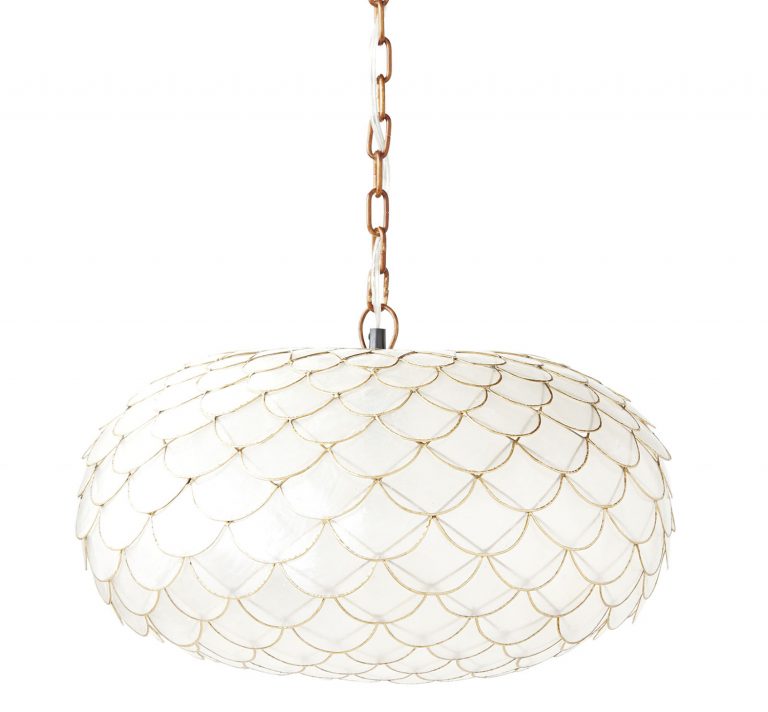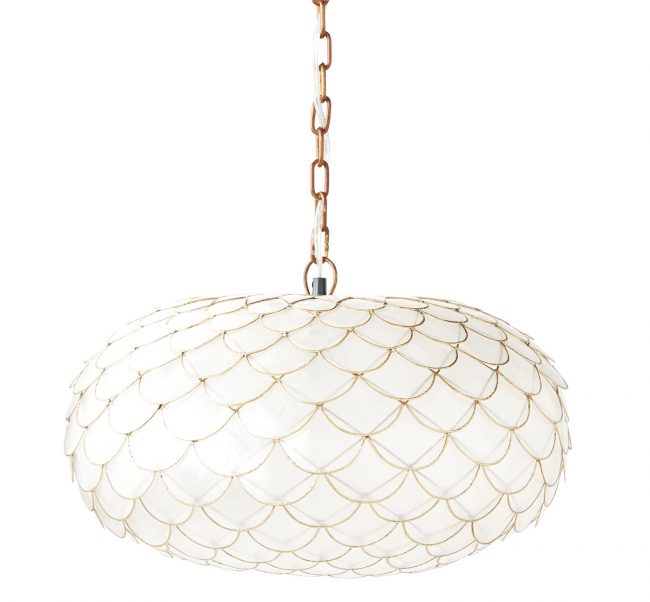 This side table. OH MY HEART. I really really wanted it. It's already marked down from $398 to $299 and you can get an additional 20% off using the code "AMAZING", which I think is fitting because it's amazing that I resisted this guy. Wouldn't two be great for a beach house bedroom? Or as living room side tables? Now my willpower is waffling…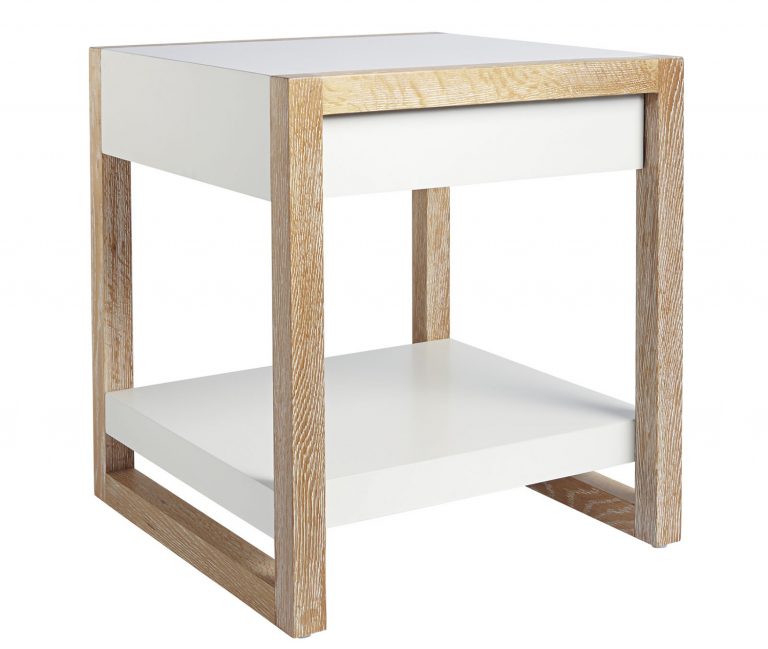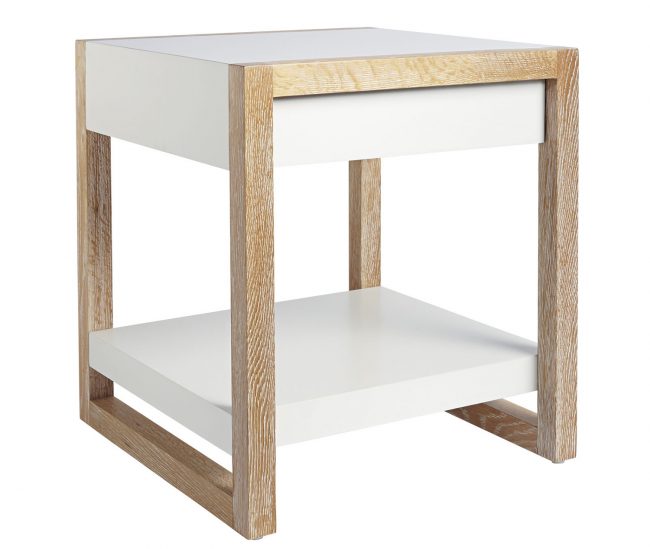 This tasseled curtain (it turns out tassles are my new kryptonite). This was $79 and now it's down to $39.99 and you get an additional 20% off with that same sale code ("AMAZING"). I was this close to getting it for our down-the-line bathroom renos (we still have both full baths upstairs that we have to redo) but didn't want to commit to it and then find some amazing tile in a color that might clash or something. But if you have a bathroom with white subway or some other neutral tile, this guy is for you (heck it would even be cute with that retro old pink tile).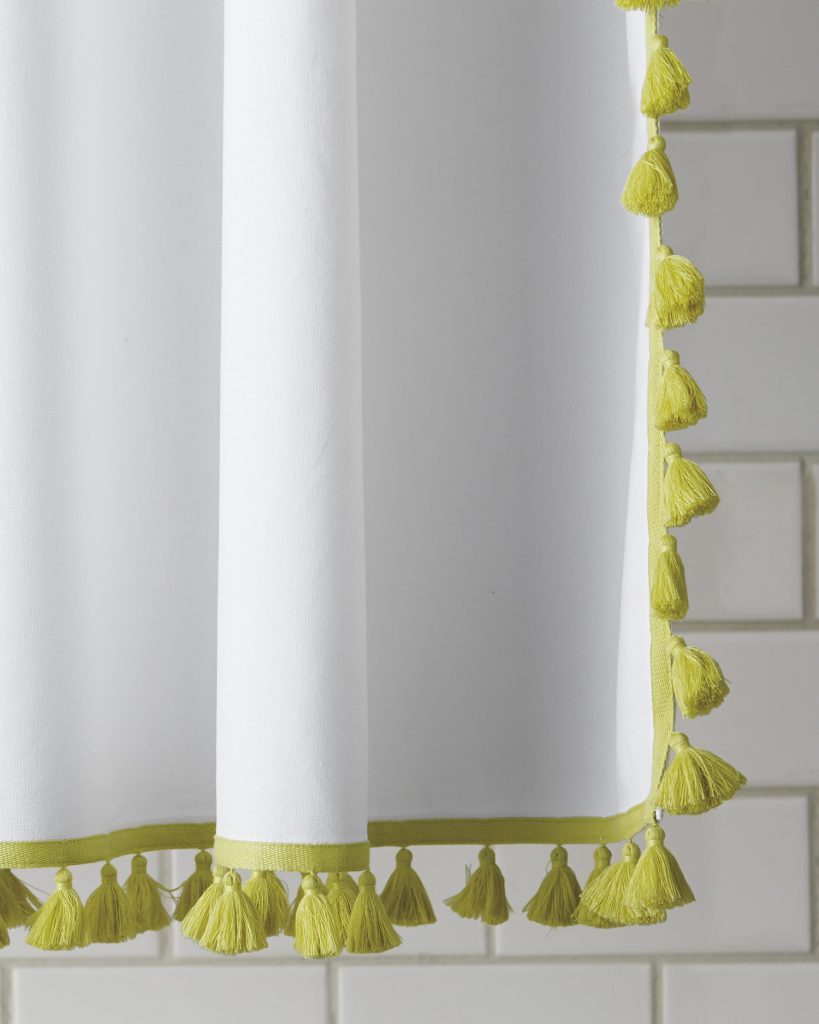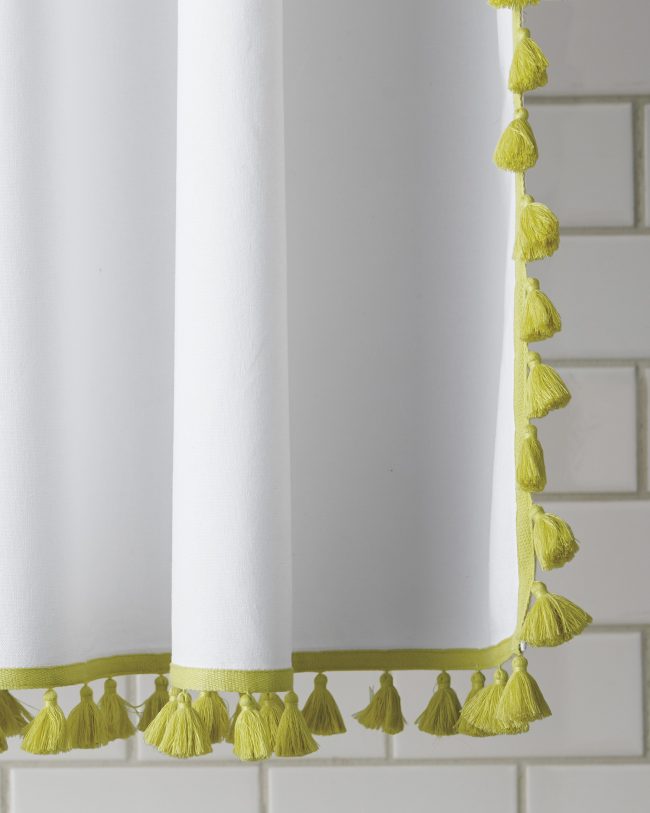 This playful pachyderm accent table is $159 but you can save 20% with the code "AMAZING". You know I love a ceramic animal, and this guy is functional and adorable and feels extremely special / one of a kind (I love all the detailing). Would be so cute in a kids room or even as a side table in a grown up bedroom (ahem, like ours John… if you're looking to surprise me with another ceramic animal). What's one more at this point?
This showstopping chandelier (it's $399 but you can get 15% off and free shipping with the code "SAVEMORE"). It has multiple lights and a nice large scale, so it would be perfect for over a dining table, a foyer, or even a kitchen island. Yes, it's capiz. Yes, I'm predictable. Or maybe I'm just really loyal. Stand by your man favorite material.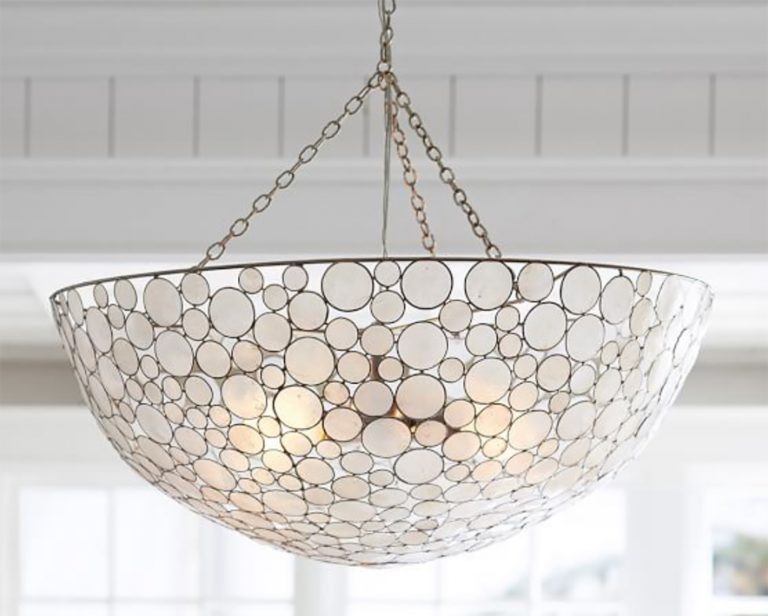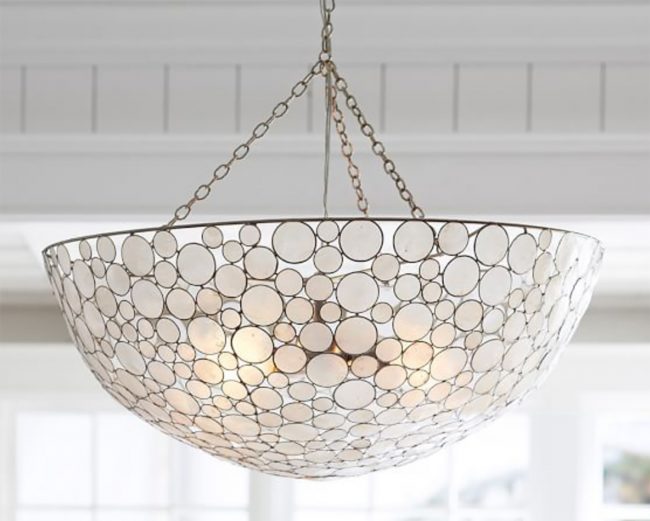 This pretty blue bedding reminds me of the duvet that we had in our very first house. Do you guys remember that little bedroom of ours?! Nostalgia. It's nice to realize that something I loved ten years ago still has a place in my heart today (also, see capiz and ceramic animals). It's organic and 400 thread count, comes in two colors, and a king sized duvet was $149 but is on sale for just $69 (a full/queen is just $49). Plus you can save up to 30% off on top of that with the code "SUMMER," depending how much you spend.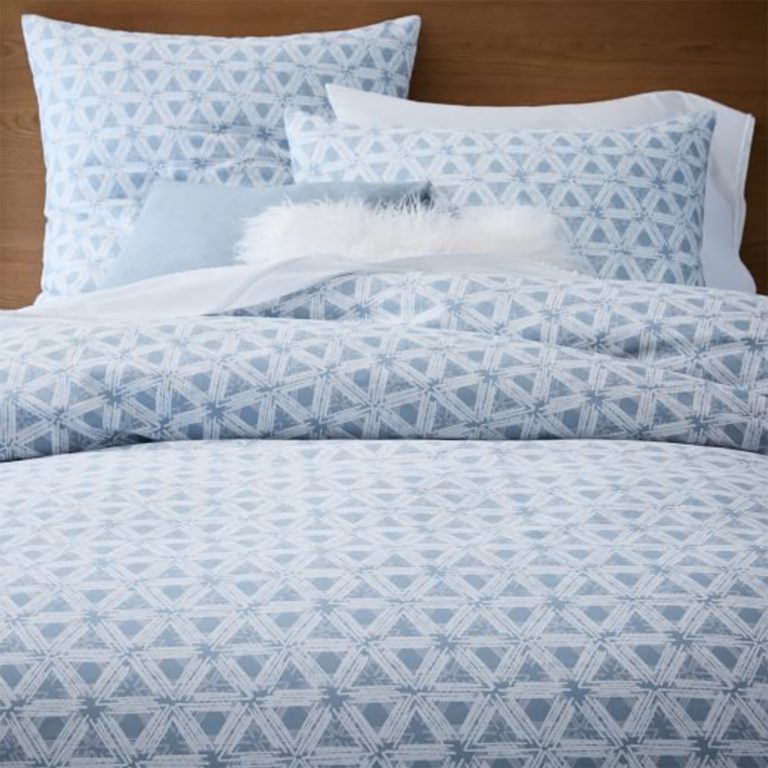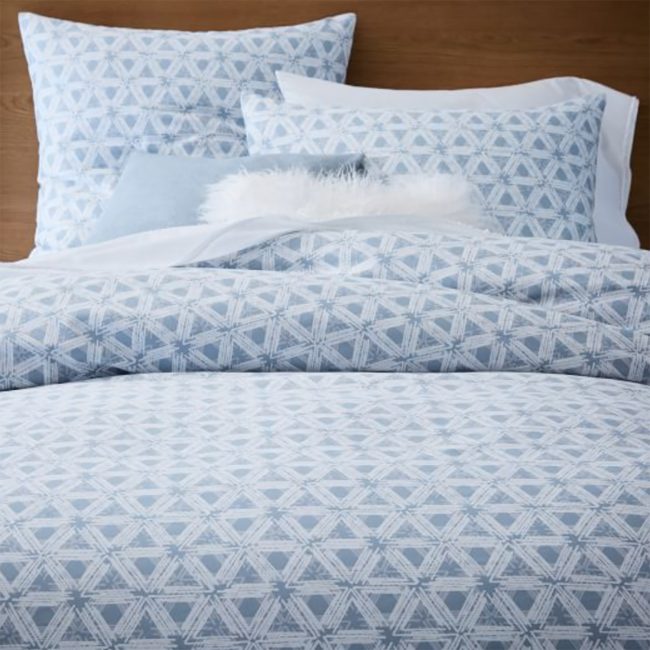 These sleek and simple frames are the closest thing to a pricey framing job I've seen (in person they are so shiny and the mats are nicely cut and super white – they just look expensive and well done). So assuming they fit a print or photo or work of art you're looking to professionally frame, you can just grab one of these and pat yourself on the back. They start at $24 and they even sell a whole set of 4 assorted sizes to get more of a gallery look like the one below. Plus you can save more entering "SUMMER" at checkout (how much you save depends on how much you spend).
This casual dining table with a bench and some chairs would look awesome inside. I know, I know, at first glance it's a patio set…. but go with me here. Picture it as the dining table (with chairs and even a bench!) at the beach house. It's SO CHEAP ($399 for that big table and $229 for the bench – plus there's 15% off and free shipping with the code "MAYSAVE"), and a big round bowl or runner would cover the umbrella hole. I know, you still think I'm crazy, so wait for it…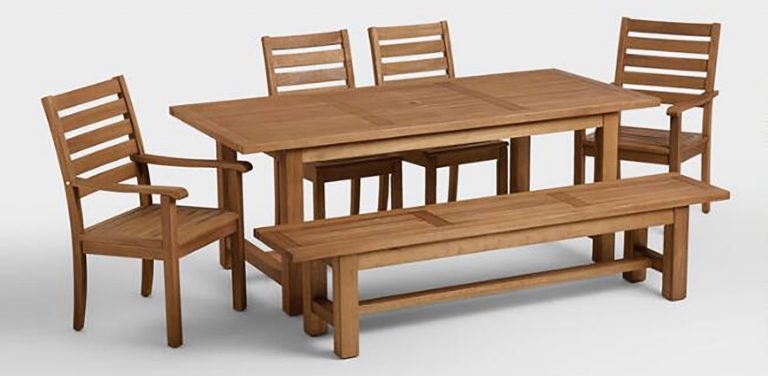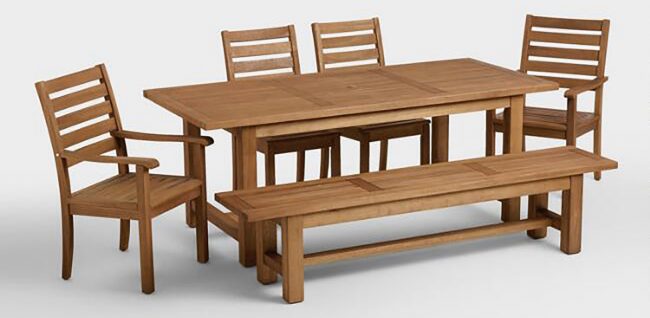 I'm also obsessing over these melamine glasses for the beach house. So pretty in all the colors (and super on sale) plus I don't have to worry about tons of breakage.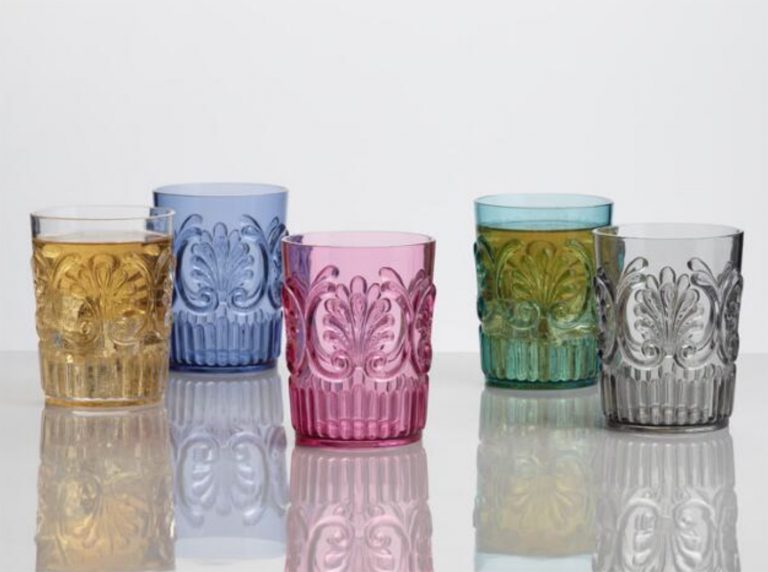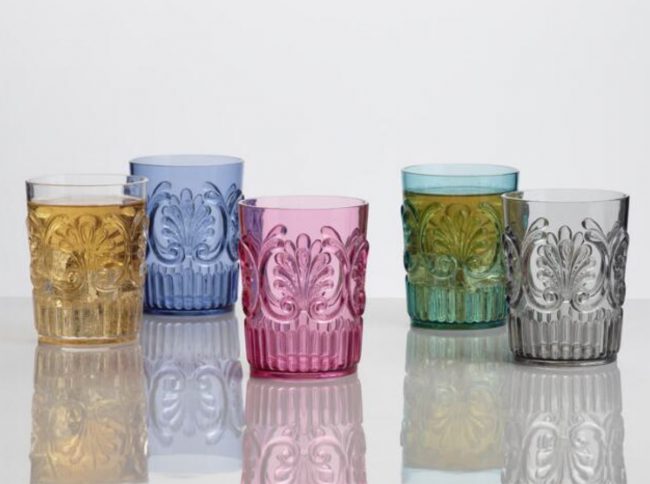 This hanging planter with pretty stained glass panels is the other thing I pulled the trigger and purchased. Why? Because the stained glass windows at the beach house have these dreamy colors, so I couldn't help imagining how pretty it would look hanging there. It's back-ordered and wasn't even marked down but I've learned at Anthro that things get backordered right before they're out of stock for good, which I didn't want to happen. They do have some other super sale items that are marked down this weekend though (I love this beaded clutch and I'm oddly intrigued by this lamb table).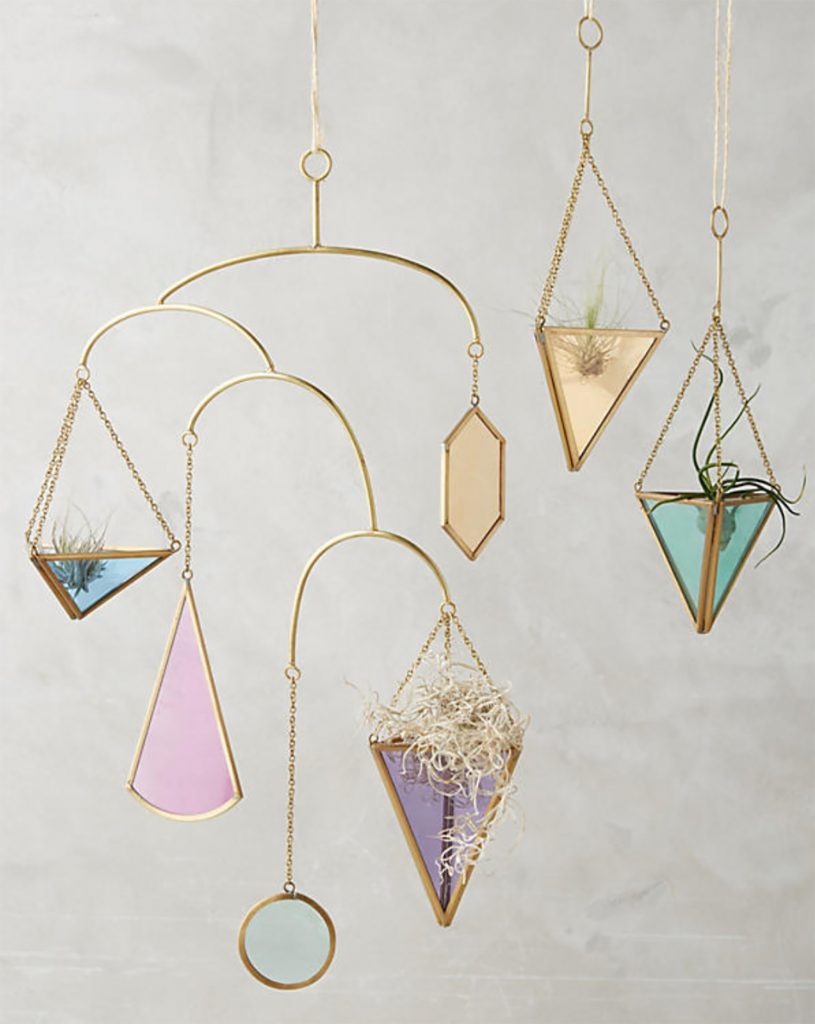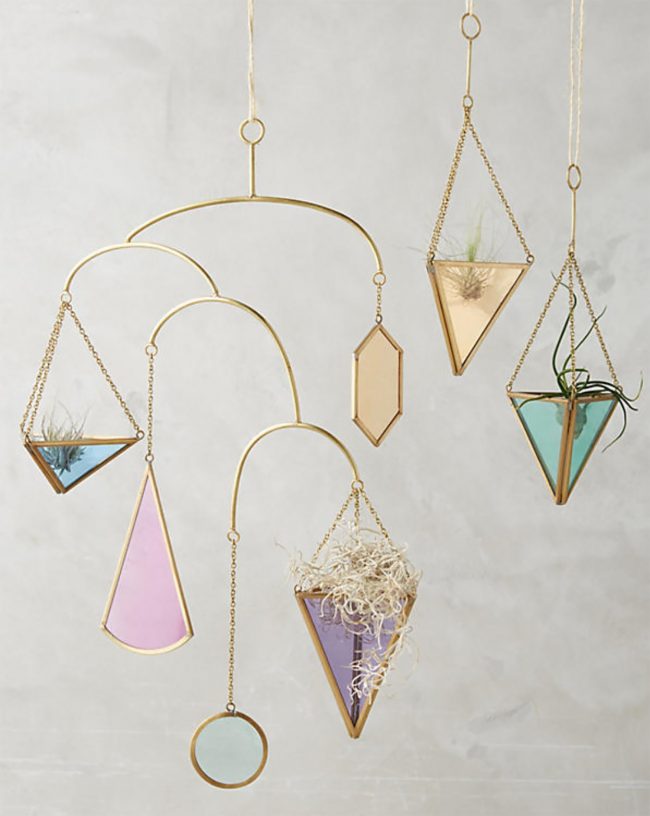 This leaning storage shelf could organize a foyer, office, bathroom, kid's room, or adult bedroom. I love how versatile it is and how clean it looks. Would be really handy for the beach house I think! And it would only take up a small amount of floor space (if you have a small room, one of the best tips is to go vertical whenever you can). It's $149 and you can get free shipping with the code "SAVEMORE".
This flush mounted capiz light is such a great alternative to a boob light (marked down from $249 to $199, plus use code "SAVEMORE" to save even more, depending how much you spend). Imagine two of these in an upstairs hallway or even one in a foyer without much headroom. Actually my neighbor just got this for her bathroom and it's right over her tub. Prettiest thing to stare up at ever. I told her I'm going to break in and take a bath and she believed me. Because I'm crazy like that.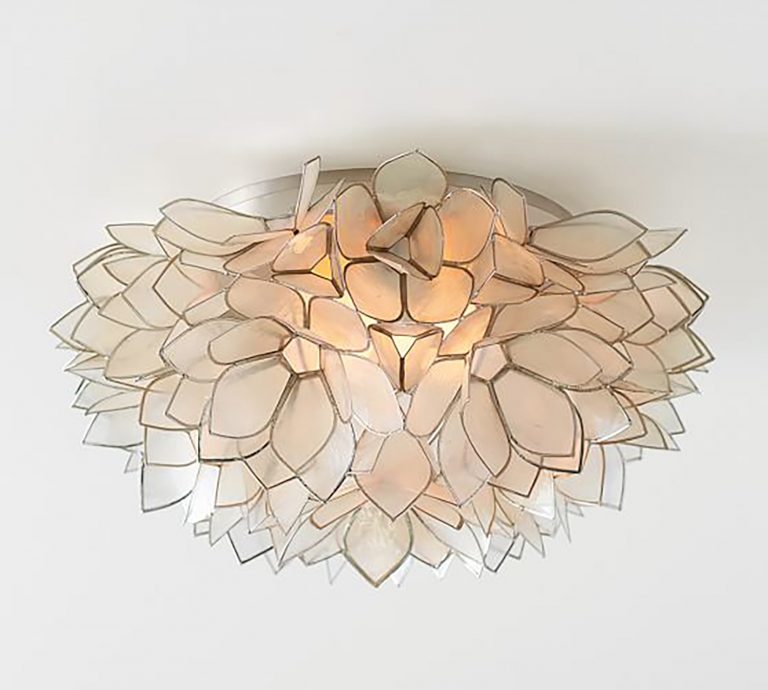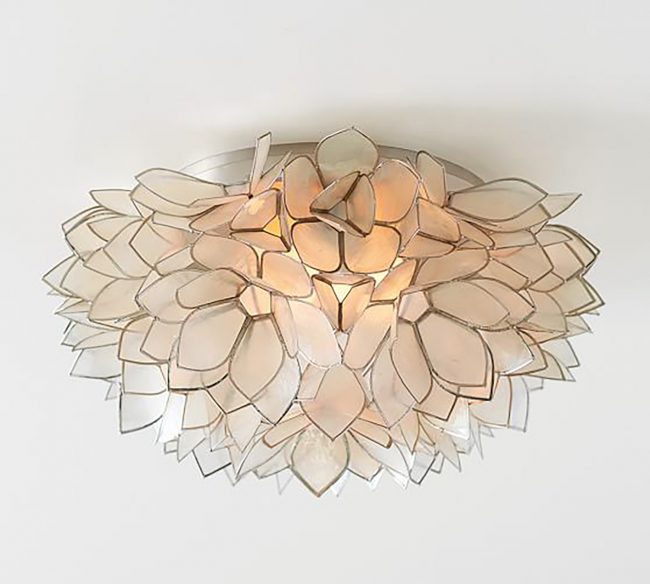 These fun woven stools are so charming. I've never been to Paris, but they remind me of the idea of Paris that I have in my head. Also, for practicality reasons, I love a stool with a back for comfort and kid-peace-of-mind (also for accident prone adult peace-of-mind). They were $328, but now the bar heigh ones are $159 and the counter height ones are $229 (plus you save 20% more with the code "AMAZING"). I also think they're surprisingly versatile – they'd work in a kitchen with tan tile or white tile, wood cabinets or white ones (thanks to the wood + white accents). Add some red dish towels and boom, your kitchen is refreshed.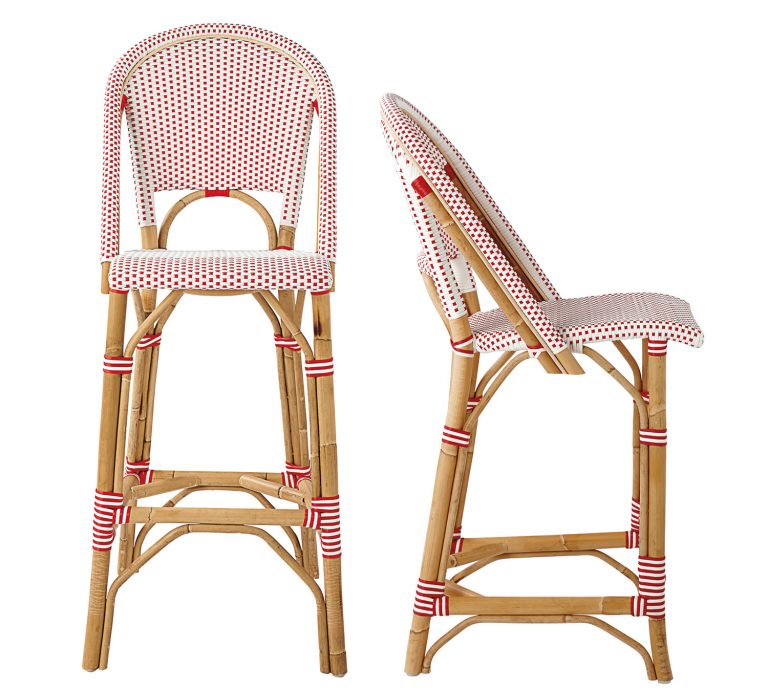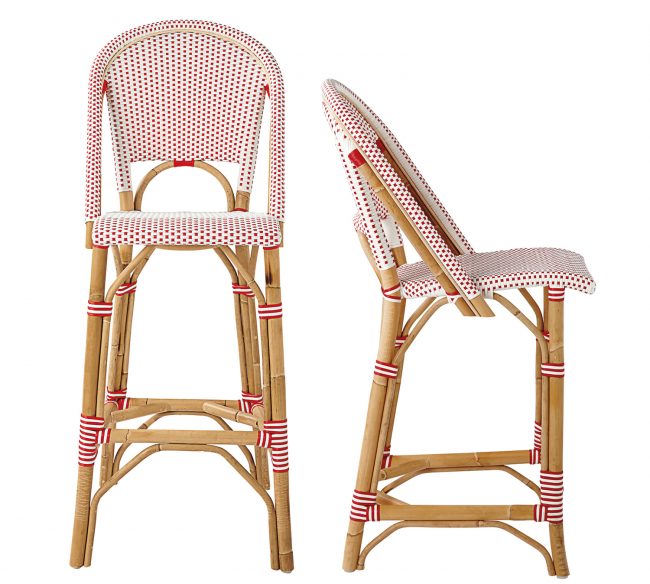 We've been in love with this gold mirror since using it in this makeover we did a while back for my BFF. It's such a polished looking way to bounce light around and make a room feel more finished and chic – and it's basically always selling out and coming back into stock because everyone wants it. But right now it's actually in stock in the brass color (it comes in some other colors too) and it's $399 plus you can save at least 15% and up to 30% off with the code "SUMMER" (depending how much you spend).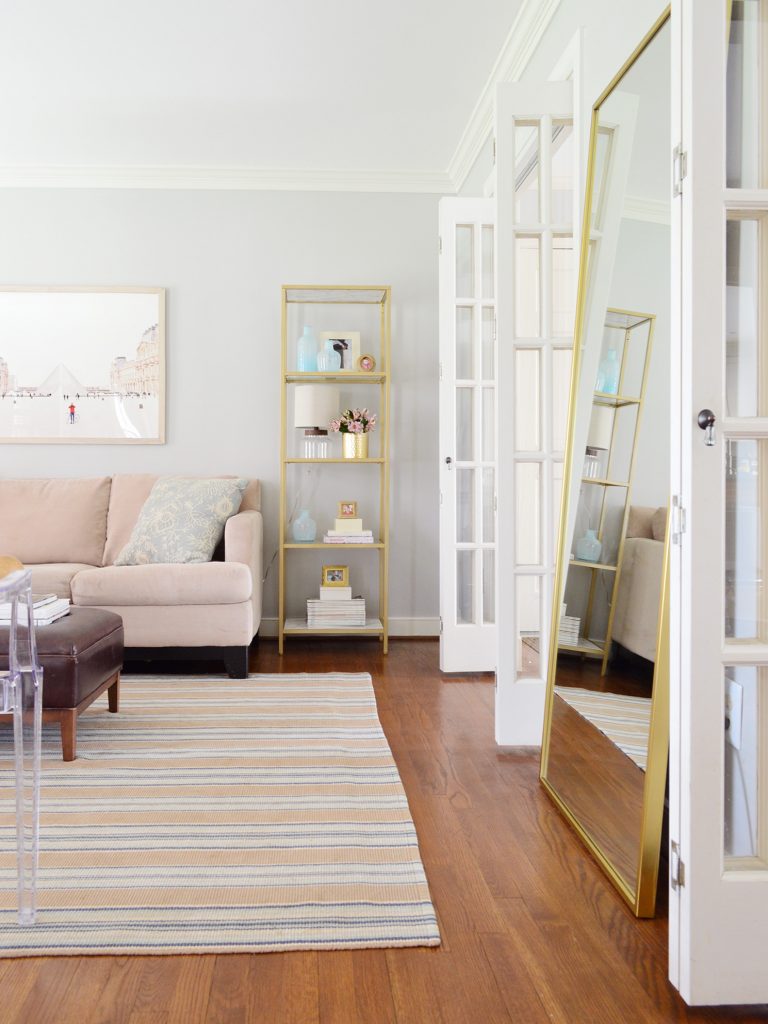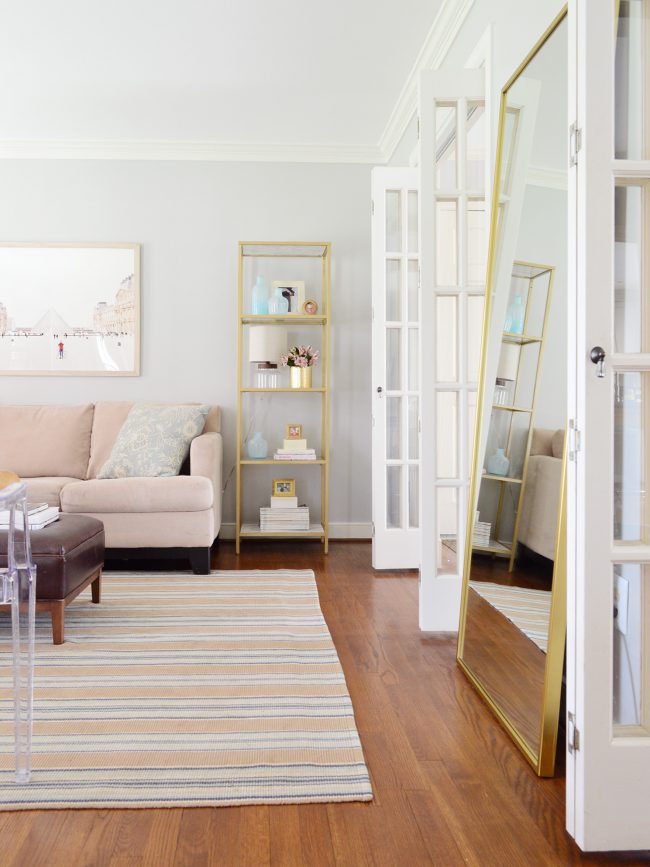 So there it is. And for anyone just generally looking for a rundown of sales and what their correlated sale codes are, here's a quick list of what I've found so far:
Hope you guys have a great weekend! I'm off to work on John about that table/bench situation for the beach. We're swinging by the beach house to check progress soon and I'm going to measure it out in the space and hopefully it'll be perfect! Cross your fingers for me.
*This post contains affiliate links*