I don't know why I'm always compelled to start these holiday house tour posts by type-shouting "SMILING'S MY FAVORITE" but there I've already gone and done it. 'Tis the season. Moving on. Here's how we decked our proverbial halls for Christmas this year. As you may have heard in last week's podcast, we're continuing last year's mission to simplify our holiday decorations. We still want our home to feel festive, but in a way that doesn't feel too crowded and overwhelming (or take too crazy long to set up and take down). So the living room is pretty much just all about the tree and the mantle.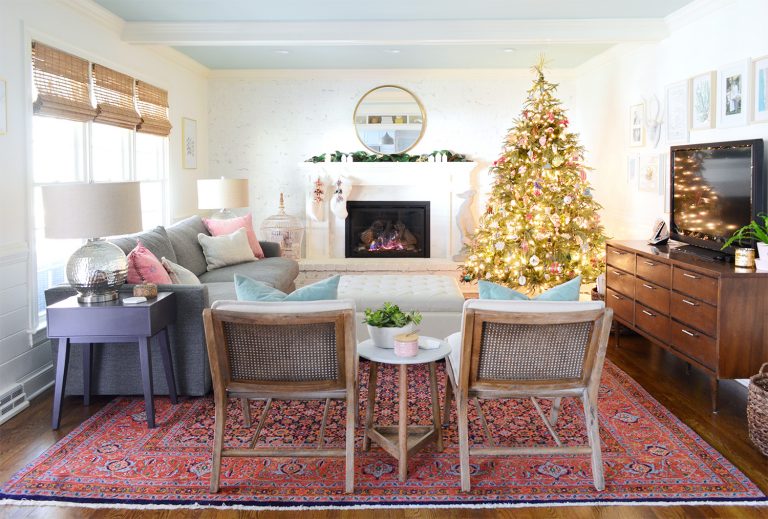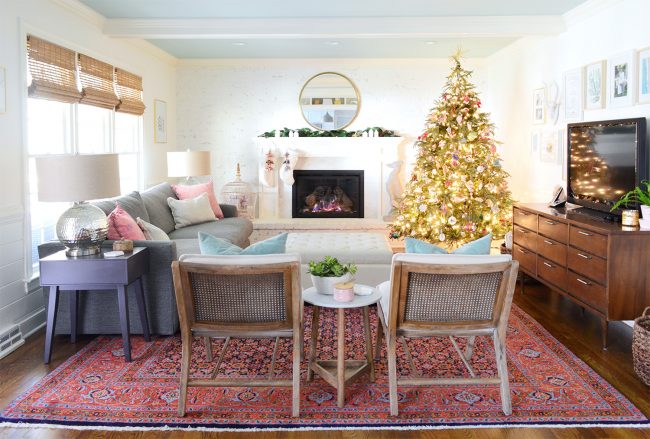 sofa / side tables / chairs / round marble table / blinds / ottoman / similar lamps & TV table
The tree is an artificial one that we've had for over five years. It has some of the most realistic looking branches we've laid eyes on when it comes to fake trees, but at this point most of its original light strands are burnt out (we had a good run!) and last year we gave up trying to fix them (Sherry spent 30 minutes hunting down the wrong bulb only to replace it and watch the entire strand blow out again ten minutes later). So at this point it's mostly lit with these strands from Target.
It took a few tests to find lights that matched the warm-ish color temperature of the original bulbs (all the LED versions were too blue looking) so we've hoarded a few extra boxes for down the road. The ornaments are all a mish-mash of sentimental and homemade items we've collected over the years and I think this year was the most fun the kids have had helping us decorate it. Maybe because they're finally both old enough that Sherry and I are shouting "BE CAREFUL!" and "DON'T TOUCH THAT ONE, IT CAN BREAK!" less and less throughout the process.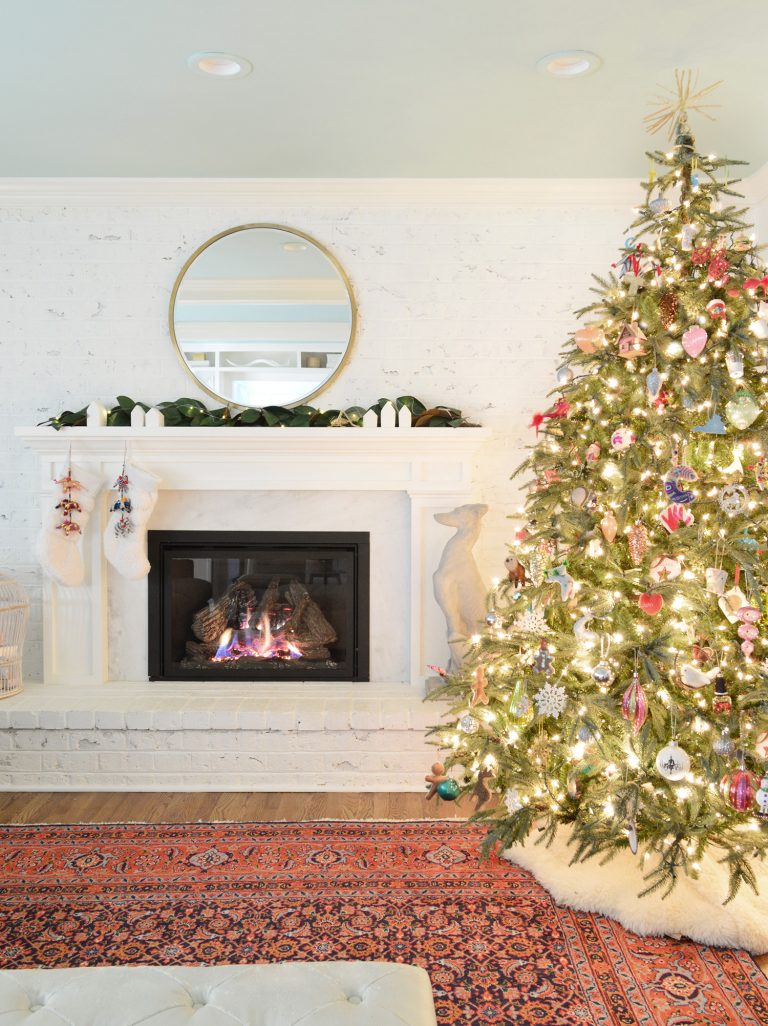 Christmas tree / similar rug / similar tree skirts / similar stocking / garland / similar mirror
Our typically colorful fireplace (which you can see in last year's holiday house tour) is more subdued this year, thanks to Sherry's greenery kick and this faux magnolia garland she bought a few months ago. She noticed it looked a little dark up there at first, so she added some ceramic white houses we've had for a few years (these are similar – ours are actually ornaments with the hangers cut off) and some battery operated fairy lights to bring some lightness to the mantle.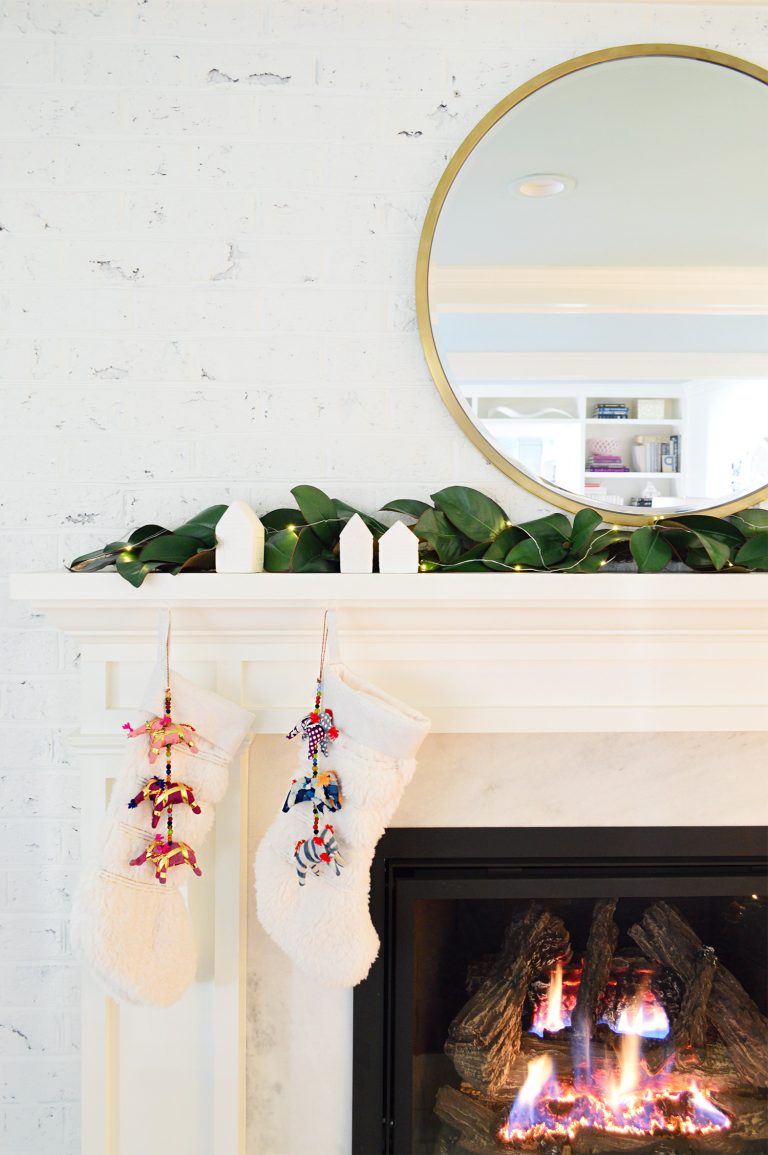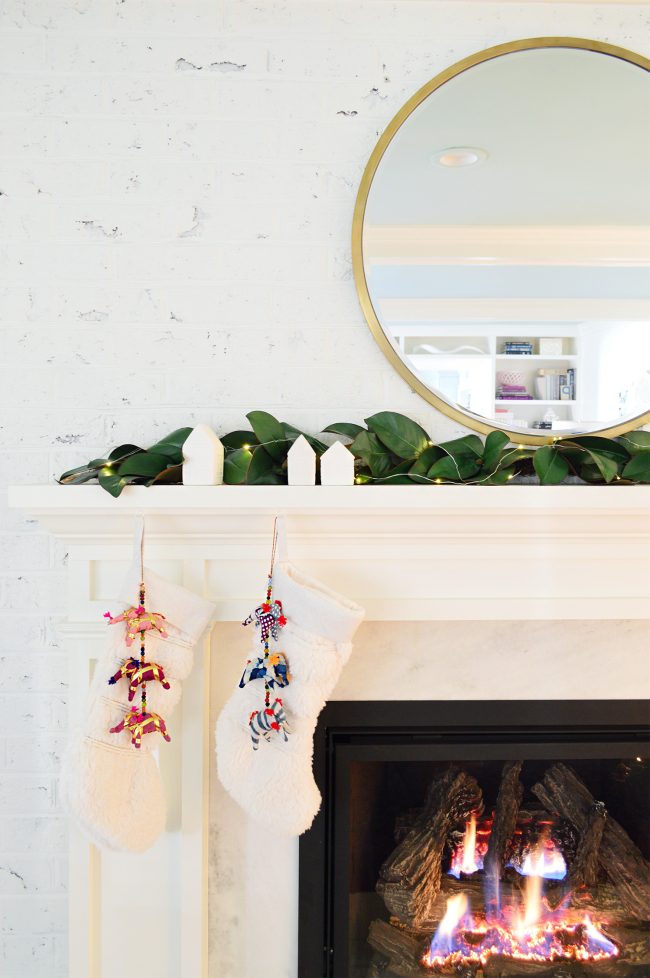 faux magnolia garland / similar stockings / battery powered lights / similar ceramic houses / similar mirror
We did pepper in some nods to the season on the living room bookcases too, but they're easy to miss at first glance. I actually didn't notice the mouse until I uploaded this photo (which I took!). Let's play a little game of Where's Waldo (Waldo the mouse, not that guy in the striped shirt).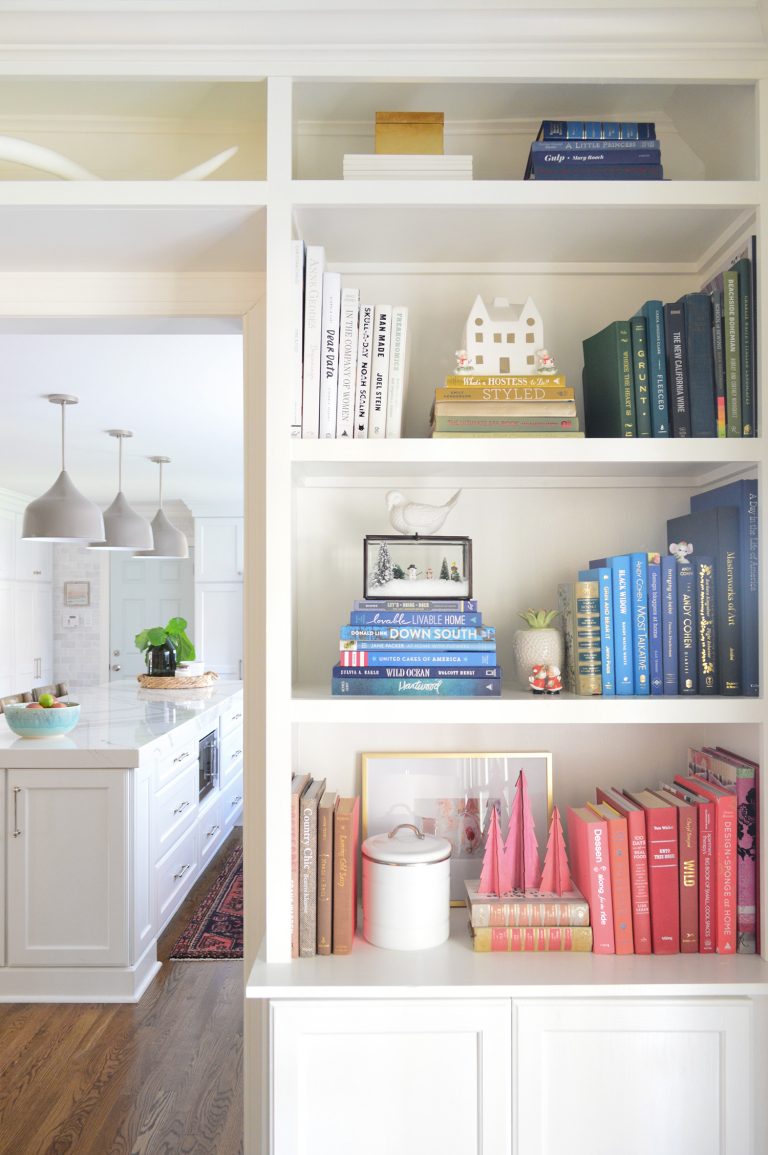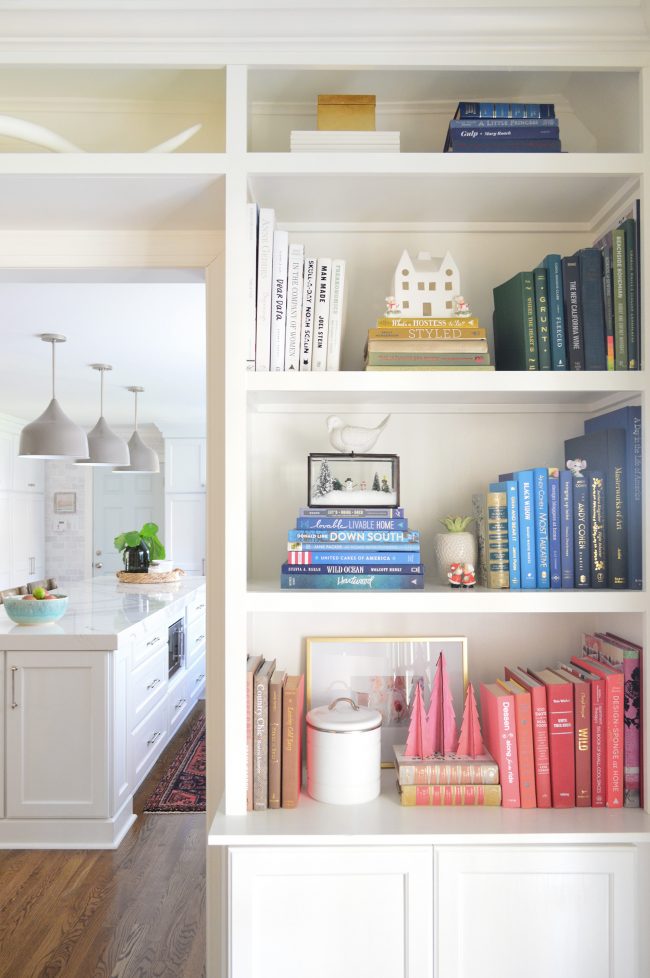 Those small figurines are hand-me-downs from Sherry's mom and it takes everything in Sherry's power to not keep them out all year (miniatures are her true weakness in life). The holiday "terrarium" is a DIY project from a few years ago and we picked up the pink wooden trees at the gift shop of our local botanical garden last year during an office Christmas party (not our office – that would just be weird – it was for the ad agency where I consult).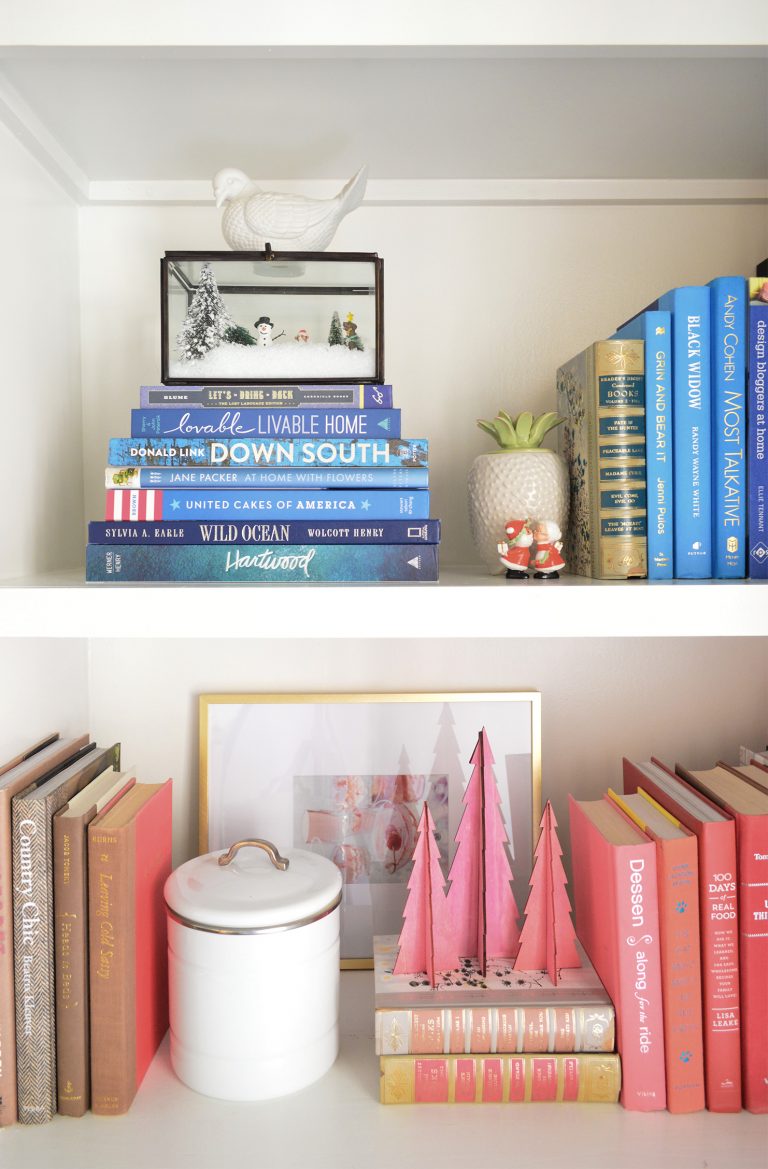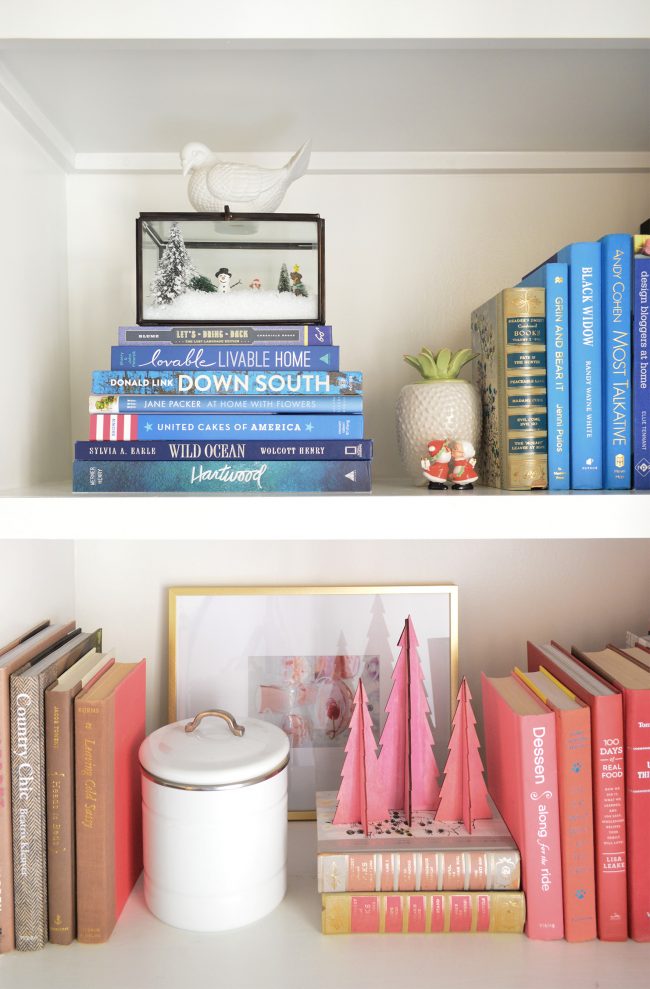 pink trees / gold frame / holiday shadow box / our book ;)
The kitchen is also showing some holiday restraint this year. We're using the area under the floating shelves to house the wooden house advent calendar Sherry picked up from the Magnolia collection at Target. I'll be honest that we were a little perplexed as to how to actually use it as an advent calendar. Do you pull the "block of the day" out front as you count down? Move a little bow from house to house as you go? We decided just to turn them all around to hide the numbers and flip them to reveal each one as we go.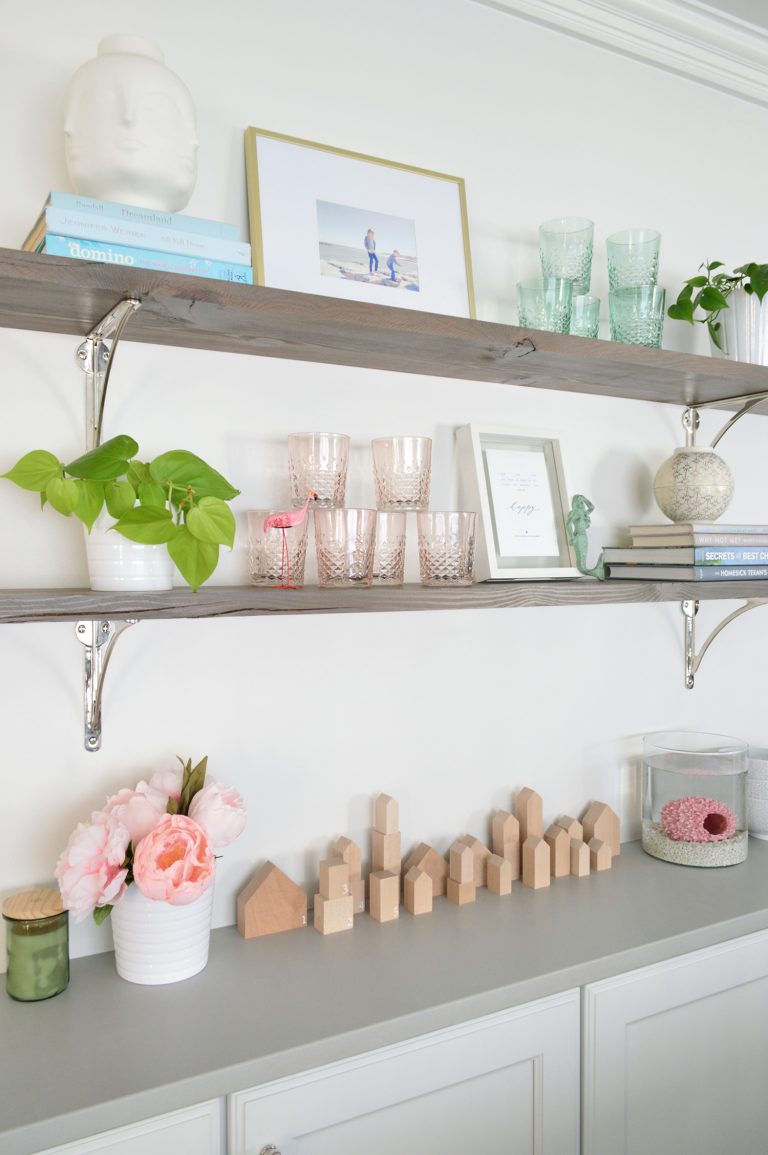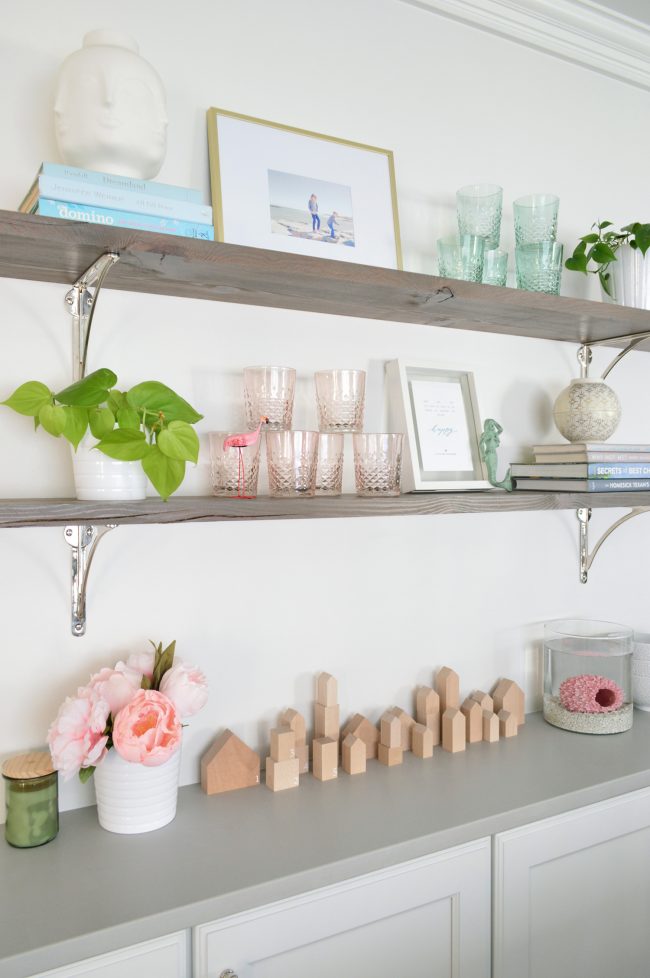 advent calendar / paper flowers / green candle / gold frame / shelf brackets
Hilariously enough, the description on the Target website doesn't even seem to acknowledge that it's an advent calendar – and weirdly suggests gluing them into their storage box (???). Guess there are lots of ways to use this thing.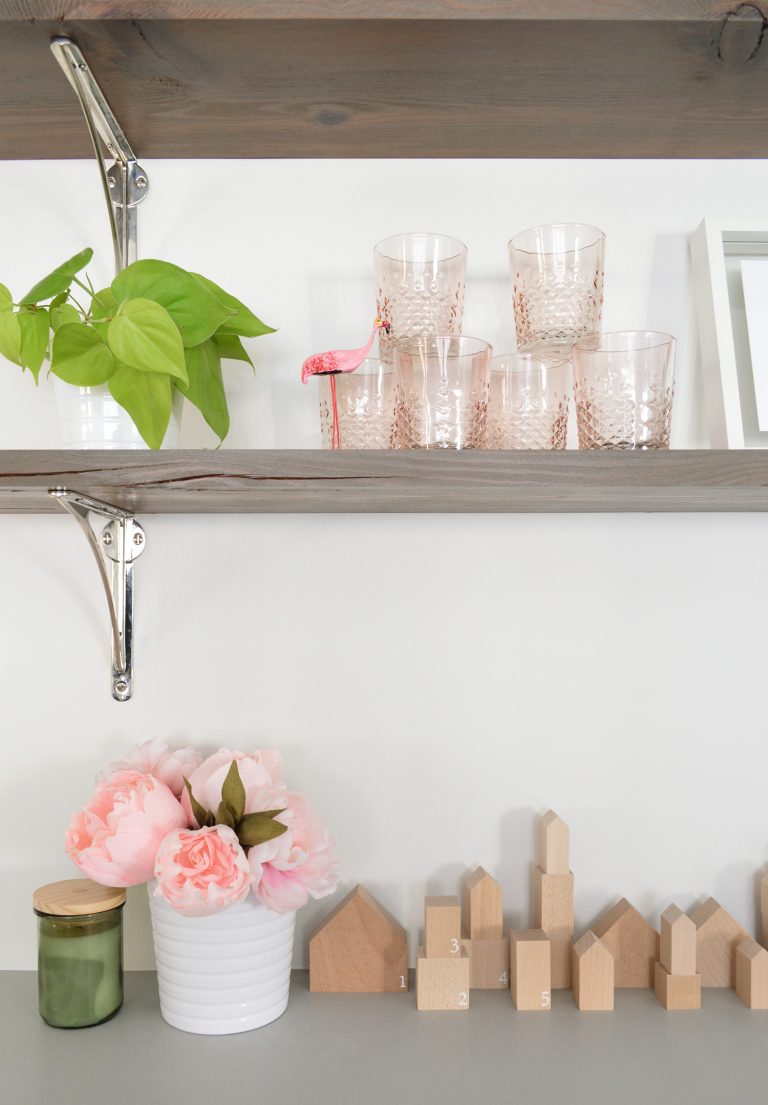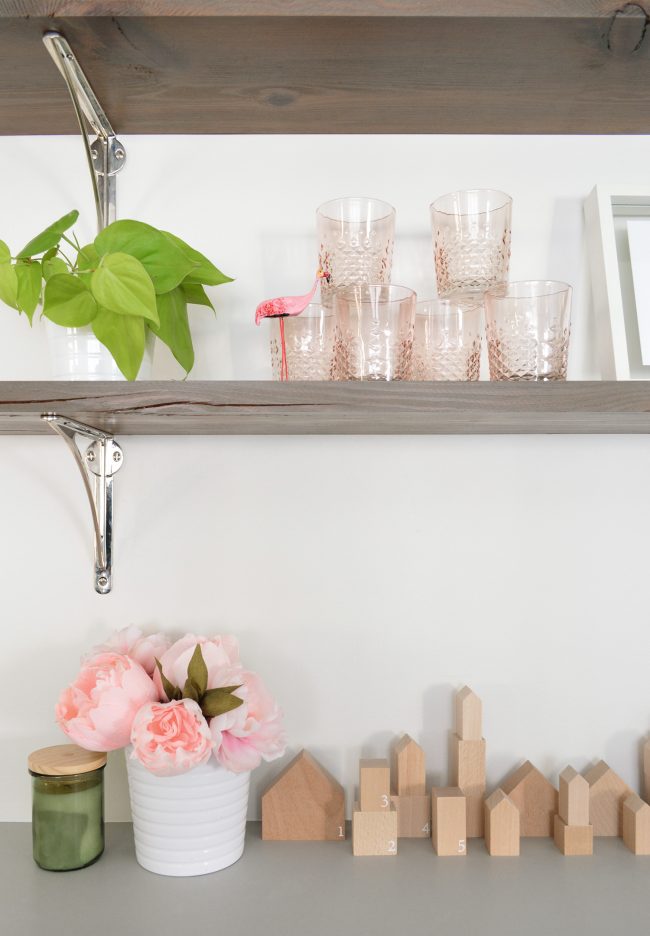 Sherry did pepper some ornaments and greenery elsewhere in the kitchen, though. And yes, we've officially jumped on the letterboard bandwagon thanks to our friend Mandi at Vintage Revivals who surprised us with this one. You can get them on Amazon or on her site (where there's a buy-2-get-1-free deal with the code FREEGIFT). We've been planning to take it the beach house, but decided we'd have some fun with it here first. Home Alone anyone?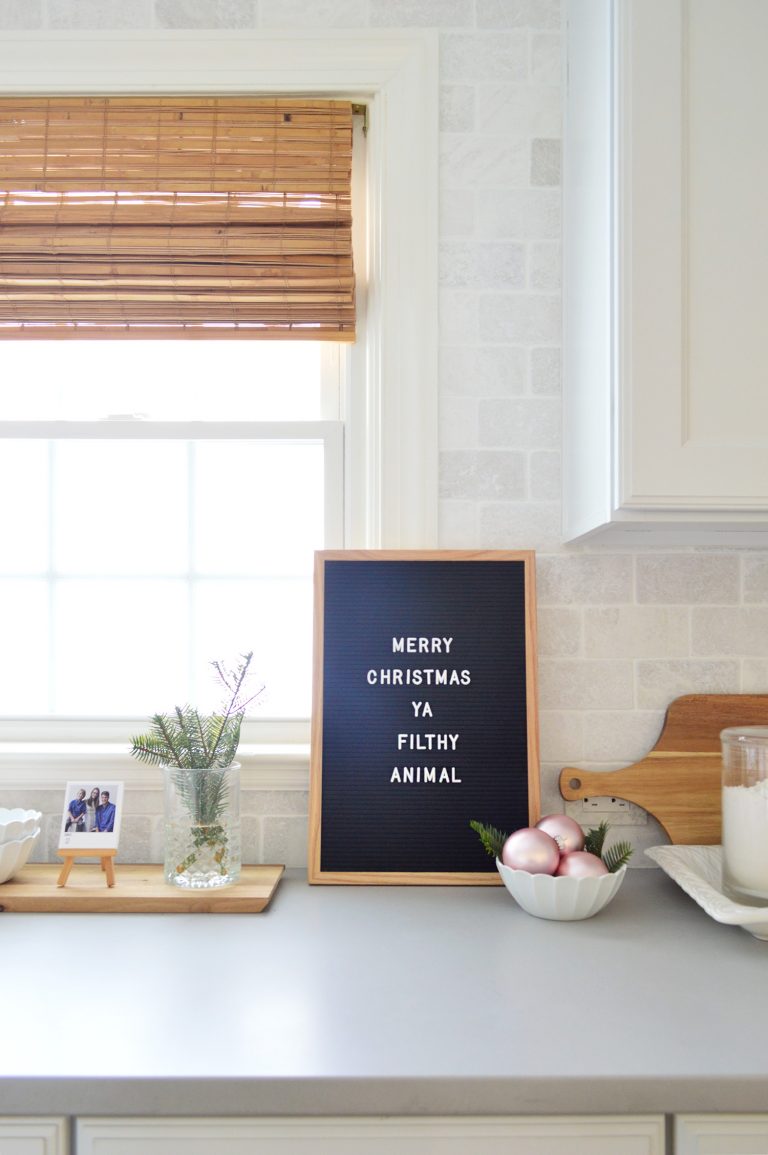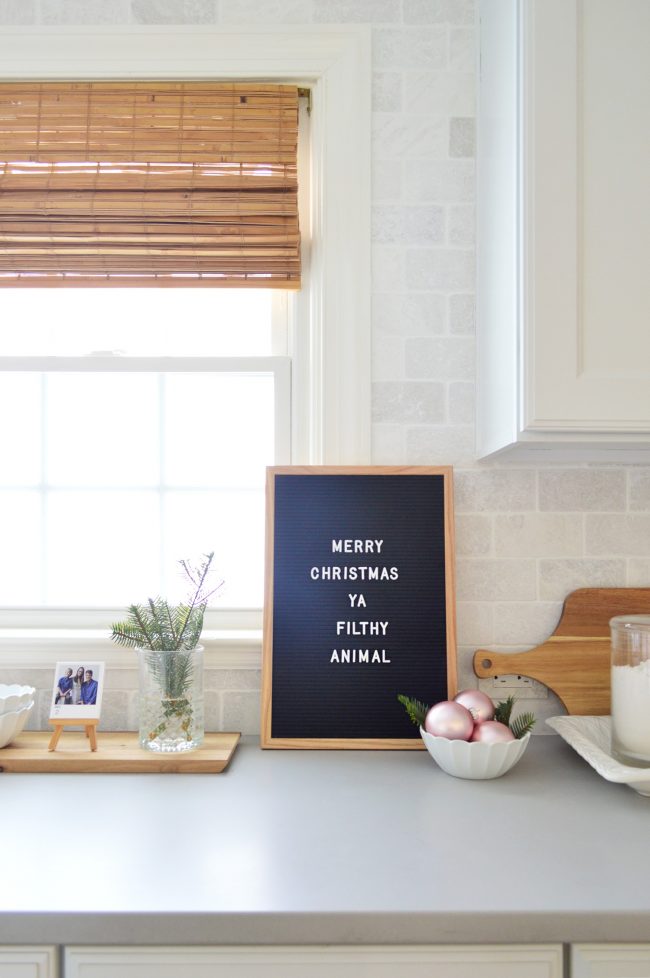 letterboard / similar cutting board / blinds / page-a-day calendar
The K.I.S.S. greenery theme continues in the foyer (that stands for "keep it simple stupid" and not the face painted heavy metal band who famously flaunt their tongues). It doesn't take much to get that wintery feeling in here, since the white-on-white stuff with all those layered textures already feels pretty cozy, so Sherry just added an evergreen branch and a white feather tree. I'm happy to report that this vignette can last us well through winter, so don't be surprised if you still see it hanging around in March.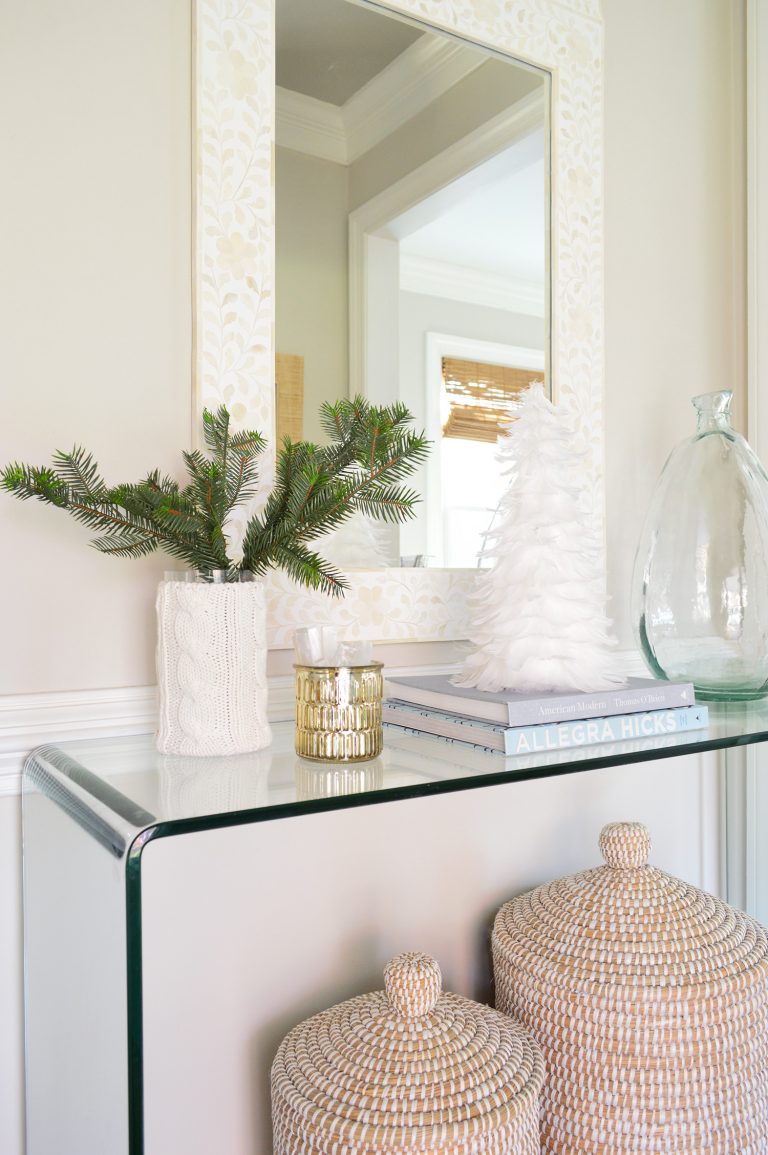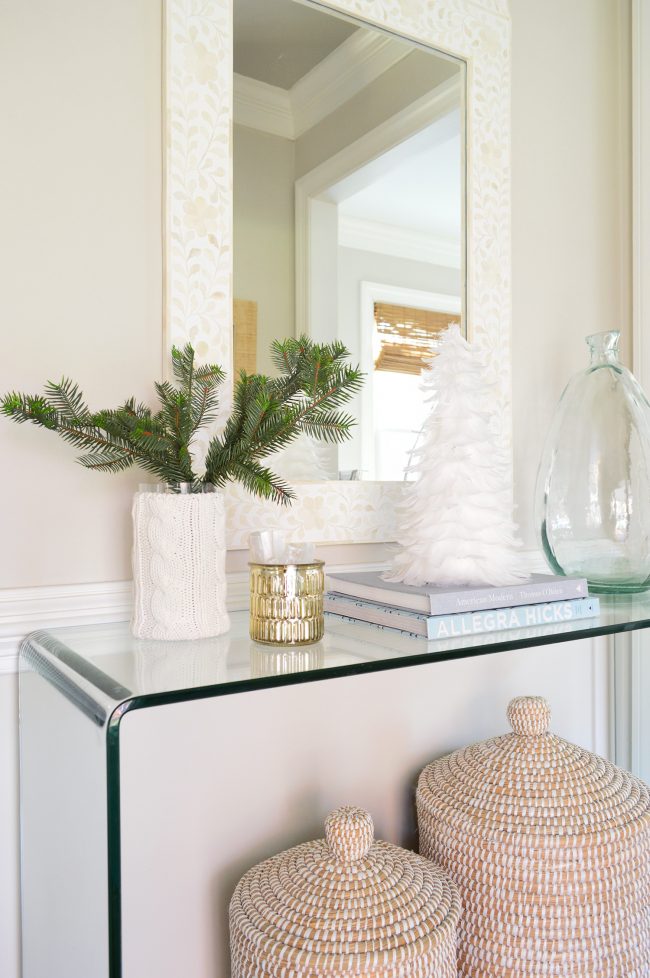 similar baskets / similar acrylic table / similar white feather tree / large glass vase / similar mirror
We also referenced Sherry's hoard of bottle brush trees in last week's podcast and this year she decided to cluster them in the office since they're so colorful. It works well because that room is pretty busy (both visually and literally) so they fit right in.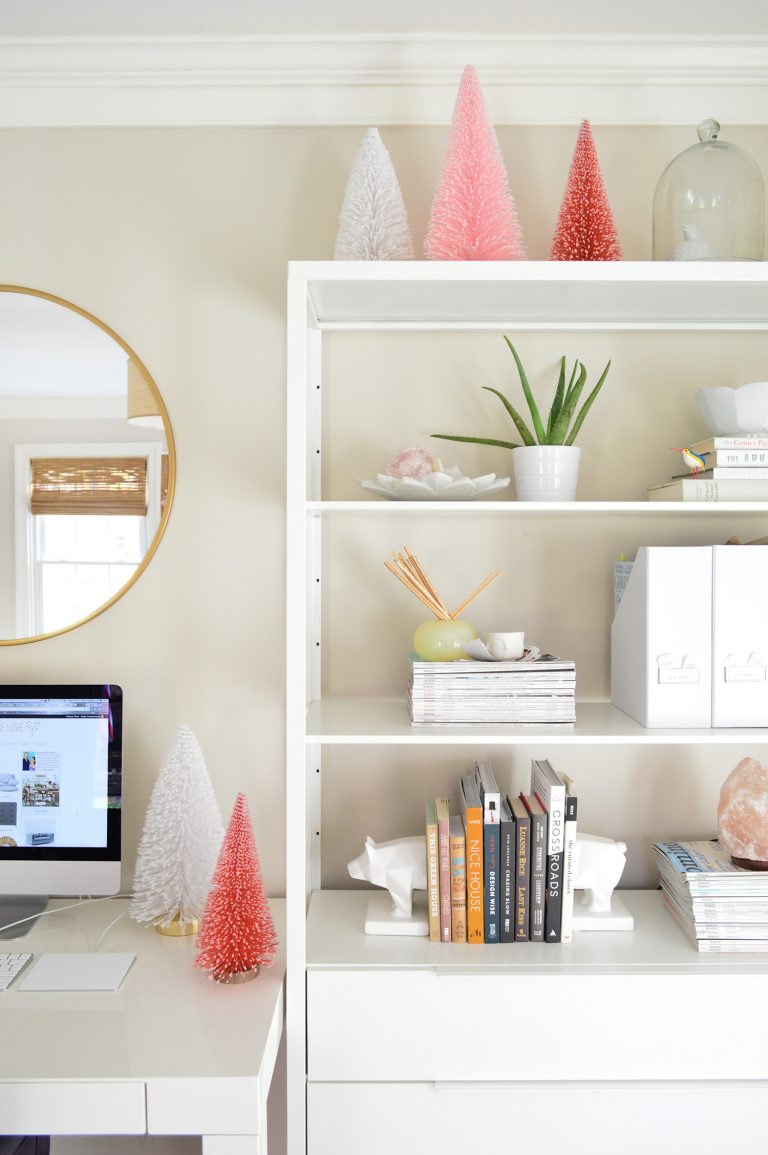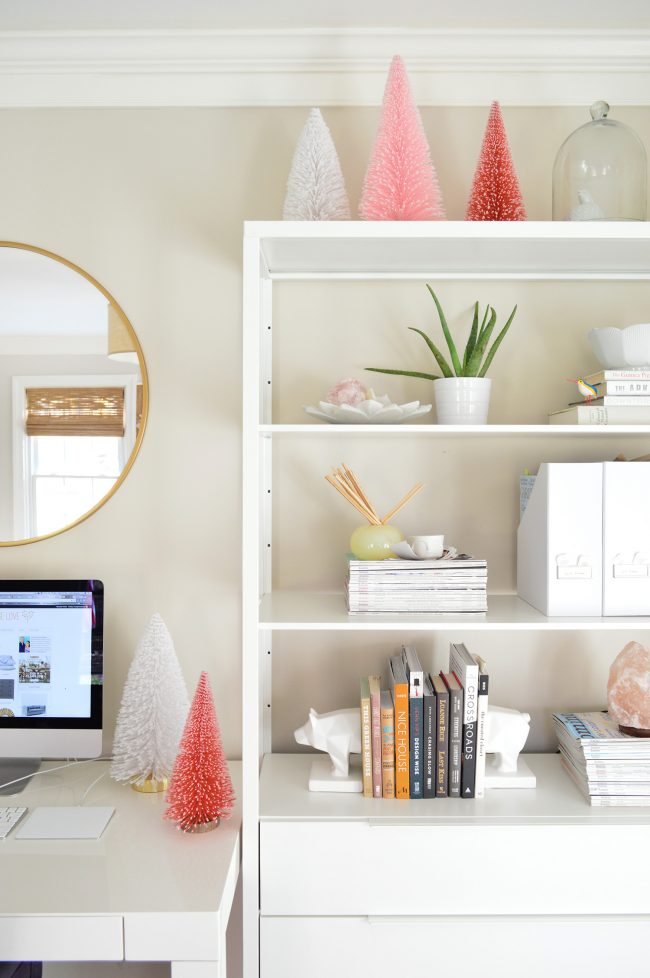 similar bottle brush trees // round mirror / parsons desk / bookcase
Nothing really happens upstairs except for a few mini trees. My personal favorite is the one that sits in the bonus room, because it glows from down the hall and we can see it from outside in the driveway too. This is a photo from last year (forgive me) but it looks pretty much exactly the same this year. We boxed everything up together when we packed it away last year (the tree, its ornaments, and even the extension cord) so setting it up was easy and fast.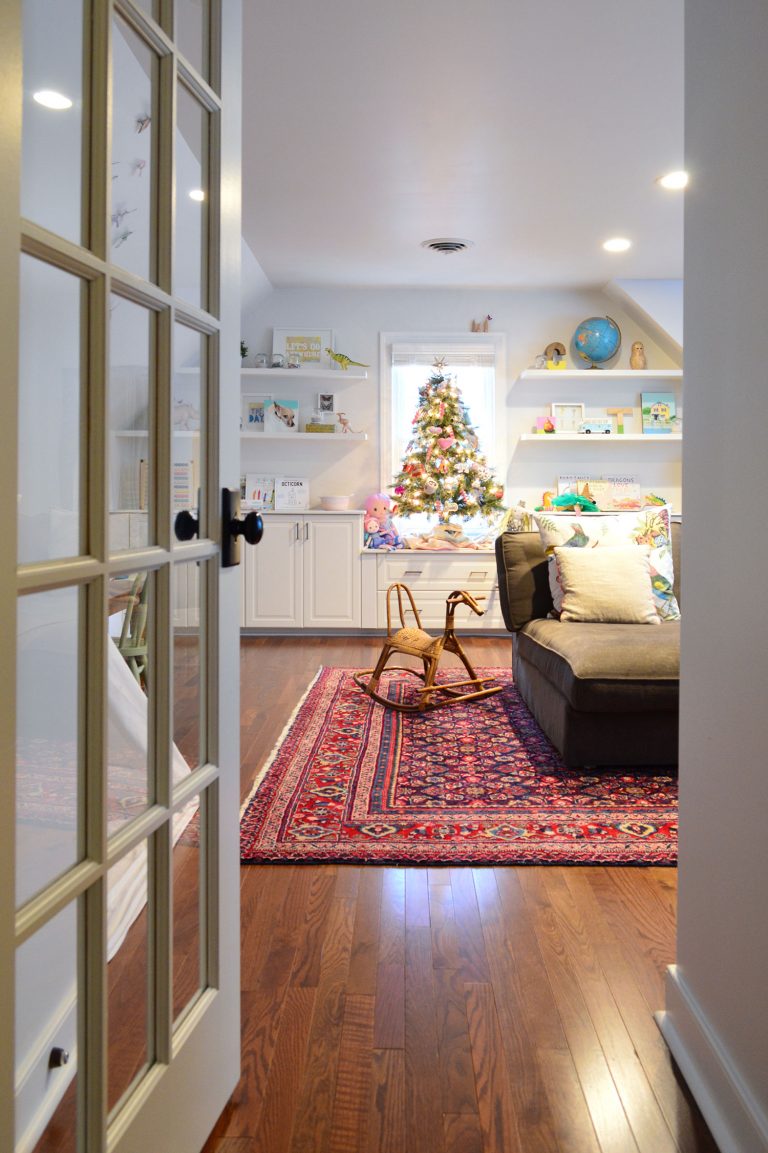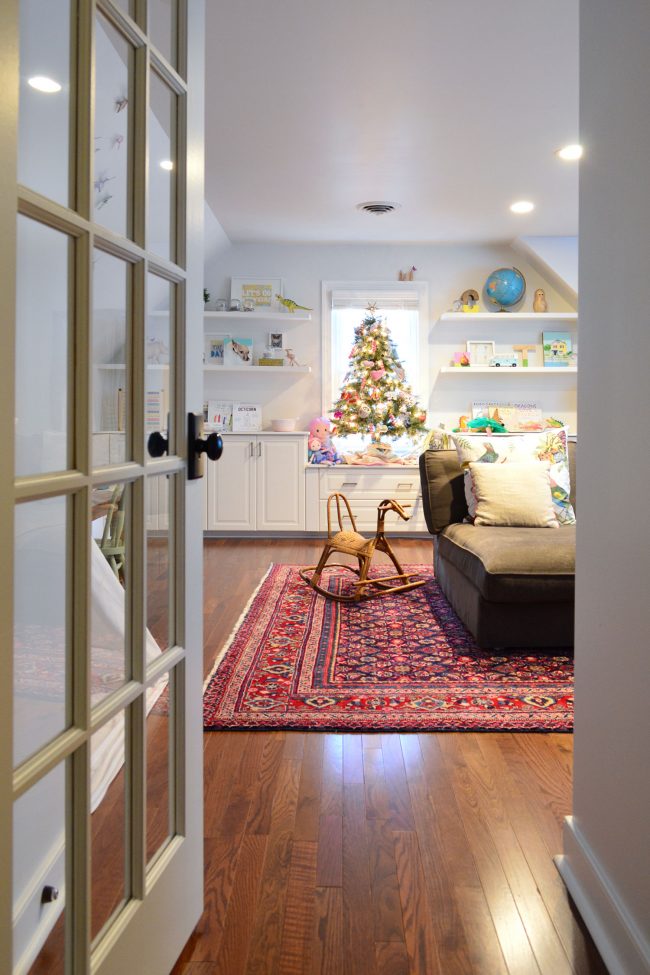 similar rug / vintage rocker / similar tree / sofa / globe
This is another photo from last year (gasp!) but again, it's nearly identical this season. It's our daughter's artificial tree that we added several years ago when she was old enough to handle the "responsibility" of her own little tree (aka: don't pull ornaments off and put them in your mouth or attempt to hang them on the dog). The tree came with its own little plastic pot at the base, but Sherry likes to slide it into one of her woven baskets (that she painted) which looks extra cheerful.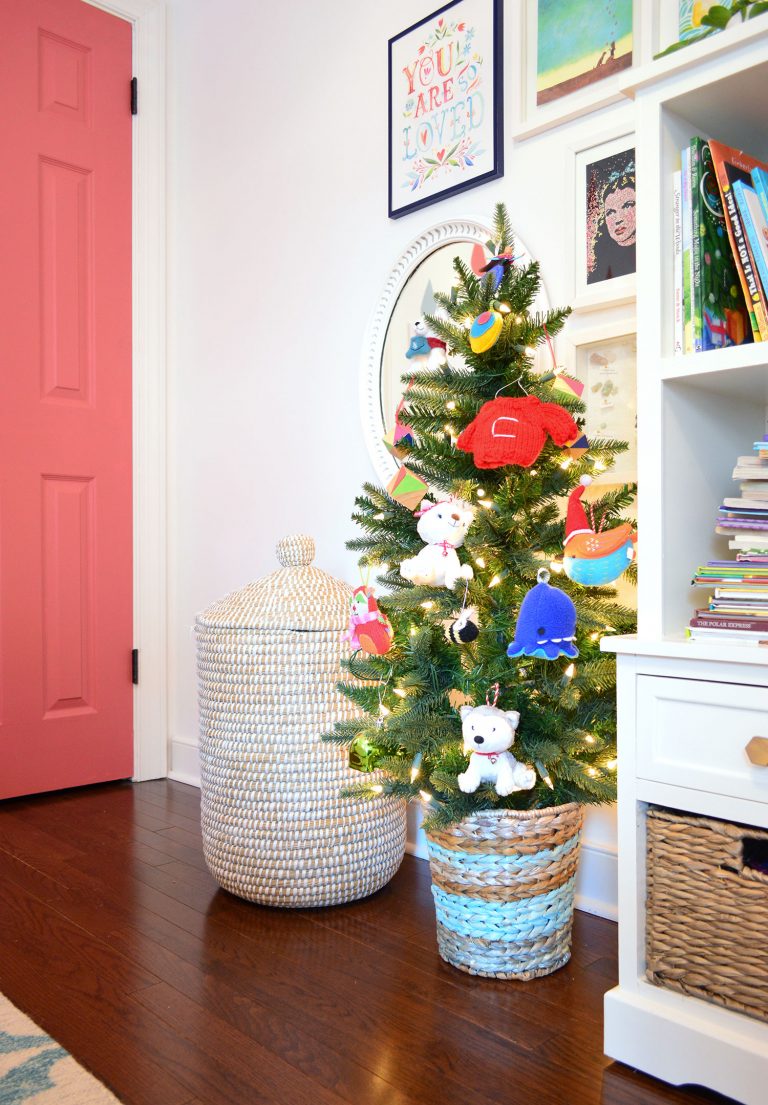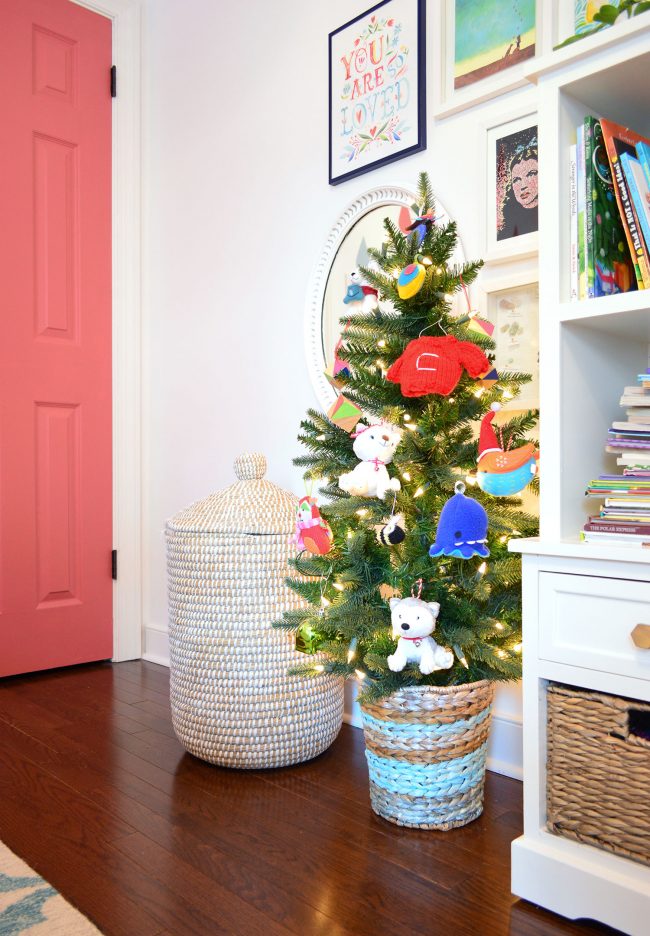 similar lidded basket / similar tree / quote art / door color: BM Cinco De Mayo
What's new this year is our son's tree, since he can finally be trusted with one of his own. He picked out this green tinsel tree himself ($8? sold!) because, well, he's three and it was just about the coolest thing he'd ever seen. Scratch that – it was the coolest thing he'd ever seen once we added a string of colored LED lights to it. Each year we let the kids pick out some new soft ornaments for the shared tree in the bonus room, but we let him sneak his favorite one (this knitted wreath, which he lovingly calls his "Christmas Donut") onto his tree, along with some shatterproof balls.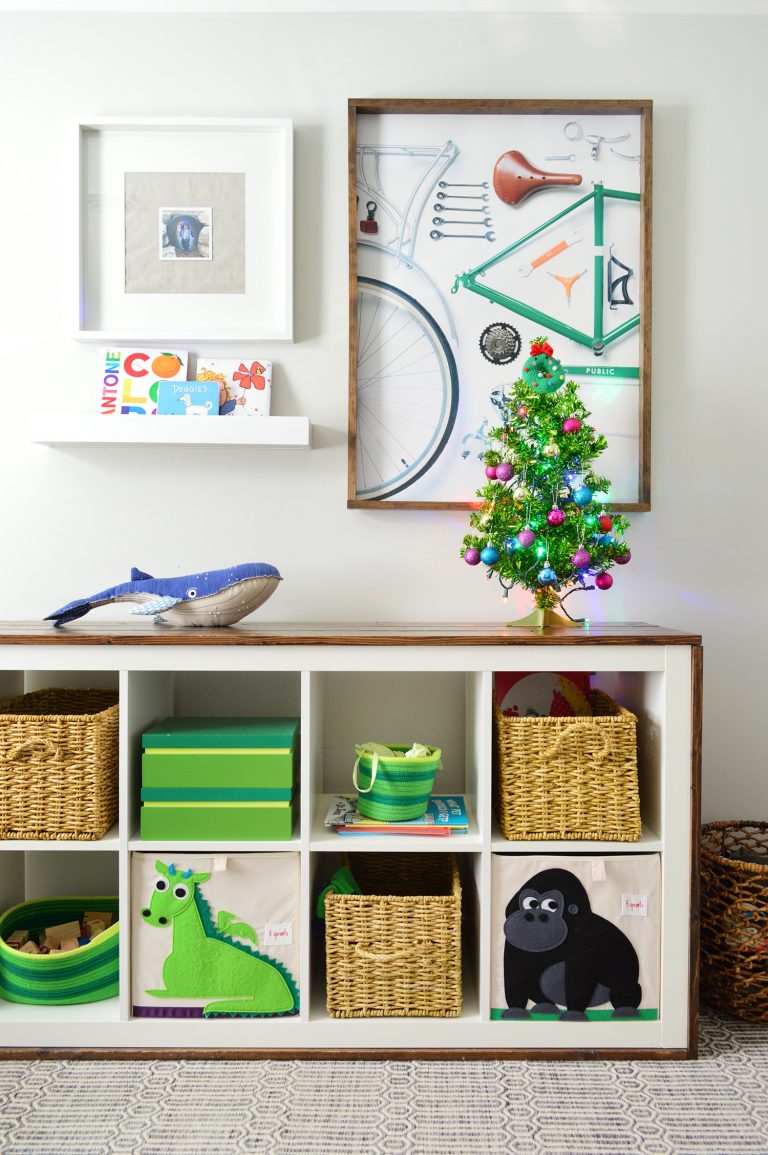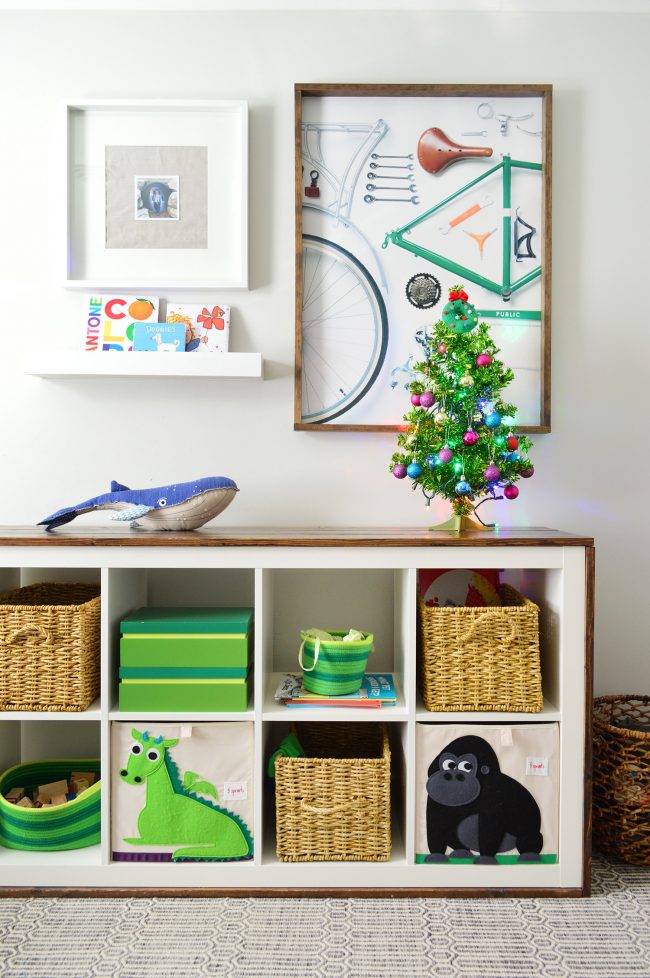 dragon & gorilla baskets / similar woven baskets / similar rug / tree / lights / bookcase
I'll admit it makes me feel a little Scrooge-y to keep talking about pulling back on our holiday decor, but as Sherry said in the podcast: we're really just trying to focus on the decorations that make us all the happiest, and cut out the parts that seem more labor than love. Everyone loved putting up ornaments this year, so we focused on the trees. Sherry's favorite pun of her entire life is "boots with the fir" – so those fir-stuffed boots landed on the porch with glee. And she loves going wreath making with the girls, so she made this hilariously giant one this year (which you probably saw on Instagram).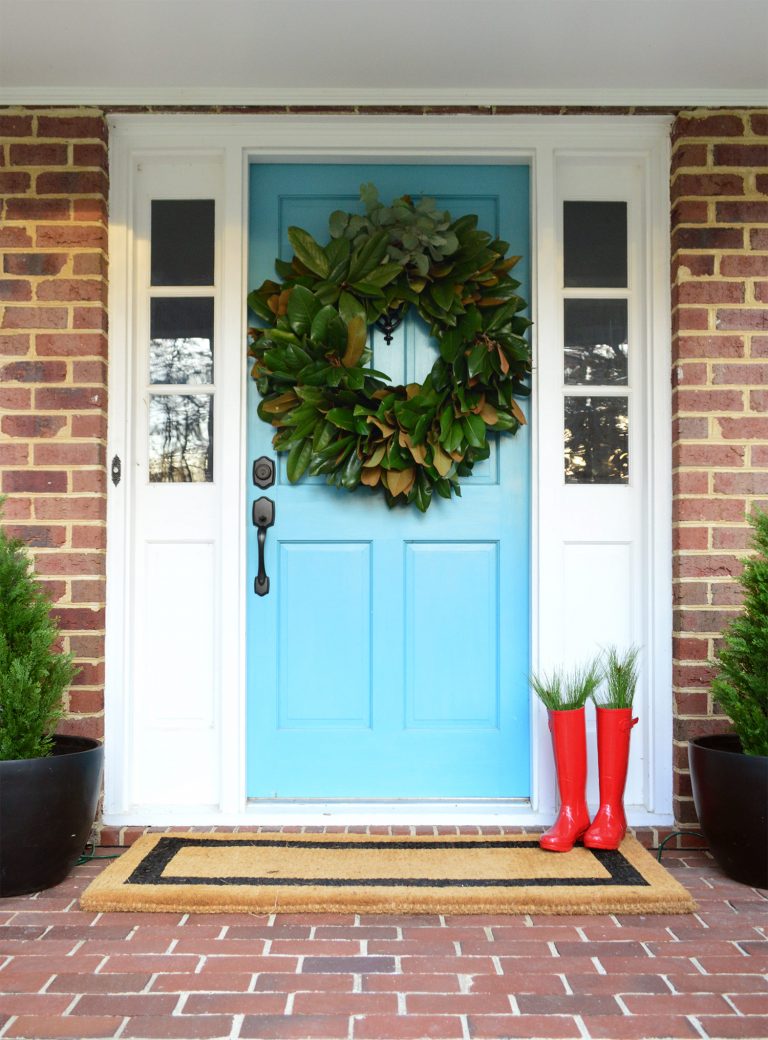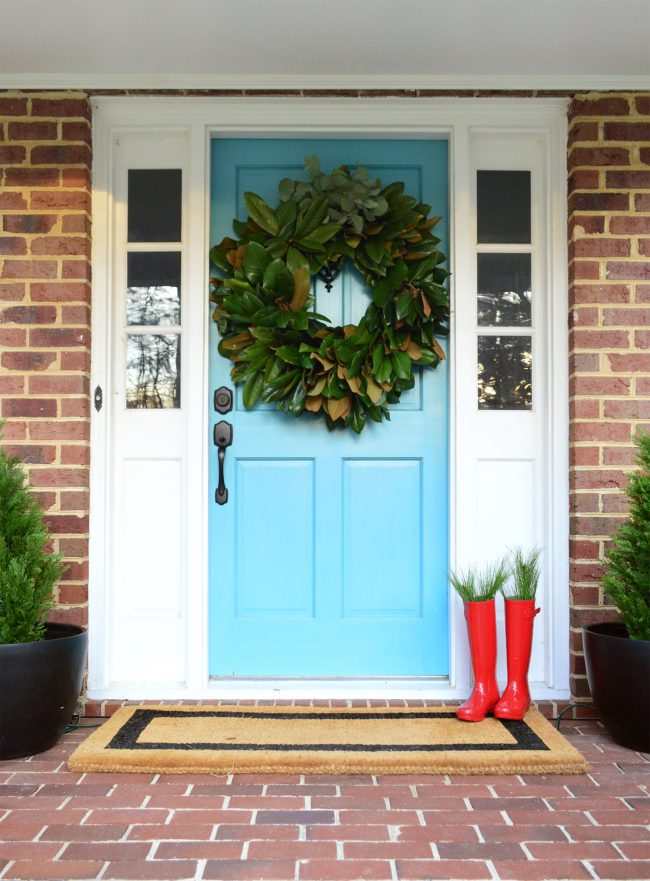 similar wreath / red boots / welcome mat / fake trees in those black pots (yes they're fake!) / door color: BM Blue Lake
And, well, I love my shed. So while Sherry was off wrestling half of planet earth's magnolia leaves onto a single wreath, I picked up a few strands of colorful LEDs and some roof clips to bring some cheer to my little home away from home. I'm not brave enough to attempt this on our real roof, but I thought this would be a fun way to dress up the backyard without being 30′ from the ground.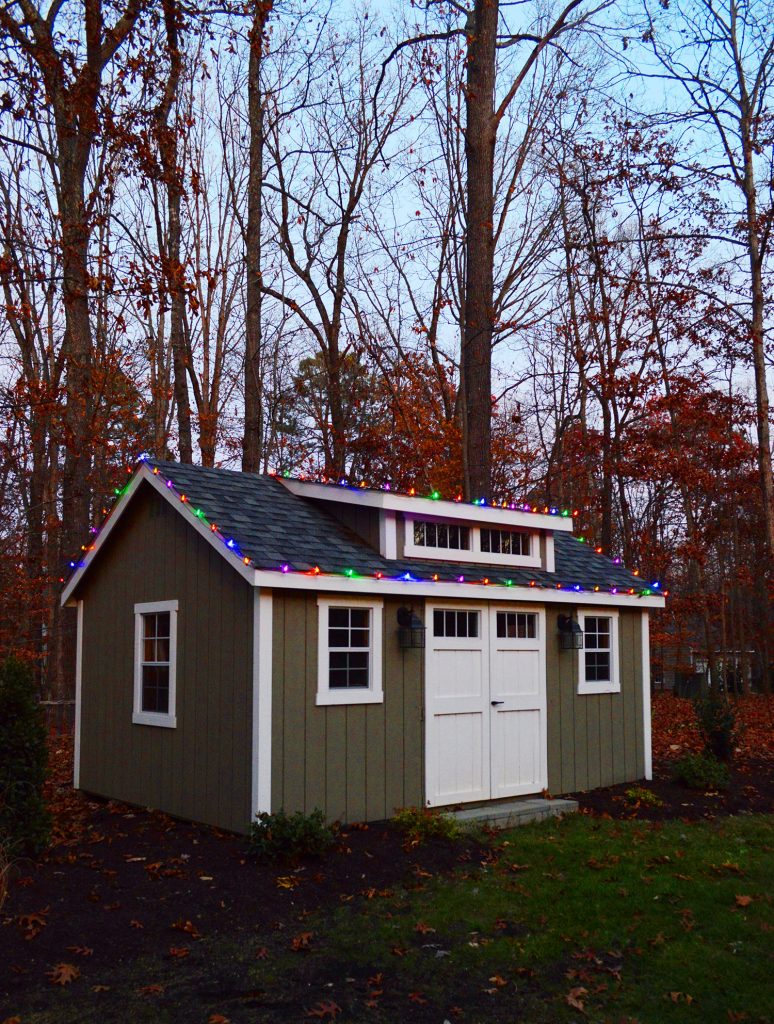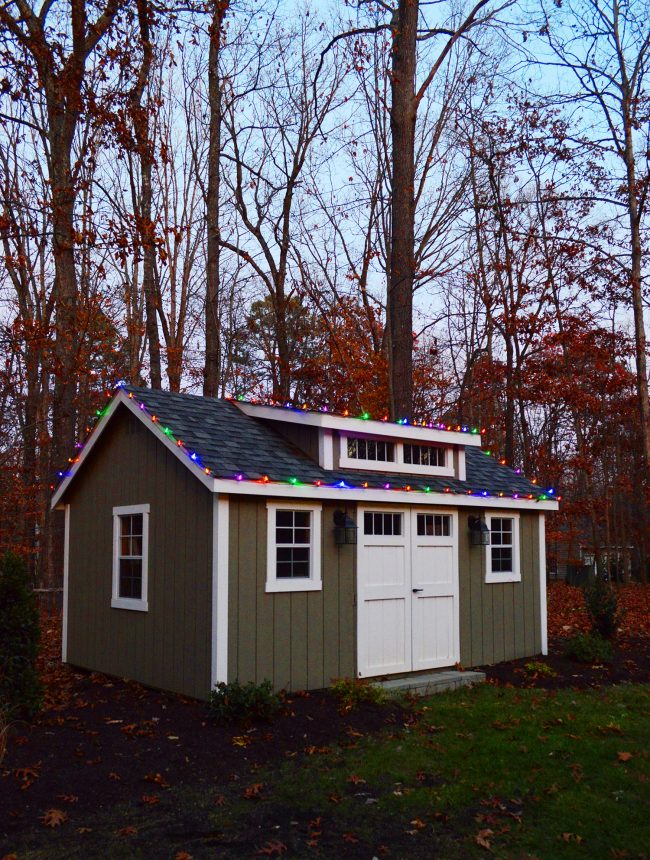 Plus, the kids are super into rainbow lights this year, so it felt like the perfect place to deviate from the all-white lights that live in the front yard. Methinks it might need some more though. Maybe next year!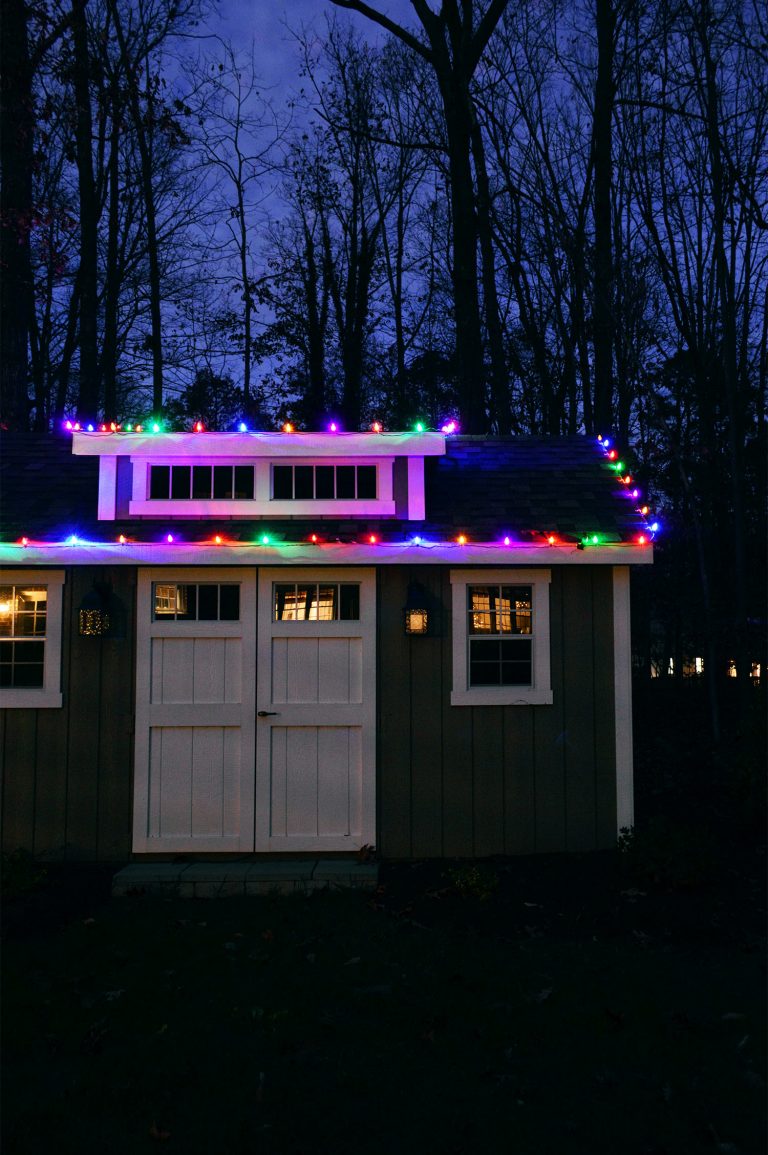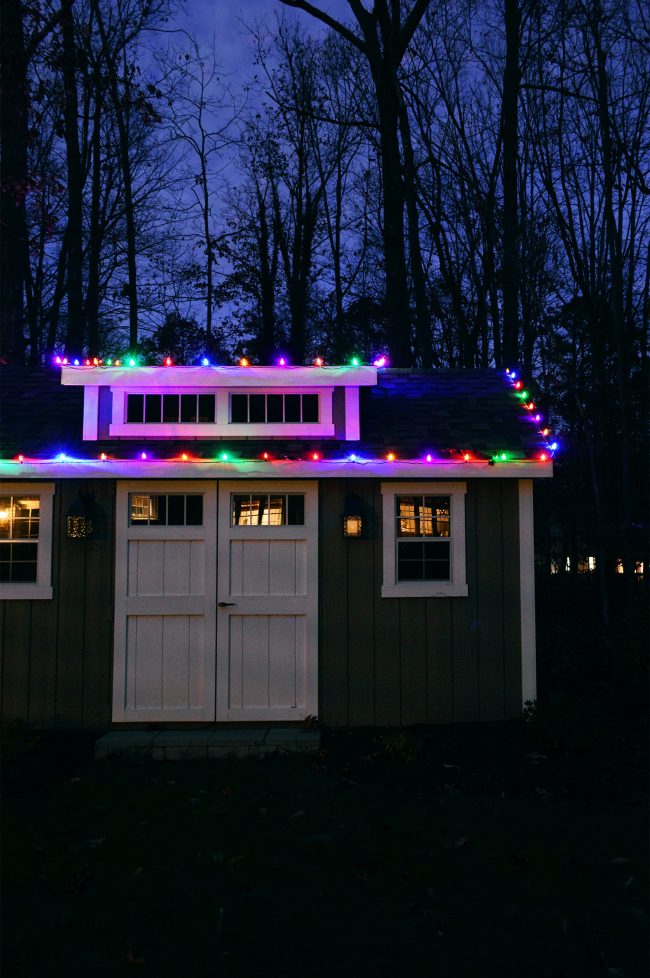 Actually, the main thing on our list for next year is an artificial tree for the beach house. We don't think we're going to be there enough this season to really make it worth it, but you can bet your britches I'm gonna be hunting down a discounted artificial tree on the 26th to have there next year! Maybe even an extra tall one since we have 9′ ceilings downstairs in there.
And for good measure, let's wrap this post up with a little "Get The Look" mood board that Sherry put together. It's not a comprehensive list since so many of our decorations are a few years old, but we did our best to find comparable items and to link to the exact things we have & love whenever we could (like the magnolia garland, a few of our ornaments, our new advent calendar, and yes, that's our exact tree in the middle).
1 / 2 / 3 / 4 / 5 / 6 / 7 / 8 / 9 / 10 / 11 / 12 / 13 / 14 / 15 / 16 / 17 / 18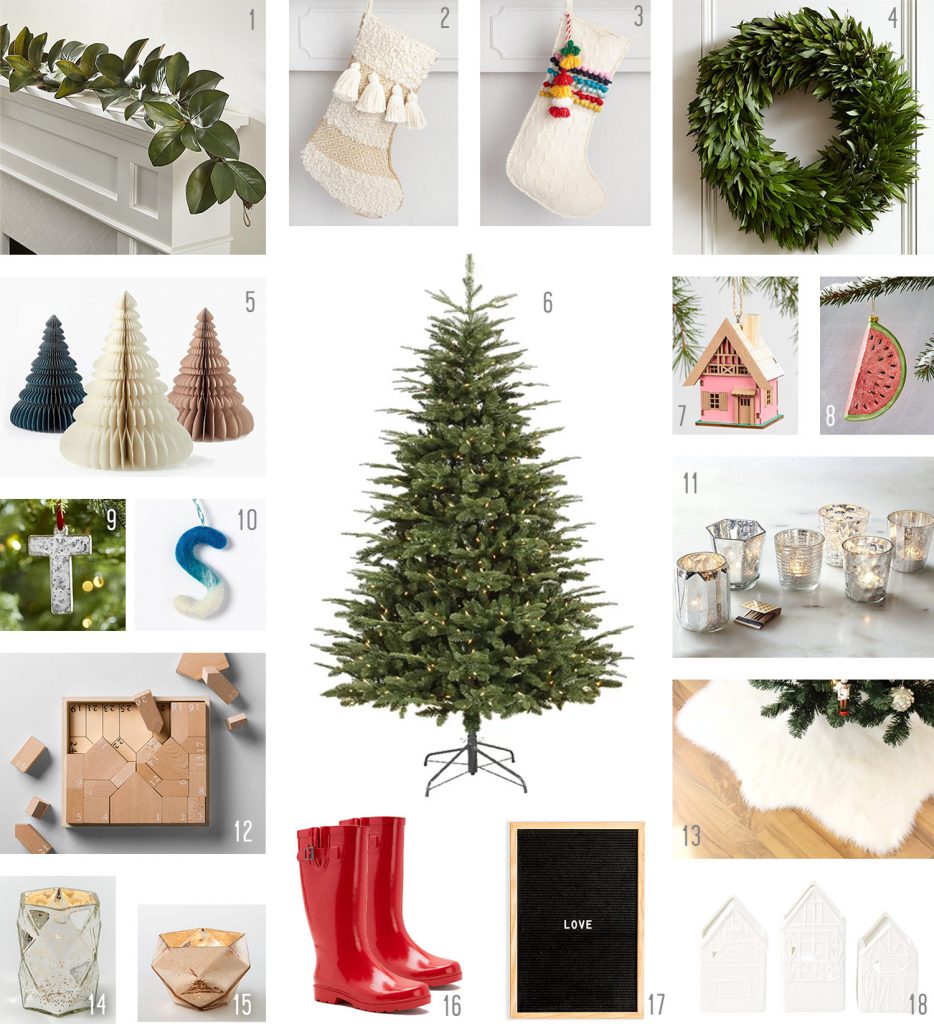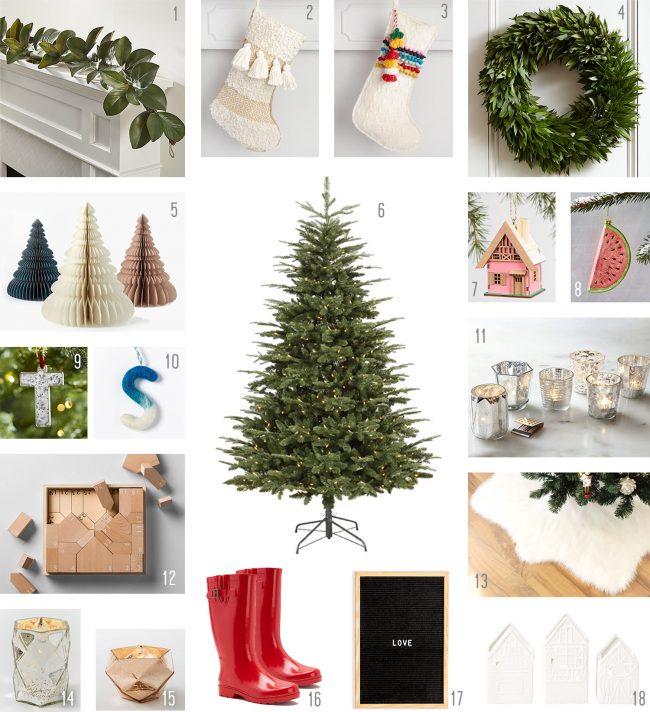 Happy holidays everyone!
Psst- Want more holiday posts and ideas? Here are a bunch of holiday & entertaining posts from years past.
*This post contains affiliate links*