Moving, Selling, & Buying
Ok, so today our house looks like this: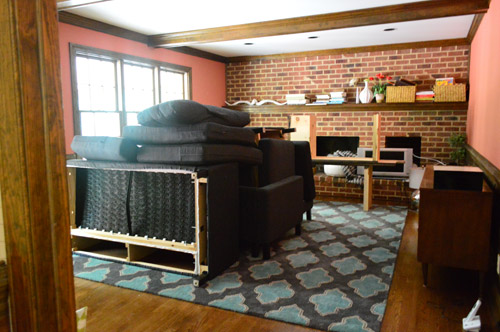 We did get Clara's room pretty settled though (we want her to feel right at home – and light blocking curtains are a must to get her to bed). We left nearly all of the curtains in our old house, but we wrote these guys into the listing as coming with us since she picked them out. And as for our new place, she LOVES it – probably thanks to doing lots of fun things with her here leading up to the move (like painting castles and a big piece of fabric for her birthday photo). When she came running into her all-set-up bedroom for the first time, she laughed, squealed, and skipped right to the window and played with her dolls. That's my girl.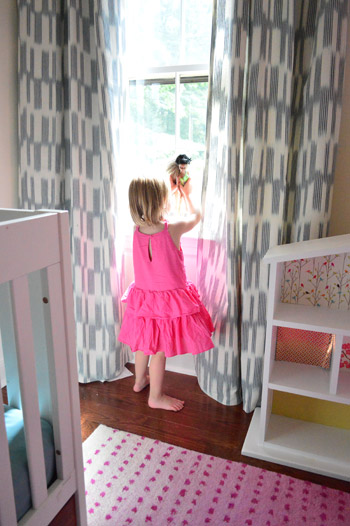 But as for the rest of the house… woof.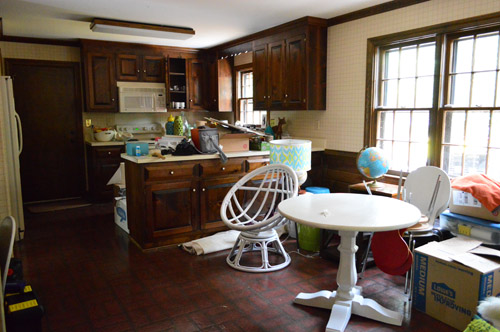 So – spontaneous decision! – while we get settled and find our underwear, this week is going to be moving week! Turns out you guys still wanted to hear a whole lot about the sale of our current house. So let's do the dang thing. Here's what we plan to cover in honor of Spontaneous Moving Week:
How we staged/sold our house (including a glance at our real estate flyer, a list of what we changed before showings, etc)
What we made when we sold our house vs. what we put in- budget breakdown included!
Empty house pics (dude, it's trippy to see your house all echoey and vacant, but it's pretty awesome closure too)
Moving day photos of our new house (we love having this Day One post from our last house to look back on)
A house hunting post about a few other homes we casually checked out (sort of like these that we did last time)
Other stuff that I'm forgetting right now because our house looks like this: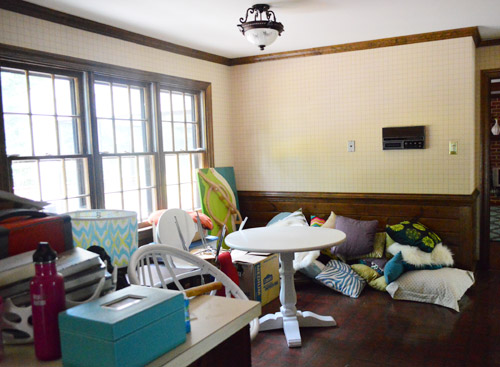 So onto the first bullet! We got a lot of questions like this:
"Did you stage your current home to sell it? I'd be interested to hear if you've made any small changes/put things in storage in order to make it seem less personal to potential buyers."

"Would you be willing to share your For Sale flyer (obviously without any too-personal details like price and address)?
So here's the little double sided flier we made in Photoshop (minus the address, price, and our contact info). Just click the image below to see it larger.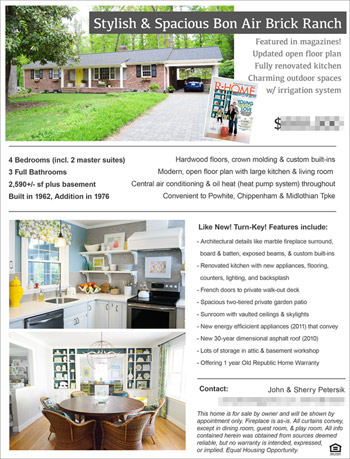 And here's the back (again, just click it to see it bigger).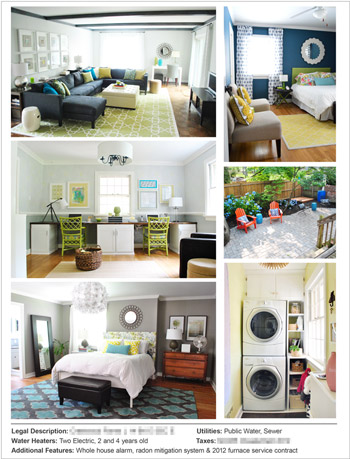 Turns out we're not really staging rule followers in the traditional "neutralize and de-personalize" sense. The whole repaint-rooms-so-they're-all-neutral-and-remove-all-personal-photos-from-the-wall approach isn't really something we subscribe to since we sold our first house by owner without doing that, and it seemed to work out for us again this time around.
So when we were showing our house to potential buyers our frame hallway was still very much intact. We think it's helpful to show off how cozy and personal a home can be. Chances are that it could "speak" to a prospective buyer more than a stark and stripped down house might anyway.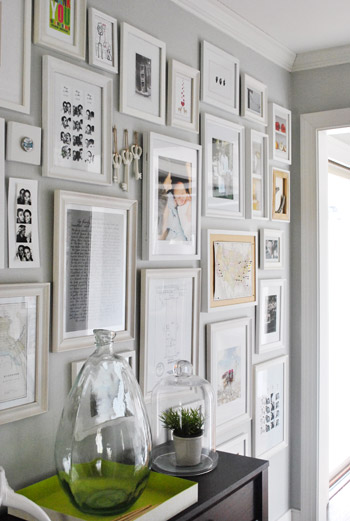 But that doesn't mean we didn't do anything at all before a showing. Instead of taking things away, we mostly focused on making things look their best. Here's our list:
We over-seeded the lawn a few weeks prior and let the rain do its thing to help the grass look fresh and green.
We mulched the garden beds and planted a few annuals (it definitely ups curb appeal and sends a "this house is cared for" vibe)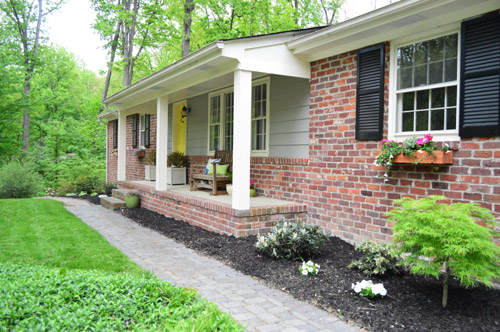 We organized closets, the attic, the basement (basically any nook people could peek into should look functional and not stuffed-to-the-gills)
We wiped down counters in the kitchen and bathrooms and quickly polished the faucets with some Mrs. Meyers so they looked and smelled clean
We rolled up the rug in the cooking part of the kitchen and stashed it at the new house, just to show off the cork flooring a bit more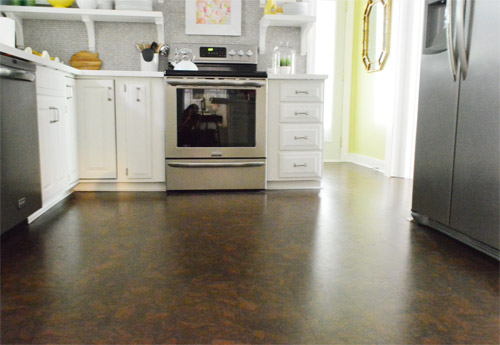 We mowed the grass and used a leaf blower on the driveway, patio, and deck to clear off any errant pollen/twigs/leaves/acorns
We touched up any paint that was scuffed in doorways, baseboards, etc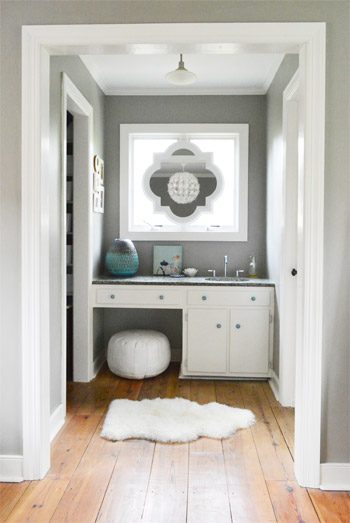 We also tucked Burger's food and water away since it's stored in our walk-in closet and we realized that might be weird for non-dog-folks who were trying to feel at home.
We removed Clara's bath toys along with her potty seat and sink stool from the hall bathroom so people without kids didn't just see it as a "kids bathroom" (we left her other toys in baskets in the living room, nursery, and playroom since those seemed easy enough to see past)
We removed the bath mats in every bathroom to make them seem more spacious and show off the tile (matted stepped-on-with-shoes bath mats aren't always that pretty, which tends to happen during showings).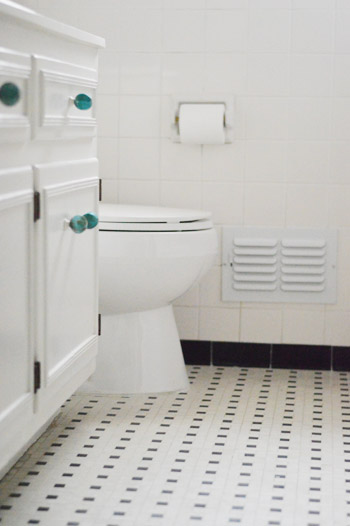 We vacuumed, dusted, and generally cleaned things up (this included following Clara around for the last half-hour before the showing and singing the clean up song about a million times while we dumped stuff into bins and baskets)
I took a damp rag with a bit of mild soap (Mrs Meyers) and scrubbed the front door, which was still glossy and yellow, but had a haze of pollen. It really made a difference and only took five minutes!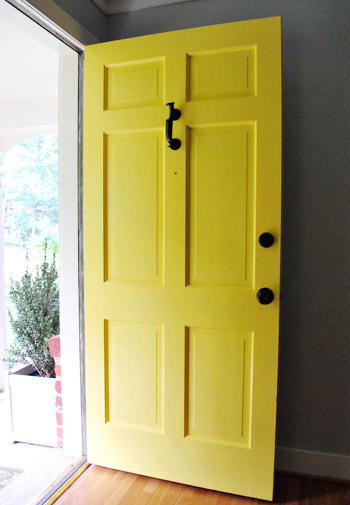 We left the separate entry basement door unlocked during showings so people could easily check out that space without trekking down there and then finding themselves locked out
We put a little note on the microwave cabinet in the kitchen and said "there's a vented microwave in here!" so people knew where to look
We tossed a runner on the table on the deck along with a few cups (even though the furniture came with us, adding some color and that sit-right-down vibe couldn't hurt)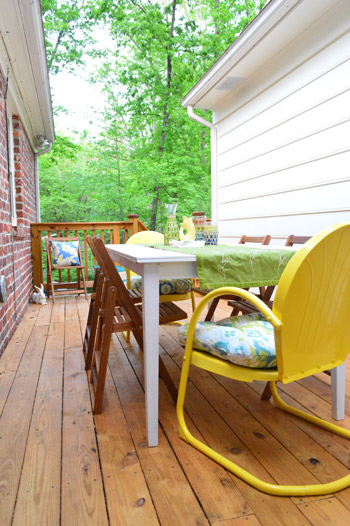 Most of those items just had to be done once before the first showing, and then keeping them up for the following ones wasn't too bad. Sure, getting a toddler and a dog out of the house on time before each one was a little hectic, but we feel really lucky to have only had three showings this time around (we had 14 last time!). What do you guys do when your house is on the market? Any other tips for folks who are about to list?
&nbsp&nbsp&nbsp
Packing up our current house and new-house-floor-laying continues…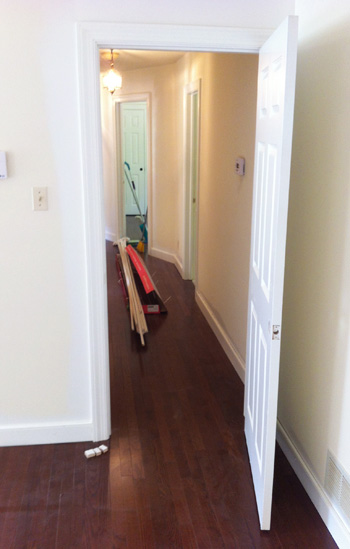 … but we didn't want to scoot outta our beloved current house without one more updated Listy McListerson full of everything we've checked off and a few things we'd love to have done if we were staying here longer (those are bulleted at the bottom). #warningitslong
Just for fun, here's the very first list that we shared for this house back in 2010. I love how plans seem to evolve as you live somewhere and figure out what we love/want as you go. It's also really funny how quickly your eyes adjust and you forget what you started with, isn't it? Seriously, a week after we knocked a big doorway between the dining room and the kitchen it felt like it had always been there.
- The Front Yard: Complete! -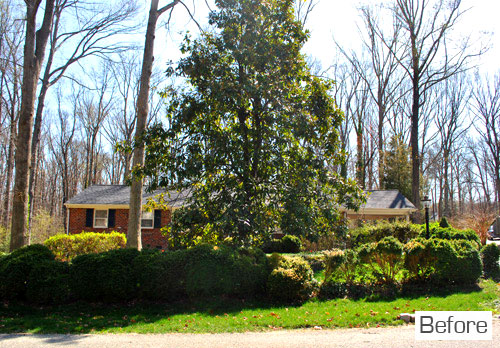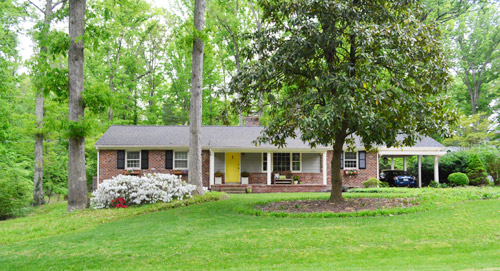 Done:
- The Front Porch: Complete! –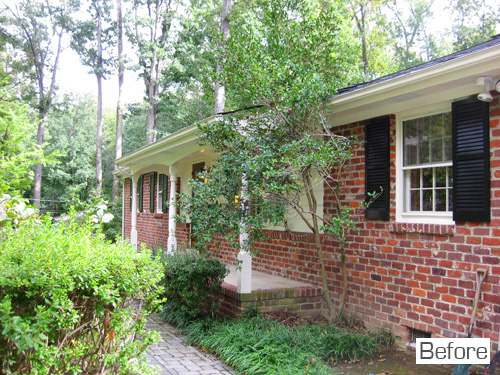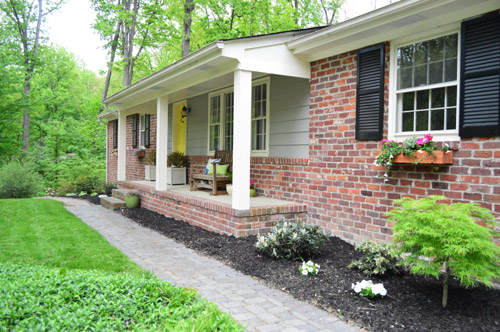 Done:
- The Carport: Complete! -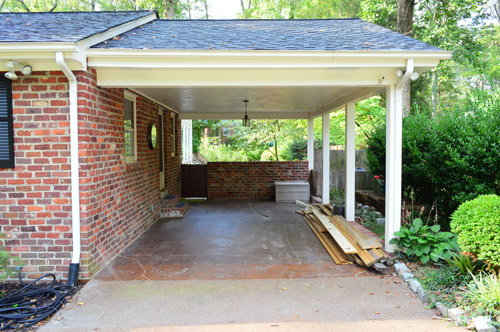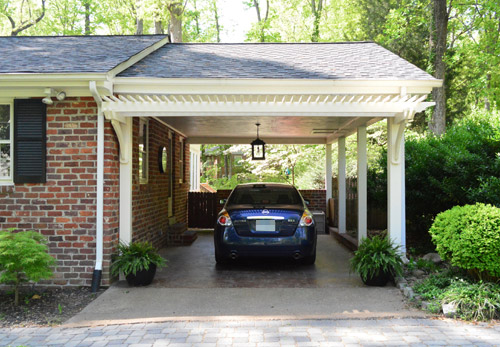 Done:
replaced the itty bitty light fixture for a big black lantern
added a column on the left for balance and built a pergola to add some dimension and interest to our flat little ranch
- The Living Room: Complete! -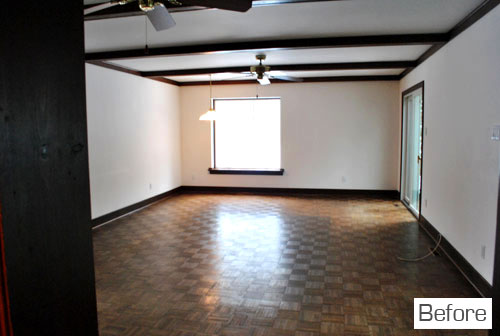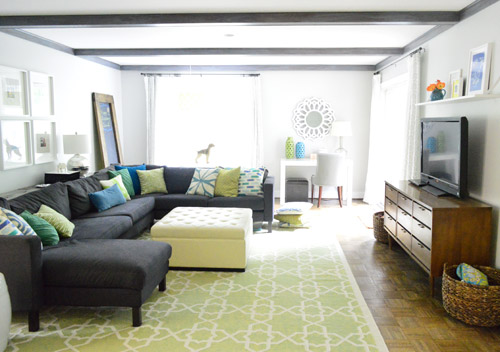 Done:
- The Office: Complete! -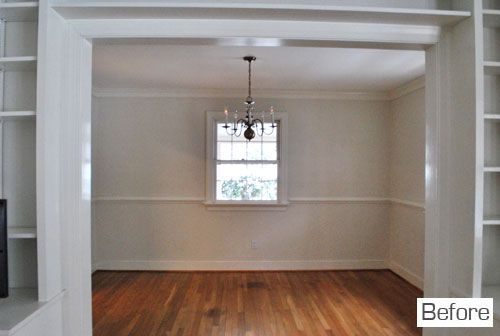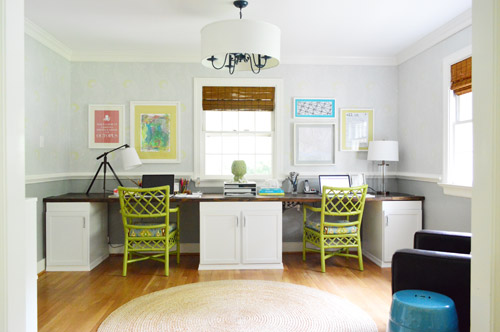 Done:
- The Hall Bathroom: Complete! –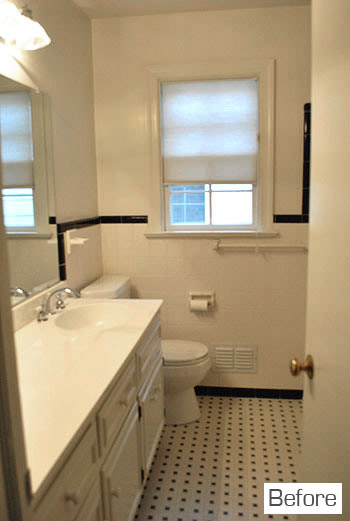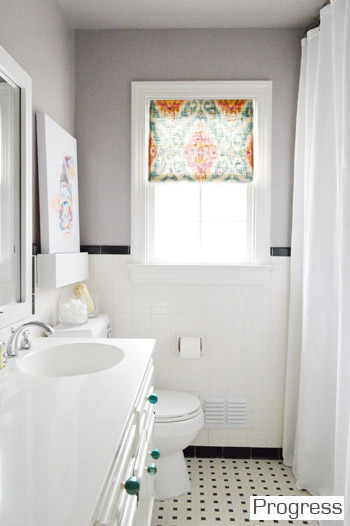 Done:
- The Big Hallway: Complete! –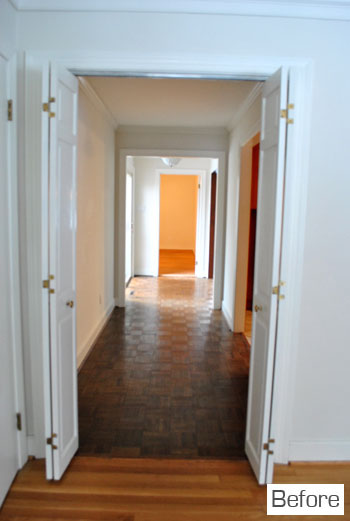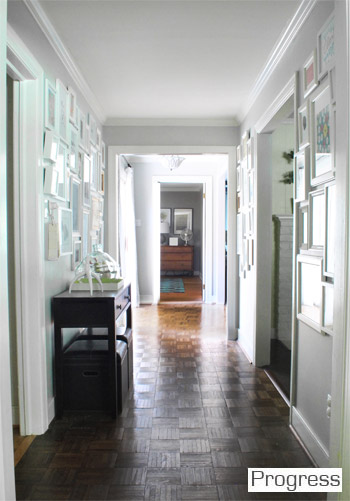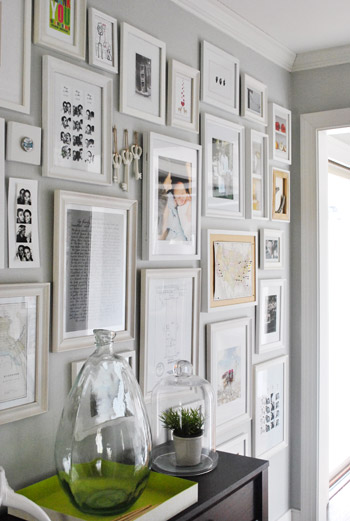 Done:
we added a frame collage around the console table that lives in there, which made it one of our favorite spots in the whole house (and yes, I'm going to spackle and paint every last hole in this house for the new owners, which actually wasn't too bad in our first house)
- The Small Hallway: Complete! -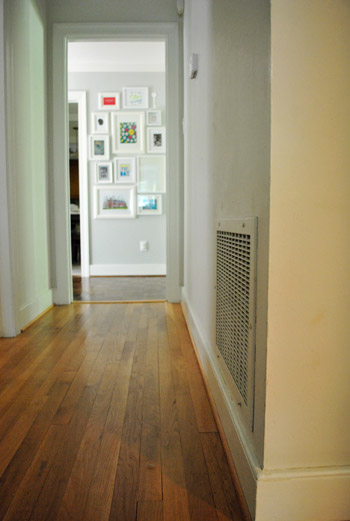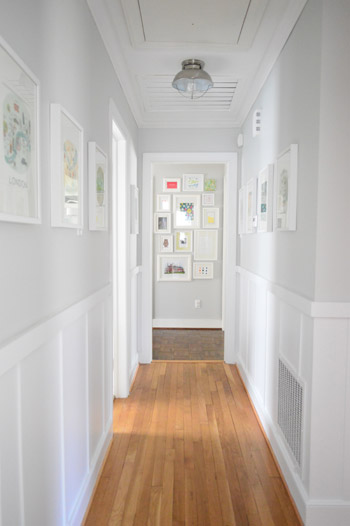 Done:
- The Dining Room: Complete! -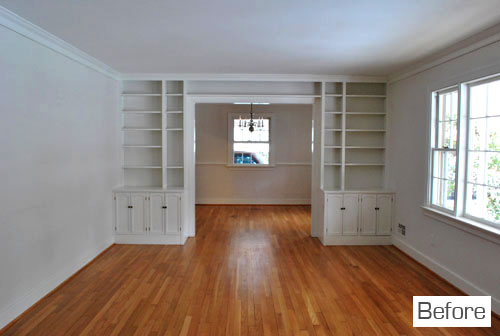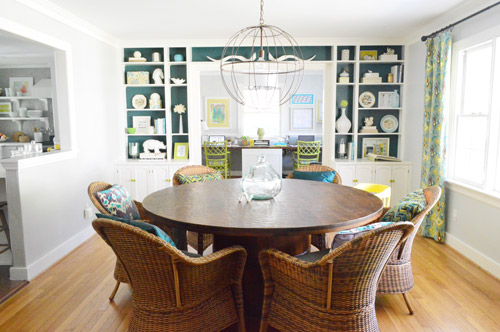 Done:
- The Laundry Room: Complete! -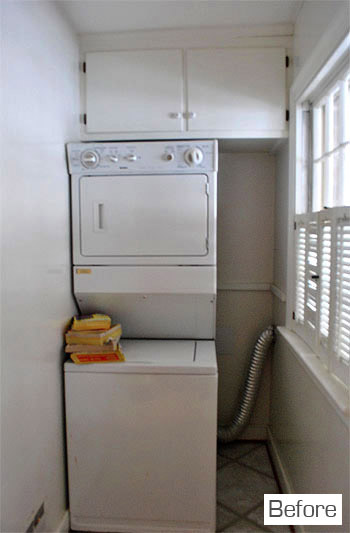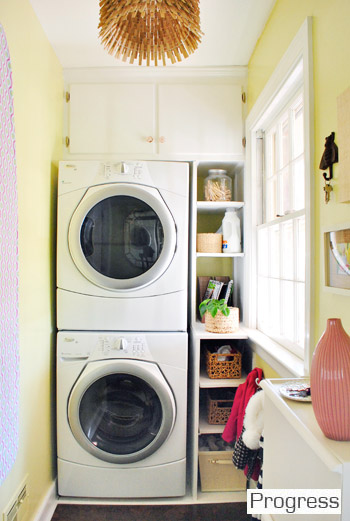 Done:
- The Kitchen: Complete! -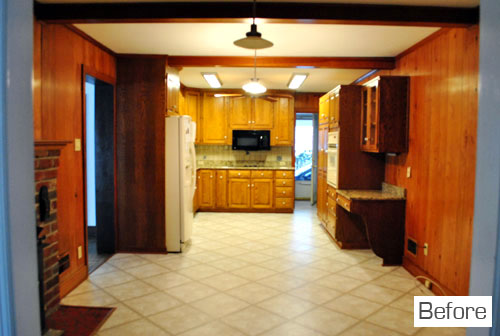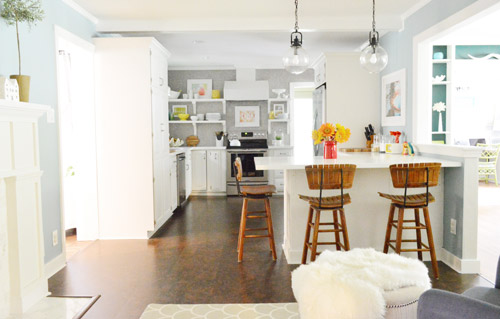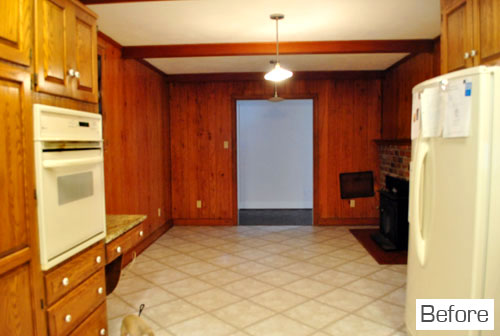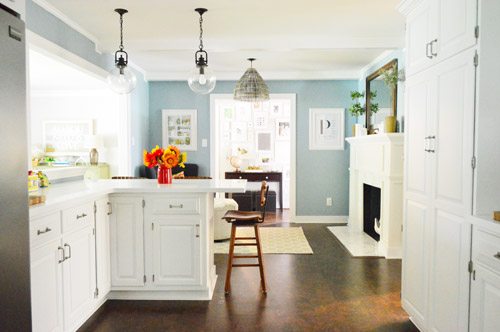 Done:
- The Playroom: Complete! -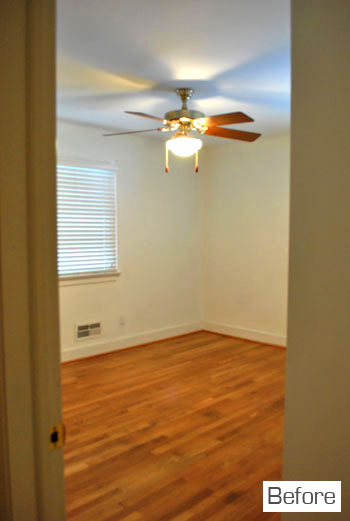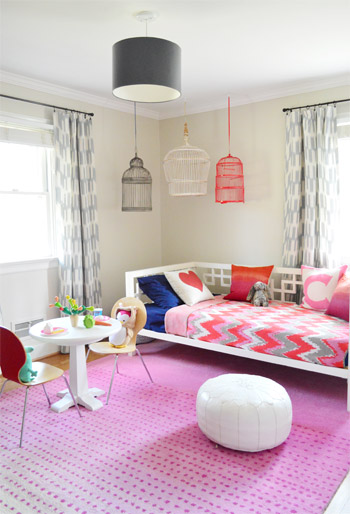 Done:
- Nursery: Complete! -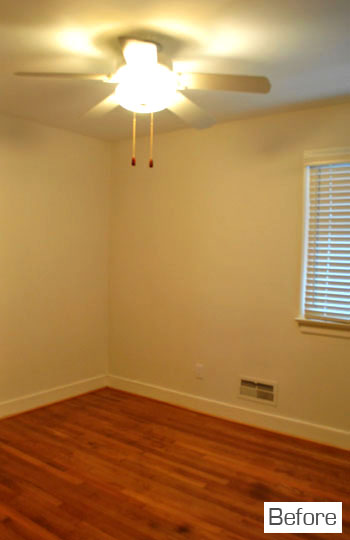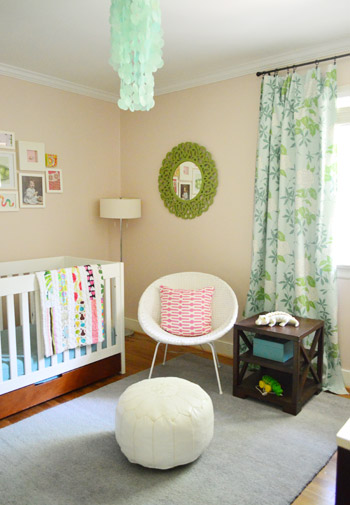 Done:
- Clara's Closet: Complete! -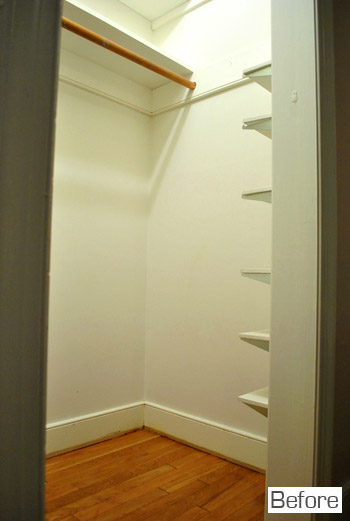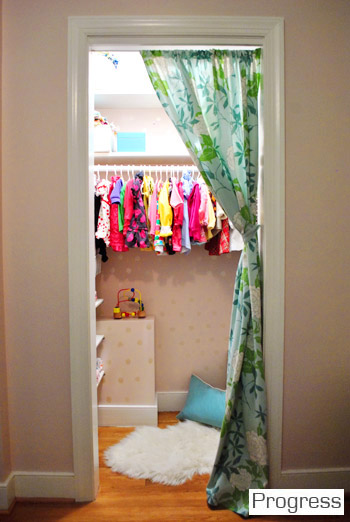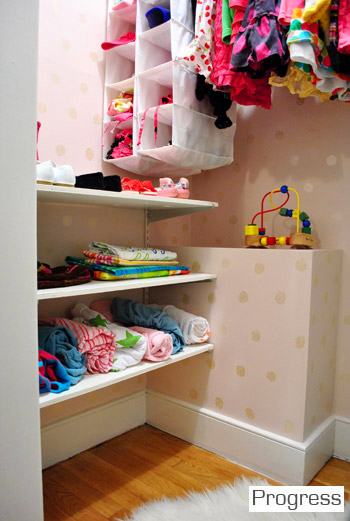 Done:
removed the old bifold door and hung a curtain on the closet instead
redid the closet by painting it and then stamping the walls
sewed a beanbag to create a sweet little reading nook
- The Sunroom: Complete! -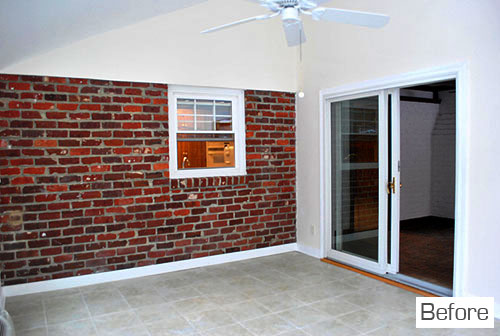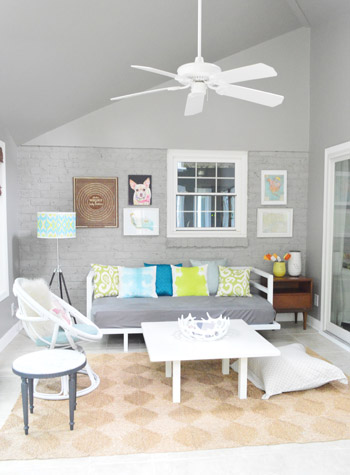 Done:
- The Master Bedroom: Complete! -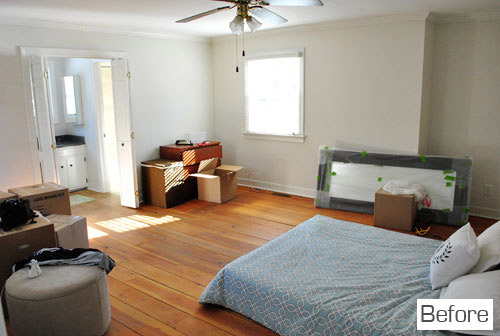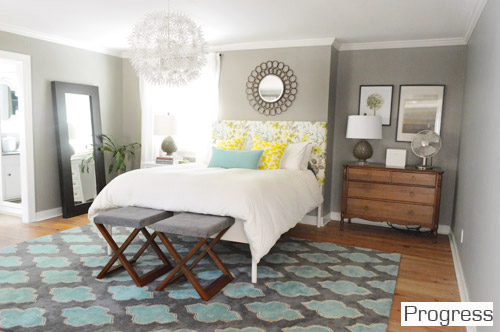 Done:
- The Master Sink Nook: Complete! -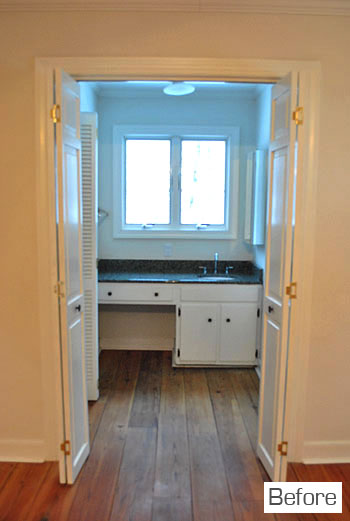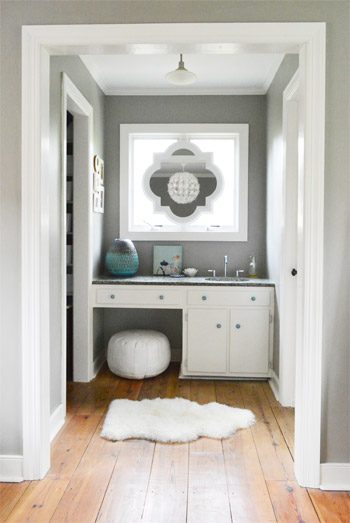 Done:
- The Master Bathroom: Complete! -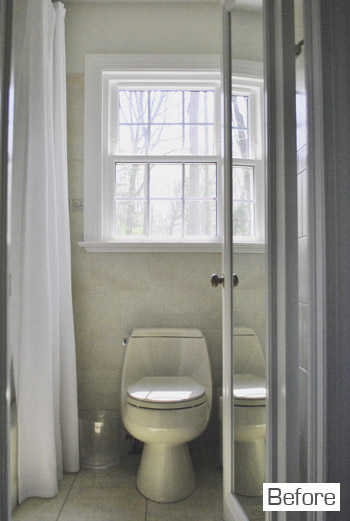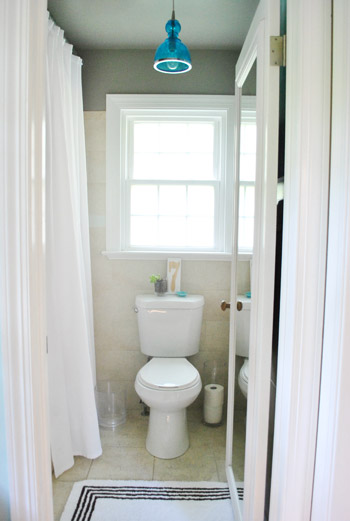 Done:
- The Guest Bedroom: Complete! -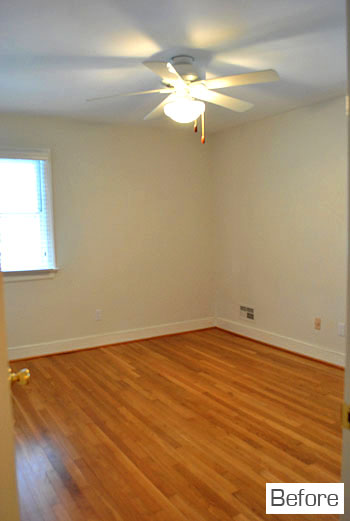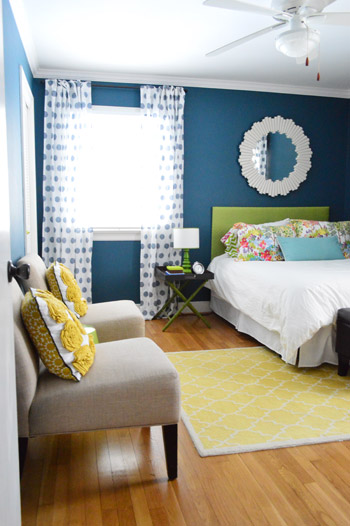 Done:
primed and painted the walls (we use a primer when we're going light to dark or dark to light on walls)
furnished it (mostly with leftover stuff from other rooms)
added crown molding
hung a bigger mirror over the bed
replaced some of the older just-using-what-we-have furnishings (more on that here)
- The Guest Bathroom: Complete! -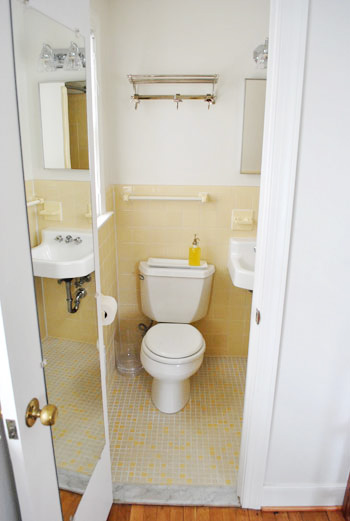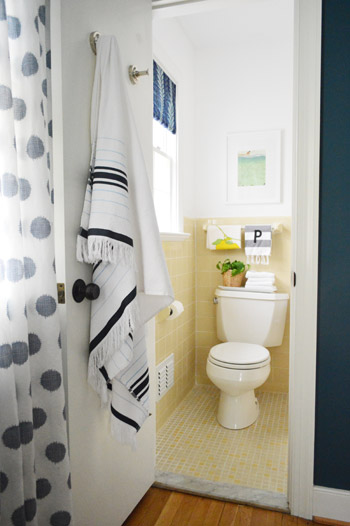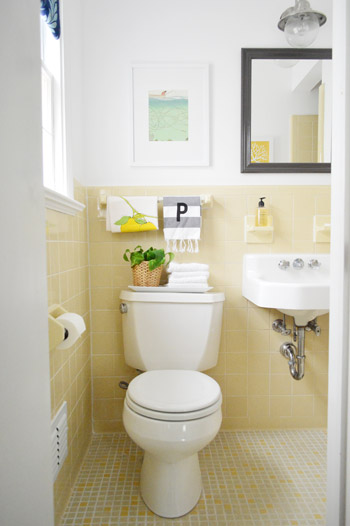 Done:
- The Basement Workshop: Complete! -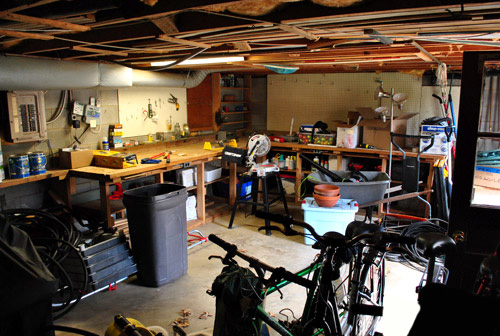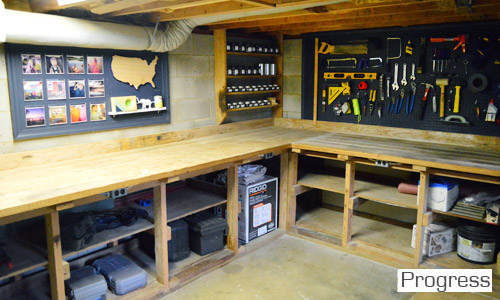 Done:
- The Side Lot: Complete! -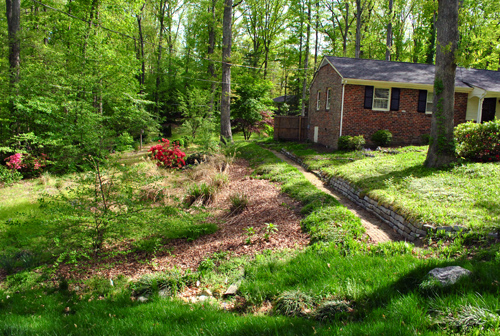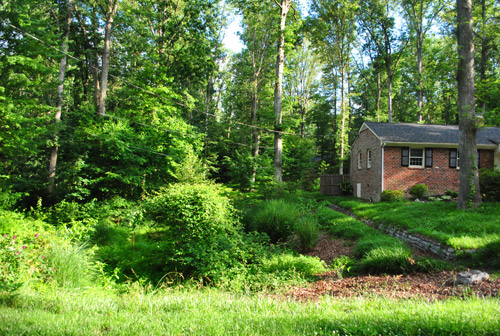 Done:
Planted two trees and naturalized it a lot from the sparse leaf pit that we inherited so it looks woodsy and wild (which makes it awesomely zero-maintenance and provides more privacy from the neighboring house)
- The Deck: Complete! -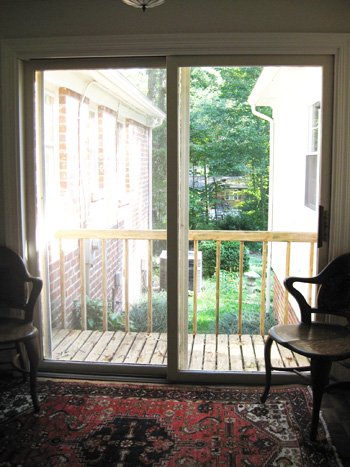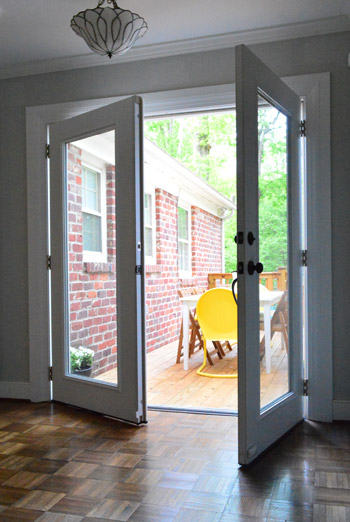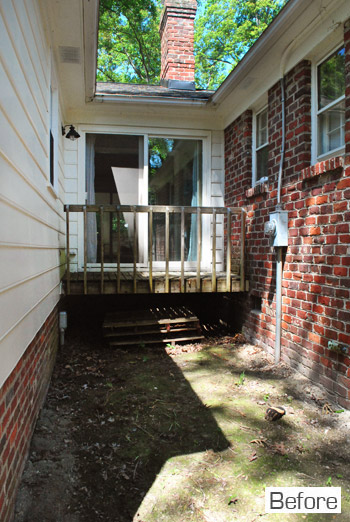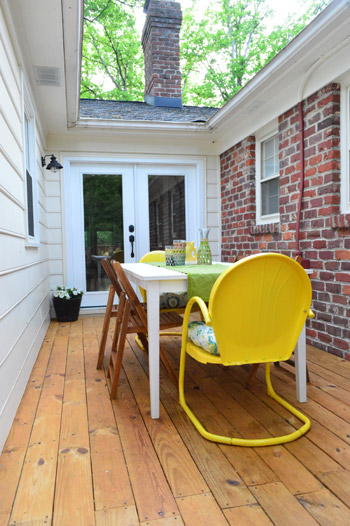 Done:
- The Patio: Complete! -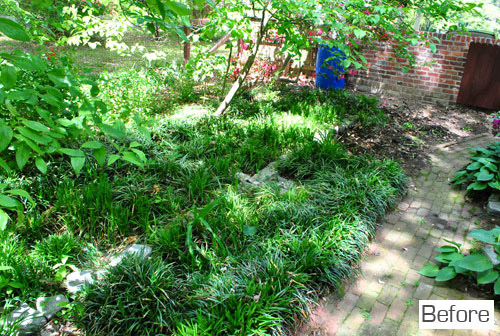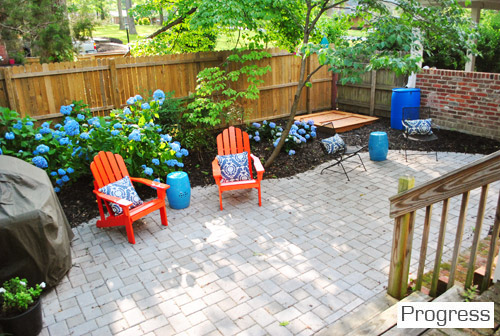 Done:
- The Backyard: Complete! -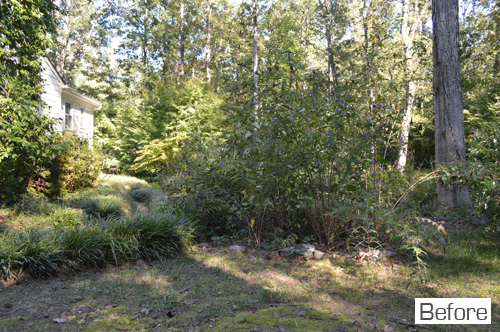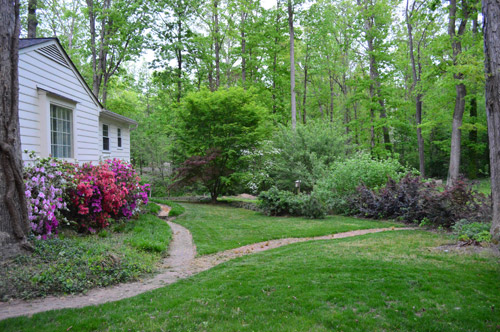 Done: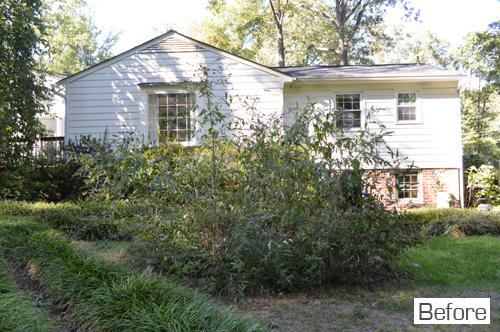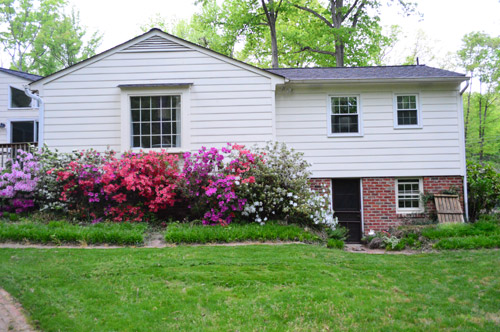 It's so much fun to look back at all the completed bullets and reminisce. We're going to miss the heck outta this house. And since a home is never really done, we thought it would be fun to include some things that could have been exciting to do down the line if we had stayed…
turn the fireplace in the kitchen into a double-sided fireplace that also opens up into the living room (we needed a mason/architect since it would have been a load-bearing wall that we were altering)
refinish the floors throughout the house in a richer mocha tone like the cork in the kitchen and laundry room for a more seamless effect (like our first house)
paint the ceiling in the playroom a happy and playful color like soft teal
redo the flooring in the sunroom (the beige tile was neutral and in good condition, but it wasn't our favorite)
convert the master bedroom window that looks out onto the deck into a french door
possibly tile the entire back wall of the master bedroom sink nook with something dreamy and gleaming (we couldn't decide if it would look too bathroomy in the bedroom so we went back and forth on this)
retile the master bathroom floor (maybe with gray hex tiles) and possibly reglaze the beige wall tile so it's bright white (or add beadboard over it?)
add raised bed gardens for vegetables, fruits, and herbs and build Clara a swingset (this is one of those bullets that we want to "bring with us" to the new house)
Here's hoping the next owners pick up where we left off and we can house crash them someday!
&nbsp&nbsp&nbsp