This next house we toured was pretty sweet. The owners had just dropped the price nearly $40,000 which suddenly put it within our range. The sellers had already moved out and after having the place on the market for 4 months were quite motivated to sell. And perhaps that fact would motivate us to buy? Let's meet the house: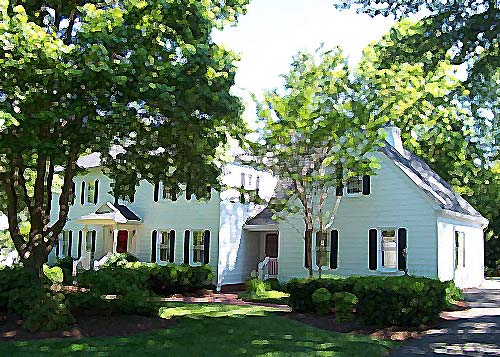 THE STATS:
Age: 1977
House size: 2,772 square feet
Lot size: 0.4 acres of land
Bedrooms: 4
Bathroom: 2.5
THE PROS:
Great deal
Beautiful exterior and landscaping
Polished details like crown molding, custom window shutters, and exposed beams
Tons of extras like a Wolf range, two outdoor deck heaters, a car lift in garage, and a full yard irrigation system
Kitchen needed lots of work (which we like)
THE CONS:
Felt a bit too "fancy" for us
Didn't need much work besides the kitchen
Schools and location were not ideal
Still priced at the top of our range even with the drop
Not as old and much bigger than we're actually looking for
The funny thing about this house is that it's actually one of the first we toured on the inside. And it initially wowed us so much that we actually did put in an offer (shocker, we know) – mainly just to see what would happen. We figured with our lowball price (we dropped it another 20K) and our must-sell-our-house-first contingency that we'd get kicked out immediately. They ended up being fine with the contingency but weren't willing to budge on the price (which is completely understandable given their recent drop) so we walked away. At least it was a good dry run for when we make and offer on a house that we really want. Especially because in hindsight we want waaaay more of a beater than this house. one that's even older, more modestly sized, and just begging for a makeover. Are you out there perfectly imperfect house?