So with the Cottage In the Woods off our list, let's turn our attention to another house that we toured: the cute cape cod near shops. We were a bit skeptical about this one because it was in a totally new area for us, but we though its hints of city feel might reawaken the part of us that once loved living in NYC and being able to walk to the store. So we decided to check it out. Here it is in its slightly-doctored-photo glory (see why we're not sharing tons of pics out of respect to the sellers here):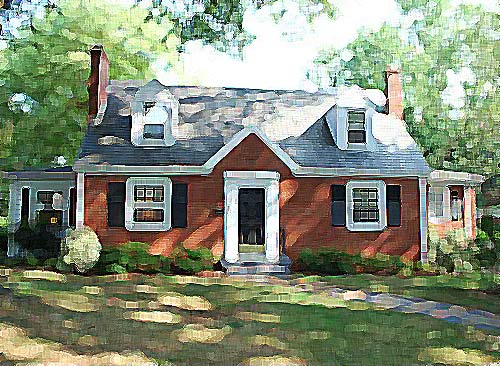 THE STATS:
Age: 1945
House size: 2,001 square feet
Lot size: 0.25 acres
Bedrooms: 3
Bathrooms: 2
THE PROS:
Cute, friendly & walkable neighborhood (we could even walk to Target!)
County schools/taxes with city feel
Old and definitely in need of work
Gorgeous hardwood floors throughout
THE CONS:
Expensive per square foot compared to others we looked at
Layout made house feel chopped up and closed in
Main bedroom on 1st floor, others upstairs (we'd like 'em on the same level)
No central air
Not very close to family
This particular home didn't quite feel right to us once we got inside (we're sort of waiting for the same gut reaction that we had when buying our current house) but we're glad we saw it because we realized that we did like this sort of neighborhood, even though it was a new area for us entirely. The fact that it was a bit pricier and further away from our family wasn't ideal, but we did like the charming exterior and hope to look at other two-level houses in Bon Air just to keep our options open beyond ranches (read more about why Bon Air is the promised land for us here). On to the next one…
Altered exterior photo taken by us and edited thanks to our friend Photoshop.
Psst- Want to see the coolest nursery we've seen in a while? Check out this week's BabyCenter post right here for a Nursery Crashing adventure.