Well, I guess we haven't actually sold our house by owner yet. That'll happen at closing in mid December (fingers crossed). But here's how we got an offer.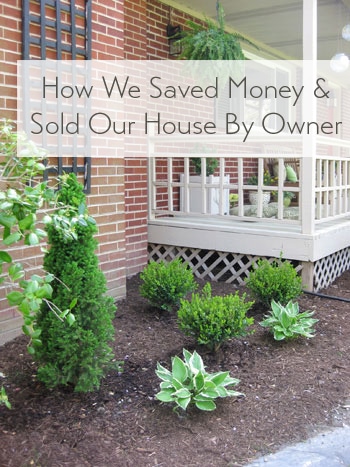 We're hardly real estate experts, so this post is just a roundup of things that happened to work for us. Here's hoping they help anyone else attempting to DIY their house sale too. The cool thing is that the people buying our house aren't blog readers (they'd never heard about us or YHL- but we disclosed the blog to them to ensure that they were cool with images of the house with our furniture remaining on the site). Anyway, we thought it would encourage other FSBO peeps to know that you don't need a blog to sell your house. But it was interesting for us to learn that our blog had nothing to do with attracting the people who are buying our house. Anyway, here are our tips:
Tip #1: Pick the right asking price. This is paramount. And we didn't do this at first. We priced the house too high and we only had two showings in the first two weeks. Then we finally got real with ourselves, dropped things by about 25K, and priced our house to sell in this less-than-ideal market based on what similar homes in our area were going for. Wouldn't you know we had fourteen showings within two weeks of the price drop – and an offer within two days of it. Really can't stress this step enough.
Tip #2: Clean and declutter your house within an inch of its life. Now is not the time to leave a pile of socks in the laundry room or a stack of bills in the kitchen. And dust bunnies have no place in your house when it's on the market. Oh and make sure the house doesn't smell funny while you're at it. Sure you'd hope prospective buyers can look beyond any lapses in cleanliness, but those dirty spots can signal to the buyer that the house isn't cared for in other areas either. Here are a few posts about what else we did to get things ready for sale-age (here, here, here, and here).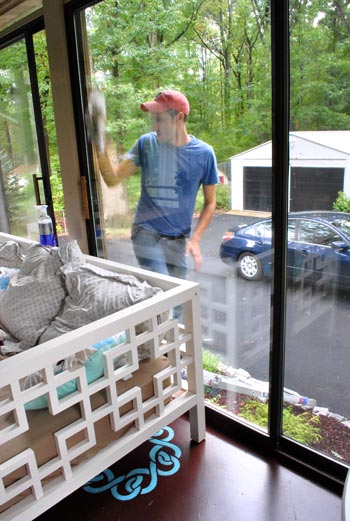 Tip #3: Market the heck out of it. The amazing thing about using a realtor (which we definitely would have done if we couldn't get this done on our own after a months or two of trying) is the fact that they can draw a ton of potential buyers to your house thanks to clients, connections, and widespread publicity on sites like MLS. To offset this advantage you'll have to do a heckova lot of legwork yourself. The FSBO route isn't easy by any means. We paid to put ads in the paper, re-listed our house on craigslist every few days, bought a for-sale sign and made countless fliers for the front yard, and eventually spent $295 to put it on MLS ourselves (using this service – although in the time since we used it we have heard this complaint, so perhaps it's not as nice as it used to be). All told we spent about $500 marketing our house- but it certainly beats the $12k that we would have spent on a typical 6% realtor fee.
Tip #4: Learn how to show the home in a way that appeals to buyers. We learned that keeping Clara, Burger, and myself out of the house (we went on nice long walks) while potential buyers were led on a quick tour by John was the most professional and crowd-pleasing way to conduct showings. After John's speedy walk-through he would step outside and let people poke around on their own just to see how they liked the feel of the house without anyone hovering. And if it was raining sometimes Burgs, the bean, and I would hang out in the car since walks were out of the question.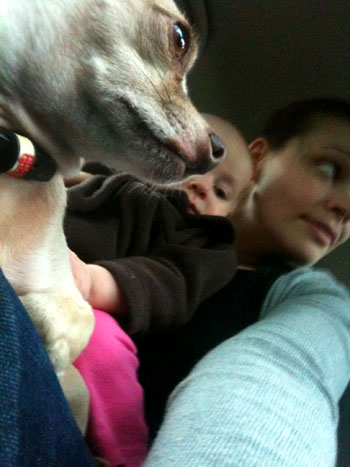 Tip #5: Make a strong argument for why your house is worth buying. Your flier (and the things you mention when you show the home) really can make all the difference. We learned that pointing out that many items would convey with the sale really helped people see added value (we tossed in all of our appliances, window treatments, light fixtures, dining room shelving, and even the master bedroom built-ins & our bed frame). We also pointed out things like the size of our large .75 acre lot and our two-car garage, which are both rarities that most other homes on the market in our price point don't offer. And of course mentioning perks like the newly remodeled kitchen and baths, the new roof, the refinished hardwood floors, the new windows, and the other upgrades that we put into our home seemed to really set us apart from some of the other un-updated brick ranches on the market.
Tip #6: Figure out what to do if you get an offer. The whole purpose of selling your house is to get an offer, but if you don't know what to do when you get there, you're kind of sinking your own battleship. You'll definitely want to bone up on your negotiation skills and learn how to trust smart people. Sure we were selling our home by owner, but we didn't do it on our own. Not even close. We even asked the buyers agent that we used to purchase our new house a few questions along the way- and we definitely relied heavily on help from the closing attorney and lending agent that we hired for the transaction (they were both people that we've used before, so we really appreciated their opinions). When it came to ratifying the contract and getting through all the finer points like inspection negotiations and closing date determinations they really were our sounding board. Hiring a closing attorney is only a few hundred bucks, and you actually have to pay for a closing attorney whether you FSBO or do things through a realtor, so it was a no-brainer to rely on ours for all the help we could get.
Oh and thanks to the fact that most buyers will present you with an offer on paper, you just have to tweak that and "respond" to it (instead of drafting anything up from scratch). But you'll definitely want to have the legally necessary papers on hand (like a lead paint disclosure form and a residential property disclosure form- both things that we googled and found online). Your closing attorney should be able to help you with those if you can't track them down. I guess the key here is that a good closing attorney can really be an amazing resource- especially so you're sure that everything you're doing is 100% legit. Gotta protect yourself!
Tip #7: Rest assured that realtors won't boycott an FSBO house. At least that wasn't our experience. AT ALL. Nearly all of the showings that we attracted were to people with a buyers agent at their side (the agents were actually the ones calling us to schedule each showing). In fact, the people buying our house came through a realtor (so of course we owe a small percentage to that realtor since she's acting as their agent) but we definitely appreciated not having to shell out close to 7K to a sellers agent as well (since we took on the marketing and the showings ourselves and did all the paperwork directly with a closing attorney as opposed to using a sellers agent for those items).
So that's what we did to get 'er done. Again – we definitely would have used a realtor if we didn't have much luck in the first few months, but we're just such DIYers that it felt fitting to give the whole for-sale-by-owner thing a shot and share our experiences with you guys. Is there anyone else out there who sold their house by owner? Feel free to chime in with more tips and tricks. We're certain there are at least a few things we forgot to mention and probably a ton of things that we didn't even think of. It's amazing what a learning curve the whole experience can be. Now we'll just be holding our breath for a quick and painless closing in around a month's time. Is it December yet?