Everyone else who's house hunting these days is probably seeing a lot of foreclosures for sale like we are. We'll admit we were torn about whether or not we wanted to consider them. It's one thing to buy a home from a willing seller, but to take a home that someone else didn't want to lose seems so sad. Especially given all of the recent issues coming to light about houses being foreclosed on when they shouldn't have been. But we decided to tour this one, even though it was a little outside of our comfort zone, just to see what it looked like inside (since the outside was pretty charming indeed).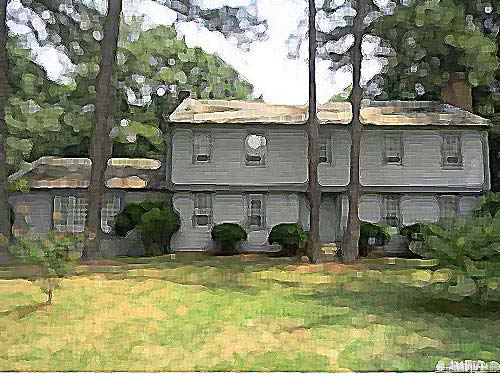 THE STATS:
Age: 1960
Home size: 2,659 square feet
Lot size: 0.4 acres of land
Bedrooms: 4
Bathroom: 2.5
THE PROS:
Extremely inexpensive
In need of TONS of work (which is a plus for us)
Slate roof and gorgeous hardwood floors throughout
Nice private backyard
Great neighborhood (near family and awesome schools)
THE CONS:
Smells heavily of smoke inside
Sagging drywall in nearly every room (re-doing drywall isn't as fun as most DIY projects)
It's huge (and we prefer a more modest footprint that's easier to clean)
Can't be purchased with a contingency (meaning we'd have to sell our house before putting in an offer)
Foreclosures can be a good deal, but they make us sad (and may even be a liability given the murmurings of "foreclosure fraud").
So even though the pros seemed to balance out the cons (in numbers, at least) we just couldn't get past how virtually uninhabitable it would be while we tried to fix the drywall and rid it of the heavy smoke smell. It's certainly not something we'd want to move Clara into before that (and since we'd have to sell our house before even making an offer, we would most likely have to figure out interim housing which seems complicated and unnecessary if we can persue other homes that will accept a contingency instead). But we're glad we toured it just to know what's inside and rule it out as an option for us. After all, every house that we enter without getting that "this is it" feeling means we get to cross it off the list, which hopefully brings us closer to The One.
Psst- Help! Over on BabyCenter we're calling all moving experts for tips and tricks to help keep our upcoming move organized and efficient- especially since we'll have an under-a-year-old baby along for the ride. Any varsity movers with advice for keeping things as uncomplicated as possible! Share them right here.