We showed our house a total of 16 times. So eventually we got to be old pros at it.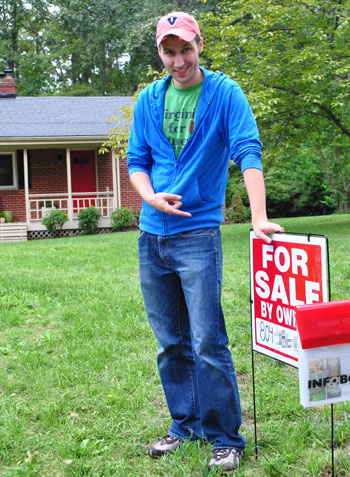 At first we had no idea what we were doing. I mean of course we:
cleaned the house like mad (vacuumed, dusted, etc)
picked up all dog and baby toys
turned on all the lights so everything looked bright and welcoming
baked something yummy beforehand (so it would smell as good as it looked)
removed the cutting board and the dishtowel from the counter in the kitchen so there was more granite on display
removed the bath mat in the full bathroom (to show off more of the stone floor tile)
polished all the faucets and fixtures to make them shine (water marks are easy enough to wipe down)
tidied our bedroom's built-in closets (since we were offering the wardrobes and the bed frame with the sale of the house, we wanted them to be neat when people poked around)
emptied the garbage and recycling
made sure all the toilet lids were down
blew the driveway, front porch, and patio (so acorns and errant leaves didn't sabotage our curb appeal)
unlocked the separate entry basement door (so people could slip in and out more easily)
All those things were fine and dandy, but we didn't actually get a handle on showing our house in the most professional way the first few times we tried it. Which was a shame because it was especially important since we were attempting to sell our house by owner. Seriously, we were nuts. Allow me to paint you a picture: the doorbell would ring and Burger would bark for five minutes while I held the baby and sang to her while letting people in and trying to quiet Burger. Then John would offer to give people the tour as dog and baby chaos ensued in the background. No wonder the first two showings were a bust.
But by attempt number three we got a bit more savvy. We learned that one single solitary person doing each showing (with zero dogs/babies in the background) was the way to go – heck, maybe we could even convince someone we were realtors in a past life. So I outsourced the showings to John since he's the more detail and date oriented person (he actually remembers the month that we got new windows and when we last serviced our HVAC) while Burger, Clara, and I ducked out of the house for a nice long walk around the neighborhood before the doorbell rang. Can I just say that I've lost nearly five pounds thanks to all that walking? Well, that and maybe some house-for-sale stress. Sixteen showings might not sound like a lot, but it sure felt like it to us! Especially when we hit our all-time high of four showings in one day two Sundays ago. Yeah, that's a lot of walking.
But where do pooch, bean, and I go if it's raining out? Here's where we got creative. John masterminded the idea of parking our car a few houses down. That way Clara, Burger, and I could hang out in the warm dry Altima while John worked his house-showing magic (and even rock out to the radio and approve comments via iPhone while we were at it). It sounds kind of depressing but it was actually pretty hilarious. In fact I snapped these pictures to document the good time that was had by all. First, my kiddos enjoyed sharing my lap: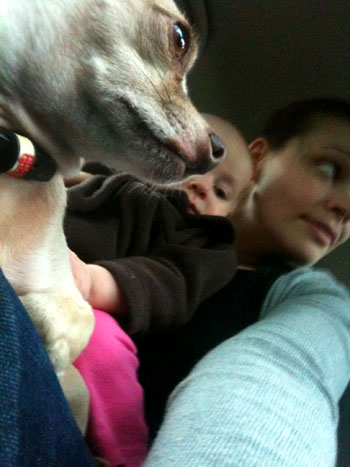 And Clara had some fun with a granola bar that I found in the middle console (the wrapper kind of made a crunching sound like a rattle)…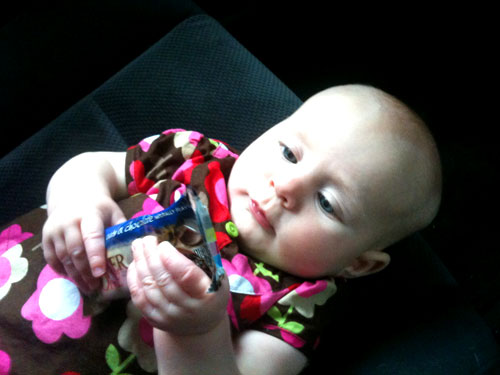 I also learned that keys can fill in for toys in a pinch (you know I love working with what I have).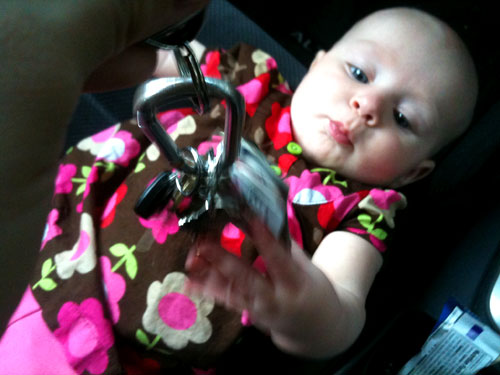 Plus Clara earned her varsity letter in napping. Just look at her go in the driver's seat.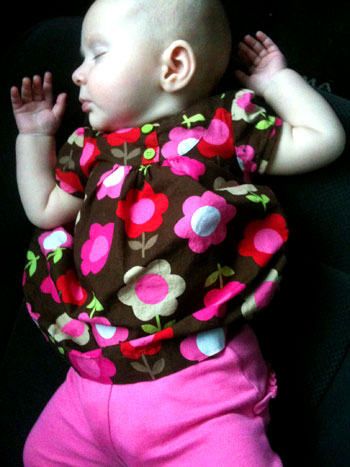 So in summary, we were so very fortunate to have so much interest in our home and we'll share all the for-sale-by-owner tricks and tips that we picked up along the way soon (when it comes to marketing, getting traffic, and all that jazz). Until then Clara, Burger and I can be found hanging out in the car. You know, for old time's sake.