Since "holes in granite slyly covered by soap & lotion dispenser plus a bottle of Ms. Meyers cleaner" doesn't really belong on a For Sale listing…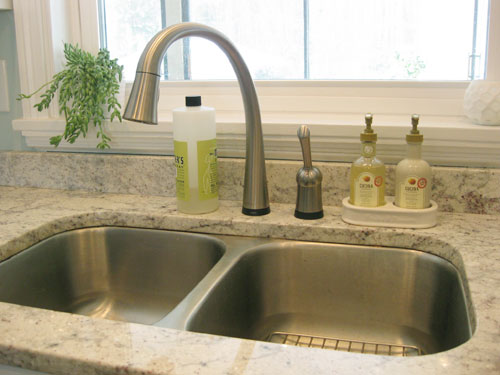 …we finally took the time to solve our hidden hole issue in the kitchen.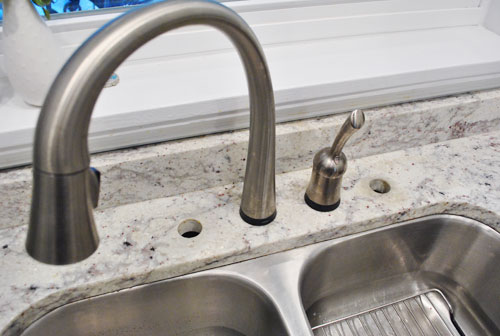 These two little buggers are leftover from when we swapped faucet fixtures and no longer needed all four holes (but we actually appreciate that they're there because they keep things flexible for anyone who might want to switch out the fixture someday and accommodate an in-counter soap dispenser and a separate sprayer again). We've mentioned before how we've just been covering them with soap bottles and many of you have politely nudged us to seal them up more securely. And let's just say the prospect of having a home inspector coming 'round was the final push we needed to abandon our current "out of sight, out of mind" approach.
Luckily the solution was a mere $4 thanks to these babies from Lowe's (yup, they were less than two dollars a pop).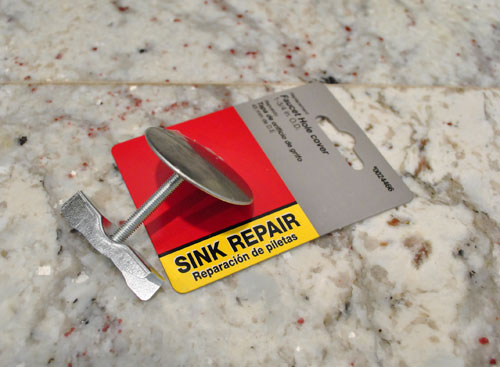 It only took us about 5 minutes to screw these faucet hole covers into place (though it did require two sets of hands).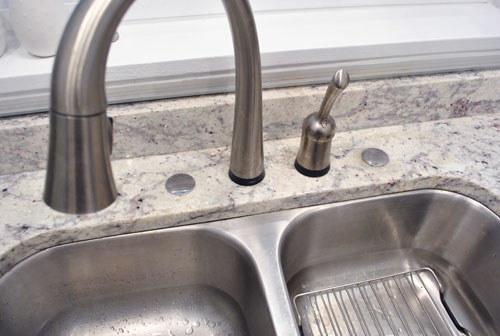 We especially like that it allows us to declutter the countertop even more whenever folks come over for showings. Sorry Ms. Meyers, but you're officially banished back to your proper place under the sink. Although any new homeowner who wants to go back to storing their soap on the counter could easily hide the hole covers again if that's more their style. We actually really like the more open look though.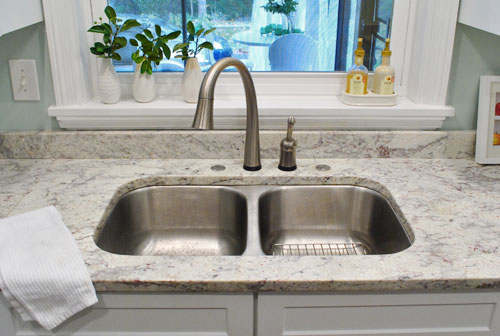 So yes, we're kicking butt and taking names around here in the home improvement department. How you like me now?
I'm kidding. This was the easiest project ever, which required no tools. Yawn. Can't wait to tackle big transformations again in that elusive future house of ours. In the good news department, we think we're closing in on it. Counting down the minutes. (Note: This isn't teasing. We can't announce anything yet because nothing is really for sure. We're just closing in. We hate that these things take time, but hey, they do).
Psst- We announced this week's giveaway winners. Click here to see if you're one of them!