To the tune of Katy Perry's "Hot N' Cold"… WE'VE BOUGHT AND WE'VE SOLD!
Well not really, but we're headed in that direction. As of 5:57 pm yesterday evening we got word that the the last of our negotiations with some potential buyers of our house have gone through, so the contract on our home is officially "pending."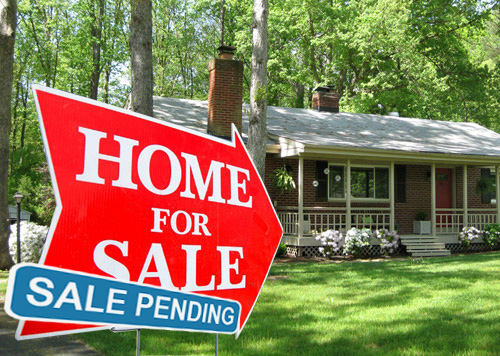 Which means that the contract that we've got in on our sweet new house (yes, we fiiiinally found one) should move right along as well (since it was contingent on selling ours first). In fact if all goes well, in a little over a month we'll be moving from our current house directly into our new casa. Holy bananas. We're geeking out over here (high fives, jazz hands, the charleston, my own spin on the Elaine-from-Seinfeld dance, the whole nine).
You'll have to excuse us for not sharing anything sooner. We just wanted to be sure this new found casa could really be ours before getting all excited-slash-attached and making a big ol' blog-nouncement about it (it would've been such a buzz kill if things fell through). But now that both contracts are well underway (inspections have even been completed) and are only dependent on the lending process going smoothly – which should be fine, fingers crossed – we're ready to shout the good news from the rooftops internet.
We'll fill you in with all the how-we-priced-&-marketed-&-sold-our-house-by-owner details soon, but first let's chat about our new house. We're on the brink of obsessed. Picture us doodling our new address with hearts all over our notebook. It's a total throwback to how can't-sleep-excited we were about our current house back in 2006. And we're so grateful to have that feeling again – especially because we were beginning to doubt that we'd find anything that gave us butterflies. But the moment the front door swung open and we found ourselves standing in our future entryway (complete with some amazing built-ins) we just knew. Which means I broke out my creepy permasmile and probably scared the realtor. So much for a poker face.
Speaking of the realtor, we ended up using a buyer's agent after calling her to see one of her listings and, well, one thing lead to another and she ended up showing us this other home that she felt would be a better fit. We were skeptical at first because it was one we had already nixed during a late night realtor.com hunt. Why did it get nixed? Get this. It had a carport.

I stupidly decided that we strongly prefer an enclosed garage (for storage reasons, bug control reasons, and so-people-don't-know-when-we're-gone reasons). So I ruled out all homes with carports. Little did I know that odd parameter was keeping us from finding The One. So we begrudgingly agreed to see the house anyway, and the rest as they say is history. Even more amazingly, the sellers of the house were offering a credit to cover the entire cost of enclosing the carport to create a garage. Is that proof that it was meant to be or what? So the lesson here is to widen those parameters because your perfect house might be right under your nose (and hiding behind a carport).
But enough jibber jabber, let's meet the future Casa Petersik. Admittedly, it's not a Jeff Lewis exterior (yet) but we probably wouldn't buy it if it was already there. And yes, it's more than a little reminiscent of our current home at first glance, but the inside is larger, more flexible, and it runneth over with potential.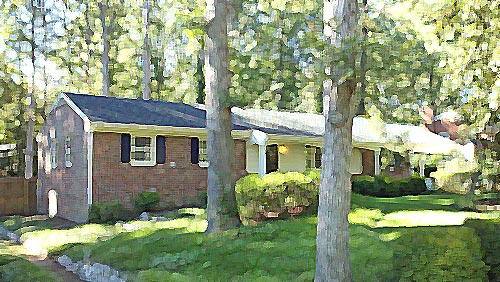 THE STATS:
Age: 1960's
House size: around 2,500 square feet
Lot size: .75 acres (almost exactly the same size as our current lot, but it's more square and less long & narrow)
Bedrooms: 4
Bathrooms: 3
THE PROS:
Gave us that "this is IT" feeling the moment we walked inside
Open & flexible floor plan that will accommodate a growing family and a home-based business
Three modestly sized bedrooms just like the ones we have now PLUS a large master bedroom with an ensuite bathroom & a walk-in closet
Great blank slate with tons of potential (we love all the projects that we see when we look around)
Large centrally located kitchen- which makes it perfect for family gatherings (we can't wait to knock out some walls)
Amazing neighborhood near our family with great schools (it's actually very close to where we live now)
It's a ranch, just like our first

love

house (we were open to all house types, but 50 yr old ranches never fail to steal our hearts)
THE CONS:
A bit larger than we expected we'd like (but still very much within our budget)
The landscaping will be more of a challenge than our current home's (but we do love a challenge)
There's a carport (but oh happy day, we get a credit to transform it into a garage)
The lot is less private than our current lot (but we have plans to change that)
We can't think of anything else (we're blinded by love I tell you)
Oh, and I guess we can meet this one minus the artistic photoshop filter. Ooh. Ahh. So crisp and non-blurry.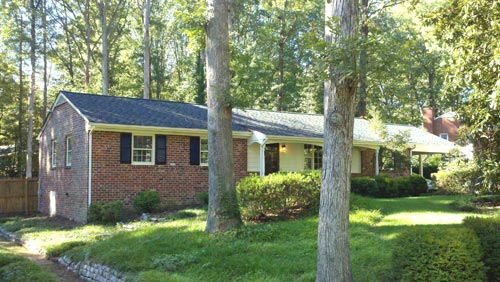 We're so glad that we found our perfectly imperfect house. The potential is so thick you can cut it with a knife. So cross your fingers that all continues to go well for everyone's loans and that we end up closing in mid December without any hiccups. Until then you'll find us gushing about our future home, playing around with paint swatches, brainstorming all sorts of layout ideas, virtually shopping for every room, charging the batteries in John's drill, organizing and paring things down, packing, and just generally being freakishly excited. We can't wait to share the next chapter of our lives with you guys.