Moving, Selling, & Buying
Back when we were house hunting in 2010 we shared a series of posts that each profiled a different house that we looked at (you can see them here, here, here, here, and here). And even though our hunt is over this time around, we wanted to revisit 9 other houses that we casually toured (many of them just on Open House days) before we met The One. So we had fun driving around snapping pictures for you and reminiscing ("That was the one with the phone in the bathroom!" "That was the one with the family of deer in the backyard!").
The Lake House: The first house was very modest in size and located just a few blocks away from our current house. So although it wasn't in our dream neighborhood… dude, it was on a lake! But we learned that even with heavy renovations, it would be extremely expensive to add a bathroom on the lower level where half of the square footage was, and the extra-low ceilings down there were also a non-changeable feature (there was no way to make them any higher). So although it was under budget and on the water, it was a no go for us.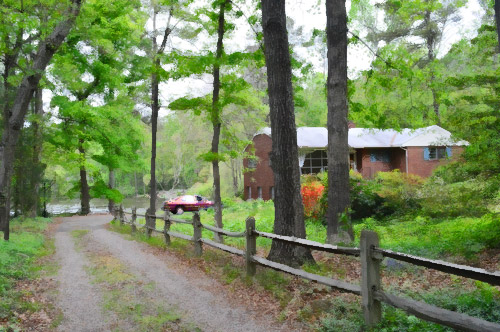 Note: Just like last time we shared house hunting pics back in 2010, we wanted to respect the privacy of each home's owner, so that's why the photos have been doctored (colors and orientations might be altered, we added a filter to obscure them, etc) thanks to our friend Photoshop.
The Big Ranch: You know we love a ranch, and this baby was actually pretty cool. There was a giant kitchen (crazy dated! needed so much love!) that was attached to a giant living room with a big fireplace, so we could just picture how doing some work could completely transform that area into a great open living space in the heart of the home. The cons were that the rest of the layout was a little choppy for us, and the price was significantly more than we hoped to spend.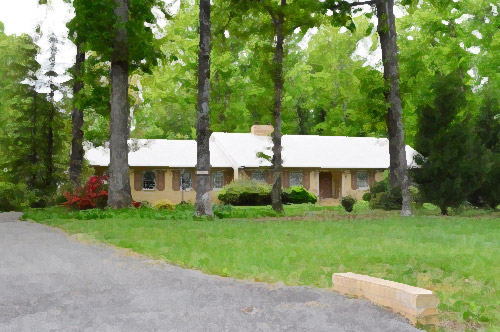 The Gray Shaker: This house was initially promising because it was in our dream neighborhood and was listed for a pretty low price… but once we poked around we realized why. There was some unusual siding going on when it came to the exterior (the gray part sort of looked like plastic shaker shingles) and the inside was pretty broken up (steps down into some rooms, doorways and hallways between rooms that felt choppy, etc). So although the price was great, it just didn't give us butterflies.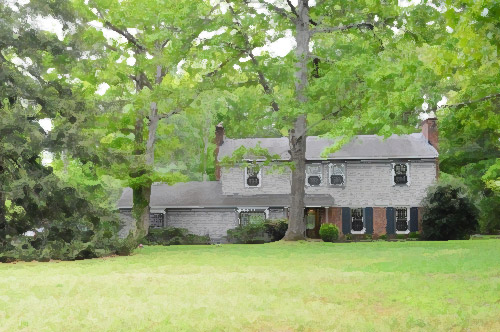 The Quirky House: This was definitely the most unusual of all of them. We called the basement "the HGTV room" because it was completely redone and looked kinda like the cabin of a yacht, complete with a built-in banquet that turned into bunk beds for kid sleepovers. However, the unusual roof line, the large stained glass window in the front, and the price (it was nearly 100K higher than our new house) weren't right for us. Too bad because the street name even had "Young" in it…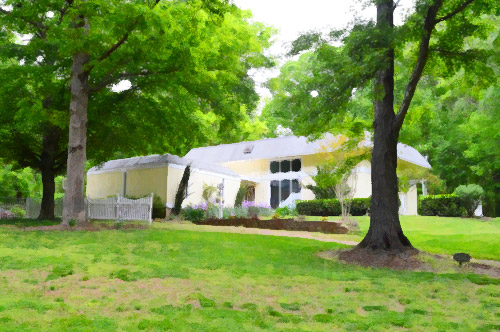 The Updated House: This contemporary house was also so much fun to tour, because although it wasn't in our favorite neighborhood and was substantially more expensive than our new house, it was really inspiring since almost all of it was completely renovated, so it was fun to see what they did – especially the giant fireplace in the kitchen. Oh, and this one was the one with a phone in the bathroom.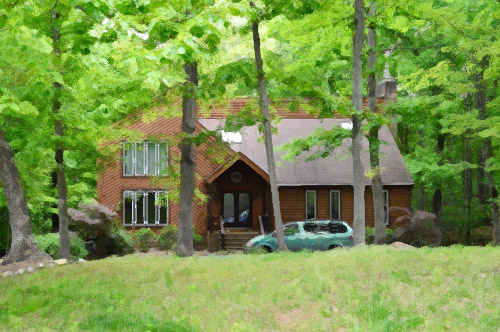 The Barn: This house was in our dream neighborhood but was more than we hoped to spend. It was really cute inside (a balance between already-a-blank-slate and we'd-do-a-little-gutting-in-some-areas) and it had a really nice circle driveway and a private yard with a deck along and some cute rooms upstairs with peaked ceilings. But along with being more than we wanted to spend, it had some layout quirks that we thought might be harder to work with than some other homes we had seen.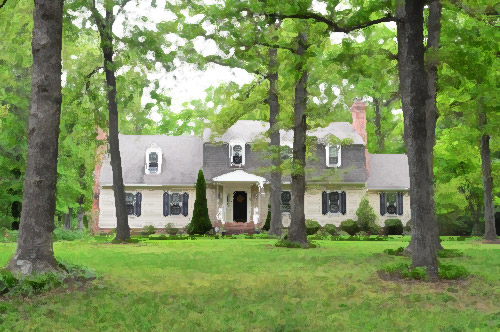 The Garage Theater House: This house was actually yellow when we looked at it, which almost tricked us into driving right by when we went back to shoot these photos for you guys. The new paint job looks awesome, and this house had THE BEST backyard. Complete with a deck and a pergola. The quirky and memorable detail was that the garage had been turned into a theater room (complete with dark walls, a giant projector screen, and amazingly loud surround sound) but there was a note from the sellers that said converting it back into a garage was easily done. It was priced out of our budget, but we're not surprised at all that it sold (and has even been painted!) since we looked at it.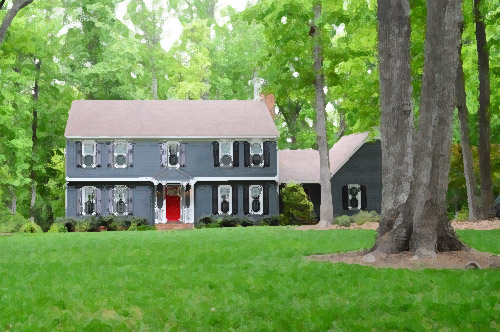 The Pool House: This house was in our favorite neighborhood, but was priced out of our range and had a bunch of higher-maintenance-than-we'd-like features… like a giant pool and an even bigger deck surrounding it. So we daydreamed about how much fun that would be, but reminded ourselves that a too-expensive house + high maintenance features (the siding covering the entire house is the kind that will eventually need to be replaced) wasn't the way to go, even if it had one heckova pool out back.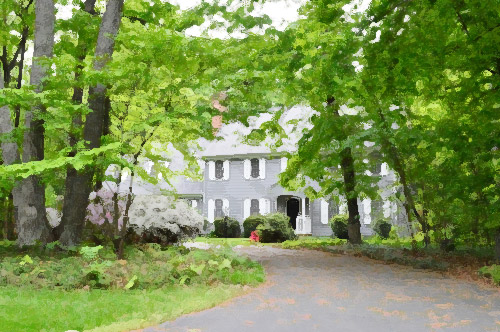 The Double Staircase: This house was in our dream neighborhood, needed upgrading, but was still priced well above our range and felt a little too grand for us (there were two staircases!). But it was really fun to check out and imagine what we'd do. The funny thing is that when we walked through we had one of those "oh man, I wish the smaller, less grand, lower priced version of this house existed…"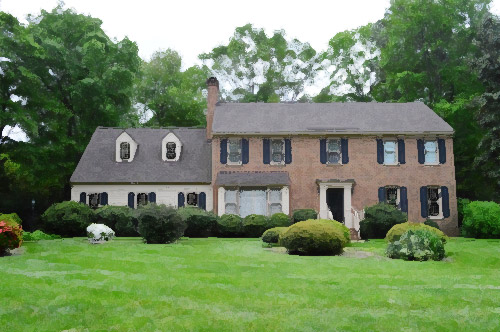 Then literally less than two weeks later we saw another for sale sign, followed it back to a quiet cul-de-sac, and this was staring back at us.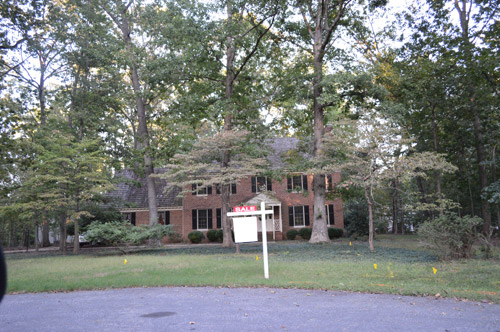 When we learned it was the same size as our current house, well within our price range (nearly 100K cheaper than many other things we casually perused), and in need of tons of love… well, it was the easiest offer we ever wrote.
And that's how casually walking through open houses can lead to buying a house. You have been warned…
&nbsp&nbsp&nbsp
We answered this question after the sale of our first house (spoiler: we bought in the bubble and sold in the recession), so now we're back to do it again – but this time the coins stacked a bit more favorably, thanks both to selling in a slightly better market and by not sinking as much into this house's improvements (it helped that we didn't need expensive upgrades like a new roof and windows this time around).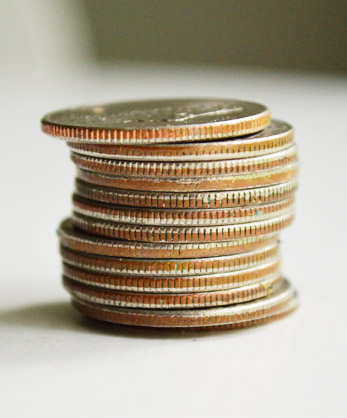 We managed to sell this latest house for $23,000 more than we bought it for back in 2010. And our best estimate is that we put around $14,500 into improvements that stay with the house (i.e. not furniture or other decor that moves with us). That means we made a net gain of about $8,500. Here's an estimated breakdown of where the money went:
Kitchen renovation (including appliances, new flooring, backsplash, lighting, counters, opening the wall, etc): $6,955
Deck building/staining/sealing: $1,783
New patio: $1,252
Built-in desk in the office (it conveys with the house since it was custom-built for that area): $124
Laundry appliances & built-in shelves: $712
Hall bathroom update: $168
Guest bathroom update: $51
Crown molding that we added throughout the house: $218
Fireplace upgrade with new tile/mantel: $147
Board & batten in hallway: $57
Pergola over carport: $214
Column update for porch: $198
Window boxes/plants for them: $132
Paint/stain for every room, built-in, and outdoor area (this doesn't include furniture paint/stain since that comes with us): $800
Landscaping, light fixtures, curtains, and miscellaneous other items that stay (like new border tile & toilet in the master bath): $1,700
Total: $14,511*
*some of these prices are total costs for projects, including some items that won't convey with the house – for example the bathroom makeover costs include art and accessories that came with us. So this isn't a perfect tally.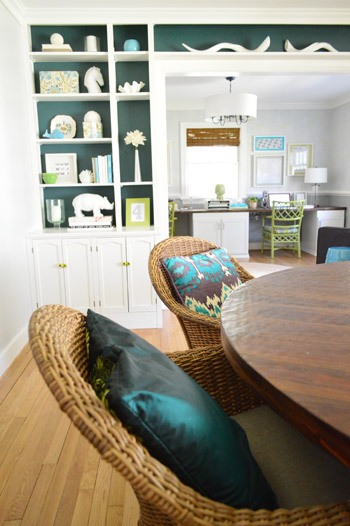 But regardless of how meticulous our math is, we're incredibly grateful that in just a few years we were able to increase the value of this house so much – especially given our experience with our first house (to which we barely boosted the sale price at all – stupid market!). But of course, we owe a 3% fee at closing to pay the buyer's agent commission (but we would have owed twice that amount if we used a seller's agent, so we're thankful for that as well).
In the end, we probably broke about even on this house. House flippers we're not. But house lovers? You betcha. The thing we're most excited about is finally getting to roll all of the equity that we've built over seven years of paying the mortgage on our first two homes into this new house – nearly cutting our mortgage balance in half. Yeehaw! That was definitely worth the wait.
What about you guys? Have you added up what you've spent on a house and compared it to what you got back? We always hear kitchens, bathrooms, and outdoor "square footage" (decks, patios, etc) tend to up the resale value of a house. Has that rung true for you? One thing we haven't really heard much about are built-ins, but we think they're such a nice feature (like the built-in desk we made for the office, the ones in the dining room that we inherited, and the one that we added to the laundry room).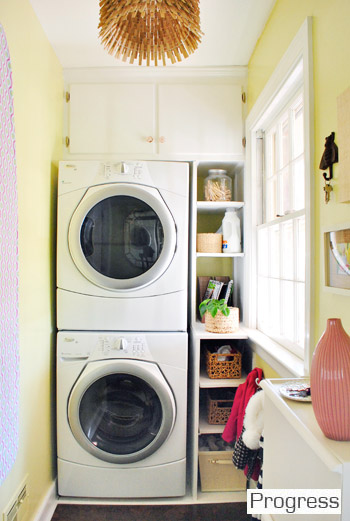 So built-ins will definitely be making an appearance at the new house (especially since we're already starting to notice a lack of built-in storage here). They add a nice feeling of function + customization, and both of the built-ins that we added were under $125, so that's definitely some nice bang for your buck!
&nbsp&nbsp&nbsp