House Crashing
Ack, sorry for the late post – technical difficulties.
We're excited to share the cottage that we mentioned on Friday, especially since a bunch of you seemed anxious for us to spill all the beans (and a lot more photos). So here's the deal: it's about 45 minutes west of Richmond in Columbia, Virginia, it's called Rassawek, and it's a bonafide log cabin from 1910. It was actually moved to this location by the family who owns Rassawek (which is also a vineyard) and there were all sorts of other fun out-buildings nearby (many of which were moved as well) along with the coolest treehouse we've ever seen. So let's get this tour started…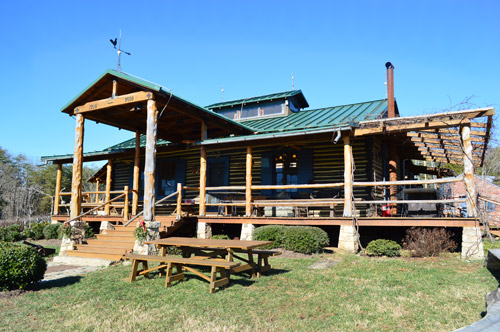 John's sister was actually the one who found it and suggested it as a way for the entire family (nearly two dozen of us, with 8 kids running around) to come together for a nice Christmas meal together at one big table, followed by a s'more roast and a big ol' sleepover. We all jumped at the chance to shirk hosting duties in favor of gathering at a cabin in the woods for a pot-luck Christmas adventure, and although we had no idea it would be "crash worthy" as soon as we got there we were like… uh, yeah – this is the coolest place ever.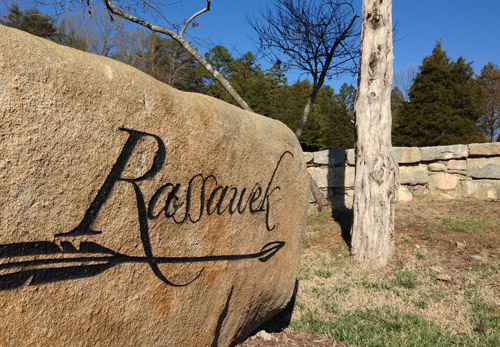 We already shared a sneak peek of one of my favorite shots in Friday's post. See how those amazingly graphic walls look like they're black and white painted stripes?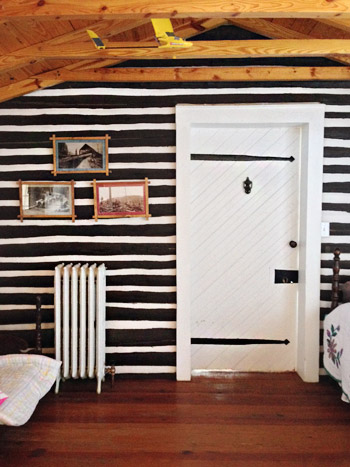 They're actually dark stained logs with white plaster around them! I love how irregular and textural they are. And everything from the exposed rafters to the antique radiators and even the dark hardware on that cool white diagonally-slatted door stole my heart. Suddenly I want interior door knockers and doors that lock with skeleton keys.
That was one of the only rooms with an extra-dark stained log wall like that, so the main living area had them in a more mid-toned color, just like all of the beams overhead.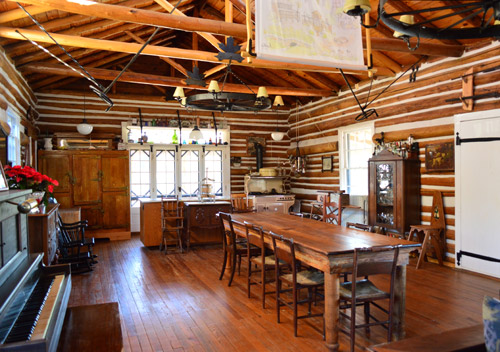 The background of the shot above was actually the kitchen, which was really open and integrated into the dining and living area. If we move a little closer you can see the sweet old stove on the right side of that back wall.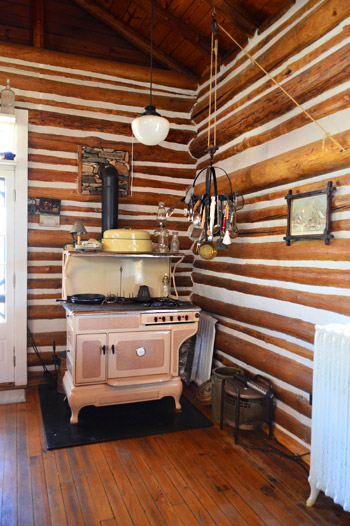 There were lots of cool pulleys with old rope and chunky iron hardware everywhere, which really added to the rustic cabin feeling. Like this old metal utensil holder dangling over the stove…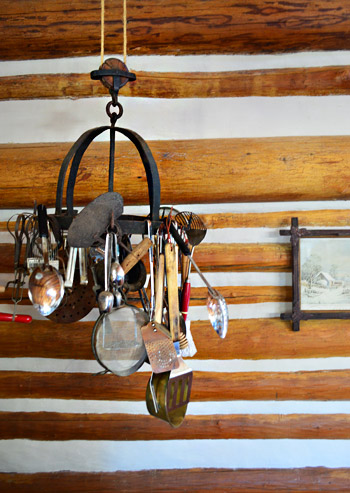 On the other side of the kitchen was this amazingly chunky butcher block along with what looked like a metal chest with brass hardware… but upon closer inspection we realized that was the refrigerator/freezer! Each of those doors was a different compartment, and some were colder (freezer-cold) thanks to big bags of ice inside.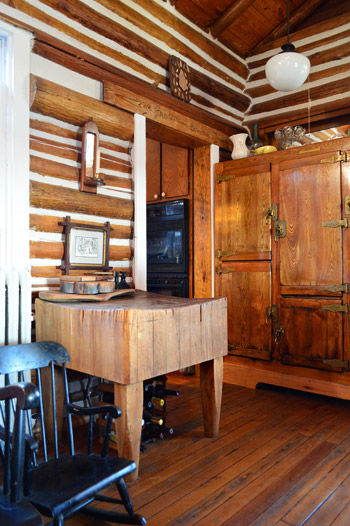 If you spin around with your back to that wall, you'll find yourself facing the fireplace, which is on the living room side of the space.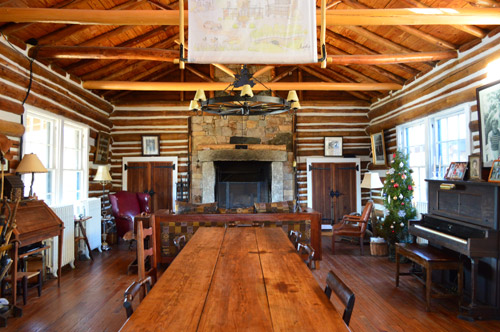 We pretty much had a giant fire burning the entire time we were there, and we all fought to sit in those chairs and on that sofa since they were the coziest spots in the house. You'll notice from the shot above that there was no TV over the fireplace, but this drop-down projector screen could be lowered for movie viewing (and the projector itself was hidden in one of the overhead beams).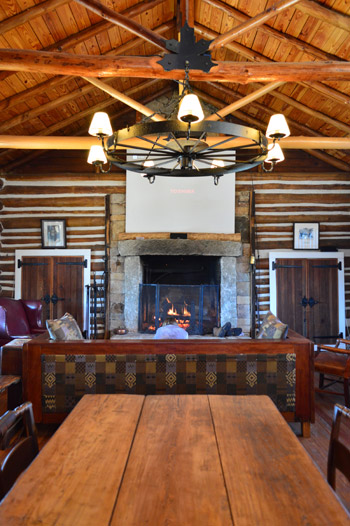 Oh and see those wooden doors on either side of the fireplace in the shot above? Those led directly to outside cubbies full of firewood. Flinging them open was chilly, but it was so convenient to access the firewood without putting on shoes.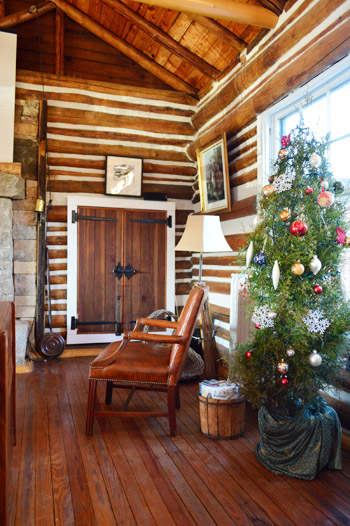 Here's the projector in action (Elf, anyone?), with John toasting up some marshmallows for the kids.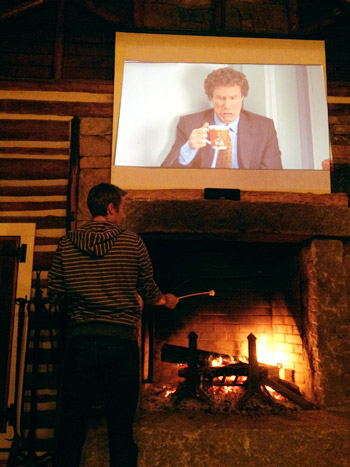 Behind that big great room were the bedrooms, but it was impossible to shoot them for you guys since we had a million family members (and bags) back there. There were two big rooms full of beds (bunks, etc) and one small bedroom that was more private as well (with a full sized bed). Some of our family members left after dinner, but 16 of us slept over – although we're a family full of kids in sleeping bags and pack & plays, so there were probably beds for around a dozen people assuming that two slept in the doubles/fulls and one slept in the twin beds/top bunks.
That big living room in the front of the cabin was a really great space for everyone to gather, but that table in the middle of the room wasn't where we had Christmas dinner. That was outside in this greenhouse. It was AMAZING. Apparently some people get married here, and as soon as we pulled up, I could totally see why. This giant glass room was sunny and bright with the coolest features (heated floors, a big stone fireplace, one giant table for everyone, etc).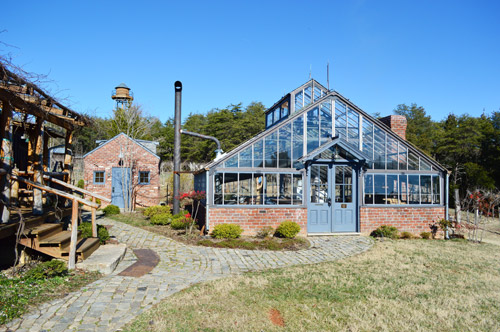 So this is where our giant group chowed down. We never thought we'd all end up at the same table (none of our houses would have accommodated that) so it was really fun to see everyone without being spread out into different rooms.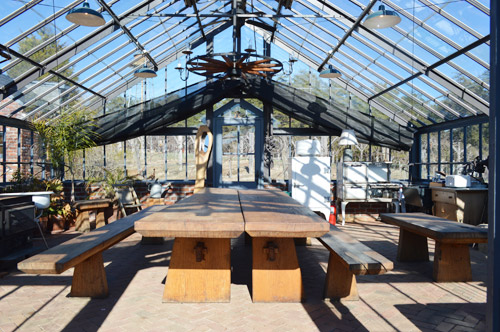 There were some other really cool features outside like this bench, which was an old tree they just sliced through the middle and turned into a bench).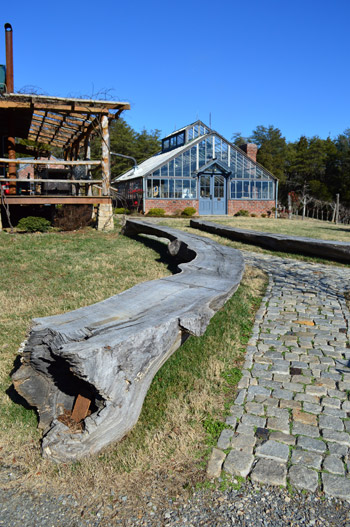 And here's an outside shot of those two doors on either side of the fireplace that open to provide firewood access. It was pretty cold but nice and sunny, so we logged a bunch of outside time with the kids.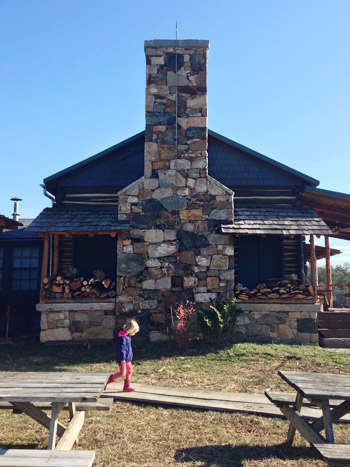 We also trekked down to this cool old barn, where some wedding receptions take place.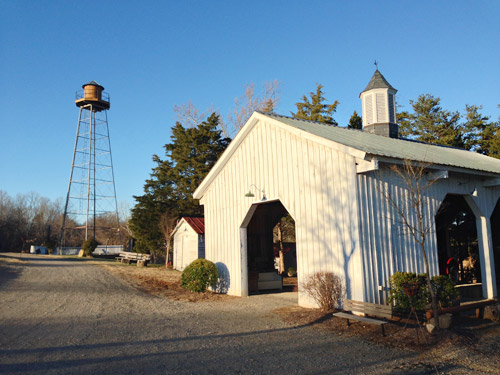 It was currently housing an old red truck that the kids all took turns posing with. There were also wall shelves full of fun vintage items like old decander bottles, buckets, and Coca cola crates.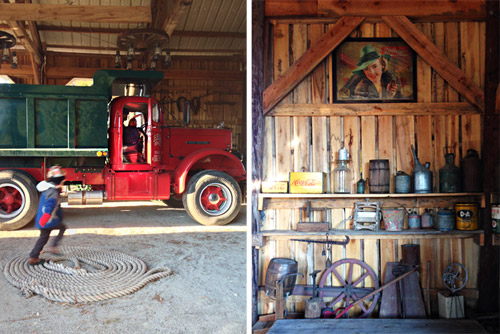 And last but not least, was the tree house. It was all made from old trees and lumber from the property, and there was access through that little door in the trunk as well as the long wooden ramp that you see in the back left of this photo. So the bigger kids could "take the trunk up" while the little ones and grown ups could take the ramp.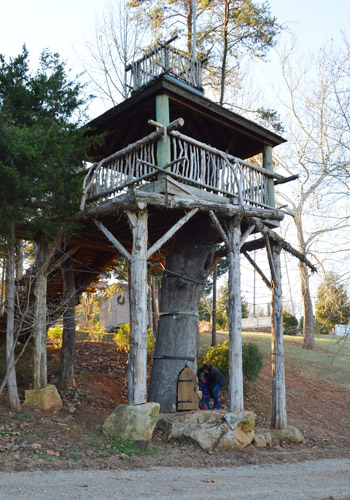 Clara was in love.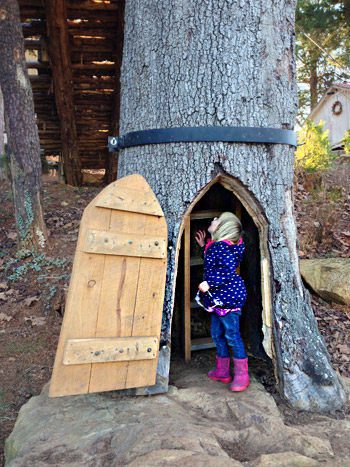 And let's just duck back inside since we forgot to share this tiny bed that Burger got to get cozy on (hooray for dog-friendly cabins).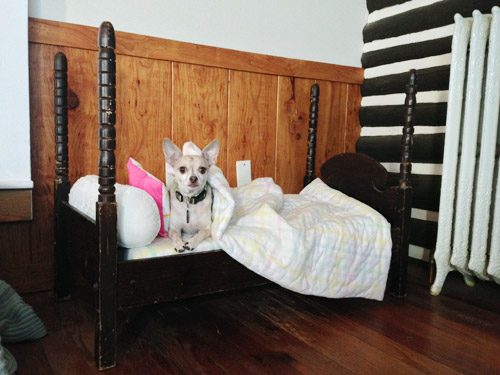 There was also this sweet black and white bathroom, complete with vintage tile and an old clawfoot tub.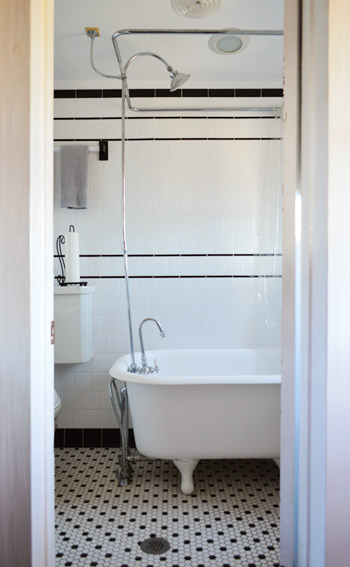 So there's our little tour of Rassawek. I hope you guys are all inspired to build a log cabin now. You think I'm joking, but it's now on my bucket list. Maybe when we retire we'll build one for all of our future grandkids to gather for the holidays. A gal can dream…
&nbsp&nbsp&nbsp
To everyone who has asked where our House Crashing posts have been lately, we're sorry for the hold up and we're excited to share this one! It's a well overdue tour full of inspiration, affordable finds, and a really unique style perspective. Plus it's full of transformation photos because Lindsay and her husband started with such a rough "before" of a house (they totally saw a diamond in the rough). So let's poke around and see what they've done, shall we? Here's Lindsay now. She lives in Greenville, South Carolina with her husband and her Great Dane, Gracie – and was so gracious to virtually invite us all over.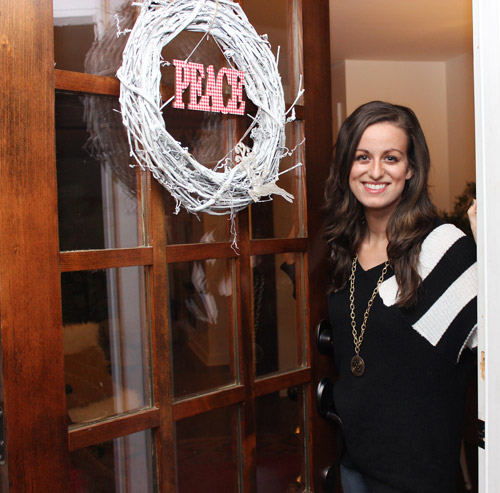 This is what the living room looked like before Lindsay and her husband got their mitts on it…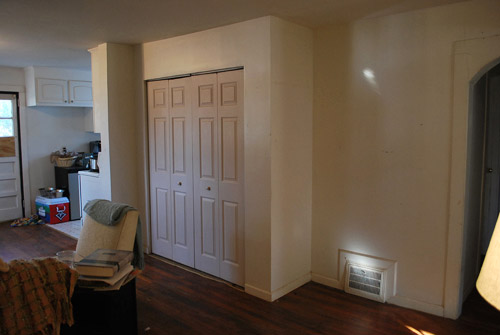 … and here's that same wall after they worked their magic. They removed the old laundry closet from the living room (you can see that above in the before picture) and built bookshelves in its place.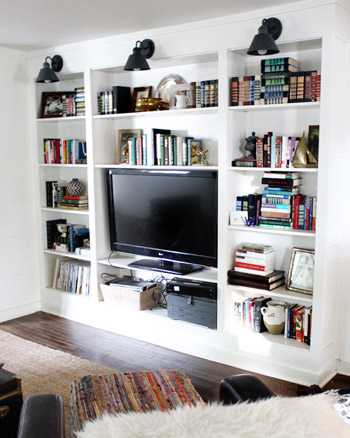 The lights over the bookshelves are outdoor lights from The Home Depot that sell for $20, and the colorful patterned rug was a $19 thrift store find that was all pastel (Lindsay painted it with fabric paint to brighten up the colors). The mid-century coffee table was a $10 thrift find and the tufted leather couch came from Craigslist. Lindsay also covered a leather ottoman with $2 rag rugs to bring in some color and texture.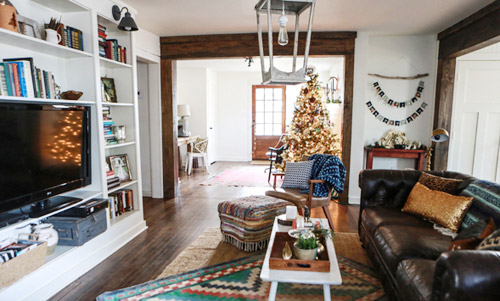 Here's the old kitchen, which was in a really small and awkward corner of the house… so they MOVED IT (into an old garage!) and turned the old kitchen into…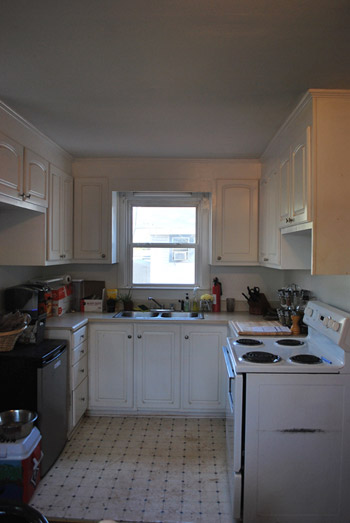 … an awesome dining area.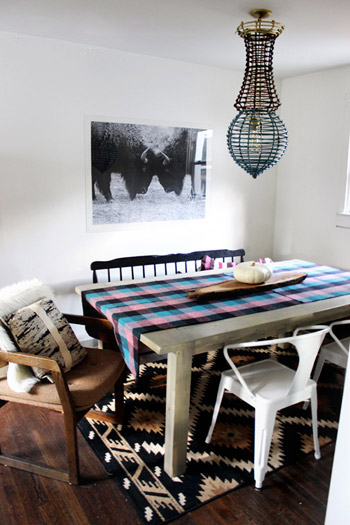 Are you as in love with the buffalo art and that awesome dark woven chandelier as I am? Speaking of that chandelier, it was actually a Home Goods lamp that Lindsay found on clearance. So she flipped it upside down and paint dipped it. The entire mix of this house gets me like you wouldn't believe. It looks so casual, layered, and charming. Check out all the different chairs at the table, and yet they all seem to work together seamlessly. And that rug was a clearance find at Garden Ridge for $25.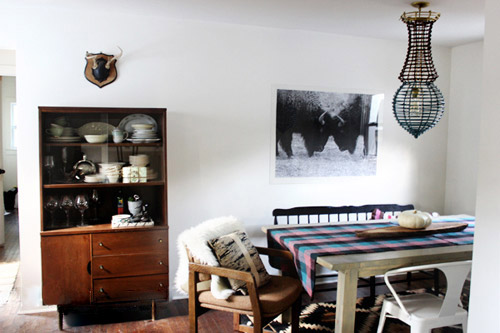 That picture above also shows off their amazing secondhand find of a hutch (it was just $60 at a thrift store!), and the dining table was made by Lindsay's husband for their very first Christmas using plans from Ana White. Lindsay also had an image of buffaloes that she wanted blown up, so she took it into Staples on a flash drive and left with this 3 x 5′ black and white beauty for $6.99. She wanted it back-mounted onto lucite, so she bought a 3 x 5′ sheet of plexi-glass from Home Depot for $50 and used double-sided tape to attach the art to the wall. Then she screwed the plexi-glass into the wall on all four corners to finish things off.
Here's a before shot of the room that became the kitchen (it was an old garage back in the day, and had been poorly converted into a bedroom – carpet straight over the cement floors and all).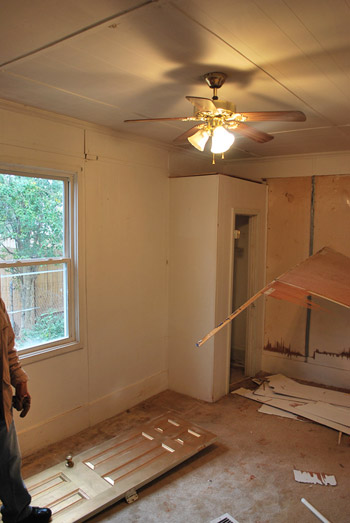 Now it looks like this, complete with casual (and budget-friendly) open shelving and a fun colorful island. I love that Lindsay uses white liberally, but also adds color, texture, and pattern to liven things up (in things like rugs, collected accents around the room, and that bold island color). The open shelving and hood are from Ikea and nearly all the dishes and accessories are thrift store or yard sale finds (for example, the set of vintage brass and copper canisters came from a yard sale for $20) and the kilim rug is a 100 year old Turkish rug from eBay.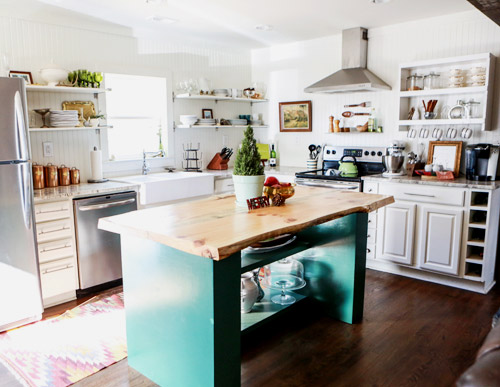 Detail shot. Eating it up. All of it. I love the subtle texture of the beadboard walls paired with the farmhouse sink and the warm touches of copper and wood throughout the room.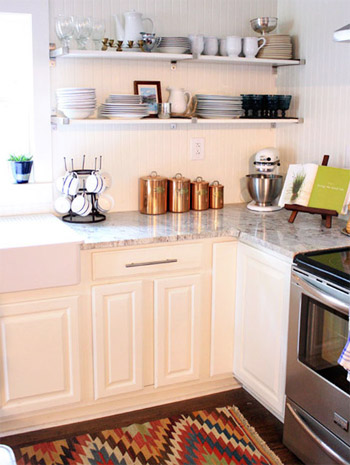 This is a before shot of the casual sitting room that they call the lounge.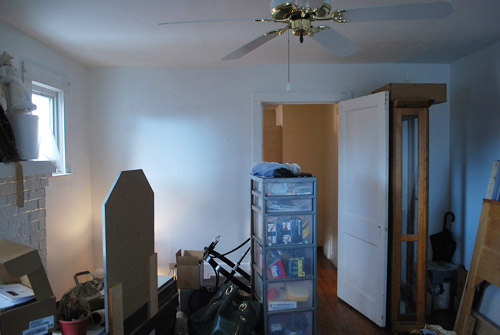 And here's that same room, with a charming mix of textures and homey touches. I love that sweet disco-ball-topped tree – and the mantel is still so great even without an actual firebox.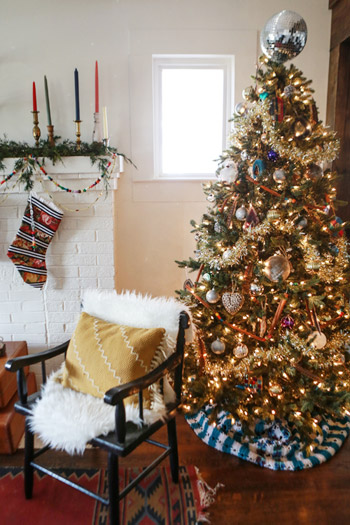 Aren't those colorful candles and garlands along with the stacked suitcases in front of the mantel so charming? But the rug is Lindsay's favorite score of all. She and her husband were exploring The Longest Yard Sale and she spotted it in the bottom of someone's trailer. It was 6 x 8′ and she loved the navajo print, so she asked if it was for sale and they said they weren't sure. They talked about it for a minute and then asked if she would pay $5 because it was dirty. She paid them and ran away with it as quick as she could with a big old smile on her face.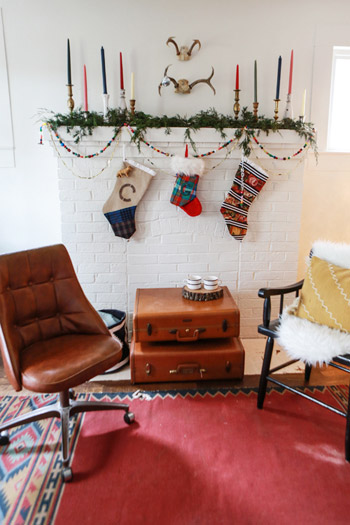 I also was so smitten with this little mudroom area full of rustic old wood, a shiny silver clock, and a pretty mix of textiles for that layered and lived in feeling. So cozy.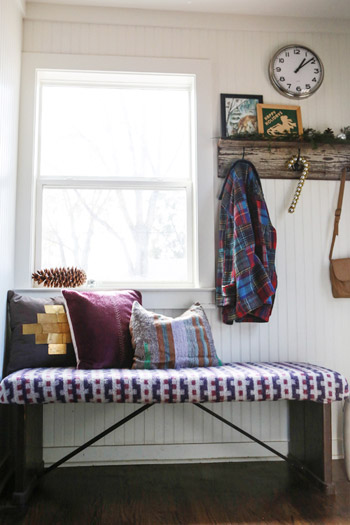 Lindsay and her husband didn't just confine their makeover to the inside of their house, they also created a really sweet patio area in the backyard. When they moved in, the whole backyard was just basically dirt, so they added a crushed granite patio (because it was one of the most budget friendly solutions) – and they ended up loving the casual feel of it.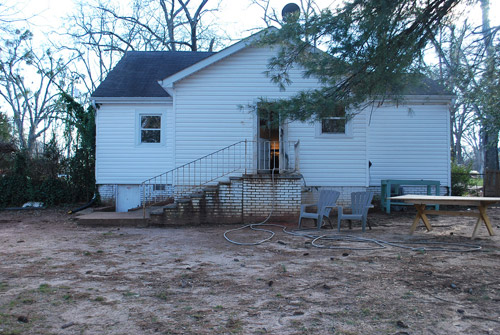 There's a gathering area with a free secondhand wicker sofa, a chiminea, and and low pallet-esque coffee table on over-sized casters (it's actually any old factory cart coffee table they found at an Antique Yard).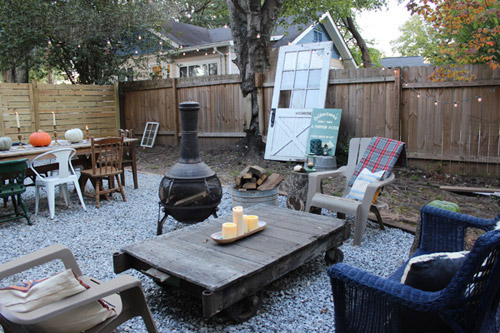 But my favorite part is the eclectic outdoor dining area, complete with a ton of different chairs that all charm me to no end. Lindsay's husband made the picnic table and each chair was a thrift store find for $5 (except for the modern white ones). Once again, she really is a mix-master. Lindsay is like that girl who layers ten items of clothing and it all looks amazing and effortless, as if she didn't even try. And I'm the creepy girl next to her wearing a red bodysuit and high-waisted jeans (true story, that was my favorite sixth grade combination) who's taking notes.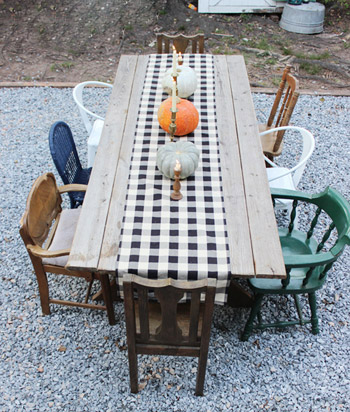 So a big thanks goes out to Lindsay and her sweet husband (and Gracie the dog, holla!) for so thoughtfully allowing us to peek in on their lovely little world. You can also see more and follow Lindsay over on her blog. But first let's play the favorite part game. I'm going to call that lamp-turned-chandelier in the dining room and those boss built-ins in the living room. And John's calling dibs on the chunky and colorful kitchen island along with the dining room hutch. Your turn.
************************************

&nbsp&nbsp&nbsp