We've only store crashed a few times (like this cute local kids consignment shop or this office crashing from Charlotte) but when a local ice cream store called Gelati Celesti opened up in our neighborhood, not only was the ice cream pretty darn good, so was the design. In fact, we actually thought a lot of it could translate into someone's home (so it's not just a "commercial" look that you can't implement in your own kitchen). Let's have a look around on this fine Wednesday afternoon, shall we?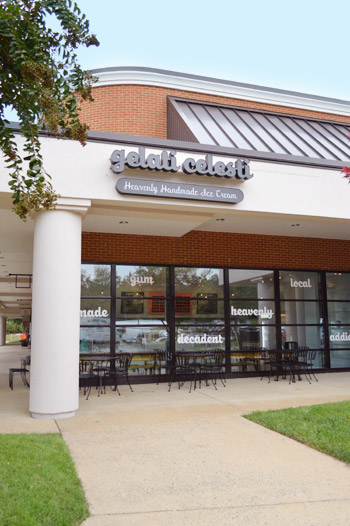 When you walk in the awesome black-framed doors surrounded by black-framed windows and look to the left, there's a rustic whitewashed plank wall with a prep area full of fun mint-green penny tiles. The hilarious thing is that after chatting up the owner he revealed he had seen our kitchen and that's how he had chosen the penny tile, although he opted for the fun mint color. It's such a small world. But we'll get to showing you more of the awesome penny tiled area in a second. First lets linger on those marble counters. Veiny and delicious, eh?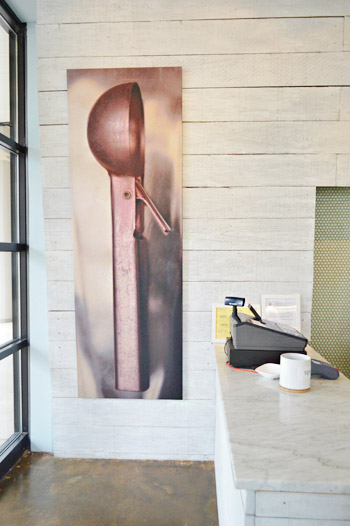 So if you're brainstorming kitchen pairings, we think the dark chocolate concrete floors with the light marble counters and the penny tile mixed with those rustic wood plank walls are a pretty smokin' combo. Especially when paired with a pop of peachy coral (in the sign) and those awesome glass-jug lights above the serving area. Maybe skip any giant freezers full of ice cream in the center of your kitchen though. Wait, but on second thought, I think a giant freezer full of ice cream in the center of a kitchen could be pretty amazing…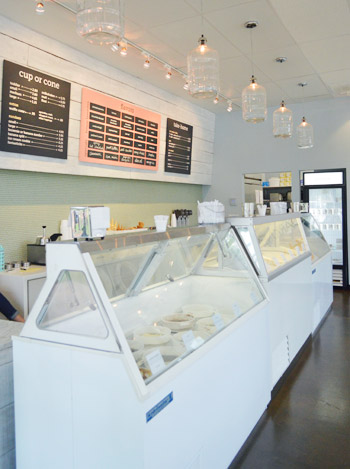 Here's a closer shot at that awesome salmon colored sign (the bottom ten squares are chalkboard paint so they can write in new flavors) and the mint green penny tile. Me-ow, right?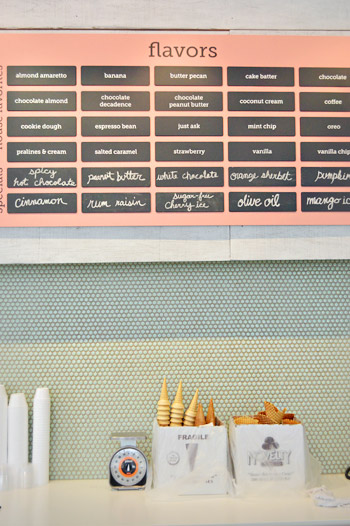 Let's get closer. Who's craving a big ol' cone? Just me?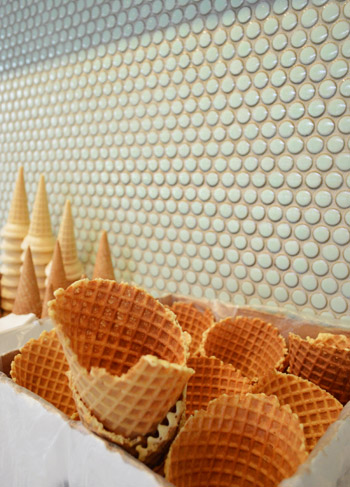 This is the other side of the room, which is full of industrial metal + wood tables and chairs along with more of those awesome glass-jugs-turned-pendant-lights. And now you can see more of those giant black-trimmed windows that let in lots of light and seem to work really well with the industrial concrete floors. So painting your kitchen window sashes black in a kitchen with white cabs, dark floors, and colorful tile could be awesome. And check out that sign in the back…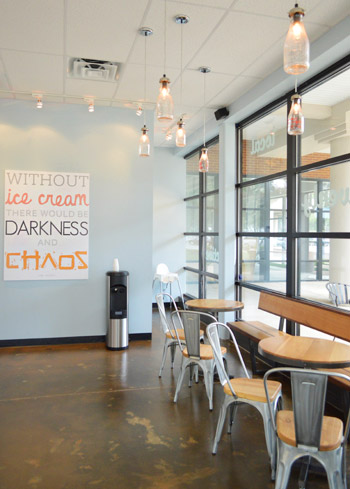 I couldn't agree more.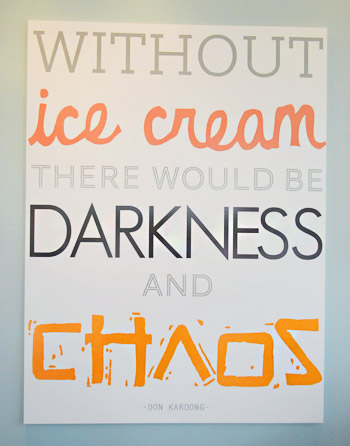 Here's a close up of those awesome jar pendants. I totally didn't stand on a chair to get this picture. Nope, wasn't me.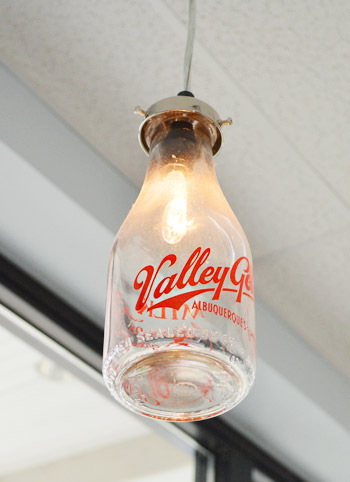 Here are a few more seating details for you, just in case the metal + wood + stripe of darker wood bench gives you any ideas – maybe for a breakfast nook or a banquette? I've heard that built in benches can save space (you can place a table much closer to a wall than you would if it had pull-out chairs) so maybe it could work for your kitchen?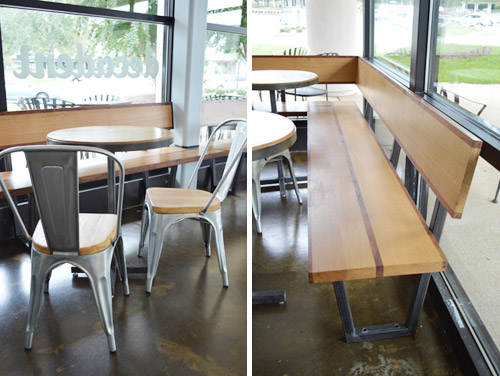 Of course this trip wasn't all business. A girl's gotta eat! For any locals, you HAVE to get "Just Ask" (it's white chocolate ice cream with peanut butter and Oreos). In other words, IT WILL BLOW YOUR FREAKING MIND.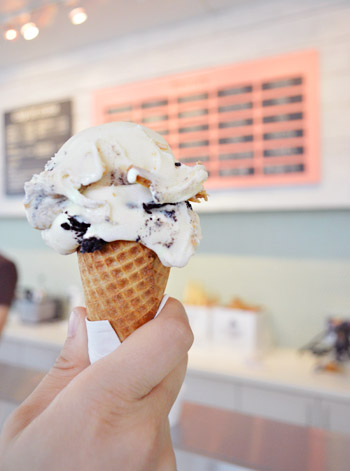 Sorry for the caps. It's that good. And Clara's pretty into their cake batter variety too. So there you have a rare little store crashing installment. Have you been to any stores that have actually inspired you when it comes to things you could do to your own home? It's amazing how many things might be applicable if you keep an eye out. Oh and the owner asked if we could shout out the designer and construction crew that made his store possible, and you know we love giving props and sharing the local love, so for anyone else looking for help, the designer was Fraser Design Associates and the construction was done by THS Construction.
Psst- Wanna see everything we've crashed? Your wish is my command (just click here).