Psst- Sorry about yesterday's truncated post, Reader users. There was some bad code in a video we embedded (we like to feed full posts, so if you ever see a shortened one, something wonky's going on).

We're painting something again today! Who's surprised? Anybody? Nobody? We'll be back with the goods tomorrow, but in the meantime we thought this house tour was so charming and creative that we had to share it. It's a great example of a someone buying a house and just going for it, without being even a little afraid to make it theirs. And if there's one thing that we've learned in this whole home-making journey of ours, it's that the more personal you make a space the less it might appeal to someone else (like your mother-in-law, the mailman, or your handsome pool boy) but the more it can feel like "you" – and really, that's what matters most. So stamp your house up baby. Leave your fingerprints all over that thing.
But on with the tour! First of all, how sweet is the exterior of Laura's house in Reno?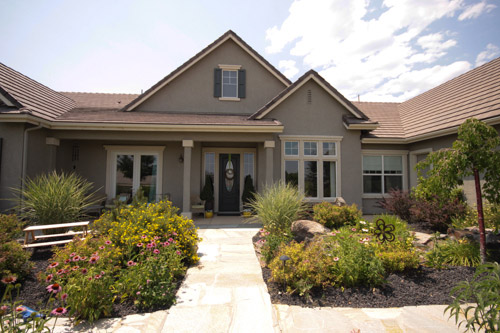 Here's Laura now, with her dog Emma. She's also the mother of three kids, so you know, she's not busy at all.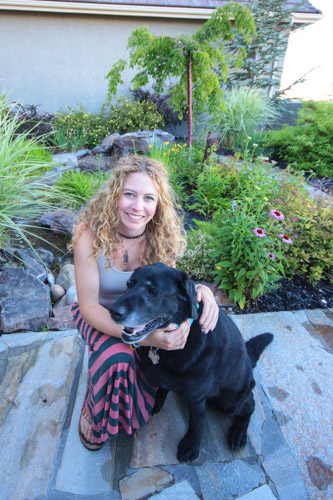 When you enter her home she has a wide foyer area with a curved wall, which is where Laura and her husband Dan got creative. Yup, she made shelves from old secondhand chairs that she painted a soft seafoam green color (Seacliff Heights by Benjamin Moore) and hung right onto the wall (after chopping them in half). I love the little potted plants that are resting on each chair-shelf. Here's more on how she did that project.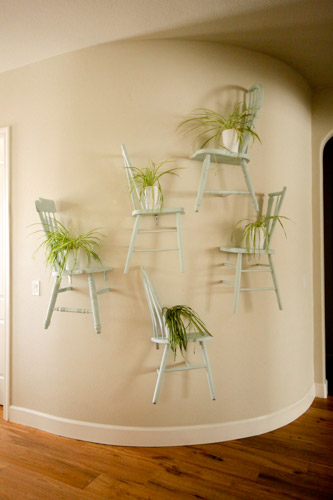 Speaking of creativity, check out her dining room. Yup, the entire wall is filled with shutters that Laura painted in a bunch of soft beachy tones. Isn't it amazing? As for where she got them all, many came from the Habitat For Humanity ReStore, thrift shops, and Craigslist. I'm also a HUGE fan of both the light fixtures and the chairs (which she found on ebay). It's such a cool personality-filled room that she made all her own. And that table is actually an old conference table from a nearby university.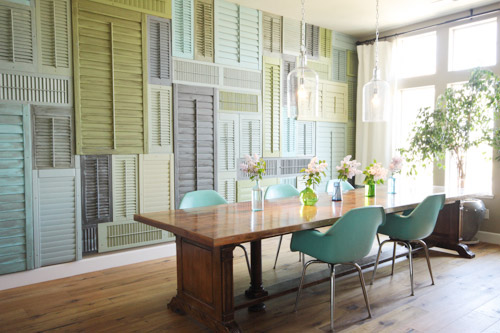 The kitchen is another classic-meets-creativity example, thanks to traditional white cabinetry and subway tile mixed with playful hanging pendants that Laura and Dan made from Home Depot lamps. I love that they don't take themselves – or their home – too seriously. And the industrial bar stools (which were once science stools at the same university as her dining table) are another fun touch.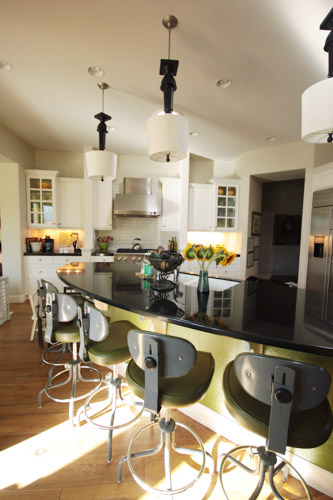 Laura decided that closing off this doorway made for better flow so she casually hung some secondhand window panes to subtly divide the space while keeping things airy. I love that colorful bench too. She picked it up at a thrift store and spray painted it Lagoon by Rustoleum and then glazed it for a less-new look.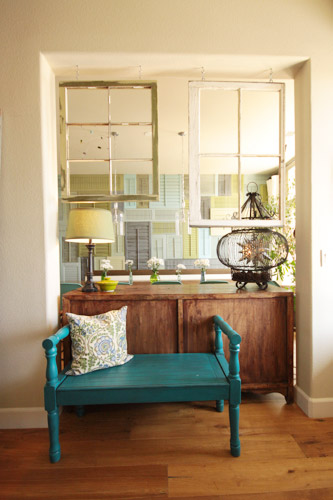 Laura also added height and a breezy and cozy vibe to their bedroom, thanks to sheer curtains from Ikea that she hung from the ceiling for a makeshift canopy affect.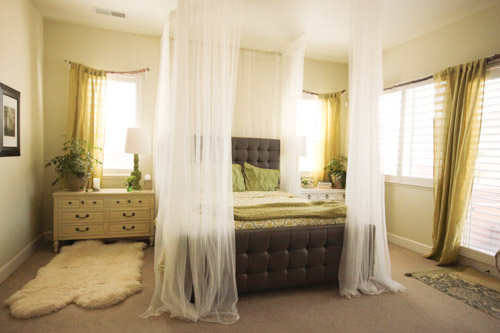 Their bathroom has awesome tile that mimic's Laura's childhood 1920's home. I love it with the extra thick black counters and the white cabinetry.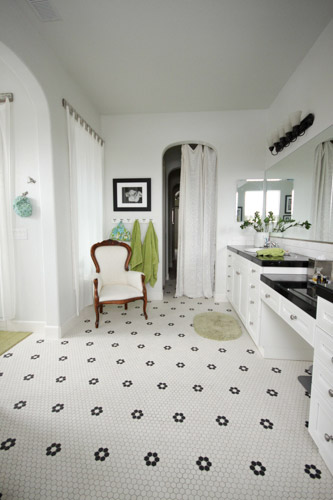 Laura would love to take the subway tile all the way up the wall behind the tub to the ceiling, but in the meantime she added a really cool old ladder that she found at a thrift store for a couple of bucks and a few hanging plants.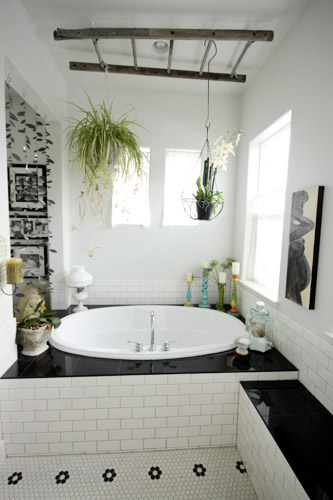 Thanks so much to Laura and her husband Dan for sharing their gorgeous home! I hope you guys were as inspired by their fearless approach. And of course you can check out more about every project and room here on her blog. But before I get back to painting, let's play the favorite part game. Mine's the shutter wall in the dining room. Especially with those gorgeous glass pendants hanging down in front of it. Me-ow.
************************************