We can't believe it's been five years (!!!) since we house crashed John's sister Emily. And since they've completed a lot more rooms (we crashed them right after they moved in), we can't wait to share the goods.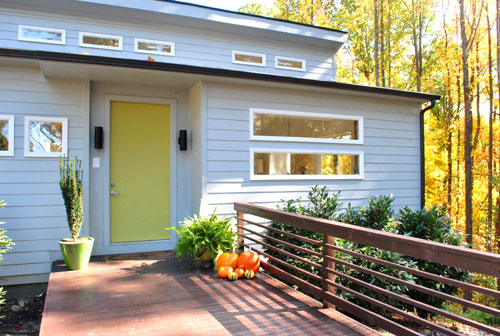 Oh and their front door is Cornichon by Martha Stewart. Every time we pull into her driveway it makes me smile.
Here's that cute family of ours now. You might remember that Emily lives with her hubby Todd, three kids, and a pretty sizable pooch named Tuck – so this is a hard working house with a big dog, a four year old, a tween, and a teen running around.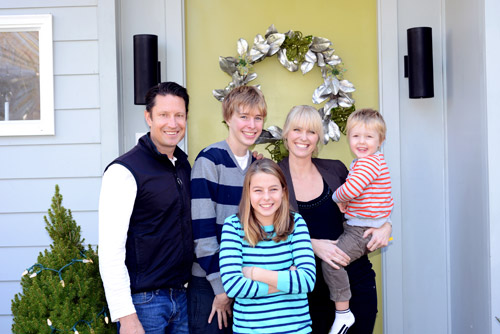 We love that it always feels welcoming and nothing's too precious, but it still has that clean and modern aesthetic that makes people say "three kids and a big dog live here?!" And Emily definitely has a few tricks, so we'll share those as we go. Emily's a lot like us in her shopping ways – she finds things at thrift stores and yard sales, happily works in a few hand-me-downs, and is no stranger to affordable stores like Ikea and HomeGoods.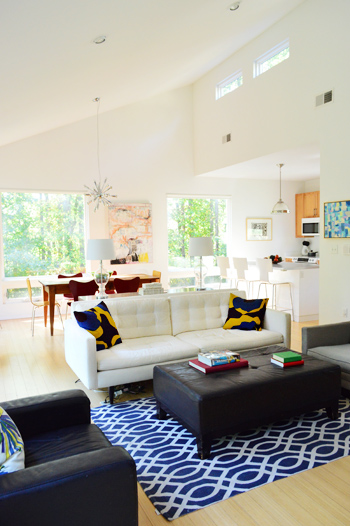 For example, her dining table is a yard sale find, the ottoman is from HomeGoods, and the rug is from Marshall's. There's also a splurge in there every once in a while if they save up for something, like their sofa from Crate & Barrel (if you look at our first crash, they had an old hand-me-down couch for a few years while they squirreled away the cash for a new one).
Their simple and clutter-free aesthetic definitely lends itself to the sunny and airy look of the house (they designed it themselves, and Todd is a photographer so giant windows to let in a ton of light were a must). It's one of those "everything we need and nothing extra" houses, which always inspire me. And not having tchotchkes all over is definitely a kid and dog friendly choice (not to mention it saves major dusting/cleaning time).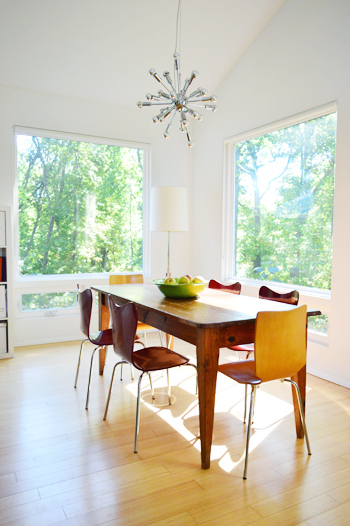 If you look closer at the picture above, the furniture picks are also practical for kids and dogs. The West Elm chairs are wooden (no upholstered seats to worry about staining) and the table is rustic and old. So even when their youngest son repeatedly bangs it with a metal car, the dings blend right in. I also love that the end chairs are light wood, the side chairs are deep red, and the table is medium wood. Nothing's too fussy, and it oozes informal charm.
Something that makes their house even more stunning in person are the light fixtures. This one above the table is a secondhand find from ebay (search "sputnik" for others like it). And since they're the one thing the kids/dog can't reach, it's an easy way to add a nice dose of unbreakable glamour.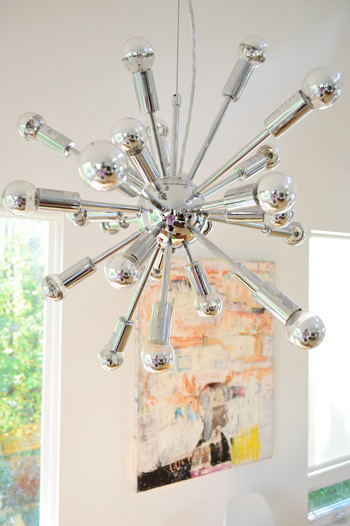 A few more of her tricks:
a bold patterned rug can hide stains like a champ
wipeable furniture (like chairs, sofas, or ottomans covered in leather or a leather-like material) are easy to care for – and can even look better as they get more beat up
white walls can make a room feel clean and airy even when there's dusting and vacuuming to do (Emily gets rid of any wall-marks with a Magic Eraser)
a white sofa can be covered with a white washable blanket when messy kids are doing their thing (and since it's the same color as the sofa it doesn't scream "blanket covered couch, here!")
And we're always getting requests to share non-white-cabineted kitchens, so here's a shot of theirs, complete with wood ones: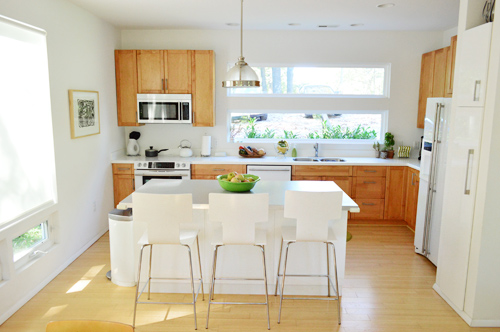 The awesomely unusual choice that they made for a modern new construction house was sleek white appliances over stainless ones – and we always marvel at them in person. They still look really clean and modern and have worked well for them over the last five years (they're from the Jenn Air series). Oh and the island is from Ikea while the stools are from West Elm.
And see the white pantry that's next to the fridge in that shot above? In our first house crashing we shared how cool it is (it pulls out and is accessible from both sides), so here's an old photo, just for kicks. And because I'm in love with it. It's so functional to be able to access it from either side.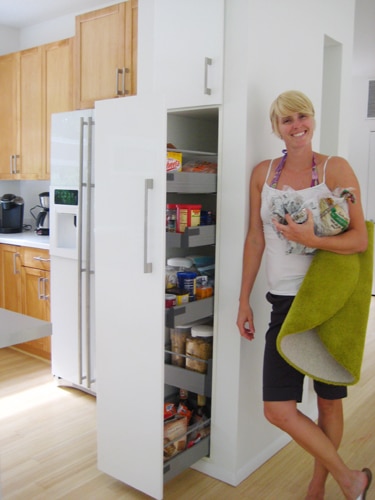 While a lot of the main floor is airy and light, the kids rooms are full of color. Here's twelve year old Olivia's room, complete with no-sew curtains that Emily whipped up with the ol' hem-tape method. And you can read more about the upholstered headboard that we made for her here and the pink painted dresser here. The walls are Lazy Days by Valspar.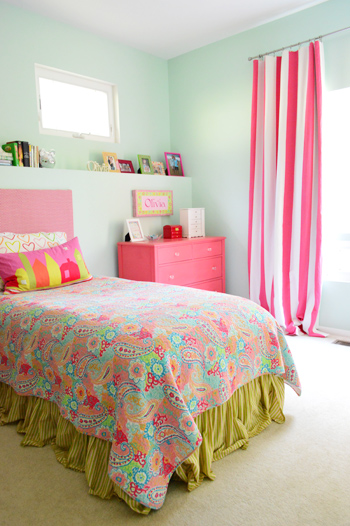 I'm in love with the bold curtains and even the hooks for bags that Emily hung behind the door to add function. Oh and she got that curtain fabric at a local store here in Richmond (called Williams & Sherrill) for anyone wondering.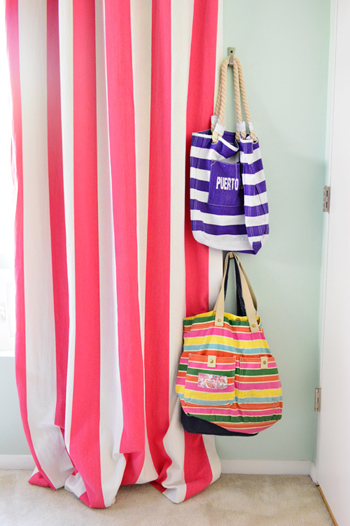 Speaking of function, above the built in mirrored wardrobe from Ikea (their modern alternative to traditional closets) there's a nice little niche that Emily and Todd had their builder add – just to squeeze out even more storage and to create a place for colorful bedding and bins. And see those retro-ish prints on the wall? I made those for our print shop about four years ago (back when we had one) and gave a set of them to Olivia – so it's always sweet to see them hanging in her room all these years later.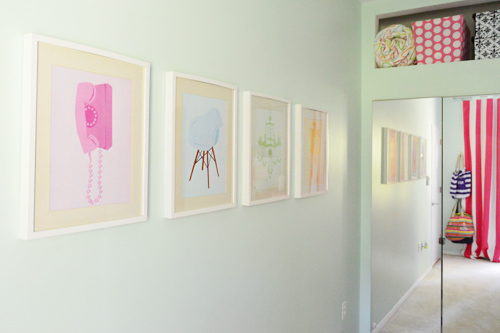 Here's another shot of the headboard that we made along with the pink painted desk that Emily smartly topped with a sheet of affordable acrylic to protect it for the long haul (more on that here).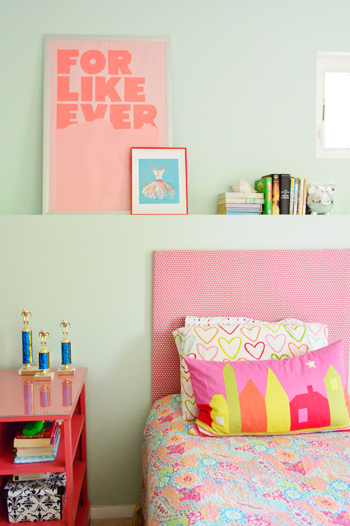 Jake's fourteen, and he wanted a more subdued room, but it totally captures his personality thanks to the plaid bedding, the blue accent wall paired with the red side table (it's stained instead of painted so it has a cool transparent quality), and the basketballs hanging right on the wall (which aren't just for looks, he uses them too).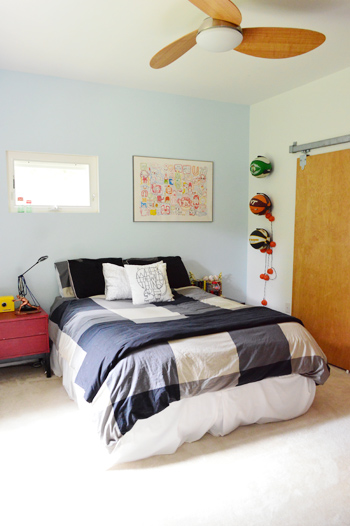 I also love the graffiti-ish monster print on the wall from Ikea a while back, but my favorites are the yellow safe and the red gumball machine (didn't you have those things as a teen? I totally did, but my safe was purple).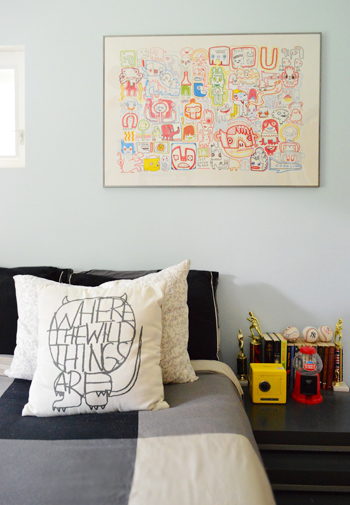 And here's their basement rec room (it definitely comes in handy when the kids have friends over). Since Emily and Todd love their white, they opted to paint the concrete floors with a glossy (and wipeable!) floor paint. Then they layered in a giant leather sectional, which is also easy to wipe down (it has held up really well through juice stains and finger paint over the years).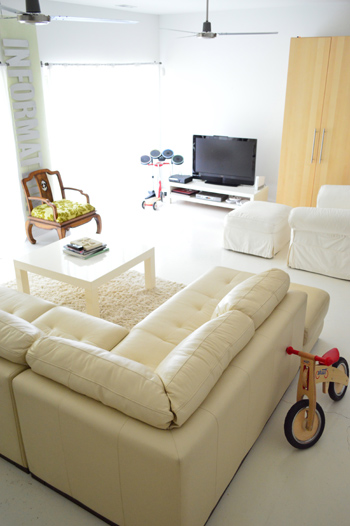 I think that the coolest thing about Emily and Todd's white & modern house is how awesomely it lends itself to pops of color and playful touches. Take the back of their metal front door for example. It's magnetic, so it has become a place to display kid art, favorite photos, animal and letter magnets and other random bits. I love how casual and fun it is, and Clara and Emanuel can be found playing there whenever we come over (here's an old pic of them in action).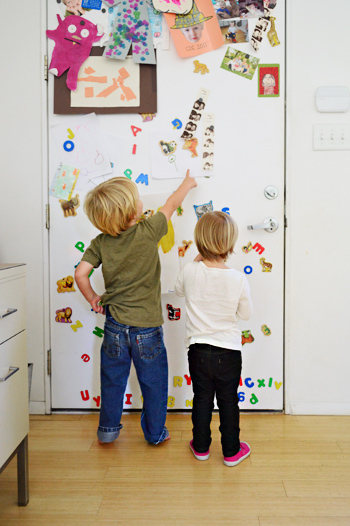 I think it's tempting to wonder if modern homes with lots of white are really "lived in" or kid friendly, but Emily and Todd's house is a great example of how they can be. And I love how when you look closer, there are some really smart choices that would work for a house of any style (like weathered wood furnishings, wipeable fabrics, and gorgeous fixtures up where no one can reach 'em). Toss in some really cool functional upgrades (like built-in niches over the closets and a pull out double-sided pantry) and you're golden.
So we're sending out a huge thanks to Emily, Todd, Jake, Olivia, Emanuel, and Tuck the Mutt for letting us get snap-happy at their house. Now let's play the what's-your-favorite-part game. Mine's the front door (both the happy green side and the fun magnetic side) along with Olivia's brightly striped curtains. And John lovingly runs his hands over the appliances every time he's there. True story.
Psst- The latest edition of Clara Conversations is up on Young House Life, and it's my favorite one yet (I say that every time, but the kid gets funnier by the day…).