Holy cow you guys, I'm crazypants excited to share Bonnie's sweet vine covered barn in Santa Ynez, California. It's a home with some much happiness and charm squeezed in, I think anyone who drops in would feel right at home. So let's drop in, shall we?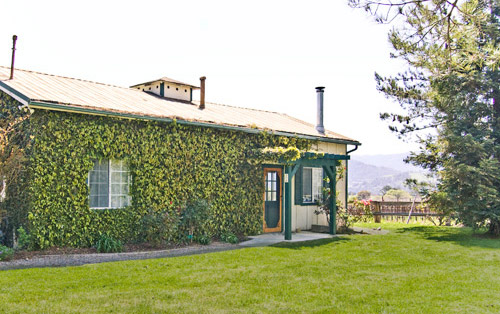 Here's sweet Bonnie to welcome us. I wish we could have crashed her in person to meet her ourselves, but her photos were too good not to share, so this is one of our more rare "virtual" house crashings. Let's step inside, shall we?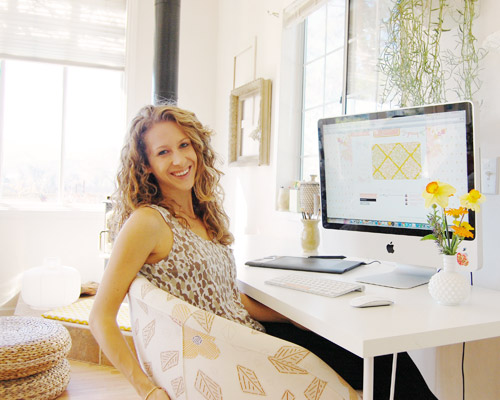 Her office area is set up right near the entryway, and everything from the desk and chair (both from Ikea) to the cool ladder in the corner (also from Ikea) is inviting. Bonnie is also a fan of handmade art (she has some from Katie Daisy and Jen Ramos in this shot) and she loves making quilts, which can be found all over her home. She also has a love of secondhand finds, so everything from her couch to the metal chair, the shelf, the vases, and even the bicycle sign hails from a thrift shop.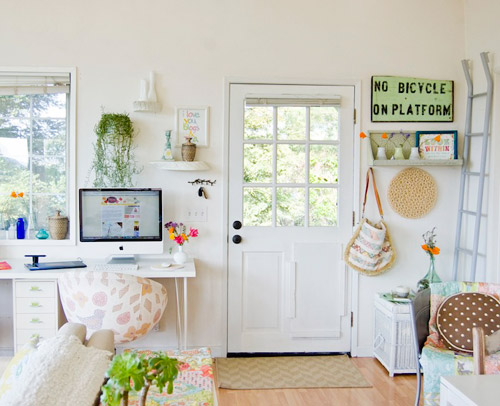 Over in her living area she has more secondhand furniture (like the desk with the turned legs, the chair, and the coffee table) while the quilts and pillows are all handmade by Bonnie, and she even DIYed the driftwood wind chime while the rug's from Ikea.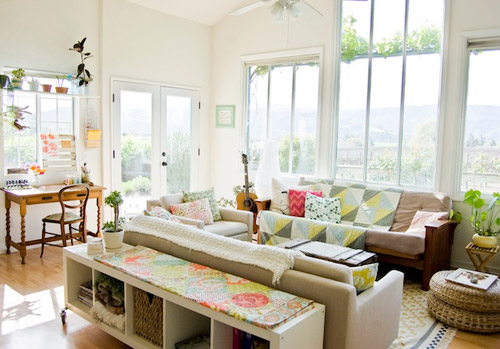 Don't you love all the light flooding in through those large windows and doors? And I really like the casual not-trying-too-hard vibe that all the different quilts and fabrics give off. So layered and cozy. The storage cubby behind the sofa is from Ikea, by the way.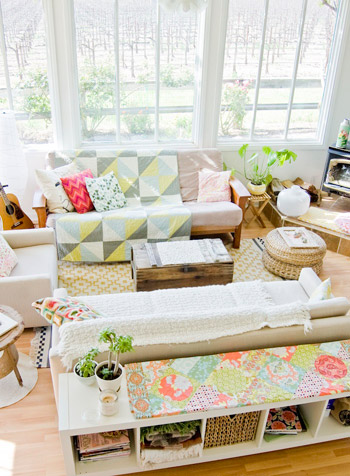 Here's Bonnie's crafting nook with a thrifted desk, chair, and cubby. On the wall she has more art by Katie Daisy, and a few drawer shelves that she made herself.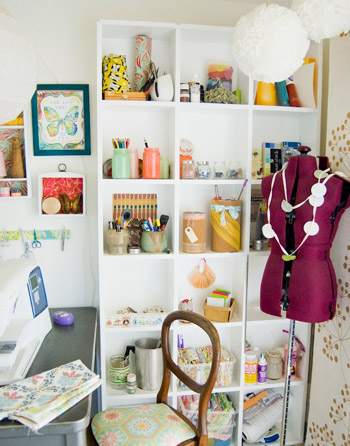 Over in the reading nook there's a bookcase and hanging screen from Ikea along with that awesome thrift store bird house and a pillow from Target. I love the mix of all that white with some pops of color in the books (and even the fruit) along with some great layered texture (in the hanging screen, the bird house, the spotted pillow, and that sweet woven basket).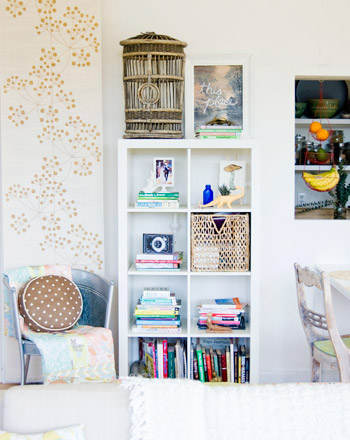 As if I wasn't into this house enough, Bonnie has a painting desk. A PAINTING DESK! Does that sound heavenly or what? It's a thrift store score (as is the chair) and the fact that she has that gorgeous view out the window while she paints? Yabba dabba do. (let's bring that back along with cowabunga)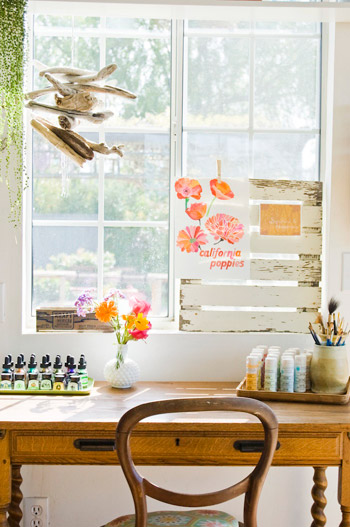 Her bedroom is just as sweet and airy as the rest of the house, and Bonnie even found the materials for her headboard at the dump. Doesn't sound romantic, but the girl knows how to work a pallet! She also handmade the quilt and some of the pillows along with creating that cool NEST art above the bed. She also made the stag art that's hanging from her headboard. Layered and lovely, no?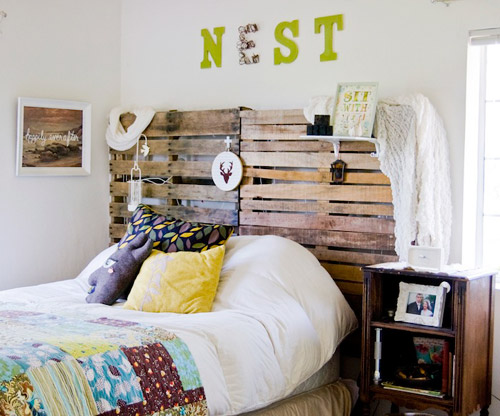 Here's the other side of her bedroom complete with a thrifted dresser (here's a before and after for that) and she also made that cool patchwork art on the wall.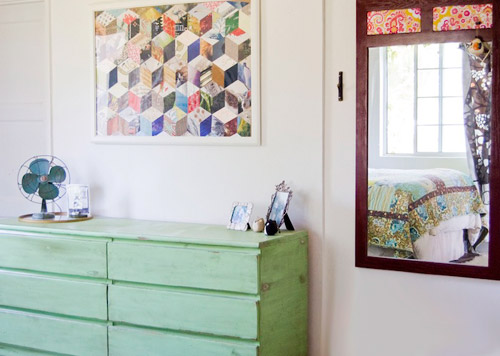 Outside is heavenly. Seriously, there's an angel-ish "ahhhhhhhh" soundtrack that goes along with the view (or am I the only one who hears that?). The table and chairs are from Ikea and then Bonnie handmade some seat cushions for them. She also DIYed the hammock and planted that dreamy Wisteria (the purple flowering vine that's creeping around her pergola).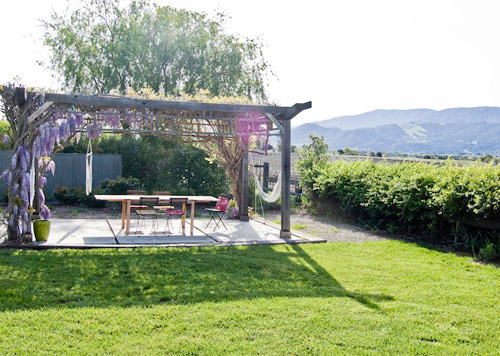 In the ever-esteemed words of Liz Lemon: I want to go to there.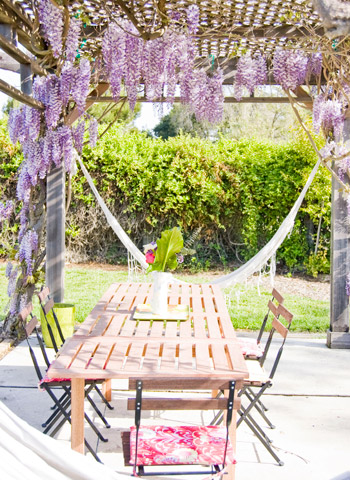 And as if Bonnie hasn't shared enough by letting us poke around her home, she also made a free printable for you guys. So be sure to check out her site and learn more about her Roost Tribe and grab that free printable here (it's available in four colors).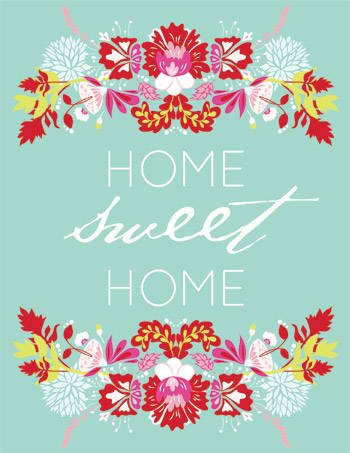 Thanks so much to Bonnie for sharing her lovely house! It's hard to pick a favorite part, but if pressed I'd have to say the pergola full o' wisteria and that sweet little painting desk, just because it makes me want to break out the brushes. How about you guys? What's your favorite part?
Psst- NO. SLEEP. TILL. HOUSE CRASH! (name that song). There are dozens of other houses to snoop around in here.