Holiday & Entertaining
Every year we like to drop in before everyone abandons their keyboards for Christmas (or have you already?) to share our Christmas card along with some gushy words of appreciation. So thar she blows: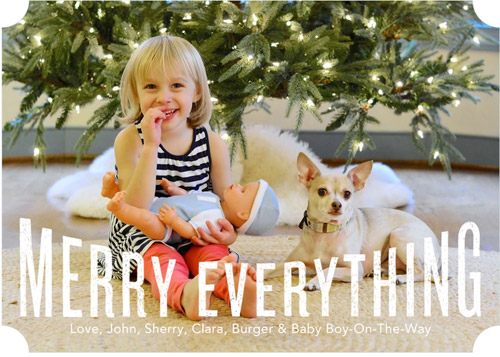 We had a few other ideas planned for our card this year (Clara gift-wrapping Burger, Clara riding her bike with a tiny Christmas tree on the back as Burger ran next to her, etc) but a combination of book deadlines, hospital decorating, showhouse meetings, and bad weather tied us up. Thank goodness for this shot that we miraculously got on the day that we told Clara she was going to have a little brother (I've filed it under "Christmas miracles").
And because we like an outtake or two, we'd be remiss not to pause to appreciate this one of Burger cowering in blurry fear while Clara manhandles Captain Barnacle.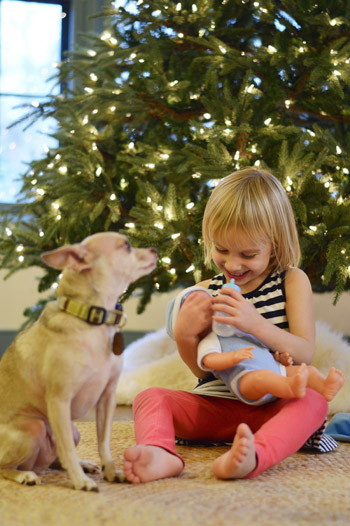 Or this one full of Burger enthusiasm but zero discernible excitement from Clara.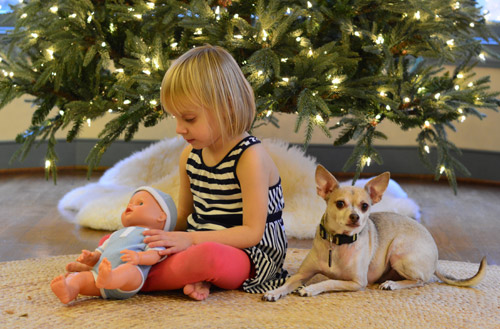 We did get this one of Clara kissing her doll, but Burger is nowhere to be seen, and it's a little reminiscent of mouth-to-mouth resuscitation.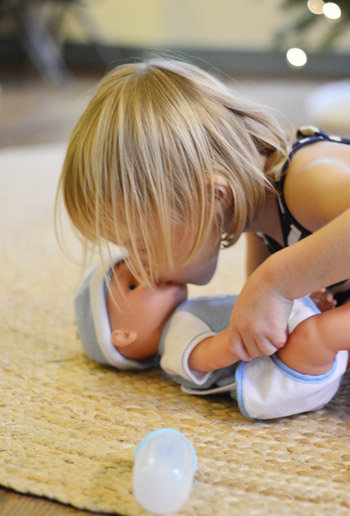 Oh how thankful we are for one good shot.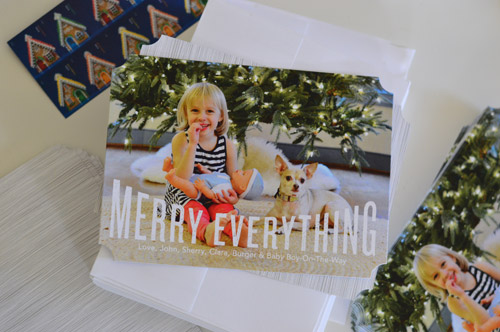 We also took this one in front of a Love sign that we thought could have worked for the card, but we were kind of far away, and you can hardly see Clara clutching Captain Barnacle (she never leaves home without him).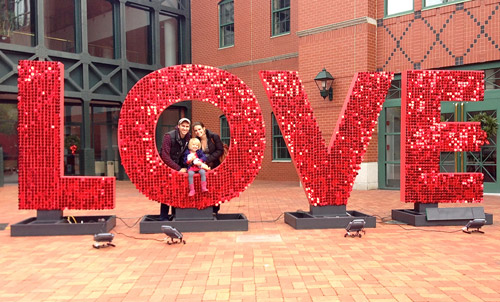 We got them printed from TinyPrints and used a coupon code that we found right on their site to save 20% and score free shipping. Addressing all those envelopes with only about a week to spare was a little nerve-wracking, but we got it done. And it was pretty exciting to reference a little one on the way, since we haven't done that since our very first Christmas card, way back in 2009.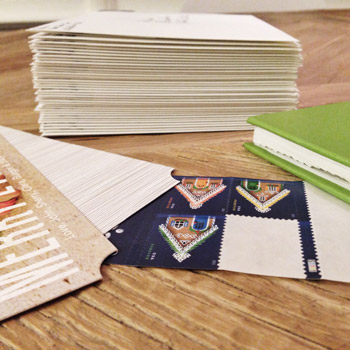 Speaking of past years, here's a quick recap of all of our family cards dating back to that one. First we have last year's card: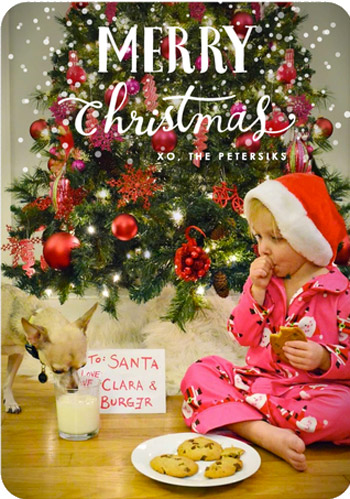 And here's the one from 2011: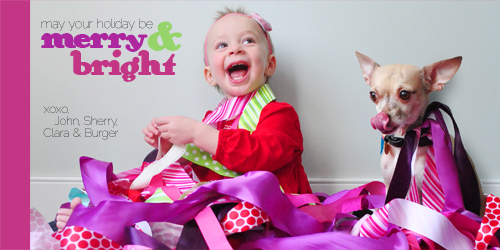 The one from 2010: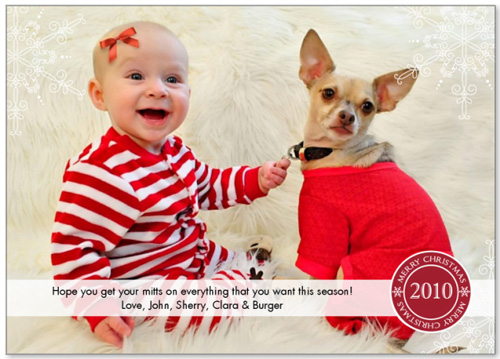 And our very first one from 2009: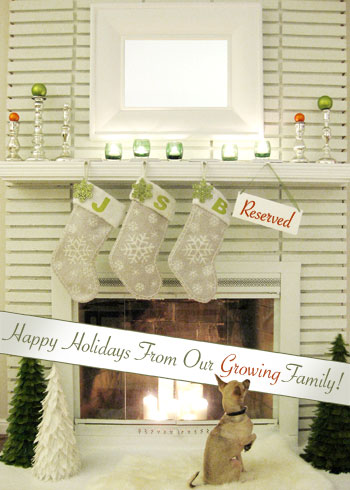 Also in big arrivals news, we have a bunch of family members coming to town today, so we're off to hopefully plow through a few more to-dos before they get here (you know, baking cookies, priming cabinets, the usual) but we wanted to be sure we shared our holiday card with you guys along with our warmest wishes to you and yours. We sincerely appreciate you for dropping in on us, and we hope you all have an awesome holiday season full of cookies, baby dolls, and whatever else brings you joy.
And although we figure many of you will be busy with miscellaneous chaos over the upcoming week between Christmas and New Year's, we'll still be dropping in occasionally, and we hope to have a big ol' painted cabinet reveal in early 2014. You know, to kick the year off with a bang. Or should I say, with a brush?
&nbsp&nbsp&nbsp
This time of year we tend to feel behind on just about everything: projects, emails, present wrapping, cleaning, proper hygiene… but by some miracle, we're actually ahead in one department: making our homemade family calendar.
As many of you know, for the last five years we've whipped up a simple-yet-colorful calendar in Photoshop. A few of you (like Lauren and Alexandra) have even asked if we had this year's ready yet (since we like to share the customizable template, in case you need a last minute gift). So I'm relieved to exclaim "the deed is done!"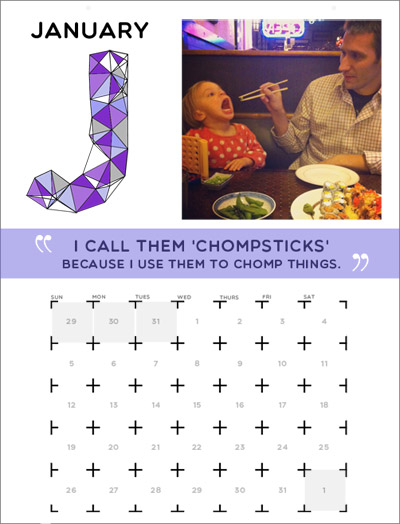 It doesn't usually serve as our note-riddled family calendar (that's what Sherry's desktop planner is for) but it's more of warm & fuzzy overview of the month that we can glance at and smile while quickly checking dates or counting down to certain events. Each year we inject some meaningful elements – inside jokes in 2010, family stats in 2011, Clara pics in 2012, and sort of a hybrid of those in 2013.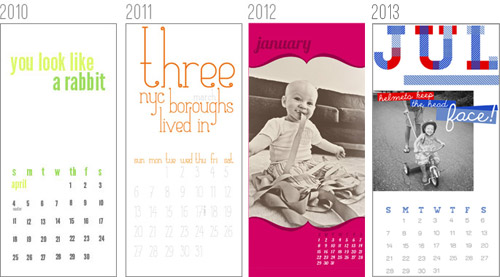 We loved 2013's pairing of Instagram photos with funny Clara quotes so much that we decided to go that route again – just with a new design. And for the first time we designed around a standard 8.5 x 11 sheet of paper to eliminate any need to cut off excess, and to allow for a bit more space/function for the actual date part of the calendar.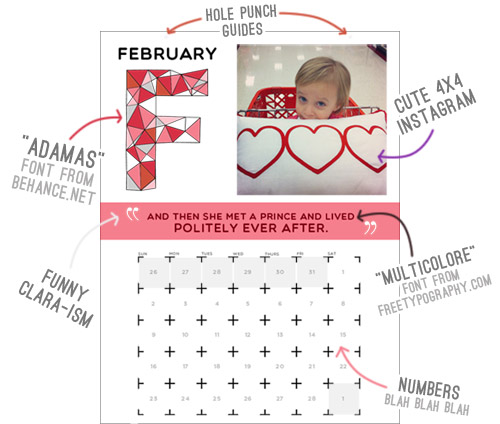 The bigger size also made room for a bigger picture size: 4 x 4″ – which just so happens to be a standard print size for sites like Snapstagram or PicPlum. So if you don't trust your home printer to do your photos justice, you can spend $6 on real prints and stick them right on to each page. That's what we're planning to do, so we've printed all of ours with just a gray placeholder box while we wait for our prints to arrive (we ordered from Snapstagram this time).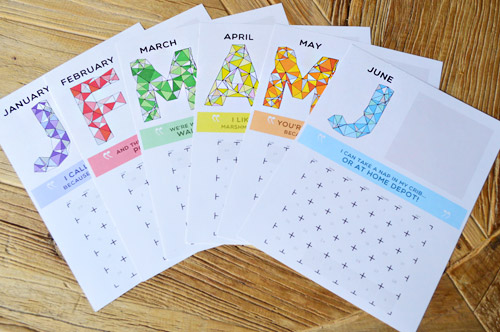 And as usual, we're sharing our template so you guys can download the calendar and tailor it to your own photos/quotes/worldly desires. I've tried to make it less complicated this year (i.e. fewer layers to mess with), so…
If you can edit .PSD files, you can just download the Photoshop version (click that link to do so) with ready-to-edit text in the quote area (you may need to download both fonts used: Adamas and Multicolore).
If Photoshop isn't your jam, you can download a PDF version (click that link to do so) where the quote area is left blank (that way you can hand-write in your own text).
In both versions, you'll need to add your own photo either digitally or by attaching a real 4 x 4″ print like we plan to do with ours.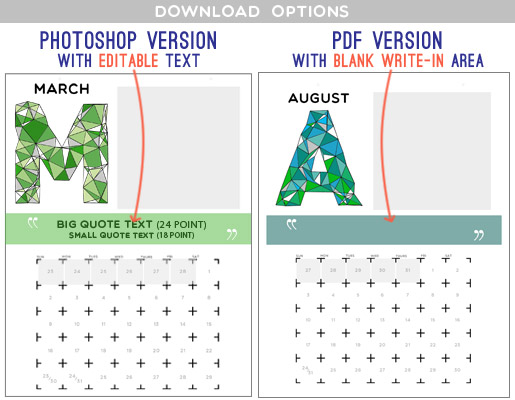 And just for kicks, here's a look at the quotes and photos that we chose for each of our 12 months this year. Kinda makes us wish there were more months in the year, cuz Clara can be pretty quotable. That and it'd probably give me more time to squeeze in a shower.

What are your calendar plans for 2014? Do you have a go to source every year? Do you prefer a purely functional planner or wall calendar with lots of space to scribble? Do you go for something sweet and decorative, just for checking dates at a glance? Are you one of those 100% electronic folks with everything on your phone? Or do you fall somewhere in between? One more question. Who knew there were so many questions to ask about calendars?
**********************************
As a little Friday bonus, here are four fun projects, chats, or questions going on over on the Forums. We also announced this week's giveaway winner, so you can click here (and scroll down to the Rafflecopter box) to see if it's you.
| | | | | | | |
| --- | --- | --- | --- | --- | --- | --- |
| | | | | | | |
| by rondawn | | by Circa1825 | by houseconfetti | | by handyandunskilled | |
&nbsp&nbsp&nbsp