Author Archive
As of Monday, John and I have been married for seven years. Or a hand and two fingers, as Clara likes to joke ("what's seven?… A HAND AND TWO FINGERS!" *maniacal laughter*).
As you can imagine, when you get married on 7/7/07, your seventh anniversary feels like a special one. The golden birthday of anniversaries, if you will. We went to Hawaii for our fifth anniversary, and have always thought we'd end up going somewhere awesome for our seventh (Australia is the ultimate dream – maybe for our tenth – but for lucky seven we were thinking about somewhere in the Caribbean). But as this summer approached we realized the last thing we wanted to do was load everyone up on an airplane. We're definitely still adjusting to life with two kids, so we decided to save some of our trip money for next year when we'll hopefully feel more settled/brave/wanderlusty, and we bought a painting with the rest of it.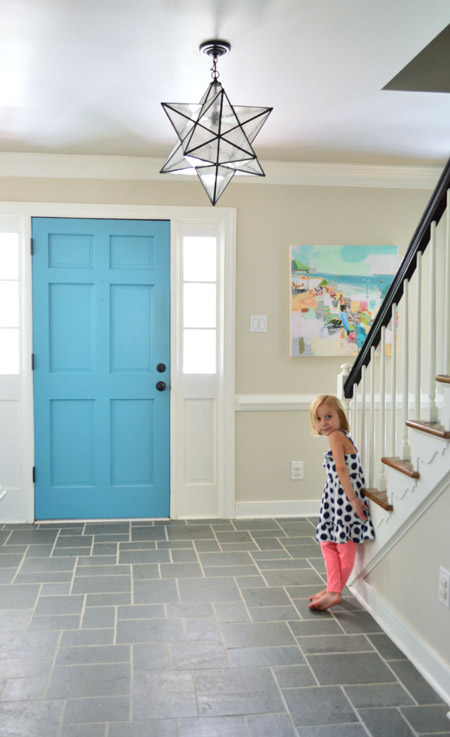 At $850 it was a HUGE splurge for us, but we figured getting a painting that we both loved (of the beach no less) as an anniversary gift to ourselves was sort of a nod to taking a vacation without loading up the pack & play and pacing the aisle of the plane waiting for someone to fall asleep. And we hope to have it forever. Heck, maybe it'll hang on the walls of Clara's house someday.
It's a 30 x 30″ painting by Teil Duncan, whom we've been giant geeky fans of for a while. We resisted our initial instinct to get a smaller (less expensive) print, and decided that our first large original painting would be the best seventh anniversary present we could think of. And when it arrived, it was even more glorious in person than it was online. We had it up on the wall in about five minutes. Really, these photos can't capture half the magic of an in-person stare-session.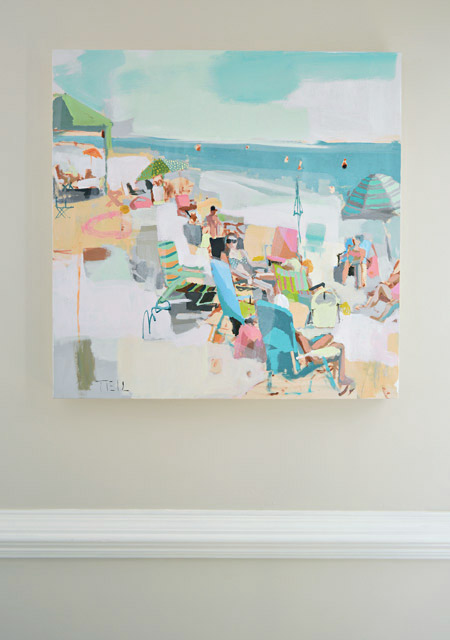 It looks great next to our blue front door, and it's one of those scenes that you can look at for hours.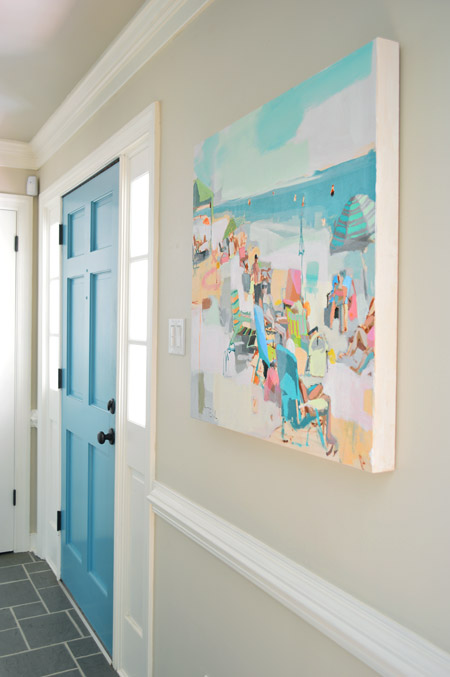 Every time I walk by I notice something else. We even caught Clara admiring it ("I like that pink chair! We need a pink beach chair!") and Teddy's eyes catch it over my shoulder when I carry him up the stairs sometimes. Burger hasn't shown any interest yet, but there's still time…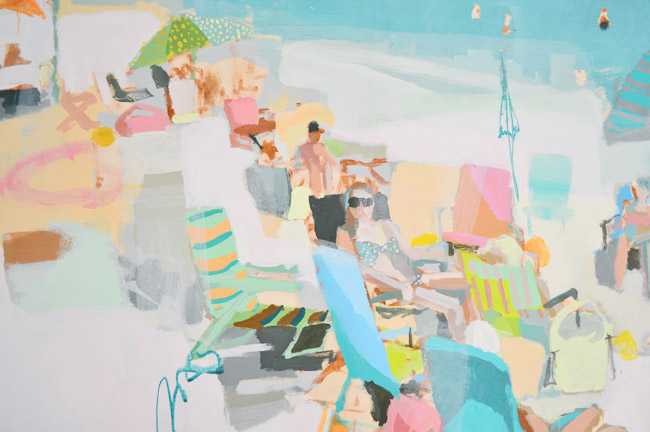 The funny thing about hanging it in our foyer is that we realized we have two other paintings in there too.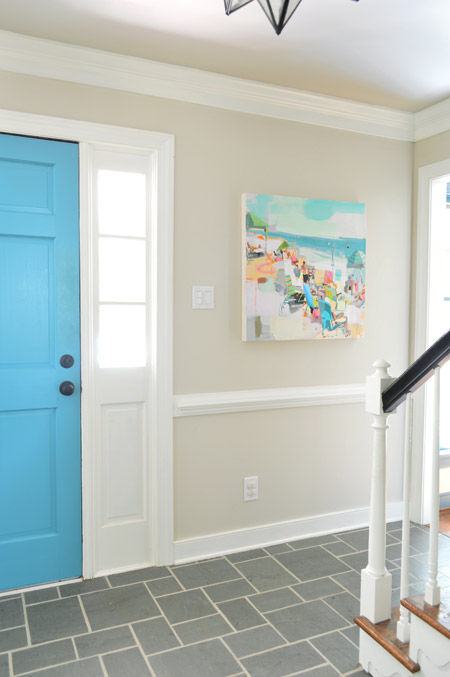 Remember these smaller ones by our friend Lesli? They all have those soft blues and bright whites that make them feel related, but not too matchy. And they're all of things we love: the beach, John's Granny's house, and Burgdorf Goodman himself.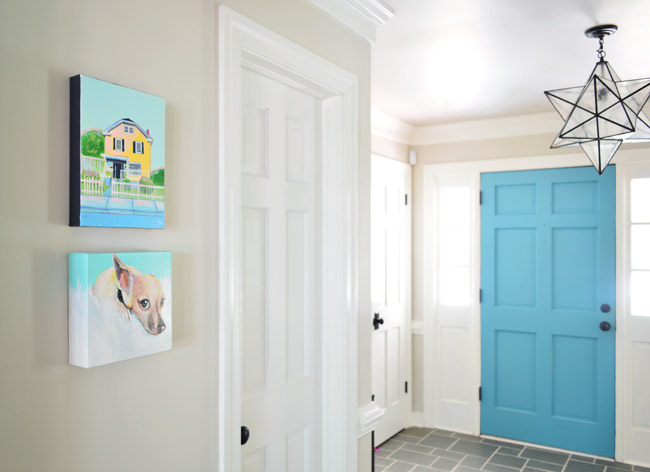 You might remember that we originally hung our Samantha French print in the hall next to the door, so we carried that into the office and held it up over the desk. We actually tried our anniversary painting there first, but ended up liking it better in the hall, so that switch was pretty simple to make. It's nice to have some art on that wall of the office too.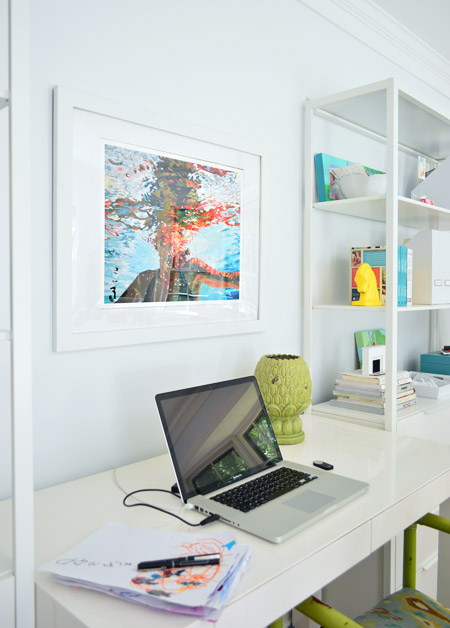 While hanging that over the desk, we realized we have a few more small paintings on the shelves in there (one of our last house, one of a pear that I found for $4 at an estate sale, one of two bees from Etsy). We always hoped to slowly amass some "real" art, so it's nice to realize that over time you can inch up the ol' collection, both with inexpensive finds and a splurge or two, and suddenly you have a hand and two fingers worth of it.
And of course we have all of Clara's creations on the cork board over her desk. Priceless.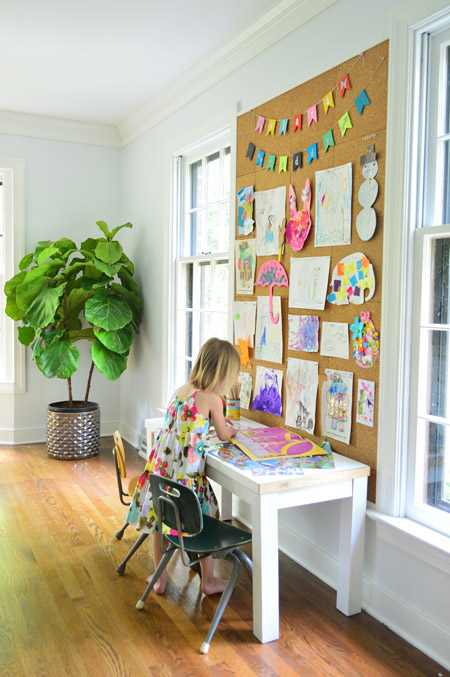 I think no matter how easy you know nail holes are to spackle (so easy! we've done it a thousand times!) there's this instinct in a new house or a freshly painted room to hold off on hanging art for a while. I don't know what that phenomenon is (Nail Hole Neurosis?) but we definitely aren't immune. This is a very real issue people. Just kidding, but really, it took us TEN MONTHS to add some nail holes after painting our bedroom!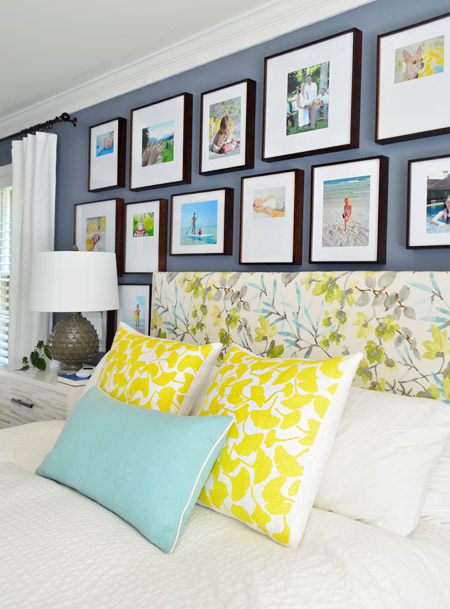 It's weird that we hold back on the whole art-hanging thing when we know how much it can take a room from house to home (our bedroom feels 100% more us than it did with blank walls). I'm certainly inspired to get some stuff hung in our upstairs hallway and a few other walls of our bedroom now. What the heck are we waiting for?
And to all of you other 7/7 anniversary peeps, hope it was a happy one!
&nbsp&nbsp&nbsp
After over a year of living without one, another bedroom has been upgraded to have a ceiling light fixture – and this time it's Teddy's room. Woo to the hoo guys. It's the best thing ever. I know that sounds like an overstatement, but you don't know how convenient ceiling light fixtures are until you buy a house without any in all of the rooms upstairs except for the bathrooms.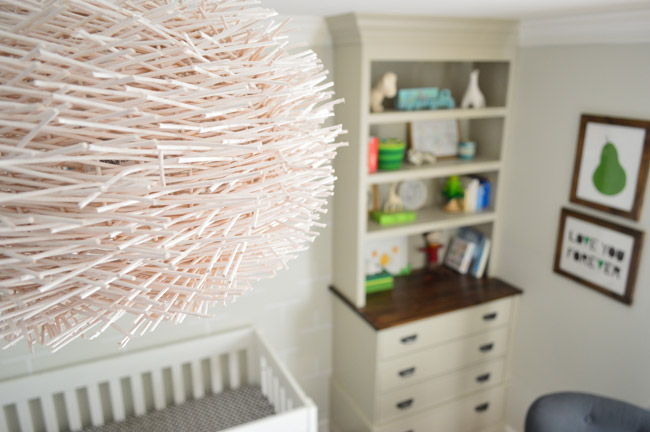 When I saw this stick light on Joss & Main I thought it was fun and beachy-yet-geometric. And call me crazy, but I immediately looked at it and saw a ceiling pendant. To make sure I wasn't being weird, I ran the idea of converting this plug-in table lamp by John. Thankfully he was right there on the stick light train with me.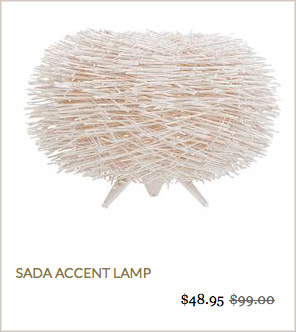 When it came, we turned it over to see what we were working with. There was essentially a small screw that held the cord down so it could sit on a table, so that was the first thing I removed.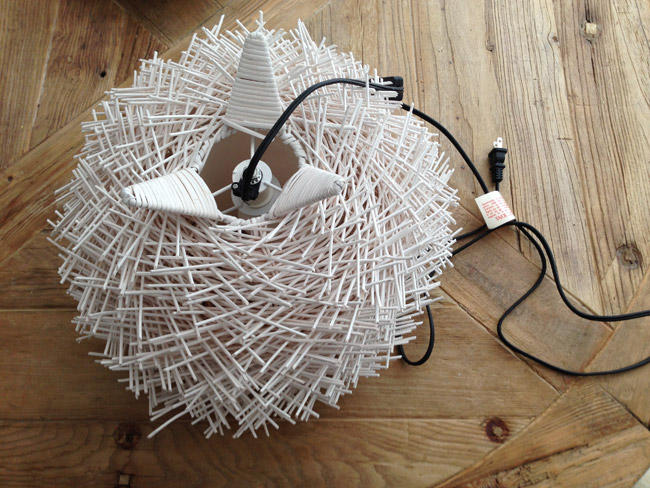 Once that was out of the way…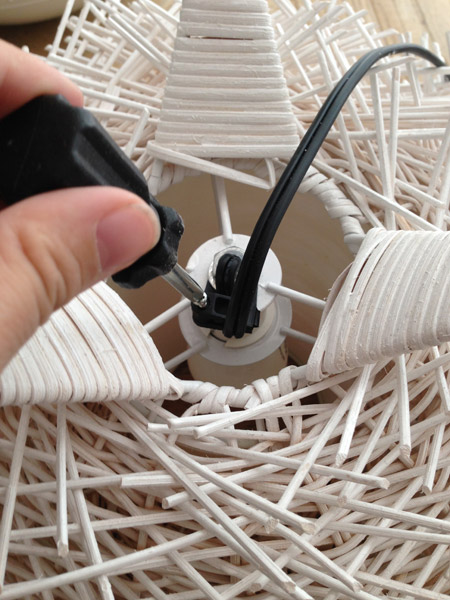 … it allowed me to gain access to this bolt that held the existing cord kit and shade on. We debated just keeping this plug and turning it into a ceiling fixture (often you can cut the cord of a plug-in fixture to expose the inner ones you need to hardwire it), but it happened to have one of those very small bulb sockets – you know for teeny bulbs? We wanted a little more light and a standard sized bulb in there, so off it came.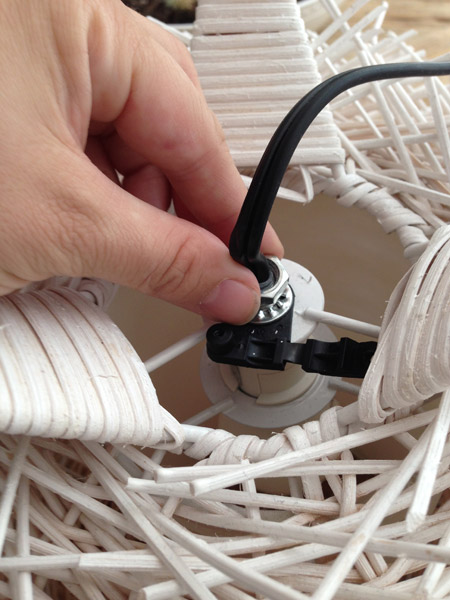 To remove the rest of the original wiring, we were able to unscrew the socket from below…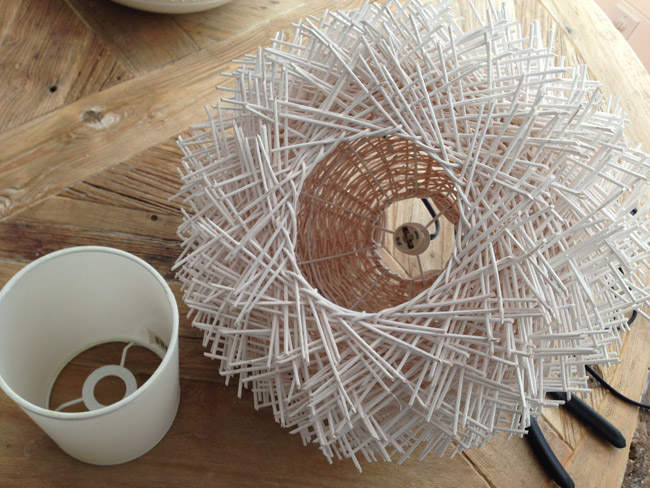 … which freed it up.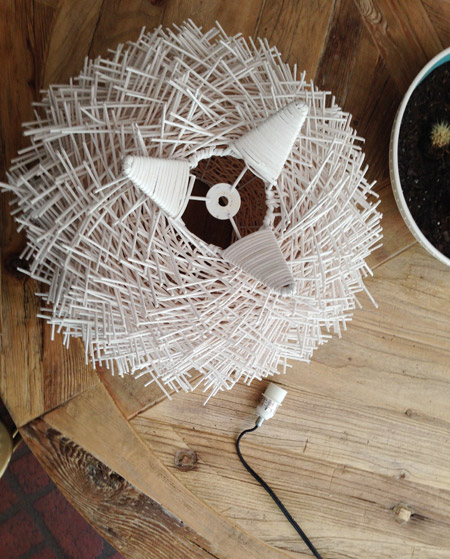 Finally, we were left with just a shade, which we could convert into a hanging fixture thanks to the ring on the bottom which would easily hold a standard light kit (with a standard sized bulb).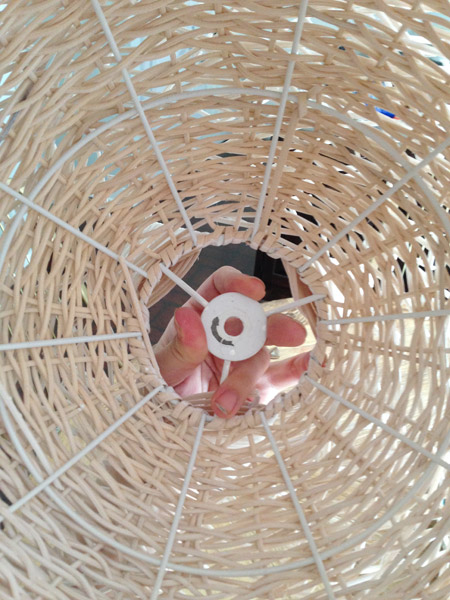 So all that was left was to grab one of these white pendant light kits from Home Depot.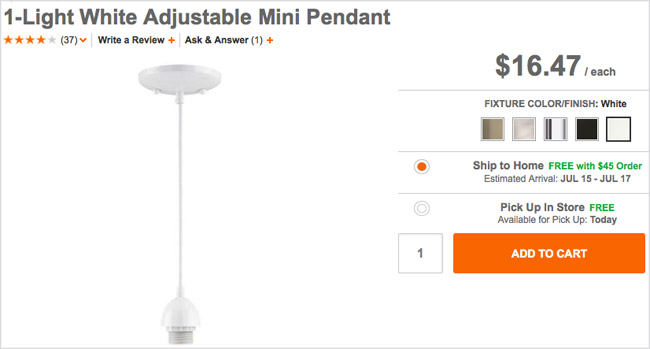 All we did to make it work with the shade was to thread the pendant cord up from below the shade (through that little white ring of the top of the shade) so that rests on the curved white bulb holder, which puts the light bulb right in the middle of the arched stick shade.
But wait, isn't something made of kindling with a light in it a giant fire hazard?! Glad you asked. Paper lampshades and lanterns (as well as basket shades) are commonly used, so there's no fire hazard as long as heat can escape out the top and bottom of the shade, and the bulb has ample clearance (i.e., it isn't super close to or pressed up against the shade). And even though a normal bulb should work in this arrangement, we used an LED bulb which doesn't cause as much heat buildup as an incandescent bulb (it still needs ample ventilation though!).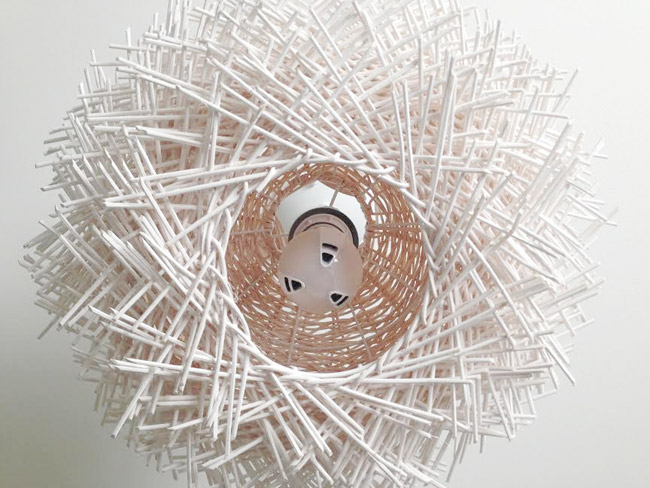 So Teddy's room is now all hooked up with a warm white LED that should give us about 25,000 hours before it needs to be replaced. Also, it looks like a robot eagle is holding the bulb. John digs that part the most.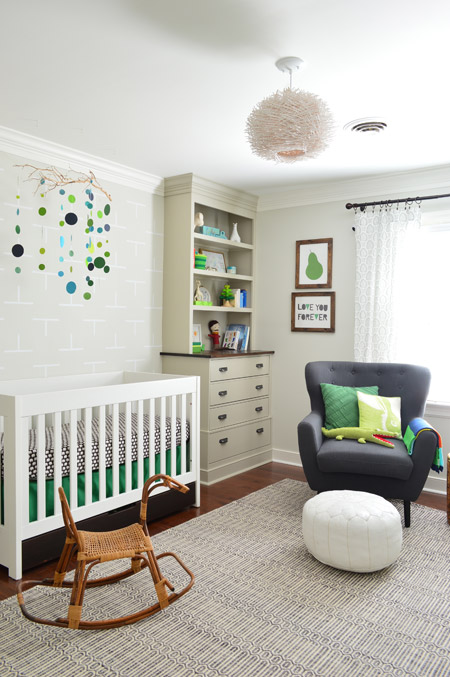 It's nice to finally have something up there. And the sticks even subtly reference the driftwood mobile and the white lines in our T-wall.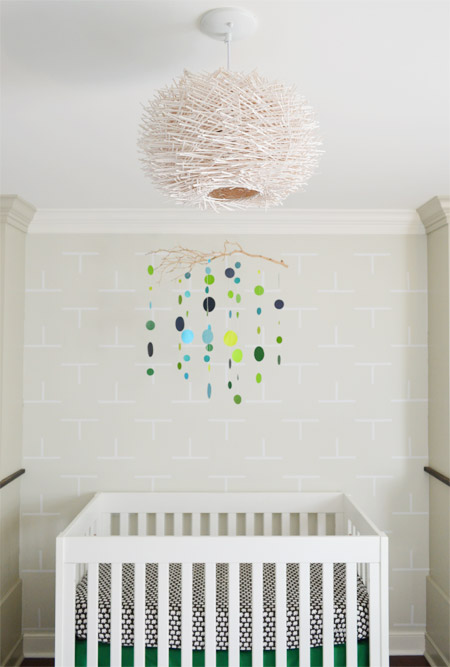 Here it is all lit up. So glowey (say that the same way The Soup says "so meaty").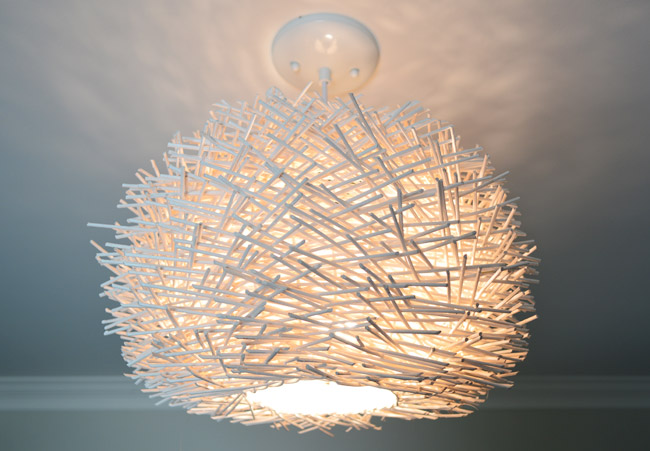 And if you're observant you might have noticed a little side table action going on, thanks to this yard sale find.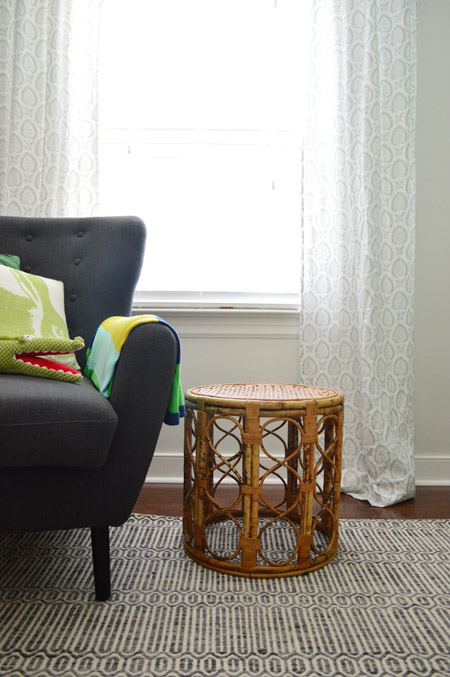 The $1 price tag was too good to resist.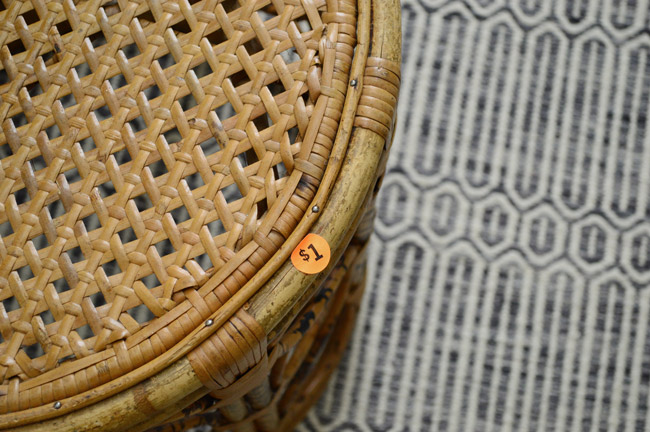 Especially since it's the exact same color as our old school rocking horse (another secondhand find of ours). So Teddy's room is pretty much done for now, I think.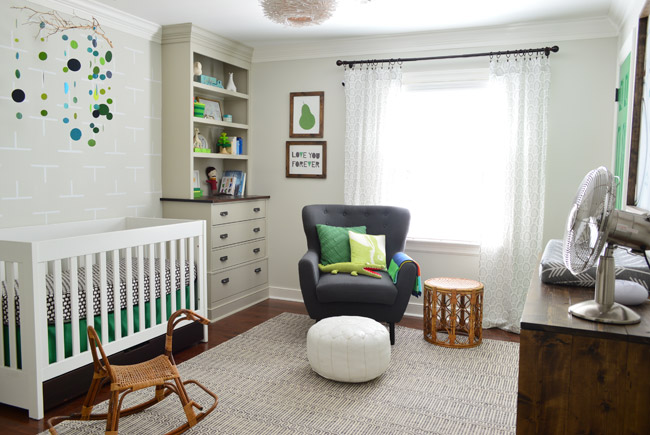 Also, Clara is in here way too much. But it's sweet. That girl can make that rocking horse look like it's going to catapult her right out the window, but so far there have been no rocker-related injuries. Now I have to go knock on wood.
Oh wait, and speaking of lights, there were requests to see our bedroom fixture all lit up and glowing at night, so here you go.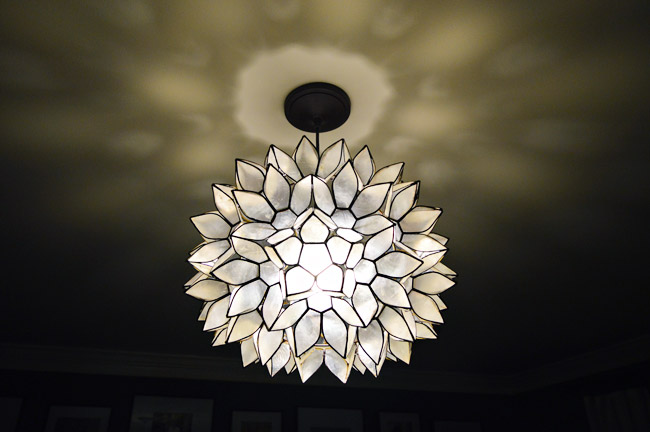 We love that it tosses out soft shapes on the ceiling.
Psss – As many of you have noticed, our collection at Target is now on sale (in stores). There's about a week left of it being sold, so whatever's left on the shelves is getting the ol' mark down. Thanks so much to everyone who has picked up something from our collection. We've loved seeing all the pictures, and still feel so in awe that this whole thing happened. 
&nbsp&nbsp&nbsp