We made some pretty exciting progress over the last few weeks that has earned us a much more functional space with a random but doable smattering of tasks left on our to-do list. We're definitely rounding third base on this bathroom (that sounds weird, but you know what I mean – we're getting extremely close to the end) and for that I'm straight up Carlton-dancing. Let me tell you, having a double sink for the first time in our lives (and my favorite toilet! and an actual closet system instead of a few old hanging bars!) is a huge upgrade.
We're thrilled, even if this feels like it has been a much longer renovation than we initially anticipated (aren't they all?). And since its been a while since we've blogged about our bathroom & closet progress (we've shown a lot of peeks on our Instagram Stories but our last blog post was all the way back on October 9th!) we wanted to give you a big ol' update, complete with pictures that we snapped this very morning.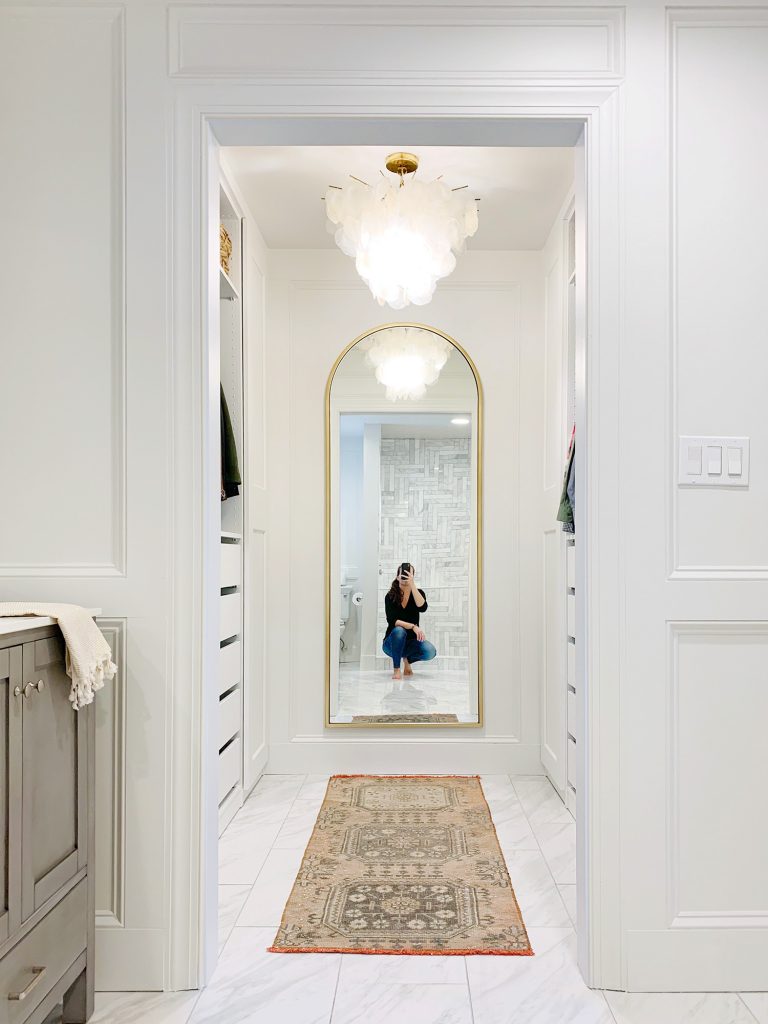 Shortly after Thanksgiving, we were plugging along as planned, having finished the shower tile and gotten started on our floor tile, with a goal to grout them both at the same time. BUT then we got word that our plumber was having knee surgery in a mere 4 days, leaving him out of commission for 5 weeks. So if we wanted anything installed before February (YIKES!) we had less than a week to get the room ready for it.
So we did what we do best, and totally panicked. Then we had some snacks, took a few deep breaths, and shifted our priorities to focus on getting just the floor tiled and grouted (so the toilet, vanity, and tub could be installed on top of them) – it meant we wouldn't have the shower done as quickly, but regaining a toilet and sink were the priority. We could just continue using the hall shower for a little longer, but earn back a sink and toilet for the middle of the night – which we sorely missed.
We also realized that since we wanted to install some molding on the walls around the room, that would be much easier to do before the toilet, vanity, and tub were installed (and in the way of any sort of wall treatment installation). I'll spare you the play by play of cramming all of that into a few days (literally I think it was around 40 hours) and just say that thanks to some super late nights of tiling, nailing, caulking, grouting, and painting we got it done juuuust in time. (We'll do a detailed post about how we installed that thick trim around the room soon – we think it was one of the best choices we made in the entire room and really elevated the space).
Now, back to where I said we got it done just in time. Well actually it was done just in time to find out that our plumber was too slammed with finishing other projects to squeeze us in on the day before his surgery like he hoped he could have. We were the last to get on his list, so we totally got that we'd be the first to miss out if he ran out of time.
The GREAT news was that he was able to send a couple of other guys on his team over the very next day to take care of it instead! Which definitely beats a 5 week wait while he recovered from knee surgery. So it all worked out just fine in the end – although they didn't have the kit they needed to install the tub so that would have to wait, along with trimming out the shower (since we still have to grout and seal that to get it ready for them to complete that install).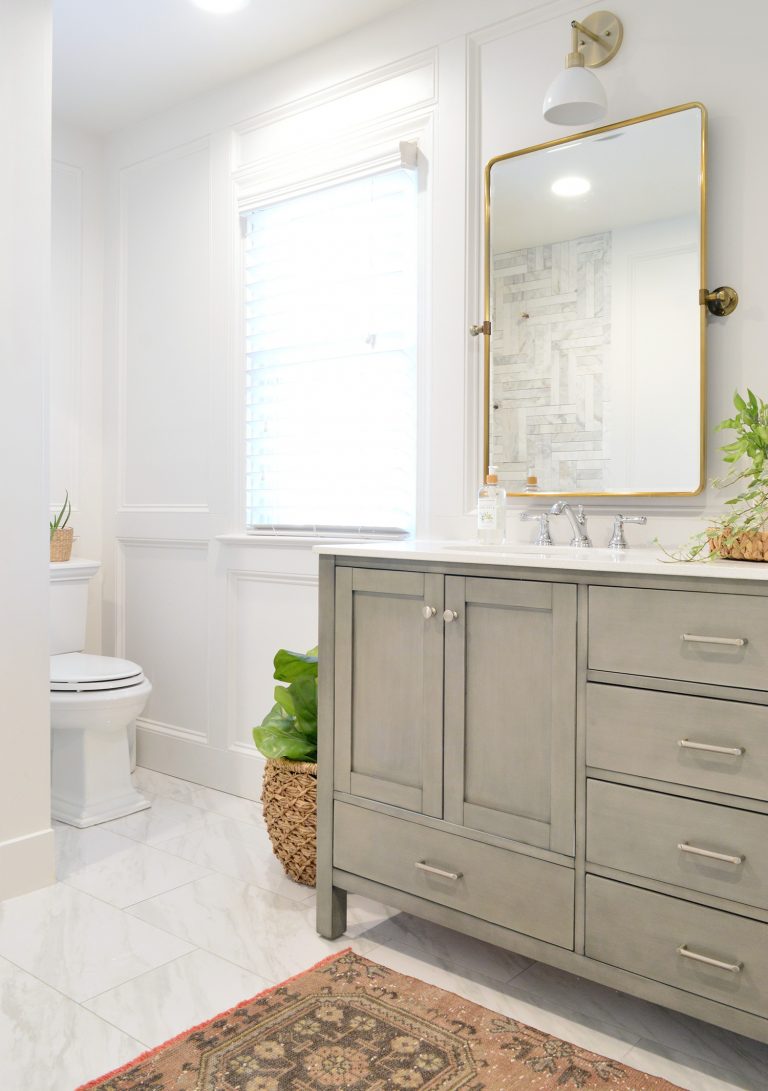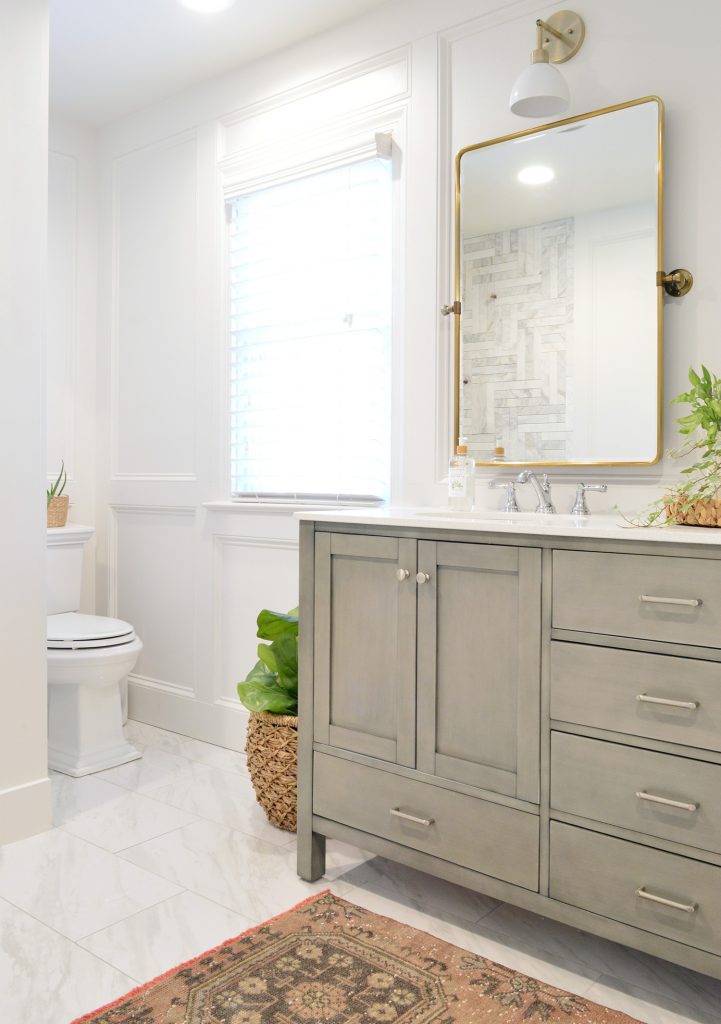 So yeah, it's a bathroom that looks pretty but doesn't have a functioning shower or tub yet (this is the tub we bought that currently lives in our bedroom). But frankly, we're too dang excited to have running faucets and a flushing toilet to really care.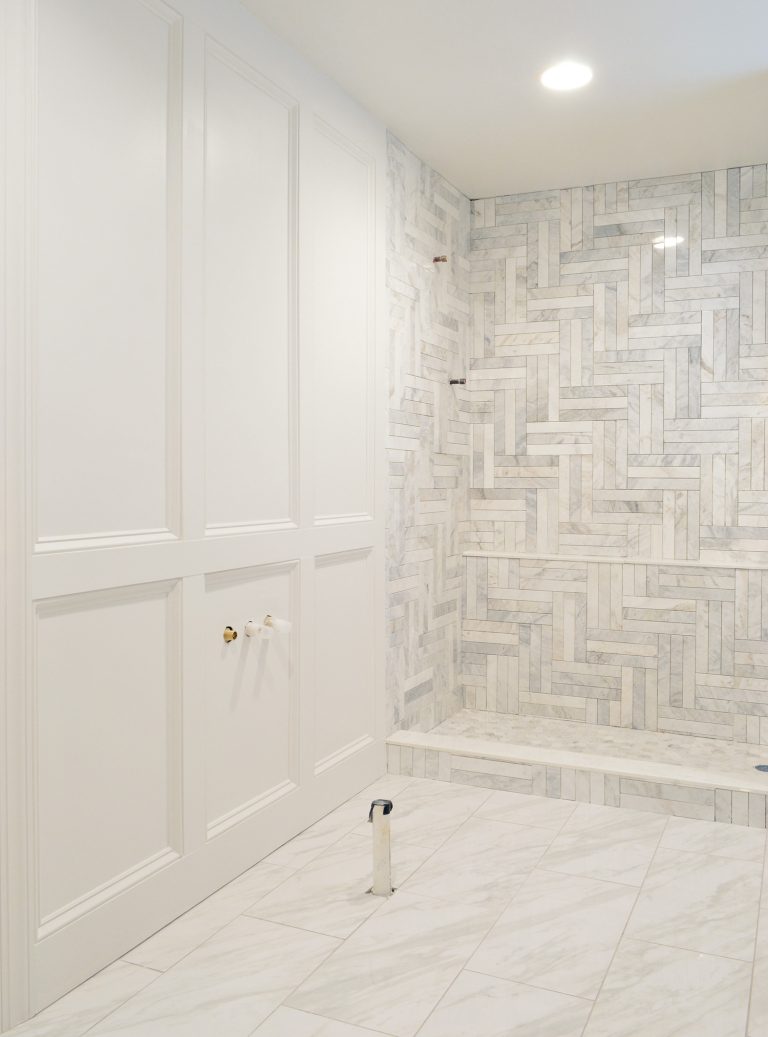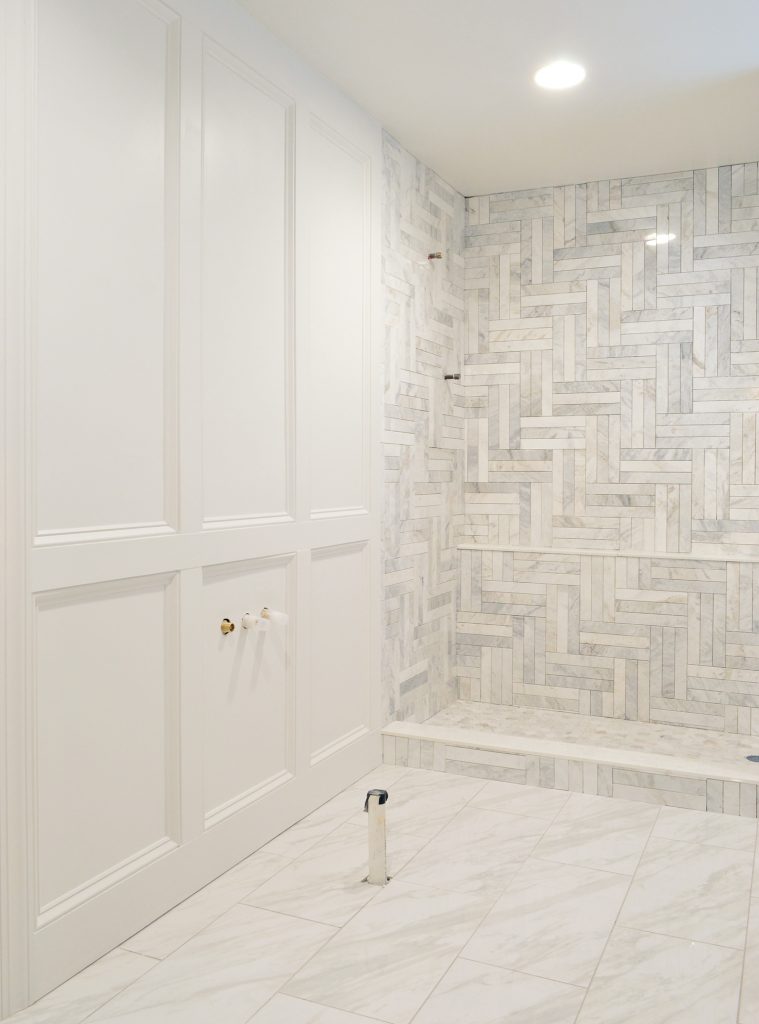 Oh and some people have asked why we didn't just install the toilet and vanity ourselves (rather than race to meet the plumber's deadline). They're both tasks we've done before and are perfectly capable of doing again, so it certainly was an option. But the best way for our plumber to guarantee his work (including all the new pipes that he connected in the walls) is for him to see the job through from start to finish.
So in a pinch we certainly could've taken over, but everyone involved preferred to let him finish what he started – just so that if in a month something is leaking he could fully guarantee his work and fix it on the house (versus some awkward "well, I did the plumbing for the toilet but didn't actually install it…" conversation where we're not sure who is responsible to fix something). It also helps for code reasons to have a licensed plumber do all of the plumbing work when it's a huge gut job of a room (versus us switching out a toilet or faucet ourselves in an otherwise-not-gutted bathroom, which doesn't require a permit since it's not a huge update).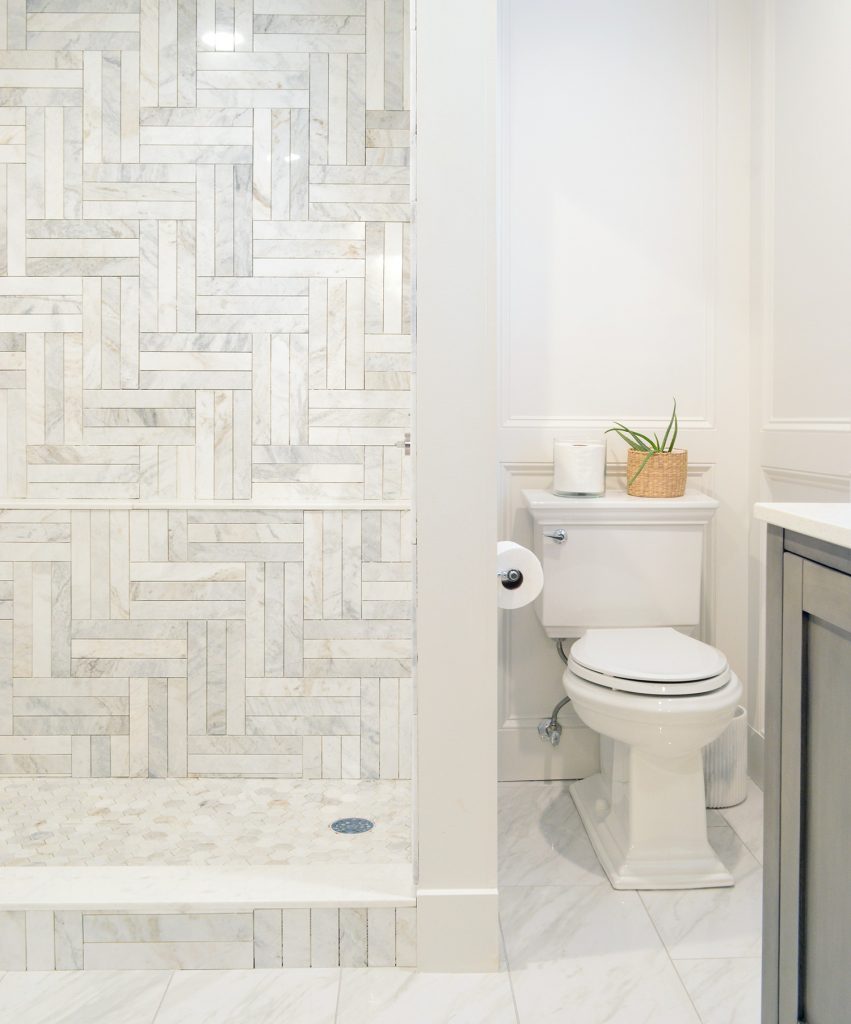 Now at this point you might guess that we'd shift our focus back to grouting the shower and getting it ready for the plumbers to finish up after the holiday, along with the tub finally going in. But no, we had officially spun off in a new direction. Blame on it on the excitement of starting to have a finished-feeling bathroom with a working toilet and sink again (that really took the pressure off the shower/tub thing). Or the fact that we had holiday guests coming and needed to get all of our displaced closet stuff out of the dining room and garage and everywhere else it had piled up (things explode everywhere when you have 1,432 Ikea parts just waiting to be installed and an entire closet full of two people's clothes and shoes that have been offset to other places). So with just a few days before Christmas, we turned our attention to installing our new closet.
It just felt SO. FREAKING. GOOD. to have this space functional again (and to finally move all of our displaced clothing back into the closet). We completely installed it over the course of a few days (during the week of Christmas – all we wanted was a finished closet for the holidays). So yes, we gave ourself the gift of not having to go into the kids' bedrooms to get various items of clothing anymore, and cleared off our dining table just in time for holiday guests. We used the Ikea Pax system and we promise to share a full post about it soon (how we installed it & trimmed it out so it looks built-in, photos of how we organized each section – even a video tour!).
Oh and you'll notice in a few of the photos above there's a rug in front of the double vanity, but the same rug is also in this shot of the closet: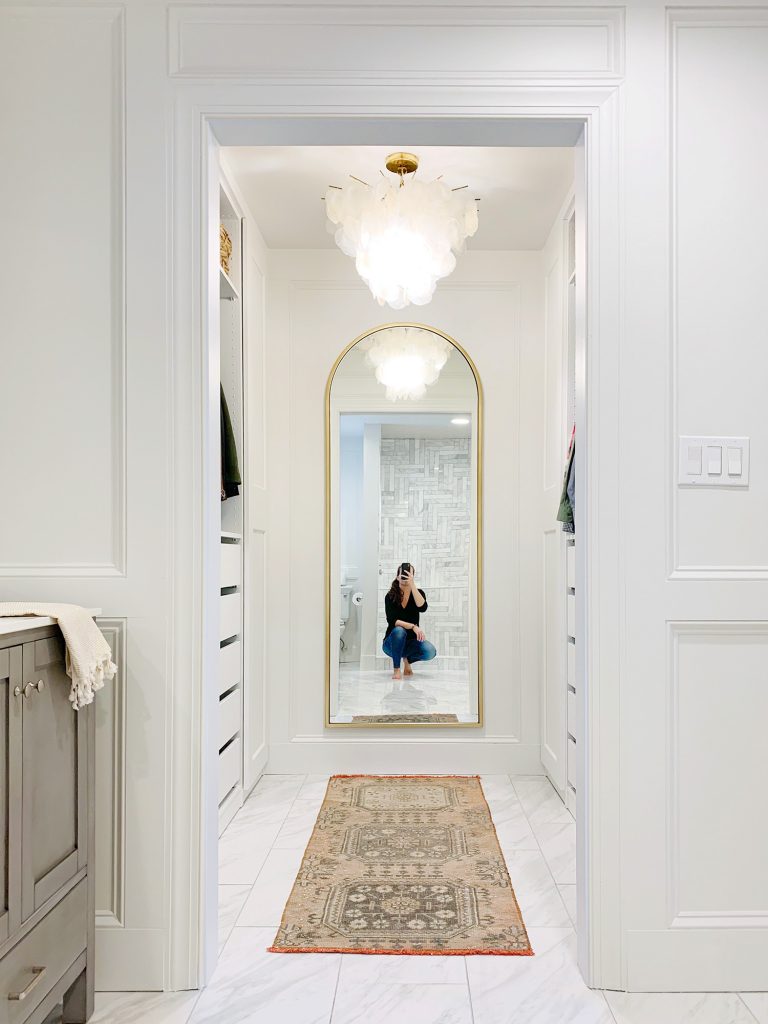 It's a secondhand rug from Etsy that I got for $186 all the way from Turkey! It shipped in less than a week (?!?!), and I love how it feels old and faded (because it is!). This is the vendor that I got it from, and here are a few similar ones. It adds so much warmth to the room, and honestly I love it in front of the vanity, but I might love it in the closet even more.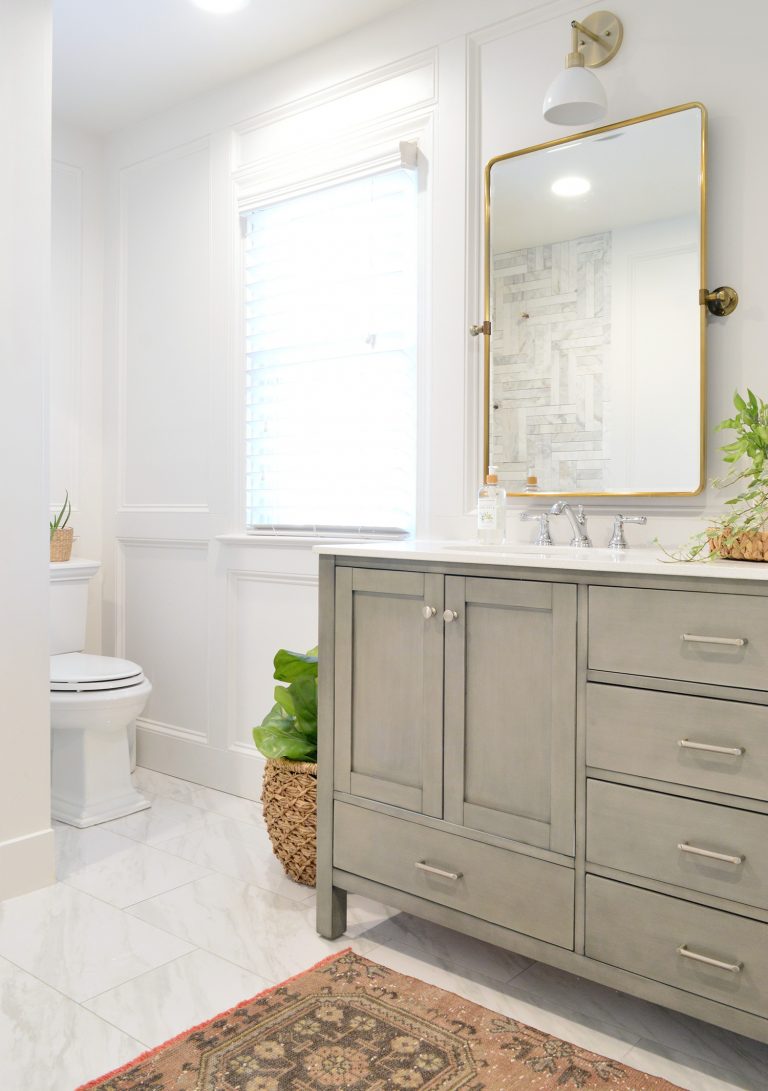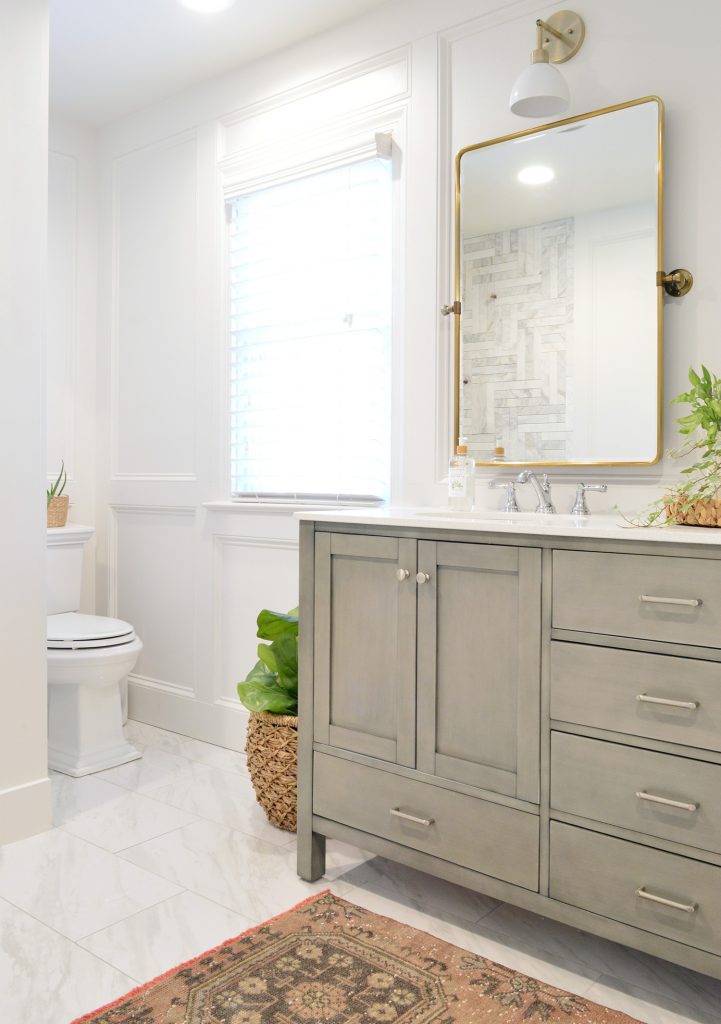 You can see some other things that we checked off the list, like hanging our new mirrors over the sink, mounting our arched mirror in the closet, hanging my beloved capiz chandelier, and bringing in some greenery and woven textures in the baskets on the sink, in the closet, etc.
I fully subscribe to the "morale boost" that happens when you bring in a few pretty things to buoy your spirits, even if you're not finished yet. Soak up the progress & feel happy in that half-done room! Also, plants make me happy.
In addition to still needing to finish grouting and sealing the shower and getting the tub and the wall-mounted faucet installed, there are still some other tasks on our list, but they all feel extremely doable. I'm thrilled to have what once was a list of about 117 things down to a half dozen or so:
Wire the vanity fixtures: We were deciding between two finish options so we just hung them without actually wiring them – you can't see the other one we considered in these photos – but I'll do an InstaStory about them to show you both options & share why we picked the one that we did.
Paint the vanity: We like the existing color but think the room could use something a little softer than gray (this muted green one has always inspired me). Will keep you posted.
Hang towel hooks & art: Our current plan is to do some combo of those above the tub (and to hang art over the toilet) but we need to get the tub installed first.
Get & hang a shower curtain: We both simultaneously started to second guess our original plan to do a glass shower door because we realized a curtain would add some nice softness & texture (call us weird but we've always preferred a curtain to glass anyway – plus, it's one less thing to scrub/squeegee). We can always go back and add a glass door later if we don't end up loving a curtain – but the fact that both of us have felt the pull towards trying one first makes us happy to give it a whirl before rushing into an expensive glass door.
Hang & frost the bathroom door: The 15-light glass door that we ordered should be arriving any day now, so we've gotta hang that to give this room some privacy. They didn't sell a pre-frosted version we liked, so we have a date with some frosting film too. (P.S. We have a frosted door to the bathroom at the beach house & it works great for us – but if you're someone who turns on the light at the crack of dawn and wakes up your partner it might not work for you).
I'm sure I'm forgetting some stuff in that list, but it definitely feels like we're rounding the final bend! And of course we'll share a full budget breakdown of this project when we're back with a full reveal. We've been keeping track, and it has been blissfully straightforward (no crazy discoveries behind the walls) so we're excited to share that with you guys when we stick a fork in this project.
Wanna see a few other room makeovers we've tackled over the years? Here are some favorites:
P.S. Don't forget to read the first post about this bathroom reno to see a video tour and check out the exciting half-demo-ed pics. And here's the planning post with a before and after floor plan, along with how we chose the tile, found inspiration, etc.
*This post contains affiliate links, so we may earn a small commission when you make a purchase through links on our site at no additional cost to you.