Author Archive
Favorite project ever! Ok, I probably say that to myself every month or two, but this one might reign supreme for a while. Especially in the small/easy division (our sunroom reno and Teddy's built-ins might have given it competition if it fell into the heavy-duty upgrade category, but there's no way it belongs there because it was so simple). Ladies & gentlemen (gentleman?), I give you… Clara's closet: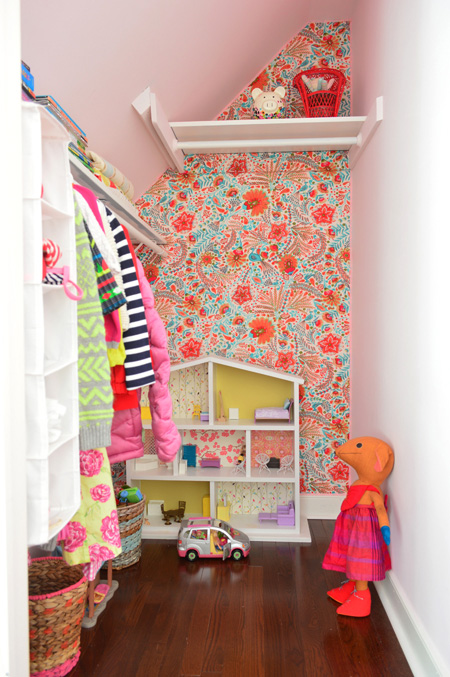 I've been obsessed with the idea of covering the back wall of Clara's closet with something fun for a while, especially since images like this inspired me to add some playful to make it feel more like a little hideaway within her room. Right after we moved in she proclaimed her closet her favorite spot in the whole house. She plays in there a ton since there's a lot of space in the back for her dollhouse and a few other favorite toys since we store most of her clothes in her six-drawer dresser with the exception of a few hanging items – and it's a super deep closet, clocking in at 6.5′ feet deep and 4 feet wide.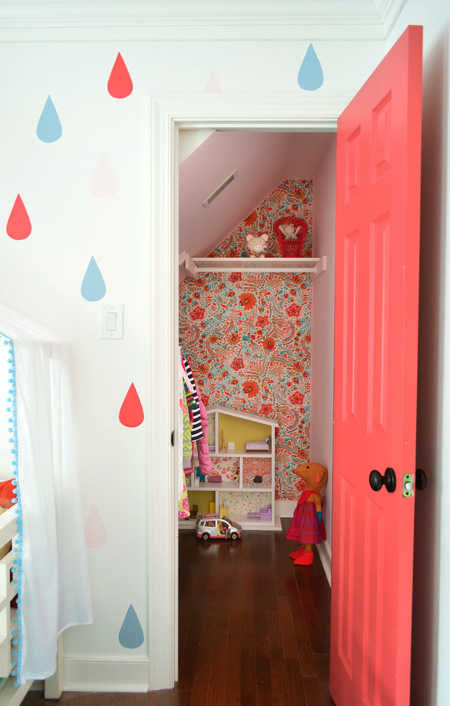 I thought we would end up using wallpaper or a stencil for some back-wall pattern, but then we came across this fabric (called Peaceful Perch by Dena Home for $20 at U-Fab) and just KNEW it was the one. Clara was with us and before I could even say "what do you think?" she was rubbing her face all over it (she's her mother's daughter) and saying she loved the birds. Jackpot. I was going to cover that back wall with that fabric if it was the last thing I did.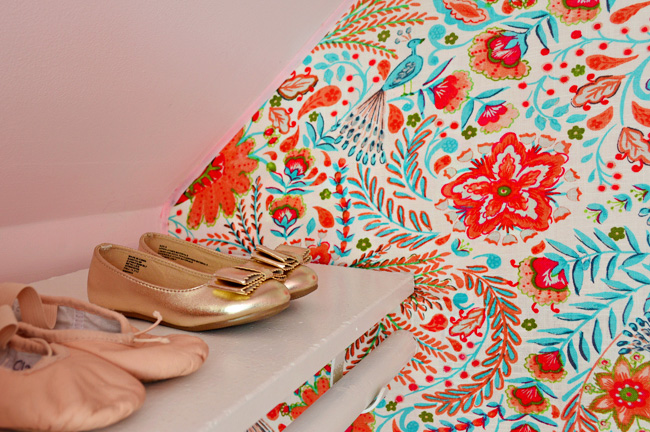 So I bought three yards of it (enough to go from floor to ceiling with a little wiggle room to spare) and rejoiced that the bolt's width was easily wide enough to cover that back wall. When we got home Clara went to color something in the office and I fed Teddy in the living room and then she walked into the living room ten minutes later and screamed "YAY! DID YOU MAKE MY CLOSET PRETTY?! I can't wait to see it!!" Needless to say the girl never covered a wall with fabric. But neither had I.
The surprising news is that it only ended up taking about an hour and a half to adhere the fabric along that back wall and another half hour to trim it all out for a finished look, so it can't be done in the time it takes to feed a three month old, but it can be done between feedings (even if your son is on an every-two-hours schedule). In other words, it was way less intimidating and time consuming than I initially expected. And all it set us back was the cost of the fabric, some fabric glue, and some ribbon.
The first thing I did was empty her closet.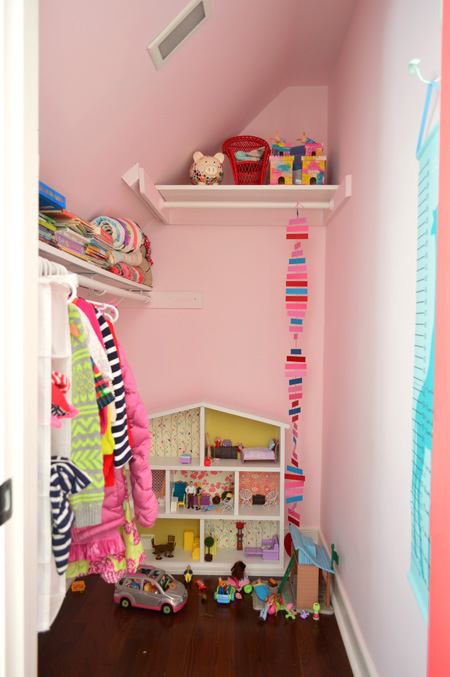 Everything came out, including the shelves and hanging bars that you see here which I removed as I went (I needed free access to all of the nooks and corners along that back wall).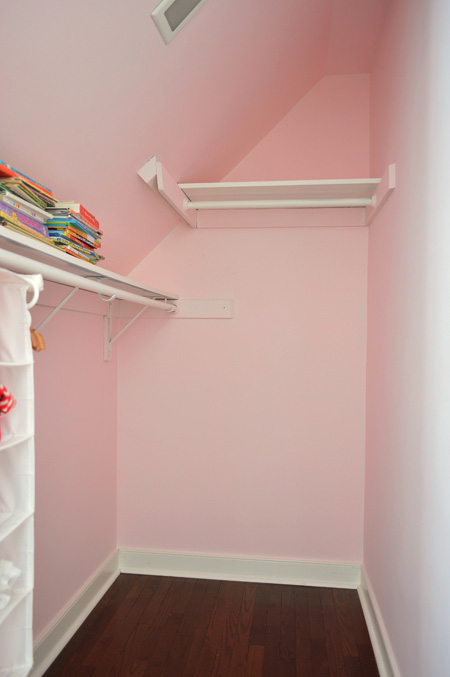 I stood on a step ladder with my staple gun and started in the top right-hand corner, stapling it nice and tight around the perimeter of the back wall. Every few inches I shot a staple in, making sure they were nice and tight against the wall, and that the fabric wasn't wrinkled or folded. By starting in that top corner with my completely untrimmed three yards of material, I knew I could work my way down and across, keeping things tight and straight as I went, without running out of fabric. It really was that simple.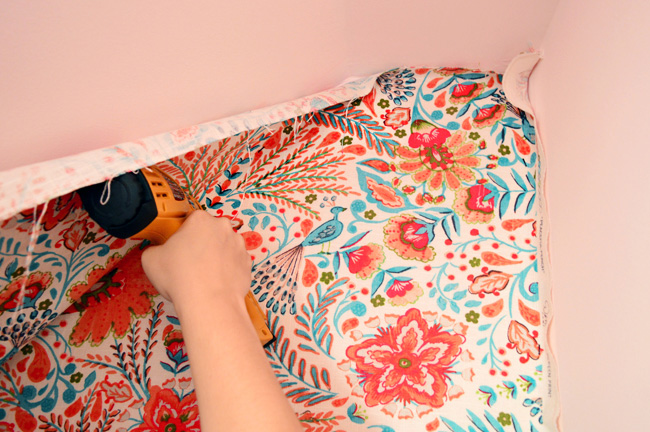 I think if I had been working with something striped or geometric in a the-naked-eye-can-tell-if-that's-not-level way, it might have been more of a challenge, but since this print is so wild and free, I really just focused on keeping things pulled taut, and stapling them every few inches around the edge.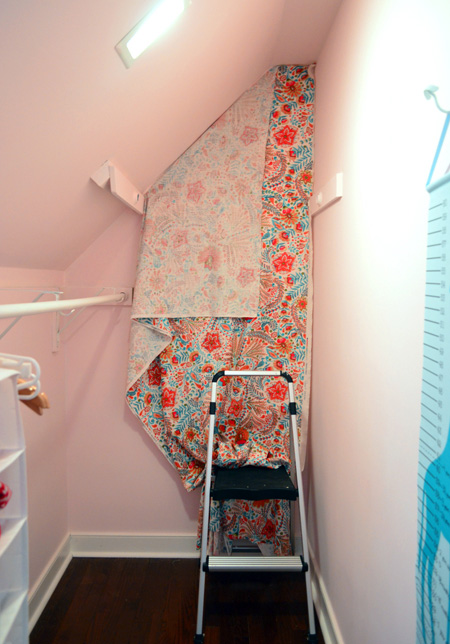 I even realized that I could wrap the fabric around the shelf board on the back of the closet with a few staples on either side of it so it was nice and clean looking.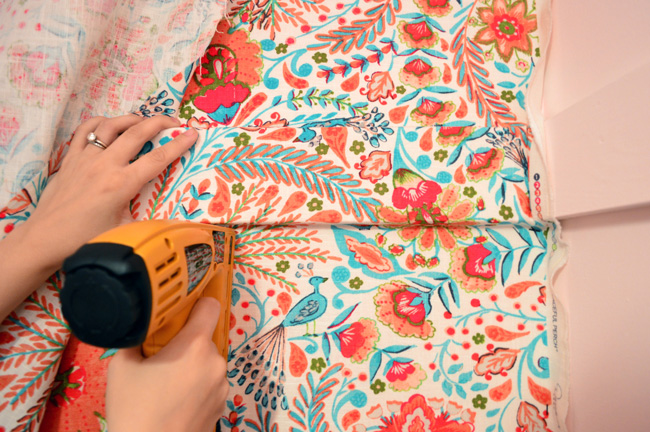 My only real warning would be that if you have a big flap of extra fabric going on like I did on that angled part (I didn't trim the fabric at all before hanging it for fear of cutting it off at the wrong angle or taking too much off that would make the entire remnant unusable), just be sure you don't staple it behind itself or something. I never did that, but almost did a few times. If you did it wouldn't be the worst thing because you can just pop staples out with a flat-head screw driver if you mess up anyway.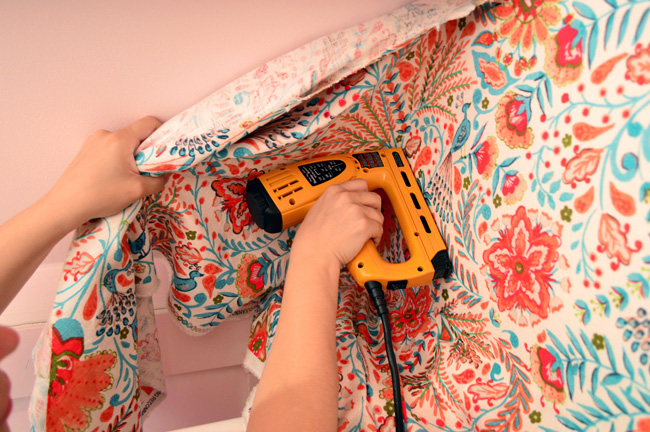 I did that a few times if I thought I hadn't pulled something tight enough, or when I got to the bottom of the wall and felt like the corner had a crease or a bubble it shouldn't have. You just sort of undo a few staples and re-pull things and re-staple until you like the look.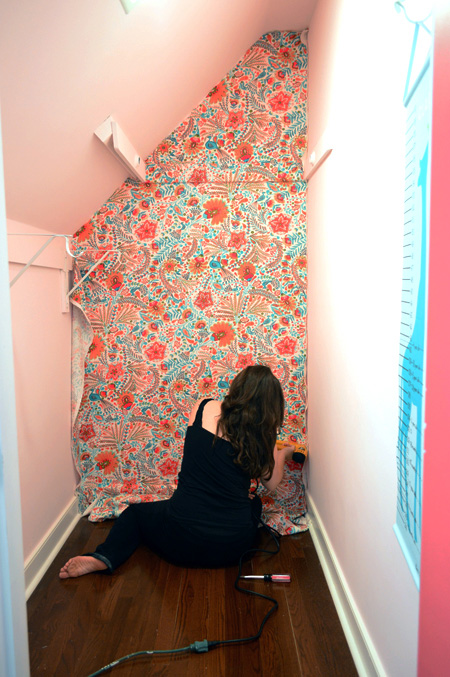 When I finished with all of my perimeter stapling, after the obligatory victory dance with the unplugged staple gun (unplugged is the key word), I ran an exacto knife along the entire perimeter of the back wall to cut off the excess. You'll want to put a nice new blade in there to get as clean of a cut as possible. I tried to push just hard enough to cut through the fabric but not hard enough for it to go into the drywall. Since it's the corner and I knew I'd be adding a trim piece of ribbon for a finished look, even if I jammed it into the drywall a little, it wasn't a big deal, but for the most part I could slide it through the fabric without digging into the wall itself.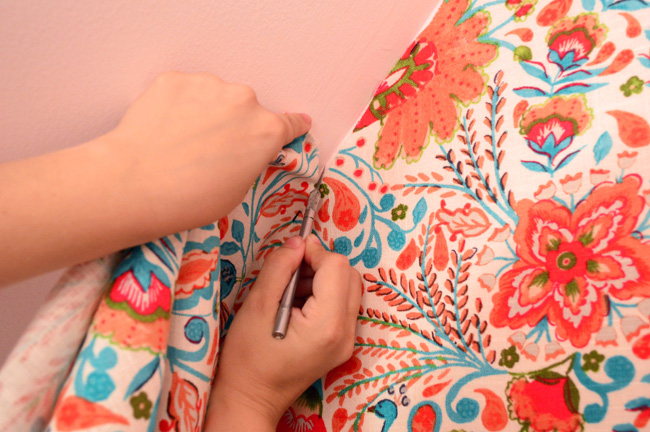 Next came the ribbon for that nice polished edge. I held up various ribbon remnants in red, pink, blue, and white that we had on hand and John and I both liked how the pink looked because it blended into the wall color (bold colors like red made it a little busy when combined with such a bold fabric, so we liked the more seamless look of the soft blurs-into-the-wall pink option).
We didn't have enough pink ribbon just laying around, so I ran out to JoAnn and grabbed two 6 yard spools (we calculated that we'd need around 8 yards to go around the wall's perimeter) and also grabbed some Aileen's Fabric Fusion glue to attach that all the way around. It was almost like clear silicone caulk, so I just ran a thin line of it down the edge of each wall…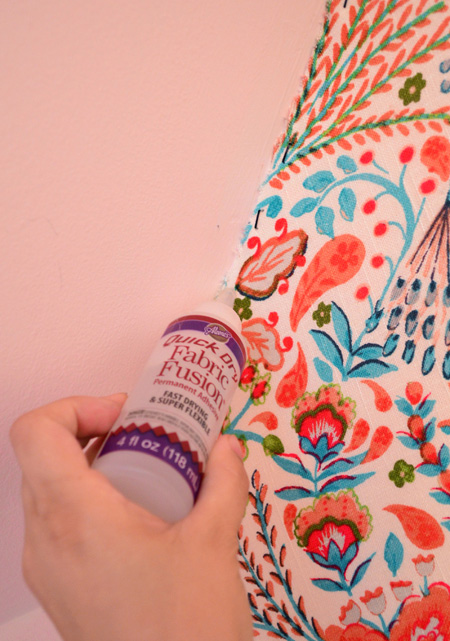 … and stuck a pre-cut-to-size ribbon against it for each portion.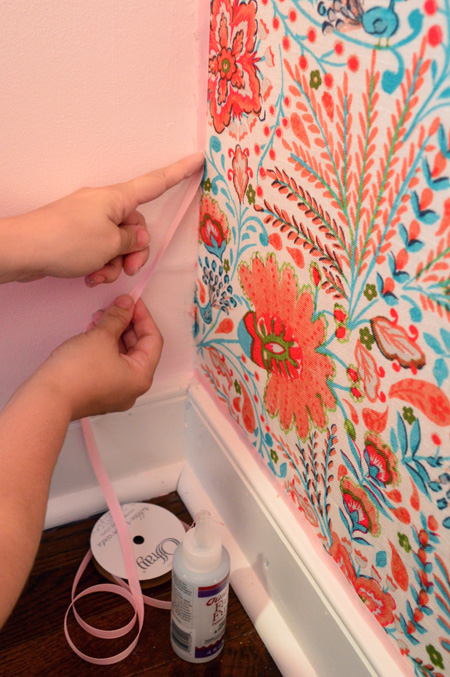 Here's the finished result: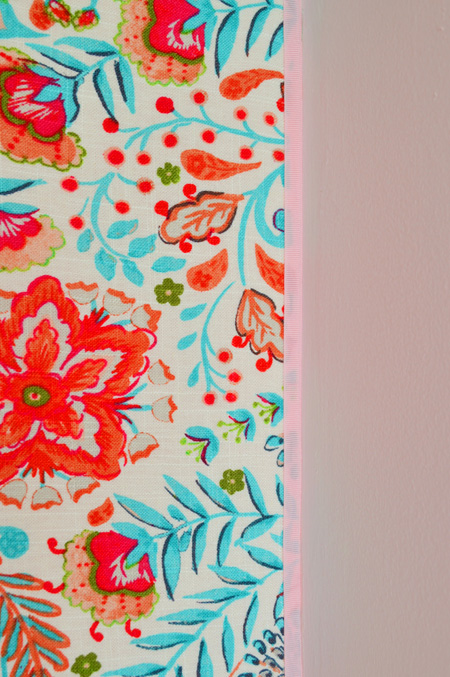 Once that dried (within about an hour) I brought back all the shelves and hanging rods I had removed, and put the closet back together.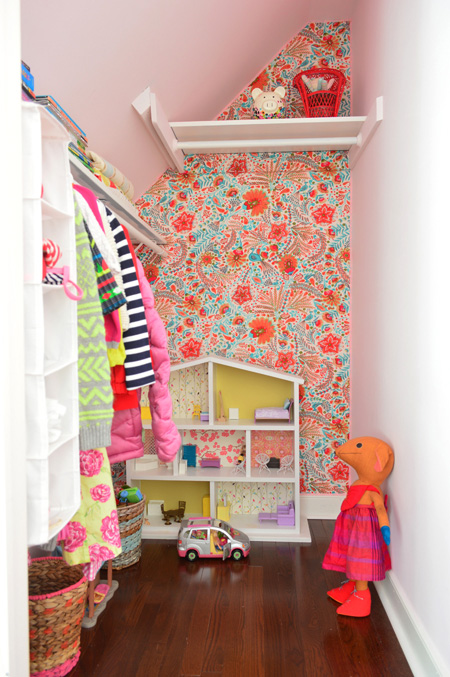 Clara's PSYCHED about it.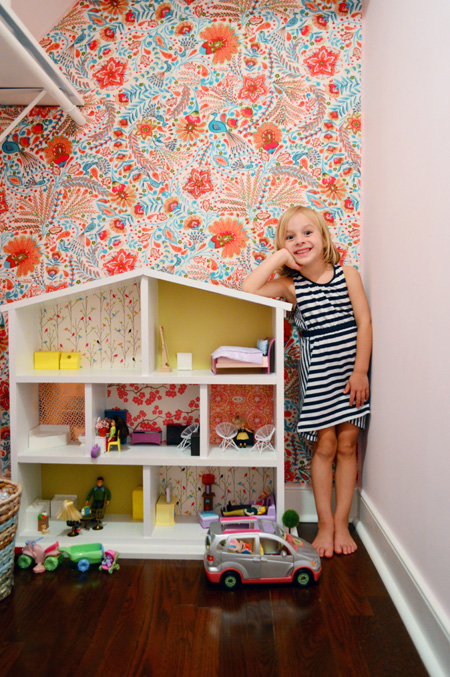 So is momma. Dad's pretty keen on it too. Burger and Teddy are ambivalent, but I'll take it.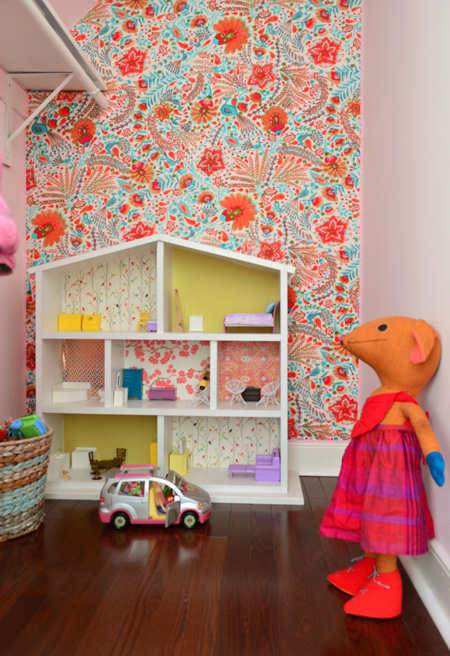 The coolest thing about this project is that I completely expected it to be one of those kinda-complex-and-tedious jobs that are worth it in the end, but it ended up being one of those surprisingly-simple-and-straightforward projects that make you beam because it looks way more expensive and complicated than it was. We already have had a few people over and all of them thought it was wallpaper until they touched it and said "no way, it's fabric?!"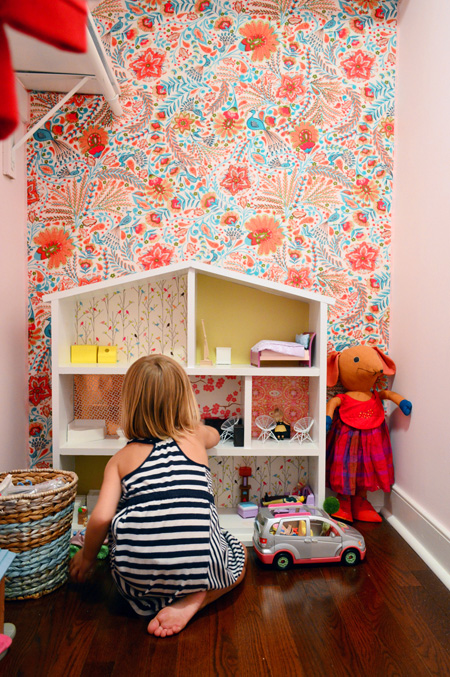 What did you guys do this weekend? Any kids-room stuff? Fabric projects? Victory dances with your 16 pound baby? Sometimes I feel like all I manage to get accomplished is to feed these kids and keep them semi-clean, so fun little projects like this are pretty exciting. Especially when I can squeeze them in between feedings. We also managed to get a little hiking in this weekend, and although it involved a particularly "memorable" port-o-potty visit with Clara, it was pretty awesome while it lasted.
&nbsp&nbsp&nbsp
Every year we like to celebrate our "I Do"s by doing stuff, like recreating our wedding menu, taking a day trip near our engagement spot, cooking up one of our favorite honeymoon meals or even taking a big ol' trip to Hawaii. This year was no different as we continued some of our anniversary traditions (like our annual picture, which a bunch of you asked about) and we threw in a couple of new celebrations too, like showing our wedding video to Clara for the first time.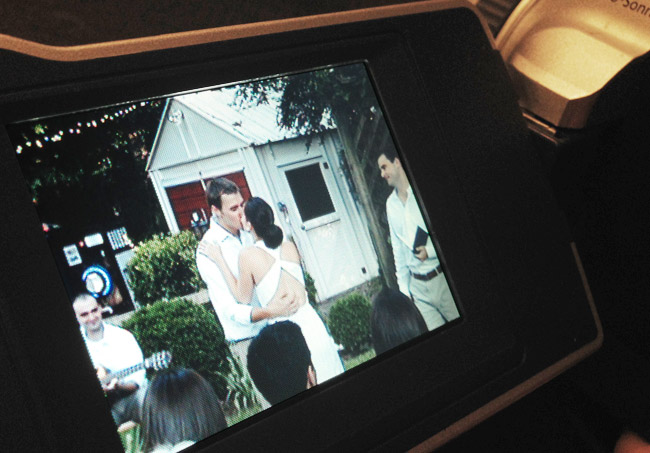 It was kind of comical because we realized we had no other way to watch it than on the miniscule screen of John's old camcorder, so we were all huddled around it and pressed play. We probably hadn't seen it ourselves for the past five years, so there were a few moments we completely forgot about that had us cracking up. Clara seemed to like seeing some of her cousins as kids instead of teens, and really loved Burger's cameo, so it was a nice little (pun intended) trip down memory lane.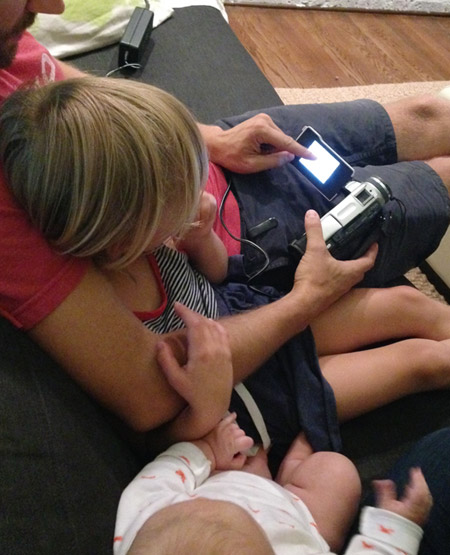 One thing we always talk about from our wedding planning days is how we never got to do that fun cake-tasting thing. While we love the sweet Ukrop's cupcakes that we had for our backyard shindig, sitting down at a table and sampling a bunch of cake flavors and icings and fillers kind of sounds like the best part of planning a wedding. So we always laugh about how two dessert loving fools like ourselves missed out on that.
And then John went and did one of the most romantic things he has ever done. He surprised me by coordinating a better-late-than-never cake tasting with an amazing local baker who was happy to have one for us for a little more than she usually charges (since we weren't actually ordering a cake in the end).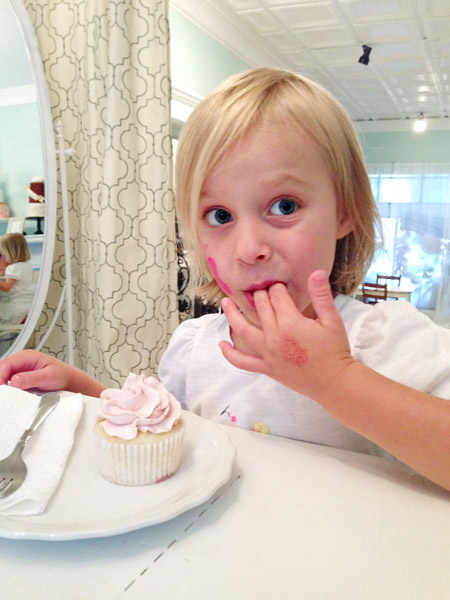 John debated selecting the flavors himself so he could surprise me at the tasting, but thought it would be more fun to pore over the options together beforehand, like we would have for our wedding. So he told me about it on our actual anniversary and then we got to make our flavor picks and taste them at the end of last week (once Amanda at Sweet Fix had whipped them up).
She bakes cupcakes instead of cakes as a way for people to sample the flavors, so it was pretty perfect. Sort of like smashing our original wedding cupcakes and the experience of a cake tasting together. Picking flavors was no easy task (OH, THE OPTIONS!) but we ultimately landed on: chocolate with peanut butter buttercream, princess white with green tea buttercream (princess white is like angel-food cake, this one was John's favorite), almond with maple buttercream (my favorite – it tasted like a gourmet waffle) and vanilla with strawberry jam filling and strawberry buttercream (Clara's favorite).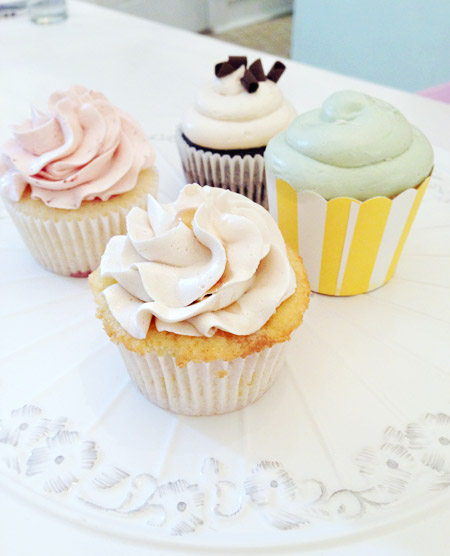 We each got to taste all of the flavors, plus take home a box of extras to enjoy and share with friends. We also took home this less than stellar family picture, thanks to Lady Blurs-a-lot. Don't mind Teddy, he was just checking out the sample cakes.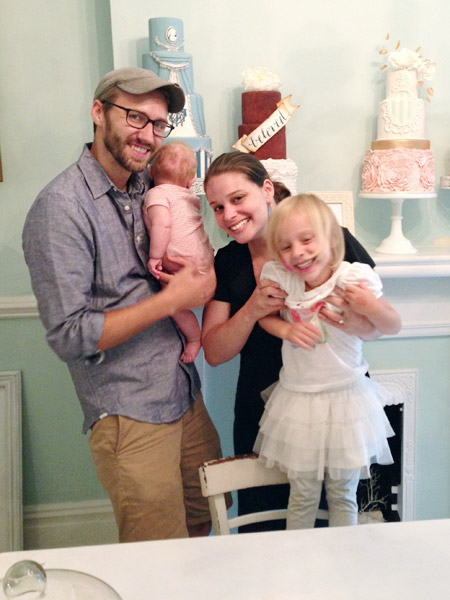 Speaking of not-so-perfect family pictures… as some of you remembered, we try to get a family photo along with a photostrip each year on our actual anniversary, so last Monday we made the obligatory trip to the New York Deli (a restaurant here that has an old timey photobooth in the back) with pretty laughable results. One of the funniest things about this booth is that the prints tend to vary wildly. One year they're super clear, sometimes they're dark and spotty, and this year we ended up resembling a family of ghosts.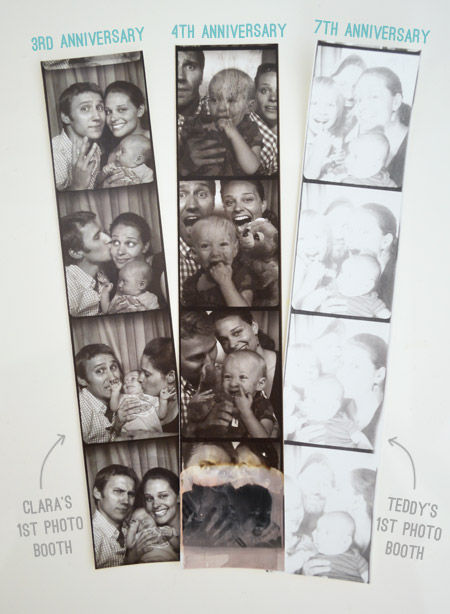 It's kind of a bummer, but the sign on the machine gives you fair warning…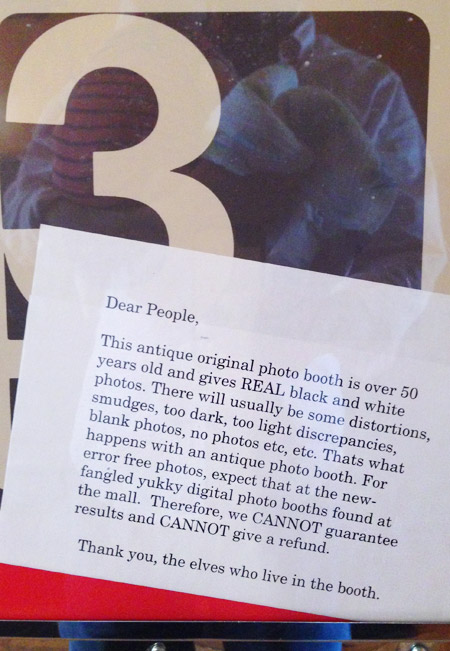 Gotta love those elves who live in the booth. And as a side note, if any locals know of other real photobooths in RVA, we'd love to hear about them.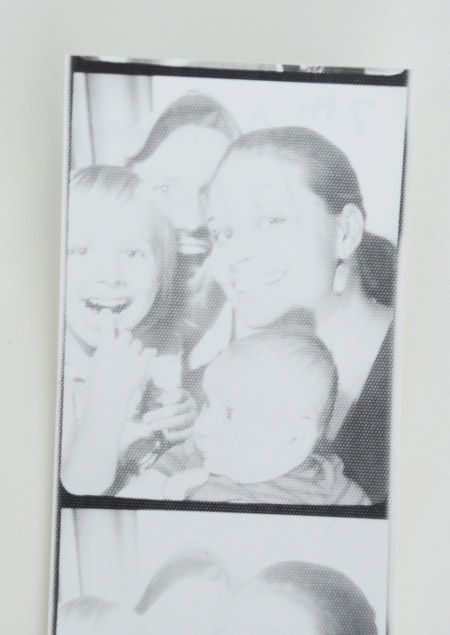 We did manage to get one decent family picture on the 7th, thanks to our tripod and the camera remote. We attempted some with Burger but he was all "Um, I'll sit this one out, weirdos." (our sweet mild-mannered dog wigs out every year that we try to squeeze him into the picture, so I guess that's an anniversary tradition too). Teddy's still working on the whole "smile at camera" thing, but Clara's not blurry so that's a victory (and she even managed to work her 4th of July tattoo into the mix). Come to think of it, maybe Teddy's just checking out her tatt.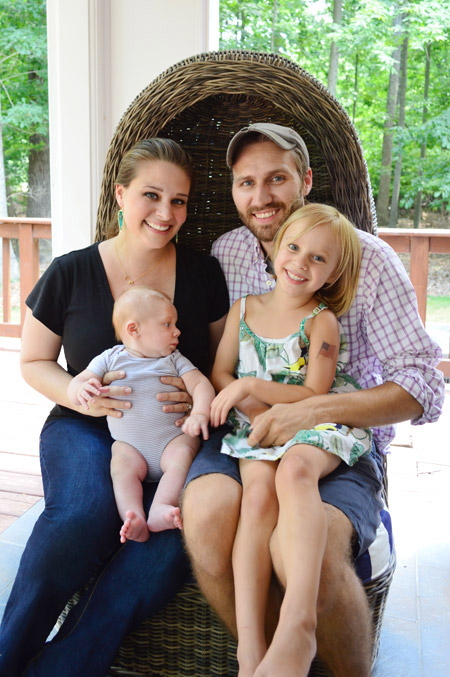 In our last house we had all of our anniversary pictures framed together by the bathroom mirror (remember this?), so this latest picture was the kick in the pants that we finally needed to hang them up here. We used a sliver of wall space in the sink nook off of our bedroom, which is nice because it's something we walk by at the beginning and the end of every day. They start with our first anniversary in the circle frame and go chronologically from top-to-bottom in each column. I didn't even realize how much I missed seeing those annual photos until we had them back up on the wall.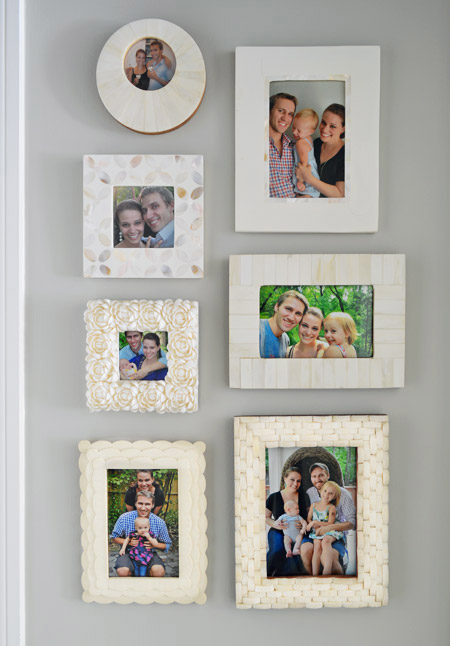 And last but not least, those who follow us on Instagram saw that we tried to cap off our anniversary with a little romantic dinner (at a place called Wild Ginger). Clara went with Grammy & Tom Tom to her cousin's swim meet and we brought Teddy with us because "he'll just sleep." Well, sleeping didn't happen at all, but he was a pretty adorable third wheel.
So there you have it. Seven years of being married to my cake-tasting partner in crime, and seven years of sharing what we did for each anniversary on this here blog. What kind of wedding traditions do you guys have? Day trips? Dinners? Dessert binges?
&nbsp&nbsp&nbsp