Eiiiiiiiiiiii! That's my excited dolphin sound. I do an IMPRESSIVE impression when I'm extra hyped (according to my kids). Anyway, I'm BEYOND excited to take you on a little tour of our new house in Florida, as it looked when we first laid eyes on it back in February. As luck would have it, that was also the last time we laid eyes on it in person (thanks to our spring break trip being cancelled due to staying hunkered down at home). So it feels like a ton has changed since we were in it a few months ago – both from a global standpoint (worldwide pandemic), and also from a reno standpoint (since we took these photos, a lot of the things that made it unlivable at the time have been remedied over the last 6 weeks or so by our contractor and his small socially distant crews ;)
As in there are no longer holes in the floor, there's working AC, and the bathroom has a toilet that flushes (and there's no longer a sink in the tub). Have I told you guys how long this house sat on the market in a super charming neighborhood and wonderful location just a few blocks from the beach? OVER EIGHT AND A HALF MONTHS! It was definitely scaring people off just due to the issues it had going on, but we are SO EXCITED that it waited for us. We love her so much! Oh my gosh, the outdoor spaces, the gorgeous old trees! There is a whole lot to love.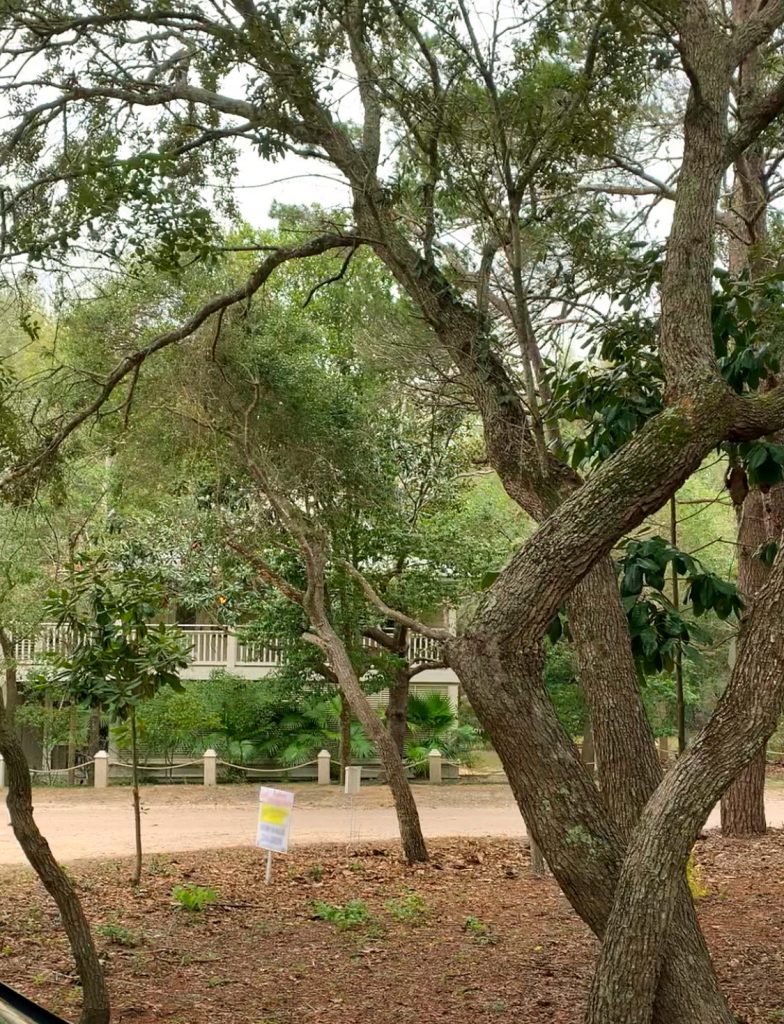 Do we wish we were there in person overseeing all of this reno? HECK YEAH. But we can live with a few more weeks of renovating from afar, because by the end of the first week of May, our house should be livable enough for us to move in and take over! Which is right when the packed Pod that we shipped from Richmond should arrive. Which means we're finally going to realize a huge goal that we've been working towards for months and months: just owning one smaller house – and getting to live in it! CUE THE EXCITED DOLPHIN SOUND EFFECT ONE MORE TIME FOR EMPHASIS.
And yes, we packed everything that we're moving into our new smaller house in ONE POD. We are thrilled. It was like a giant game of Tetris and John was great at figuring out how to get everything in (it took us FOUR DAYS but we did it!). Downsizing isn't easy, but man does it already feel worth it. You can hear more about how we chose what to keep and what to leave behind here in this podcast. This was our cheesy victory picture (shot by our girl, which was very sweet indeed).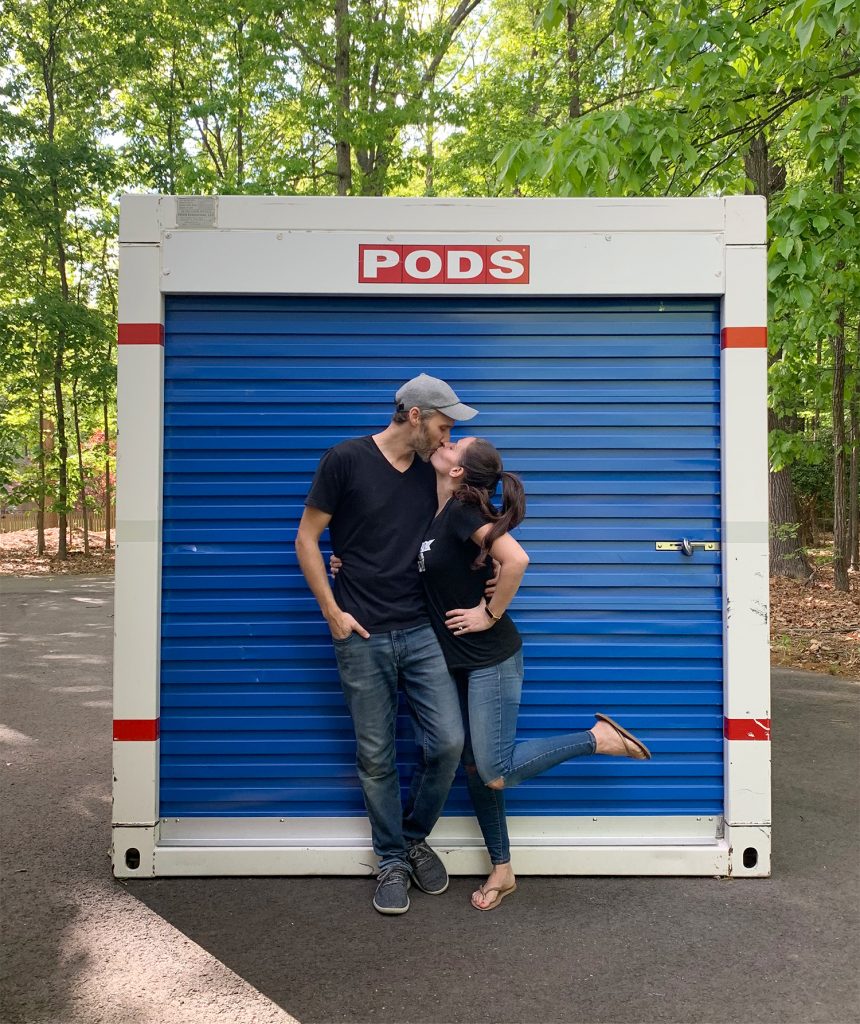 We're going to share a ton about the renovation process on this coming Monday's podcast, (there are TONS of projects that we're tackling after we move in – so this house won't be done soon by any means – it's a longterm project just like our Richmond house was). We'll also be covering the progress photos in future posts like we always do, so settle in for a ton of that stuff over the next few weeks (and months! and years!). But without further ado, the before tour…
Let's start with the view when you walked in the front door. Yes, that's a hole in the floor running along the bottom of this pic (water damage was a theme in this house when we toured it):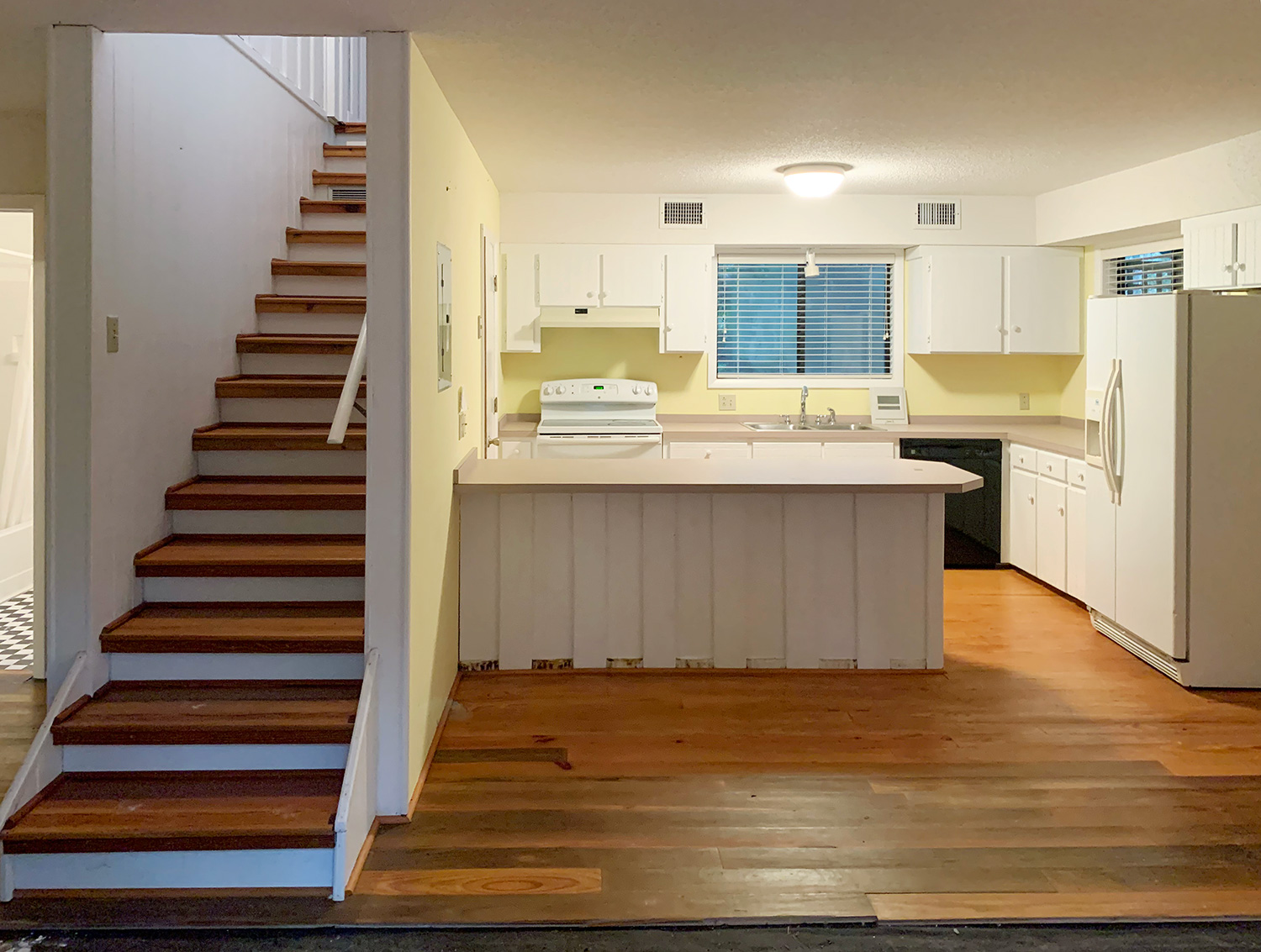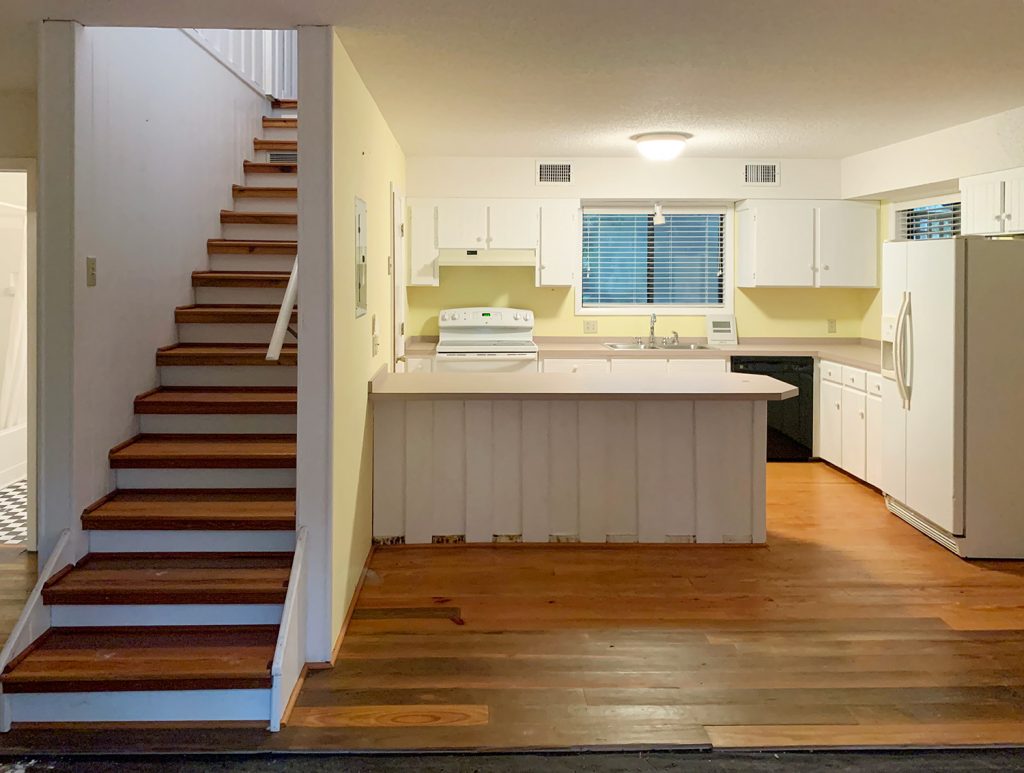 This is the main living area on the first floor, and it'll be a kitchen and dining zone along with a little hangout seating area. If you can get past the soffit situation and the mauve counters, that centered window over the sink is nice. You can read more on the style ideas that we have for the house & how we plan to use some of the spaces here in this post.
Update #1: This space won't just be for cooking & eating – it's a good-sized room, so there's space for a dining table and a little casual seating area for playing a game, doing a puzzle, reading while someone's cooking, etc. Picture it as a flexible living area for cooking, eating, and hanging out downstairs. It just won't have a TV (that's going somewhere else). This room is MUCH bigger than it looks (like 25′ deep!).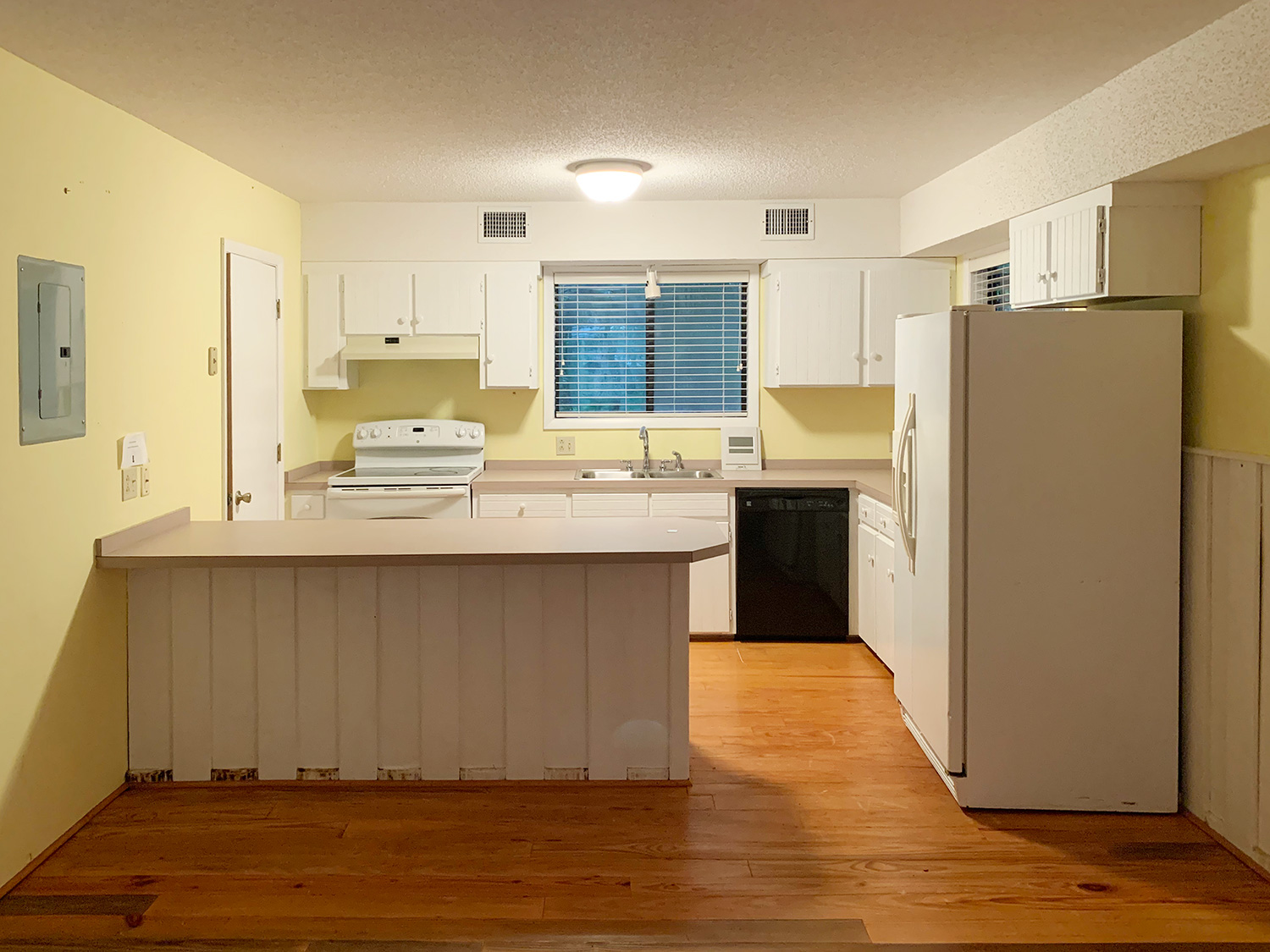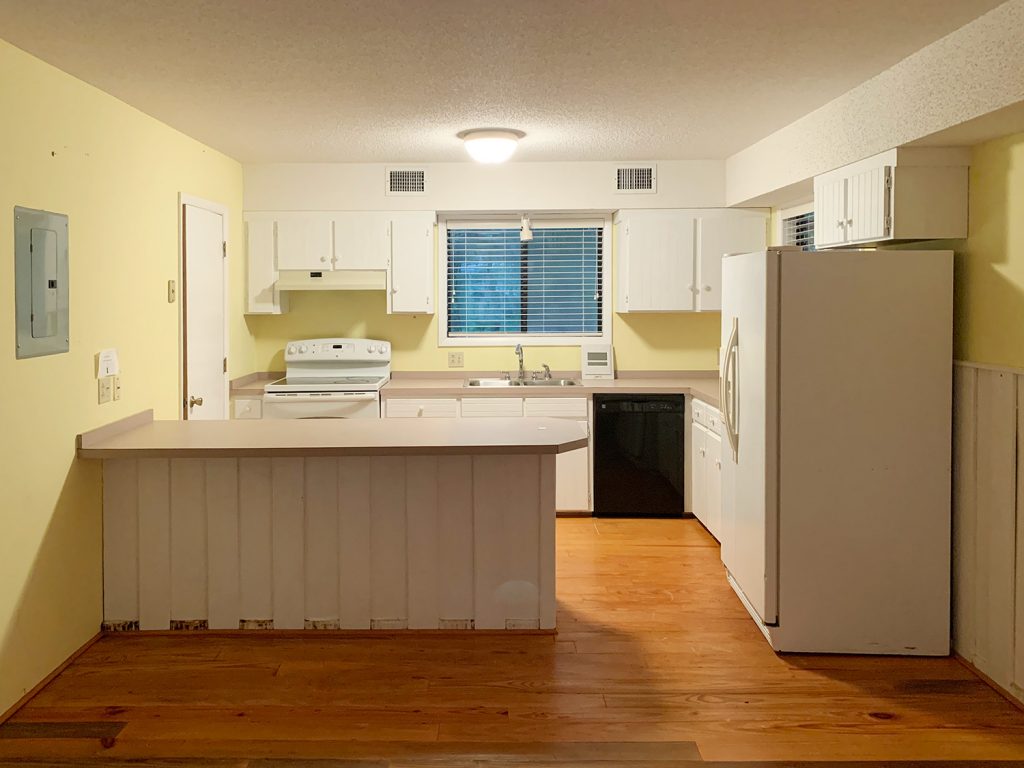 Update #2: Lots of questions about that door on the left – it's just a closet that houses the water heater & HVAC (there's some room for storing things like a broom or vacuum).
This is what you see when you stand with your back to that kitchen window and turn so you're facing the front door. We actually love the cool old wall paneling around the house – it adds so much charm and character to us. And we were especially charmed by ALL THE BIG GLASS DOORS that overlook the lovely wooded lot where this house sits (feel free to keep count as you go through this tour, because there are TWELVE of those big glass doors in total!). And this house only has six rooms!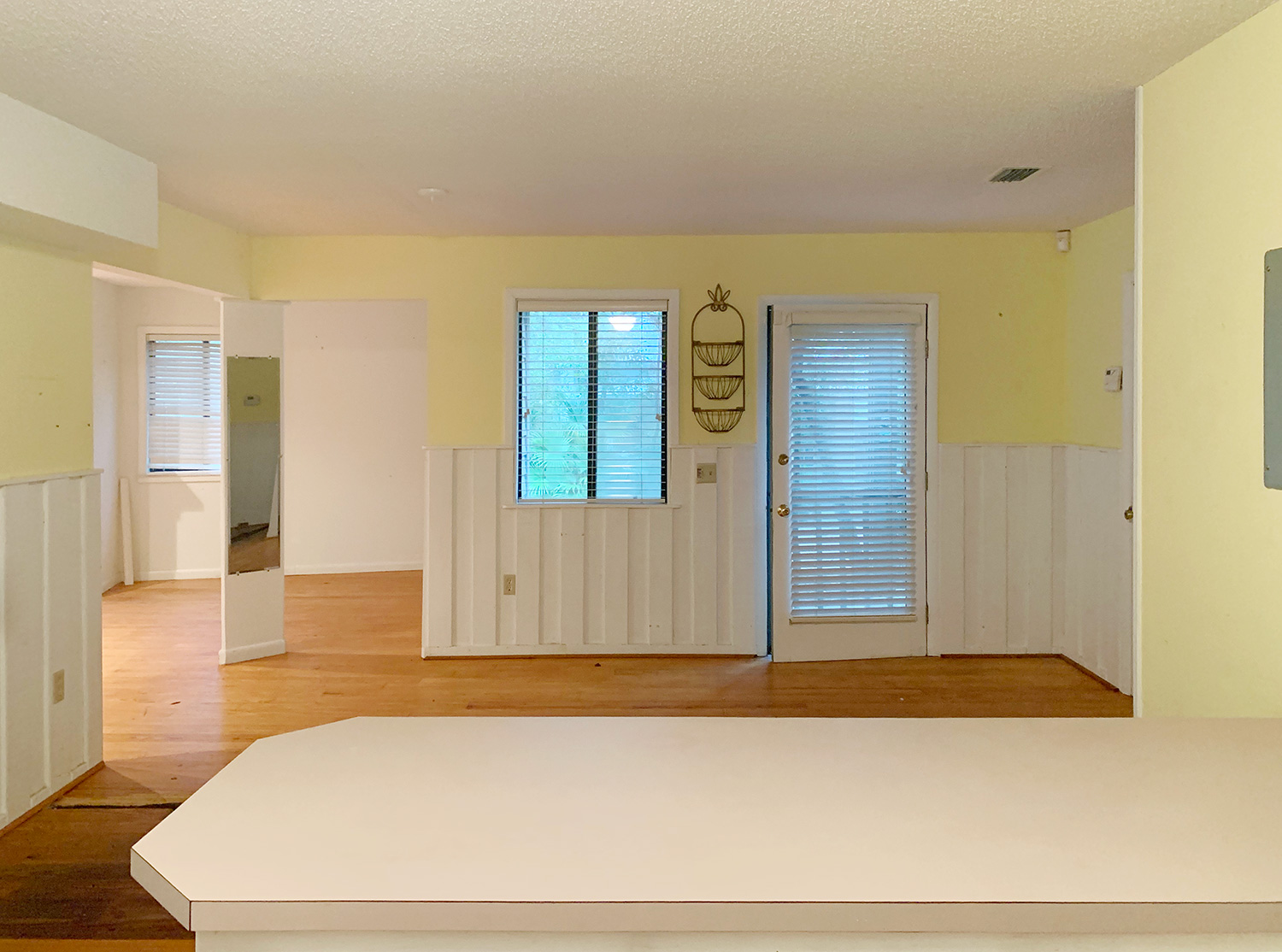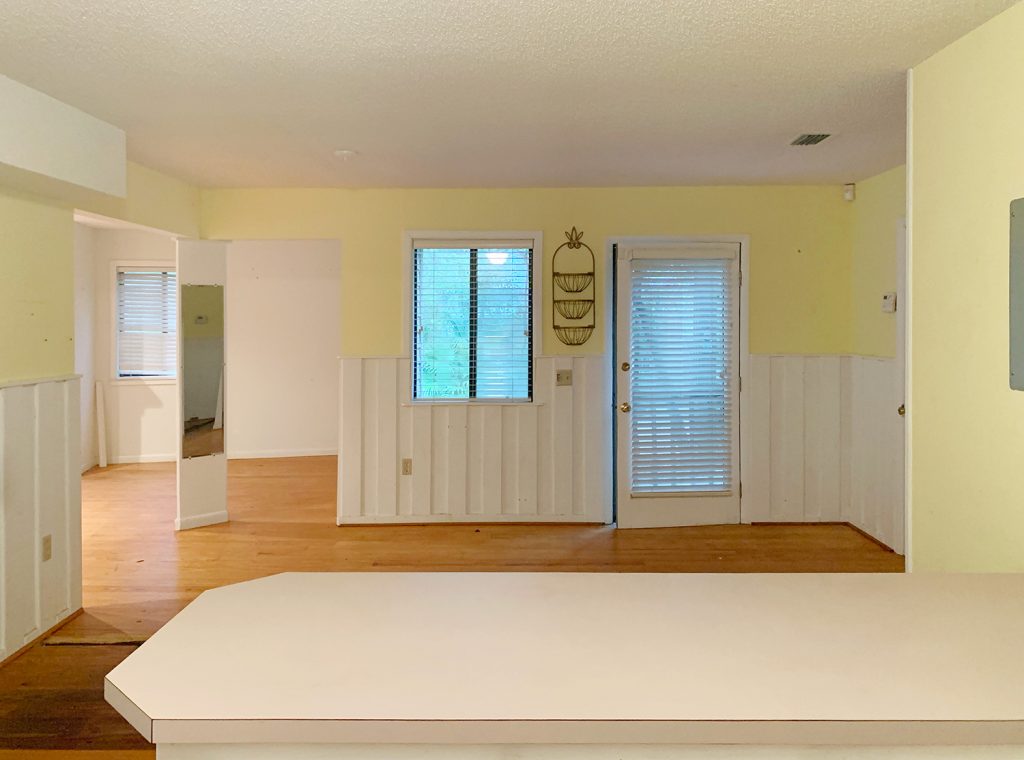 It was a rainy gloomy day when we first laid eyes on this house, but even in the rain this house felt like it was glowing with all the windows & doors letting in natural light and looking out on the magnolias and old oaks outside. Quick side note about the rain: I think it has rained the first time we've seen every single house we've ever bought – so when we woke up for showings in Florida that fateful morning and it was raining John was like "we're gonna buy a house today, aren't we?!" And the rest is history!
If you walk around that peninsula you saw in the photo above (not sure why it looks cream in that pic, it's really mauve), and turn to the left, that's a formal living room that we realized pretty immediately should be our bedroom (there's a huge living room upstairs that we'll show you in a second, so we definitely don't need two).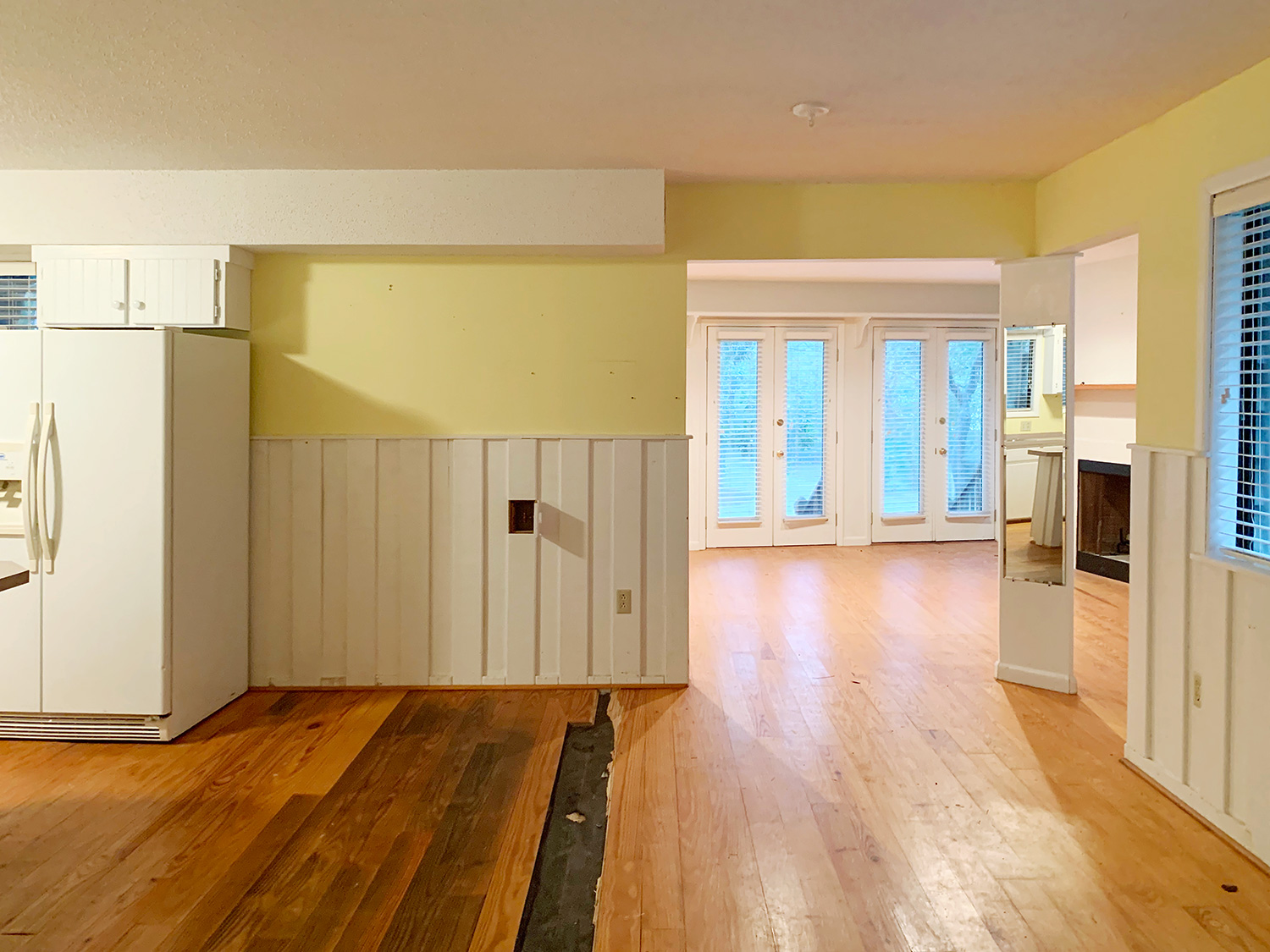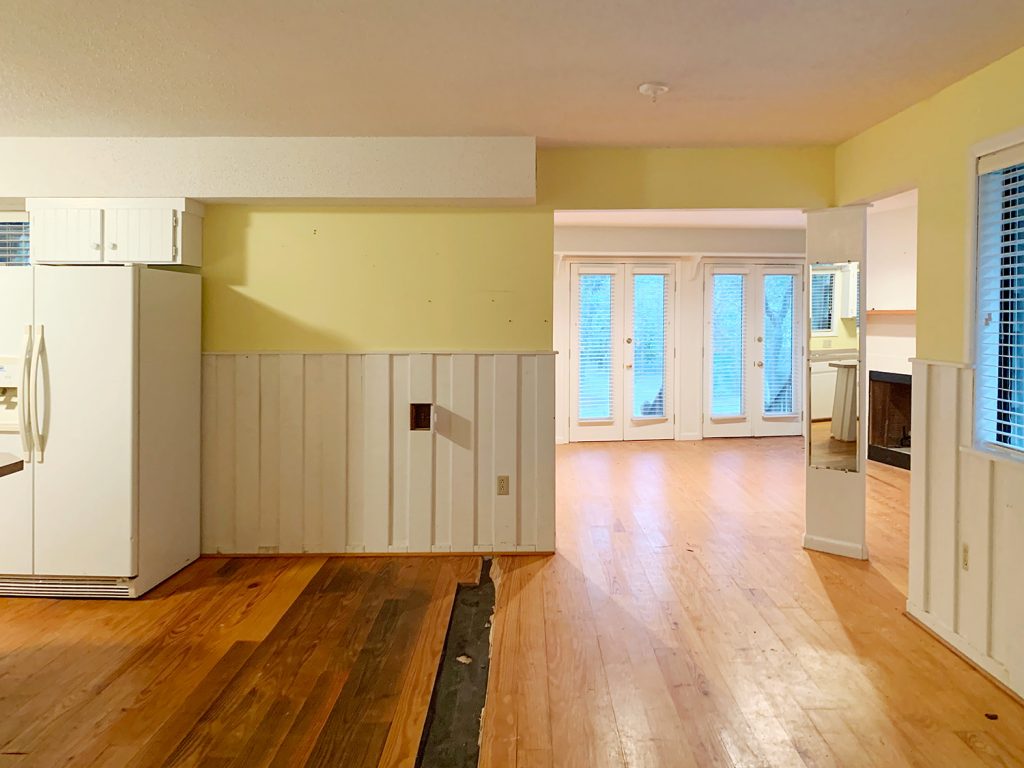 There are six more beautiful glass doors in there, and we realized if we closed off that wider opening that you see in the photo above (and removed that weird triangle post with the mirror on it), we could make that a wall for our bed and we could wake up to those six beautiful glass doors every morning! NOW DO YOU SEE WHY I AM SO SCREAMY AND EXCITED?!
This is from within the bedroom, with your back to the six big french doors, looking back at the kitchen. Once that wider doorway in the wall is drywalled, you won't be able to see into the kitchen anymore (that's where our bed's headboard and night stands will rest), and the smaller doorway on the left side will be the entry into our bedroom.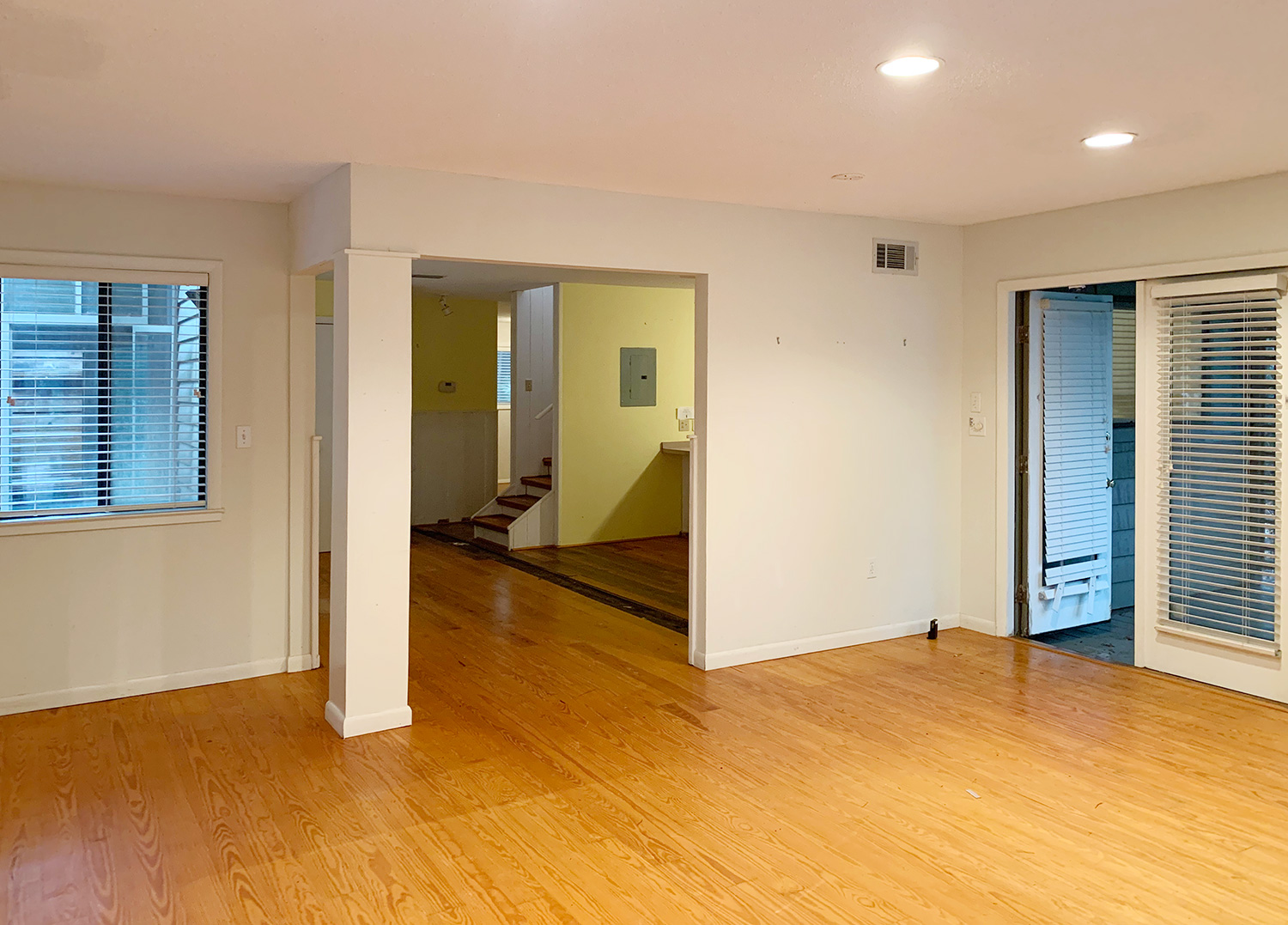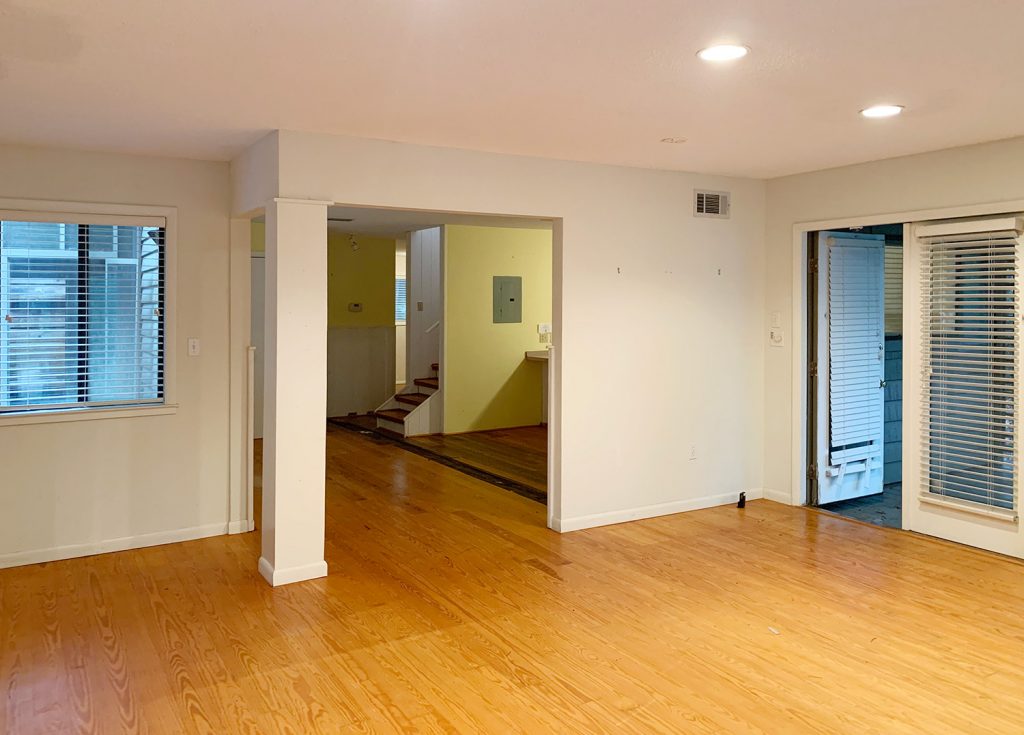 This view. Every morning. Yes please. Picture it with bamboo privacy shades that we can lower to sleep, but every morning we can throw them open. Maybe with some breezy white curtains to soften things too? And buh-bye to the weird ledges over the doors. This wall is going to be so so beautiful, I just can't wait to wake up to those green trees outside. We actually have plans to make a little private patio area out there for us to enjoy (more on that plan here in our inspo post from last week).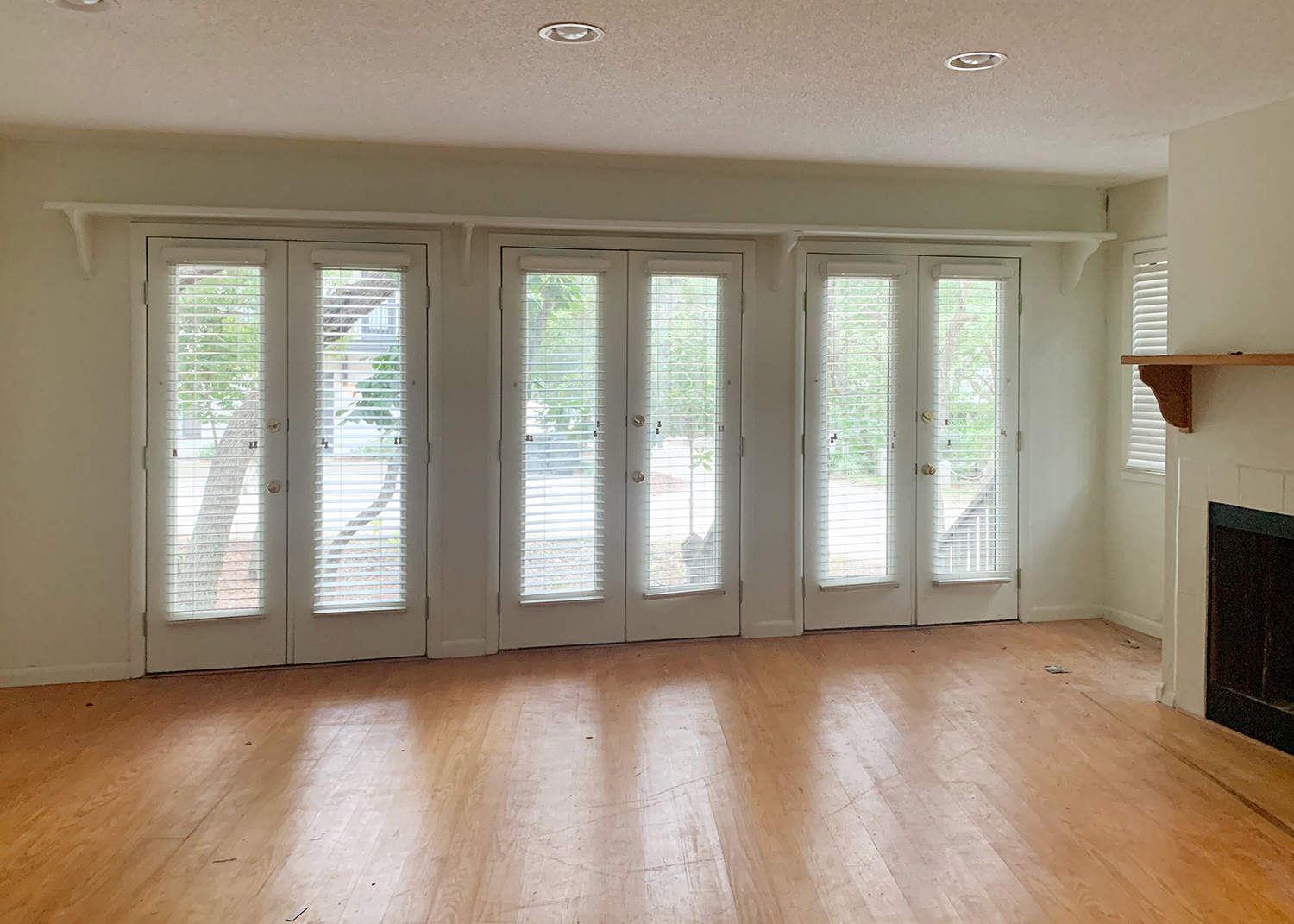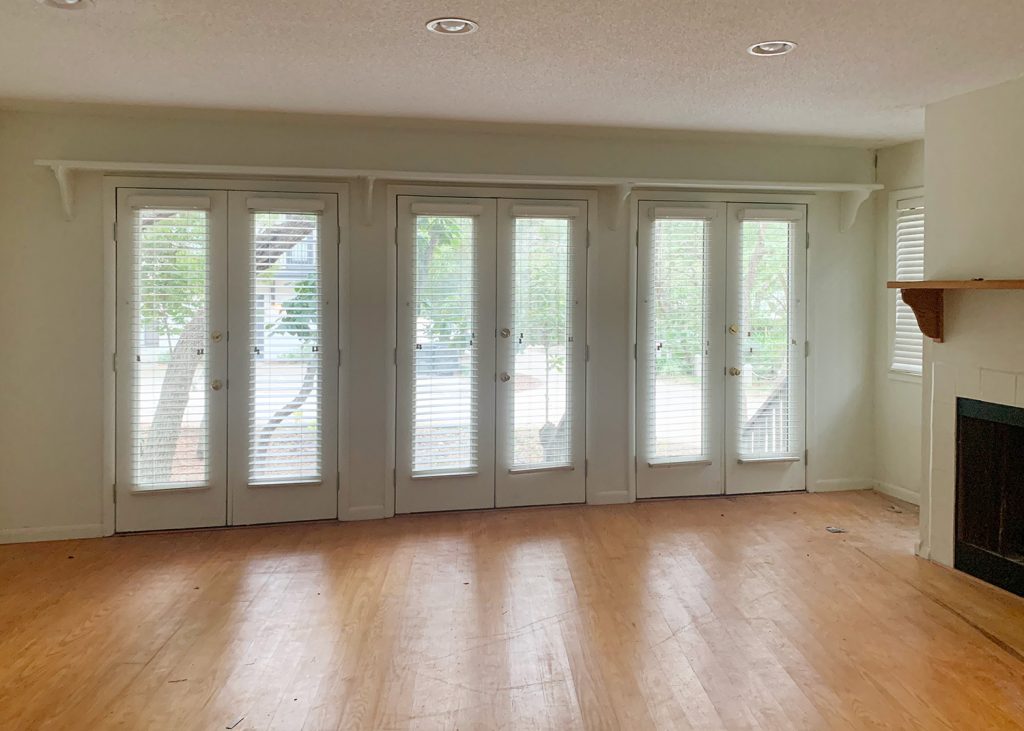 You guys. This is our tree! Right outside of those six bedrooms doors! There are a bunch like this on our special little lot. They had me at hello (*sob*). They had me at hello.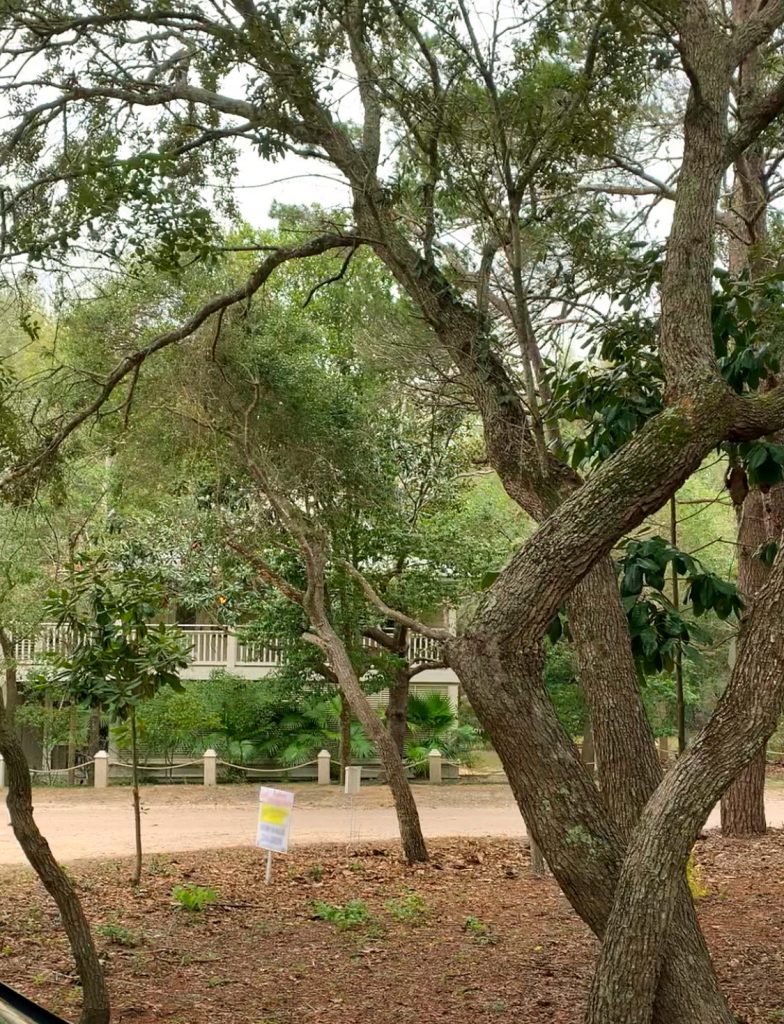 Ok, so if you walk all the way into the bedroom and spin around there's this cute fireplace wall that we have big plans for. I can't wait to snuggle my kids in bed on a lazy Saturday morning and look out the windows with the fire going. Yes, I'm capable of living in a hot climate and enjoying a fire from Nov-Feb or so. It's just who I am.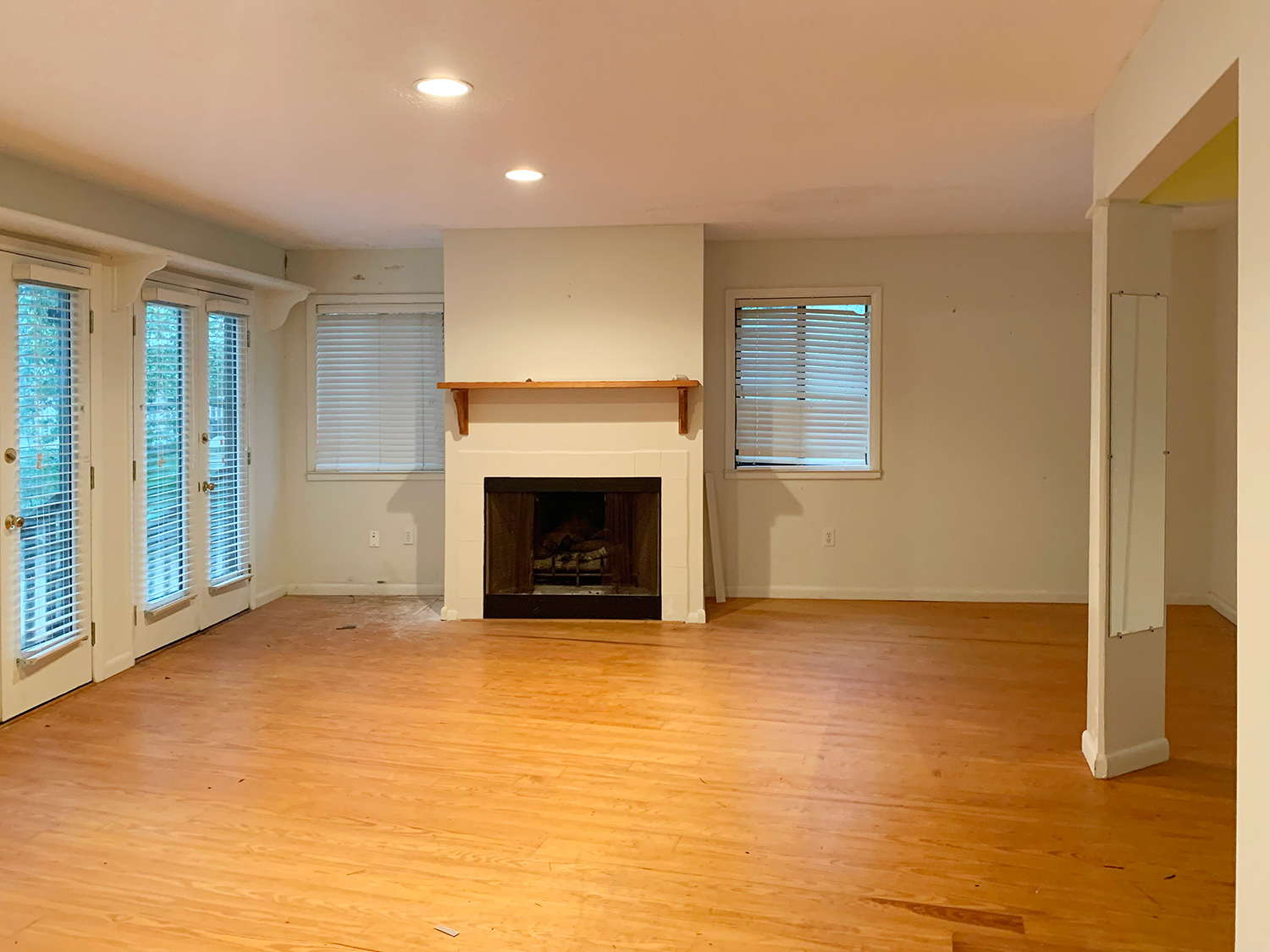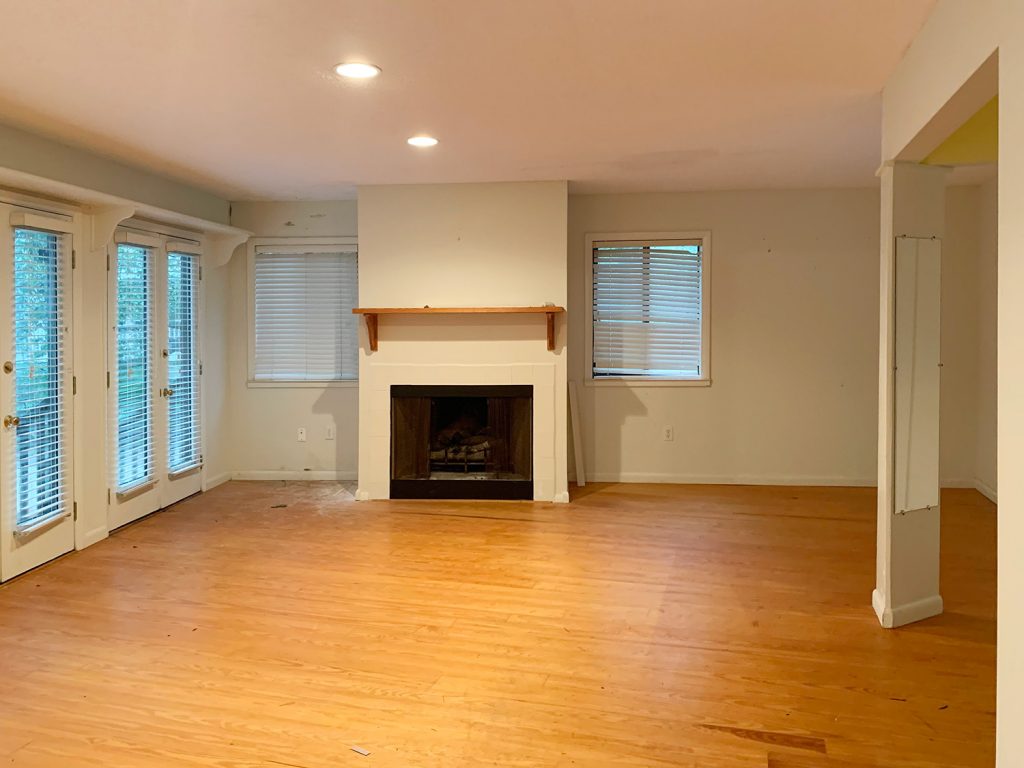 It'll likely be an electric or gas insert – but we won't figure out the details until we're living there and have some time to weigh a few options.
You've seen this view before, but now I have to draw your attention to the TWO MORE BIG GLASS DOORS on the right side of the picture. Yes, there are EIGHT OF THEM IN THE ROOM.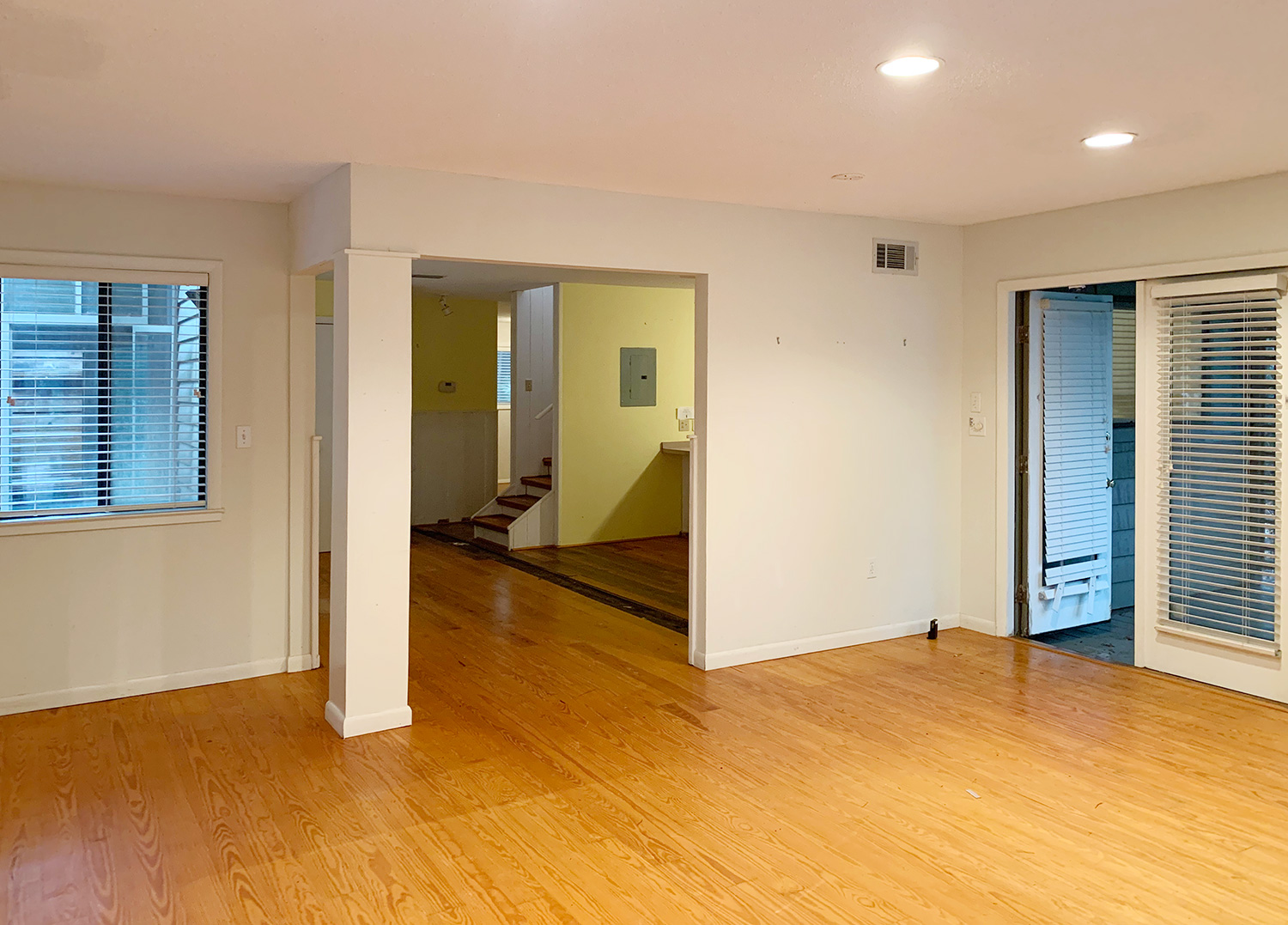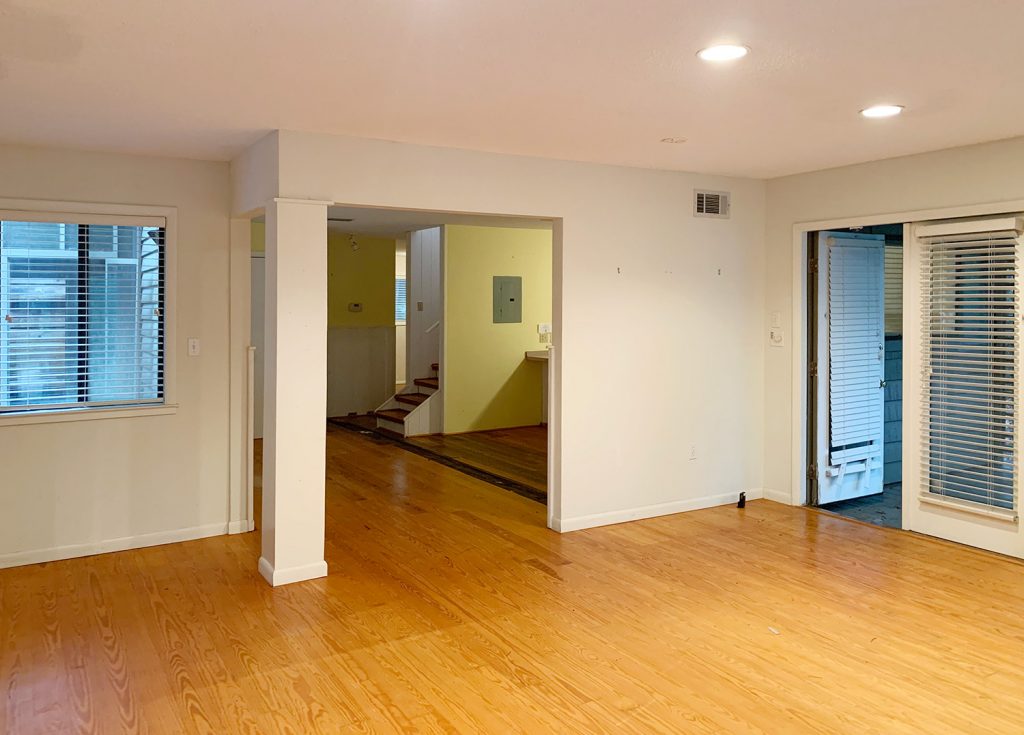 They currently lead out to a little side deck, but it's about 10 x 10′ which is perfect for an attached bathroom & closet. We almost didn't look at this house because it was listed as having fewer bedrooms than we needed as well as just one bathroom (two is our magic number) but seeing this little side porch made that angels singing sound effect ring in my ears! It's perfect! So that's something we'll be working on adding after we move in. Until then – we'll all share the hall bathroom that you'll see in a bit.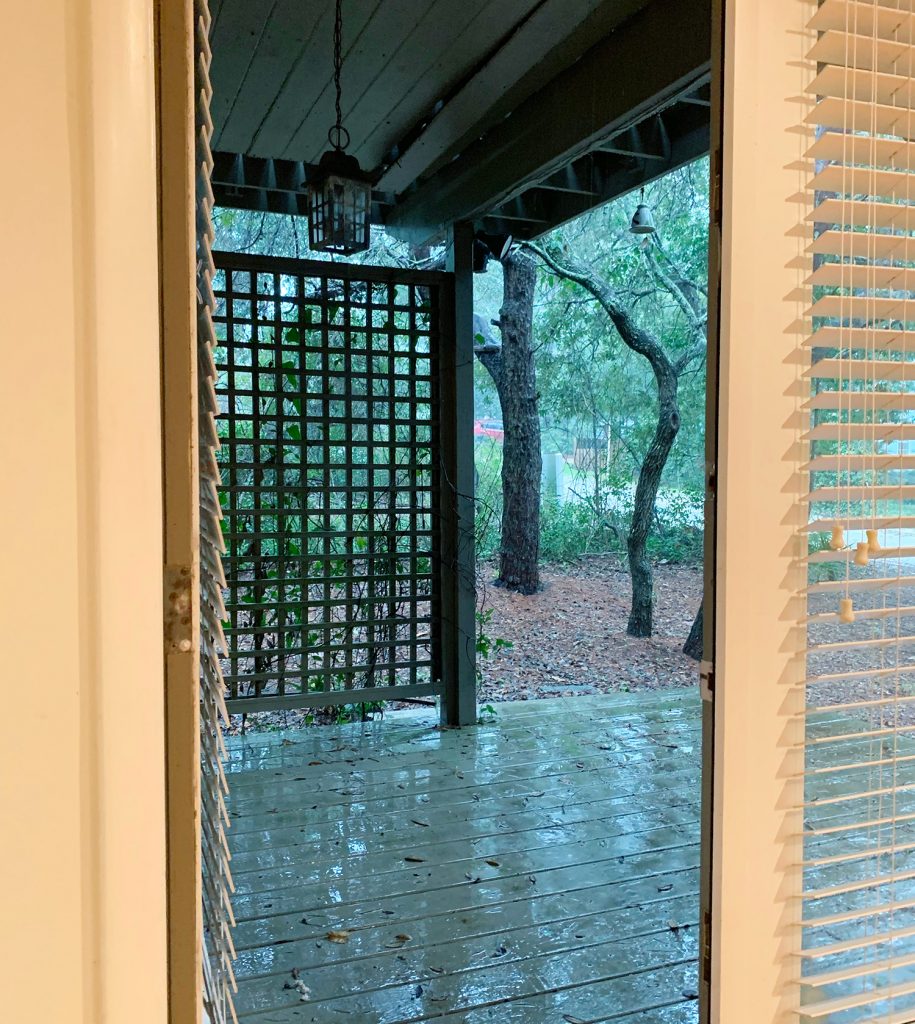 ALSO THOSE TREES. They're all around us. So so beautiful. And zero turf to mow. We gave our mower to John's dad! It was a big moment for us. Buh-bye grass! (*waves enthusiastically*).
Ok, so if you walk out of our future bedroom you'll find yourself back in the kitchen/dining space, and you can better see how the other side of the house is laid out from this vantage point. That missing flooring spot is easier to make out here too.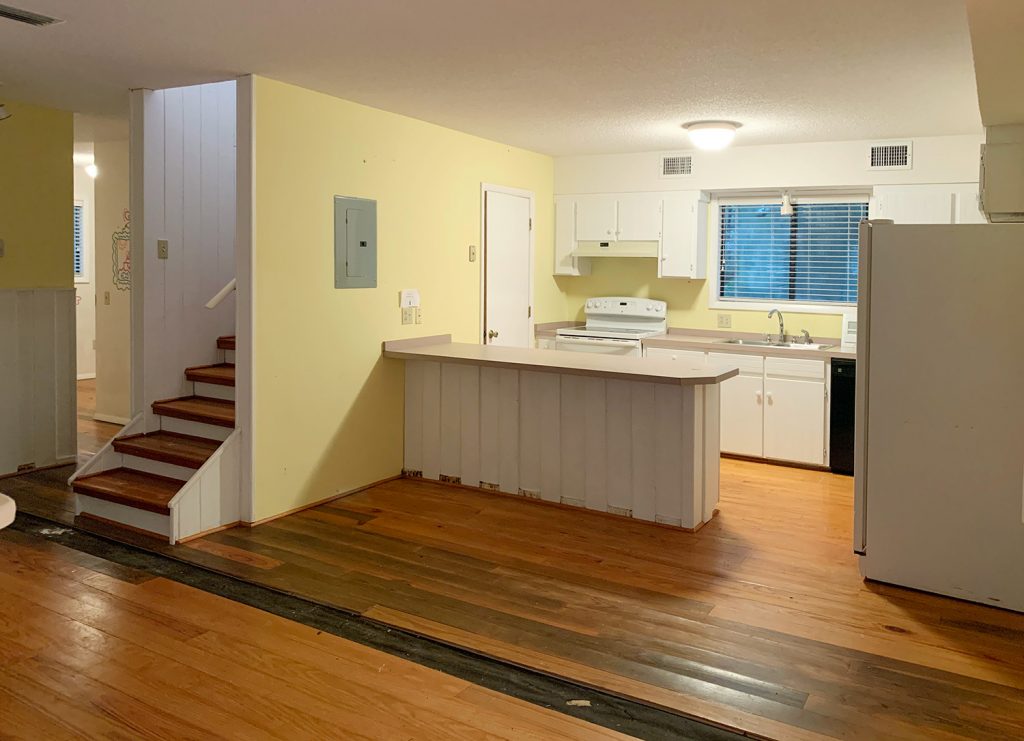 Oh and this closet is an odd duck. It's super deep and leads right into the only actual bedroom this house had when we toured it. Yes, one room had a door that closed and was private enough to be called a proper bedroom (the other two rooms we'll be making into bedrooms had no doors and extra-wide openings or fully exposed sides). And the one room that had a door and could be called a proper bedroom had a closet that led out to the kitchen/dining room like a secret passageway. Very very strange.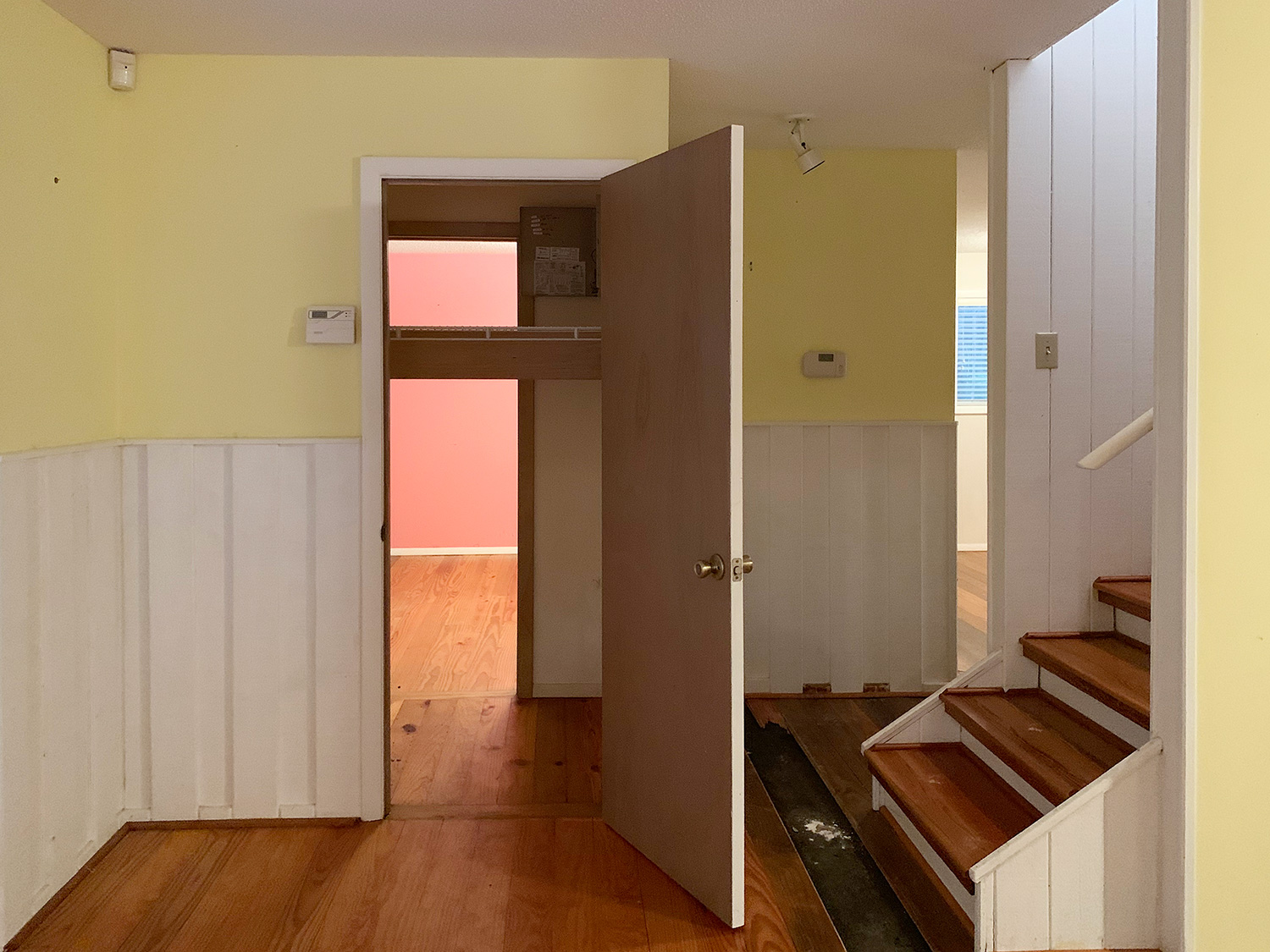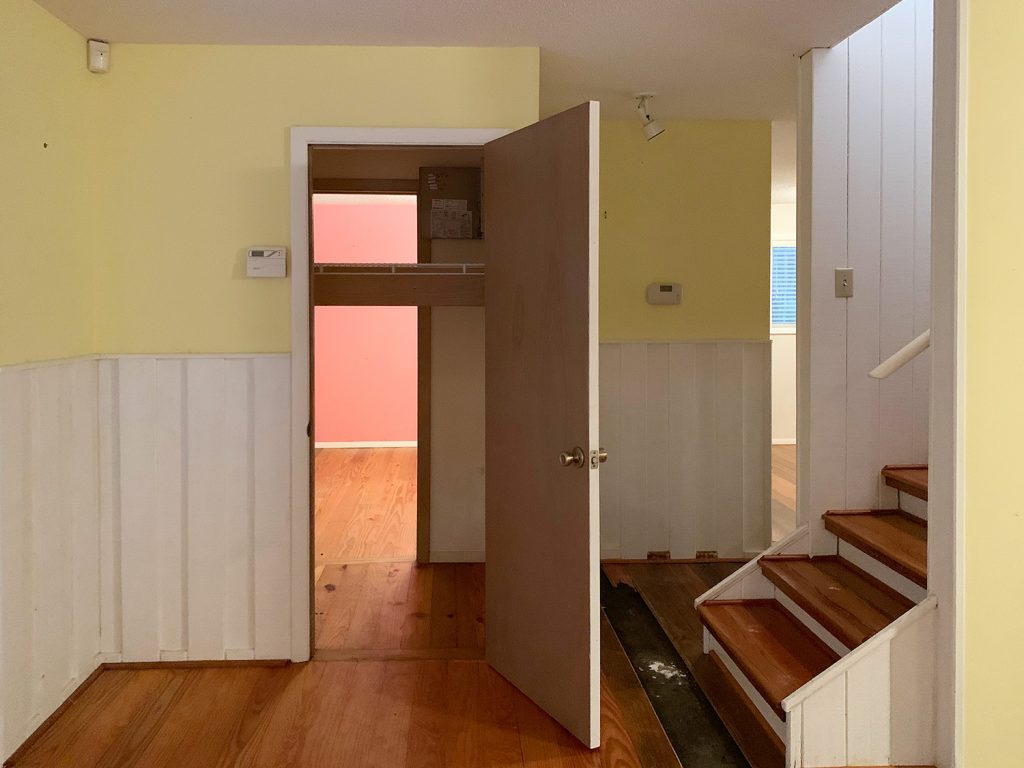 But that closet solves a huge problem for us that we'll talk about more in our floor plan post! Stay tuned! I need to stay on task with this before tour.
Here's a similar shot that was taken after the reno was in full swing. If you've listened to this podcast episode a few weeks ago you've heard how we learned there was more extensive water damage than we initially thought and we not only had to repair some floor holes but also had to remove alllllll the drywall on the first floor and redo it because it was in such bad shape. But it wasn't all bad news – when they took down the old crumbling drywall they discovered a leak in the bathroom that would have been a major headache for us if we had moved in and then discovered it. Blessing in disguise. At least that's what we're calling it!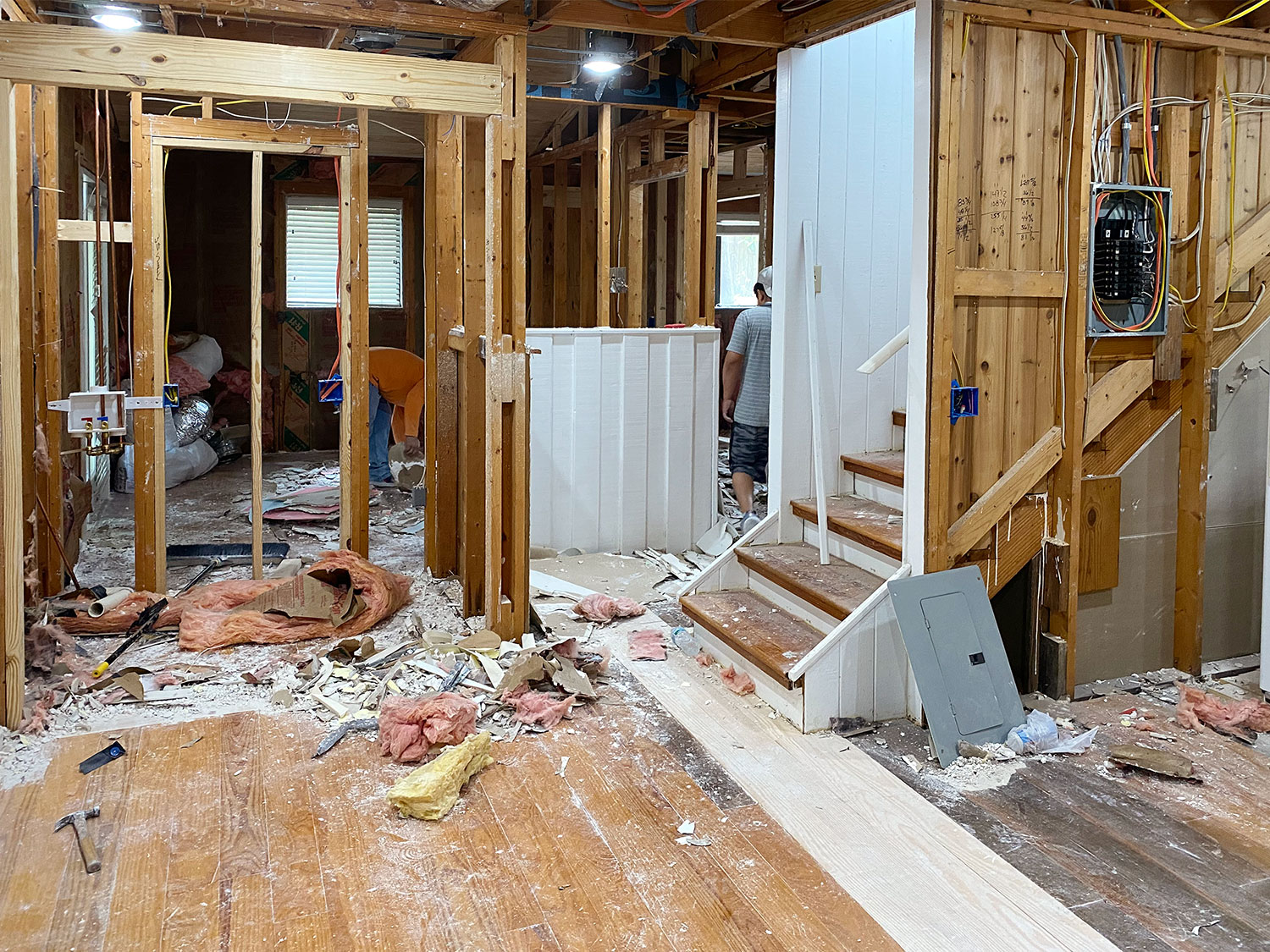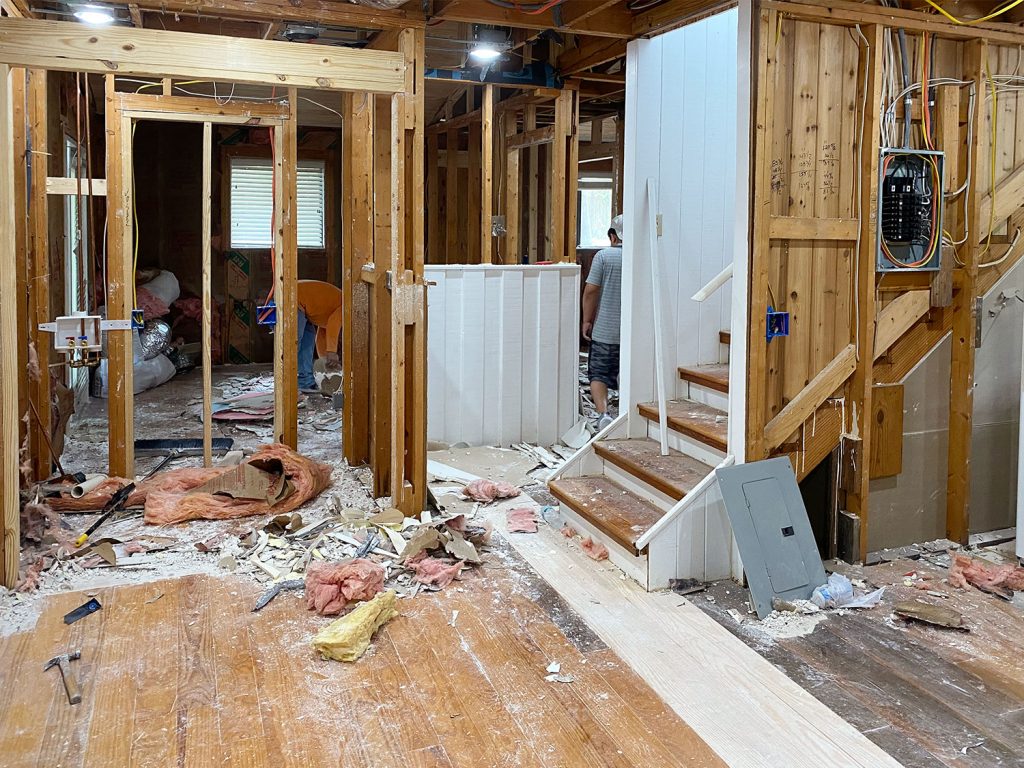 If you walked down that hallway above (towards more of that cute original wall trim) and turned to the right you would have seen this linen closet and this access to the aforementioned bathroom that we didn't know secretly had a big leak going on behind those walls.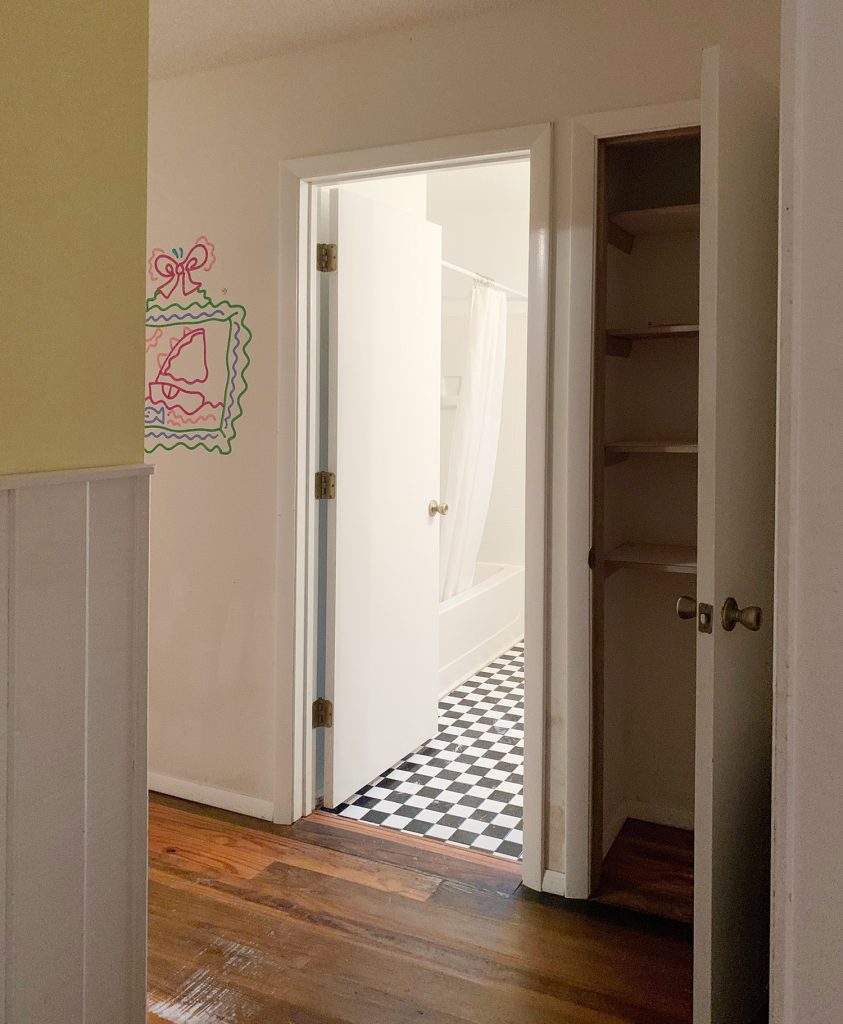 Here's the only bathroom the house currently has, although it wasn't functional at all. The water was turned off to the entire house when we bought it, because…. water damage everywhere… but when you walked in a few more steps beyond the POV in this picture…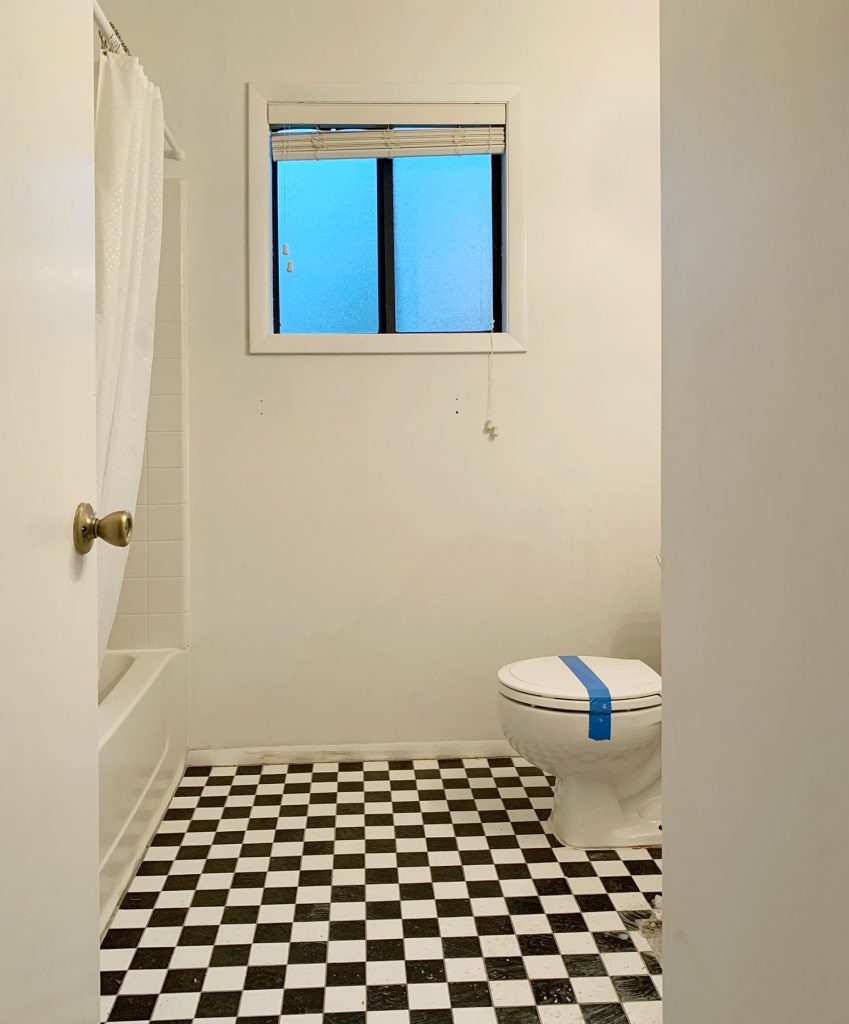 … it became clear that the entire vanity had been removed. Yup, more water issues. Also the sink that had been ripped out of this vanity was placed in the tub. How's that for house staging?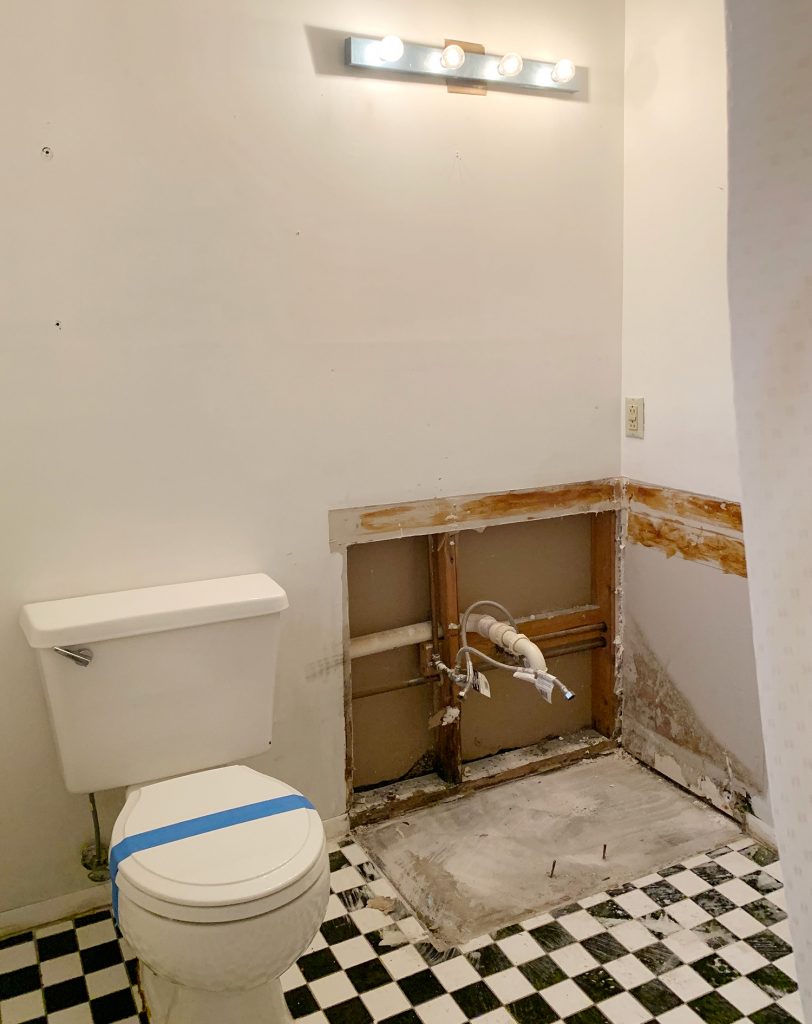 This is the only real bedroom the house came with, and it'll be our daughter's room. And the formerly standard 8′ ceiling in here has been vaulted and planked since this photo was taken! OH MAN IT CHANGES EVERYTHING! Can't wait to share the progress photos soon!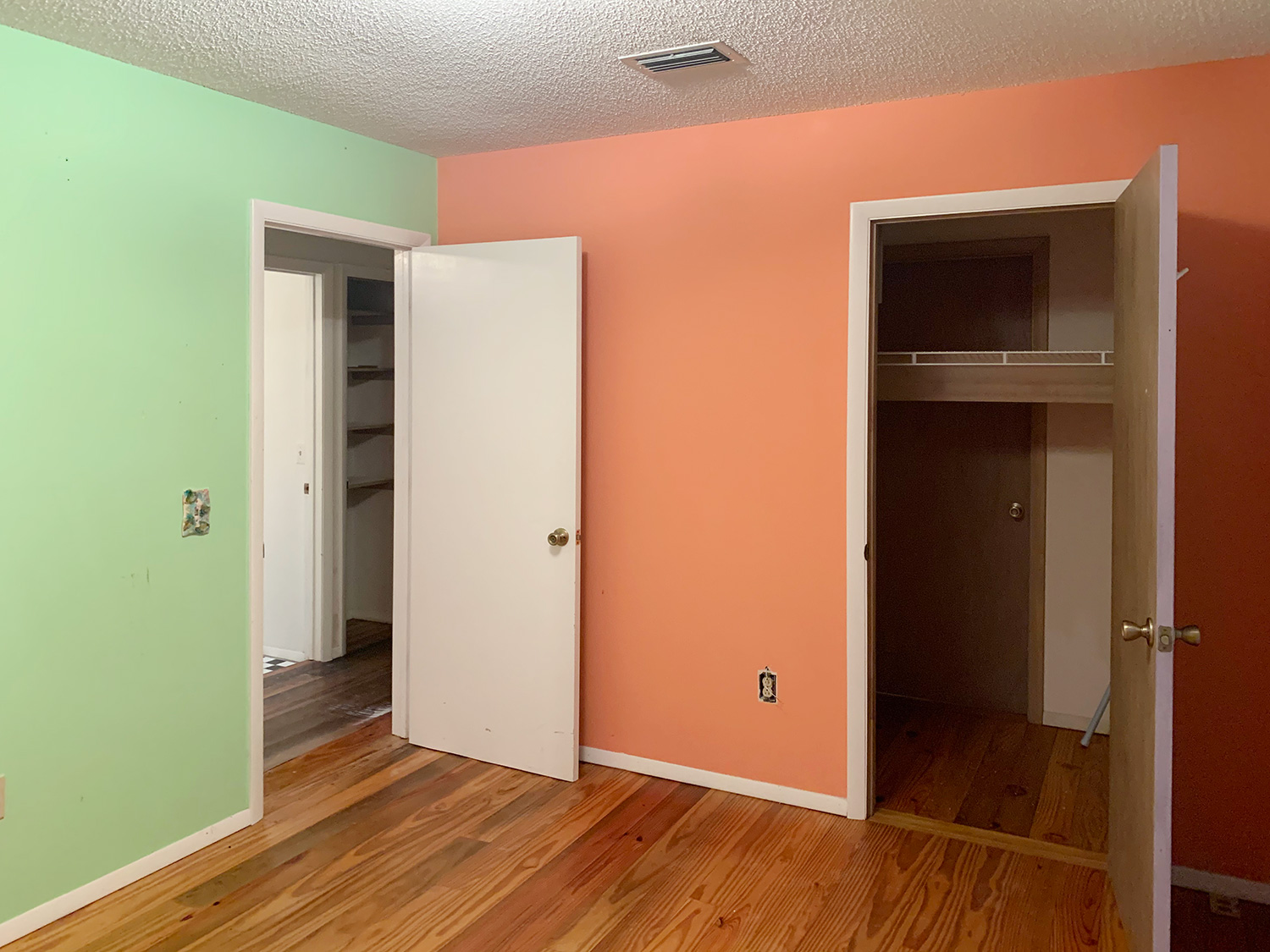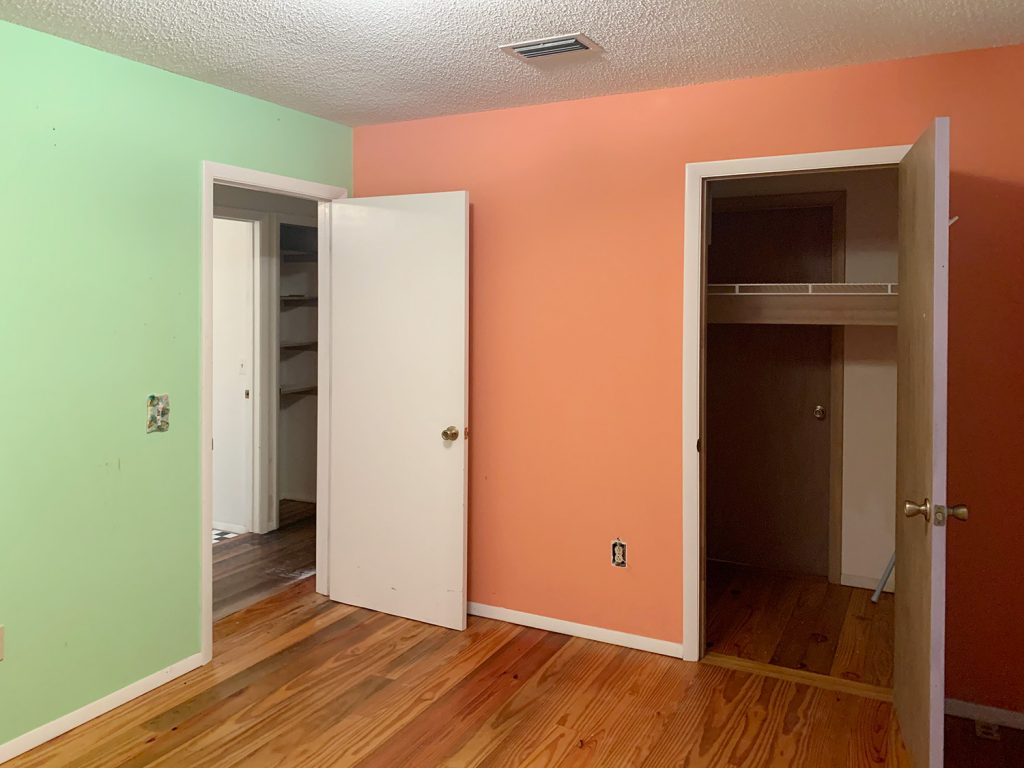 Also if you're still counting those big glass doors, she has two in her room that lead out to a sweet little side porch. It makes more sense to access that space from the front door – where it's also attached – so we might eventually change these out for a big picture window, or just keep them locked all the time and enjoy the light that streams in. And yes, if you're counting there are three different wall colors in here: light blue, pink, and green.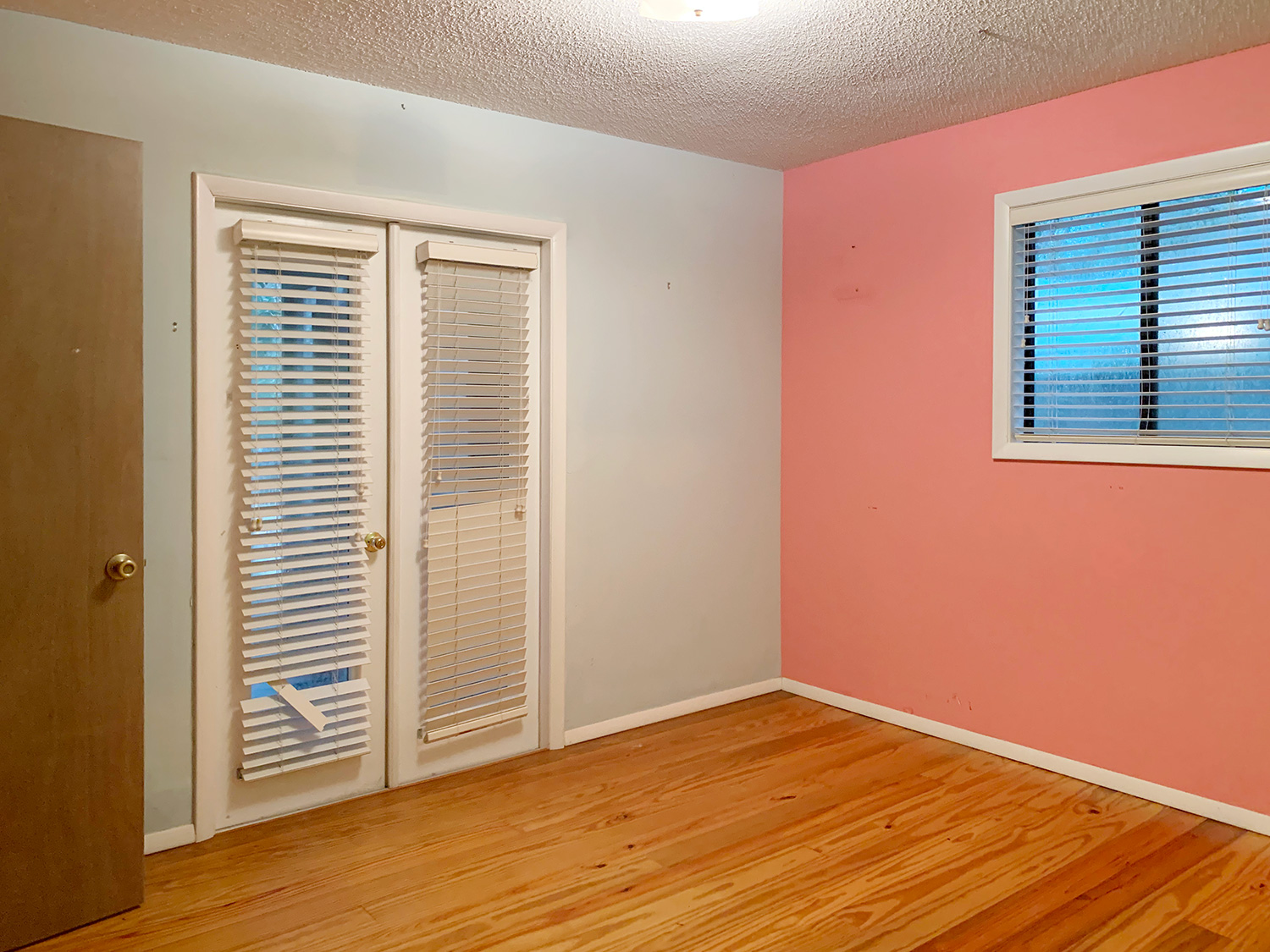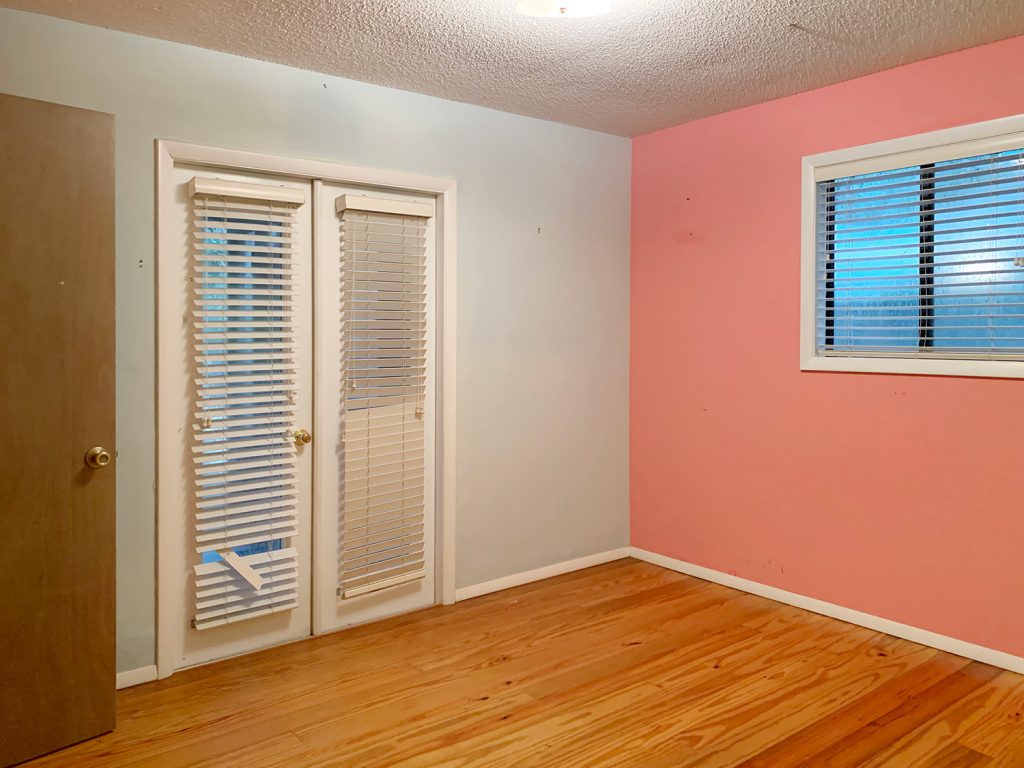 Next to the bathroom is what used to be a large laundry room, and that's going to be our son's room. We also vaulted and planked the ceiling in there and it's equally crazy how much that does for this room! Seriously cannot wait to show you more! But first we have to talk about these little drawings on the wall.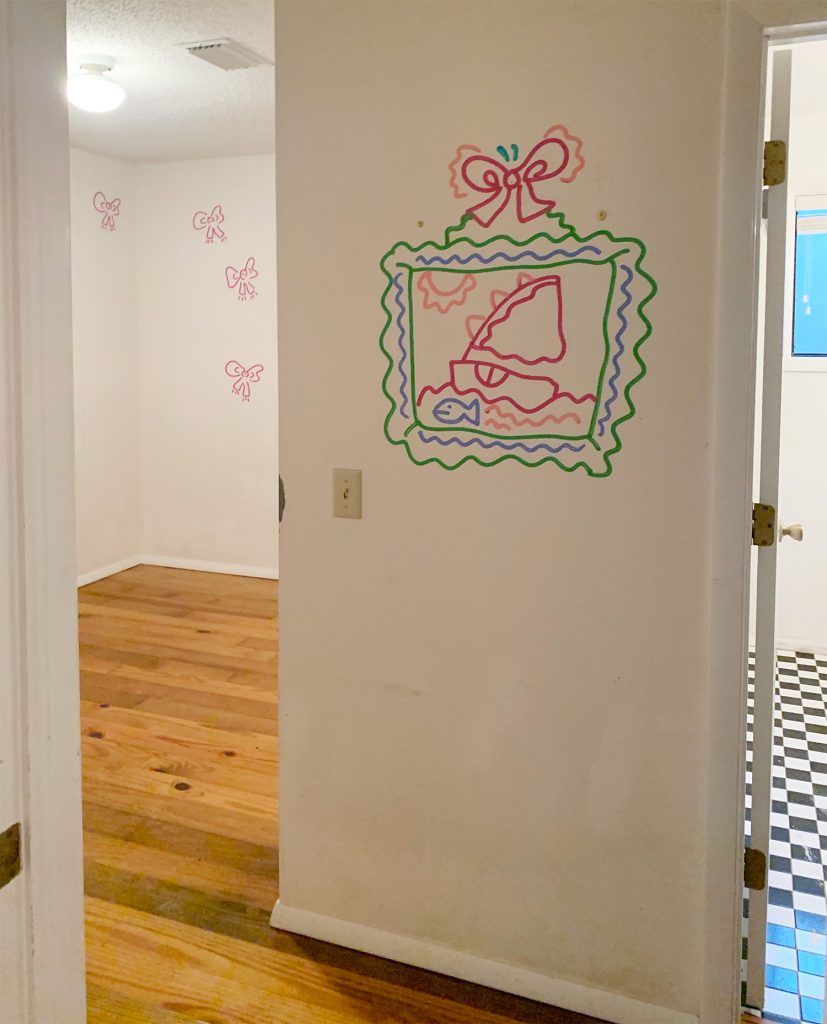 I was dying to know more about them and then the seller's agent told our buyer's agent that a famous local artist actually lived here decades ago! And she drew them! ISN'T THAT COOL!?!? Her name is Nancy Swan Drew and we can't wait to learn even more about her when we're locals there! We took some really good high res images of them so we can print them out & frame them (since the drywall was too water damaged to stay) but I think it's just such a cool history for this little house!
Here's a better shot of the full room, although I literally can't wait to show you the difference that vaulting the ceiling made. You can read more about the different bed/storage systems we're debating to make this little room mighty and full of function in this post.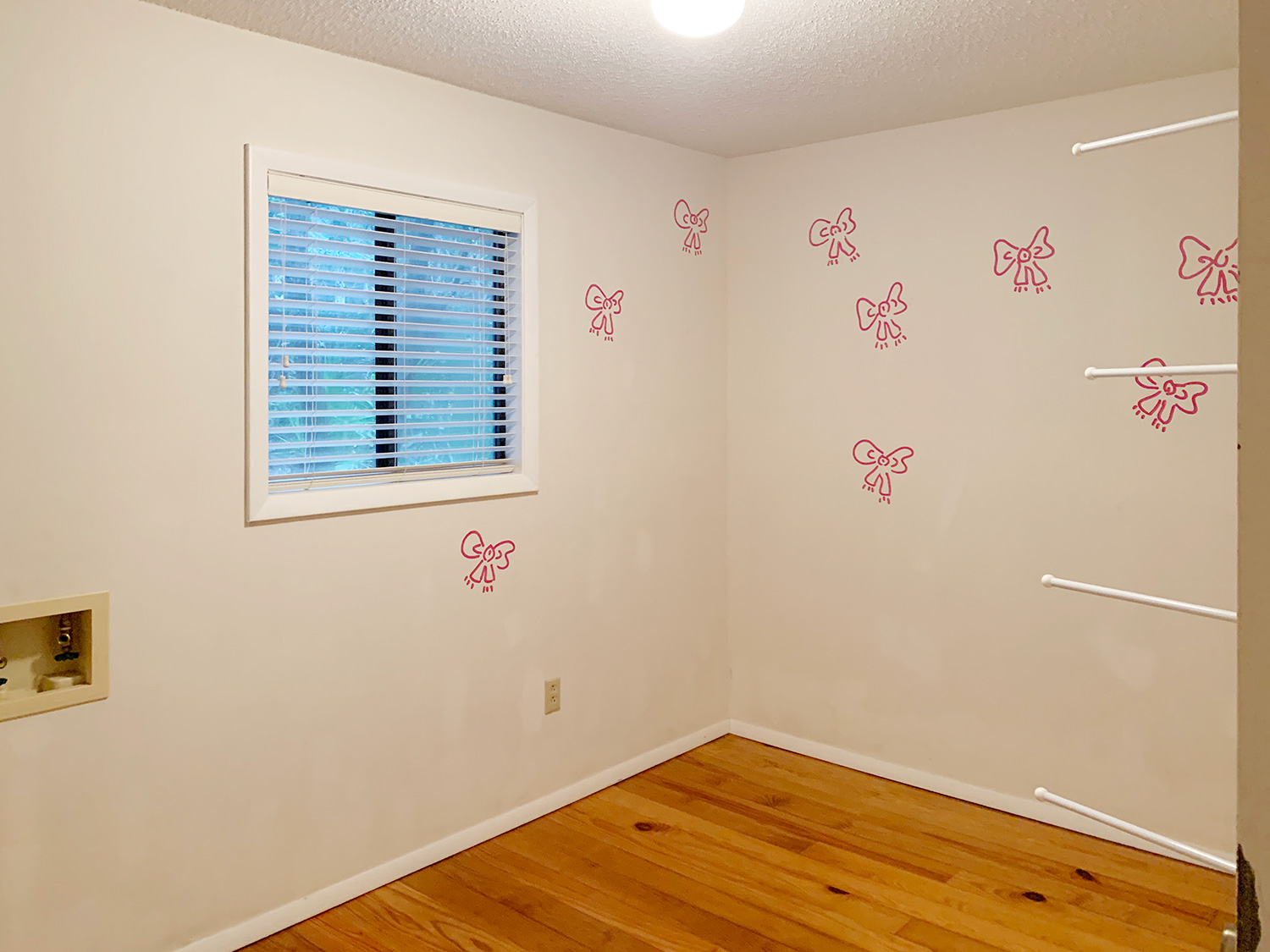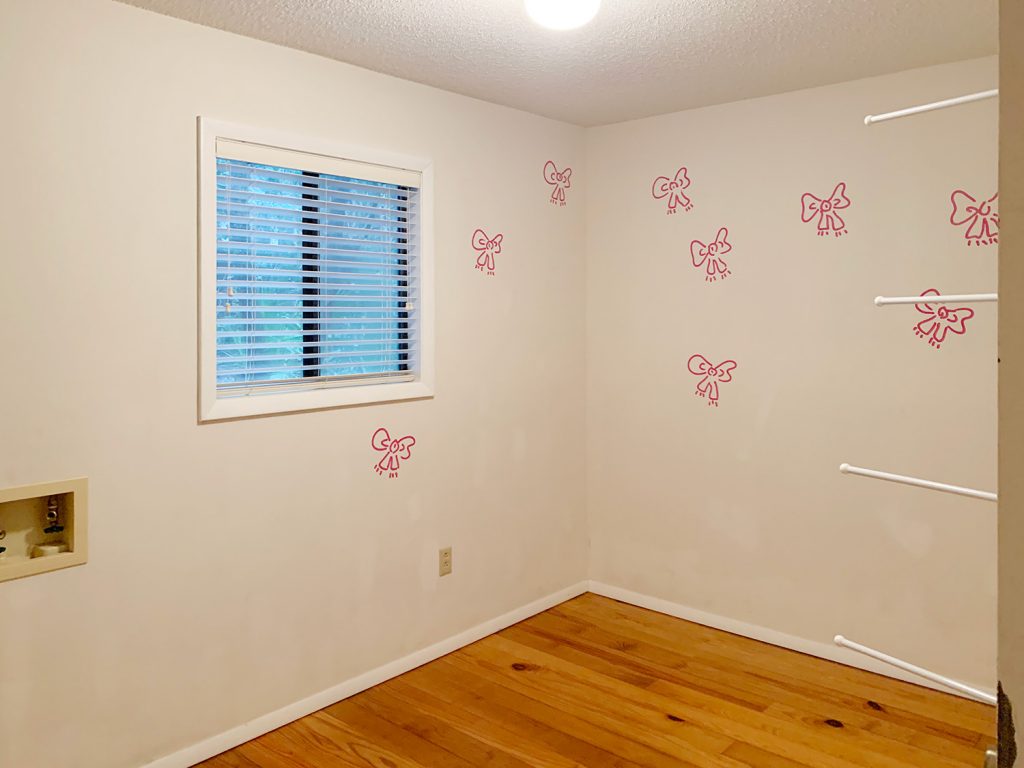 Update #3: Getting lots of questions where the new laundry will be – we'll share all about that in a floor planning post soon – just waiting for a few more progress pics that'll make a lot more sense than the old before shots we have now.
Now let's go upstairs so I can show you that huge light-filled living space…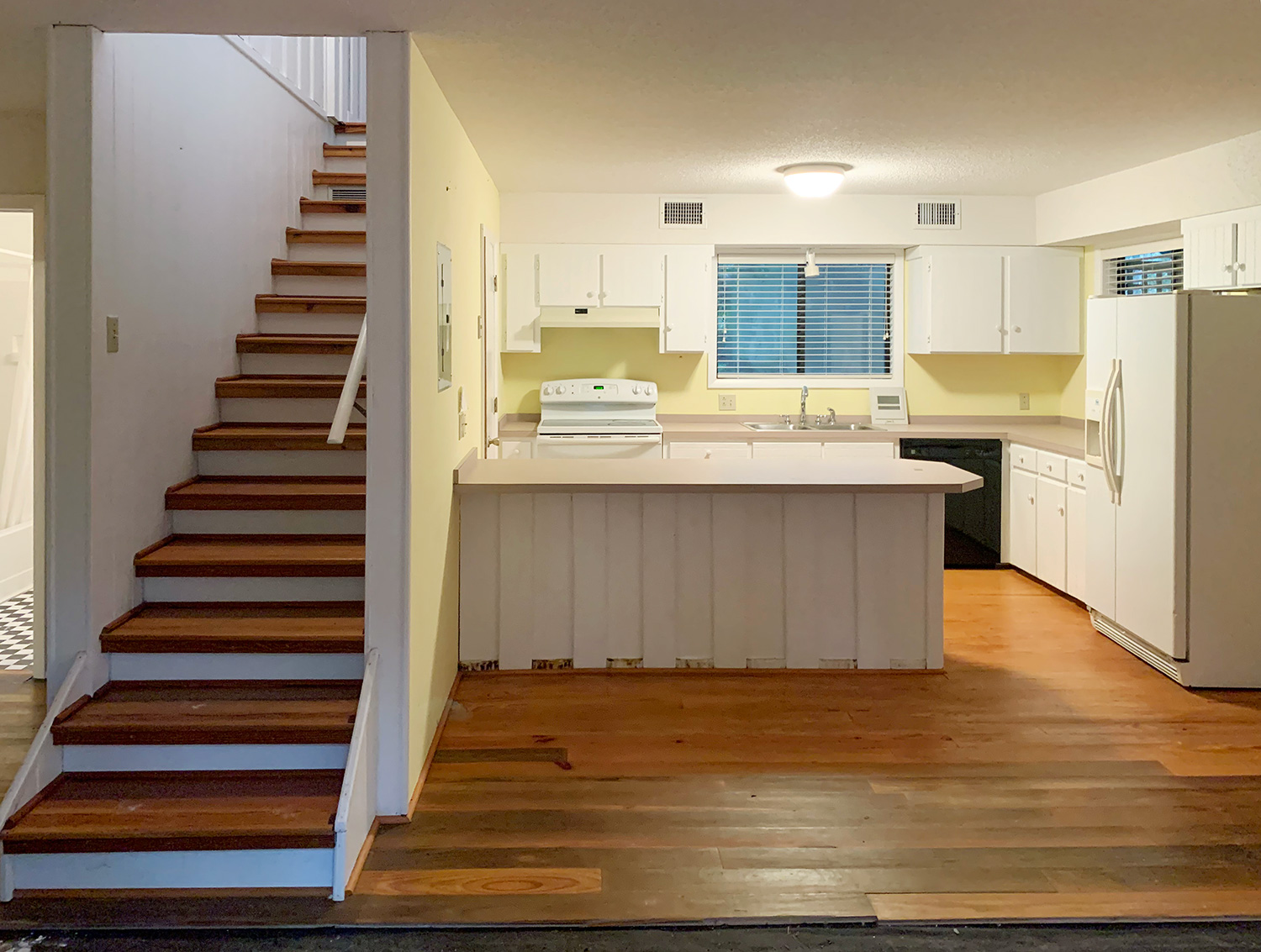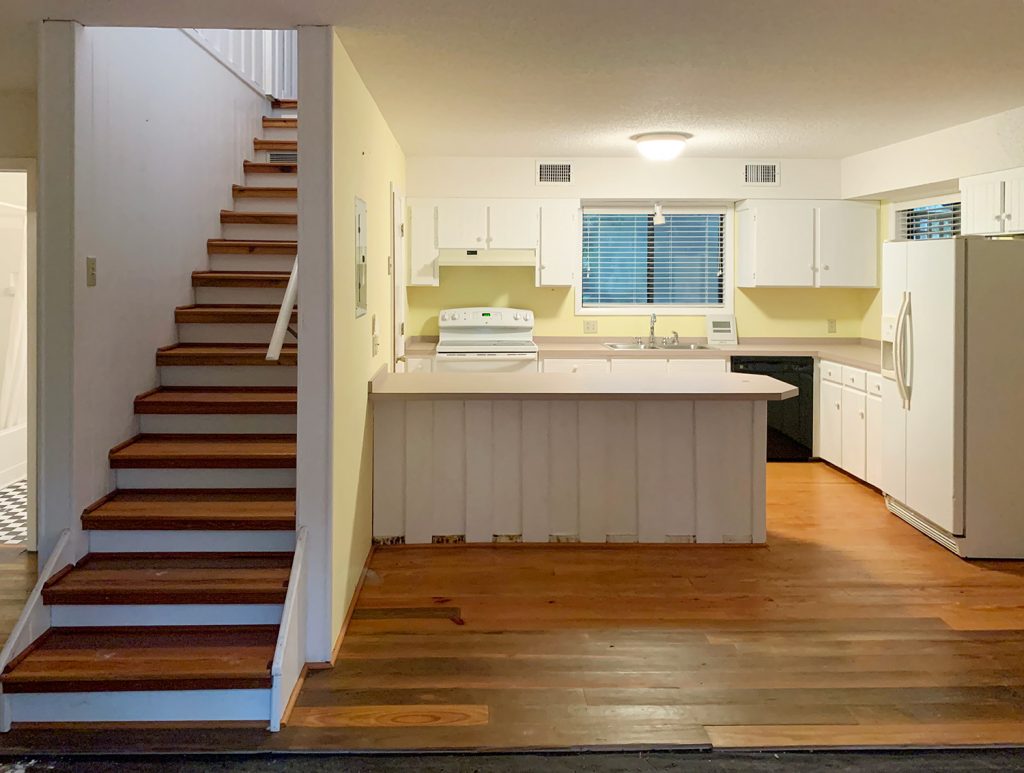 This is the huge flex space that's up there! Since it's basically the airiest, most sun-filled room of the house (and it's by far the largest), we know we'll want to spend a lot of time in there (and on the giant deck that's right outside of it) so it makes sense to put our primary functions like living and working up there. It will also be nice to have it separate from the bedrooms downstairs, so we can watch TV at night without worrying about bothering the kids.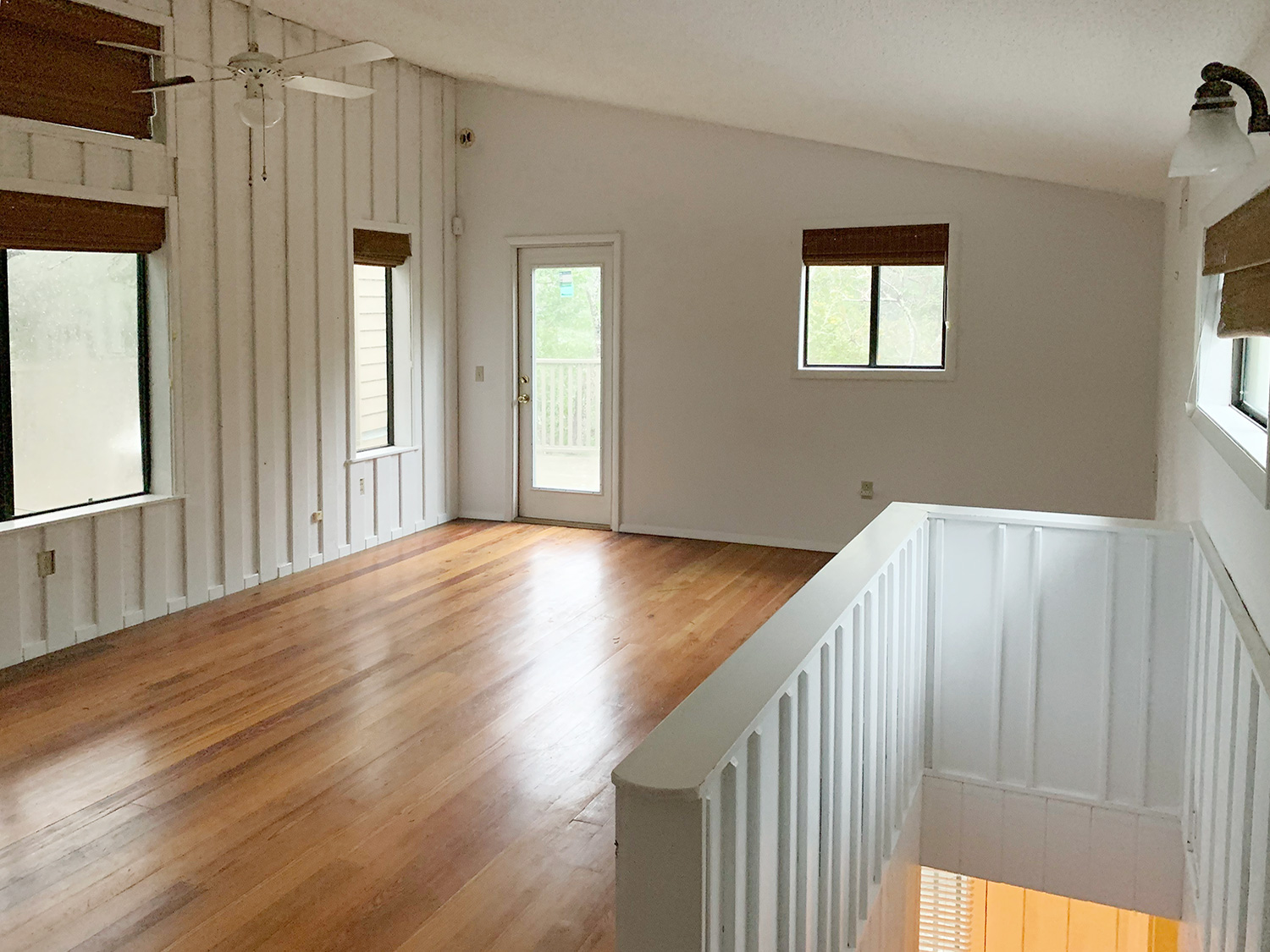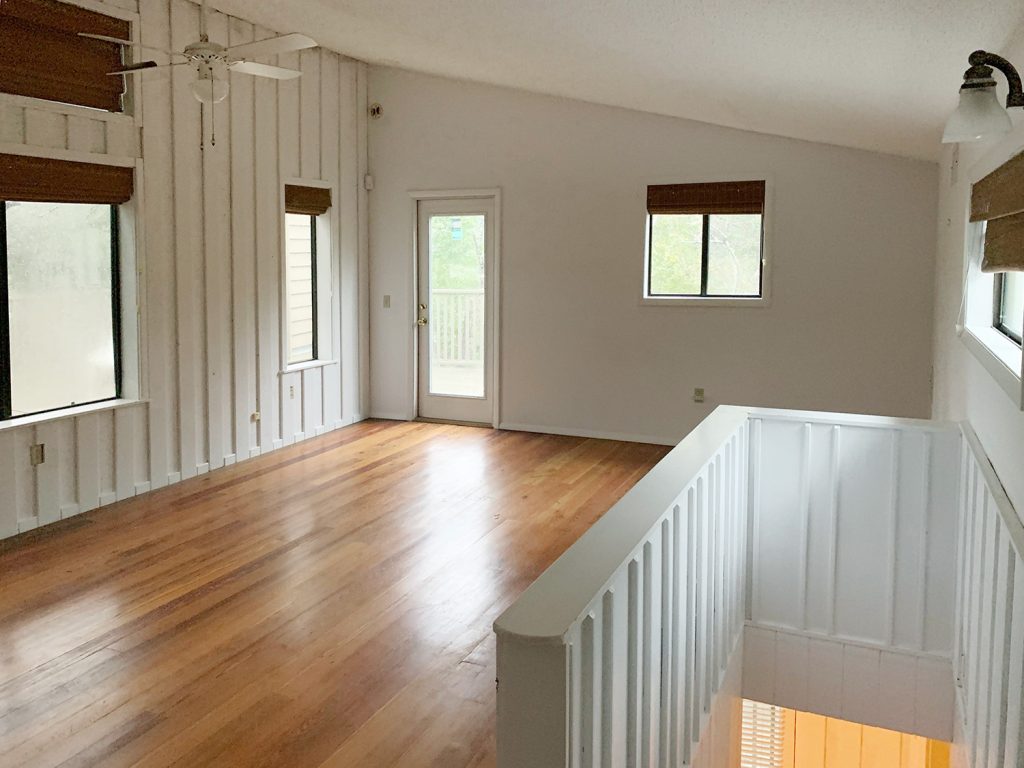 We know for some specific work tasks we might need to bring the phone or laptop into our bedroom and close the door for more privacy or quiet, but our current office doesn't have a door and is located downstairs right off of the kitchen and the front door – and that has been fine all these years. We even shared it with our kids (they had their own little art desk in there) up until a couple of months ago!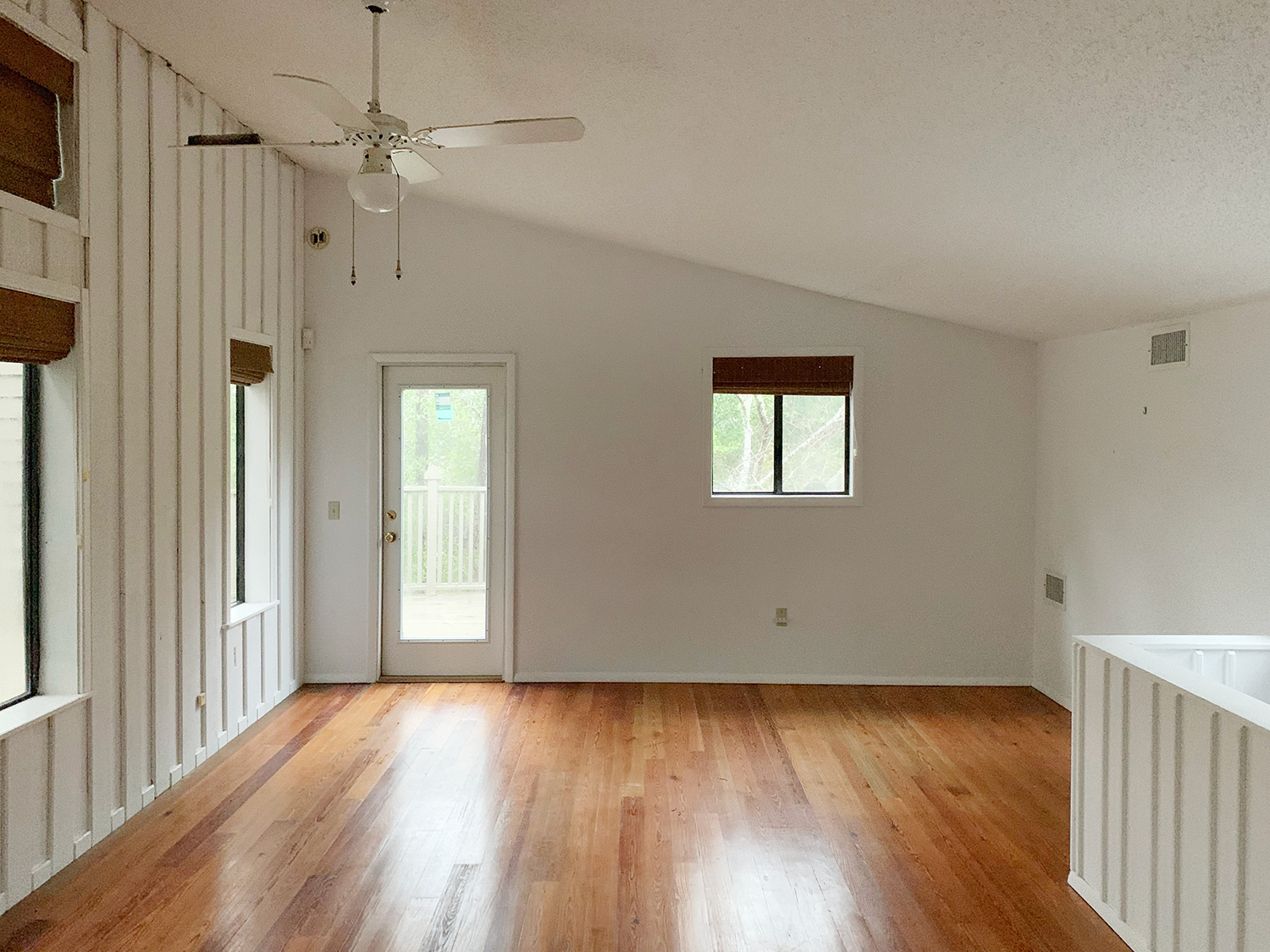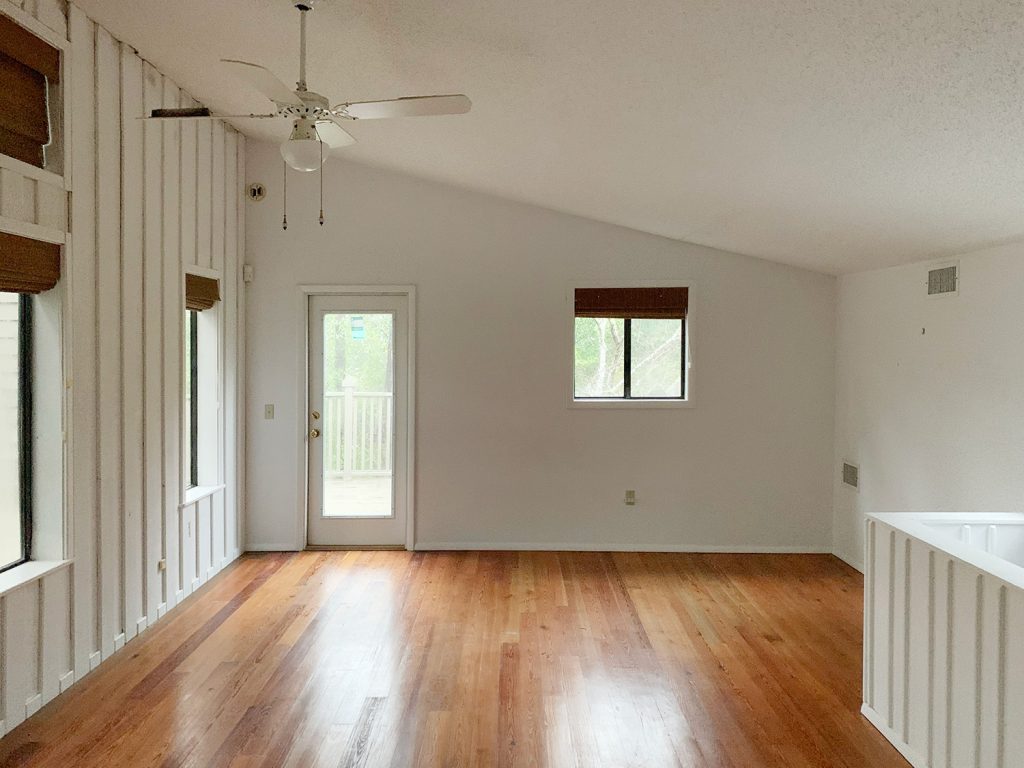 See that big glass door in the photo above that leads outside to the aforementioned deck? It creates SO MUCH OUTDOOR LIVING SPACE FOR US! Downstairs we also have an outdoor dining area and an outdoor shower that will lead to our future pool – but sitting up here in the trees and taking conference calls/reading/doing work on our laptops is going to be so wonderful. Can't wait. And that chimney that you see poking through the deck in this picture is already gone. Surprise! It leaked! Water damage is this house's middle name, but we're gonna save her yet!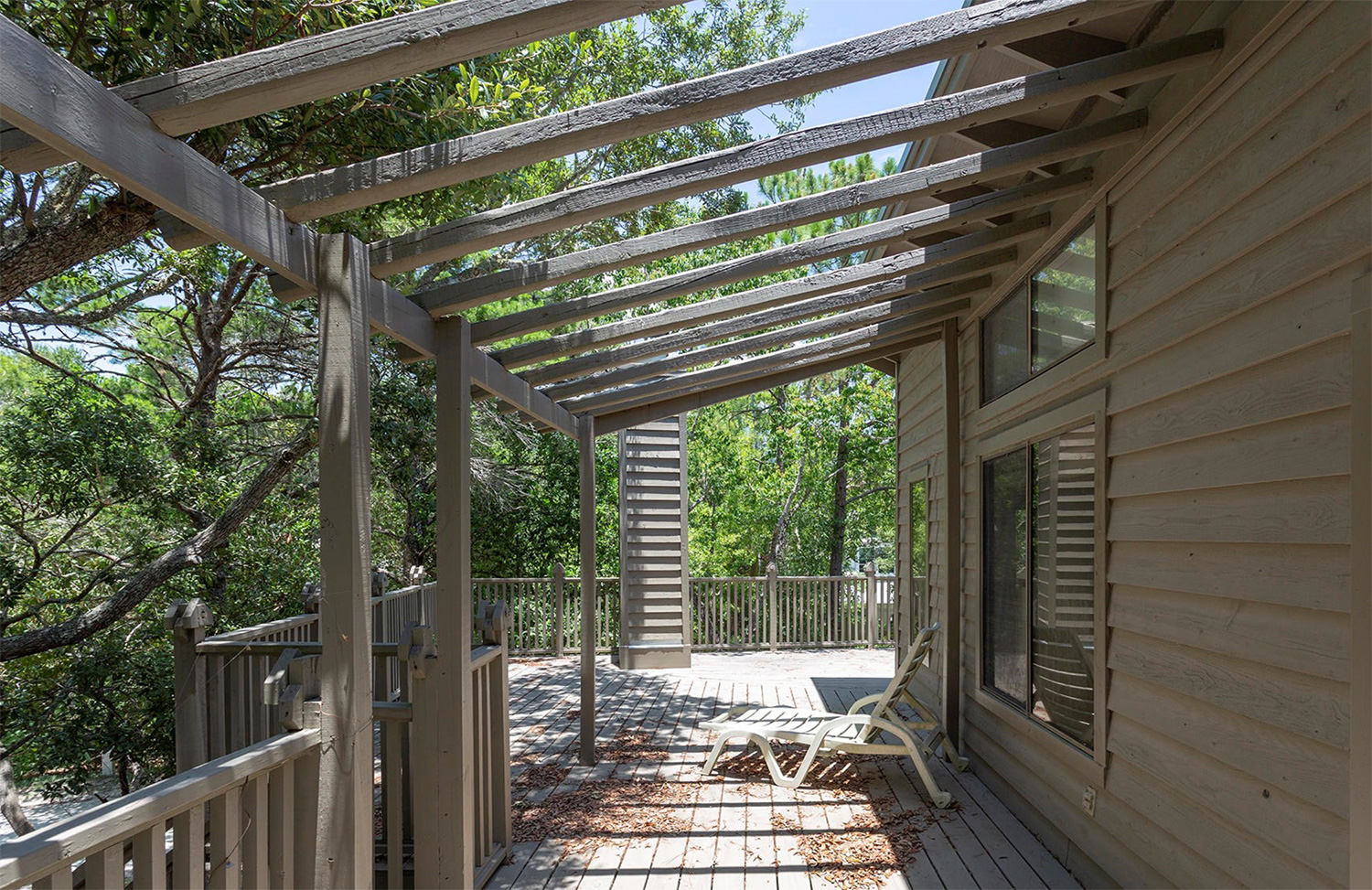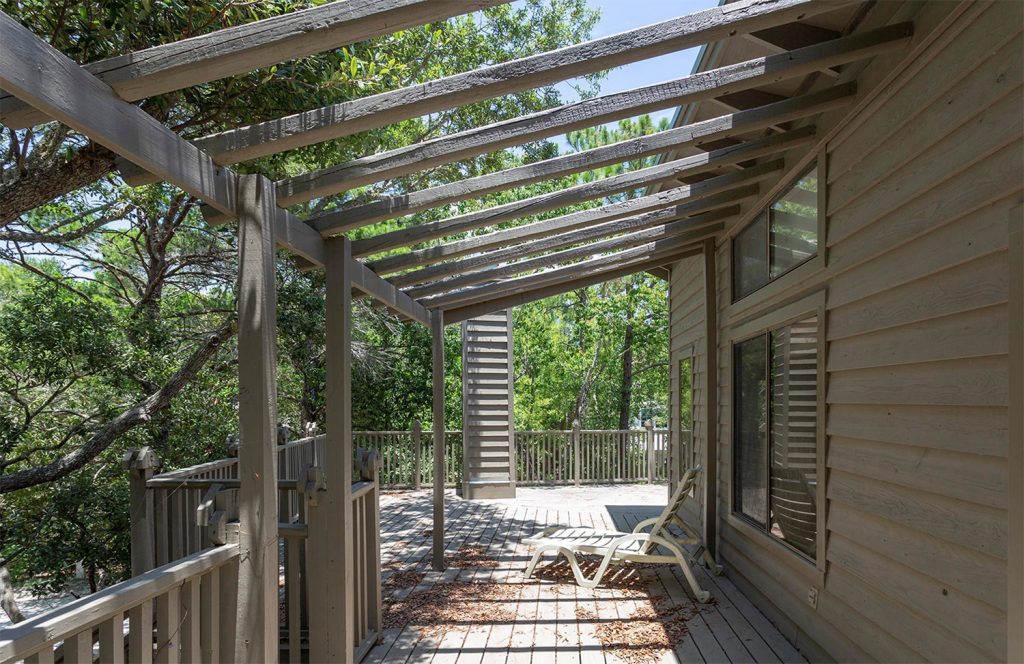 Here's the other side of this huge room. These pictures don't do the size justice like being there in person, but we definitely think we can have an art area for the kids, a tv/living room area, and a nice little work spot for ourselves too.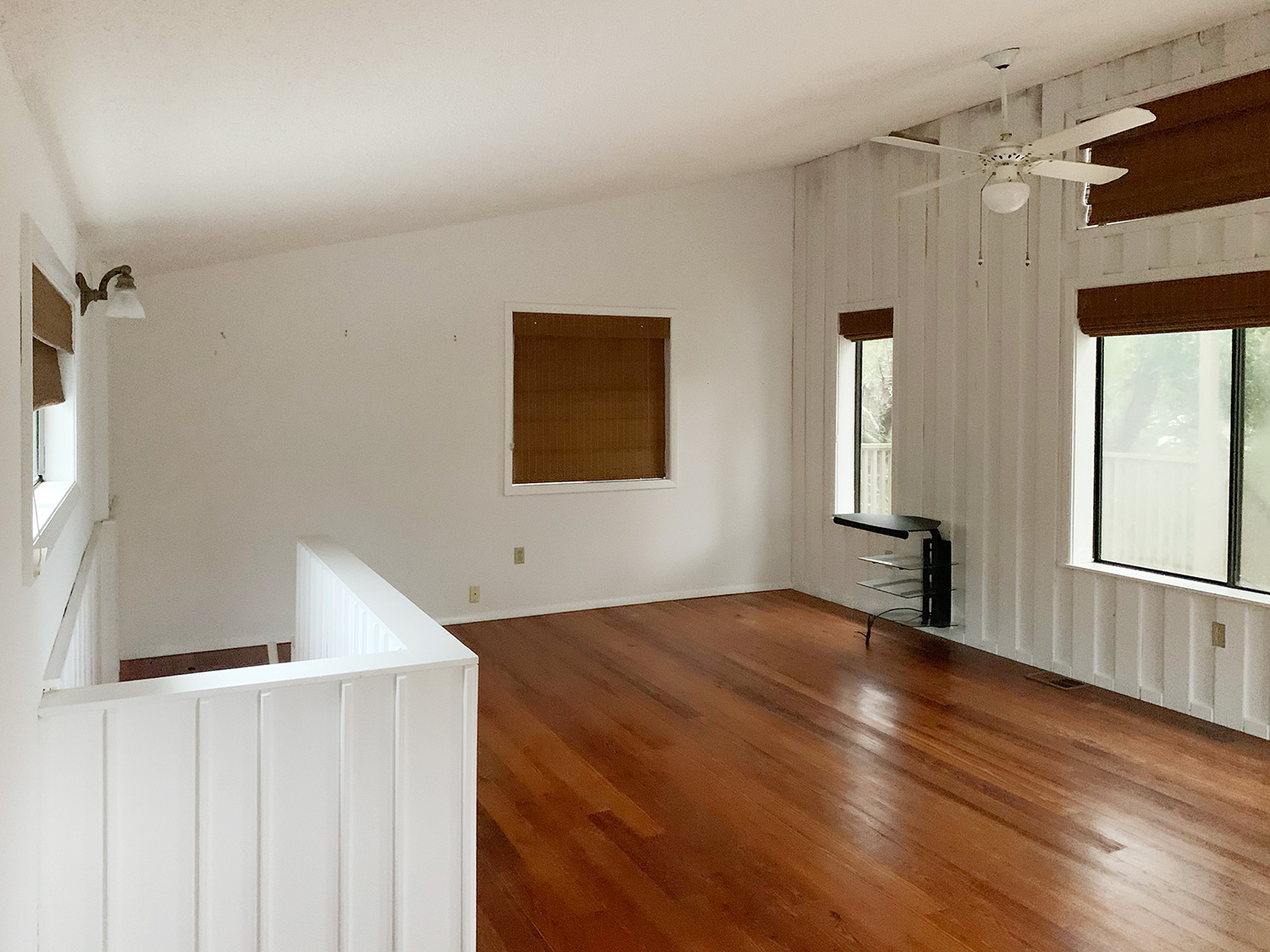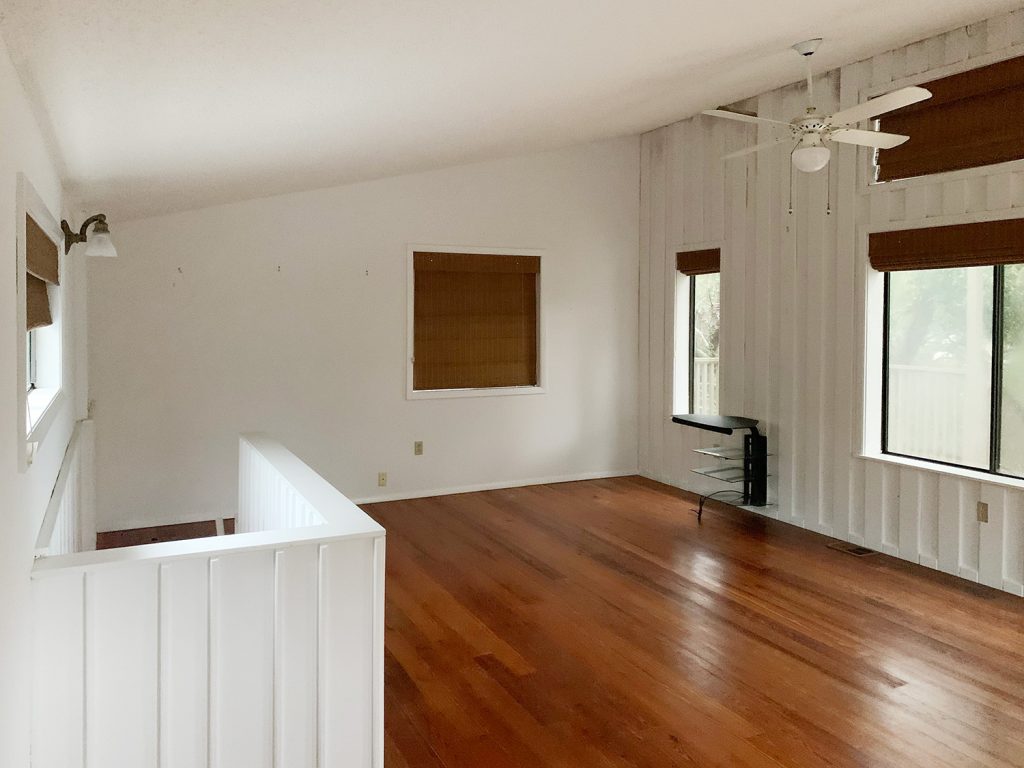 Update #4: Getting asked if we considered making this room upstairs into our bedroom. Definitely! But this room is HUGE (unfurnished rooms are especially deceiving in size – it could fit two 8 x 10′ rugs without them touching!), so it would've been a stupidly giant bedroom for such a small house. We also want all the bedrooms on the same floor so our kids aren't going up or down stairs if they need us in the middle of the night (which still happens from time to time). Plus we want to share the giant deck up there as a family (as opposed to it just being off of someone's bedroom). Think of this house like a ranch home with everything on one level, but the upstairs flex space is sort of like a basement – only it's up top instead of down below. And it has a really cool outside hangout area for everyone to enjoy.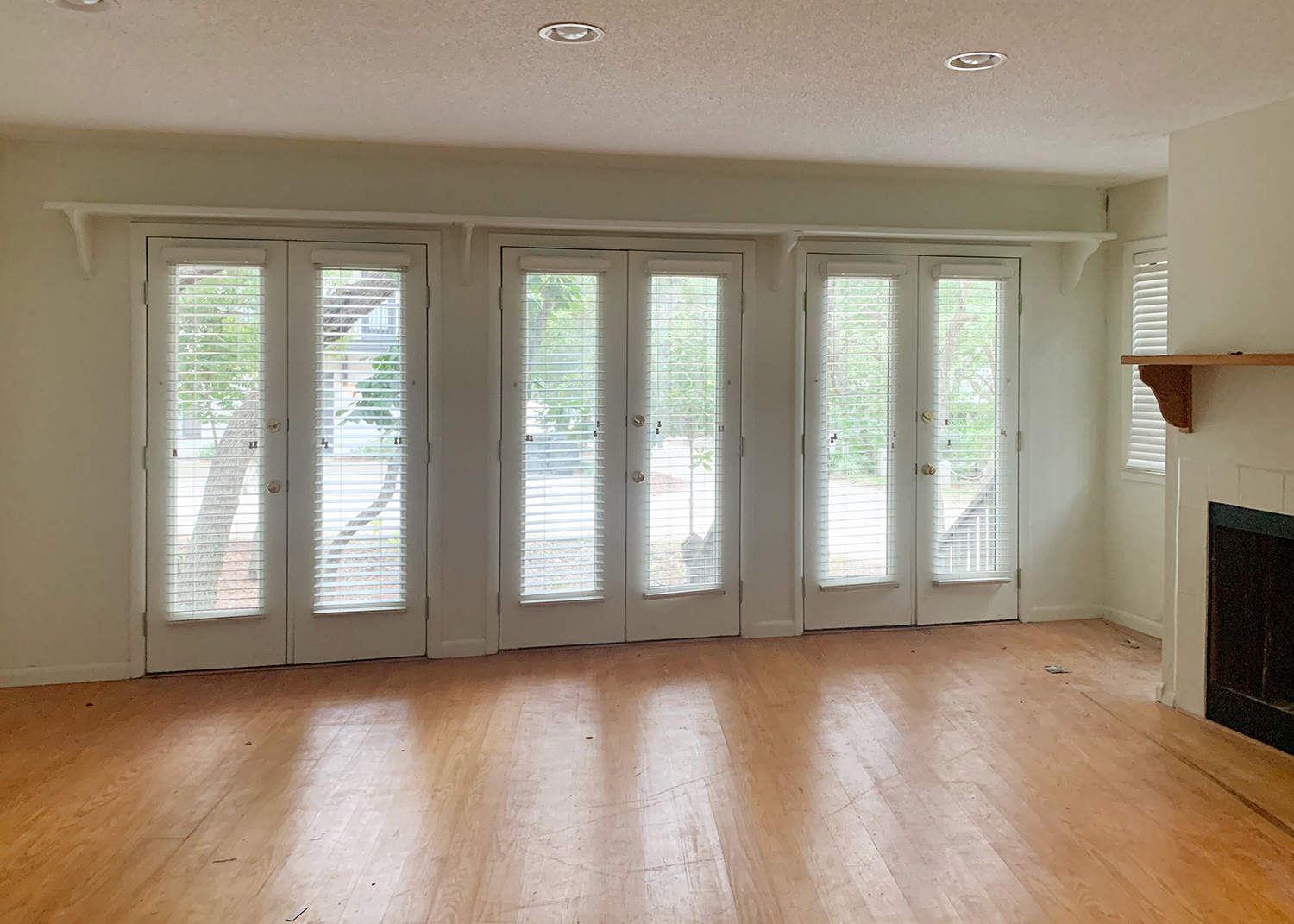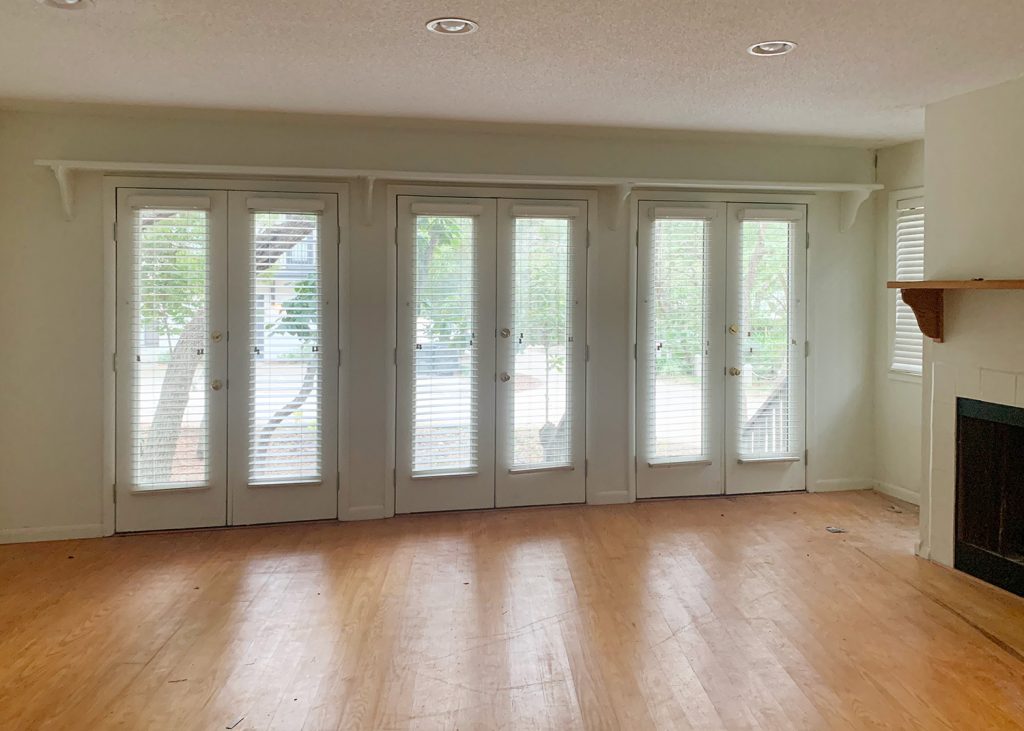 Oh and all the flooring is old pine! Just like our beloved pink house! So we can't wait to refinish it all and clear seal it. Parts of it are already sanded down and it's looking so good! Hooray for no more holes in the floor!
I mentioned that downstairs we also have a roofed-in outdoor area that we're calling the side porch, and an outdoor shower beyond that, which will lead to our future pool. Here's a pretty bad picture of me and our sweet realtor standing in the side porch area. We're going to redo this so it's not as broken up by ten million vertical posts.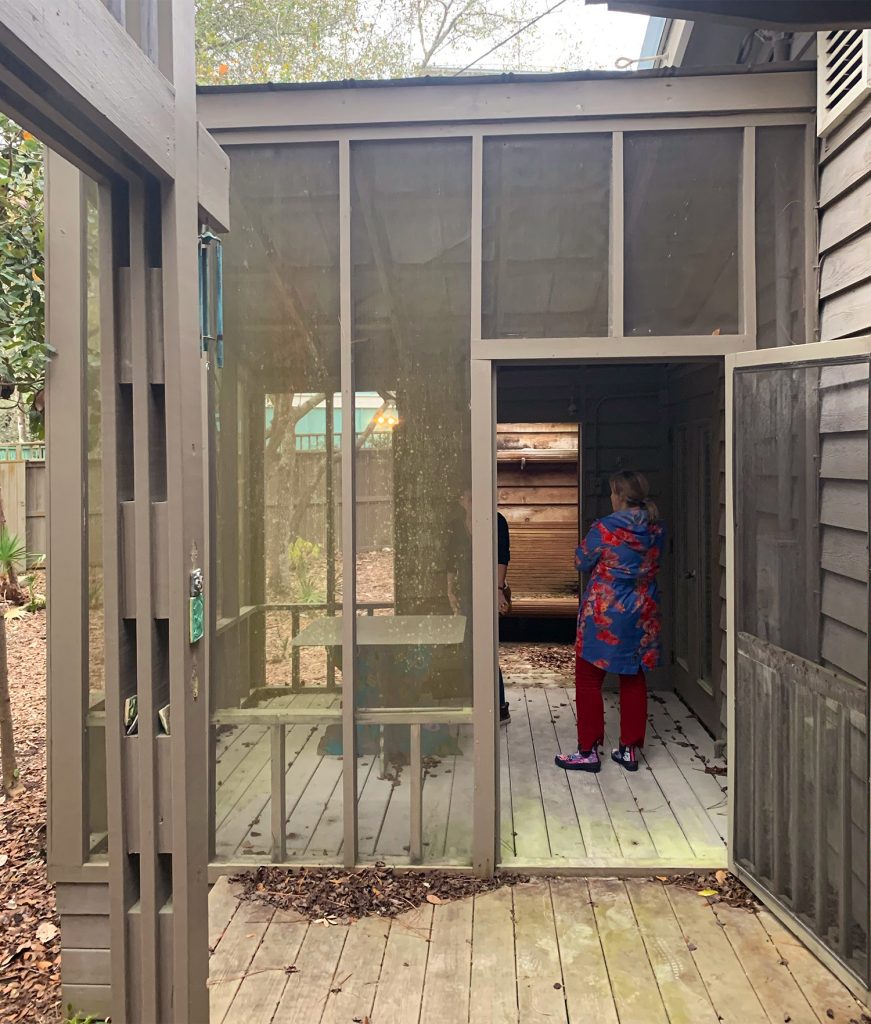 And beyond that is our funny little (water damaged, of course!) outdoor shower, that will lead to our future pool. Just like the sink in the tub, that dangling-by-a-thread light fixture makes me laugh so hard. I know, I know, I'm very weird. I am literally laughing while I type this. I can't get over it.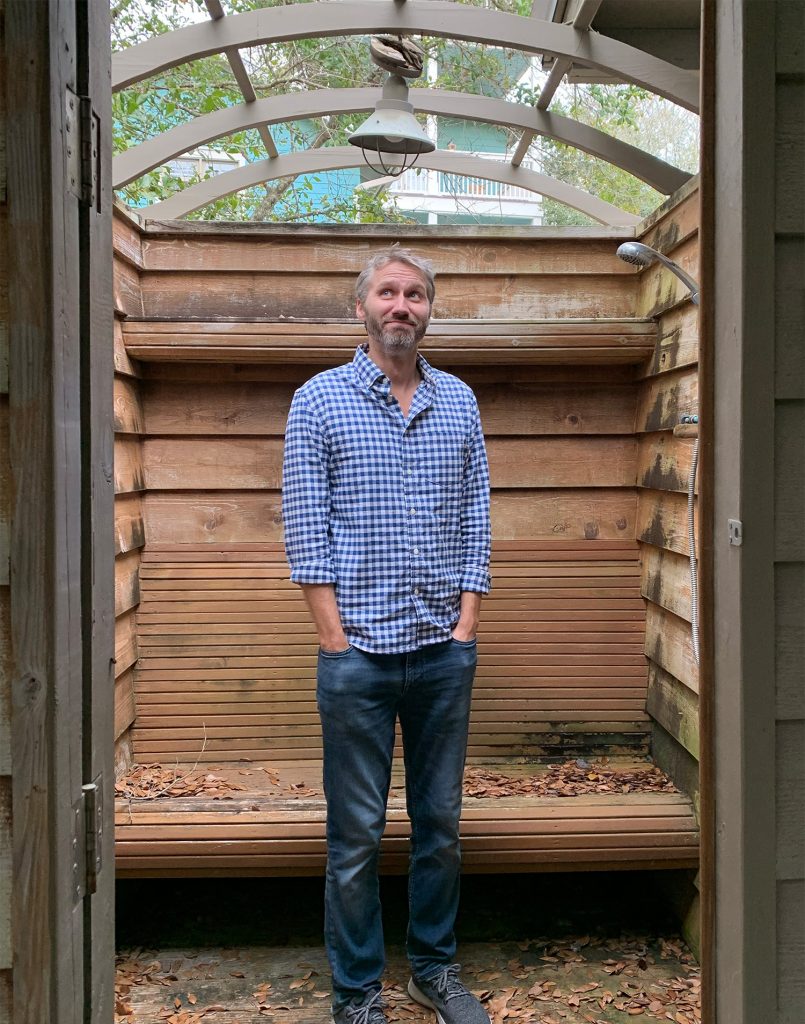 Before I go I have a crazy story to tell you. Remember how we learned that a famous local artist used to live in this house a few decades ago? Well, after we toured this house and met with a contractor (we found him through our realtor, btw!) and asked 349 questions to be sure we could take it on from afar, we went out to lunch with our realtor to sign the offer papers. It was a cute local lunch spot, and I got a big shrimp salad, which rocked my world, and they had this little gift shop that sold t-shirts and keychains and one book. Just one book. And guesses who the illustrator of that book was? NANCY SWAN DREW!!!!!!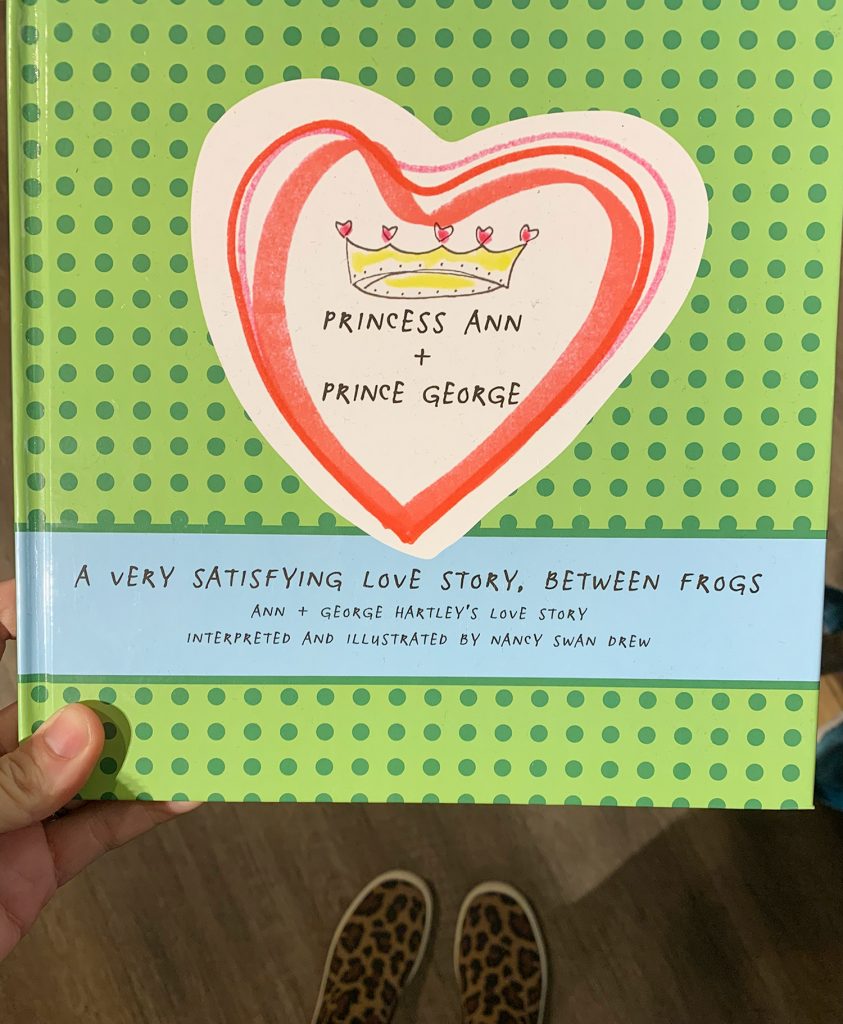 If that's not a sign, I don't know what is. So we signed those papers as fast as we could, and I scarfed my shrimp, and as our plane touched down on the tarmac on our way home we learned that our offer was accepted.
This whole thing has been a wild ride, but we are so freaking excited for what's ahead.
P.S. Wanna see more before tours? Here's the duplex before tour, and the before tour of our current house.