As promised, I'm sharing a ton of photos that are inspiring us the most when it comes to our new house in Florida. My alternate title for this post was BEACHY VIBES 4 DAYZ because I feel like we have been preparing for this moment for our entire adult lives. Ha! So many of you have been saying things like "Your art! It has been a sign forever that you were meant to live by the beach!" (for example there's this anniversary painting and these aerial beach photos and about 843 more examples since I'm actively packing all of our art).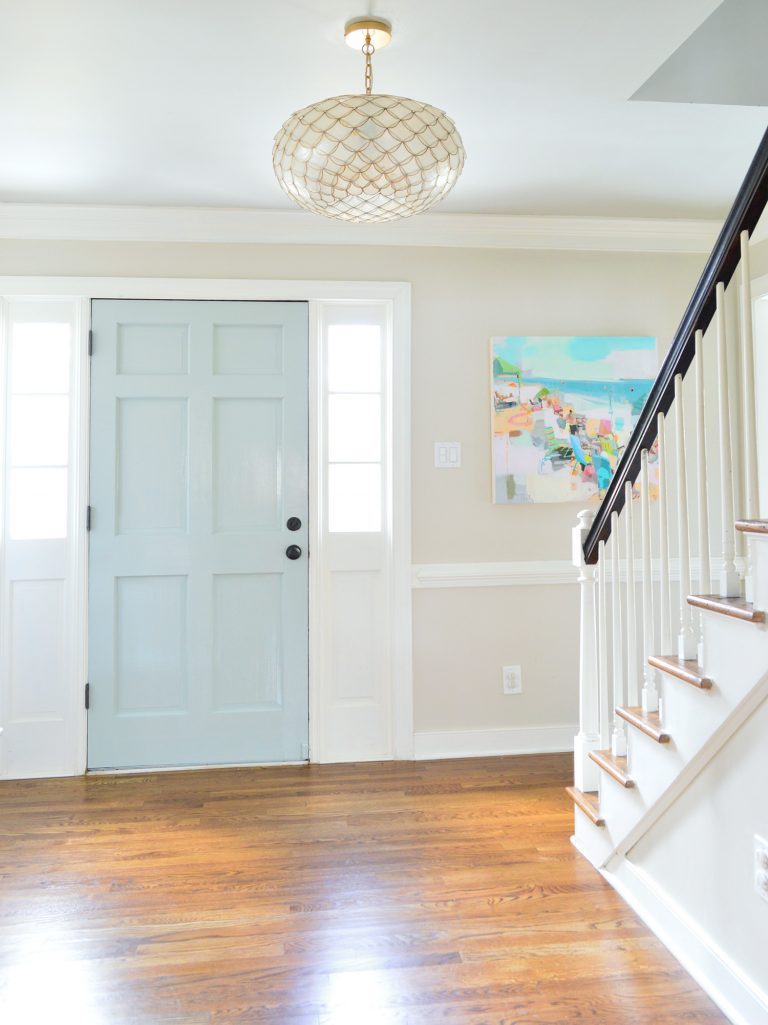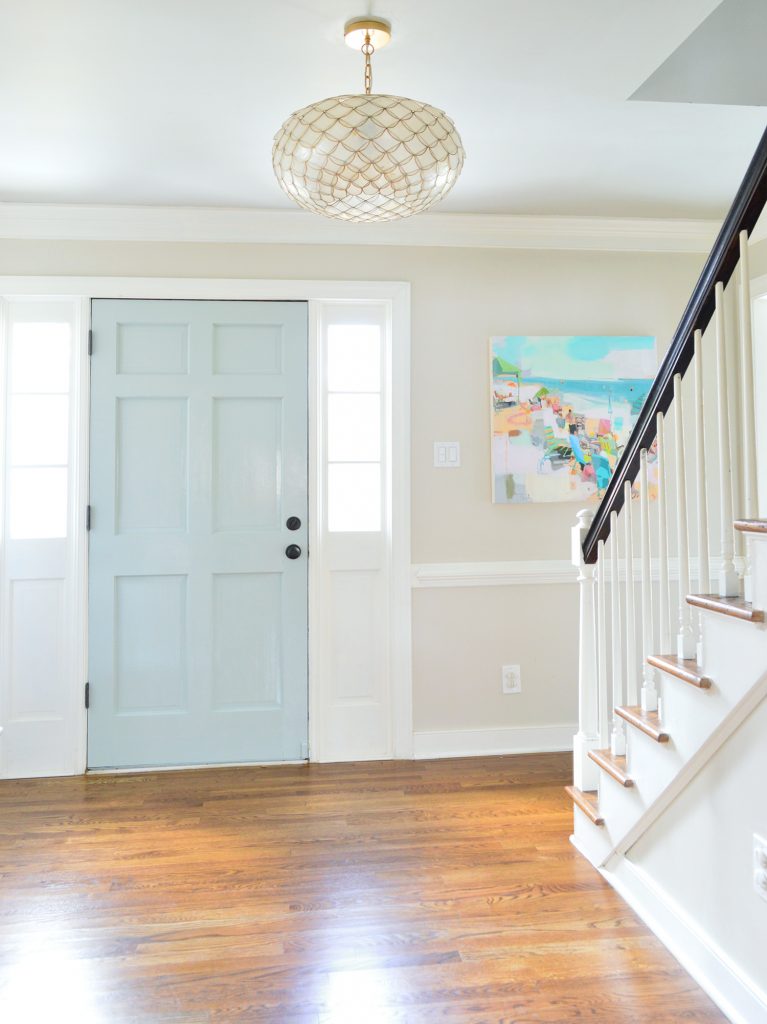 Meanwhile others have been like "even your first house with light blue & sand-colored walls, woven rugs, bamboo blinds, and capiz chandeliers were hinting at your love of the beach fourteen years ago in your landlocked brick ranch!" I KNOW, RIGHT?!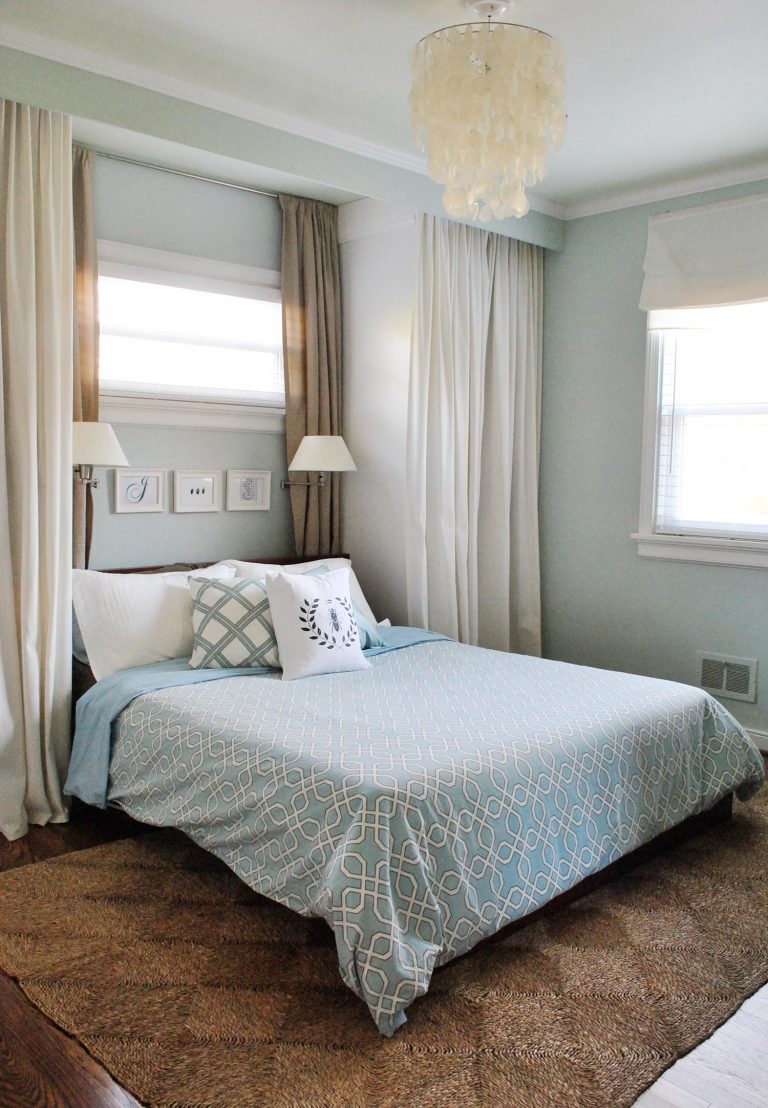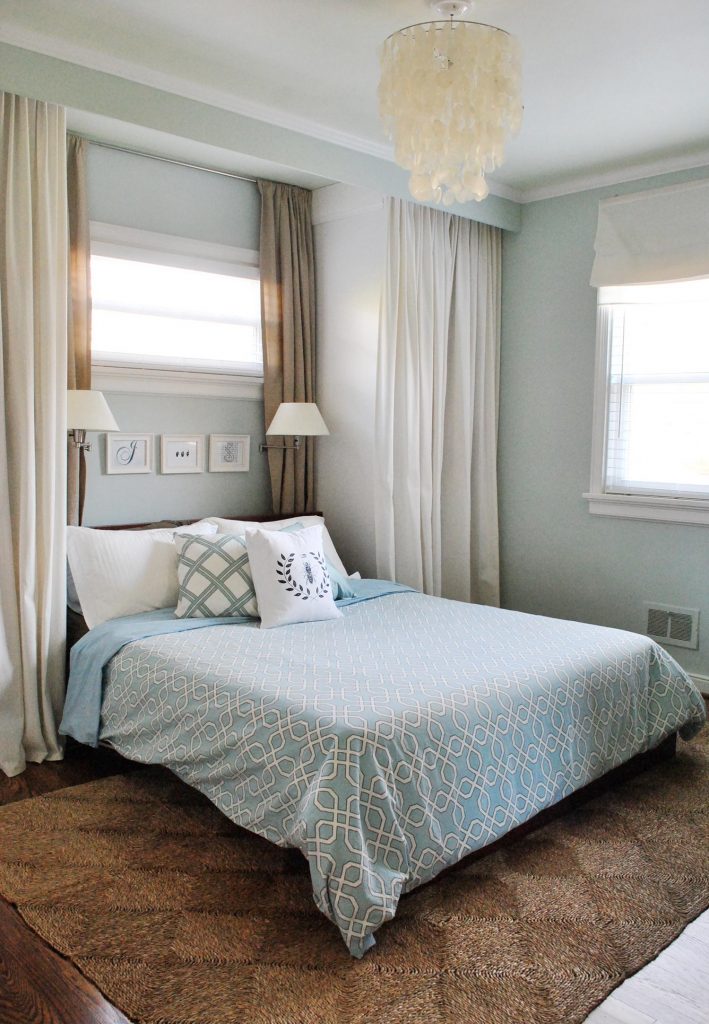 Someone even DMed me to say "I mean you've had that giant clamshell-shaped bowl since your very first house, and if that wasn't foreshadowing this for over a decade I don't know what was!" (it was on the bottom shelf of our coffee table in our first house and later ended up outside as a planter at the pink house).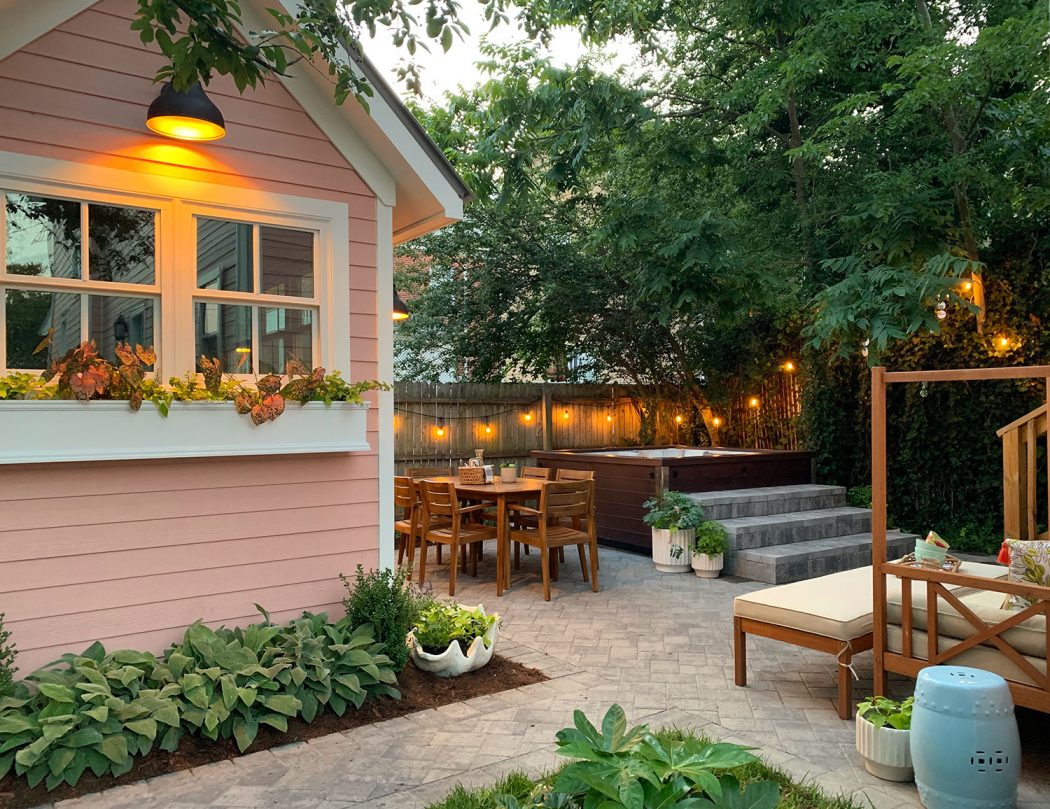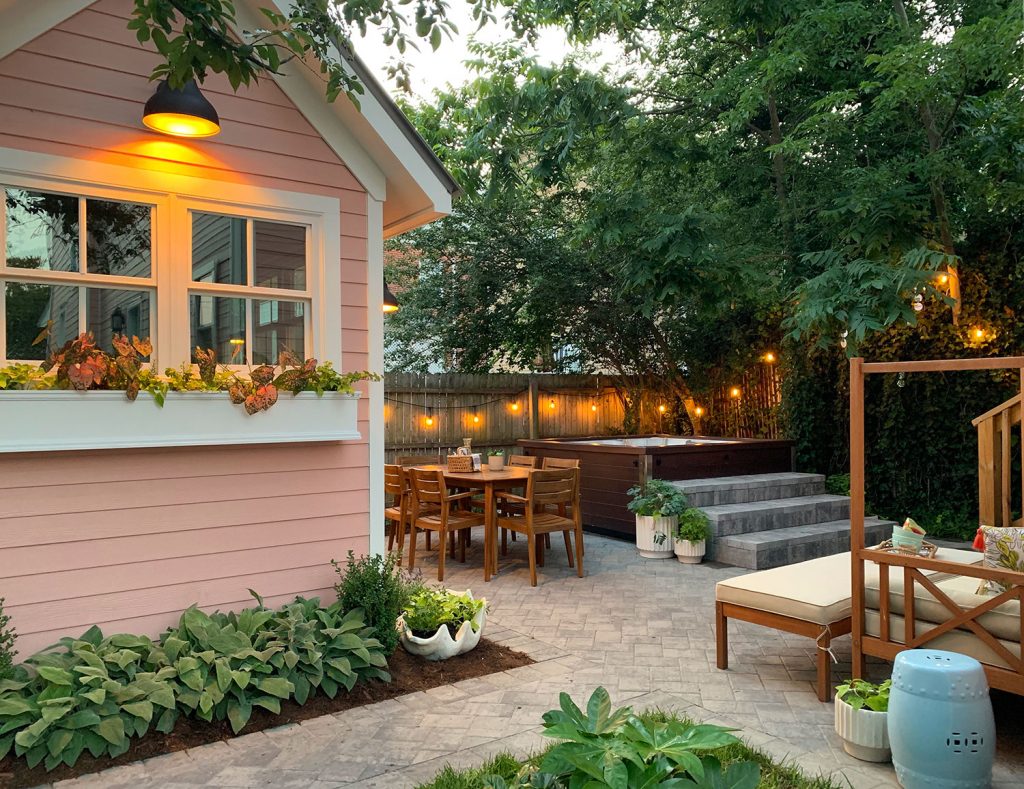 So whatever you want to define this as (beach magnetism?! Florida destiny?! that-ceramic-shell-to-real-shell life?!) – it's funny to see that it has been running through our entire journey as homeowners.
We'll definitely be doing a post full of before photos (hopefully next week, complete with a video walk-through!), and we'd also love to write up our usual "floor plan tweaking post" (like this) where we'll share how exactly we're improving the layout for our family. So those are coming soon, but today is a deep dive into our inspiration, along with some info about the different spaces that we get to design in our new house. I'm even linking to some stuff that we've already purchased for it. So without further ado, let's get into it!
The Exterior
We always knew we wanted another white house (the white brick here pretty much cemented our love for a house that's pure white like the driven snow – or the gorgeous white sand beaches on the Panhandle). So although we've also had red brick homes with bright yellow or fire-engine red front doors – and even a fully pink house in Cape Charles, our little Florida house is GONNA BE WHITE! And the silhouette is actually more modern in style than any other house we've owned. This house's inspirational exterior is a good representation of the vibe we're going for with ours, once we've painted it white, glorious, white.
One of the better existing features of the house was a freshly installed metal roof, and it also has some lovely exposed rafters just like the house below, so this picture is also a good representation in the exterior vibe that we're channeling for our new house. Oh and see those horizontal white railings? Remember those because they're going to be in the mix too!
One of the great things about our new house, even though it's less than half the square footage of our current house, is that it has TONS of awesome outdoor space. We're not talking acres of land (it literally is more like 0.1 acre of land) but there are so many awesome outdoor "rooms" that we can use pretty much year round!
Outdoor Spaces
Right outside our front door is a lovely covered outdoor dining area about this size, which would make such a great outdoor dining area. I can't wait to string up some lights and eat outside! It doesn't look like this inspiration photo yet… but I'm soaking up this inspiration picture like crazy.
We also have a spacious deck off of the second floor that we picture as more of a lounge/hangout area. I love this inspiration photo (scroll down until you see the picture with the hanging egg chair) because of the idea of a hanging chair or some sort of porch swing scenario up there because it is nice and shaded. And the view = gorgeous leafy green magnolias and moss draped live oaks. It's so beautiful I can't wait to gaze at those trees every day.
There was a large formal living room in this house (as well as a space that made way more sense as a casual TV family room – which we'll keep). So we knew almost immediately that the more formal living space was meant to be… our bedroom! It has three double doors (yes, six glass doors kinda like ones below) that lead directly outside, so we picture creating a little private patio / outdoor hangout space like this (it's 3 photos down on the left in the grid of photos) – just with some chairs for relaxing or sitting and reading. Maybe even a space for us to hang out once the kids have gone to bed. We learned from our summer at our pink beach house (which was also on a very small lot) that we adore a small but lush/private space – even if it's just for sitting on a porch swing in the dark or sipping a cold drink while playing some board game alfresco – and we hope this will be exactly that for us.
And thanks to the way our house is situated on the lot – there's even room off of one side to add a small pool and John's lifelong dream of a cute little casita/guest house (the man loves a small out-building like a shed). It won't be a huge pool, but we all LOVED the small one shown below from one of the houses that we rented in Costa Rica in January.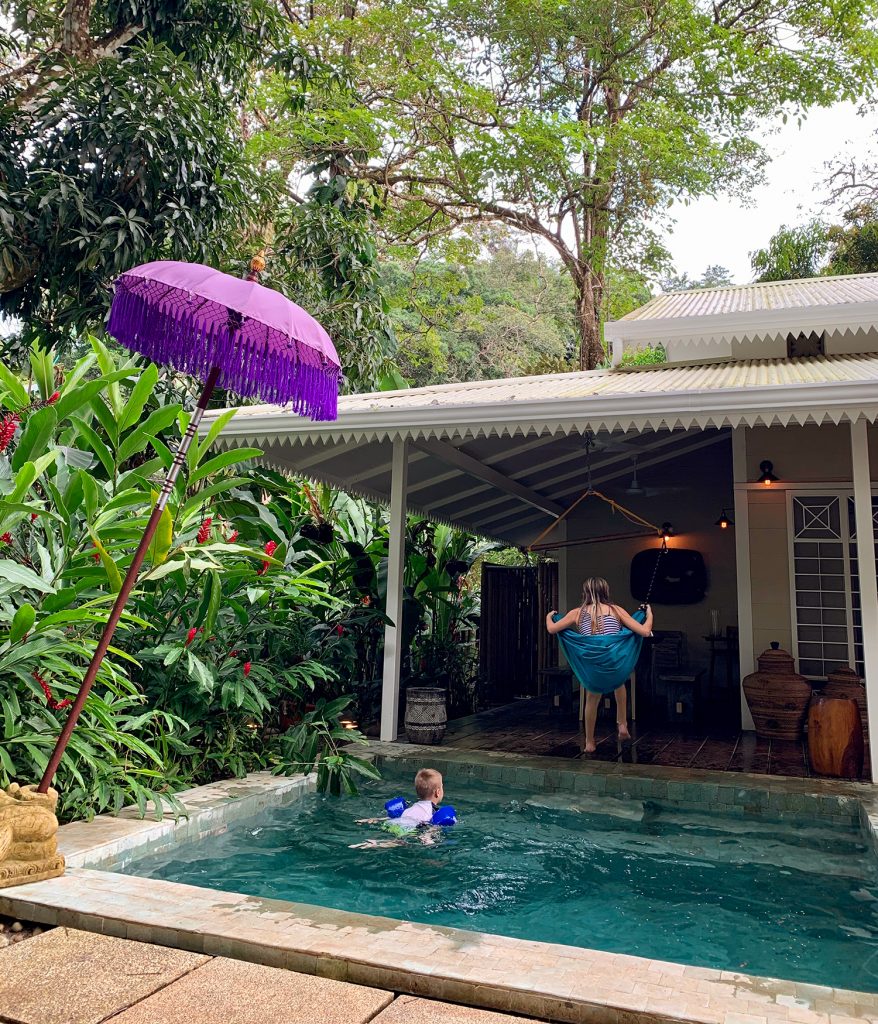 We're thinking ours can be a smidge bigger for the obligatory oversized flamingo and pineapple floats (the kids have talked AT LENGTH about what sort of fruit-and-animal themed floats they want to get) and we want it to have a hot tub too (for hot-loving me). So as long as we can check those boxes, we might never leave the yard…
And when it comes to that glorified-shed-turned-guest-house that John has been dreaming about (who's surprised? Anyone? Bueller?) we're thinking something like this would be really nice. Just a room or two to sleep guests with a little bathroom for them, since there's not guest space in the house currently (and we had that within the pink house, which we loved using as much as possible for visiting friends and fam).
Ok, but let's skip over to the inside of the house itself, which we're REALLY EXCITED ABOUT. I'm sorry if there are a lot of caps lock statements in this post. I'M MORE EXCITED THAN JESSE SPANO (and I just can't hide it).
The Interior
Many of you have seen this intense (but I contend, still lovely) photo of the Florida house amidst the chaos of our renovation. It's hard to really get a vibe from this photo, but you can see the original painted wood paneling in that hallway that remains, as well as the vertical wall planking that goes up the stairs. The pine floors were being patched when this was taken, so once it's all sanded and sealed (we're using a clear water-based sealer to keep the orange tones down) they're going to have the same warm wood tone everywhere.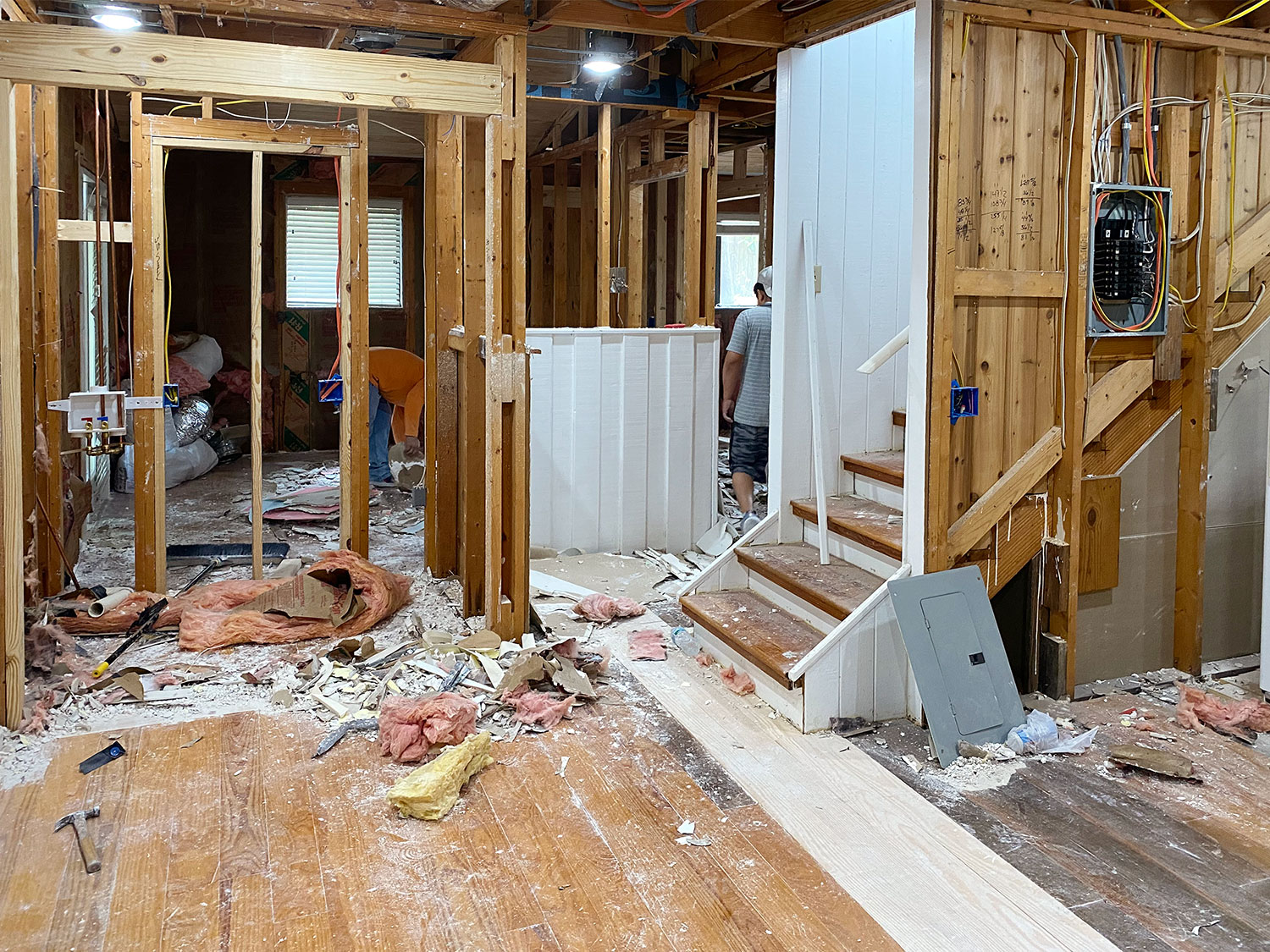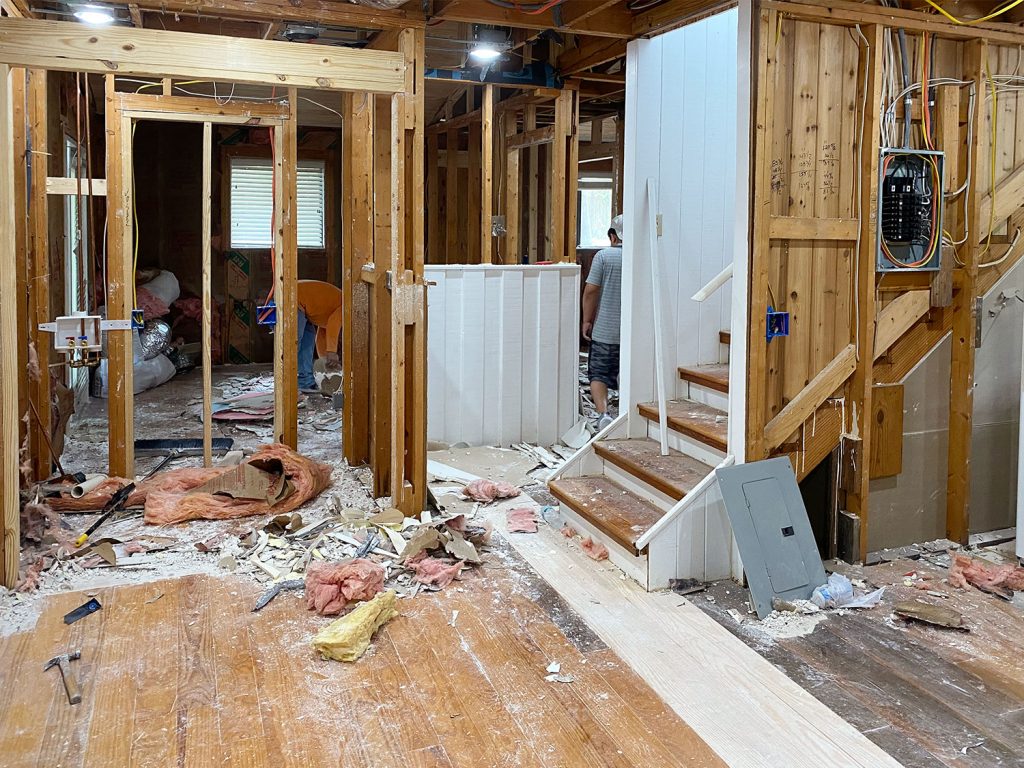 This inspo picture gives you more of a vibe, with those warm wood floors, white railings and walls – heck this room even has the vertical paneling that runs up the stairs. I love the gold accents here (that cool mobile) and the light wood furniture tones (and plants! you know I LOVE PLANTS!) so all of this is working for me.
This next inspiration picture is also hugely inspiring for me, from the large paper lantern to the white walls and the warm wood floors & light wood furniture. You guys are picking up what I'm putting down, right? And that lush yard out the doors – there's a lot of that on our lot too. We love how wooded and leafy it is. Can't wait to show you guys more of that!
Oh so let's talk more about lighting – and finishes and materials in general. I have a hankering for brass in this house and I'm not afraid to shout it from the rooftops. In fact, we're going to be doing A LOT OF BRASS. And of course A LOT OF WOVEN textures because they're so beachy and we've loved them since our very first house – why stop now?!
I'm actually planning to order two of those gold flush mounts because they're super on sale right now. Still not cheap, but I only need two and this house in general doesn't have very much lighting in need of updating – so I don't have to budget as much as I would in a house twice the size with lights out the wazoo. (… and now I want a band so I can step up to the microphone and say "Hi, we're Lights Out The Wazoo).
The Kitchen
The great thing about this house layout-wise is that there are two spacious multi-functional areas: the upstairs loft/living area and the large space downstairs which will serve as a kitchen and a dining area and a little sitting spot for people to lounge around and read or do a puzzle while someone cooks. No more formal dining room that we hardly use that's just steps away from a kitchen island where we always eat anyway (literally I don't think we'd notice if the dining room just fell off of our Richmond house at this point because we use it so infrequently).
So instead of having an island AND a dining table in our new kitchen layout, we're planning to have a table that will be our main indoor eating spot. Just one spot that does it all. We had trouble finding a picture that shows the layout we're thinking of, but this one starts to give you an idea of what a kitchen with a casual dining table (and no island) might look like.
As for the actual kitchen design – we'll have a window over the sink, and likely will go for non-white cabinets this time around (I know – who are we?!). Well, we actually made that choice in both of the duplex kitchens so it isn't totally out of left field. Lately we've been drawn to spaces with some tone on the cabinets – probably because we're embracing so much white on the planked walls (and future ceilings!) and the house's exterior.
We loved building in the dishwasher behind a panel at the duplex so we'll likely do that here too! But that'll probably have to wait for our eventual Phase 2 kitchen redo, since we're just gonna give the existing cabinets a little paint makeover when we first move in. Generally we really like to live in a home for a while as we plan a kitchen makeover, just because that always gives us a much better idea of how to make the room work best for us.
We've also been thinking of reusing the same color that we recently painted our hall bathroom vanity (SW Contented) because it looks so good with gold accents and planked walls. It's like we were getting ready to work all of this stuff into the Florida house and this room was a test drive! It's just such a gorgeous muted greeny-gray tone. If it doesn't end up in the kitchen – maybe it'll be in the guest house or a bathroom somewhere…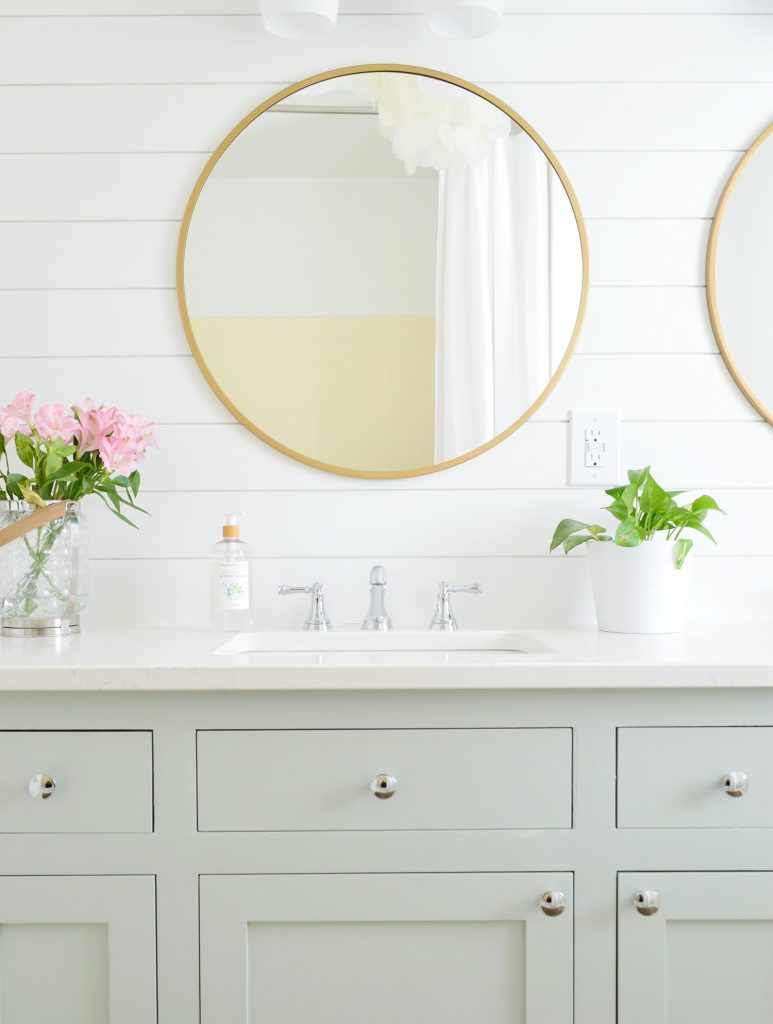 Upstairs Loft / Living
The other multifunctional flex space is upstairs and it's just one LARGE OPEN ROOM – sort of like this inspiration photo. We keep calling it "the loft" because it's full of light and has a high sloped ceiling, almost exactly like the room below (sans beams – but you know I wanna add those). Even though it's not technically a loft that's open to the downstairs, that term has just seemed to stick. Anyway, there's room for a legit living room with a TV, a big sofa, and all that loungey stuff as well as a sunny corner for us to work in as an office and another area that can serve as the kids' art corner.
Since it's basically the airiest, most sun-filled room of the house, we know we'll want to spend a lot of time in there (and on the giant deck that's right outside of it) so it makes sense to put our primary functions like living and working up there. It will also be nice to have it separate from the bedrooms downstairs, so we can watch TV at night without worrying about bothering the kids.
We know for certain work tasks we might need to bring the phone or laptop into our bedroom and close the door for more privacy or quiet, but our current office doesn't have a door and is located downstairs right off of the kitchen and the front door – and that has been fine all these years. We even shared it with our kids (they had their own little art desk in there) up until a couple of months ago!
I got lots of questions like "how will you give up the art room when you move if the kids love it so much?!" and we are not about to give it up! It's all coming with us and will be worked into the large second floor loft for sure. It's so nice for them to have a space full of supplies (read: allll the tape and cardboard and googly eyes) for them to just go nuts (you can see how nuts they've been going over the past few weeks in this archived category on our IG page).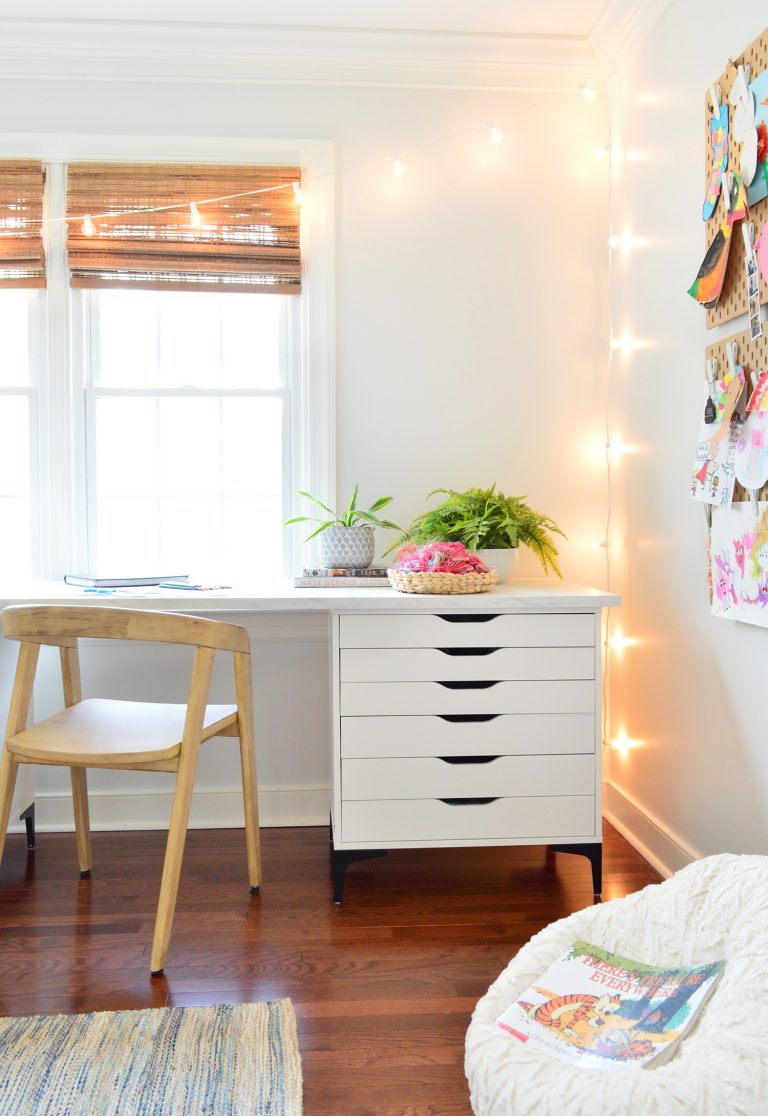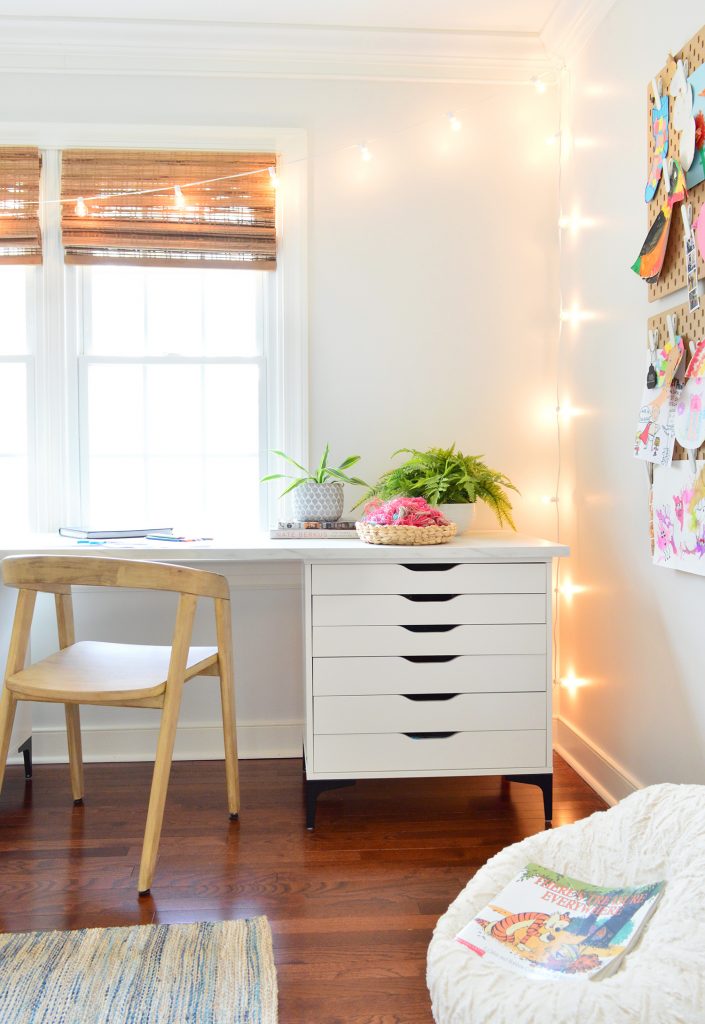 And we're sure we'll all appreciate this space being upstairs and sort of tucked away from the front door and not in the middle of the kitchen. That's my tip: put the kids art/craft area in one of the more tucked away spots that isn't right next to the front door for a more peaceful feeling (you don't see the chaos the second you step in the door). We know that because our former kids art zone was right next to the front door. Ha! Live & learn.
A lot of our current living room furniture will work well in this space too, but we will be getting a few new things like a large low TV/media cabinet. We're thinking something super light and beachy (and full of functional storage) like these two options below would be pretty.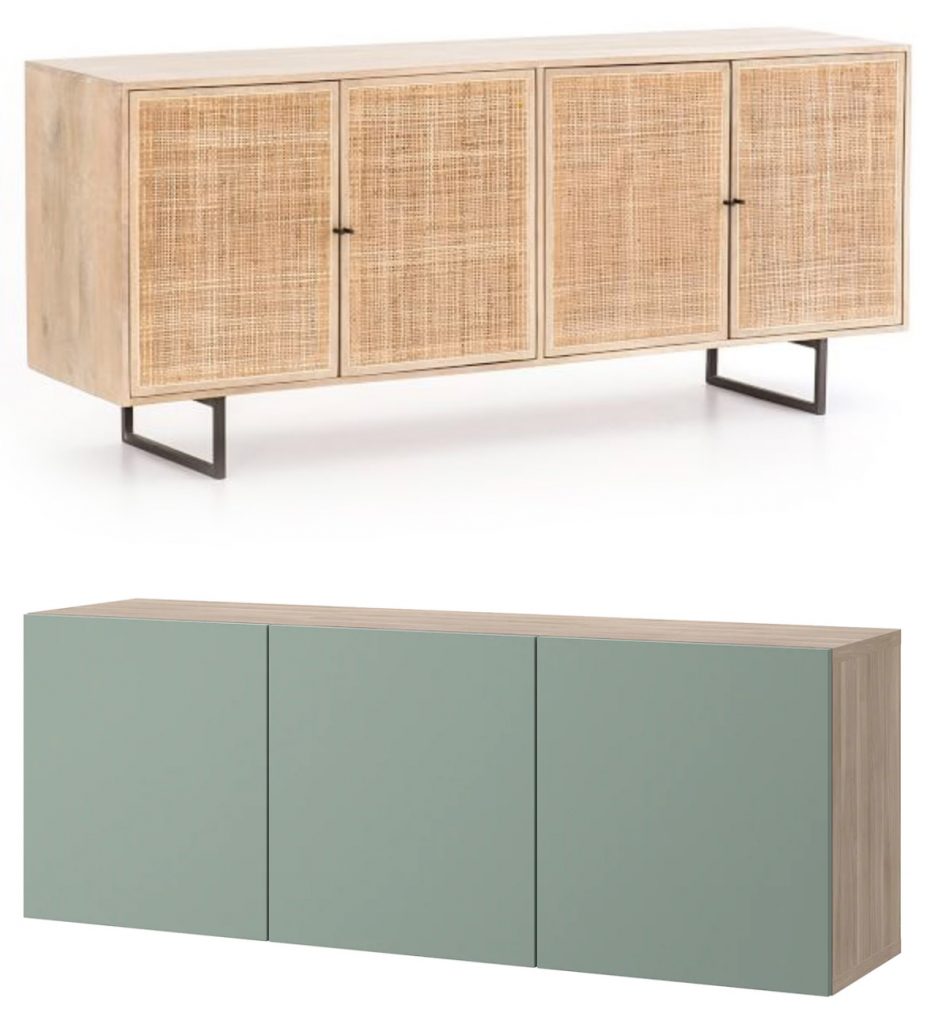 Now let's move on to our bedroom – because this room is straight up magical. Ok, maybe not to the average person who walked in. There was visible water damage, a whole hunk of drywall that had been cut out to determine where an old leak was coming from, and there were four big dead roaches on the floor. But I was like "JOHN! This smells like a house we buy!" when we walked in. I'm not even kidding. We buy old abandoned houses with bugs, and water damage, and they all have that unmistakably musty smell. And truly if you could get past all of that (I realized that's a big IF, which is why this house sat on the market for months and months and months and months – but we could!) you'd see SO. MUCH. POTENTIAL.
Our Bedroom
As I mentioned, what is becoming our bedroom was actually set up and listed as a second living room. But we all know we're not really the formal living room types, and this house only had one true bedroom… but we needed three. So converting this into our room (and adding a wall and a door to another space on the other side of the house) will give us the three bedrooms we need (we wanted them all on the same floor). It only took us about four minutes in the house to scream THIS IS OUR BEDROOM!
In addition to the SIX GLASS DOORS ALONG ONE WALL that will lead out to a future patio space just for us, it also has an existing fireplace that we'll convert to gas. Watching the fire flicker from bed with the kids all snuggled up next to me on a lazy Sunday?! YES PLEASEEEEE. Here's an inspiration image to help you imagine it.
That picture is a little more formal than we're aiming for, because we want the bedroom to feel very relaxed. Which is why we love the wood slat headboard and brass lamps in this photo. So so airy and lovely. Not too fussy. Light streaming in. It's perfect.
I'm also loving the idea of casual light wood furniture throughout this house, as I've mentioned – and the whole caning thing is calling my name. I LOVE how beachy and soft it feels. The bed below is also nice because there's storage space under it – which feels smart when you're downsizing.
By contrast our Richmond bed is fully upholstered without any accessible storage space under it – which is why we sold it to the new buyers of our house. It just feels smart to go for something that's more storage friendly and feels a little lighter/beachier than all that upholstery (our existing bed feels like it works better in a formal colonial, so we're glad it gets to stay).
We're also considering some other options with built-in drawers or shelves paired with a lovely woven headboard, so who knows where we'll end up (I really love the slatted headboard from that inspo pic a few photos back though).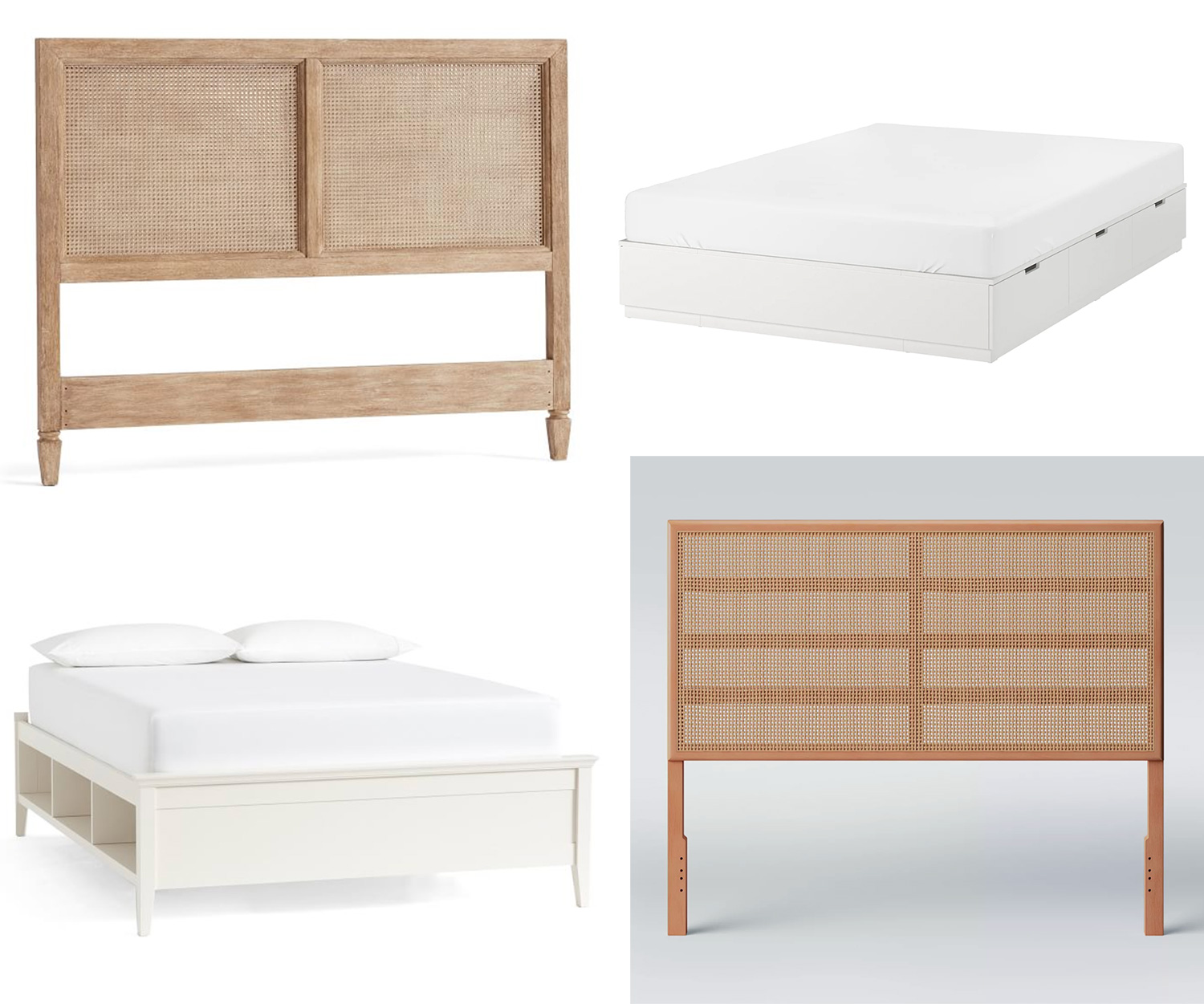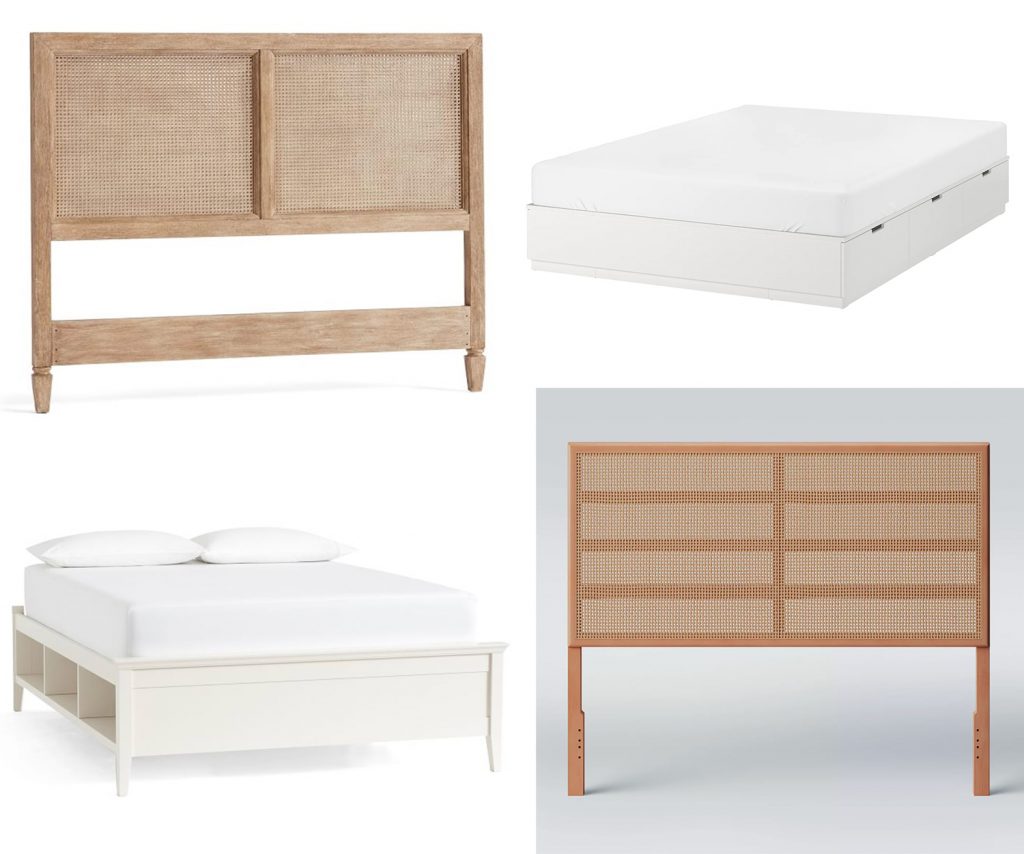 This next picture just represents the brass kick I'm feeling for this house. See the brass curtain rods in this bedroom? I'M GOING FOR IT. I texted my friends first to gut check myself (truly, I've only ever done oil rubbed bronze ones – who even am I with this brass thing?!) but literally one of the friends I texted took a picture from where she was sitting on her sofa of the brass curtain rod right above her head! Ha! So it's a thing. And I'm on the train.
Please sing the following sentence to the tune of Press by Cardi B: Brass, brass, brass, brass, brass. I should write something else, but you get it. I'm loving all of these things, from the minimalist brass wall hook to those awesome house numbers and the brass lever doorknob and those cool curved curtain rods. In fact, we already ordered the brass lever doorknobs for every door in the house! With matching brass hinges! And I am literally counting down the seconds until I can see them in place on our new doors (we're doing solid wood five panel doors like we did at the duplex because they feel like they fit this modern clean-lined house's aesthetic more than traditional six panel doors).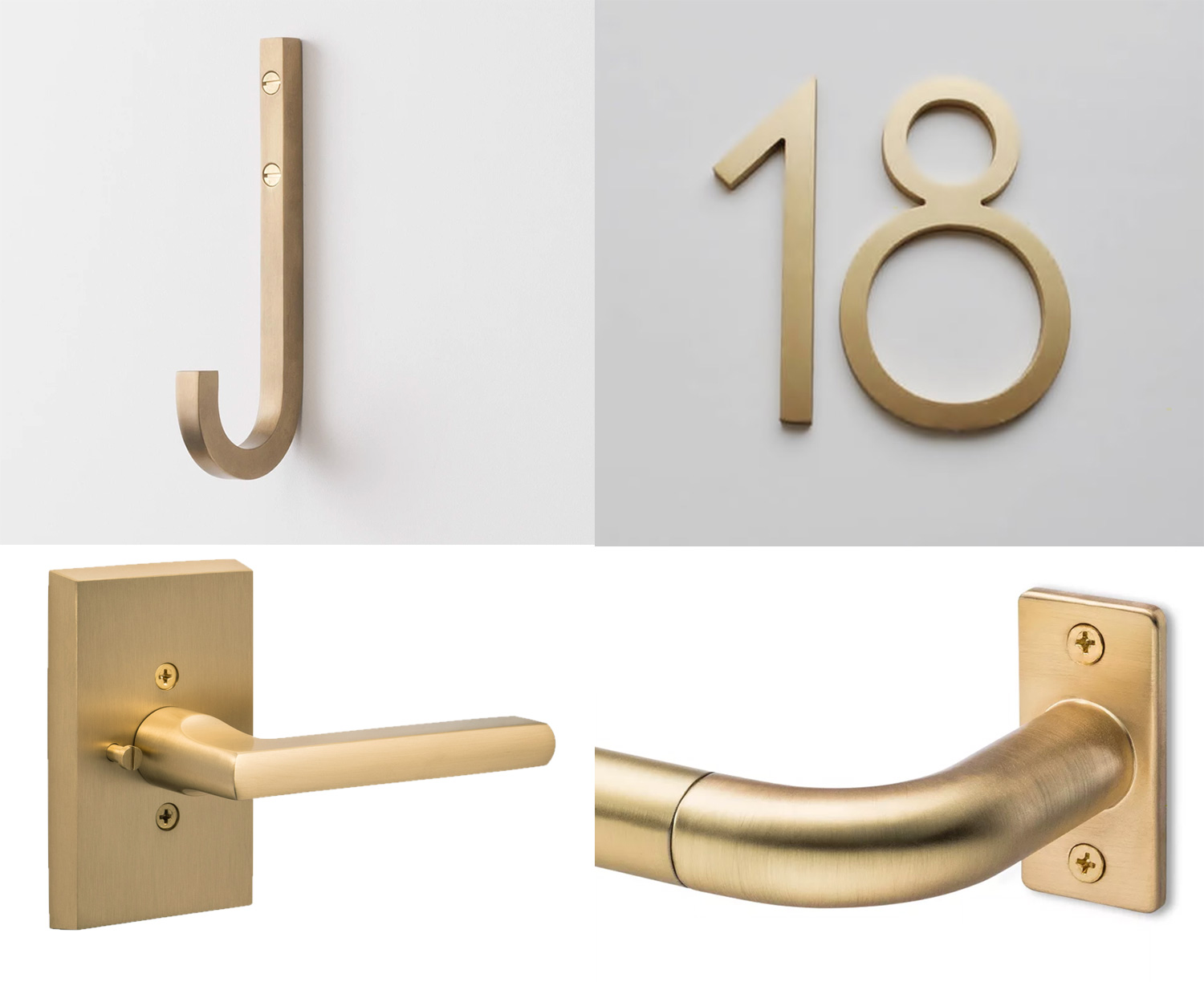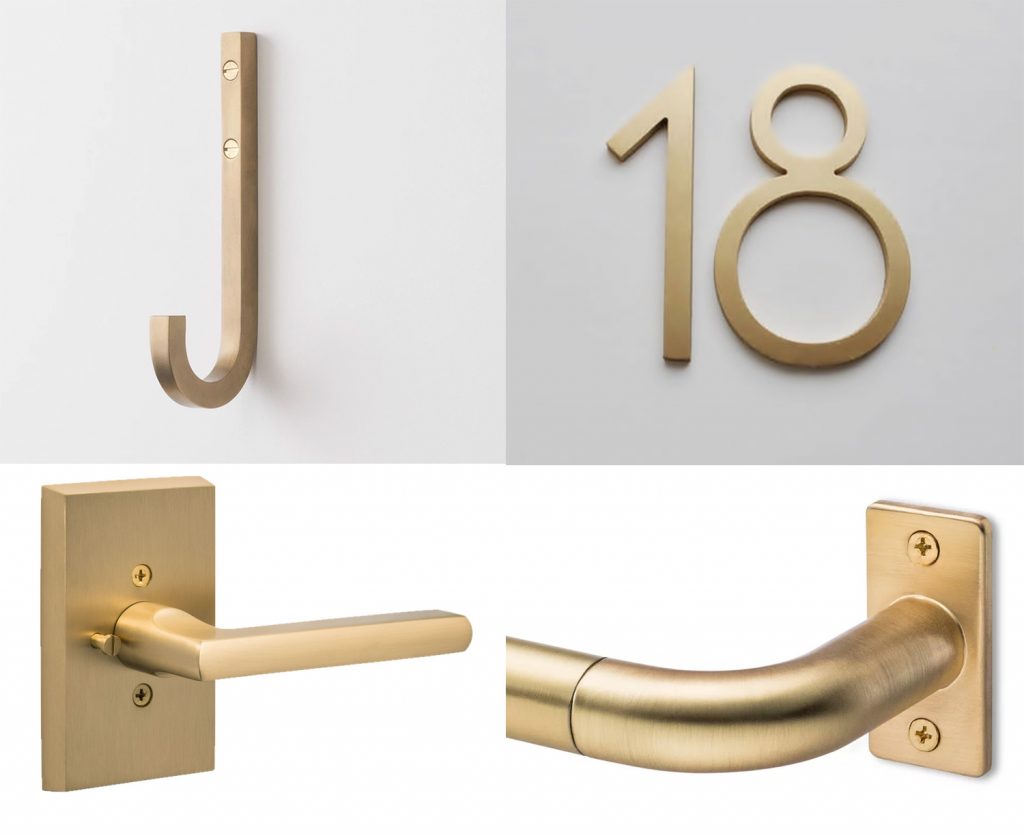 Kids Bedrooms
We love a kids room – so we can't wait to make these rooms personalized and useful for our kids. Neither of the rooms are huge, but they spent all summer happily sharing this tiny bunk room, so their new rooms will feel downright spacious by comparison.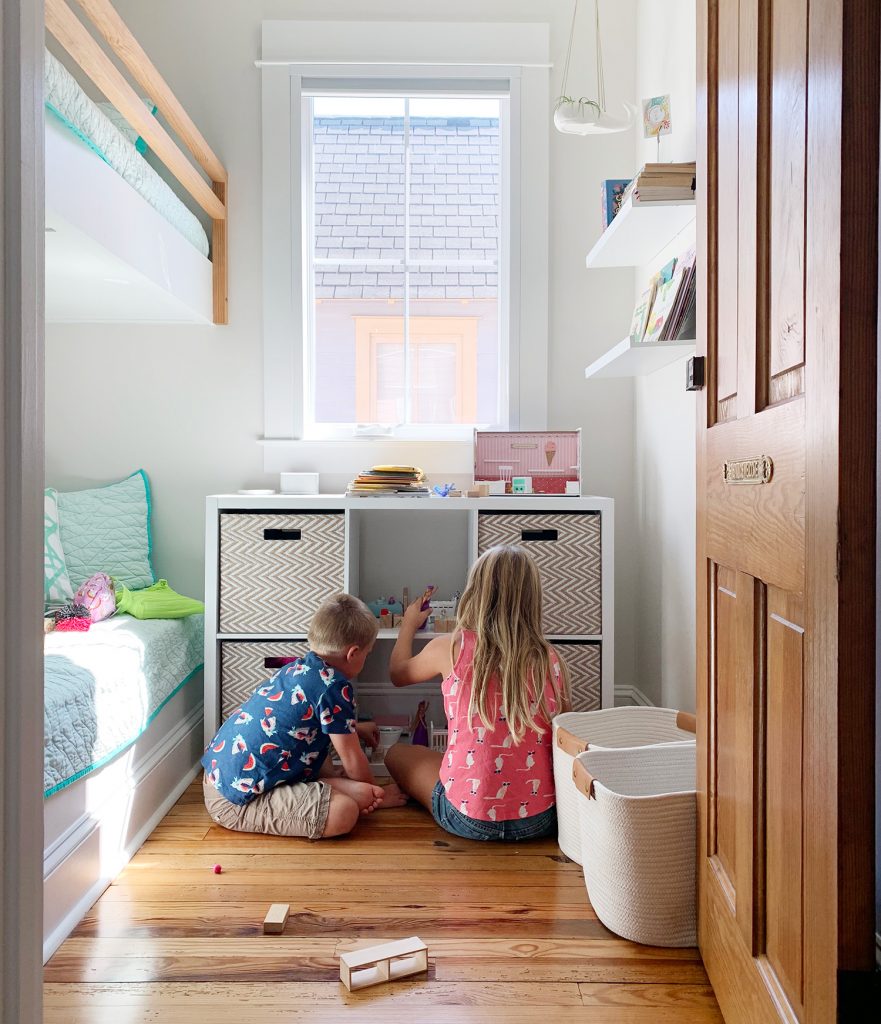 We're definitely planning to be smart about maximizing their spaces with things like built-ins that can add a ton of function without taking up a lot of floor space. And a mural or wall treatment would be fun since so much of this house's common spaces are going to be white on white with lots of texture and wood tones. We want the kids rooms to feel playful for sure.
Oh and we have a surprise! The kids rooms both had standard 8′ flat ceilings when we bought the house but we noticed that the roof over them sloped up a lot and we had our contractor explore whether we could vault the ceilings in those spaces AND WE COULD! SO WE DID!!! I can't wait to show you because it's crazy what a different those freshly vaulted and planked ceilings have made already – and we're adding some white on white beams too! Don't worry, photos coming soon!!!!
Just like the few options we're debating for our bed, we're undecided on exactly what bed solution will work best for each of the kids' bedrooms. Our son has expressed some pretty consistent interest in a bunk bed (this two-toned one is really cute) but we also love the idea of a natural-toned daybed that wouldn't take up too much floor space – or even a storage one like this drawers+trundle option.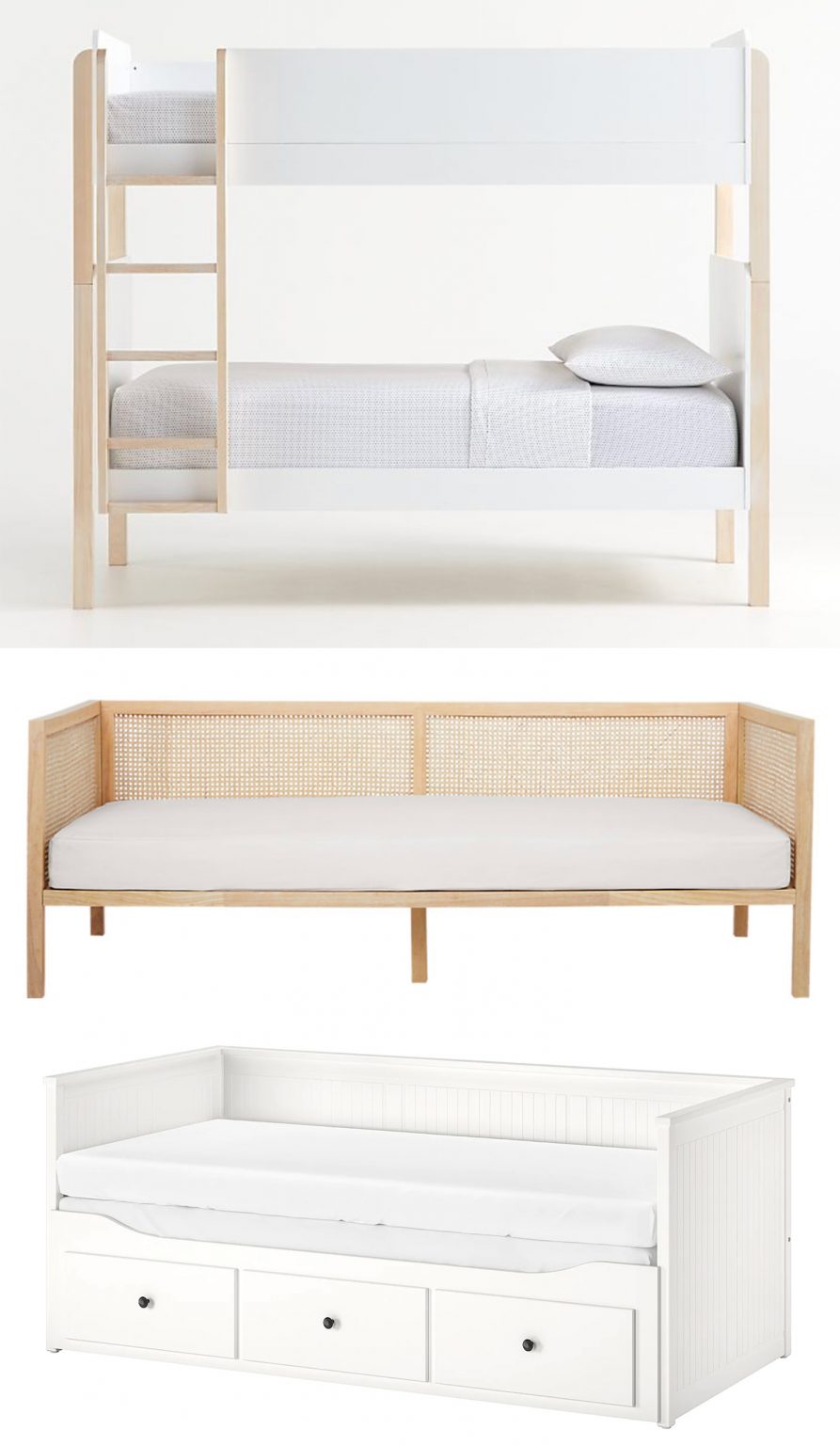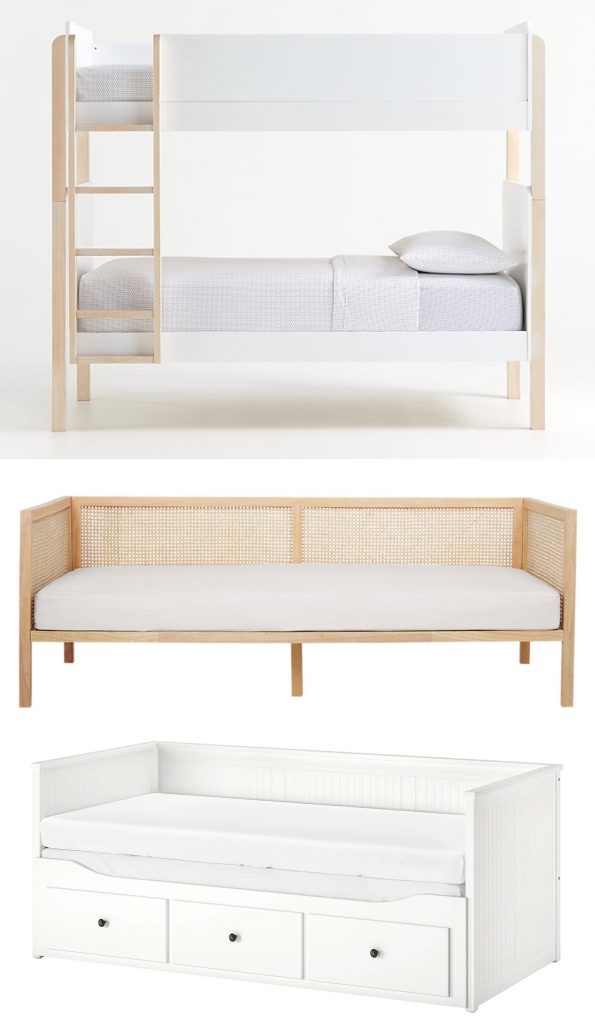 When we asked our son if he wanted a bed with drawers instead of a bunk he was instantly thrilled and immediately started listing what he'd put in them – so the good news is that he should be a pretty easy client – no matter which way we end up going ;)
Since we have two kids rooms, we might end up with a daybed in one and a bunk in the other. We'll have to see how they shape up when we get there and what feels the smartest and least cramped for each space. You know we'll keep you posted…
The Bathrooms
Ok, so this house only has one bathroom right now that we'll all share when we move in, but we're going to be actively working on adding an en-suite bath for our bedroom (we're converting a covered porch over there). I'm hoping that by redoing our bathroom on the earlier side of things it might stave off the bathroom curse that we discovered here in our Richmond house (more on that here).
As for the look, we're loving the idea of, yup, white walls, light wood, and more brass – like the main bathroom here that caught our eye. And some color in the rug or the art as well as PLANTS, PLANTS, AND MORE PLANTS.
We actually had a leak in the wall of the existing bathroom, which meant our contractor had to bust out everything and redo it before we moved in (our original plan was to redo the floor tile and replace the broken vanity ourselves over spring break and call it good – but that leak and the whole nobody-gets-spring-break-this-year changed everything).
So the good news is that we're basically going to arrive to a fully finished bathroom that we'll all share for a little while! It's over on the side of the house with the kids' bedrooms so we wanted to go for some playful things that felt beachy but not too grown-up. I kept saying to John "we are only going to have two bathrooms to redo in this entire house and we're doing them both pretty much right away, so I don't want to rush into some boring/basic choices!" So we looked at a ton of options, and held out for things we really really liked. Here's what we landed on: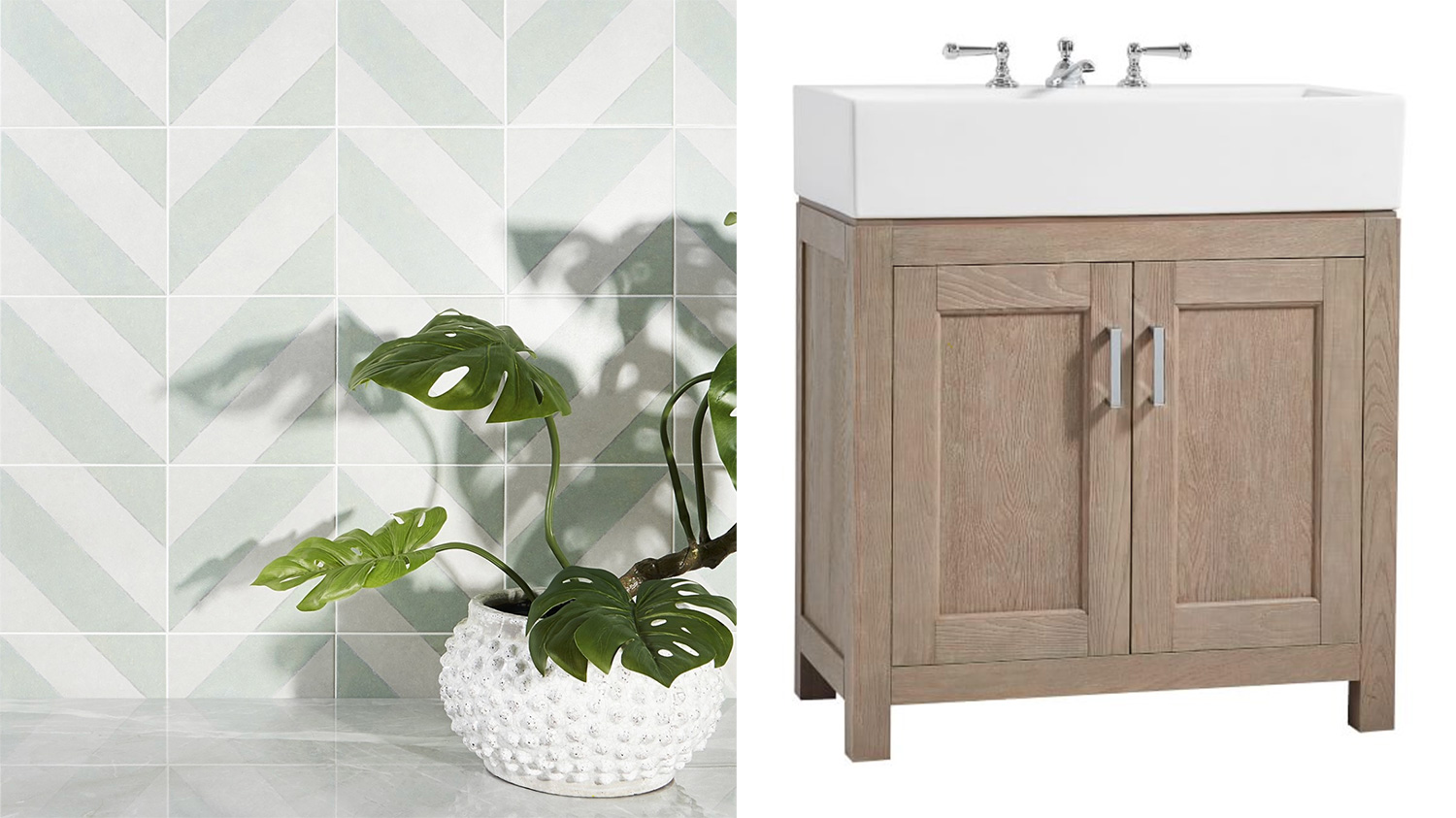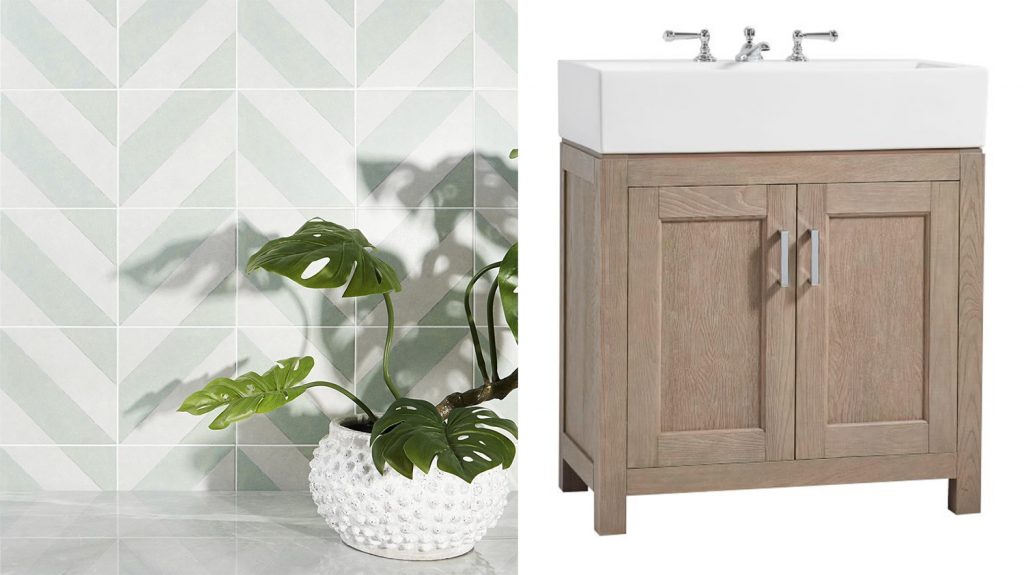 The floor tile is playful and fun but also practical (it's durable porcelain – and not porous like marble or cement tile – but it has that fun patterned look). Meanwhile the vanity is a nice light wood tone, which I really wanted. It also has a thick sink on top, which was also something I was oddly attached to. I kept finding light wood vanities with thin marble tops but I couldn't shake the idea that a light wood base + a thick white sink would be amazing (and wouldn't stain like marble tops can). It's definitely not the cheapest thing I found (even though it was $200 off) but I figure I'm doing this space once and it's not a huge house – so it feels nice to just sort of splurge on this one item for the room. Everything else is extremely affordable (white subway tile shower walls, the same basic tub we used all over the duplex, a mirror we already own over the sink, etc). So I yolo'd the vanity.
Ok, so that's a peek into our brains: both the vibe that we're drawn to for this house and the ways we'll be using a lot of the spaces. It was so funny to hear from so many of you who said "huh, it has a second floor! I totally pictured a ranch!" after we shared this construction picture on Instagram. And we're aiming for next week's post to be a full before photo-fest (with that video walk-through too) and then maybe the week after we can do the floor plan breakdown. SO MANY FUN THINGS TO SHARE!
(I'M SORRY BUT I AM NO LESS EXCITED AT THE END OF THIS POST THAN I WAS AT THE BEGINNING. PLEASE FORGIVE ME.)
P.S. If you love inspiration image posts like this, we did one for the duplex a few years back! It's so much fun to look back on them after the house is done to see how close certain details got (and what changed along the way).
*This post contains affiliate links, so we may earn a small commission when you make a purchase through links on our site at no additional cost to you.