This year we got our gift guide post up a lot sooner than usual, because we're highlighting tons of small makers and Black-owned businesses that we love, and we want to give those shops as much lead time as possible (heck, large stores seem to need more lead time than ever these days too). We also included a handful of tried & true items from larger companies that we've bought and loved (like a favorite tool or family game).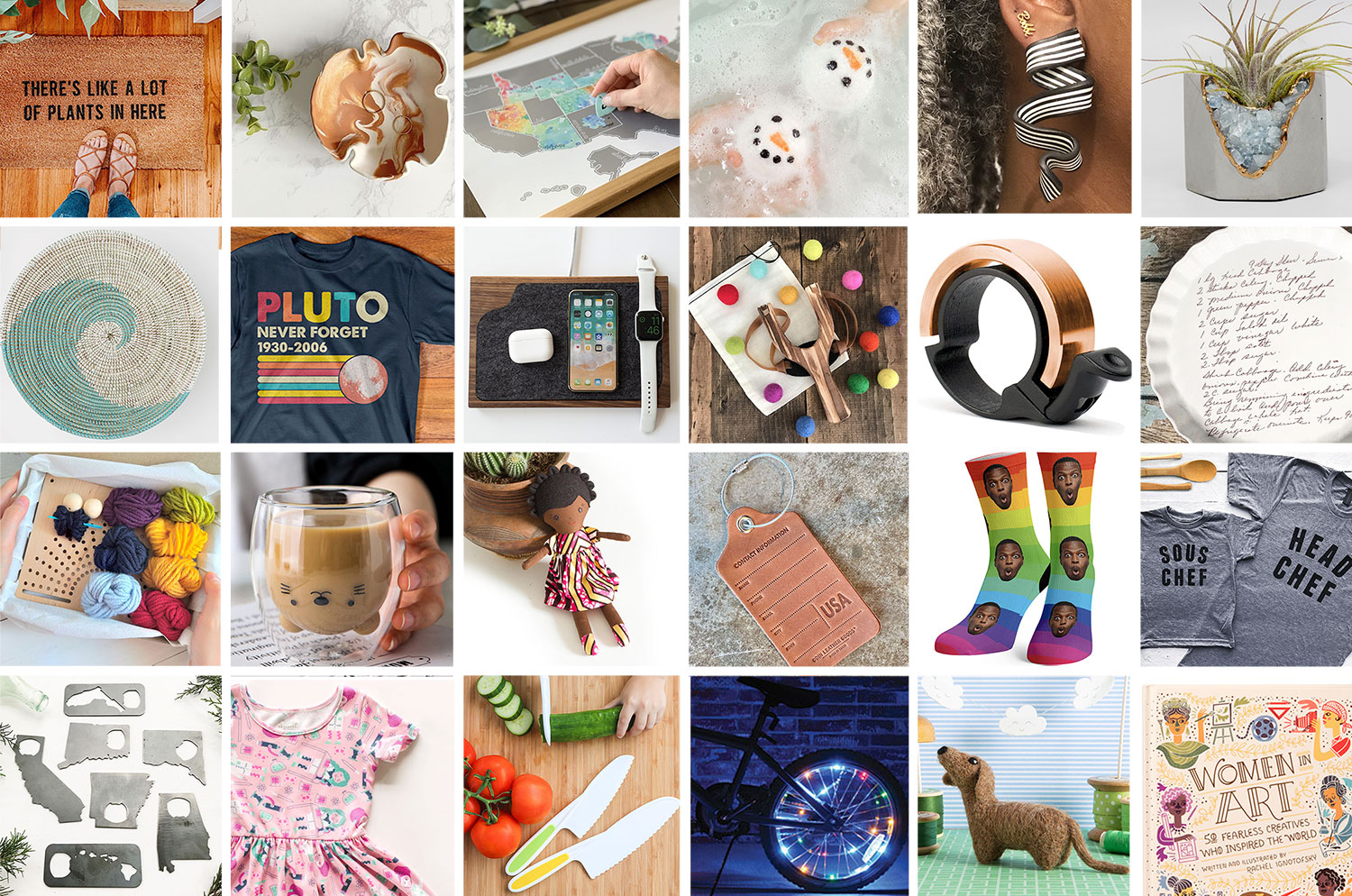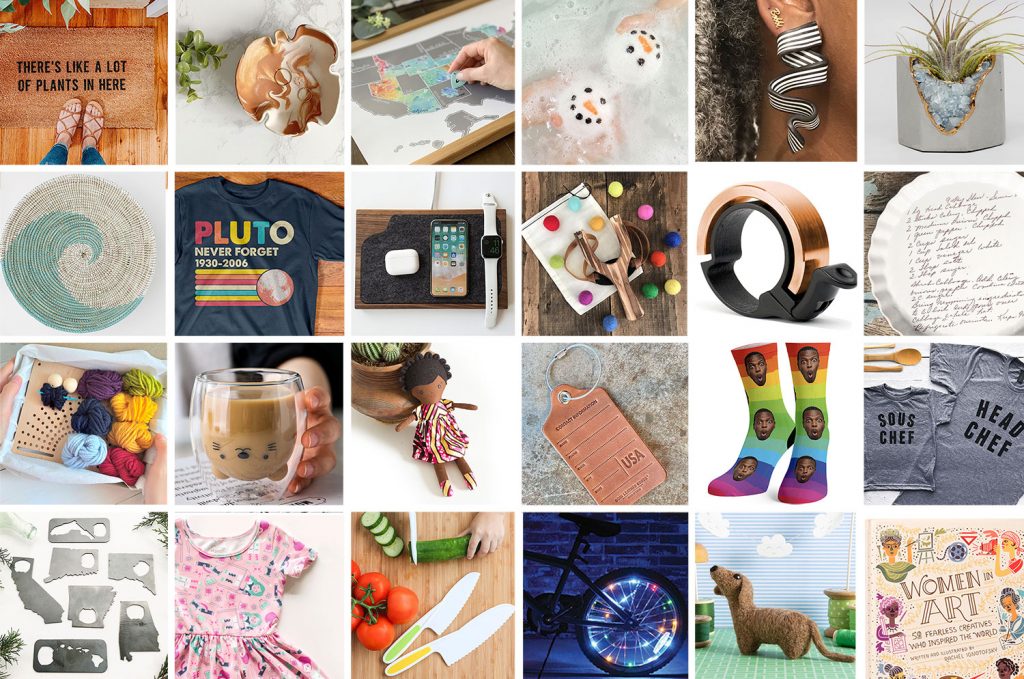 There's stuff for grown-ups, kids, and a ton of budget-friendly ideas that are under $20, and even under $10 that would be great for teachers, neighbors, coworkers, or white elephant exchanges!
Gifts For Grown-Ups
Here's what we're loving, either firsthand items that we've personally bought and enjoyed – or things that we're getting for friends & family (or hoping to find under the tree ourselves).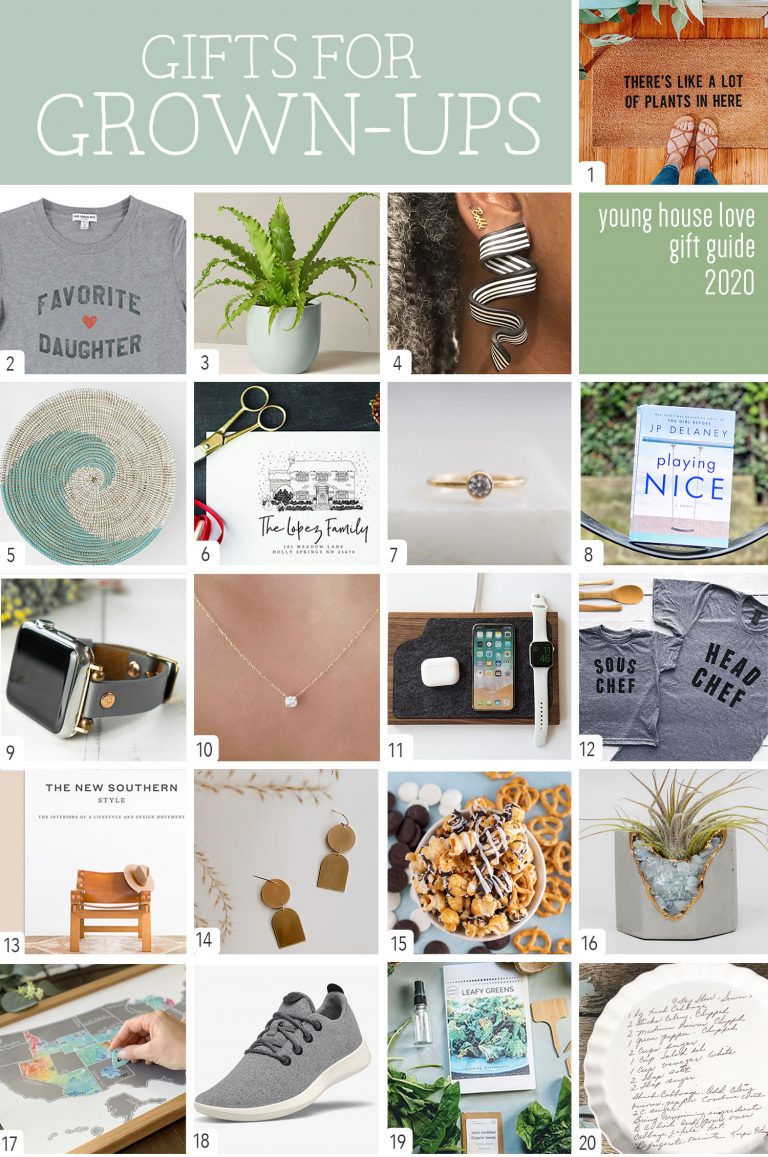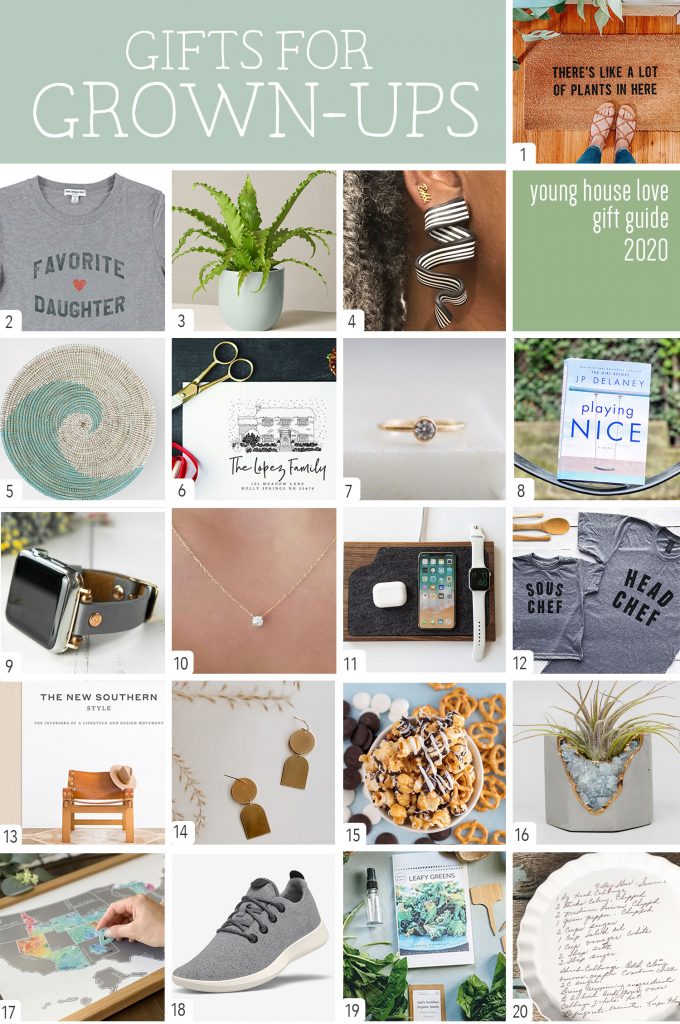 This plant lover's doormat makes me laugh so hard ($52)
We're eying this favorite daughter t-shirt for all three of John's sisters ($24)
John & the kids got me two surprise mail-order plants like this for Mother's Day (this pothos & this fern) and they're still going strong (from $25)
Santa is bringing me Bobbi's black & white earrings & I'm THRILLED ($45)
We own and love this wave basket which works as a large tray for magazines on a table or you can hang it on the wall as large textural art! ($69)
We got this custom address stamp for the duplex & one for this house. So special & personalized! (from $94)
I bought one of these minimalist birthstone rings for each of my kids' birthdays & love how delicate and sweet they are ($48)
John recently finished Playing Nice – a thriller about babies that were switched at birth, and loved every second of it ($25)
For the iPhone enthusiast in your life, here's a cool gray leather apple watchband (they have lots of other cool designs too) ($28)
This has been my favorite necklace for years & the owners of this shop couldn't be nicer (mine's white gold, .10 stone, 16″ chain & it's 20% off right now!) ($184)
I know John's hoping for a wireless charging station – and this one is beautifully made with the choice of maple or walnut wood ($91)
This unisex head chef & sous chef t-shirt set is so sweet for anyone you know that cooks with a little one ($48)
I recently got The New Southern Style by Alyssa Rosenheck and it's a beautiful and inclusive home book packed with inspiration ($37)
I bought these brass geometric earrings this summer and they're gorgeous and so well made. Such a fan of all of her designs ($35)
Run, don't walk, and get this gourmet popcorn for someone you love – and send some to your house too. Trust me on this. (from $20)
I bought this geode airplant planter and it's like a work of art on my shelf. Just so detailed & lovely. Highly recommend. ($30)
We got John's parents a scratch-off travel map for a road trip last year & they loved it & framed it when they got home ($30)
These are hands down John's favorite shoes because they're super comfortable, washable, & eco-friendly (they also have gift cards) ($95)
This organic leafy green seed kit is for the gardener in your life ($35)
This personalized recipe pie pan is oven safe and they put your loved one's actual handwritten recipe on it. Such a sweet keepsake! ($75)
Gifts For Kids
Here are some fun & creative gifts that we found for the wee ones in your life. These are things that we actually own and love, or items that we're buying our kids this year (or considering for other little cousins & friends).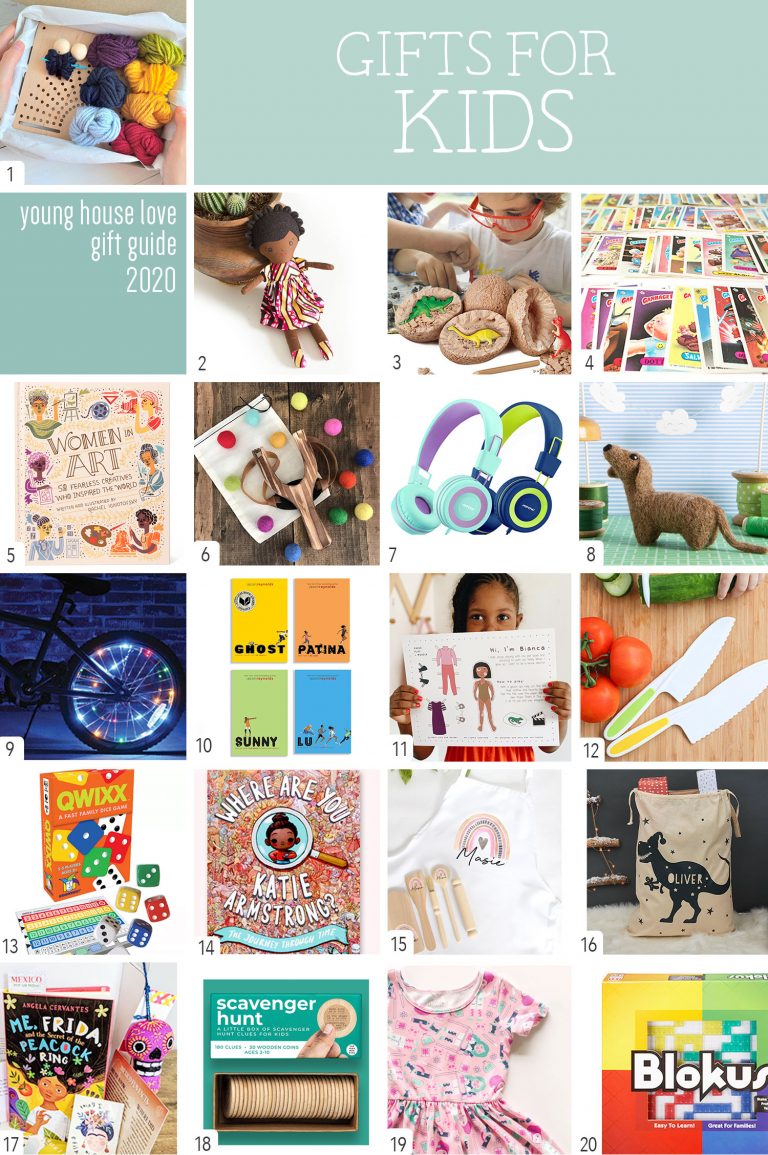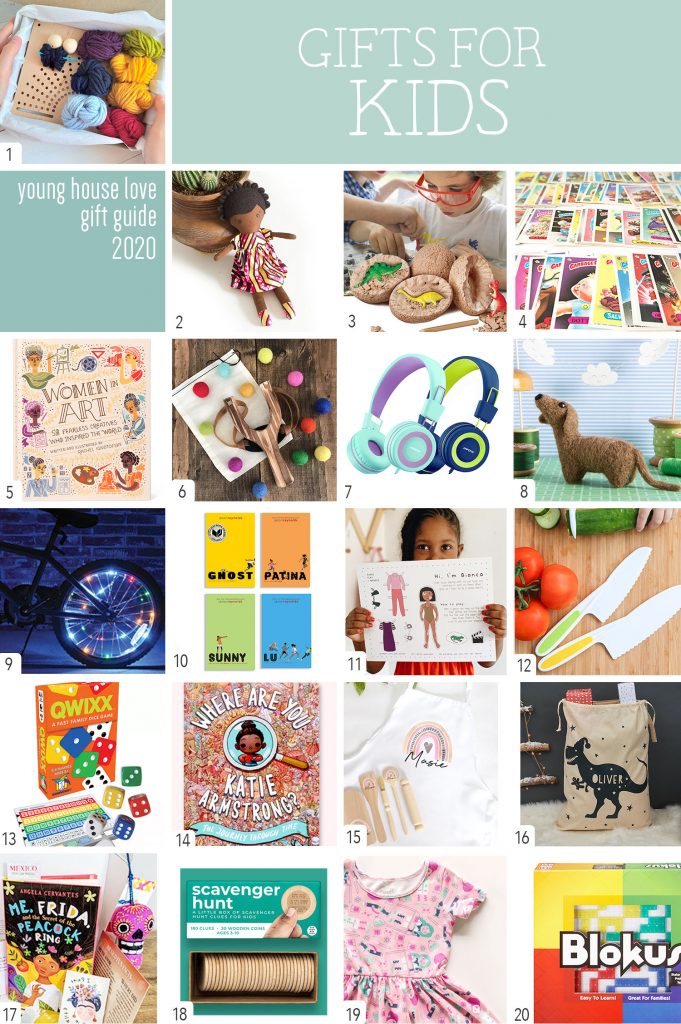 Gifts Under $25
This is my favorite list to make each year, because I love a deal – and so many of these things still feel so personalized and special! There are even items under $10 and even $7 that would make great neighbor gifts, white elephant ideas, or fun stocking stuffers.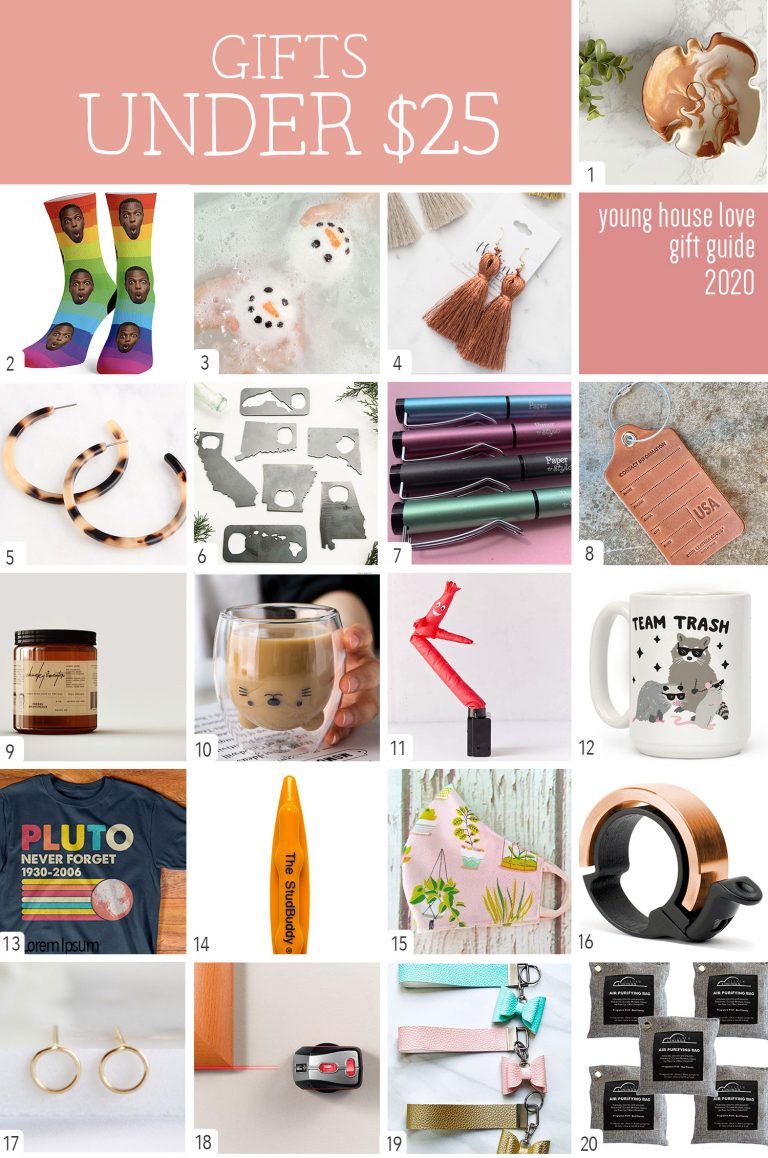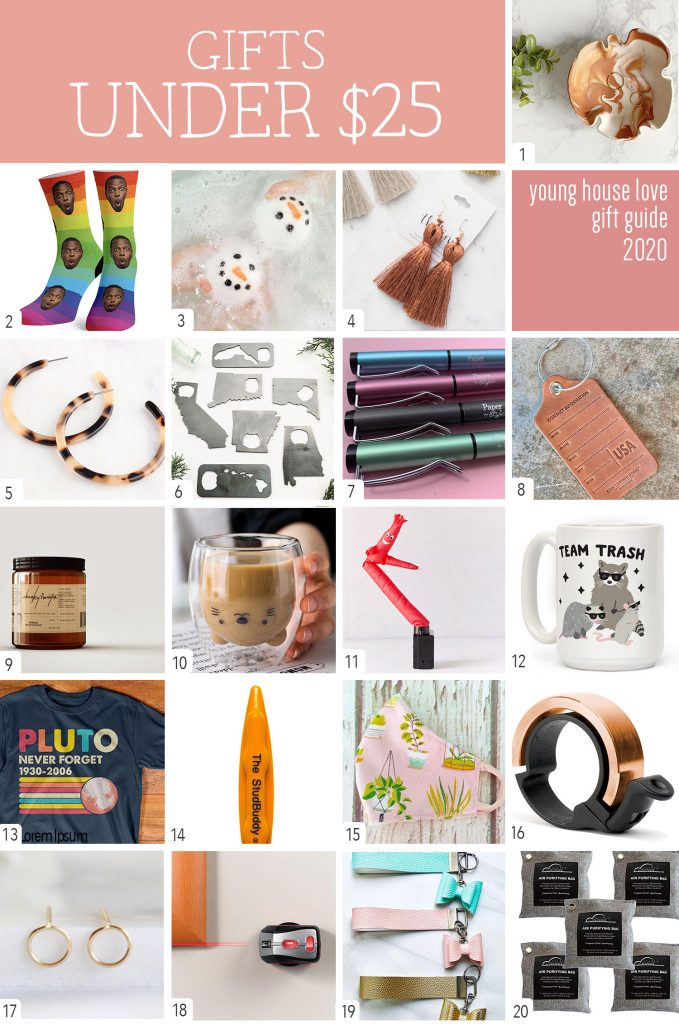 I bought one of these handmade catchall bowls this summer & they're beautiful! I keep mine in the kitchen with crystals in it (of course) but they're great for jewelry, business cards, & more ($23)
We got custom face socks like these for the grandparents (of our kids making their goofiest faces) and they were quite a hit ($13)
These snowman bath bombs are great gifts for kids, teachers, neighbors, anyone really. And at under $7 you can spread the love around.
I bought these tassel earrings and they're so lightweight, flattering, & just $24
Keeping on the Sherry-loves-earrings theme, I also bought these tortoise hoop earrings so I can attest to how light & well made they are ($10)
This state bottle opener is one of those great gifts that feels so personalized & is also practical and oh so useful ($12)
If you're a stationery & pen nerd like myself, you'll love these smooth metallic gel pens – and they also have great notebooks. ($9)
For the travel-lover, this leather luggage tag looks so posh & it's just $10!
I bought this Chunky Sweater candle for John as a Father's Day gift & he loves it. Three young brothers make these candles & their story is amazing ($20)
Who doesn't love an animal face coffee/tea cup?! I'd give this to someone with a nice box of tea or coffee – or even hot chocolate ($15)
This mini tube man is so much fun, I wish I had a white elephant exchange coming up, because dang-it, he'd win ($13)
Back on the mug train for one second because this Team Trash mug made me laugh out loud. Fill it with chocolate or cheese – ha! ($12)
Speaking of things that make us laugh – this Never Forget Pluto shirt is so nerdy and funny, I might just have to get it for John ($19)
The Stud Buddy is is our favorite stud finder. It literally holds itself up on the wall when it finds a stud so you're hands-free to mark it ($10)
This plant mask is so delightfully beautiful. Everything she makes is so well rated & lovely, here's the entire shop ($17)
John bought this modern bike bell and loves the simple design and nice bright *rinnnnnng*. Great for the cyclist in your life ($20)
These small circle earrings are just $16 and so delicate and minimal.
We've had this laser level for years & it sticks to the wall, shines a line, and makes hanging a row of frames or adding board & batten much easier ($15)
I have this gold key bow wristlet and love how easy it is to find in a purse – plus I can loop it around my wrist for quick trips to the store ($8)
These charcoal bags suck up odor like mad (lay them outside in full sun for an hour when you get them & every month after that & they last for years!). They make a good stocking stuffer since the joke can be "I got you coal" ($13)
Psst – To see last year's lists, a lot of which is still linked and for sale, click here – and to check out our Black-owned business roundup (which has over 500 highly recommended shops!) click here.
*This post contains affiliate links, so we may earn a small commission when you make a purchase through links on our site at no additional cost to you.