Author Archive
During last week's update about our Homearama Showhouse for Habitat For Humanity, we included a few peeks at how some of the rooms were shaping up.
Well, shaping up in our heads, technically, since we're still about three weeks out from being able to put any furnishings into the house (the walls are getting painted as I type this, and then the cabinetry will go in and the hardwood floors will be stained on site), so everything has been in shopping list and mood board form so far.
But in the last week the builder and his awesome team have been humming along, and we've made some really good furniture-and-accessory planning progress in several of the rooms. Enough that we can finally share a few room plans with you guys that are no longer missing major elements. Some spaces are definitely further along in the planning process than others, and the two in the lead are: the study (aka: the home office) and the dining room.
They're the first two rooms in the house when you walk in, so we're grateful that they're shaping up to be a good representation of the feeling that we want this house to have. One kinda skews light & happy while the other brings in a bit more of a cozy & moody feeling that we also really like. So we figure that together they'll help set the tone for the rest of the house.
Let's start with the study, er, office as we keep calling it. Here's what it's looking like now.
Since we're sort of designing for a hypothetical future version of our family (hence the tween girl & young boy rooms that we mentioned last week), we thought it'd be fun to do a home office for a woman who works (perhaps blogs?) at home. Not only is it an easy mental leap to make, but we also thought it would differentiate it from all of the manly mahogany studies that we're used to seeing in model homes. So light, cheery, and a smidge feminine was our goal.
The walls are already Simply White like the trim, but the painters still have to put our bold accent color on the 10′ ceiling, which we thought was tall enough to handle a rich and saturated turquoise color called Skydive.
This Wire Globe Lantern in rust from our lighting collection (donated by Shades of Light) will hang over the desk that will float in the middle of the room.
Floor length curtains in a textured & modern feeling fabric (Dapp woven fabric in Elephant) will hang floor to ceiling on either side of the window (our favorite local fabric shop, U-Fab, is donating them to the cause).
West Elm is also excited to help Habitat, so they offered up this striped Saddle Office Chair but we hear it's on back order (fingers crossed it comes through in time).
We'd love to add some chic storage boxes, like these from Target.
While we're at it, a cheery mug for pencils and other desk stuff could be fun. Maybe this one?
This wood & metal desk hails from Green Front Furniture (sorry, we don't know the maker) who is loaning furniture to all seven of the homes in the show (more on that here). Please forgive the wonky photoshopped top (I attempted to remove some display materials that were in our shot).
We love this art from Help Ink, where $1 of every $5 spent goes to a charity of your selection. We're thinking this print would be perfect, since the colors fit right in, and the message is pretty great too.
West Elm was also happy to donate this Torres Wood Kilim rug in Guava, which we think will keep things casual and light.
We're also thinking about buying this Help Ink print as well. Feels nice to choose accessories with a charitable goal while decorating a house for charity.
Although most of the items above are already locked in, a lot of the accessories and art are things that we're going to purchase and fill in as the rooms get further along. So we're sure some might change as we go, and of course a ton of other stuff will end up in each room as it evolves. But on to the dining room! Last week it was looking like this (we're still waiting for our big glass pocket doors with a transom window to be installed at that extra-wide entryway).
But as of yesterday it had made some great progress thanks to our custom wainscot being finished and freshly painted! It's not your typical wainscoting, but with a very talented carpenter at our disposal, we wanted to try something a little different (remember how we chatted about trying to take risks and all that good stuff here?). We thought about something like a herringbone or a chevron pattern, but didn't want it to be too overt (like this) and were inspired by something a little more subtle and less common (oddly enough, like the pattern on these shoes that Sherry saw on Pinterest).
It's a wide-angled pattern made up of wood slats with a 1/4″ gap between them, so the lines are kind of "engraved" into the wainscot instead of sticking out. Before putting it up, we literally sat with the carpenter and drew various angles right onto the walls and used different board widths and spacing methods until it looked subtle enough not to be too crazy (but not so soft that the pattern would disappear completely when it was painted). For anyone interested, we went with 1 x 3″ boards, a spacing of one quarter of an inch between them, and the angle is around 22 degrees from the floor.
It's sort of hard to get "the full picture" for the room from that shot above (since about 99% of the other elements are missing) but once the rest of the furnishings/accessories get added (and the upper wall gets painted a nice dark color to balance out the wainscoting) we think it'll be a great background texture among some other elements, like:
The upper walls are going to be Kendall Charcoal, a deep brown-gray color that will bring some moodiness to the top of the 10′ tall room.
Here's the aforementioned wainscot that we added for reference (it'll remain glossy white, along with the trim).
This is the big Industrial Modern Island Chandelier in Bronze that Shades of Light is donating for over the table.
We fell hard for this Jute Boucle in Platinum, which West Elm is kindly donating.
We'd also love some potted greenery as centerpieces, like these that we found on Etsy.
This rustic wood pedestal table that Green Front Furniture is loaning us for the show will float in the middle of the room with the chandelier over it.
Among the potted plant centerpieces, we thought a collection of old wine bottles or green vases would be a nice mix (image from West Elm).
We liked the idea of dark upholstered chairs, which would pop in front of the white wainscoting. Maybe these from World Market?
We'll also be adding floor length curtains in this fabric (Stri fabric in Ultramarine, donated by U-Fab). We love that they subtly reference the angled wainscoting, and while we wanted the room to be sort of quietly elegant, we couldn't resist some color on the window wall.
I don't know about you, but we're excited to be getting to this phase of the project: where things start feeling like real rooms – and we finally get to work on filling them up and making it feel like home. It's crazy to think this was just a dirt lot a few months ago. It's also pretty crazy to think that in two short months we'll have an entire finished house (with over 20 different spaces) to share with you guys. That's a whole lotta before & after – and about 95% faster than we're used to moving. Oh yeah, and somewhere in there we'll have a baby. Guess it's time to buckle up and hold on…
PS: For those asking about Homearama tickets, they're usually $10 (children 18 & under are free) but you can get them for 20% off in February (and show some love to Habitat if you're so inclined) here. The show is open Thurs-Sun, the first three weekends of May.
**********************************
As a little Friday bonus, here are four fun projects, chats, or questions going on over on the Forums. We also announced this week's giveaway winner, so you can click here (and scroll down to the Rafflecopter box) to see if it's you.
| | | | | | | | |
| --- | --- | --- | --- | --- | --- | --- | --- |
| | | | | | | | |
| by TheThreeOfUs | | by aforceinside | | by Jenna2027 | | by Vegas | |
Exactly eight years ago today, Sherry and I picked up and moved from NYC to Richmond, VA together. Apart from the towns that we grew up in, neither of us have ever lived any place longer – and it's the only hometown that Clara has ever known. So we thought it would be fun to commemorate this date – and this city that we love. Especially since you guys ask us plenty of "when in Rome Richmond" questions – the biggest one being "what thrift/discount stores should I hit up when I pass through?"
Three years ago we celebrated our 5th anniversary by sharing a quick post about our "Five Richmond Top Fives" – but that only mentioned two thrift shops – and we've definitely found other haunts, activities, and eateries since then. So we thought a more thorough guide was in order… complete with an interactive map and an itinerary (you know me – I love a good graphic).
And since Richmond was recently named The Best River Town in America and one of Frommer's Top Destinations for 2014 (only one of three in the US, the others being Palm Springs and Hawaii!), well, we figured our eighth anniversary was the perfect occasion to break things down for you guys.
With the help of modern technology (i.e. Google) we've embedded an interactive map with a dozen of our favorite thrift and discount stores in Richmond (green dots), along with some other suggested spots for eating (blue dots), or otherwise having-a-good-time spots (red dots). You can click any of the dots below for more info on each one of them – including a description from us about what you'll find, some tips about when they're closed, etc. Note: if you can't see the map, try clicking here.

And here's a hypothetical itinerary. It doesn't include all of the eating options or any of the red dots (those are other fun activities outside of shopping/thrifting) but if you click those dots on the map you'll get more info on each of those.
Let's hit the road, shall we? Assuming you're starting somewhere near the city center, you can head either clockwise or counter-clockwise around the map – we'll do the latter in this post. Either way, you might want to fuel up at Sugar Shack Donuts or Dixie Donuts (pictured) before you start shopping (check out Sugar Shack's FB page for secret free donut deals like "recite an ode to your donut"). Most thrift stores don't open 'til 9 or 10am, so you've got time to enjoy it. Oh and many are closed on Sundays, Mondays, and Tuesdays – so try to avoid those days if you want to cram the most in.
Our local Habitat for Humanity ReStore is our go-to spot for donating, and is usually a good shot at finding building materials and fixtures. If you're more in the market for furniture and accessory finds, you might want to start at Diversity Thrift. We got lots of stuff there over the years, including the glass and metal table in our first house's living/dining room (we still have it in the garage with a plan for tweaking it for our back porch someday).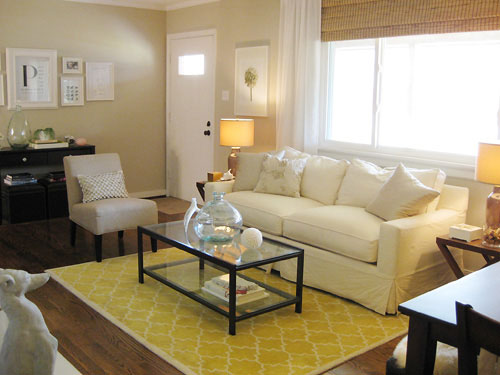 Next head north on nearby I-95 to Lakeside Avenue which has a few thrift and antique spots, most notably Consignment Connection. It's got tons of little rooms full of things, and is sort of a mix between an antique shop and a thrift store. It's where Sherry found her beloved whale globe.
If you want the inspiration and tools for revamping your thrifted finds – or just want to buy something that has already been made over, make the short trek up I-95 to Ashland and swing by Thrill of the Hunt which has great upcycled furniture.
On your way back, don't miss Class and Trash for lots of vintage and shabby chic stuff, including tons of metal signs and letters. We try to stop in a few times a season since there's always a lot of stuff (both big and small) to see. If you've haven't already needed a lunch break, you could pop down to the Short Pump area for a burger. We love Burgerworks for a casual but filling one built to your liking (I always get a fried egg on top). Burger Bach, a New Zealand-style gastropub, is also nearby for a foodie-r experience (it's really good, but you might have a bit of a wait).
You may just need to go nap and call it a day by this point, but if not – head south on I-288 toward the river. Wait, but slip through HOPE Thrift on your way. It's the newest store on our radar and we know we're bound to find something cool there soon. Once you hit Midlothian Turnpike, you've entered our main drag of thrift stores. You can start small at RAL Reuse, which we love because it supports the Richmond Animal League. And also because its near one of our favorite cafes, Urban Farmhouse. Even if you're not hungry, stop in for a coffee/tea and some pretty amazing design inspiration. There's also a location downtown if you don't have time to spare.
Further down the road is a Salvation Army Family Center, which is one of the more furniture-heavy thrift stores that we've been into locally. If that's not really what you're looking for, you can skip it and head straight for The Decorating Outlet. It's not technically a thrift store, but it's too full of deals to leave off the list. We get tons of lights there, but we've also scored rugs and furniture there too – including our crazy discounted kitchen table.
By the time you get to this part of the route, it means you're nearing our #1 go-to spot for thrifted furniture: Love of Jesus Thrift Store on Midlothian. They've got tons of furniture, and we scored a bunch of stuff for our book there – including this dresser that we painted in a gradient back in 2012 (and still use in our bedroom today). Across the street is Family Thrift Center, which used to just be a convenience (i.e. pity) stop, but we just found this $9.98 headboard for the showhouse there, so it's a new favorite.
If you still have time (admittedly, doubtful) – Caravati's is also worth a stop. It's an architectural salvage place so prices are much higher than thrift stores, but there are such cool sights that make it worth the detour. And once all the stores are closed, hit up the Proper Pie Company for dinner and dessert (yup, they've got savory and sweet pies) – along with one last dose of vintage decor inspiration.
Admittedly it's probably a bit ambitious to cram all of this into just one day, especially if you like to take your time perusing like Sherry does (or take your time eating like I do). But maybe that just means you'll need to stay the weekend. Or move here entirely. You know, either one works.
Now what about you guys? What are the best thrifting spots in your town? Wouldn't it be awesome to have a city-by-city database of them somewhere with user rated reviews and a "print me a map" feature so you'd know where to go when you get to a new place? Somebody get on that. Or does it already exist and we're the last ones to know?