Let's call this Project Pink & Orange For Da Bean. It's about time Clara got a nickname a la $herdog, so Da Bean it is. Kinda like Da Band, but with less P Diddy. Anyway, remember when John mused about who would win the bathroom race (he wanted to frame out the mirror and I was on the window shade train) here? Well, chugga chugga, baby. Momma won.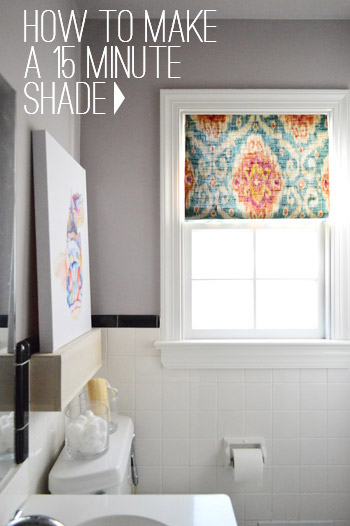 We got the fabric at an outlet called Mary Jo's a while back (here's an affiliate link to it on amazon for folks in other areas). We threw Clara a wormy birthday party with her two favorite colors – pink & orange – so when it came to picking out the fabric for the hall bathroom, where we log some serious potty and bath time with beansie, I couldn't resist adding some fun with the bold patterned fabric that featured a few of Clara's favorite colors. Especially since so much of the room is such a safe/neutral tone (lots of white tile and trim + gray walls with a soft plum undertone), so it's fun to bring some pops of color with the turquoise knobs that we added to the vanity, some colorful art, and our new window shade.
As for the process, it was a semi-similar system to the shade I recently made for the kitchen – except even simpler. Yup, this baby was an $8, fifteen minute curtain (the kitchen one took about an hour). There was still no sewing machine involved, but this time there was also no pinning and less fabric (I only needed half a yard) – so it took a lot less time. You ready for the breakdown? I thought it would be fun to do a minute by minute rundown, so here we go:
Minutes 1-3: I broke out six pieces of cardstock and the tape to make a quick paper template for the exact width and length of the window.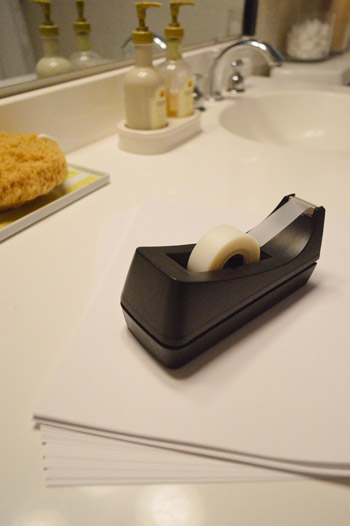 Then I taped it up in place. Sometimes it just helps to visualize things before committing to a certain size/shape. Plus once I was done I got to put the paper in Clara's drawing/sticker pile. Waste not, want not.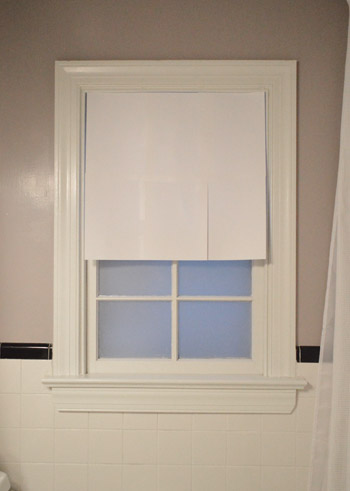 Minutes 4-5: Next I carefully placed my paper template on my fabric (so the pattern was centered) and cut it out with an inch border on each side and the bottom with a wider border along the top (3″) since that extra fabric would be used to mount it at the top.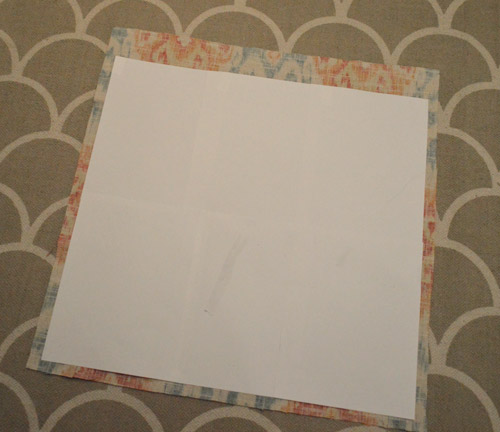 The reason I cut the fabric to just be an inch wider on those three sides was because that's the width of my hem tape, so once it was hemmed I knew I'd end up with a shade that was exactly the width of the paper template, which perfectly fit our window.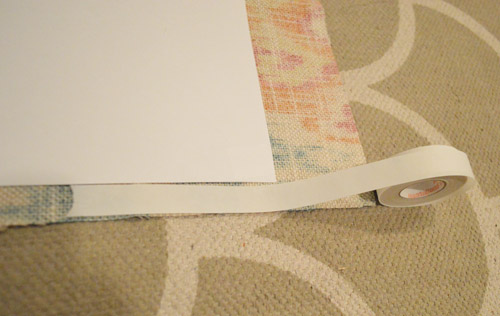 Minutes 6-8: Then I just hemmed all of the sides with no-sew iron on tape (I like heavy duty Heat N Bond, which I get for a few bucks at Michaels). Oh and there's a little video tutorial on how to use no-sew tape here for anyone interested.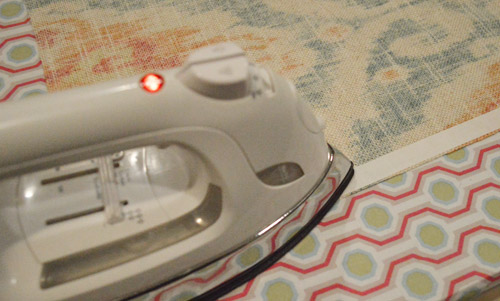 Minutes 9-11: After all four sides were hemmed and the fabric was now the same width as my paper template and two inches taller on the top for mounting reasons, we got a piece of 1″ x 2″ scrap wood from the basement and cut it to be a tiny bit narrower than the width of the fabric.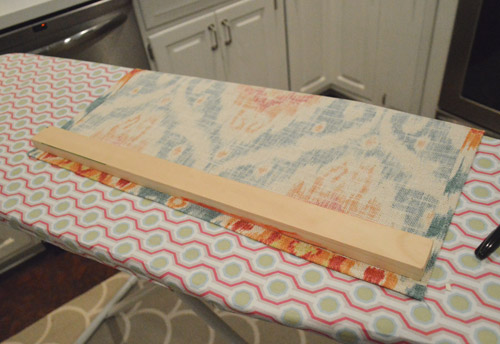 Meanwhile Clara ran off with the measuring tape and was found "helping us measure the tub." Thanks, girl!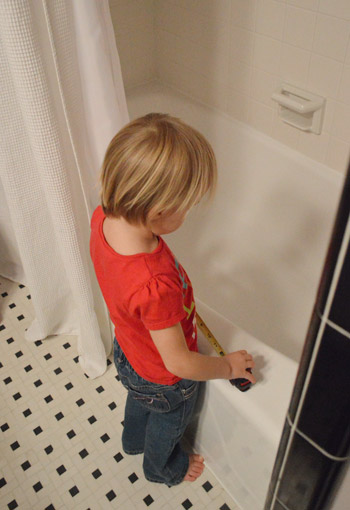 Minutes 12-15: You can see from this photo that we secured the fabric to the piece of wood. I used a staple gun to attach it so it would be firmly held in place once the wood piece was screwed directly into the top of the window (just like you'd hang an inside mount shade). And see that rolled bottom edge in John's left hand in the picture below?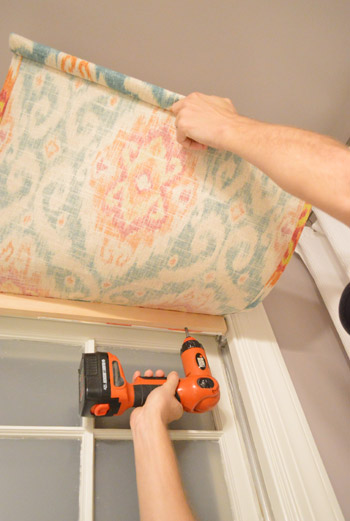 I also grabbed a scrap dowel that we had in the basement and cut it to the same slightly-narrower-than-the-width-of-the-shade size and rolled it into the fabric at the bottom of the shade to create a nice finished bottom edge with a bit of weight to it so it would hang nicely. I secured that rolled edge with a few stitches in a few places (no sewing machine came out, so it was just a minute of "tacking" the fabric in a few spots to hold that tight curl around the dowel). That's optional though, because the shade in the kitchen doesn't have a dowel at the bottom and it still looks clean and straight. Maybe I was just in a dowel mood?
Then, like a finely cooked steak, that baby was done. And since the entire window is also frosted (see how we did that last week), there's privacy but light still streams in – so it doesn't feel dark. I love how the colors in the fish canvas not only tie into the gray-plum walls but are also echoed in the window fabric. I mean if you can't have fun with fish art and some bold window fabric in the bathroom, where we can you have fun with it? #fishcanvas4eva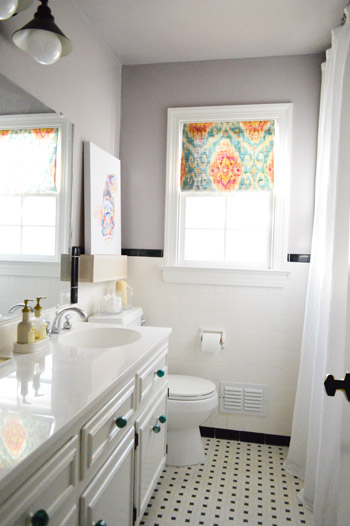 Update: We've had a few "but how do you wash it?" questions, so here's that answer for ya: just like any other store-bought roman shade or blind, it's not washable, but we didn't have any issues with the white Ikea shades that we had for over four years in our first house (which couldn't be washed). If you really wanted to be able to wash yours, maybe you could connect it at the top to the wood mounting piece with washable velcro instead of stapling it?
It still looks a little undone in here since we have to frame out the mirror and I'm planning to bring in a few more pops of color to tie in the curtain, but it's getting there. The sweet thing is that the other side of the bathroom has some nice bright colors that balance things out pretty well already.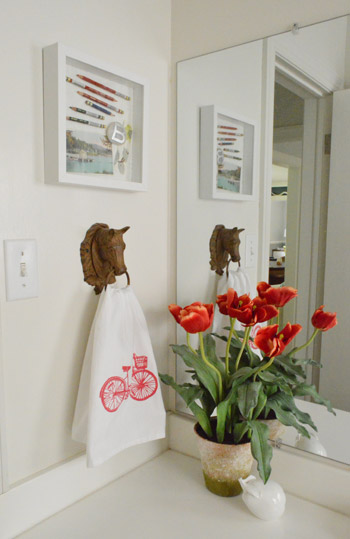 And the room as a whole is definitely looking a lot more "us" than when we started…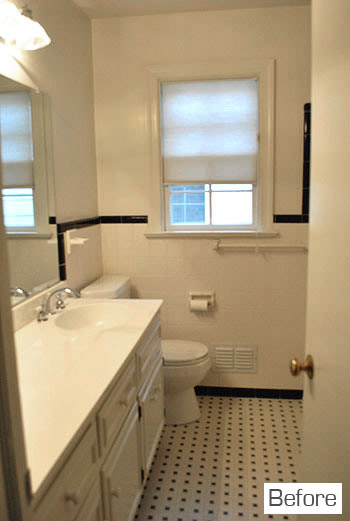 So if you have a basic looking bathroom, a half-yard of colorful fabric, and a few bright accessories you can hopefully spice things up without a total gut job. A cheerful little patterned curtain isn't even a giant commitment since it's so easy to switch out down the line. Oh and did you notice how I colored my brassy doorknob black in the photo below thanks to a little one-second photoshop work? Hah! Someday I'll actually spray him for real.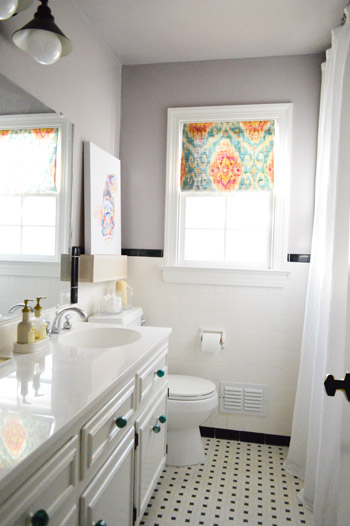 Here's the updated bathroom list:
rehang the shower curtain at ceiling height

trim out the unbalanced window (more on that here)
switch out the light fixture (more on that here)
add some meaningful art (more on that here)
build in a shelf over the toilet for some leaning art (more on that here)
paint the walls a fresher color to help the original tile pop (more on that here)
upgrade the vanity hardware (more on that here)

frost the window (more on that here)
make a bold fabric shade for the window
frame out the mirror over the vanity for a less builder-basic look
ORB that brassy gold doorknob
paint the whitewashed shelf in a solid white tone (since the room is coming together more & we're feeling that now – we'll keep you posted!)
add finishing touches/accessories and dish out a budget breakdown for you guys
What did you guys do this weekend? Are you still in a turkey fog? Or stuffing down leftover stuffing like a champ? Oh and are you competing with your hubby to get something checked off the list? Feels good to win for once. Just sayin'.
Update- We finally created this Shop Our House page to help you hunt down any furniture/accessories that you see in our house, along with all of our paint colors.