Woot, I finally got through the 200+ photos I took at two of my favorite on-the-road-to-Atlanta-and-back shopping stops: The Pottery Barn Outlet (in Gaffney, SC) and Mary Jo's Cloth Shop (right outside of Charlotte, NC). So here are all the things I loved the most (and yes, I actually got something, which I'll call out at the end of this post). So fasten your window shopping seat belts, we have a lot of ground to cover.
First let's start at the PB Outlet. Does the building beckon you in too, or is it just me?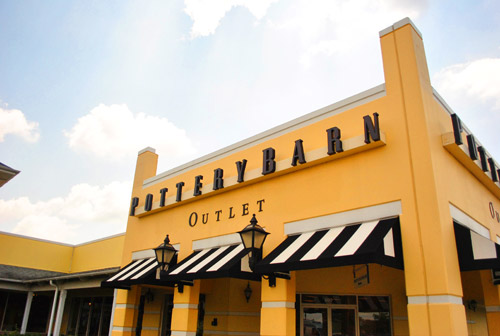 Since we had Clara and Burger with us for the Haven trip, John very selflessly offered to stay outside and entertain the bean and the burgs. Aka: he didn't want to shop. Go figure. Haha.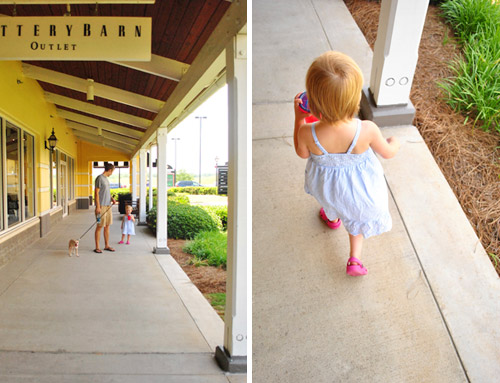 I was happy to poke around inside with me, myself, and I (and my camera) which is where I came across these two fun metal chairs (the adult-sized white one on the right was $245 marked down to $123 and the red kids chair was $119 marked down to $59 (I felt a pang leaving the cute red kids chair there since I knew Clara would love it but we already have two kids chairs at home – that we got for $5 from a yard sale up the street – so it just wasn't meant to be).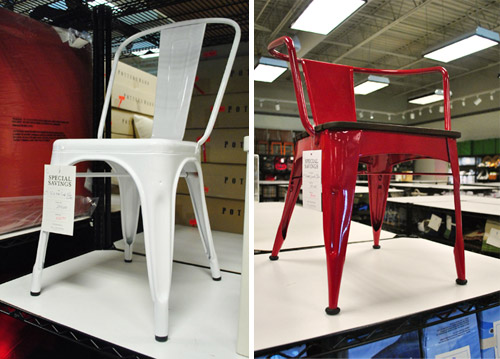 I was also kind of in love with this red stool with a cool slatted top (marked down from $150 to $75). The price is still a little steep if you need a bunch of them, but I think it's a nice inspirational DIY idea too (you could spray whatever wood stool you have red on the bottom and keep the wood top au naturale).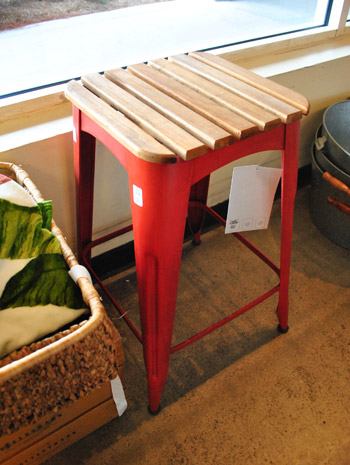 Sticking with the I'm-on-a-red-kick theme, this awesome giant light (this picture does the size no justice, but it was probably 24″ wide) was marked down from $160 to $70. I almost got it. Almost. Just didn't have a spot for it and knew John would kill me make me return it if I walked outside to greet him holding this behemoth. I hope somebody adopted him though. Please tell me someone did.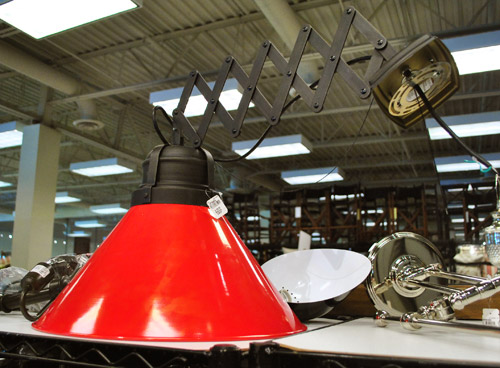 My favorite area of the whole store is the giant rack of on-sale rugs in the back. There are tons of them (both from PB and West Elm, which are my favorite). This nubby silvery blue one and this bright orange Morrocan one were among my favorites. I forget the prices, but they're always marked down a ton – sometimes over $500 off!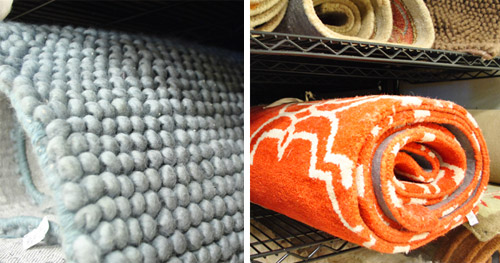 Here's a light that I think was so delicate and pretty. Wouldn't it be awesome in a little girl's room? I love the antique bronze color but could also see it sprayed glossy white or even matte gray or something fun like lemon yellow. It almost has a bird's nest quality to it.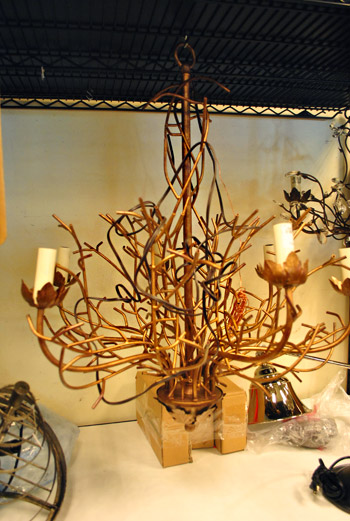 Dude, this lamp = my dream. It was about three feet (!!!!) wide. And get this, it was more than 50% off (it was $550, and was marked down to $200). Still kinda steep, but in a room with a lofted ceiling over a giant dining table- yeah it would be the bomb.com. You can't really see it well in this photo because it was giant and I was trying to hold it up while taking this picture all by my lonesome, but it was basically a hammered silver finish on the outside and the inside was super silvery and metallic. I could just tell it would toss around so much light and add so much sparkle in a modern and industrial way. Delish.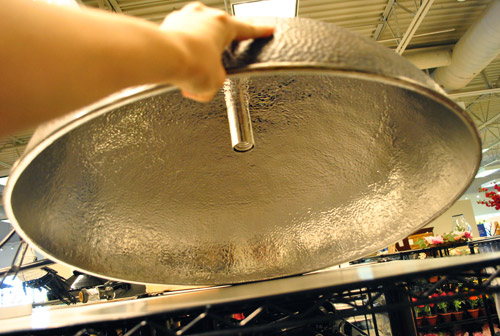 This pretty mercury glass lamp was marked down from $100 to $50 (which seemed comparable to most of the bigger lights at HomeGoods) and the globe light was marked down from $125 to $60 I think (still thought that was a little pricey, but here's hoping they get marked down more over time).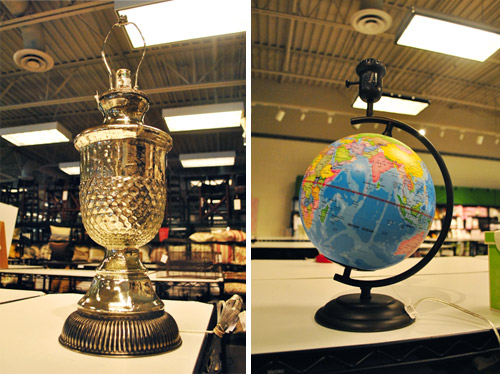 Oh and as for kids stuff, in the Pottery Barn Kids section, they had these cute colorful lanterns (in blue, green, and pink) for something like $19. And this red desk lamp (you know I'm on a red kick…) was so cute since it was a little retro looking airplane. Didn't catch the price for you guys though – so sorry!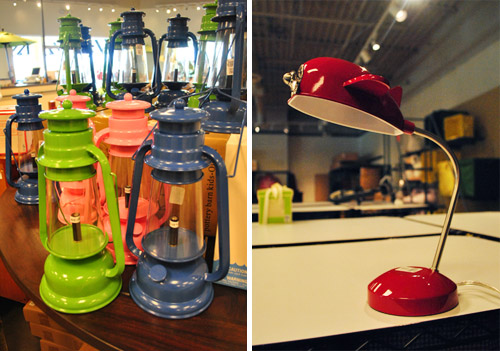 Then there was one of my favorite things in the store. This math art. Why? My dad is a mathematician. My hubby went to a math & science magnet high school. And I am terrible at math. See how it ties into so many people I love while reminding me of my math deficiency? Gotta love that.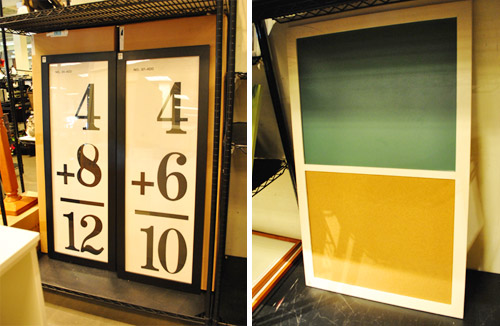 Each giant frame (we're talking at least four feet tall) was marked down from $99 to $69 (which honestly isn't a bad price for a frame that giant) but I also thought it could be a fun DIY art idea for anyone at home who wants to decorate with numbers. The item on the right is a chalkboard/corkboard that was marked down to $60, which I thought could be so functional in a kitchen/pantry. It would be a great place to pin up homework assignments and art and fliers from school along with writing lists and notes, etc. Or you could make one yourself with some cork from Target or Office Max with some chalkboard paint on the other side.
I loved both of these sheet sets since they'd each add a little je ne sais quoi. The ones on the left were marked down from $140 to $50 for the set and I forgot to check the price on the cute kids ones (called Penelope) but I think they were reduced at least $40 from the regular price.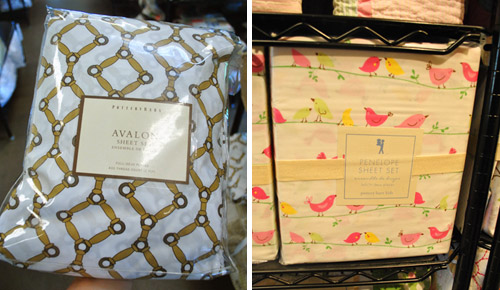 And now for this hunk of gorgeousness. Yes, it was giant. Yes it would never fit in our car. Yes, it was still $1330 (marked down from $1900) but I totally pined for him. He was handsome with a capital H. I hope someone else snagged him for some posh and amazing bathroom remodel that they're doing. If so, send us pics so we can house crash you (I need one last chance to tell him how much I love him).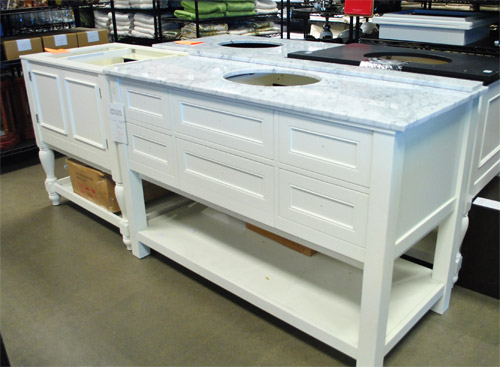 They also had some fun more industrial pieces that looked like they were full of history (like the episode on Friends where Rachael convinces Pheobe that her coffee table is from a flea market when it's really from Pottery Barn). This printer's armoire on the left was originally $1400 (!!) but was marked down to $800, which is still steep but it was a pretty amazing piece. The metal shelves on the right were marked down a lot too but I didn't catch the price. I loved the giant castors on the bottom and thought it could be awesome in a bathroom (picture it full of towels and soaps and stuff) or even in a kitchen (loaded up with dish cloths, cook books, and some glass containers full of flour and sugar).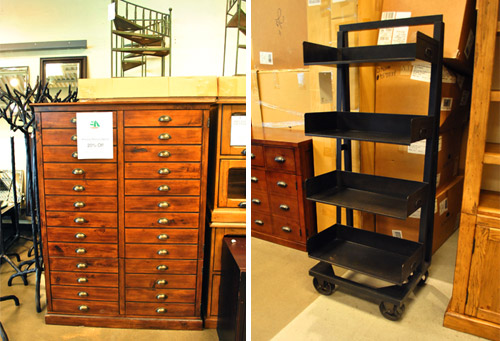 This chair. Oh this chair. I was more into this chair than Game Of Thrones (and I'm really into Game of Thrones right now). It was marked down from $600 to $420, which still put it well out of our price range, but I thought it would look so cute in our sunroom. So yes, I totally whispered "I'll never let go" after snapping this picture. It looks kinda bland here, but picture it with some amazing pillow on it next to a fun colorful side table (maybe a bright yellow ceramic garden stool) in a room full of windows overlooking the great green outdoors. It could be epic.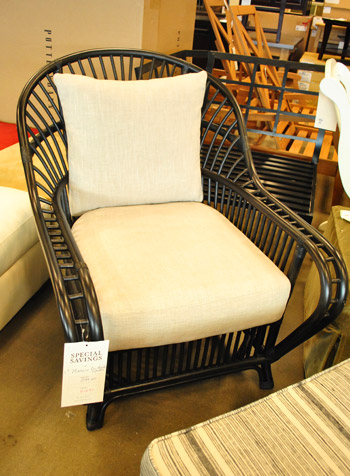 Speaking of the great outdoors, these wooden lounge chairs were marked down from $709 to $355 (around 50% off) which still make them kinda spendy, but they looked really well made. I'm sure they're gone now. They were total charmers in person. And if I was a lady who lunches I would totally want to lunch on those (Housewives style with butlers and such).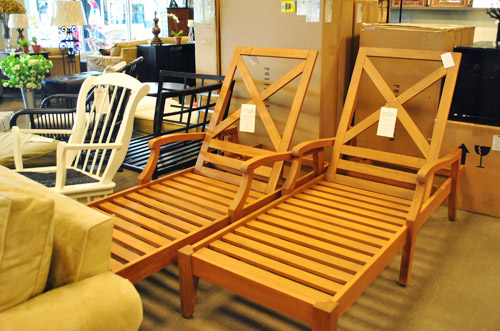 These giant glass hurricanes were around $39 I think (down from $80). I loved how big they were (a cluster of three would look awesome on a giant 14′ long patio table or something – you know, if you're handy enough to make one like my girl Katie B, or if you're a housewife and can buy one to match your diamond studded sunglasses). Or if you're like me, one would be awesome on a front porch, on one side of the door for asymmetrical charm. Now I'm sad I didn't get one to do just that…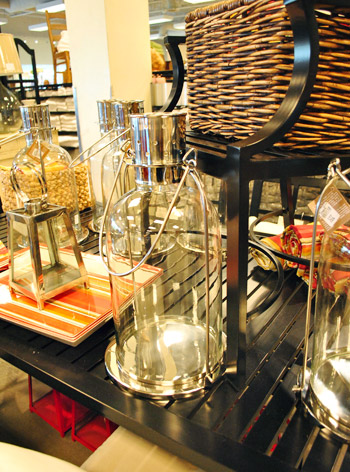 These were also around $39 (marked down from $80) and they were also pretty large (maybe about 18″ tall?). I bet one would look so pretty in the middle of a patio table with a candle gleaming inside (and shining light out of all those lace-like holes).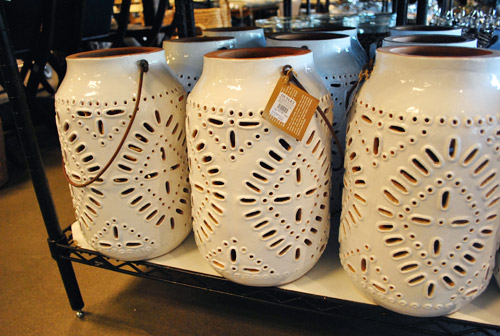 Pretty glassware. And lots of it. I loved the cups on the top shelf. I think they were $3 each. So cute for anything from juice to wine (my Italian momma taught me that anything can be a wine cup, even an old jelly jar). Wait, that makes her sound like a lush, and I promise she's not. Just a lady who doesn't want to be restricted to stemware only when it comes to her wine.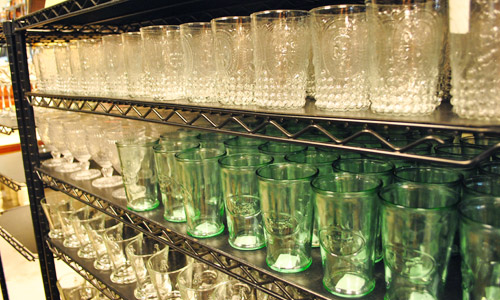 I was very very very tempted when I saw a pile of delicate lettered candle sconces. And of all the remaining letters, they still had Clara's initials – C. P. (what are the odds?). Then I looked at the price tag and realized they were selling the whole stack of five letters as a set for $50. Boo! What if I just wanted two? Then I realized that they spelled out the word Peace. Made a lot more sense after that realization. I do get a kick out of the fact that Clara's initials are in the word Peace (although she can definitely disturb the peace like the best of them!).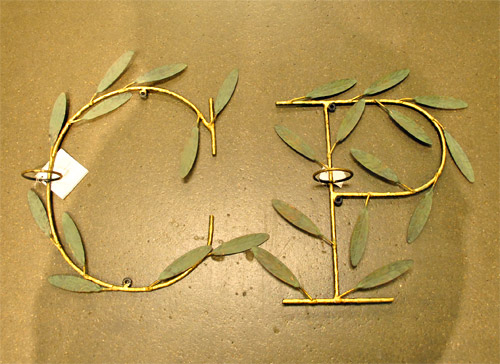 I snapped this picture because I thought these pillows were an awesome example of how someone who isn't into decorating with Santa or reindeer could still gussy up their house for the holidays. Wouldn't that red berry pillow with the long green lumbar be so nice on a sofa during the holidays? Plus they were pillow covers, so you could store them easily in a closet or something for the rest of the year (and just put your regular pillow covers back out once Christmas is over).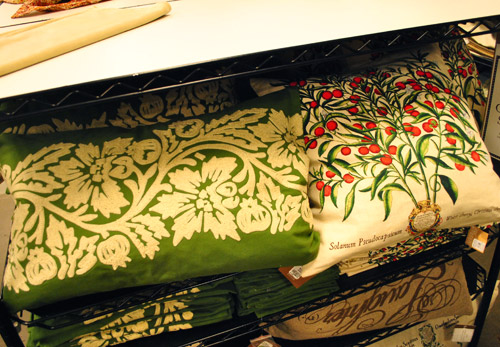 So that was my latest PB run. I can't believe I didn't leave with anything, but in the back of my mind I knew our car space was limited (traveling with a kid and a dog means bringing the dog crate and the pack & play along with all of our suitcases and other stuff). And I was kinda saving my money for Mary Jo's since we all know I have a fabric problem. Haha. So without further ado, let's traipse through there…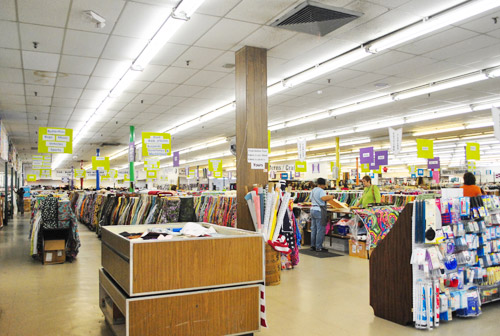 First I saw the bleached version of our dining room curtain fabric (Kanjhali Peacock by Robert Allen) and I loved it! So icy and soft.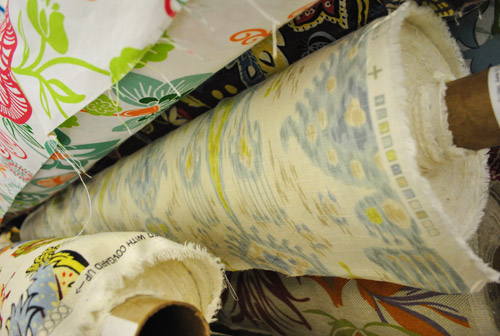 Next I was won over by these fun imperfect polka dot fabrics in a bunch of colors (so sorry, I didn't get the name of these fabrics, so your best bet is just to search a site like fabric.com or Mary Jo's online shop (or check out Mary Jo's in person if you can).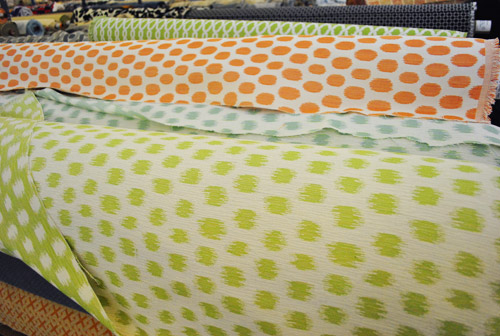 I was completely in love with this velvet-y rainbow fabric. How perfect would that be in a nursery or kids room? Heck, I want it in my room.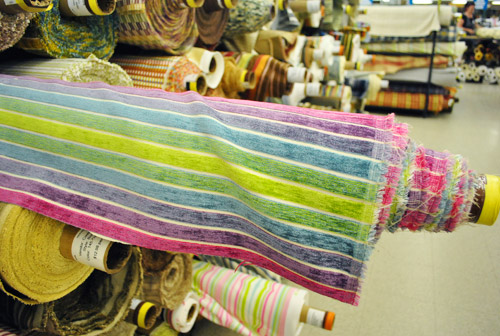 And then there were the "cabinet of curiosities" fabrics as I'm calling them. They were so cool that all I could think about is how awesome a yard or two could be stapled to a giant canvas and framed and hung as art. Again, I wish I knew the maker of all of these, but your best bet is just to see what you can find in an online fabric store or head over to Mary Jo's if you can.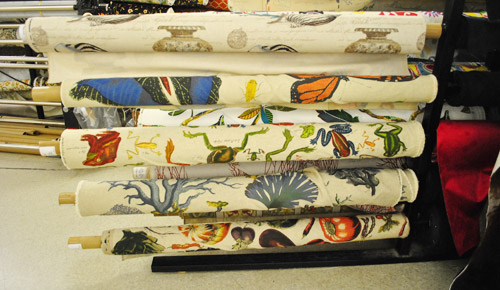 Here's the snake fabric up close and personal. How bad-arse is that yellow snake with the big pink spots? I love her.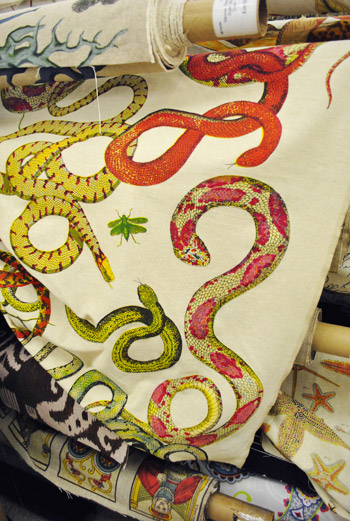 This cool "pixelated" looking fabric was fun too. I loved the more grellow one down below.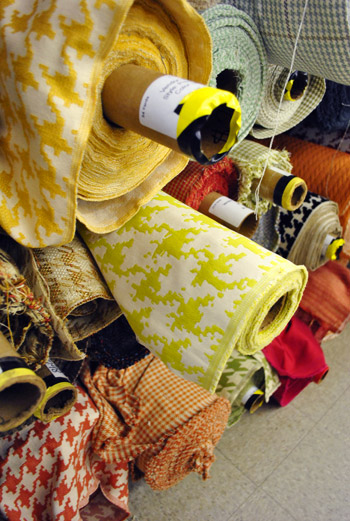 And then there were these fun ginko fabrics in a bunch of colors. I thought yellow or navy would be awesome for some pillows.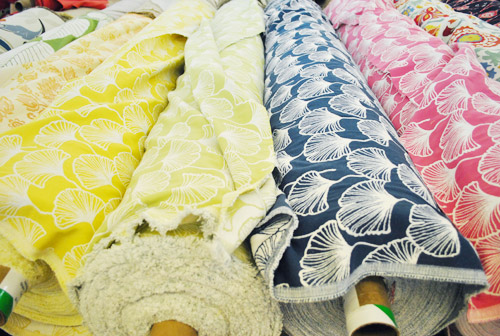 And then there's this guy. Orange, pink, yellow and blue ikat? Yes please! I got two yards. Strike up the fabric-purchasing band! Yup, I gleefully ran back to the car with two yards of this (marked down from $25 to $16 a yard). For anyone wondering, I do have the name of this guy since I took it home and it's printed on the side of it. It's called Ubud by Iman Home/Waverly and it can sell for up to $27 in other places! No idea what the heck I'll use it for. Maybe a bunch of things (table runner, hall bathroom roman shade, upholstering a chair, who knows!). Will keep ya posted.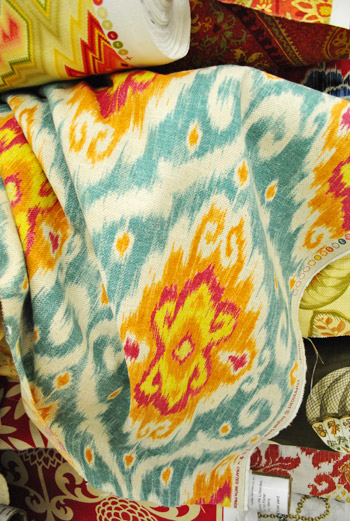 So there was the whirlwind that was window shopping when we were on the road to and from Haven! Next time I hope we have more time to stop at a few more places (some locals gave us some awesome recommendations that we'd love to check out someday). Where have you guys been window shopping? Any new fabric or houseware purchases lately? Or have you see anything at a store that inspired you to DIY your own take on it?