Archive for October, 2010
This next house we toured was pretty sweet. The owners had just dropped the price nearly $40,000 which suddenly put it within our range. The sellers had already moved out and after having the place on the market for 4 months were quite motivated to sell. And perhaps that fact would motivate us to buy? Let's meet the house: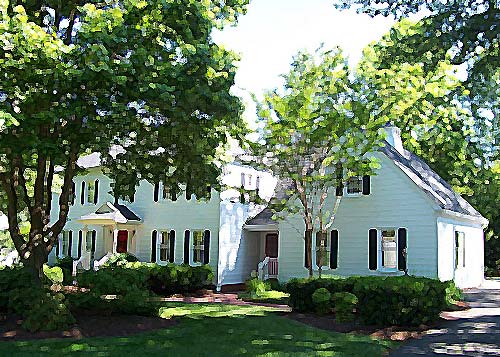 THE STATS:
Age: 1977
House size: 2,772 square feet
Lot size: 0.4 acres of land
Bedrooms: 4
Bathroom: 2.5
THE PROS:
Great deal
Beautiful exterior and landscaping
Polished details like crown molding, plantation shutters, and exposed beams
Tons of extras like a Wolf range, two outdoor deck heaters, a car lift in garage, and a full yard irrigation system
Kitchen needed lots of work (which we like)
THE CONS:
Felt a bit too "fancy" for us
Didn't need much work besides the kitchen
Schools and location were not ideal
Still priced at the top of our range even with the drop
Not as old and much bigger than we're actually looking for
The funny thing about this house is that it's actually one of the first we toured on the inside. And it initially wowed us so much that we actually did put in an offer  (shocker, we know) – mainly just to see what would happen. We figured with our lowball price (we dropped it another 20K) and our must-sell-our-house-first contingency that we'd get kicked out immediately. They ended up being fine with the contingency but weren't willing to budge on the price (which is completely understandable given their recent drop) so we walked away. At least it was a good dry run for when we make and offer on a house that we really want. Especially because in hindsight we want waaaay more of a beater than this house. one that's even older, more modestly sized, and just begging for a makeover. Are you out there perfectly imperfect house?
&nbsp&nbsp&nbsp
Even though we made four puffy painted pumpkins already (one for each family member), we knew we couldn't let Clara's first Halloween go by without some traditional pumpkin carving action as well. And last weekend's trip to the pumpkin patch definitely got us in the mood. Here's the queen of our world flinging her arms out as if to say "I'm the queen of the world!"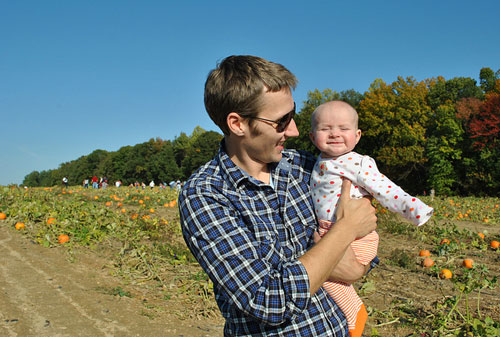 And we even gave our royal highnesss the option to choose her very own pumpkin for herself, and she quickly picked this one out: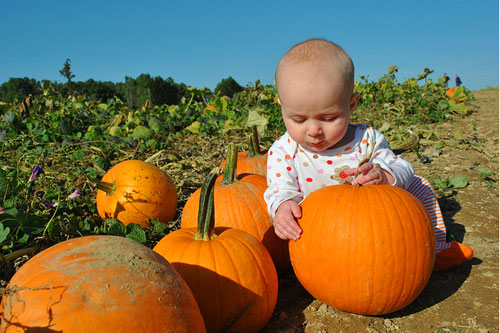 Ok, so maybe "picking out" meant more like touching one of the pumpkins we sat her next to. But she truly couldn't keep her hands off of that one in particular, so we brought it home for a mere $2 (she's already thinking frugally!).
We knew we wanted to keep the carving simple, since we don't always have time for complex around here anymore. And thinking about how Clara was getting all hands-y with the pumpkin back at the patch sparked an idea. All it took was Clara keeping her hand still long enough to get a good tracing.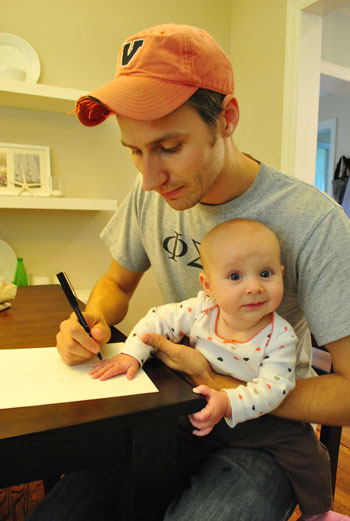 Maybe "good" is a stretch, but we deemed the one of the left "workable enough."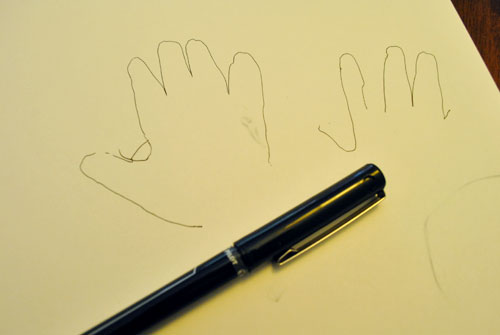 We traced it on cardstock, so cutting it out left me with nice template to trace onto Clara's pumpkin.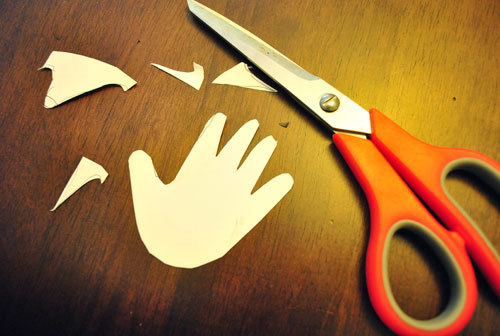 The plan had always been to use two handprints as the pumpkin's eyes, but the fact that the fingers made them look like feminine eyelashes was a happy accident. An accident we then ran with by adding some puckered lips for the mouth and a wavy hairline at the top. Guess our baby girl is getting a girly pumpkin!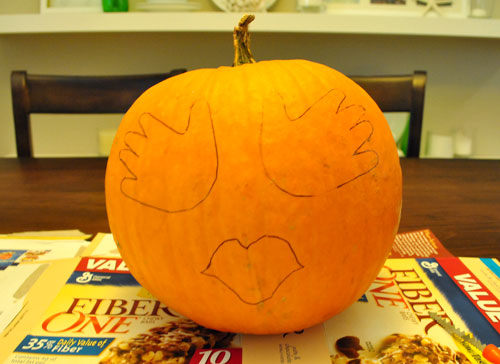 Some careful cutting later, we ended up with this: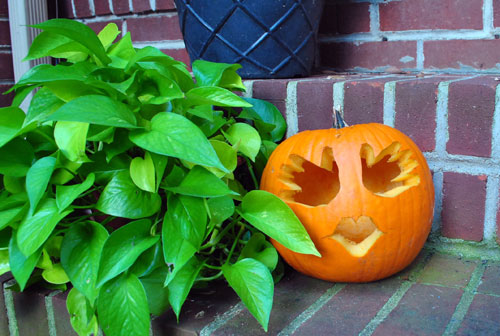 And with the addition of a flameless candle votive we've got our traditional jack-o-lantern with a first-year-of-parenthood twist. Simple, but we quite like it.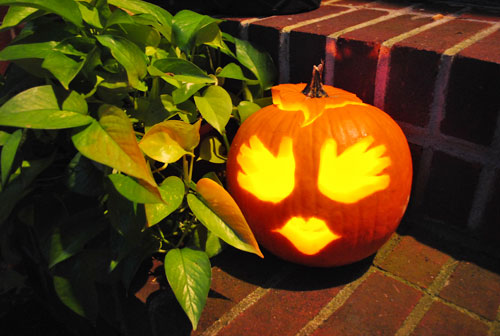 Oh, and speaking of Halloween, check out how we're embarrassing dressing our kiddos this year for their first hurrah together.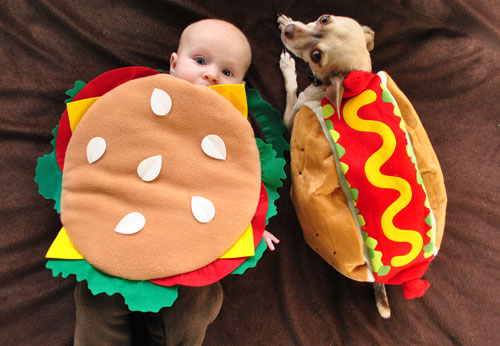 Yup, Clara's a hamburger (in honor of her bro) and Burger's reprising his role as a hot dog to complete the theme. Both are store bought (Clara's from Old Navy, Burger's from Target). Somehow I feel like our little lady's gonna give us a hard time about this when she's 16…
Psst- We announced our big winner for this week's contest at the end of Monday's original contest post. And Ikea actually surprised us by tripling the number of $350 gift cards they're giving away. Click here to see if you're part of that lucky trio!

&nbsp&nbsp&nbsp