Archive for April, 2009
At this point you've probably all seen the big front porch makeover that we recently completed for the 48-Hour Challenge with Better Homes & Gardens and Home Depot. And now we're back with a super simple tutorial for anyone looking to spruce up an old timeworn wood deck or breathe new life into a seen-better-days front porch. Back when we decided to pull the paint trigger on our front porch, we actually opted to go with some subtle tan and cream stripes. Here's how it all went down.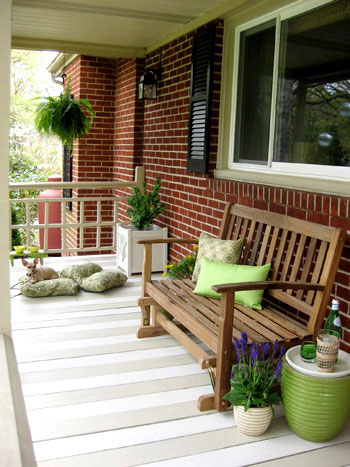 Step 1: Pick A Color… Or In Our Case, Colors. We took home a bunch of paint swatches and laid them out on the porch floor so we could look at them in the same natural light that the front of our house gets every day. Looking at a number of tan and cream swatches in place helped us to decide that Behr's Harvest Brown (tan) and Ralph Lauren's Greenwich (cream) were the perfect combination, so we had them both color matched to a gallon each of Behr Porch & Floor Paint (which is meant to handle foot traffic and exterior conditions). We were given the choice of a glossy paint finish or a flat one and we opted for the flat finish since we reasoned that it would be less slick in wet conditions so that's definitely something to consider for your project as well (we've since marched around the deck in the rain and we're happy to report that it's the same texture as unpainted wood).
Step 2: Hose Things Down. You want your deck to be nice and clean before applying the paint, so you may want to scrub things down with a wood cleaner (available at Home Depot or Lowe's) before you get down to the business of painting (especially if you have severe mildew or grease and oil stains anywhere on your deck or porch). Our deck was already pretty clean, so we just sprayed each plank down at close range with a hose and a nozzle that was set on "full spray" which blasted any pollen, old acorn pieces and other debris off of the deck for a nice clean slate. We also used a flat head screw driver to knock out any rocks or leaves from between the wood planks before we cracked open the paint. Here's our porch right before we hosed her down: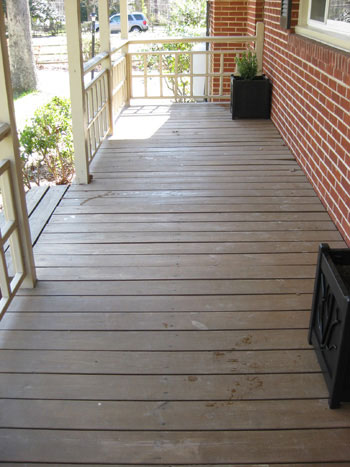 Step 3: Protect The House. You'll definitely want to use blue painter's tape to tape off the side of the house that meets the deck or porch so you have no worries about getting any of your floor paint on the siding, stucco or brick facade of your home. This will give you a nice clean line when you remove the tape, and it'll also make it a lot easier to paint each plank of wood without worrying about staying in the lines. At this point you can get out a good quality angled brush (it's much better than a roller since it'll get in the cracks between the wood) and your paint because it's go time… as long as the deck is thoroughly dry from your hosing off session (the last thing you want to do is attempt to paint moist wood).
Step 4: Start Painting. In our case we had two colors of paint, so we opened them both and used two different brushes to apply each stripe of color (being especially careful not to mix up the brush and the correlating can of paint). Whenever you're painting a floor you have to strategically start painting at a point that makes it easy to paint yourself out of the area, and in this case we started at one end of the deck and worked our way to the center where the stairs are: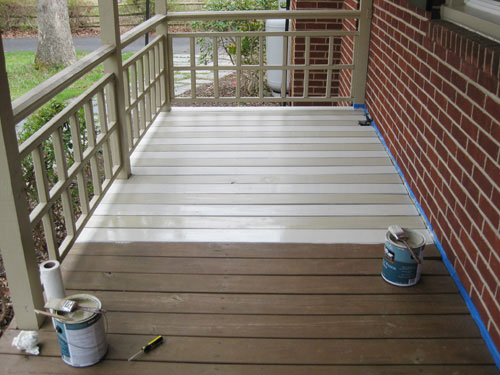 Step 5: Keep Painting. I'm not gonna lie. The striped effect took a substantial amount of time, so just keep at it and paint each plank and listen to your iPod and get into a rhythm so you're not constantly thinking "two down, fifty nine to go"- which can really kill the excitement factor.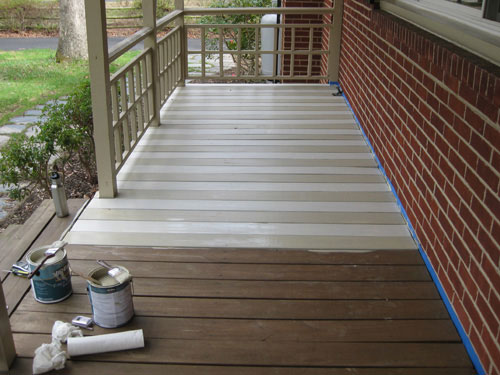 Step 6: Plan Your Escape. I decided early on that in the case of our front porch, the best approach would be to paint myself to the front steps and then stop and restart from the opposite corner of the deck so I could finish by painting myself down the front steps and enter the house from the back door while the front dried. Due to the striped effect it meant one thing. It was IMPERATIVE that I correctly calculated which planks would be tan and which planks would be cream so I could accurately restart painting at the opposite end of the deck without messing up my pattern (I counted "tan, cream, tan, cream" down each plank three times just to be sure before I grabbed my brushes and went to town).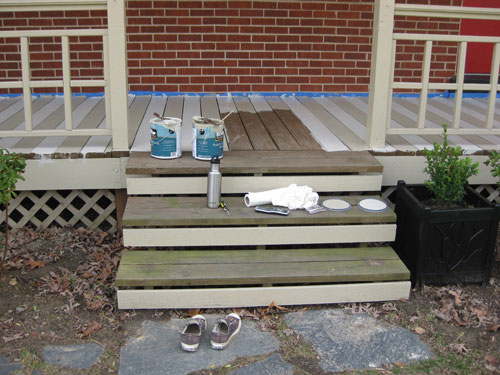 Step 7: Be Edgy. After I painted myself off the front porch, you can see in the picture above that I still had to paint the side of the wood planks all around the porch for a finished look. I opted to stick to tan on the sides of each plank instead of alternating so that only the top of the planks boasted alternating colors while the side/front of the decking was all tan for a crisp look (which was a lot easier to apply than alternating colors would have been).
Step 8: Dance it out. You're Done! Once you paint the edge of your wood planks all around the perimeter of your porch or deck, you're finished. Well, assuming one coat does the trick like it did with ours. We actually liked the subtly weathered look of one coat, but for a super solid and opaque effect you might want to apply a second coat 24+ hours later when it's safe to walk on the deck or porch again.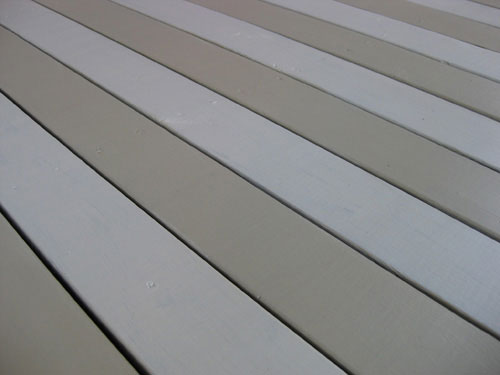 Oh and you may have noticed two photos up that we'd previously painted the front of our steps and the wide plank of wood around the deck in the same tan tone that we used for our stripes. This is an excellent way to accent a front porch and break up a whole lotta wood, so if anyone's on the fence about painting their entire porch or deck, painting just the fronts of the steps and the trim around it can be a super simple way to add a bit of crispness to your entryway. Here's the before picture of the front steps totally bare last fall: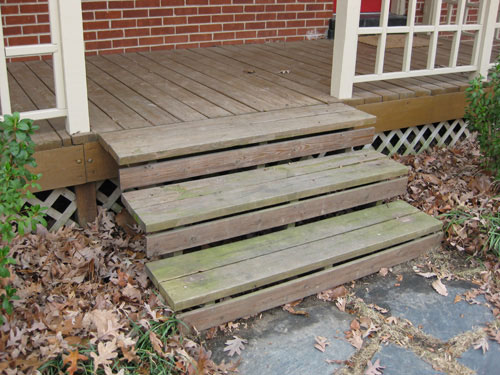 To keep the paint from getting on the actual planks of the stairs, you can tape things off or even use a piece of cardboard to block any drips or accidental swipes like we did below: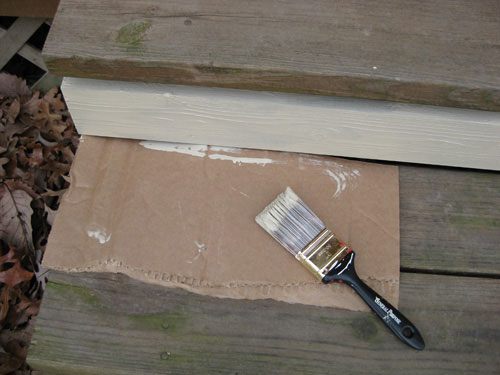 Here's a picture of the front of the steps after we painted them tan along with the wood "front" that encircles the porch. It took less than an hour and we didn't even have to use porch and floor paint since it didn't need to withstand foot traffic (we just grabbed some leftover trim paint from the railings and went to town without spending a dime). The lesson? Whether you're interested in adding a little bit of zing with some painted porch "trim"…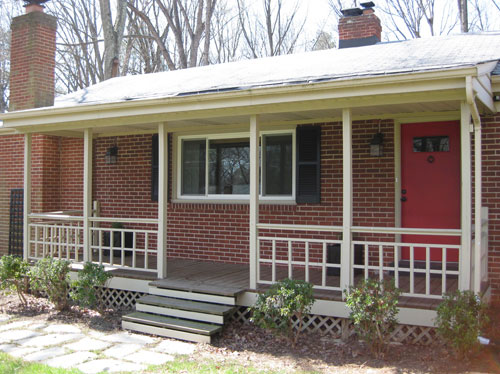 …or a whole lotta polish and personality with a painted (and maybe even a striped) porch floor, there's really nothing hard about either process. If you can paint a wall, you can definitely paint a deck or a porch floor… and you'll be doing the happy dance in no time.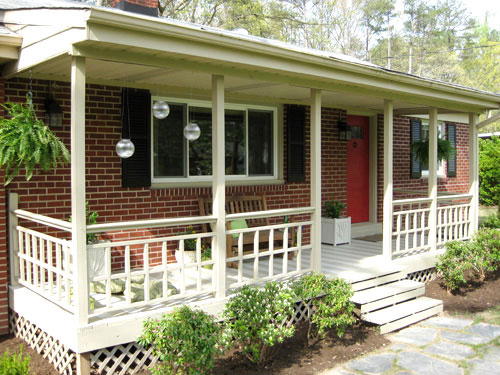 Wanna learn more about floor painting? Check out two old tutorials to learn how to stain a concrete floor or even paint one for a more polished and finished effect.
This weekend we went garden crashing. And it was totally legal. We jumped at the chance to tour a bunch of lovely backyard gardens thanks to Richmond's annual West Avenue Garden Tour in the historic Fan district and we can't wait to share the glorious eye candy. The Fan is a gorgeous downtown neighborhood (think brownstones with killer architecture and quaint little back gardens in the middle of the city) where many swanky people tend their swanky gardens.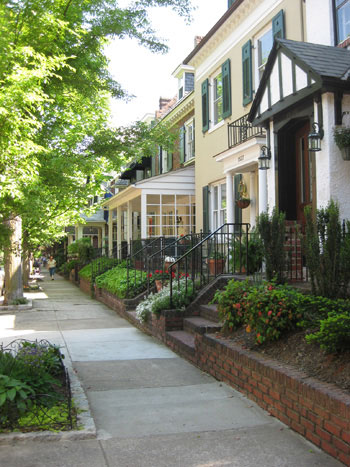 And once a year they throw open their back gates and let total strangers like us poke around in their petunias! Here's what we were loving this year.
This amazing yard had a gorgeous hand-carved arch that stood in the back of the space with breezy outdoor curtains, a babbling water feature, and even an outdoor couch for relaxing alfresco. Doesn't it look like an exotic island paradise?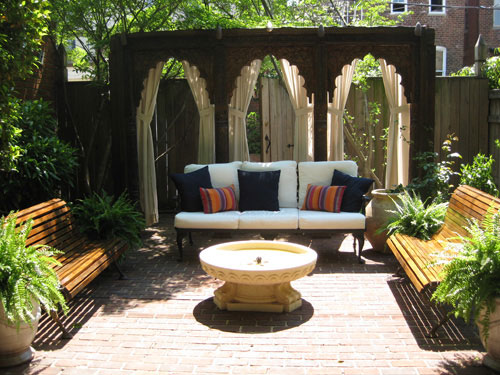 And just a few houses down this back garden boasted a gorgeous koi pond. Gotta love how they made such excellent use of a small, narrow space (that otherwise couldn't be accessed).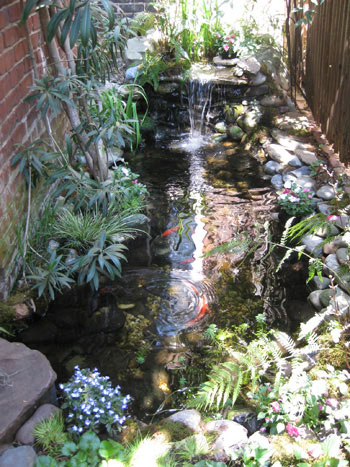 This backyard had a built-in fireplace. Uh. Mazing. And we love the cheerful yellow and tangerine accent colors that were applied so liberally to liven things up: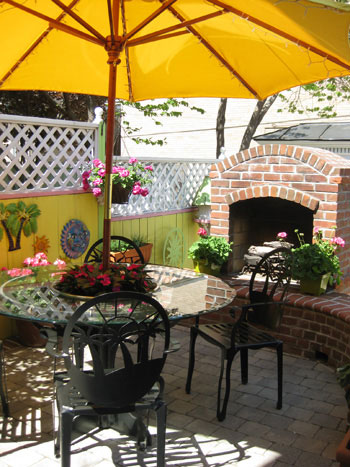 Meanwhile, this garden reminded us that even with a smaller budget and a narrow area, four Adirondack chairs can come together to create a totally inviting outdoor room: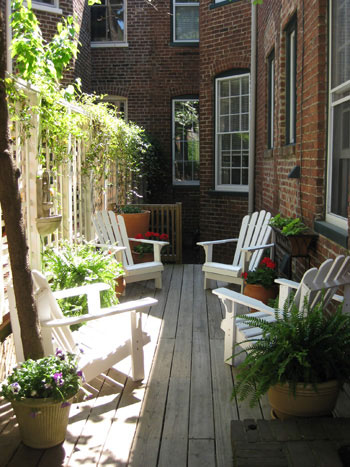 This rear view totally amazed us because they were in the process of training ivy to grow in a sophisticated x-pattern. Can you imagine the effort it took to create that perfectly balanced grid of wire? The ivy really seemed to be taking to the idea, though. We can't wait to check on its progress next year…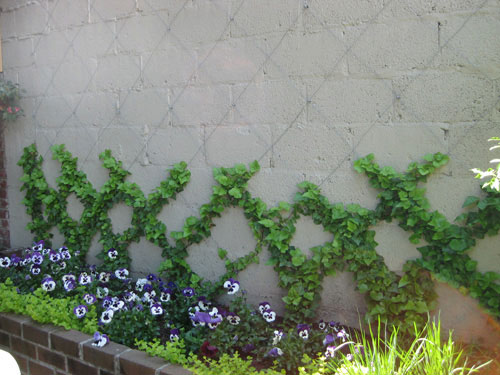 This garden made us smile instantly thanks to the cheerful turquoise paint that was liberally applied around the perimeter. Talk about embracing a small space and making the most of the border.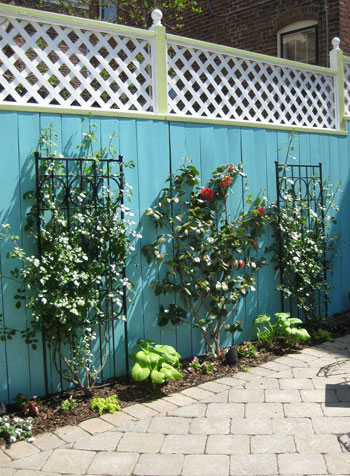 This lovely archway was just dripping with feathery foliage. Imagine walking through that every day! I felt like Alice in Wonderland slipping through some magical door. So pretty. Note: nope, that's not me in the doorway below, it's just some other neighbor who's happy to be traipsing through such lovely backyards. And look how cute and "Richmond" she is with her sun hat and Sunday dress.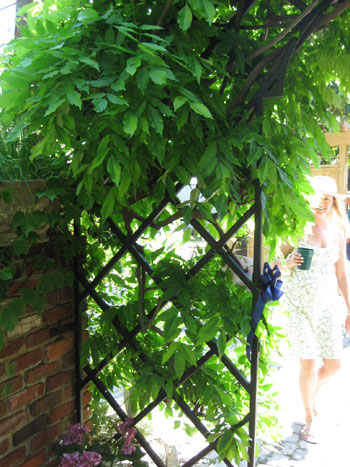 Last but not least, this yard was less about weeding and watering and more about monkeying around. I actually took a cute picture of some sweet little girls playing on these hanging chairs, but this one of John just cracks me up. He was loving it more than the eight year olds.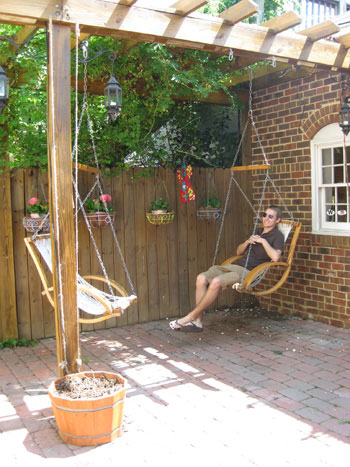 So that concludes our little annual garden tour. We really loved how a shot of bright color instantly cheered things up and everyones instinct to go vertical in such a modest space really inspired us (with vines, hanging swings, arches, or trellises). All in all, another great garden tour. Just 362 days til the next one.
Jonesing for more mouthwatering back garden eye candy? Check out our pictures from last year's West Avenue Garden tour right here.
We're back with another step by step tutorial for your home improving pleasure. And this one is a real blast from the past. We're breaking down the simple process of laying peel & stick vinyl tiles. They're available everywhere from Lowe's to Home Depot for around a buck a tile, and we actually laid 'em down right over our plaid-esque linoleum kitchen floors of the past (back before we could afford our full-fledged remodel, we painted the cabinets and spruced up the floor to tide us over). Here's the country blue & white striped single-sheet of linoleum that we inherited with the house. Sure those lines are meant to look like tiles, but it certainly wasn't very convincing: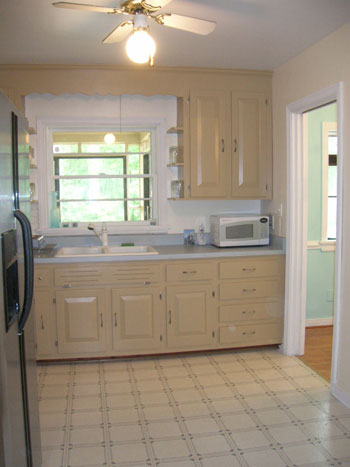 The advantages of single self-stick vinyl tiles as opposed to a wall to wall sheet of linoleum is that the effect is a lot more believable. Each tile comes with darkened faux-grout around the edges, so the effect is quite tile-like when you lay them down one by one, and the finished product can really add a lot of dimension and texture to a space. We especially appreciate that every tile has some color and pattern variations (some are darker or rougher looking than others) just like real stone tiles, so the overall effect is a lot more realistic. And the fact that you can completely overhaul an old dated floor for about $100 in one Saturday is nothing short of amazing. Here's our kitchen after about 4 hours of peel and sticking (we laid our tiles on a diagonal for a more spacious effect):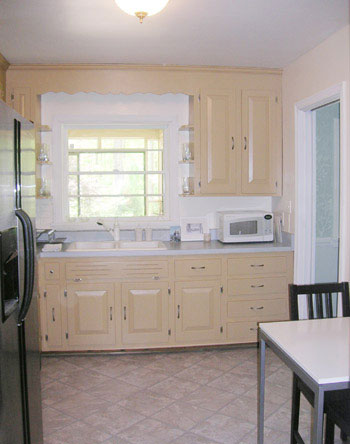 And now for the step by step breakdown:
Step 1: Be Picky. Selecting the right peel and stick tile is extremely important. You don't want anything that matches the cabinet or wall color exactly or the room will feel eerily coordinated. And you don't want something that clashes with your wall or cabinet colors since that will look totally off as well. The best way to choose the right tile is to purchase a few $1 sample tiles and bring them home to see how they look in the space (remember, the lighting in Home Depot or Lowe's is extremely different than the lighting at home, so you might find yourself returning 100 floor tiles if you skip this step).
Step 2: On The Level. You only want to apply self stick tiles to floors that are adequately level and even, so fill any gaps or holes to ensure that your tiles have a nice solid foundation to adhere to. If you're missing an old tile, try sticking a new tile in the hole to fill the gap (this only works if they're the same depth, but it's a super quick fix if they are).
Step 3: Get Centered. Take the time to measure and locate the center point of your room, and temporarily lay a tile (without peeling off the backing to expose the adhesive) in the exact center. Then use other tiles to build out from the center tile to the right, left, top and bottom of the room so you have a cross on the floor of unstuck tiles that fully reach from wall to wall (you're just doing a little test at this point- no sticking!). This is an important step so you can see if centering your tiles is indeed the way to go. Unless you have any weird slivers of a tile on any of your edges, you can stick the center tile to the ground for good. But if, for example, you have a quarter of an inch of tile in a doorway based on the placement of the center tile, you might want to shift things up, down, left or right to make the tile slivers fall under the cabinets or laundry appliances as opposed to in the doorways and other more obvious areas.
Step 3: Press On. Once you stick your center tile, you'll make pretty quick work of the rest of the room until you hit the edges. The key after sticking the center tile is to work out from that tile being certain to squeeze each tile firmly down and against the last tile you laid while accurately aligning each new tile by eye (even a sliver of space between the tiles won't look nearly as seamless and convincing as a tight fit without any gaps, so take the time to push every tile against the last one you stuck down and take care to keep things lined up). Continue sticking each square and working away from the center of the room in every direction until you reach the edges of the space which will call for customized cuts.
Step 4: Get Edgy. The toughest part of this job is by far laying the perimeter tiles which call for special cuts to keep them flush with the walls, doorways, and cabinet bases for a clean and finished look. But not to worry, it's still totally doable. Many people prefer to remove their shoe molding (which can easily be popped off with a flat-head screwdriver or a mini crowbar) so they have a bit more wiggle room (when you pop off the shoe molding, the fit to the edge of the room doesn't need to be as exact because once the shoe molding gets reinstalled over the tile, the fit will look perfect and flush because it'll hide any small gaps between the tile and the wall). You can also opt to leave your molding in place, you'll just need to be more meticulous with your tile cuts (which is actually what we did to avoid having to reinstall the shoe molding later).
Step 5: Template Time. We used a box cutter to cut our vinyl tiles (it takes a few slices to get all the way through, so we slowly and steadily made cut on top of cut until we got through cleanly and accurately). And of course you want to remember to cut your tiles on scrap tile or a piece of plywood so you aren't cutting into your freshly laid flooring beneath- that would be bad). But how did we know where to cut 'em? We actually used paper to make templates and then just traced those paper templates onto our tiles for the perfect fit every time. It can be mind-numbing to look at a strange corner shape and try to duplicate it by eye on a tile, so paper templates really can be a lifesaver (as well as a huge time saver even though they can sometimes feel a bit tedious).
Step 6: Dance It Out. When you're done with the perimeter of the room you'll wanna do the happy dance to celebrate your peel & stick victory (your sticktory?). Dancing is actually a great idea, since tapping each tile down with your body weight can help to firmly secure them in place for the long haul. Go ahead, boogie down.
So there you have it. Everything you need to know to tackle that dated or grungy floor in your bathroom, laundry room, playroom, back hallway or beyond. Happy sticking!