We've been dashing in and out of Home Depot like it's our job and doing our best to stretch our $500 porch makeover budget for Better Homes & Gardens' 48-Hour Challenge. The goal? A lighter and brighter porch that looks more like the interior of our totally overhauled home. Because nothing's more depressing than a house that looks all airy and soft on the inside but dark and dated from the curb. To refresh your memory, here's more info about the challenge and a before shot of the porch before we started the project. Total snore, right? Not for long…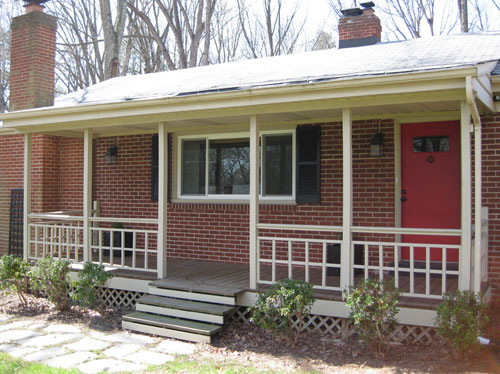 We've picked up a slew of fabulous finds, like this wooden glider bench to create a cozy seating area. John put the whole thing together in about ten minutes with an allen wrench- and I only had to help a little (always a plus) so for the most part I was in charge of taking pictures.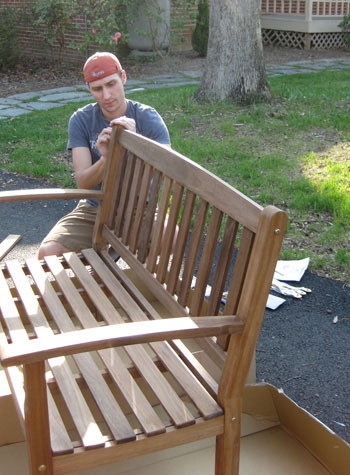 We also grabbed a bunch of punchy green planters to add life to our previously bare porch. We went with varied colors, sizes and styles for layered interest and plan to pop in a bunch of different plants for even more of that mixed and matched look that we love (note: finding plants that are cool with partial shade is always a good tip when they'll be living on a covered porch). Oh and remember we promised that we'd create a two minute side table on the cheap? We grabbed this extra large planter and a terra cotta saucer that we'll seal, paint and use as a tabletop. Easy peasy. Of course you'll have to stay tuned for the big reveal and the step-by-step tutorial…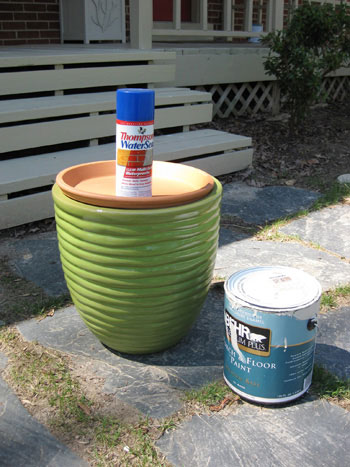 Then, in a bold and totally transformative move (cue the dramatic music) we also snagged two gallons of porch and floor paint…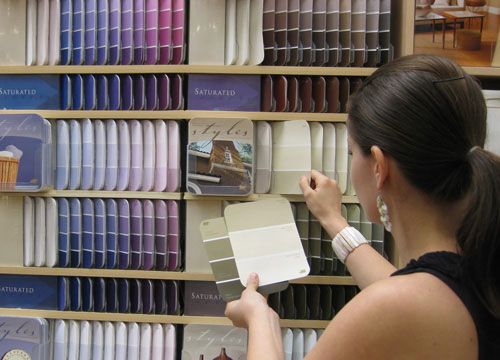 …to create subtle stripes that lighten up our seen-better-days porch. Here it is halfway done. The difference is almost unbelievable! Talk about bang for your buck. And it only took a few hours and one coat of paint. Whew.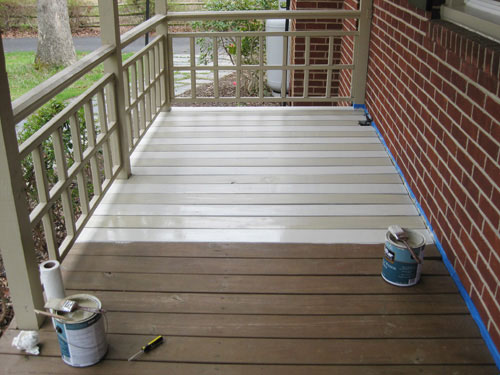 What about the puppy food & water station that we previously mentioned? We grabbed a piece of wood and four pre-cut corner molding pieces (for a dollar each) and used wood glue to turn them into a small feeding pedestal for the dog days of summer. Gotta love a construction project that doesn't even call for screws or nails!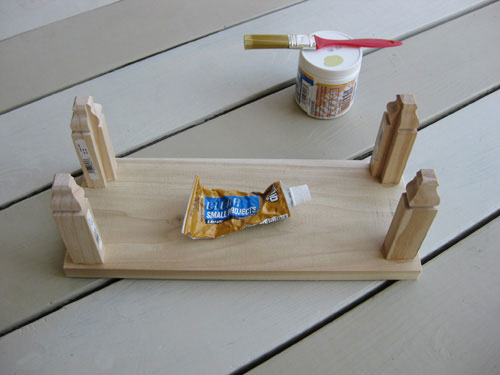 Painting it glossy green and setting Burger's food and water dishes on top will finish it off nicely. It turned out to be one of those fast and easy projects with a major payoff- in fact it only set us back about $9, and it really adds infinite charm (and function) to the porch. And of course Burger sincerely appreciates the effort.
But the shopping spree didn't end there. Do you know us at all? We can't resist soft, serene pillows and cushions, so we stuffed a bunch of fresh green outdoor ones in our cart and hit the checkout. We were drawn to some patterned and solid pillows along with a paisley lounge cushion that we cut in half to make two floor pillows for our lazy dog. Here it is before surgery…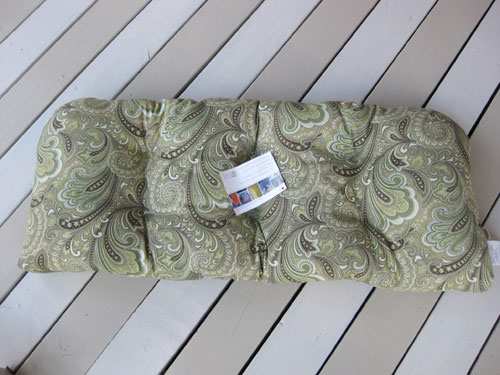 We knew Project Lighten Up The Porch was working when our old black planter boxes (already purchased from Home Depot about a month ago) looked dark and imposing on the freshly painted cream and tan floor. So we gave them a soft and airy look thanks to two coats of our leftover cream porch and floor paint: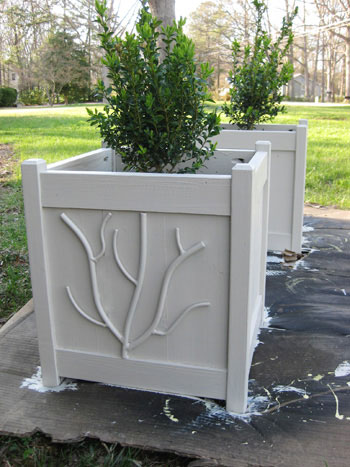 And since we still had a bit of budget burning a hole in our pocket ($14 to be exact) we grabbed some twine to create a couple of cool hanging mobiles. It really is amazing how far you can stretch your moolah if you're using things in unexpected ways (four pieces of molding become pedestal legs, a planter becomes a side table, a lounge cushion becomes two floor pillows, a ball of twine becomes a mobile, etc). In short: we are absolutely LOVING this fun little challenge, and we can hardly wait to show you how everything turns out! We'll be pulling the whole thing together this weekend (and weather.com says it'll be sunny and nice– score). Wish us luck!
To check out our weekly blog post about the porch project and see what the other four challengers are doing, just drop in on BHG's 48-Hour Challenge.