Julie's kitchen makeover is nothing short of miraculous. Here's her letter:
I found your blog through a Real Simple blog I subscribe to and look forward to the evenings after I put my one & two year old toddlers to bed so I can soak up some of your swank. We just sold our house and had some great photos of our kitchen and I realized we'd done a lot to improve it over the last few years so I thought I'd share the before & afters. We had a grease fire so we replaced the counters, microwave and oven. We also discovered a leak in our dishwasher so we replaced the floors & dishwasher. We got the counters from Home Depot- they're formica that looks like granite (called Jamocha Granite, sparkle finish, waterfall edge). The tile backsplash is also from Home Depot (one of the less expensive porcelain tiles they sell). The wall color is Sand Dollar and the cabinet color is Antique Lace (Porter Paint). We bought Mohawk wide plank floors and did the kitchen, dining room, 2 bathrooms and the foyer for $2000. BTW we sold our house within 48 hours after we put it on the market and had four offers! Yipee! I'm saving my money so I can contact you all after we're in our new house. I'd love to have you help us spice up the new pad! – Julie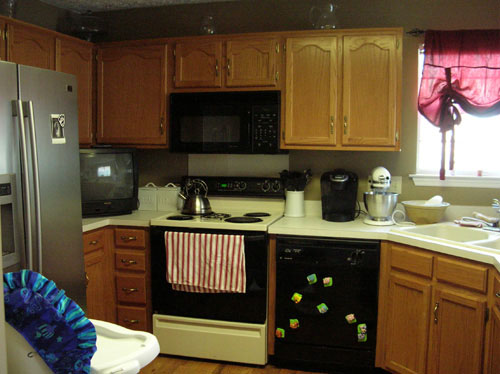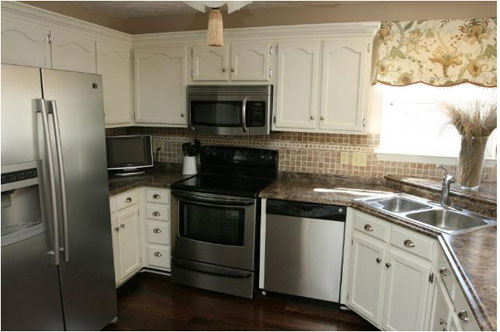 Here's the budget breakdown:
Cabinet and wall painting $700
Kitchen Floors $500
Counters $2000
Appliances $2000
Backsplash $300
Curtains $50
Faucet $80
New pulls $100
Grand total = $5730
Isn't that an insane transformation? We love that some paint on the cabinets along with a new counter, backsplash and appliances took this room to a whole new level. Thanks a million for the fabulous eye candy Julie! So inspiring.