Q: Help! I'd really love your input and expertise with a designing conundrum I often find myself in. I've checked out several design/home décor books lately in an effort to grasp the ever elusive concept of "the perfect room." It seems that everything I read both in books and online state the same thing – being matchy-matchy in decorating is the cardinal sin and anyone seen committing it should be voted off the island. So here is my dilemma: how do you coordinate a room using a chosen color scheme, but avoid making it appear too contrived and heaven forbid – matchy-matchy? I feel that every room in my house always come up short – if I stick to my color scheme, it often looks boring and flat. If I branch out and add pops of color, it tends to appear disjointed. Is there a basic rule that would help me in decorating my rooms? I'd love some pointers. As always, love you both. You're great in every way. Cheers! – Jamie
A: Ideally, you want a room to "coordinate" but not "match." Rooms that coordinate have varied textures, prints, materials, and tones that work together and appear balanced and cohesive. Rooms that match usually have all the same colored wood (usually all made by the same company and sold in a suite) they also have a matching sofa and loveseat or matching bedding that was sold in a set- heck, you know what matchy-matchy looks like so I won't belabor it! Here's a model-home-ish example thanks to JC Penney.
The basics aren't bad (we could totally work with the tan sofas and the side tables, but we'd bring in a bigger rug with a pattern or a texture and switch out the wood coffee table that matches those side tables for a round leather ottoman or even a few smaller rattan cubes. The major takeaway from this point is that rooms that look collected over time (and feature a variety of tones, textures, and materials) always look eons more stylish than rooms that look like they could have been purchased all at once from one store.
But there's a fine line between collected over time and mismatched and chaotic, as demonstrated by this tossed-together dorm room decor.
The key:
variations in texture & materials add stylish, layered interest that draws you in, but…

a deliberate, defined color palette reins things in and keeps the room cohesive
Here's a room from House Beautiful that totally gets it right. See how the side tables are painted cream but the coffee table is dark wood? Notice how there's texture in the upholstery and even in the grasscloth wallpaper? See how the palette is pretty tight, just yellows and creams with a dash of dark wood and two pops of deep blue?
Adding texture and subtle, layered interest is the surefire way to a warm and inviting space that feels finished yet anything but formulaic. Here are a few examples of some varied materials and textures that can be brought in to create the perfect foundation for a stylish space: leather chair + tan couch + black metal & glass coffee table + woven tray on the coffee table + dark wood TV stand + chocolate shag pillows + tan linen pillows + cream linen curtains + jute rug.
You can also see inspiration in some House Crashing photos that we have taken below (find more on all of them here in our Gallery):
Notice all the different materials and textures that will add that layered style that feels collected over time: wood with metal, linen with jute, leather with upholstery. But note that they're still in a similar color palette: the black metal works closely with the dark wood and the brown leather, etc. Thanks to the coordinating tones of these foundation pieces, you can then add a few brightly colored accessories into the mix without fear of things looking too chaotic. It's important to keep a tight color scheme in mind and not just go accessory crazy at Target.
Take this room that feels a bit flat as an example (also from JC Penney). It's not nearly as textured, layered and interesting as it could be.
Just switching out the basic tan curtains with these subtly striped cream ones from West Elm, replacing the matching ottoman with this textured rattan table, and bringing in a larger patterned wool rug would add movement and texture for a serene and inviting space with character and interest. And to expand the palette and bring some color into the mix, some punchy silk pillows on the sectional and a brightly colored glass-based lamp on the side table would inject more of that je ne sais quoi!
Prints and patterns are another way to add interest and style to your space- especially if it's feeling a little blah. And when it comes to mixing patterns, there are a few ways to keep them from looking disjointed and chaotic, and our new lattice pillow in our bedroom conveniently demonstrates a few of our favorite pattern mixing tips.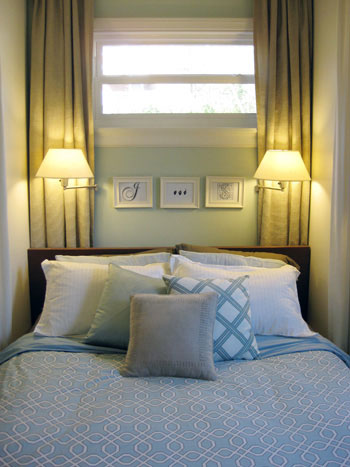 First of all, you want one of the prints or patterns to be a larger scale, more bold pattern (the pillow) while the other pattern is smaller in scale and a bit more subtle (the duvet cover). It's usually a good idea for the smaller sized item to be the more bold piece (ex: a subtle small-scale patterned armchair paired with a graphic large-scale patterned pillow). Although we've seen some majorly dramatic rooms with large geometric or floral patterns in the curtains or even on the walls that knock our socks off, so it can go either way.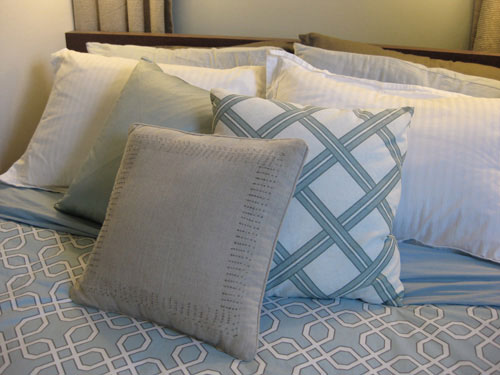 The other thing to keep in mind when you're mixing and matching would be to try to keep the patterns or prints in the same color family. Thanks to the similar tone found in both the duvet cover and the pillow, they don't seem to be fighting each other and can peacefully coexist in our master bedroom.
So there you have it: layered textures + a defined color palette + mixed & matched patterns = a visually interesting, coordinated space that looks warm and authentic and anything but matchy-matchy. Do you guys have any tips for keeping your rooms interesting and anything but cookie-cutter without erring on the side of crazy? We'd love to hear what works for you! Dish the decorating dirt…