And not only did we make the mag, we actually made the cover. I know! There may or may not have been some excited screaming for a few hours after we found out.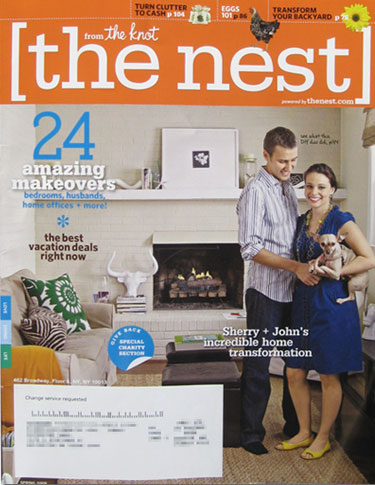 Needless to say we've been beyond excited about this little write up (which was shot back in November when they also filmed our video house tour). It was a pretty busy day… and Burger got to meet a crew of ten people for the occasion (a hair & make-up lady, a wardrobe stylist, an assistant to the wardrobe stylist, the photographer of course, his two assistants, the creative director, the prop stylist, his assistant, and a videographer).
Yeah, that's right. They dressed us up (no those aren't our clothes, but it is our dog!), powdered our faces (well, not Burger's) and told us to smile pretty for the camera. We were both super self conscious (so many eyes- and lenses- on us) but we tried to keep our cool and act like it was just another ordinary day at Casa Petersik.
A bunch of you guys have actually seen the spread already since you opened your mailboxes and saw our smiling faces! The hilarious part of the story is that we actually never got a copy of our own (they said it would arrive around March 30th but it has yet to find its way to our house) so we finally got to see the story this weekend thanks to a friend who got the mag and met up with us to pass it along! The Nest magazine is a subscription only publication (they send it out to over 200,000 newlyweds, but it can't be picked up in stores), so of course we were beyond thrilled when our friend called us to say that she had a copy in her hot little hands.
And now that we've seen it, we couldn't be more enamored (and relieved- our nerdy self-consciousness isn't nearly as obvious in the pictures as we thought it was). Of course the photographer, David A. Land, captured our house beautifully, and the staff over at The Nest did such an amazing job putting it all together. Oh and could our little fur baby have looked any cuter? Did you see that pooch eye contact on the cover? Is Burger not destined to be a star?!
Psst: here's that post full of behind the scenes details so you can see how a national magazine really captures all those glossy shots.