Archive for December, 2008
We can hardly believe it's almost 2009. It seems like just yesterday that we were enjoying the 90 degree summer days. But Christmas has already come and gone, so we thought we'd give you a peek into the present situation. Here's what we got:
My mom and dad generously gifted us an entire 10 piece set of Greenware, the amazing new eco-friendly nonstick cookware from Cuisinart. Sherry actually snagged me an oversized skillet for my birthday back in November, and we loved everything about the recycled stainless steel handles and exclusive Ceramica nonstick technology that's clean and healthy (read: free of petroleum, PTFE and PFOA). All the perks of nonstick cooking without the noxious canary-killing Teflon fumes. Of course we were pumped to learn that we were now the proud owners of the entire set to sauté, simmer, and steam things to our heart's content.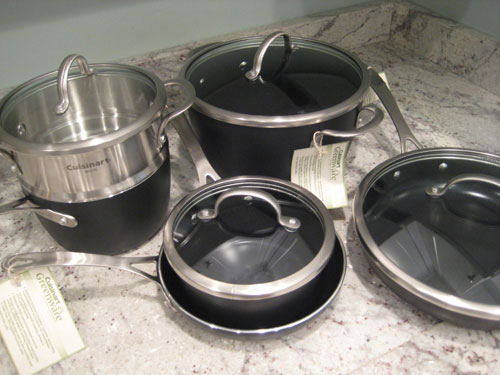 And we actually had a cooking theme when it came to many of our gifts. Our family picks a funny little slogan each year to guide gift giving and this year's "Hey Good Lookin' Watcha Got Cookin'?" sent everyone into a food-related gift frenzy. Even Sherry got in on the kitchen theme by picking me up a tiered spice rack thingie. Lately I've been doing a lot more cooking (yes, I'm the Rachael Ray in training of the family). And with each new spice that I pick up for my expanding culinary repertoire (Coriander, Thyme, Rosemary…) I've amassed quite a collection. Now I have way more room for my expanding slew of seasonings and I can see them all and grab what I need in a second- and us guys are all about shortcuts, right?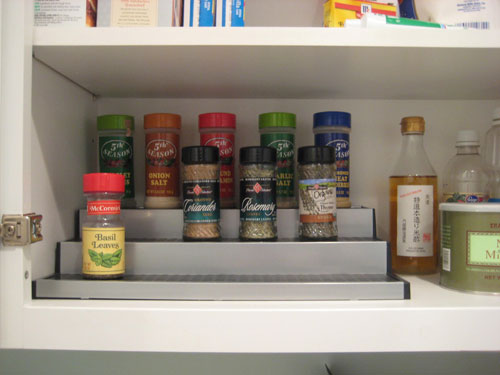 Sherry also picked me up a round capiz Anthropologie frame and slipped in a picture of our cupcake-feeding-one-year-wedding-anniversary-celebration. It works perfectly with the other capiz frames in our bedroom (from Target) and of course the sweet sentiment was much appreciated.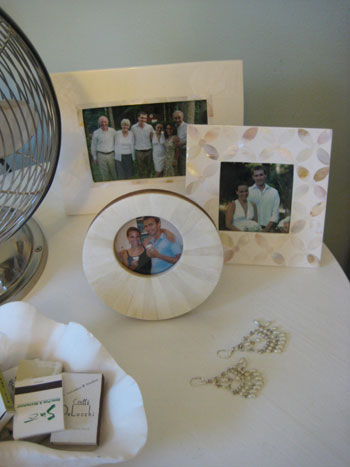 And in return I snagged a clean white cylinder vase for the lady-wife (from West Elm) and printed a makeshift garland of twelve flowers to represent the promise of a bouquet each month for the entire year. We love bringing the outdoors in and Sherry swoons over fresh flowers so it'll be nice to commit to having a little more color and life around for the next 12 months. And of course we won't have to break the bank thanks to Trader Joe's and Sam's club where a bunch of tulips, irises or daffodils will only run me $3-$6 a pop.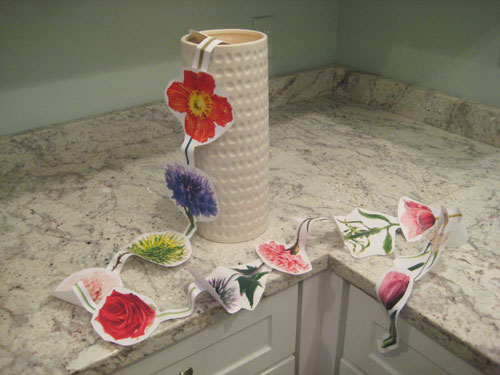 And it's pretty funny that Sherry got me a white capiz frame to add to our collection while I picked up a ceramic squirrel to add to her all white managerie (she already hasa ceramic dog, a porcelain pony, and a metal bull). This little squirrel was just seven beans at West Elm but adopting another animal (that we don't have to walk, bathe or feed) is pretty priceless in Sherry's eyes. I must admit between the vase, the flowers and the squirrel she was all smiles.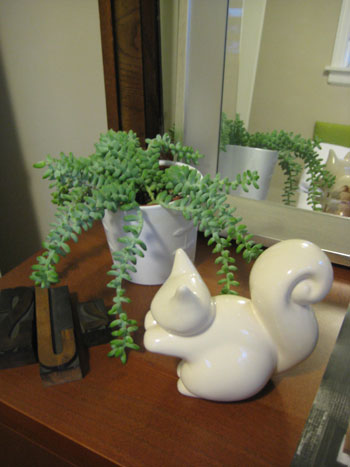 Oh and speaking of smiles we got some pretty funny kitchen related stuff from a cousin (who also followed the "Hey Good Lookin' Watcha Got Cookin'?" theme). Some novelty party cups with animal snouts/beaks along with a "Frozen Smiles" ice tray for teeth chatteringly cold beverages…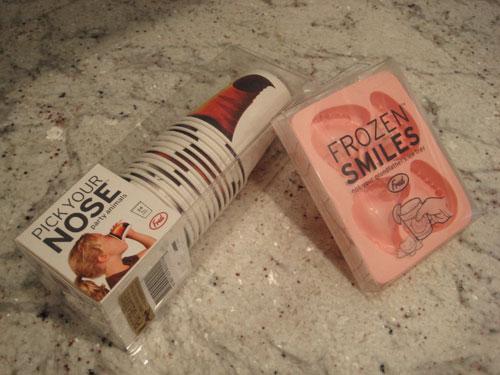 … and this quirky glass measuring cup (which I actually saw in Wired magazine a few days ago) that not only measures in cups and ounces but also dispenses some compellingly weird statistics (like the volume of body cells that die on a good day and the amount of honey made by a bee). My mental volume of useless trivia just got beefier.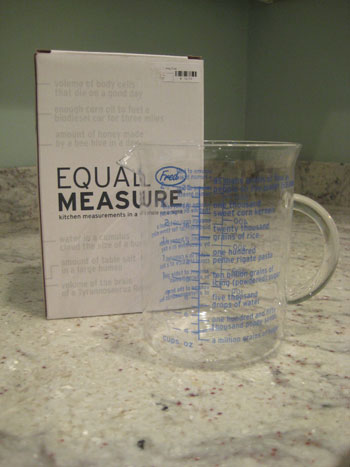 We also got some pretty hysterical Burger paraphernalia in the form of a customized mug, deck of playing cards and even a white snowflake ornament from my brother in law (who's actually a cat person, but understands animal obsessions in general like no one else).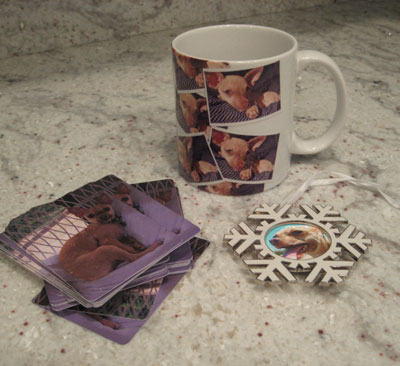 We even got some Christmas swag from my God Mother who sent us this festive lime green reindeer pillow and throw from Coldwater Creek (which actually look right at home with the lime green headboard in our guest bedroom).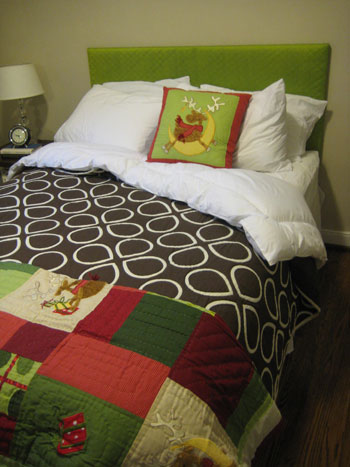 In summary, Santa was good to us this year. What about you guys? Any favorite gifts? Tell us all about 'em.
Pssst- The top link to the skillet that we own and love is an Amazon Affiliate link.
&nbsp&nbsp&nbsp
Here it is. The big reveal. After a week of teasing you guys silly, we're here to announce the major home improvement project that whipped through Casa Petersik like a tornado. No, we didn't blow out a wall (although we're nuts about open living, we blew out all the walls that we could last year- which you can read about here and here). And we're not adding a second story or an addition- we already have two bedrooms that we don't use so more space is currently out of the question. And although a super huge closet, a remodeled master bathroom or bedroom, and exposed beam ceilings sound super fantastico, that's not what we were up to either. Oh and about that nursery rumor, well, no dice.
But we did GET OUR WOOD FLOORS REFINISHED! Yup, we took down our Christmas tree a week early, painstakingly cleared out the guest bedroom (along with our other two bedrooms and the living room), froze our little buns off (the windows were constantly open to air out the house), hung a curtain to shield ourselves from sanding dust and lived in utter chaos, relegated only to the den and the kitchen (which were packed with all the furniture from the rest of the house!) all in the name of glossy new mocha floors.
A few of our diehard readers guessed this right on the nose from the very first clue. Our orange 50-year-old hardwood floors have bothered us for a while, especially because the new mocha hardwood that we had installed in the kitchen, den, laundry nook and half bath looked so clashy against the original yellowy-gold flooring in the living room, hallway, guest bedrooms and master bedroom. Here's a visual:
See… yucky. So although it meant moving more than half of our house into two rooms and losing access to our only full bathroom for a whole week, we jumped at the chance to refinish the yellowed flooring- especially when we got a killer estimate that was simply too good to pass up. In New York the average floor refinishing price is around $5 per square foot, and here in Richmond it runs about $2.50. But thanks to a few of our favorite negotiation techniques, we locked in a fabulous $1.50/square foot rate and got 600 square feet completely sanded, stained, and polyurethaned (four days of work!) for a mere 900 clams. Score.
We were actually originally quoted $1200 which included new shoe molding to match the deeper stained floors, but after mentioning that we'd love to come in under 1K our refinisher suggested that instead of putting $300 of that estimate towards the purchase of new shoe molding he could refinish our existing stuff (by scraping it and restaining it)- which ended up looking flawless and saved us a bundle to boot. Here's a bit of scraped molding along with the mostly sanded floor mid-project: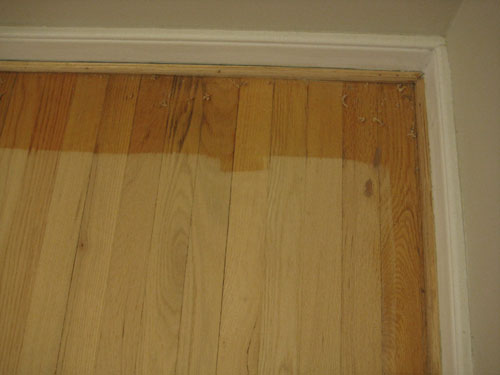 Here are the floors all stripped. Blonder than a Swedish baby, eh? You may notice that we covered the vents with plastic during the sanding step to avoid serious dust spreadage (but we removed the plastic coverings before the stain and the poly went down since blasting the heat is an important step when it comes to speeding up the drying time).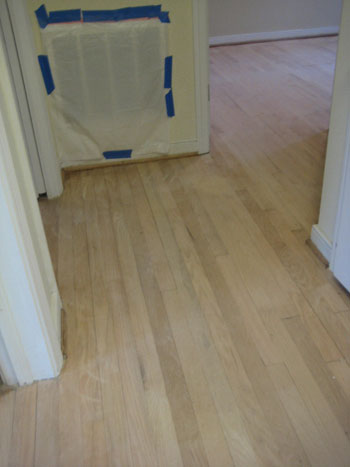 As a reminder, here's what the hallway looked like before Project Refinish Those Orange Floors. And check out that stain that we inherited from the previous owners in the bottom left hand corner of the pic: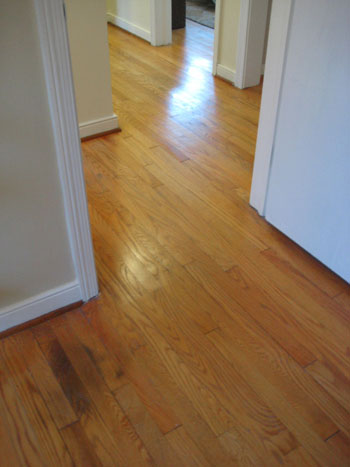 Here's the yummy after shot. The stain is gone and mocha deliciousness replaced those orange eyesores. Swoon: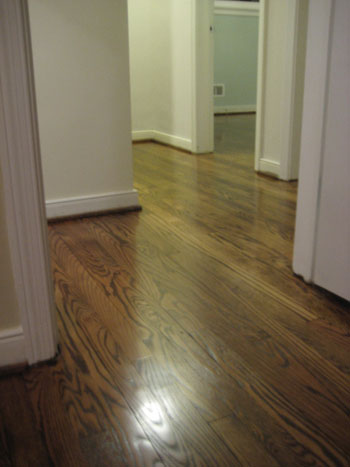 And here's the guest bedroom all gussied up with tasty chocolate flooring: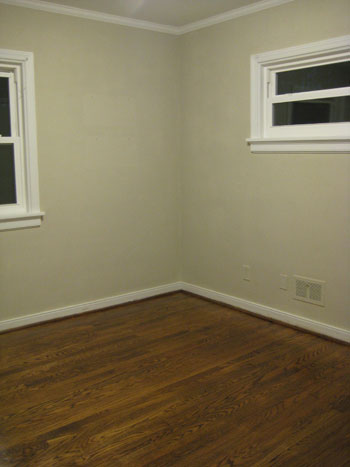 And the living room wearing a rich brown tone that perfectly complements the new hardwood that we laid in the adjoining kitchen and den: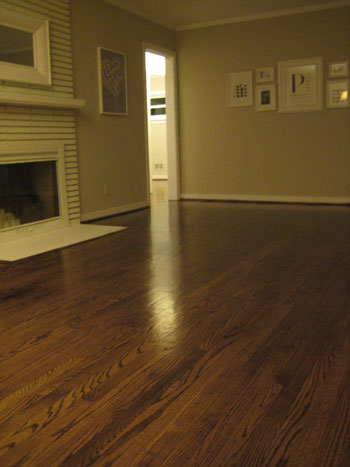 We especially love how seamless the entire house feels thanks to cohesive dark wood flooring. In fact, every single room in our house now boasts mocha hardwood floors except for our master bathroom, whose vintage tiles look super fab against the authentic deep brown wood in the hallway: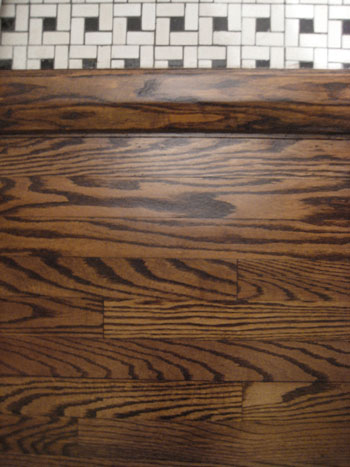 And speaking of thresholds, here's what the prefinished oak hardwood floor (snagged on clearance from Lumber Liquidators last year) looks like next to our newly refinished 50 year old oak flooring (on the right). When it comes to matching prefinished oak with refinished oak it doesn't get much closer than that, in fact our wonderful floor guy mixed three batches of stain to come up with the perfect color. The main difference between factory prefinished oak flooring and refinished-on-site oak flooring is that the knots and veins in the wood are a bit more distinct in the sanded and stained refinished floors. But we're absolutely thrilled with the match-job, it really looks a million times more cohesive and consistent from the moment you step in the door.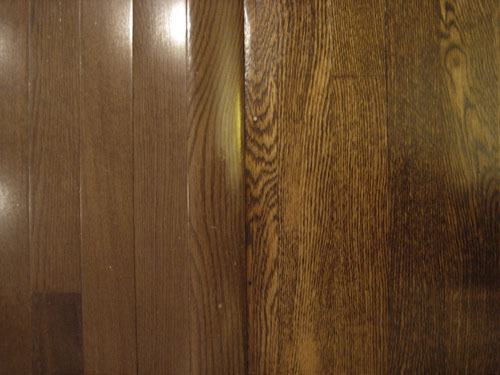 And speaking of our fabulous floor guy, he came highly recommended by more than one person, so we knew he was trustworthy and positively meticulous (which is always a good thing when it comes to matching existing flooring). For all you locals we'll pass along his info: his name is (fittingly) Mr. Charles Sanders and here's his site. You can give him a ring at 804.921.6916. Tell him John and Sherry from Bon Air sent you.
For more floor refinishing tips and tricks (how to find a reputable floor guy, what to ask, what to expect, and even how to do it yourself) stay tuned for more details later in the week.
&nbsp&nbsp&nbsp