Time to give away more free stuff! And for this one we're stepping back in time to do so. I'm talking about the truly old-school light fixtures made by Schoolhouse Electric.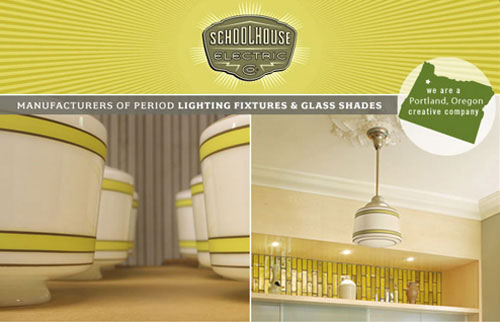 We've always been big fans of their products, and even got to see a few fixtures in person when we house crashed Christi and Barrett in Charlotte (check out the pendants above their kitchen island). Schoolhouse Electric's collection of pendants, sconces, shades and ceiling-mount lighting are a stylish throwback to several period styles (as well as some modern ones) that are made in true vintage fashion: their glass shades are both hand-blown and hand-painted.
So, on to the freebie part – we're giving away one Otis 4 ceiling-mount fixture in satin nickel with an modern aqua shade (that's an $162 value). Here's a close-up of the beauty below: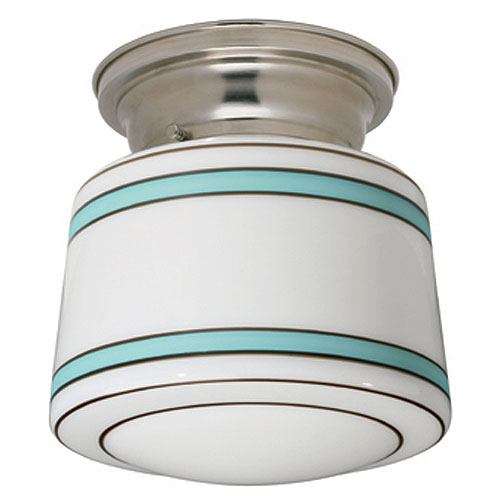 To enter, comment on this post with the words "SCHOOL ME" and, for fun, why not tell us your favorite and/or least favorite subject in school while you're at it (i.e "My favorite was definitely recess, but my least favorite had to be chemistry.") As usual, there's only one entry per e-mail address and, so sorry, but this giveaway is for the lower 48 US states only. We're accepting entries 'til 8pm EST on Wednesday, Dec 10th and will announce the winner later in the week.
We can't wait to see this fixture rocking the ceiling in one of your houses soon (you know we're going to beg for pictures, right?). So go ahead, comment away!
Got questions about our giveaways? Check out our new Freebie FAQs page.