We figured a tour of my mom's house was well overdue. Especially since we were stopping through on a recent whirlwind Thanksgiving tour. When in Rome- er, Manhasset, NY…
My mom has always had pretty formal and traditional tastes, which aren't exactly indicative of our home's style, but they're definitely something that we can appreciate and admire. My mom's an accomplished attorney and she works long and hard- so it's no surprise that she puts time and effort into creating the haven that she and her hubby can settle into after a stressful day at the office. On with the tour!
Here's their sweet four bedroom home (built in 1941) that they purchased ten years ago and made over from the ground up (sound familiar?). The gorgeous stone facade remained intact, but everything from the driveway (they repaved it and added a cool cobblestone medallion) to the landscaping (they planted shrubs and small trees of varying heights to mimic the roof line) was updated asap.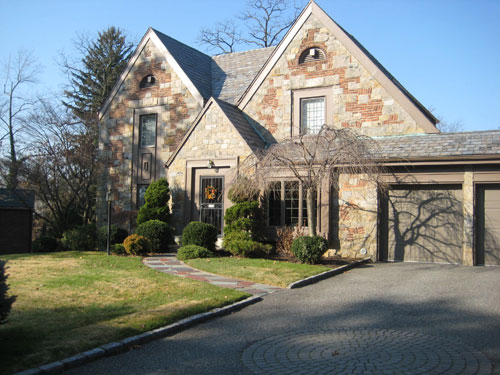 Here we are in the entryway. There are a variety of original cut glass and crystal chandeliers throughout the house (many of which mom obsessively cleans with a toothbrush to rid them of little dust bunnies that she swears multiply overnight). They ripped up lots of dated carpet and had the floors refinished to restore their glorious shine, and the arched doorways actually came with the house. Score!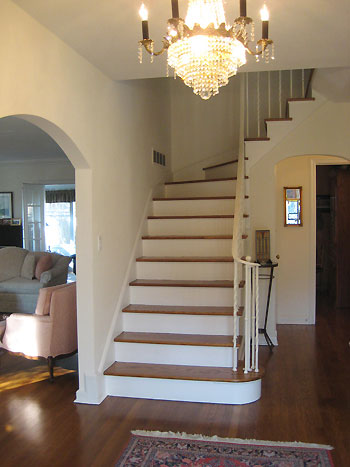 My mom has many of her best ideas in the kitchen and the bathrooms, so forgive us from glossing over the formal living room in favor of detailing some of her more genius kitch & bath decisions. They completely gutted their spacious (but crumbling) kitchen and chose neutral toned travertine for the floors and the backsplash along with dark oak cabinets and timeless black flecked granite counters. And ever the entertainer, of course my mom has two coffee pots going at all times. How cute is that?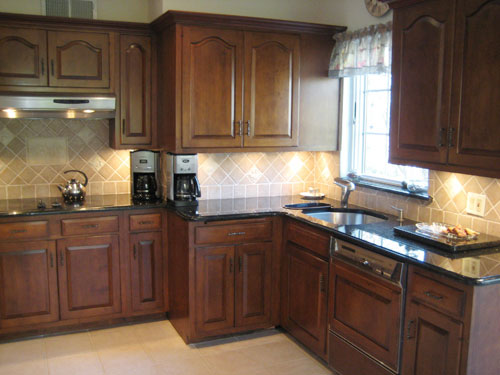 Her sink was the very first undermount that I ever laid eyes on (ten years ago!) and her glass cooktop was also the talk of the neighborhood. And of course her varied backsplash tiles are always a hit (the lighter ones showcase three dimensional kitchen related things- like pears). I love that she took a risk by adding some interest instead of clinging to the neutral travertine concept (something we probably would have done out of fear). Oh and another one of her super creative ideas was to line the windowsill with matching granite for easy wipe-age above the sink. It's an added detail that's both memorable and practical.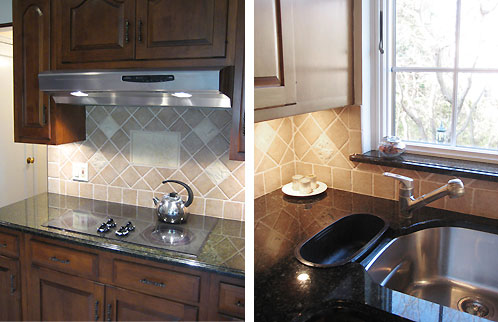 They even added an eating nook by bumping out the floor plan to accommodate a large table that they custom topped with the same granite that graces their kitchen cabinets. We love this idea for someone who's reluctant to bring in more wood in a room full of oak cabinets. The stone keeps things gleaming and although it's still matchy, it's a lot less visually overwhelming than all the wood that already exists in the space. Go mom.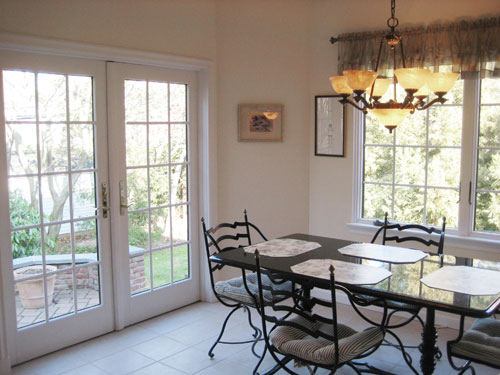 And to further demonstrate my mom's design prowess, here's a piece of furniture that she picked up ten years ago and had retrofitted as a bathroom sink. That's right, it's a little curvy antique table that she had topped with granite and fitted with a faucet and sink to create a custom piece that fits in perfectly with her classic traditional aesthetic. A few years later I saw the same idea in a bunch of decorating magazines, but I have to say that my mom was really ahead of the times. And it wasn't only super creative, it was actually super cost effective since the original piece had a top that was water damaged, so it was deeply discounted.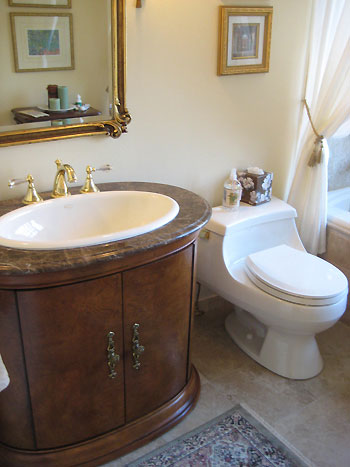 Here's the sunroom, full of light and a few masculine furnishings (many of my step dad's bachelor pad leftovers). Last Thanksgiving as soon as I walked in the door my mom dragged me into the sunroom to show me the valances that she painstakingly hung all around the room to "properly dress the windows after ten years". Now I'm not exactly a valance lover (I often challenge my mom to find them anywhere in a Pottery Barn or a Crate & Barrel catalog) so of course I tried to act enthusiastic but mom can read me like a book. I broke down and confessed that I'm not really a valance fan (for the 100th time) and she asked what I would have done. I explained that John and I just hung curtain panels in each corner of our sunroom and she immediately fell in love with the idea- but of course a year later she still hasn't got around to it. Maybe next year John and I will surprise her with an installation…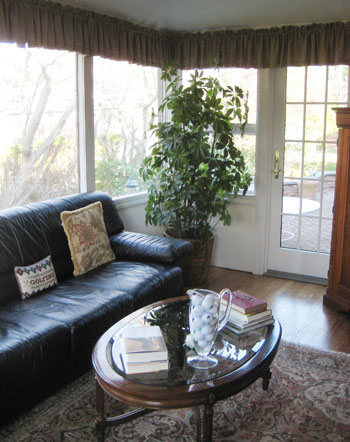 Here's the main bedroom, full of more light and yet another chandelier. I guess in some strange way mom's style did rub off on us a bit. After all, we do have a chandelier in our bedroom, albeit a slightly more modern one from West Elm. This pink chandy was actually our old house's dining room fixture, but mom loved it so much she took it with her.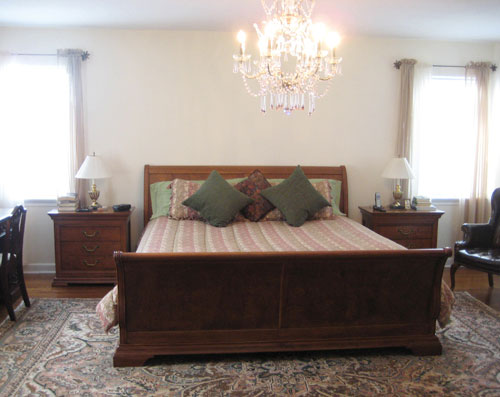 And again mom proves she's the shiznit when it comes to bathroom design. She found another piece of furniture (this time a dresser) and had it topped with granite and converted into a truly stunning double sink (with generous storage space and style to spare). She also opted to hang two matching mirrors (one above each sink) to subtly delineate each person's "station" instead of using a more predictable single mirror above the entire piece. And although you may not hanker for two of these gilded babies, this idea can be easily adapted to work with any style (from modern to rustic and everywhere in between).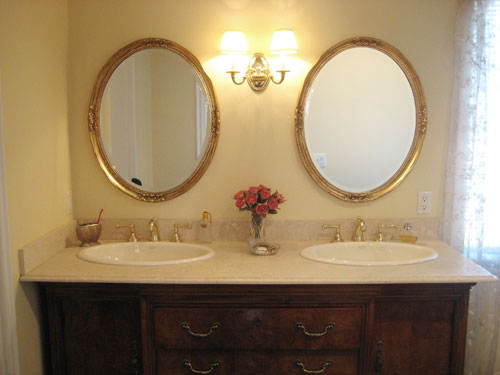 Here's the back patio (accessible from both the expanded kitchen and the man cave- er, sunroom. We love how mom not only created a patio with cobblestone pavers, but had the crew build up walls wired for lanterns and topped with limestone which add oodles of ambiance for parties alfresco. Of course mom complains that if she had it all to do again she would have made the whole thing bigger (did we mention she loves to entertain?). But when you stop to consider that she recently hosted a 50 person party out there (with success!) we think it's juuuust fine. We also love that screen of evergreens that she planted just five years ago (they used to be 6 feet tall) to gracefully add the perfect amount of privacy without feeling closed in.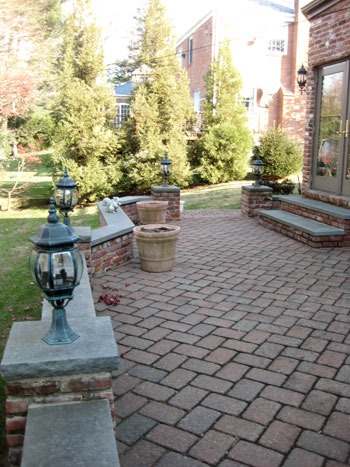 So there you have it. My lovely mom's lovely home. And to put a face to a house, here's my clever mom and her debonair hubs at our wedding (along with my dashing other half and his wonderful mom and dad). Oh the memories.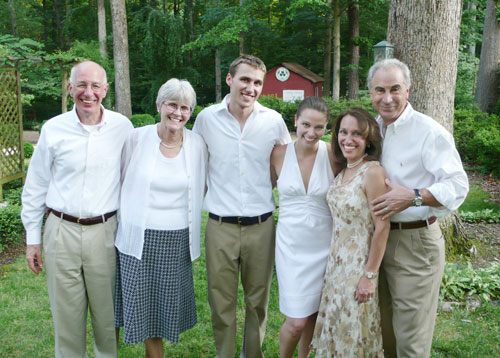 We hope you've enjoyed this classic and traditional house crashing fest. My mom is truly one of the most creative lawyers people I've ever met, so I hope that some of her ideas have inspired you. She has definitely had a huge influence on me, and even though her formal & traditional aesthetic didn't exactly rub off on me, her love of design and home spiffing certainly did. Love ya momma… thanks for the tour!