Archive for November, 2008
When we got Blayne's cry for help with her bedroom, we were excited to swoop in with some simple and chic ideas. Here's her letter:
I am so excited to get your help with my house! I saw your bedroom on The Nest when I was looking for ideas, and that's how I found your site. We moved into our house 4 months ago, and I've been working on decorating it myself. I like the direction I'm going but my rooms feel unfinished which is where you come in (first with the bedroom and maybe a few other rooms down the road). I would describe our style as transitional since my husband prefers modern and I prefer traditional- even a little rustic. In the bedroom, I was going for a Moroccan feel. I'd like to keep most of the major furniture pieces and the carpet needs to stay (but not necessarily the rug). I'd also like to keep the sheets since they are new. I'd love to have something to sit the TV on (it's currently on the floor), and conceal it if possible. I like the wall color but I'm also open to changing it. Every wall in the house is that color except for one accent wall in the living room that I painted. The room is having a color scheme identity crisis, with the blue/brown/tan and red/orange/yellow. I really need a lot of guidance for the walls, as far as how much art to use and how to place it. I was thinking about doing some kind of paint treatment or stencil, but I just don't know. Help! Can you handle it?  Please swankify me! Thank you in advance! – Blayne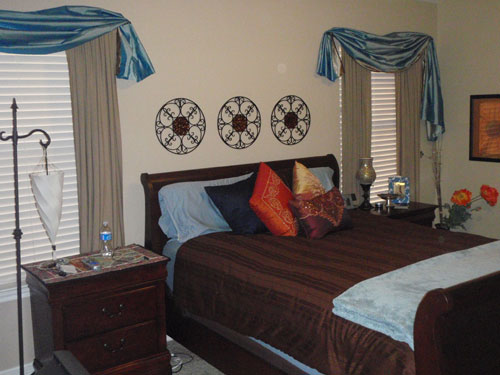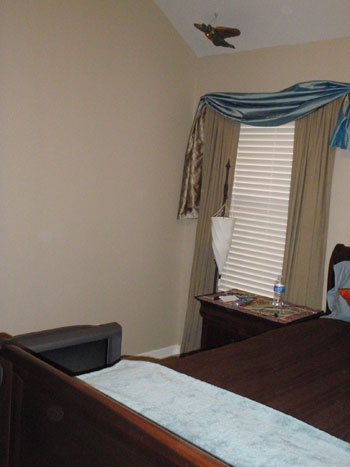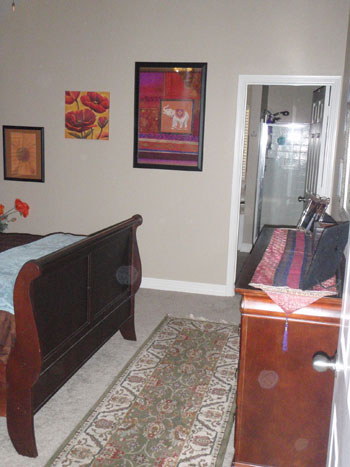 And now for our crisp, Moroccan mood board makeover:
Here's the mood board breakdown.

Read the rest of this entry »
&nbsp&nbsp&nbsp
We have so many things to be thankful for.
The dishwasher. Words cannot express our gratitude for the fact that our newly remodeled kitchen includes a dish cleaning maid. We feel like the Jetsons. A little robot cleans our dishes.
Our parents. They love us unconditionally. They whip up our favorite meals. They even read our blog from time to time.
Paint. You're shocked, right? Kidding. We know we wear our love of paint on our sleeves- but we can't help being thankful for such an affordable way to overhaul an entire space in an afternoon.
Young House Love. Not the blog (although we're thankful for that too) but our actual home that we love so much. From our backyard wedding to our never-a-dull-moment home improvement undertakings, it's the backdrop to some of our favorite memories.
Our little monkey. Burger never fails to amuse us, provoke us, and melt out hearts. He's our Renee Zellweger. He completes us.
America's Next Top Model. John and I founded our relationship on discussions about Tyra's antics back when he was just "that cute account guy from work." I'm oh so grateful that we met, fell in love, and still get to watch Tyra spaz out 11 seasons later (even if I'm 90% more into it than he is).
You. From the bottom of our hearts, thank you for reading. You're the reason we're writing this very post, and we appreciate your support, your kind words and everything else that you do to make blogging a joy.
&nbsp&nbsp&nbsp