Ever move a piece of furniture and find a big dent in the rug or carpet staring back at you, a constant reminder of where your couch/chair/table once lived? We recently had a run-in with a few when we transplanted our rug from the living room (under our couch and coffee table) to our guest bedroom: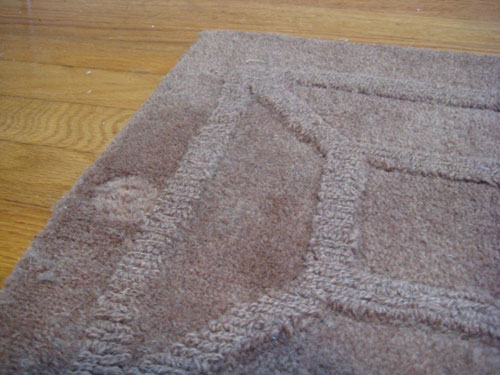 I had always been a fan of the rub it out with your toe technique… until Sherry taught me a more effective, less foot-crampy way to make those indentations disappear: a simple ice cube. And the method is actually Heloise approved.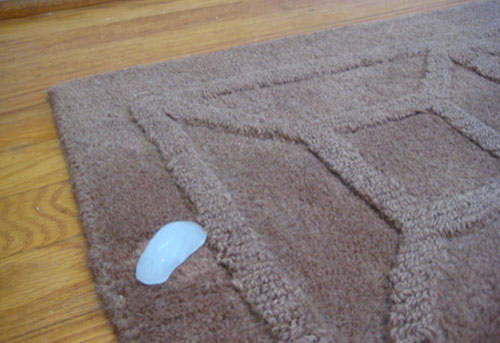 Just put an ice cube on the troublesome dent and leave it alone to melt. As the cold water slowly seeps in, your carpet will rise back up and no one will ever know a couch or coffee table once lived there. Look ma, no dents!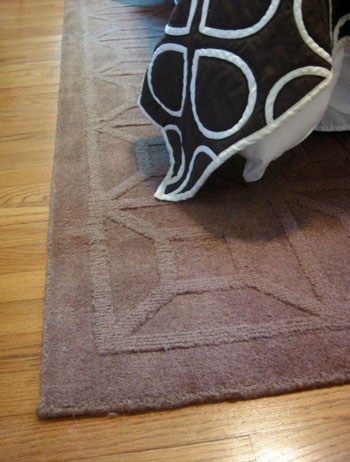 (Just be sure to keep any thirsty chihuahuas away from the ice cubes during the process.)
We've also heard you can use a spoon or fork to fluff the rug afterwards, but we've never had to resort to that second step since the ice cube seems to work thoroughly enough without any poking or prodding. Oh and many a wool rug is supposedly not the best match for water, but the small amount of liquid contained in the ice cube has never hurt any of our 100% wool ones (like the one pictured above- from JC Penney by the way). Anyone else found success with this trick? Anyone have another one up their sleeve to share?