When Melissa sent us her sleek and modern kitchen makeover, we almost couldn't believe it was the same space. Here's her letter:
Well, I have so much fun checking out your design ideas and shopping savvy, I can't imagine mine will compare… but here goes! I bought my first home (a 3 bedroom condo), knowing that it would need oodles of creative help! It was all builder-grade boring with a few tacky paint colors in random rooms and awful flooring. Please excuse the before picture- it was taken through the window outside so that stripe is one of the blinds!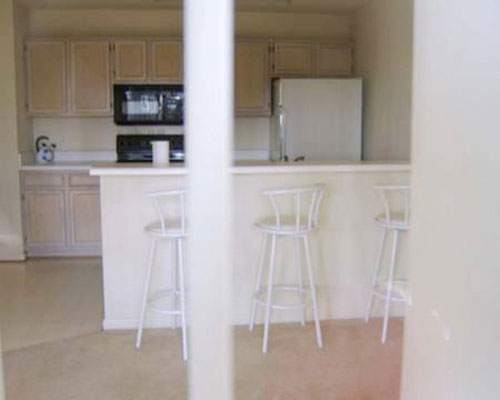 At the time I was single and doing this on my own with a small budget, but I had so much fun shopping at Ikea, Target, TJ Maxx, and Pier 1! It's amazing how great it feels to know you shopped around and got the best deal. In my kitchen, I knew that replacing appliances would have to wait, but the floors couldn't! I installed laminate wood flooring in a warm beechwood color, which was the only big-ticket item in the makeover. Then I painted the kitchen a cool gray, painted the cabinets a glossy white, added hardware from Ikea and started accessorizing. I found the bar stools on clearance at TJ Maxx and I would love new counters & stainless appliances, but my stainless steel cookware will have to do for now. Since the kitchen redo, I'm now married and my husband I love cooking together in our semi-gourmet kitchen. Keep the creative juices flowing! You guys do a great job! -Melissa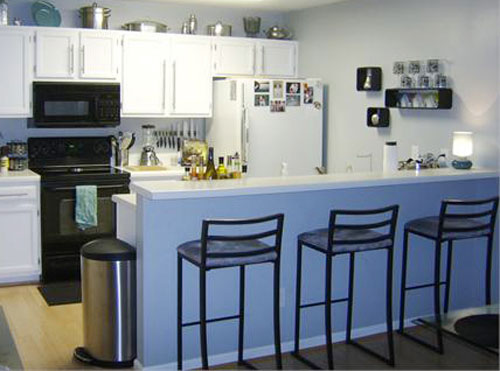 We're head over heels in love with this kitchen swankification. Those stools make us swoon and the cool gray walls and the sleek white cabinets make all the difference (especially with those new floors). Thanks so much for sending your before and after pics our way, Melissa. And all the best to you and your new cooking companion/hubby!