I bet it hasn't taken long for you guys to figure out that we're a tad infatuated with our dog, Hamburger. Well, at least I know Danielle from FirstAidLive.com picked up on it. She kindly sent us one of their Pet First Aid Kits, a tidy little bag with all the first aid goodies we might need if Burger ever gets cut, stung, or otherwise ends up in harm's way. Speaking of which, here he is risking a tongue-in-the-zipper injury.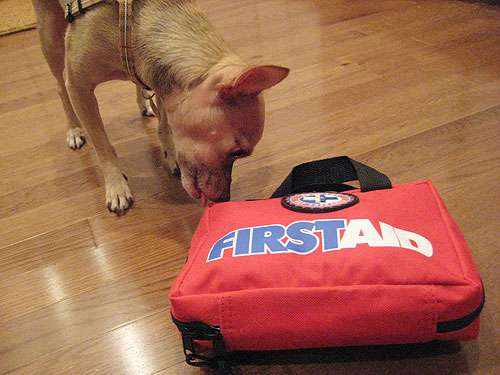 And since we know we're not the only ones playing protective parent to a furry family member, we asked Danielle to share the love. And we're happy to announce that FirstAidLive.com has agreed to hook up one lucky reader with their very own Pet First Aid Kit. For your chance to win, just comment on this post with the name of your pet and, for fun, one of their weird habits. For example: "Hamburger: runs laps around our bed before bedtime." Enter by Friday (11/21) at Midnight EST and we'll choose one random winner to receive the kit by mail. And sorry, but you've gotta live in the US for this one.
The kit nicely organizes 58 pieces into one convenient place (goodbye messy medicine cabinet) AND, better yet, can even stand in for a human first aid kit in a pinch. That's assuming Burger doesn't mind sharing his gauze and antiseptic towlettes with his somewhat-accident-prone father (who, btw, nearly cracked his head open during our magazine shoot two weeks ago).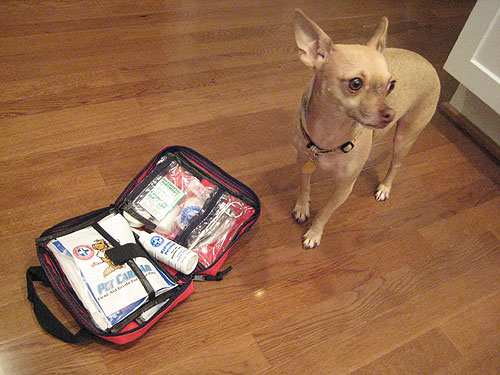 You can learn more about the Pet First Aid Kit and other First Aid supplies here. And we can't wait to hear about all of your wacky dogs and cats.