When Christy sent us pics of her amazing backyard transformation we were super inspired/jealous. Here's her letter:
Our backyard before was mostly dirt, grass & weeds with an existing in ground pool & spa. But as soon as we saw some clearance dry stacking stones from Lowe's we knew we could spruce things up pretty cheaply. We also ended up finding some pavers on clearance at Lowe's too and plants on clearance at Target so it sort of snowballed from one thing to another and before we knew it we had a before and after story to send to you. Here's the so, so sad before: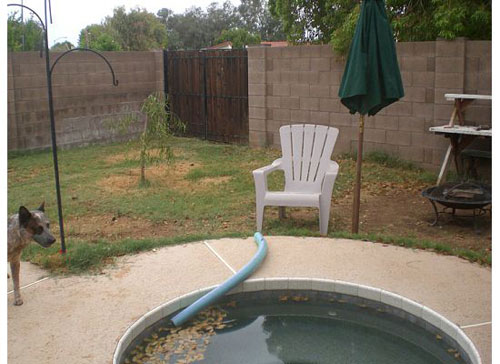 And here's the almost after (the walls on the benches still need to be painted, but this space is much more used now):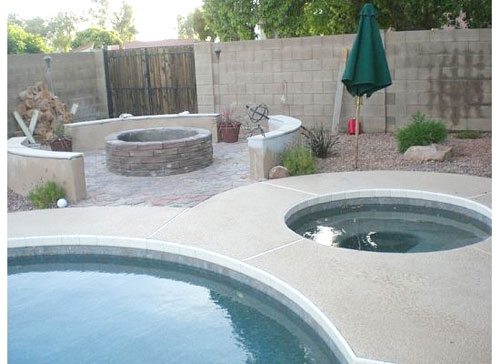 We enjoy fires in the fire pit weekly. Plus, not being green is a lot greener. I am conserving water by switching out to a xeriscape lawn with low maintenance plants. The pavers, rocks (12 tons), fire pit & plants were all done DIY by me, thanks to many long cold nights after work with a broken finger. The benches & BBQ were done by a local mason (they're topped with flagstone). The entire thing, mason work, materials, plants, etc. was around 2k. I hope you enjoy my little DIY do-over. – Christy
Enjoy it? We live for it. It's amazingly well done (we love how you mimicked the round spa and pool with the circular fire pit and benches). And to think that you did almost everything yourself (with a broken finger no less) is spectacular. Thanks so much for sending your fabulous before and after pics our way. Yummy.