Composting makes us happy. I know it sounds geeky, but you know that feeling you get when you find someone the perfect gift or mail off that check to charity? That's kind of the feeling I get when I stick a banana peel in my compost container under the sink. It's one little thing we can do each and every day to keep unnecessary items from filling up our garbage can and living on as landfill. And in return we get rich, fabulous soil for bigger plants and that super sweet feeling that says "one more karma point" every time we add an eggshell or a lettuce leaf.
And since most people think composting is smelly and gross, we thought it might be wise to visually demonstrate how un-scary and un-nasty compost can be. We had to take a picture of this particular batch of veggies and eggshells because it almost looked like a rainbow: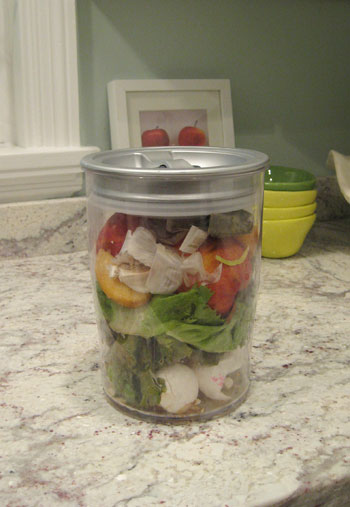 We should also mention that the compost container that we keep under the sink (shown above) is air-tight and 100% odorless (we snagged it at Target for around 8 bucks). Ours is discontinued, but something like this or this larger option would work great! All we have to do is walk it outside to add the latest collection of peels, pits, and tea bags to our super simple exterior compost bin (picked up at Lowe's for 7 clams) a few times a week. Easy peasy.
So if you're in the market for a bit of quick karma and some free organic soil, check out our step-by-step tutorial for making a sweet little compost bin of your own. Everyone thinks it's this huge commitment that takes hours to do (even I thought it was a big step when John suggested it) but composting has honestly made our lives easier, not harder. We take out the kitchen garbage half as much, we don't have to drag the garbage can to the curb nearly as often, and we never have to haul home garden or potting soil anymore. Life is good. Happy composting everyone!