Archive for December, 2007
This not having a functioning kitchen thing is getting old.
It may sound strange, but we were too lazy to go out to eat tonight. Instead, we mustered the energy to attempt cooking in our counterless and sinkless kitchen. Fortunately, the meal itself (chocolate chip pancakes) was relatively easy to make using a cabinet top as our work surface. We also confirmed that our stovetop still functions after almost 3 months of dormancy.
It's the already annoying task of clean-up that reminds you how frustrating it is to not have a kitchen sink. Let's just say doing dishes in the bathroom doesn't exactly inspire me to play chef again anytime soon.
&nbsp&nbsp&nbsp
And now for one of many posts about fun & fabulous holiday gifts. Here's what we got at a local gift shop (Mongrel) for our cousin who loves to camp: a ceramic campfire that you can really set ablaze with a tea-light. Bring on the mini-marshmallows!
Ironically it was also for sale on Fred Flare, along with a bunch of other quirky gifts like these:
Who doesn't want a throwback boombox with an updated twist (it blasts tunes from your iPod), some fabulous garland in 2-D (it's tape with a sparkly tinsel pattern) and a make-any-bottle-a-menorah (it's a cork with the candles attached). Brilliant. And you gotta love how affordable stuff on that website is. If you haven't been yet, check out all the after Christmas sale stuff, like, right now.
But there's also another item on this post that doesn't hail from Fred Flare… a homemade starfish Santa. We actually made three for John's parents' new beach house after seeing a bunch at a few beach shops for something like $15 a pop. Making them yourself is a heckova lot cheaper, all ya need are some starfish (we got ours from Michael's) and some acrylic paint. You can also turn 'em into ornaments by gluing ribbon to the back. Ho- ho-holy moley that's easy.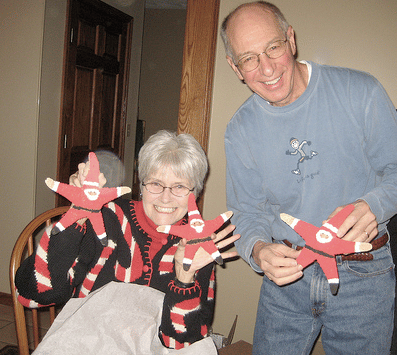 &nbsp&nbsp&nbsp