Archive for December, 2007
And now for one of many posts about fun & fabulous holiday gifts. Here's what we got at a local gift shop (Mongrel) for our cousin who loves to camp: a ceramic campfire that you can really set ablaze with a tea-light. Bring on the mini-marshmallows!
Ironically it was also for sale on Fred Flare, along with a bunch of other quirky gifts like these:
Who doesn't want a throwback boombox with an updated twist (it blasts tunes from your iPod), some fabulous garland in 2-D (it's tape with a sparkly tinsel pattern) and a make-any-bottle-a-menorah (it's a cork with the candles attached). Brilliant. And you gotta love how affordable stuff on that website is. If you haven't been yet, check out all the after Christmas sale stuff, like, right now.
But there's also another item on this post that doesn't hail from Fred Flare… a homemade starfish Santa. We actually made three for John's parents' new beach house after seeing a bunch at a few beach shops for something like $15 a pop. Making them yourself is a heckova lot cheaper, all ya need are some starfish (we got ours from Michael's) and some acrylic paint. You can also turn 'em into ornaments by gluing ribbon to the back. Ho- ho-holy moley that's easy.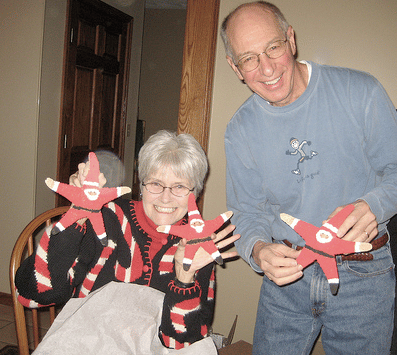 &nbsp&nbsp&nbsp
We've returned from our Christmas in West Virginia just in time to grace you with the third and final part of our "Places We Used to Live" video series. This time it's a new city (Richmond, VA) and a new arrangement (cohabitation). Ooh la la.
Our First Apartment Together in Richmond was a pretty cookie-cutter one-bedroom in a pretty cookie-cutter suburban apartment complex. That didn't stop us from being over the moon about finally sharing a home together AND getting way more space for less than half of our combined rent in NYC.
Here are the goodies to watch for this time:
The giddiness in Sherry's voice as she excitedly points out features we'd probably yawn about these days
Our rag-tag collection of free / donated furniture (give us a break – we moved from NYC in a minivan)
The high ceilings (the reason we opted for the 3rd floor)
A much more fully stocked kitchen than in Sherry's NYC apartment
More album cover artwork thanks to the band OK Go
Our DIY version of  bird wall decals from blik (we cut birds out of blue manila folders and taped them to the wall).
Click HERE to enjoy the tour on YouTube.
Ok, we now promise to return our attention to the present day. Some fun posts to look forward to: gifts we gave each other, booty we received from others, and stuff we scored during all those fabulous post-holiday sales.
&nbsp&nbsp&nbsp