They're notoriously difficult to work with.
Yesterday was cabinet installation day 2 and, not unlike Monday, it came with its fair share of ups and downs. We'll start with the ups this time. Almost all the cabinets went in, including my new favorite thing: the built in refrigerator! Totally makes our existing fridge look like some fancy schmancy custom appliance. And that opening to the right of it will make our microwave look built in as well. Yippee skippy.
Here are photos of yesterday's progress: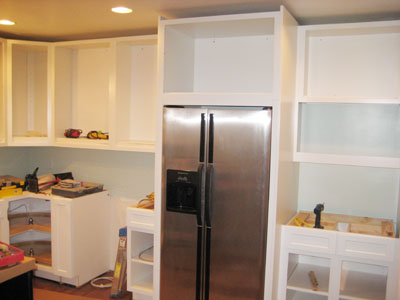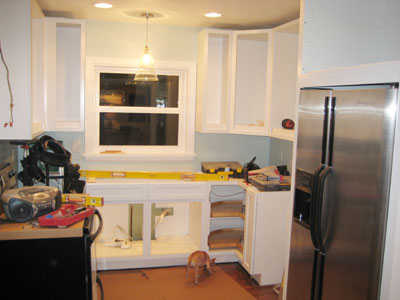 Ok, now to play Debbie Downer. The minor hiccup of the day was discovering one of our existing wall outlets is too high and needs to be lowered so it doesn't get blocked by an upper cabinet. No biggie because the electrician was already scheduled to come out anyways. It'll just be another few bucks down the yet-to-be-installed drain.
The MAJOR hiccup involved our new microwave. When the installer opened the box to our 30 inch under-cabinet microwave, we discovered that it was actually a 24 inch countertop microwave. Lowe's didn't just sell us the wrong microwave, they special ordered the wrong microwave (we waited three weeks for it!!!).
So last night we made an emergency run to Lowe's, returned the countertop microwave and bought the right one. The bad news is that it was $75 more than the other one. Ugh. But here's where Lowe's went and totally redeemed themselves. The manager gave us a sorry-for-the-trouble discount and sold us the new microwave for the price of the old one. I guess we'll forgive them for the mix-up.
Now things seem to be in order for a productive day 3 of installation and as long as the kitchen doesn't go all diva on us again, we're hoping things will end on a high note.