Richmond got its first taste of winter yesterday in the form of some light snow. Sadly, nothing stuck and life went on unaffected (no snow day for John).
Well, mostly unaffected. The precipitation kept the installer inside all day, instead of outside sawing the crown molding and cabinet baseboards. That meant progress was limited to getting the last couple cabinets in, sliding the dishwasher into place and getting 99% of our range hood hung (he still has to add the stainless steel "chimney" which will cover the big pipe that goes up through the ceiling). Admittedly, they're not the most exciting update pics, but here they go anyway. Note: the dishwasher and hood are still covered in a protective film which will be removed to reveal their glorious stainless steel finish when the job's done. Oh yeah and the installer's junk is all over the place: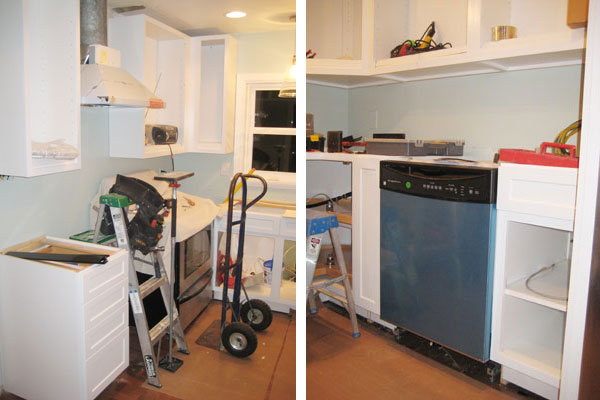 We're hoping today is the last major work day, but with crown molding, baseboards, doors, hardware and microwave installation still on the to-do list we wouldn't be shocked if it spilled over into Friday. Plus we still have at least one more day of work in about a week when that reordered corner cabinet comes in (it'll go where the stove is above, and the stove will move to the left to be under the new hood). Then our granite peeps can finally come and take measurements for our new countertops. It's nice to be at step 426 in this 500 step process (ok I'm exaggerating, but not by that much).