As I type this the walls are drying in the 2nd bedroom after what I can only pray is the final paint project in unifying our house with a consistent color scheme. A couple of months ago we noted how the warm, neutral wall colors in many model homes inspired us to tone down the rainbow theme we had going on. Especially since we had read that repeating colors in a small house can really help make it seem larger.
So, as of just about right now, our house painting is officially done…for a while at least.
We decided to use that fancy floorplan we created using Floorplanner to demonstrate the change. Oh and these colors are taken from Glidden's digital swatchbook so the color on your computer screen is only as accurate as your monitor.
Color Scheme: THEN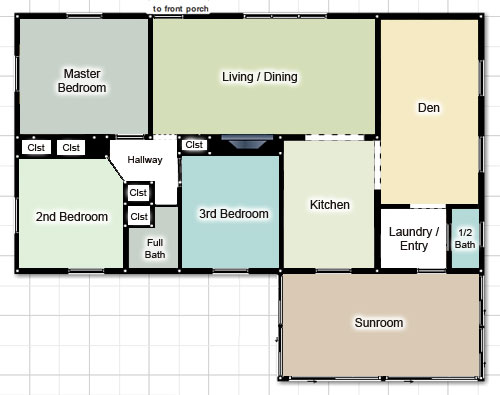 I know, I know. It looks fun and cheery – but it was a little schizophrenic. In fact, the only color we repeated at all was the bold turquoise color in the 3rd bedroom (which was the dining room at the time) and the 1/2 bath. Now we understand that in a small house you want continuity and rooms that feel like they flow- and not like they're chopped up with different color schemes.
Color Scheme: NOW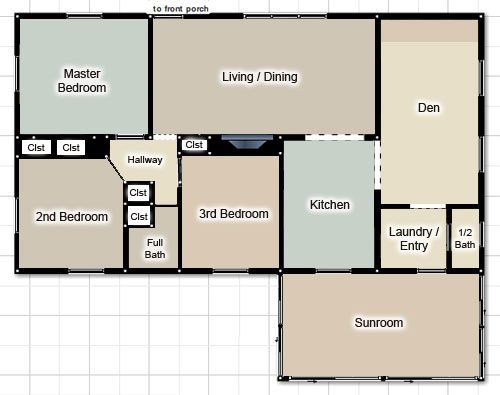 Only the master bedroom and the sunroom escaped the repainting massacre, and while it may not look exciting on screen – it totally made the house feel bigger, more connected and a lot more grown up. Here's the final report on the paint colors, in case you're looking for some inspiration yourself:

Ok, now I've gotta go wash some Sand White off my hands. It feels good to be done. Although a homeowner's work is never really done…