I'm so excited about our new living room couch. It's 50% casual, 50% elegant AND 100% dog proof. The linen-look twill slipcover is just what the doctor ordered, and the clean lines and cushy pillows are the perfect balance of form and function. Of course it makes the more expensive couch in the den (that we got from Pottery Barn a few months ago) look like the redheaded step child. I guess couches are like Olsen twins… everyone has a favorite.
I just can't get over the fact that the new couch was around $400 less than the Pottery Barn one and looks far superior. If you're in the market for a new couch, book it to your nearest Rowe retailer (in our case it was Sofa Design in Richmond) and get one straight from the source. You'll end up with tons more fabric choices (the pale linen-look twill wasn't available at Pottery Barn), free throw pillows in any complementary fabric that you desire (we chose two with a subtle leafy branch motif), more money in your wallet, and a sofa that you'll wanna come home to.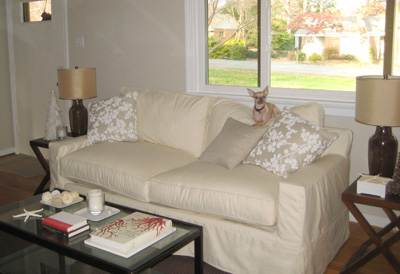 In other almost-sofa-related news, I added another fun Christmas touch that I'm dying to share. See those lamps on either side of our swank new couch? They have glass bases with an opening in the bottom. So I flipped them upside down, tossed in some silver balls, covered the opening, then flipped them back over again. Instant glamour.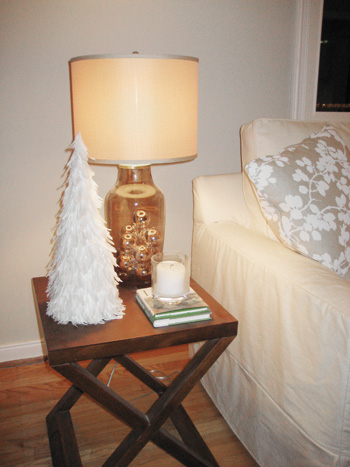 I'm loving our new seasonal lamp bases and I'm already brainstorming other stuff I can fill them with throughout the year. Seashells, black and white photos, wine corks, matchboxes- the possibilities are endless!