It's pretty clear from all the embedded music videos and song-reference-titled posts that John and I are music lovers. John even mentioned that he sings a lot in this post and we all know that I was a wee bit enamored with a certain rapper in my youth (an obsession that drove me to say the word "phat" on national TV). So when a musician friend here in Richmond casually invited us into their studio to mess around… well something magical happened. One thing led to another, and we ended up pouring all of our DIY passion into a DIYed song for you guys. Full of life lessons, house trials and tribulations, design rules that we follow (and break), and all sorts of other home-related musings – all set to a phat sweet beat of course.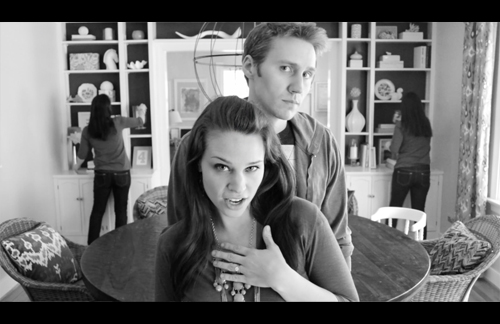 We're hardly Big & Pac, but now that we got the edited version of our song back from the studio (ahh!!) we're officially dropping our first single, which we've entitled: Hush.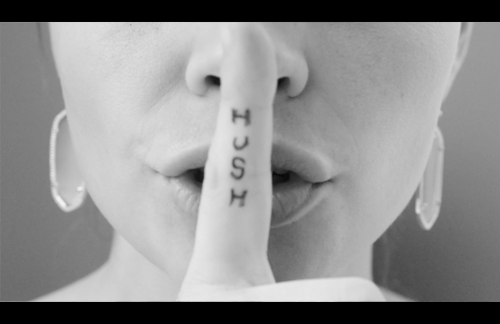 So without further ado, our super professional all-that's-missing-is-P-Diddy-and-a-helicopter video:
In case you're at work and you can't watch it, let's just say it's worth a play when you get home. Here's what you have to look forward to:
My hair's down
There are some pretty decent special effects (three $herdogs)
Burger and Clara each make a cameo
Ceramic animals abound
Shelves get styled
We remind people about the importance of safety glasses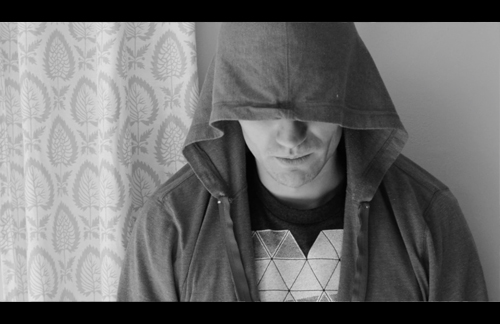 Wait, but we have one more thing to tell you…
…
…
…
…
…
…
…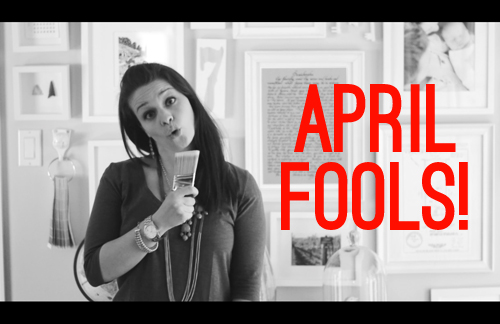 Okay, so we didn't really record anything in a studio. We just made a fake-o forty second song at home where we rapped a few sentences into our computer's microphone and used some stock vocal effects in Final Cut Pro along with a free beat that we found online. Then we paired it with a cliche-tastic video that we whipped up at home and bam… our first single. But it's still worth watching later if you're at work right now. I mean, how many rappers drop the words "miter saw" in their verse? In summary: it was more fun than two 31-year-olds should have. And of all the years that we've maintained our little April Fool's tradition – can you believe this is our fifth year of this?! – this one's one of our favorites (here's last years, the one from 2011, the one from 2010, and the one from 2009).
Hope you guys fell for it – although I'm 99% sure you didn't.