First things first, we did a little spring cleaning so we have a fresh little header and a lighter-and-brighter site background up in hurr. Hope you guys love it as much as we do. Update: if it looks wonky on your computer, try refreshing and then clearing your browser's cache/cookies/data :)

Speaking of apologies, it's been way too long since our last window shopping adventure. As most of you know, these aren't paid or perked or anything – we just walk through a store with a camera and take photos of whatever inspires us for you guys. This post is actually long overdue (woops) but now that I've uploaded the pics and sat down to write this post I'm all excited again. See, we got to stop at the Pottery Barn Outlet in Georgia back when we were visiting Katie Bower (and meeting Weston for the first time) and it was full of good stuff. So let's take a spin around, shall we?
As soon as we walked in we saw this cute little heart chandelier for $14.99 (I bet you could make something similar with an embroidery hoop, fishing wire, and red construction paper (or felt). Heck, even a giant hula hoop could be the base if you wanted to dramatically up the scale!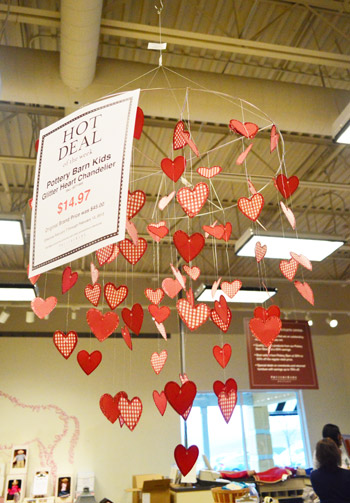 This was a little $19 kids chair in pink that I thought was cute. Can't you see it in a subdued space like a kitchen or an office for a pop of fun color?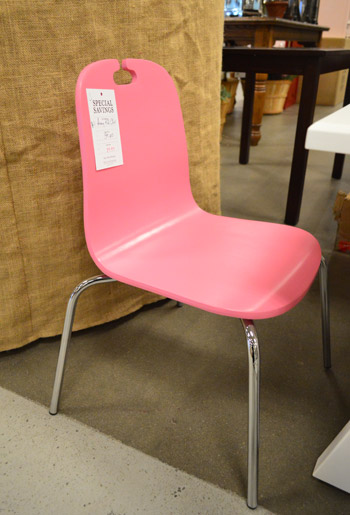 These were $35 kids chairs that were a little more traditional and cottage-ish. They were nice and solid and definitely could slip into any space thanks to their neutral color. Wouldn't they be fun with dipped legs in a bold color like red or turquoise?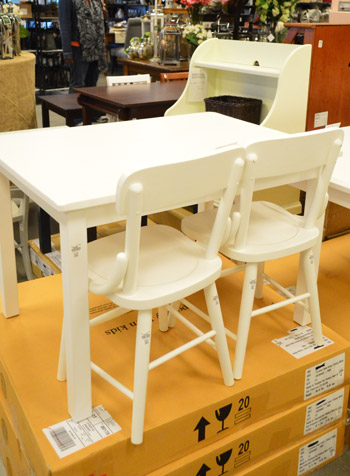 This little red play kitchen was intensely charming, and it was marked down to $124 since the dial was missing. At first I thought that was steep (Clara's play kitchen was $74 to make) but even places like Ikea charge $99 for their versions, and this one is extra cute thanks to the bright hue. And you could just pop a kitchen timer from Anthropologie into that missing-dial-spot in the middle and it would be all better.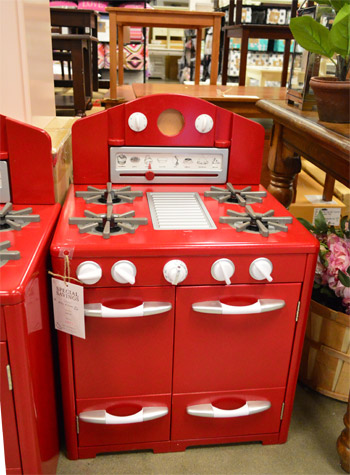 These $4.99 alligators charmed me to no end. They're the I-wish-I-had-bought-one item of the day.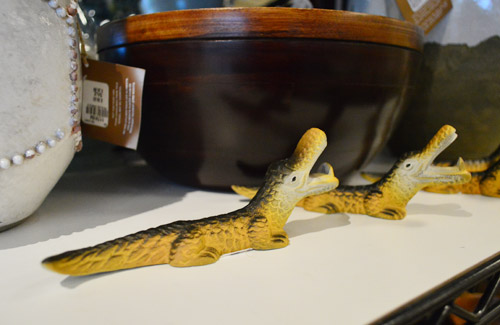 These giant chunky floor lamps were expensive (don't remember how much, but I remember my mouth falling open) but I think if you have some loot sitting around they'd be such awesome statements in a room. Kinda reminds me of something that would be on the set of Something's Gotta Give or The Holiday (they have such pretty homes in those two movies).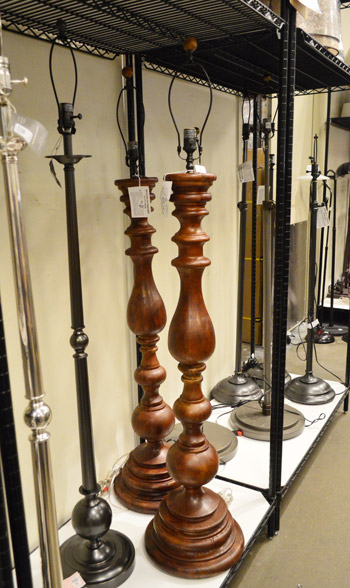 These gleaming glass lamps were $49 each (and really big and gourdy and fabulous) so I totally would have snatched them both up if we had a spot for them. Miss you my pretties!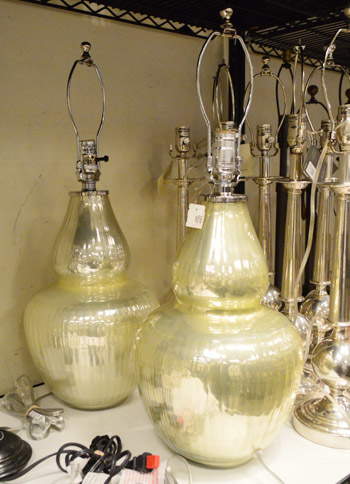 This $49 pendant was great too. Can't you see it over a breakfast table or even in a bedroom? That long drop-rod wouldn't work in our house unless it was over a table or a bed (eight foot ceilings mean things that you walk under can't be that low) but it's pretty awesome for a space where you don't have to worry about clearance (like an entryway with a high ceiling or a breakfast nook).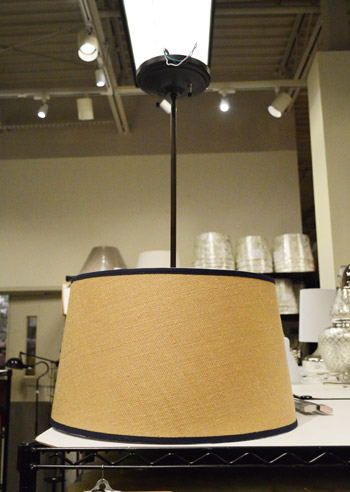 These babies were $267 per chair (steeep!) but if money grew on trees I'd totally have left with a few of them. They felt super chic and luxe with the mix of leather, wood, and that antique-looking hardware on them. They were like something Restoration Hardware would charge $500 for.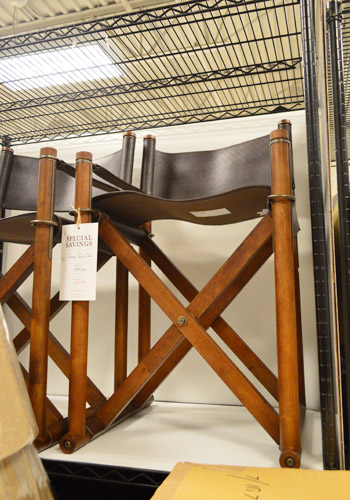 As usual, there were some fun rugs – and this time I fell for this bold red guy with a crisp white stripe. I was telling someone the other day that I always thought of red as a traditional color (you know how traditional homes in the 90's all had a red walled study or a red walled dining room?) but my eyes have been opened to how awesome and modern and fun red can be. Long story long, I'm a red convert and I wish I had a spot for that rug.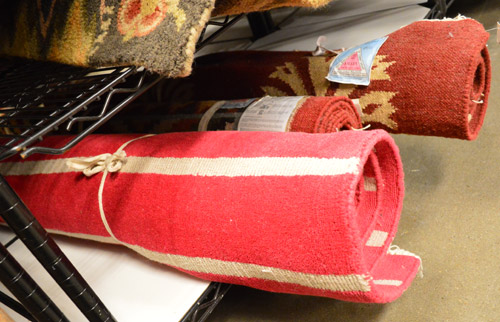 This dry erase calendar was around $40 I think, and it seemed like it could be pretty functional (and you could probably DIY something similar with a stencil or even with letter stickers from a craft store – especially since they sell dry erase paint now).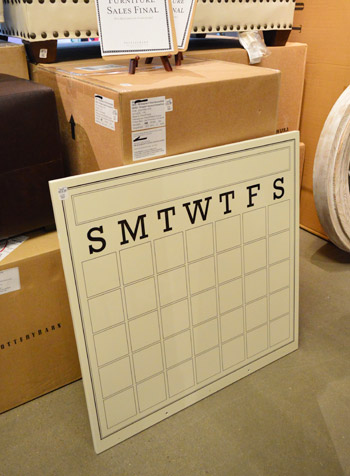 I thought this egg tray was cute for Easter. Picture it full of a ton of colorful freshly-dyed eggs as a centerpiece on the table.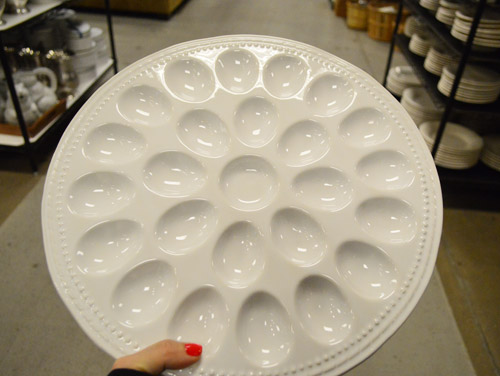 The wish-we-had-room-in-the-car-for-this-item award goes to this $49 train table (well, there are four of them stacked in this picture). We brainstormed a few ways to squash it into the car with us, but we just didn't have the room. It was probably cheaper than buying the wood to make a solid wood train table yourself and the ridge around the edge would come in handy for so much more than trains (Clara already has a train board, but I think this would have made an awesome coffee table in the sunroom and Clara could play games and color on it without worrying that all the crayons and markers would roll off the edge).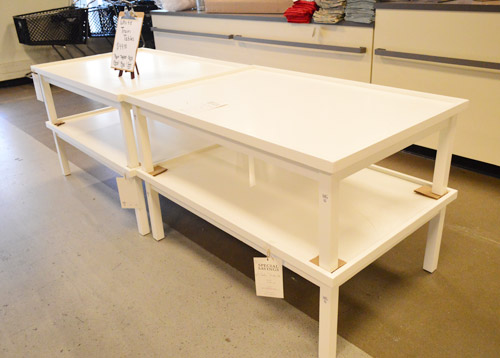 This picture of the $35 wine barrel tray that we found does it's size no justice. It's HUGE! Basically the size of the bottom of a wine barrel. It would be awesome on a large dining table with a few family-style dishes (like a giant bowl of pasta and crusty bread – mmm) sitting on it. Heck, you could even screw a lazy susan under it to create a monster barrel-looking lazy susan. Man now I wish we bought this too.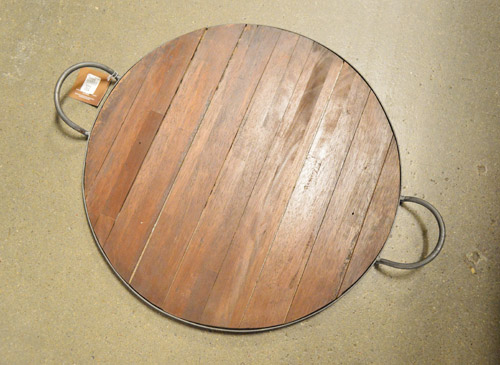 This $49 basket was also huge, and the large weave and the chunky handles were pretty cool. We have $30 Target baskets throughout our house for Clara's toys, so $20 more per basket might be a bit much for us, but they sure were pretty.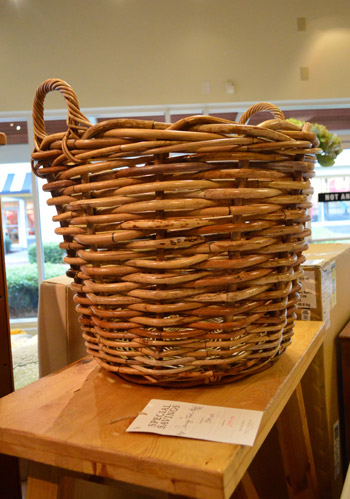 And this $499 cabinet was definitely in the "aspirational" category. Can you imagine how organized you could be with all those shallow drawers? I'd use it to hold all of my art supplies and miscellaneous prints/drawings that I want to eventually frame.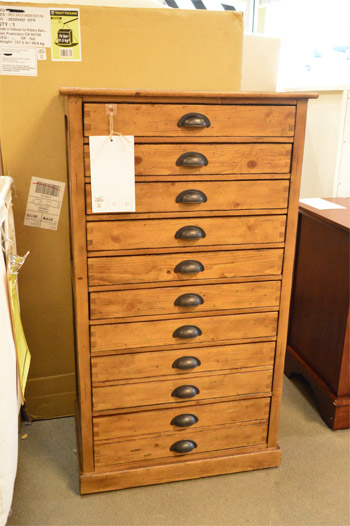 Hope you guys liked that little virtual window shopping spree. It's fun to duck into different places every once in a while (we usually traipse through places like Target, World Market, Ikea, thrift stores, and smaller independent shops). What stores have you been ogling lately? Are there any DIY versions of things that you've seen in stores that you're getting ready to attempt like dipped chair legs, paper mobiles, or dry erase calendars?